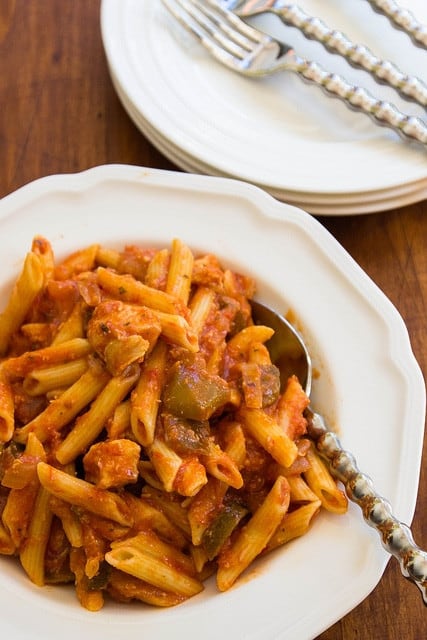 Chicken riggies
Here's an easy one-pot meal. I love this because it's high in fiber, and protein. I mentioned before that the pasta I like to use is Dreamfield's, which is a little more expensive than other pasta, but it has loads of fiber and also provides "protected carbs". More on that claim in this very informative article here.
This recipe is based on a very popular recipe in Utica, NY called chicken riggies. Riggies stands for rigatoni, which are the larger tubular pasta shapes, but Dreamfield's does not manufacture rigatoni (boo!); penne is a great substitute.
I've given chicken riggies a makeover to save some calories. The first version that I ever tried used a whole stick of butter. Naturally that was quite delicious, but added way too much fat. In the past, I've used jarred peppers (a mixture of mild and hot sliced sandwich peppers). Given the sodium content in the jarred peppers, I've moved to using fresh bell peppers as the base for this recipe. Fresh is always best, right?
There are so many different versions of this dish – many people add other vegetables including mushrooms and olives. You can also add chicken broth to flavor the sauce.
The addition of a cup of Parmesan cheese takes this over the top -soooooo good! Don't skip that step!
Save this recipe for a chilly Sunday – you will love it.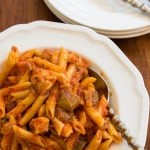 chicken & pepper penne
Ingredients
1

lb

(16 oz) penne or rigatoni pasta (I use low-carb Dreamfields)

1

lb

(16 oz) boneless skinless chicken breast, cut into 1/2 inch pieces

1

tablespoon

olive oil

1

large onion

, chopped

2

to 3 cloves garlic

, crushed and minced

2

bell peppers

, (red, green, orange or yellow), seeded and chopped

28

oz

can crushed tomato sauce

8

to 12 ounces of chicken broth

6

cherry peppers

(I use the jarred variety), seeded and finely diced (or substitute 1/2 jar of hot pepper rings or 2 Italian long hots that have been roasted and finely chopped)

1

cup

grated parmesan cheese

(4 oz) plus more for serving

sat and pepper to taste
Instructions
Heat the olive oil over medium high heat in a large non-stick saute pan

Add the chicken, and light brown on all sides for 3 to 4 minutes

Remove chicken from pan, and add onions and garlic. Cook until onion is translucent, 2 to 3 minutes

Add bell peppers and continue to cook for another 4 minutes

Add crushed tomato sauce, hot peppers, chicken broth (1 cup or more to thin sauce as desired), and browned chicken

Bring sauce to a gentile boil, then reduce heat, cover, and simmer on low for 30 minutes

In the meantime, cook pasta according to package directions. When cooked, drain and set aside (use a bit of olive oil to keep the drained pasta from sticking together if the pasta is ready before the sauce is done)

Add grated cheese to sauce, and stir.

Check seasoning and add salt and pepper to taste.

Spoon sauce over pasta to serve and serve with extra grated cheese.