A super easy one-pot meal from central NY. This "casserole of yum" includes veggies like onion, peppers, and mushrooms in addition to chunks of chicken in a creamy and spicy tomato sauce.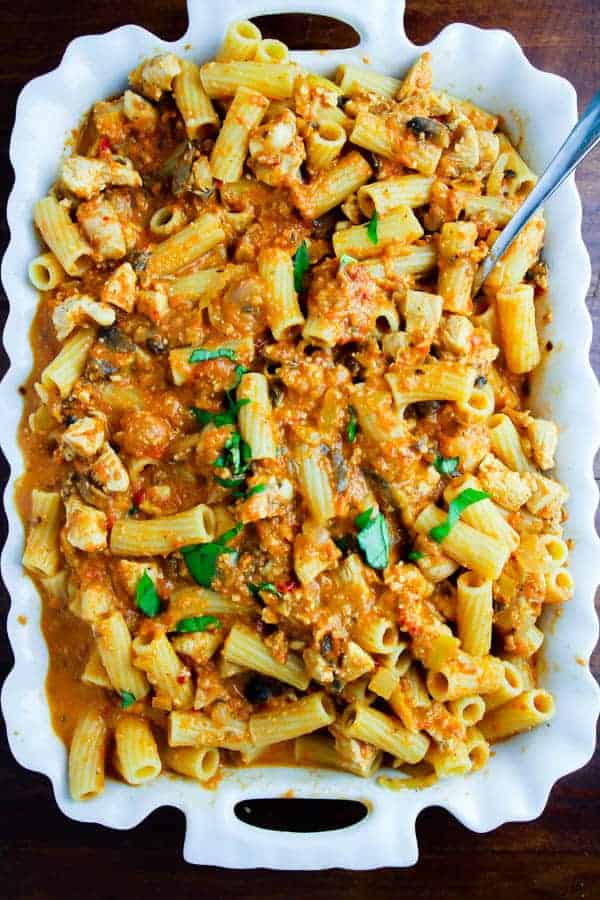 I love this dish because it's high in fiber, and protein (and miraculously, this is one of those dishes that every. single. person. in the family loves!
This is one of those recipes that is easily customizable based on your likes and dislikes...don't like mushrooms? Leave them out! Love spicy food? Make it spicier! Have olives like I do? leave them out! you get the idea...
"Riggies" stands for rigatoni, which are the larger tubular pasta shapes. They can be hard to find, so feel free to substitute other tubular pastas like ziti or penne. The tubes help to hold more of the sauce as you eat.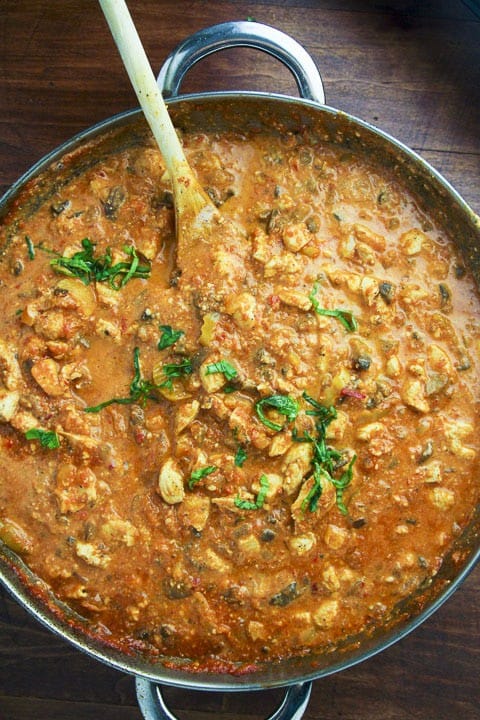 I've given chicken riggies a little makeover to save some calories. The first version that I ever tried used a whole stick of butter. Naturally that was quite delicious, but added way too much fat. I've included heavy cream as an optional ingredient but you won't miss it if you don't use it!
In the past, I've used jarred peppers (a mixture of mild and hot sliced sandwich peppers). Given the sodium content in the jarred peppers, I try to use fresh bell peppers as the base for this recipe. Fresh is always best, right? But in a pinch, I will use the jarred variety. 
The addition of a cup of Parmesan cheese takes this over the top -soooooo good! Don't skip that step!
Save this recipe for a chilly Sunday - you will love it.
📖 Recipe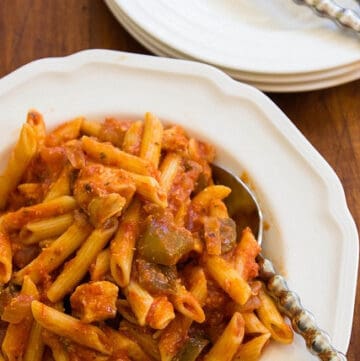 chicken riggies
A super easy one-pot meal that from central NY. This "casserole of yum" includes veggies like onion, peppers, and mushrooms in addition to chunks of chicken in a creamy and spicy tomato sauce.
Ingredients
4

tablespoons

olive oil

divided

1.5

lb

chicken thighs

or chicken breast

1

large onion

chopped

4

tablespoons

tomato paste

3

cloves

garlic

smashed and minced

2

bell peppers

chopped (or use mild sliced pepper rings in jar) (can also use 1 cup roasted peppers)

¾

cup

red or white wine

28

oz

can crushed tomato sauce

2

cherry peppers

jarred; chopped (see NOTE)

1

cup

grated parmesan cheese

plus more for serving

reserved pasta water

if needed
Optional Ingredients
3

cups

fresh mushrooms

chopped (optional)

¼

cup

olives

chopped, (optional)

¼

cup

heavy cream

(optional)
Instructions
For the Pasta
Bring salted water to boil in a large stockpot. Cook pasta according to package direction and set aside at least 1 cup of pasta water in case needed.

If pasta is done before the sauce, I like to add a tablespoon of olive oil to drained pasta and then set aside.
For the Sauce
Prepare the Chicken: Heat 2 tablespoons of olive oil in a large skillet over medium-high heat.

Add the chicken pieces, season lightly with salt and pepper and cook until browned on both sides and cooked through. Remove from the skillet, set aside to cool for at least 10 or 15 minutes and then chop up into small bite sized pieces.

Saute the Vegetables: In the same skillet, add the remaining 2 tablespoons of olive oil.

Add the chopped onion and bell peppers. Sauté until they start to soften and the onions become a bit translucent. (optional can add mushrooms and olives)

Add Flavor and Tomatoes: Stir in the minced garlic and cook for about 1 minute or only until fragrant. Do not brown at all.

Add the tomato paste and cook, stirring, for another 2 minutes to cook out the raw flavor of the paste.

Pour in the wine, whisk or combine well, and let it simmer for a couple of minutes, allowing the alcohol to evaporate.

Add Tomatoes and Chicken: Add the crushed tomato sauce, chopped hot/cherry peppers, and chopped chicken to the skillet. Stir to combine.

Season with pepper to taste. Remember that the cherry peppers can add some heat, so adjust according to your preference.

Simmer and Combine: Reduce the heat to medium-low and let the sauce simmer for at least 15-20 minutes with lid ajar or longer until it's reached your desired thickness. This allows the flavors to meld and the sauce to thicken slightly. Don't forget to stir intermittently.

Add Cheese and adjust taste: Once the sauce has thickened, stir in the grated Parmesan cheese and allow it to melt into the sauce, creating a creamy texture. OPTIONAL: Add heavy cream (suggested ¼ cup).

Final Touches: If the sauce seems too thick, you can add a bit of reserved pasta water to reach your desired consistency.

Taste and adjust seasoning if needed. You can also adjust the spiciness by adding more cherry peppers if desired and you can add a bit more brine from the hot peppers, slowly, if desired (1 tablespoon at a time).

Serve: Serve the Chicken Riggie sauce over cooked pasta and sprinkle with additional cheese if desired.
Notes
Feel free to substitute with any jarred sliced hot peppers, which imparts a briny spicy taste to your dish. I feel it's important to use jarred as you get that bit of vinegar similar to when you make Utica Greens. 
Nutrition
Calories:
428
kcal
Carbohydrates:
55
g
Protein:
27
g
Fat:
12
g
Saturated Fat:
4
g
Polyunsaturated Fat:
1
g
Monounsaturated Fat:
5
g
Trans Fat:
0.01
g
Cholesterol:
50
mg
Sodium:
1229
mg
Potassium:
890
mg
Fiber:
5
g
Sugar:
8
g
Vitamin A:
1530
IU
Vitamin C:
48
mg
Calcium:
158
mg
Iron:
2
mg
Interested in More Recipes?
SUBSCRIBE to get recipes delivered to your email 🙂