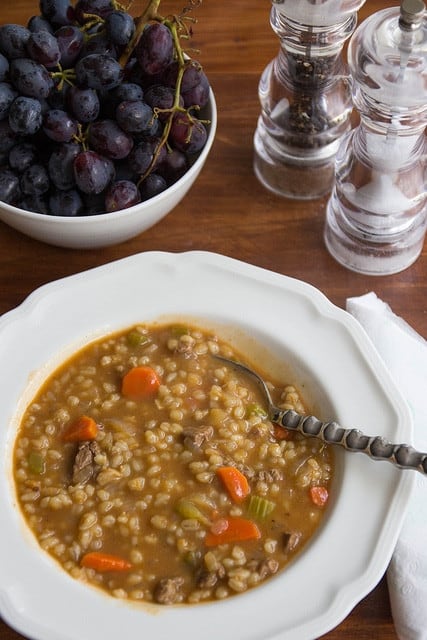 Lately, it seems that I don't have much time to cook. The days just seem to go by so quickly. Even when I'm not working, there is always something to be done around the house, some errand to go to, or some appointment to bring someone to. Of course, this doesn't leave much time for cooking during the week.
No time + fall weather equals soup in my mind. I love soup. I could probably have soup daily once the weather cools. It's quick, it's often healthy, and it's filling....which brings me to this beef barley soup.
I'm happy to report that this was a big winner in our house this week. I made a lot and leftovers were gone within 1 day. That's always a good indicator, isn't it?
This recipe is very simple, just some chopping and sauteing involved in the initial stages. The soup thickens the longer it sits, so leftovers will be thicker than after it has just been cooked. Of course, this is an easy recipe to tailor, so if you want it thinner you can either increase the amount of beef broth or reduce the amount of barley. And, vice versa of course if you want a thicker soup.
Serve this with a big ole salad and some warm bread for the kids, and call it dinner!
📖 Recipe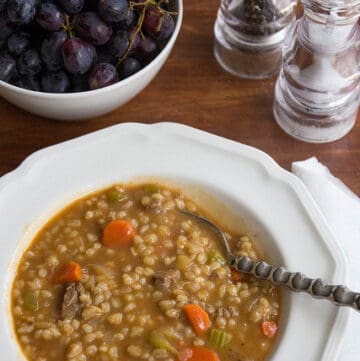 easy and hearty beef barley soup
An easy hearty one dish meal
Ingredients
1

tablespoon

butter

1

tablespoon

oil

1

pound

beef

(cut of your choice; cooked or uncooked), chopped

1

cup

celery

, diced

1

cup

onion

, diced

1

cup

carrots

, sliced/diced

1/ 2

barley

, up to 1 cup, uncooked*

8

beef broth*

up to 12 cups

3

bay leaves

2

cloves

garlic

, minced

½

teaspoon

salt

¼

teaspoon

pepper

1

cup

tomato sauce
Instructions
Heat butter and oil over medium high heat in a non-stick skillet

If using uncooked beef, add beef to pan and brown on all sides; remove from pan and set aside

Add vegetables (carrots, onions, celery) to skillet and saute until slightly softened, 3 to 4 minutes

Add all remaining ingredients and return browned meat to the pan

Bring the soup to a boil and then reduce heat to low and simmer for about 1 hour 15 minutes or until barley is cooked and vegetables have become tender.

Check seasoning and add additional salt and/or pepper, if needed, to taste
Notes
* for very thick soup, use 8 cups broth and 1 cup barley; for more traditional soup, use more broth (12 cups) or less barley (½ cup)
Nutrition
Calories:
127
kcal
Carbohydrates:
6
g
Protein:
14
g
Fat:
5
g
Saturated Fat:
2
g
Cholesterol:
38
mg
Sodium:
380
mg
Potassium:
426
mg
Fiber:
1
g
Sugar:
3
g
Vitamin A:
2905
IU
Vitamin C:
5.2
mg
Calcium:
33
mg
Iron:
1.5
mg
Interested in More Recipes?
SUBSCRIBE to get recipes delivered to your email 🙂