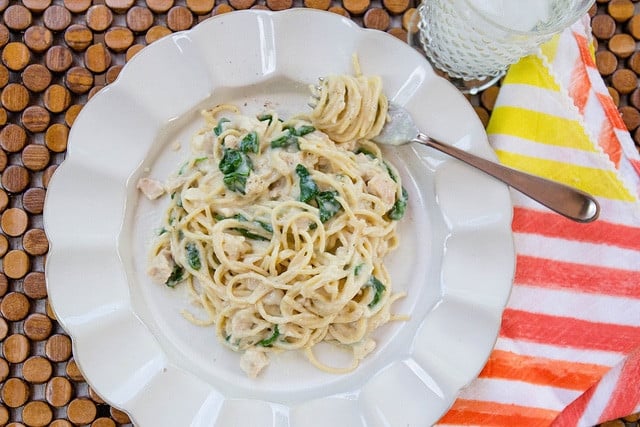 If you like pasta and you also like chicken Florentine, you are going to love this recipe.
Here's a one dish meal that is easy to make on those nights when you are in a hurry or just aren't in the mood to clean 4 million pots.  Imagine that!  Serve this with a big salad, and call it dinner.
I typically keep all of the ingredients for this dish on hand, so this recipe makes for a good last minute supper provided that the chicken is defrosted or can be defrosted relatively quickly. If you have a gas grill, even better because the chicken will cook in a snap.
Because you will use some chicken broth in the place of milk, the sauce is lower in calories than other cream- or milk-based sauces and the use of grated cheese gives you lots of flavor for the amount used, also a good calorie saver.
Leftovers reheat nicely – yes, I usually overcook, so I know this is true. What can I say? It's the Italian in me.
Adapted from Cooking Light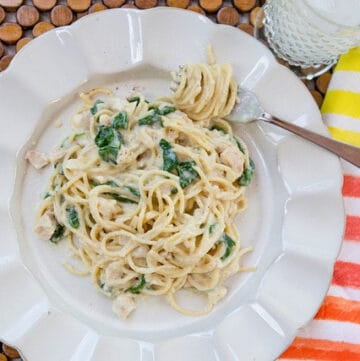 creamy chicken florentine pasta
Ingredients
2

to 3 boneless chicken breasts

, grilled and sliced

1

pound

spaghetti

2

tablespoons

oil

3

tablespoons

all purpose flour

1

cup

chicken broth

1

cup

whole milk

¼

teaspoon

black pepper

½

to 1 cup of reserved pasta water

3

ounces

grated Parmesan cheese

(about ¾ cup)

4

cups

baby spinach leaves

, rinsed and dried
Instructions
In a large pot, cook pasta according to package instructions (ensure you salt the water appropriately, about 1 teaspoon per quart of water used)

In a small saucepan, combine the chicken broth and milk and warm gently but do not boil. Set aside.

In a large saute pan, heat the oil over medium heat, add the flour and stir to form a roux and cook over medium heat for 1 to 2 minutes. Do not allow the roux to brown.

Add the black pepper, and broth/milk mixture to the roux and whisk briskly until smooth. Continue heating gently until thickened, then remove from heat and add the Parmesan cheese.

When pasta is finished cooking, drain and reserve 1 cup of pasta water

To assemble dish, combine cheese sauce with pasta, spinach, and chicken. Stir to combine and very slowly add small amounts of the reserved pasta water, only if needed, to thin sauce.
Interested in More Recipes?
SUBSCRIBE to get recipes delivered to your email 🙂