Dive into tender chicken and fresh spinach, all mixed up in a creamy garlic-parmesan sauce over pasta. This Chicken Florentine Pasta is a flavor explosion that'll have you coming back for seconds.
Easy to whip up and perfect for any dinner night, it's the comfort food you've been craving! Whether it's for a family meal or a cozy date night in, this pasta promises to be a hit every time."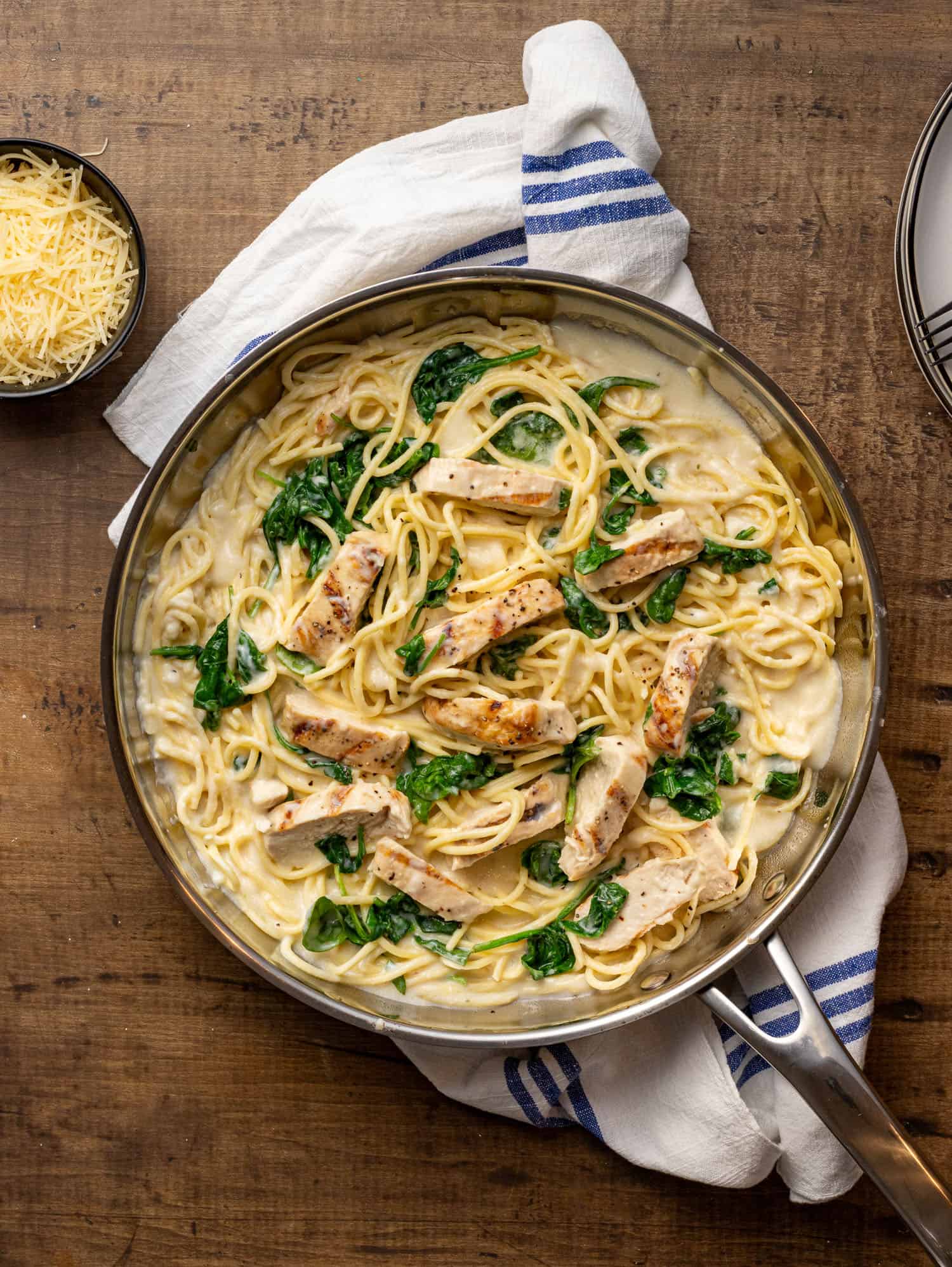 This one-dish meal is easy to make on those nights when you are in a hurry or aren't in the mood to clean too many dishes or pots (much like my Garlic Lemon Shrimp Pasta!)  
Serve this with a big salad (maybe a classic Caprese salad?), and call it dinner. And speaking of chicken pasta dishes, my Chicken Riggies is hands down, an absolute must-try recipe!
Jump to:
Why You'll Love This Recipe
Keeping all ingredients on hand is easy, so it's an excellent last-minute supper.
This chicken Florentine pasta is lower in calories than typical recipes since we use a quick and easy chicken broth (or store-bought) instead of some of the milk.
Incorporating grated cheese packs a flavorful punch with minimal calories (one of my favorite ways to add flavor).
What You'll Need: Ingredients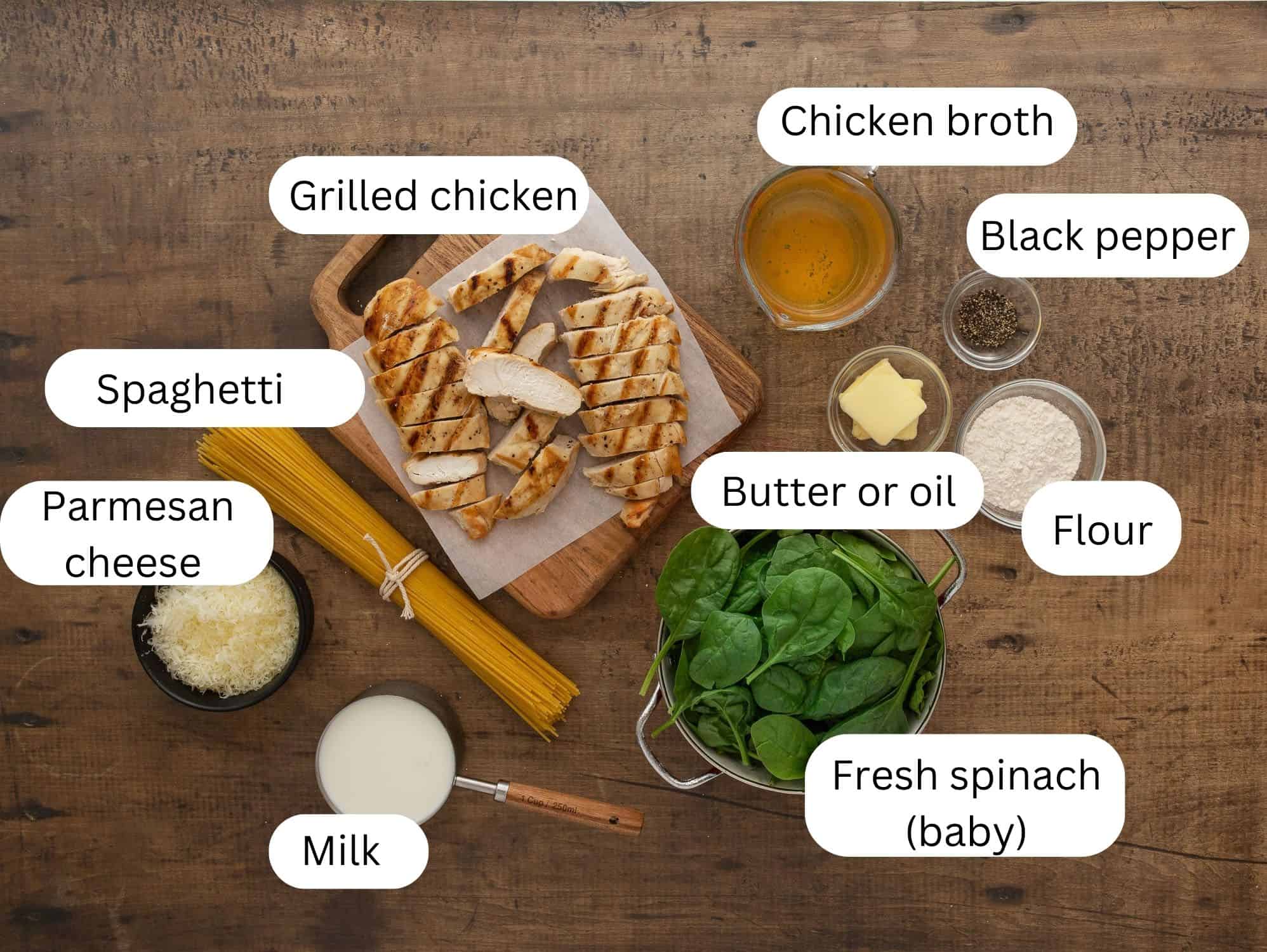 Please see the recipe card below for a complete list of ingredients and quantities.
You'll also need reserved pasta water to help adjust the sauce's consistency and bring out the pasta's starchy goodness to bind the sauce better.
How to Make
Step 1: In a large pot, cook the pasta according to the package instructions. It's crucial to salt the water just right; I like it to be salty like the ocean.
Step 2: In a separate small saucepan, mix together the chicken broth and milk. Warm this mixture gently, ensuring it doesn't boil, then set it aside for later use.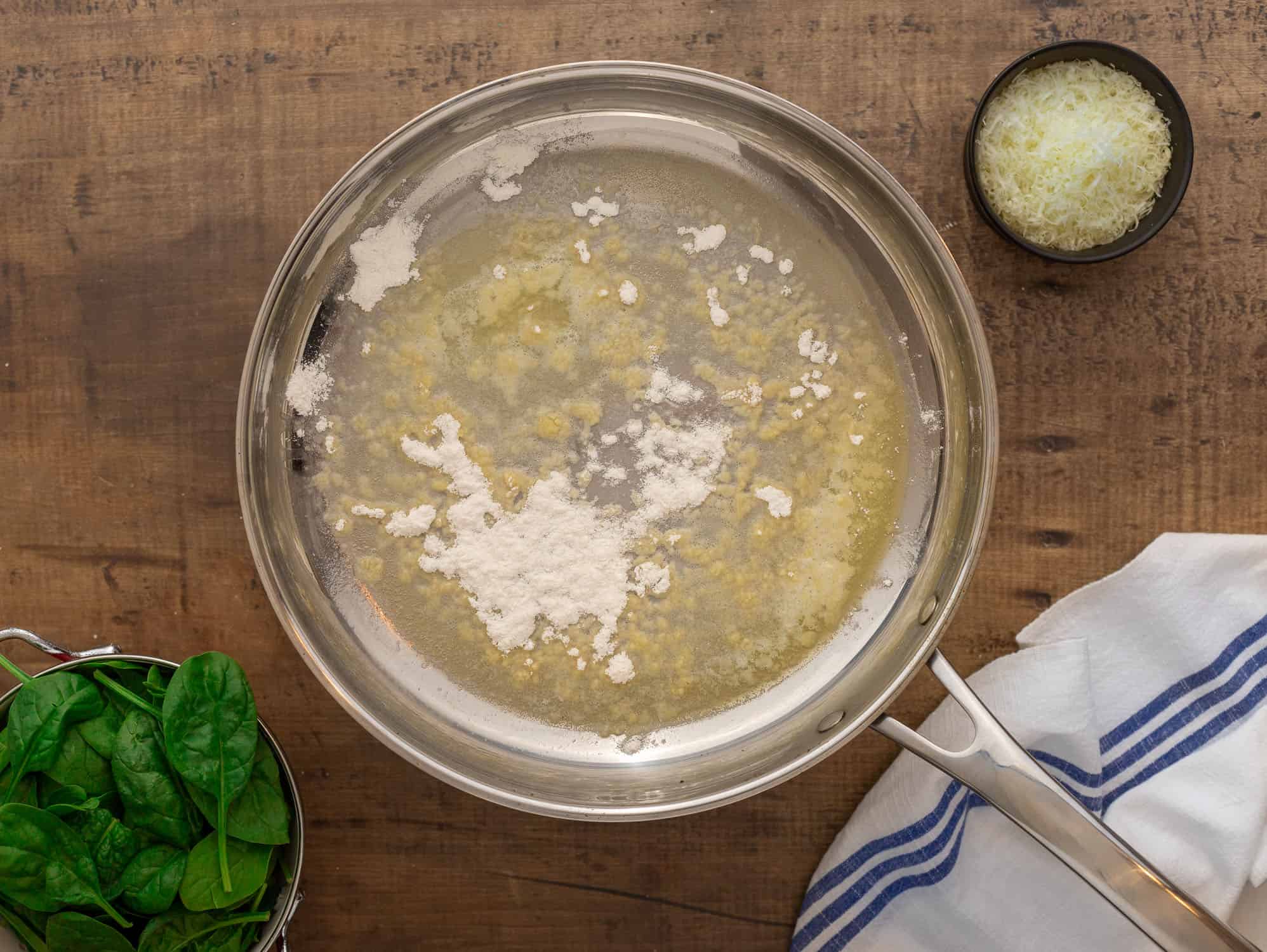 Step 3: Meanwhile, in a spacious sauté pan, heat the butter or oil over a medium flame. Introduce the flour, stirring it in to create a roux. Let this mixture cook for about 1 to 2 minutes, but be cautious not to let the roux turn brown.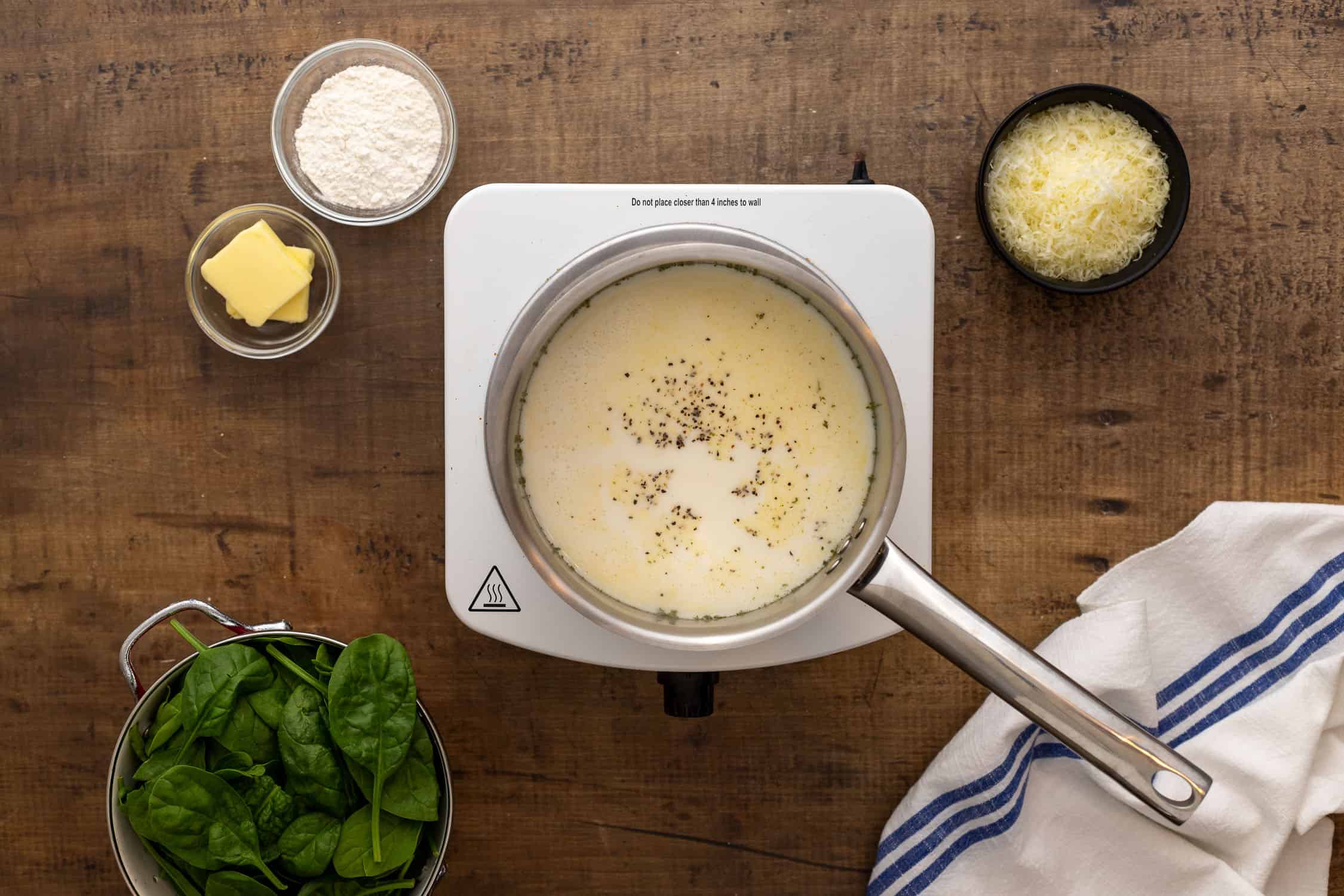 Step 4: Add the black pepper and the previously prepared broth/milk mixture to this roux. Whisk it until you achieve a smooth consistency. Keep heating it gently until it thickens.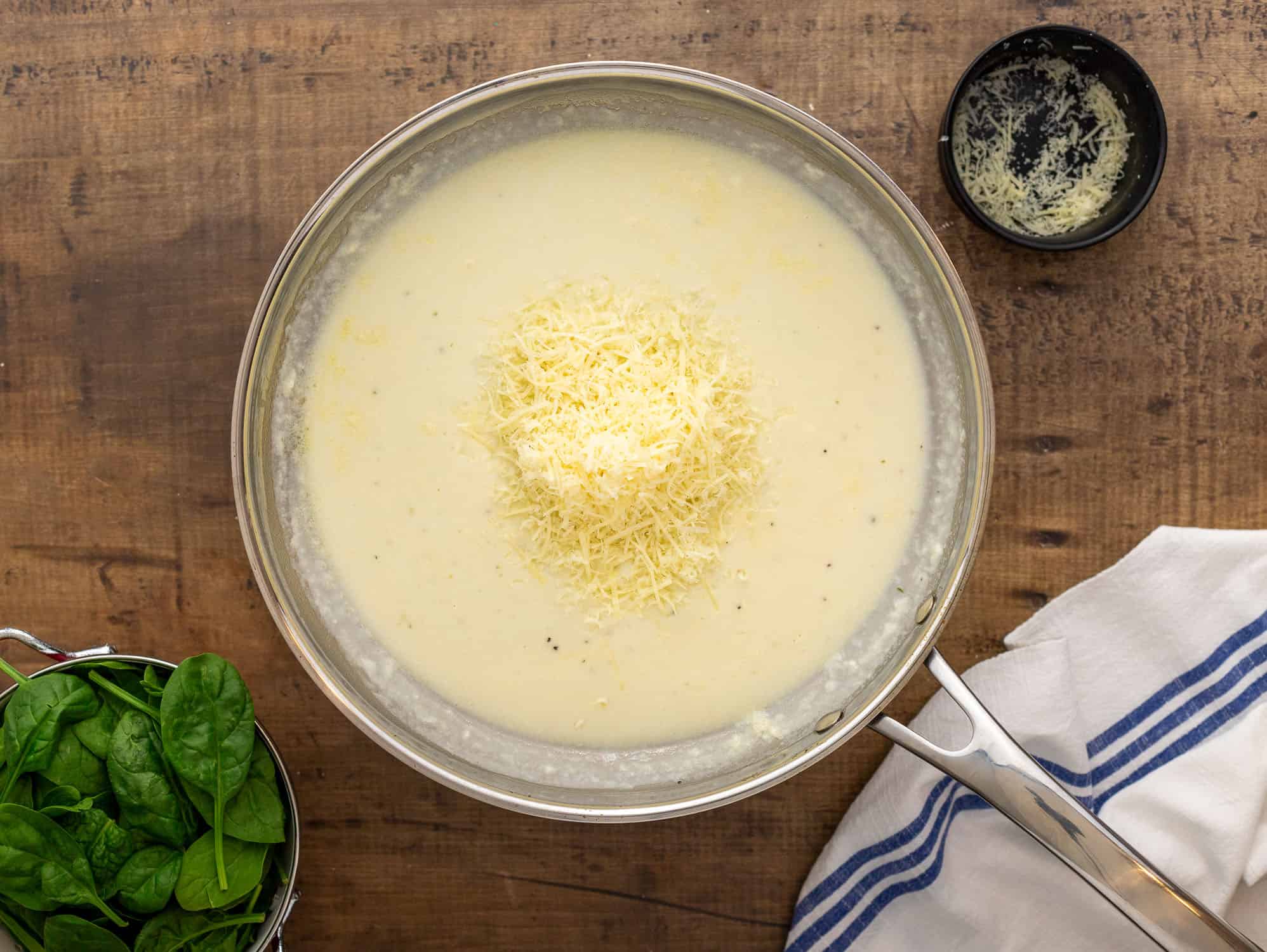 Step 5: Once you reach the desired thickness, remove the heat and mix in the Parmesan cheese.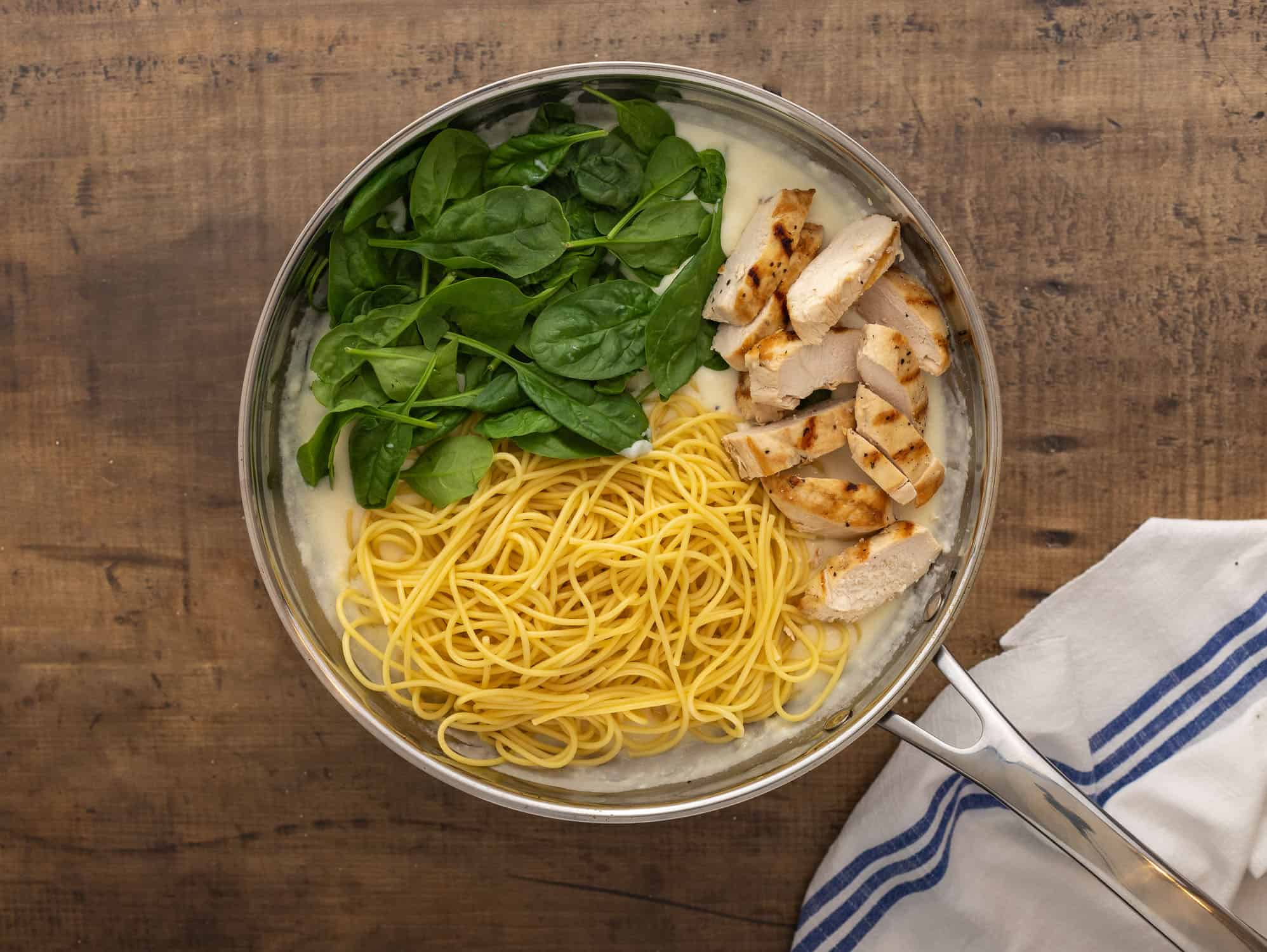 Step 6: Once your pasta is perfectly cooked, drain it, making sure you set aside a cup of the pasta water. Now, it's assembly time! Mix the cheese sauce, pasta, spinach, and chicken in a large dish.
Step 7: Stir them together, and if you find the sauce too thick, add the reserved pasta water in small increments until you achieve the desired consistency.
Top Tips for Making
Here are some tips to ensure your Chicken Florentine Pasta turns out perfectly:
Pasta Perfect: Always cook pasta al dente, especially if you're reheating it with the sauce later. Overcooked pasta can become mushy.
Seasoning the Water: Don't skimp on salting the pasta water. It's your chance to season the pasta itself. As a general rule, the water should taste like the sea.
Roux Rules: When making the roux (flour and fat mixture), ensure you whisk continuously to prevent lumps. Cook it just long enough to remove the raw flour taste without letting it brown.
Gentle with Dairy: When warming the milk and broth mixture, ensure it doesn't boil. Boiling can cause the milk to curdle.
Fresh Spinach: Use fresh baby spinach and add it towards the end. It wilts quickly, so it doesn't need much cooking time.
Chicken Choices: For added flavor, consider seasoning and marinating the chicken before grilling. This will infuse more flavor into the meat.
Reserved Pasta Water: Remember to reserve some pasta water before draining. The starchy water can help adjust the sauce's consistency and make it cling better to the pasta.
Taste as You Go: Always taste your sauce before assembling the dish. Adjust seasonings if needed. Remember, it's easier to add more salt or pepper than it is to correct an overly salty dish.
Serving Suggestions: Consider serving with a sprinkle of red pepper flakes for those who like a little heat, or garnish with fresh basil or parsley for added color and flavor.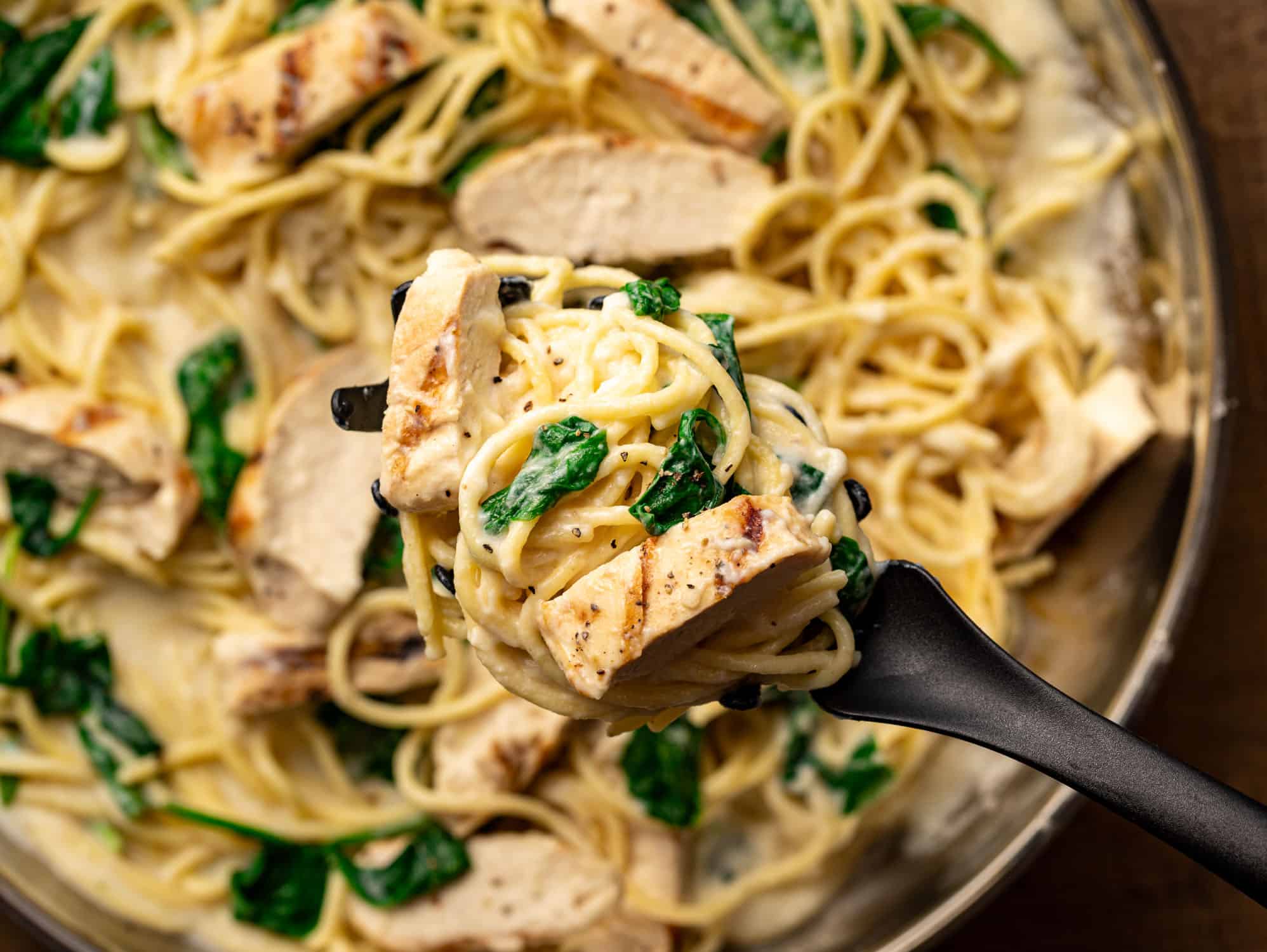 Frequently Asked Questions
What is Florentine?
"Florentine" typically refers to a dish that features spinach, often in a creamy sauce. It's derived from the region of Florence, Italy, where spinach is a popular ingredient.
What Can I Serve with Chicken Florentine Pasta
This dish pairs well with a crisp salad, garlic knots, or roasted vegetables.
Why is my sauce too thin or thick, and how can I fix it?
Sauce consistency can vary based on cooking time and ingredient proportions. If it is too thick, add more milk or reserved pasta water. If it is too thin, let it simmer a bit longer, or consider adding a touch more roux.
What is the best way to reheat a cream sauce?
Reheating a cream sauce can be tricky. To best reheat a cream sauce, use low heat and stir continuously to prevent separation and maintain a smooth consistency. Add a small splash of milk or chicken broth if necessary.
More Pasta Recipes:
If you tried this Chicken Florentine Pasta recipe, please leave a ⭐️ Star Rating in the recipe card below and let us know how it went in the Comment Section.
This recipe was tested and written by a human ⭐️
📖 Recipe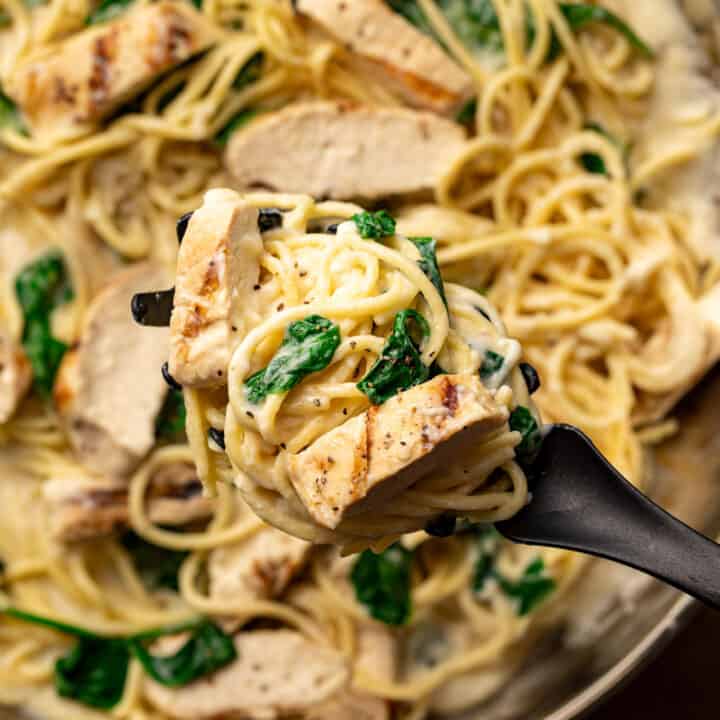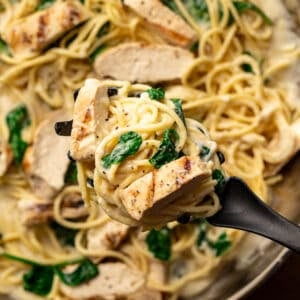 Chicken Florentine Pasta
This creamy chicken florentine pasta recipe is a delicious and comforting meal that combines tender chicken and spinach with a rich and flavorful cream sauce. This recipe is quick and easy to make and perfect for a weeknight dinner or special occasion.
Ingredients
3

small

chicken breasts

grilled and sliced

1

pound

spaghetti

2

tablespoons

olive oil

or butter

3

tablespoons

all purpose flour

1

cup

chicken broth

1

cup

whole milk

¼

teaspoon

black pepper

½

cup

reserved pasta water

up to 1 cup

3

ounces

grated Parmesan cheese

4

cups

baby spinach leaves

rinsed and dried
Instructions
In a large pot, cook pasta according to package instructions (ensure you salt the water appropriately, about 1 teaspoon per quart of water used)

In a small saucepan, combine the chicken broth and milk and warm gently but do not boil. Set aside.

In a large saute pan, heat the oil over medium heat, add the flour and stir to form a roux and cook over medium heat for 1 to 2 minutes. Do not allow the roux to brown.

Add the black pepper, and broth/milk mixture to the roux and whisk briskly until smooth. Continue heating gently until thickened, then remove from heat and add the Parmesan cheese.

When pasta is finished cooking, drain and reserve 1 cup of pasta water

To assemble dish, combine cheese sauce with pasta, spinach, and chicken. Stir to combine and very slowly add small amounts of the reserved pasta water, only if needed, to thin sauce.
Notes
Refrigeration: Transfer the Chicken Florentine Pasta to an airtight container once it has cooled to room temperature. It can be stored in the refrigerator for 3-4 days.
Sauce thickness: Add more milk or reserved pasta water if it is too thick. If it is too thin, let it simmer a bit longer, or consider adding a touch more roux.
To reheat: To best reheat a cream sauce, use low heat and stir continuously to prevent separation and maintain a smooth consistency. Add a small splash of milk or chicken broth if necessary. 
Nutrition
Calories:
559
kcal
Carbohydrates:
64
g
Protein:
41
g
Fat:
14
g
Saturated Fat:
4
g
Polyunsaturated Fat:
3
g
Monounsaturated Fat:
5
g
Trans Fat:
0.03
g
Cholesterol:
90
mg
Sodium:
427
mg
Potassium:
824
mg
Fiber:
3
g
Sugar:
4
g
Vitamin A:
2098
IU
Vitamin C:
7
mg
Calcium:
219
mg
Iron:
2
mg
Interested in More Recipes?
SUBSCRIBE to get recipes delivered to your email 🙂