Fresh homemade tomato soup is simple to make and comes together pretty easily. I love this soup because it has few ingredients but big flavor. Think savory, with a rich balanced bold flavor.
Chilly night? There is really nothing like homemade hot soup to warm the soul. I like to serve soup as a first course before dinner or with a big salad or favorite sandwich for lunch. It's even good enough alone as a small meal with some delicious fresh homemade bread.
I've always loved tomato soup. I remember eating it by the bowlful as a kid along with my grilled cheese. Such an American classic combination, isn't it? Don't you just love dunking the corner of that grilled cheese sandwich in a bowl of warm tomato soup?
Yes? Let's make some tomato soup!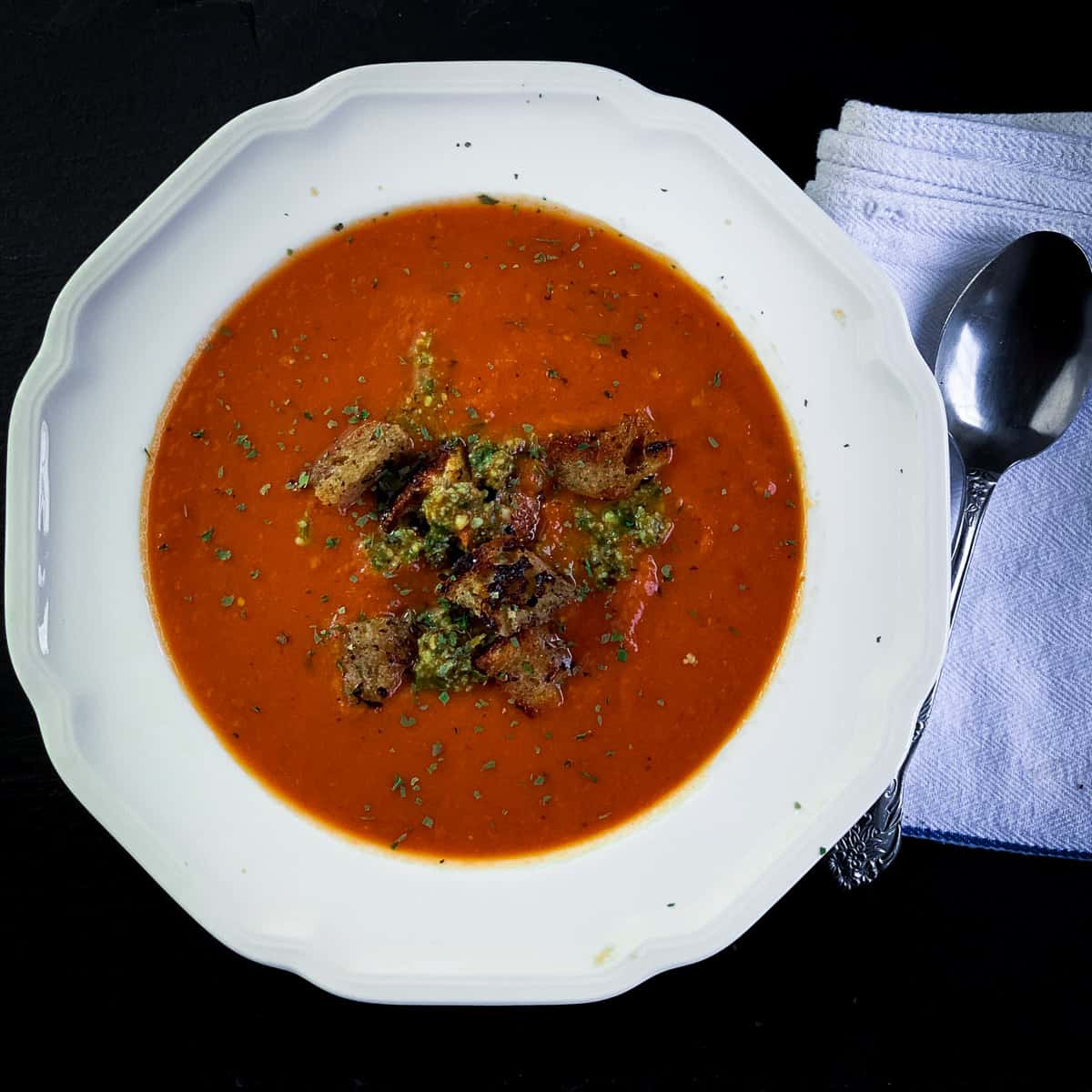 Ingredients
The main ingredients for this soup are pretty straightforward, no fancy ingredients: just tomatoes (fresh and/or canned), onions, garlic and spices. Milk or cream are completely optional.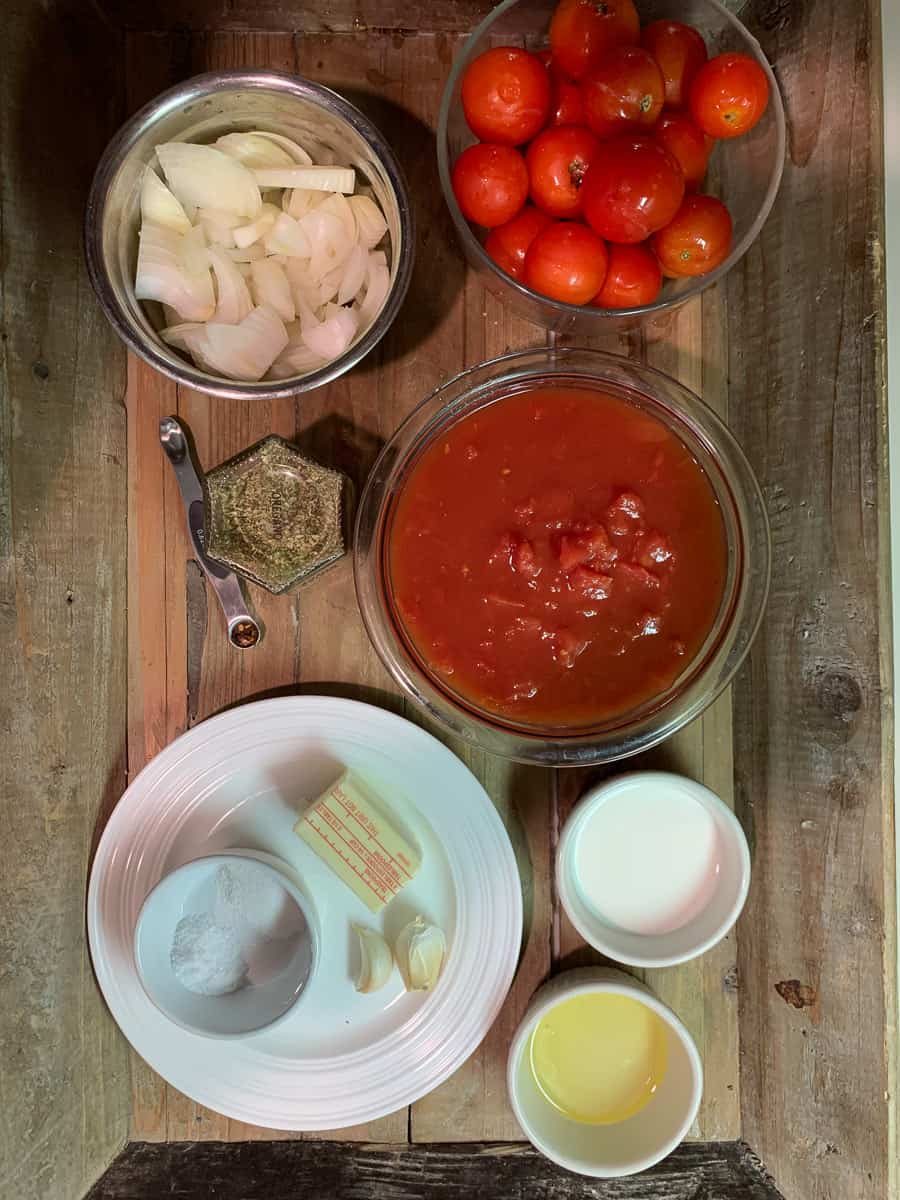 Tomatoes (canned or fresh, or a combination)
Onion - lends a delicious sweetness, don't leave these out!
Garlic - just a small clove for a hint of flavor
Spices - salt, pepper, oregano and sugar to enhance sweetness (simple but effective!)
Milk or cream - lends a bit of creaminess (may be omitted)
Instructions
This soup comes together in about an hour or less, and most of the time is cooking time so I think it's pretty easy. It's also easy to "make ahead" and you can also freeze it provided you leave out the milk/cream (you can add it later when serving).
I like to make this on the stovetop if I'm going to be doing other things in the kitchen, OR you can easily make this in the Instant Pot for a more hands-off approach where you don't need to tend to the stove.
To start, you will add butter and olive oil to your pot and heat until it is melted. Then add your aromatics (ie, onions and garlic) and heat until the onion is translucent.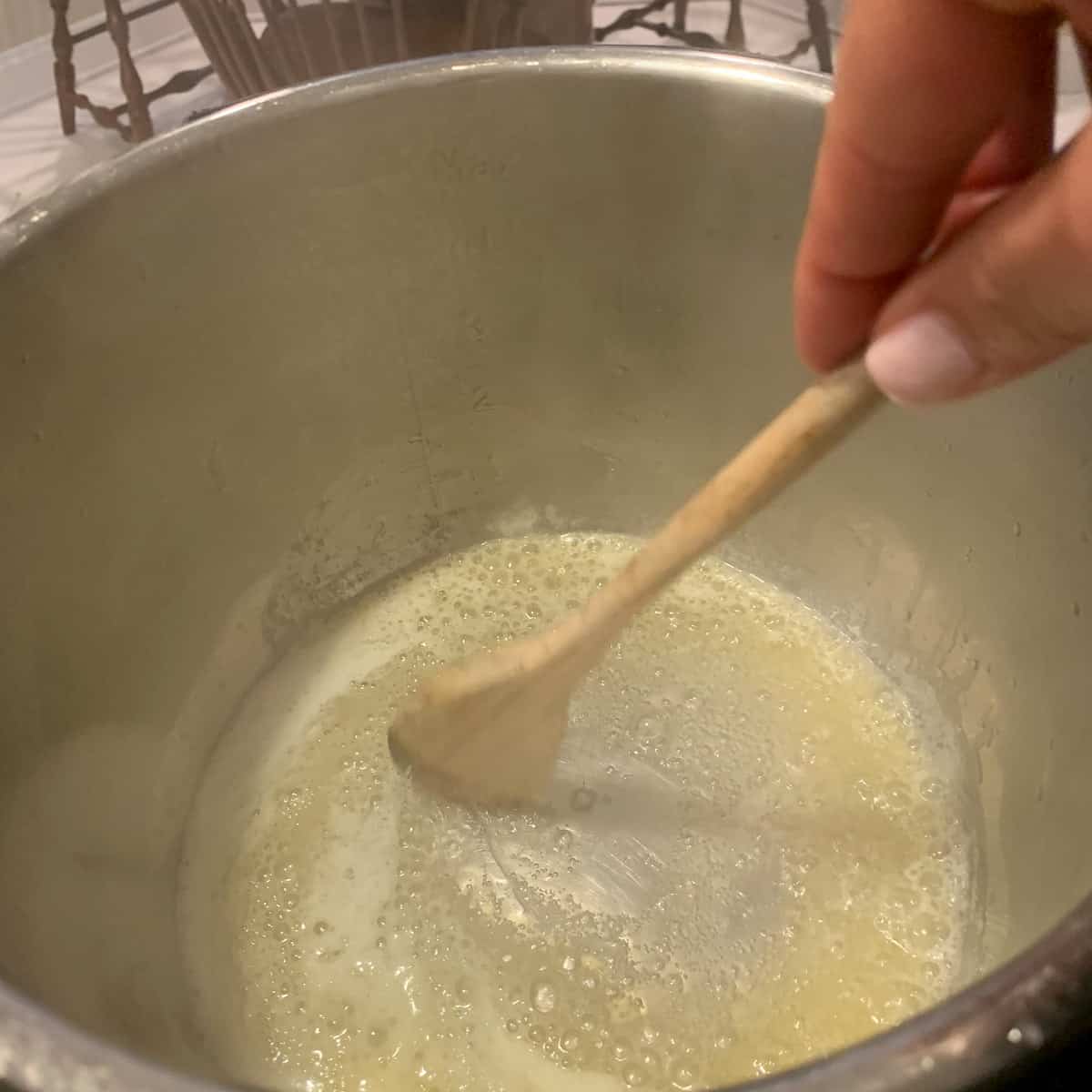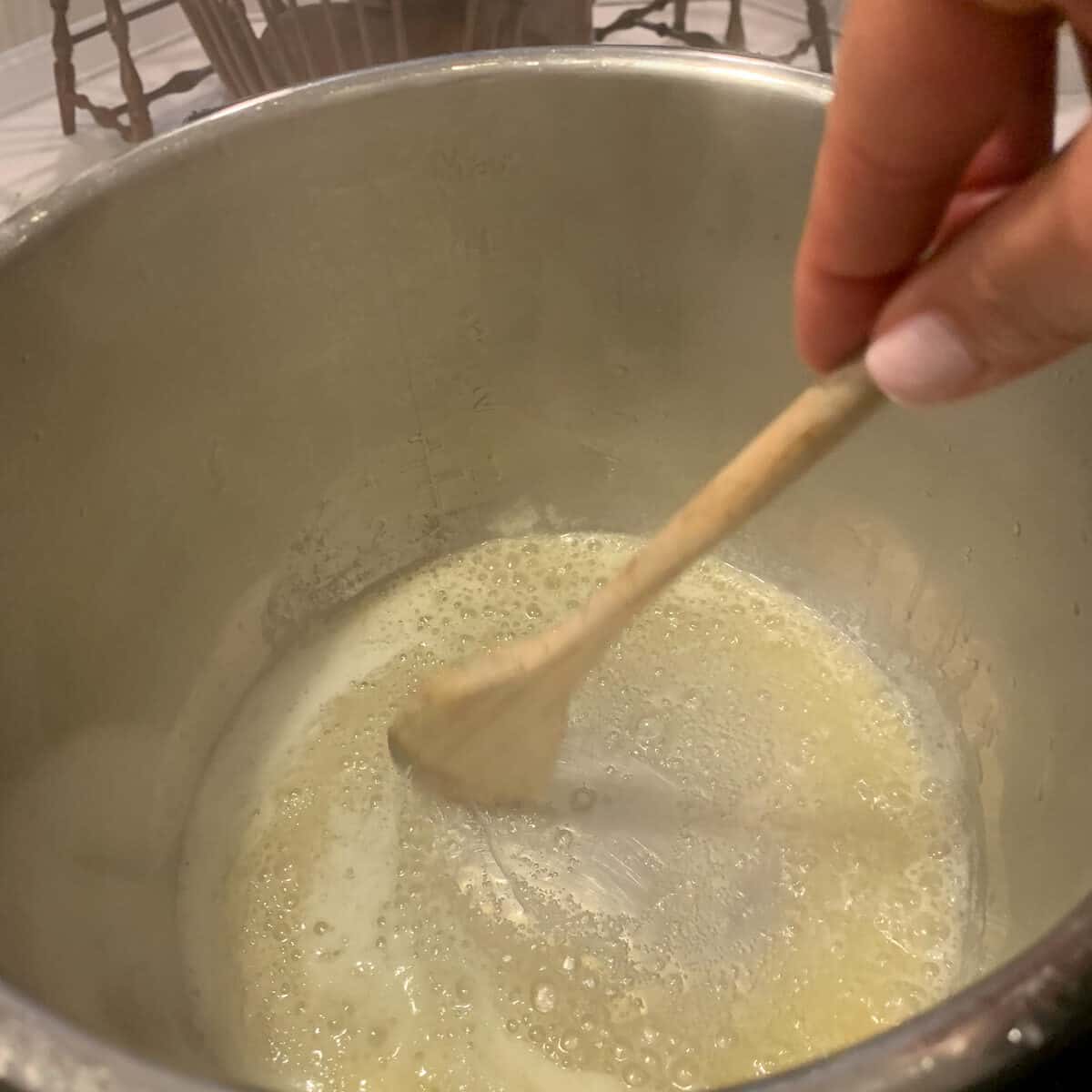 After the onions soften a bit and become translucent, add your spices (salt, oregano, red pepper flakes) followed by the tomatoes and sugar.
Cover the pot and cook. On the stovetop, bring to a low boil, then reduce heat to low and simmer for 1 hour. Using the Instant Pot, cook for 20 minutes using manual pressure and then do a quick release.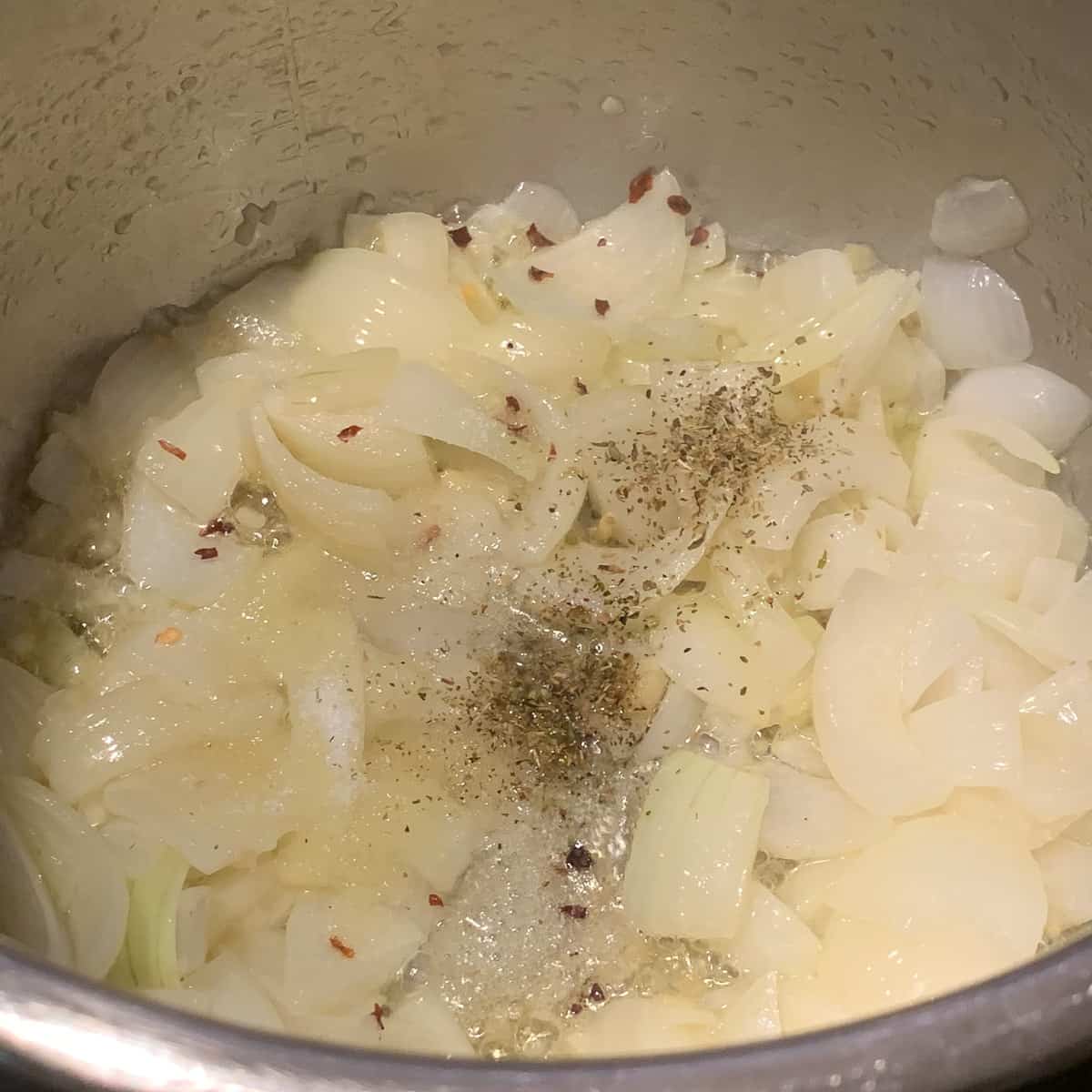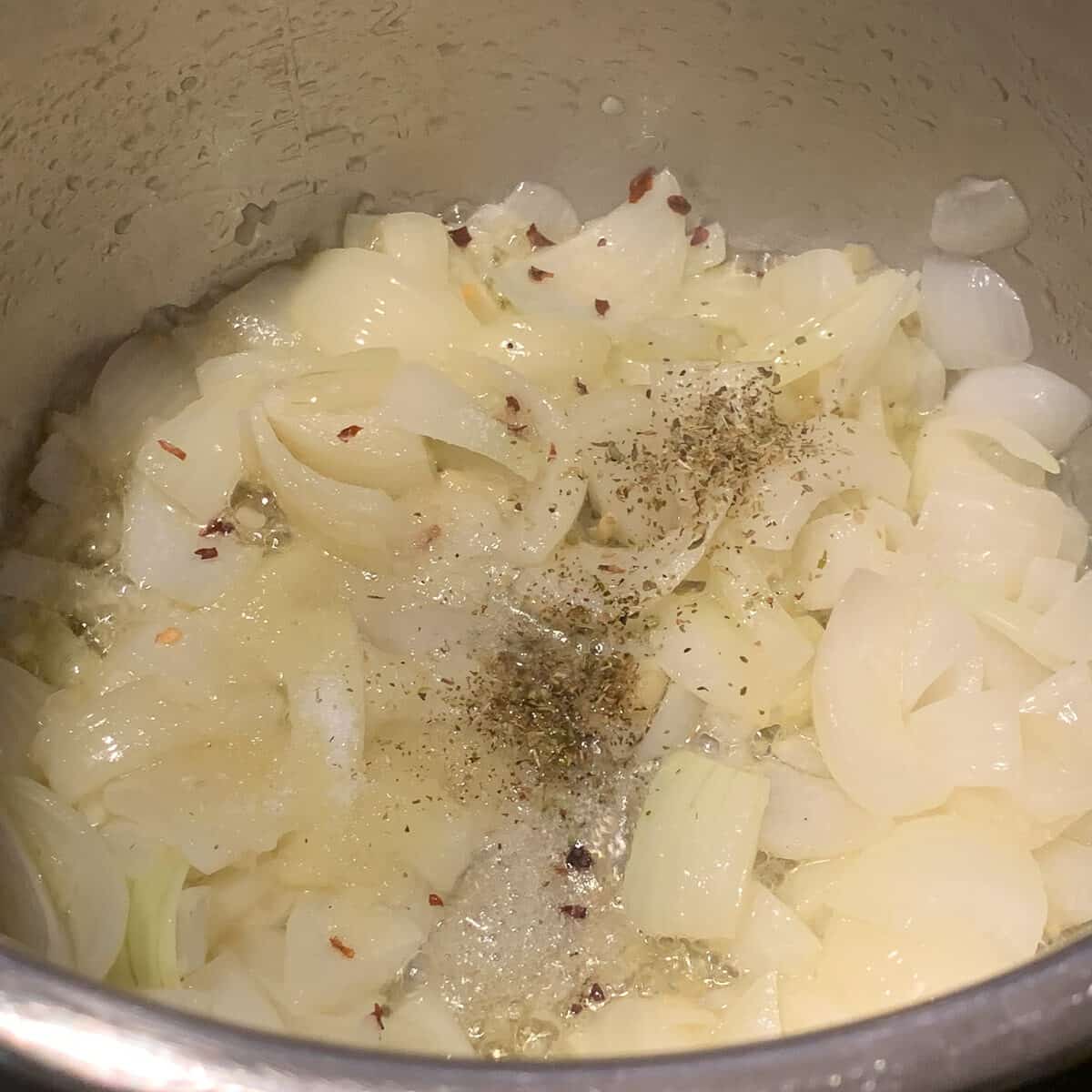 After the mixture is finished cooking, puree the soup by either carefully pouring the mixture into a blender OR using an immersion blender (my preference, so easy!)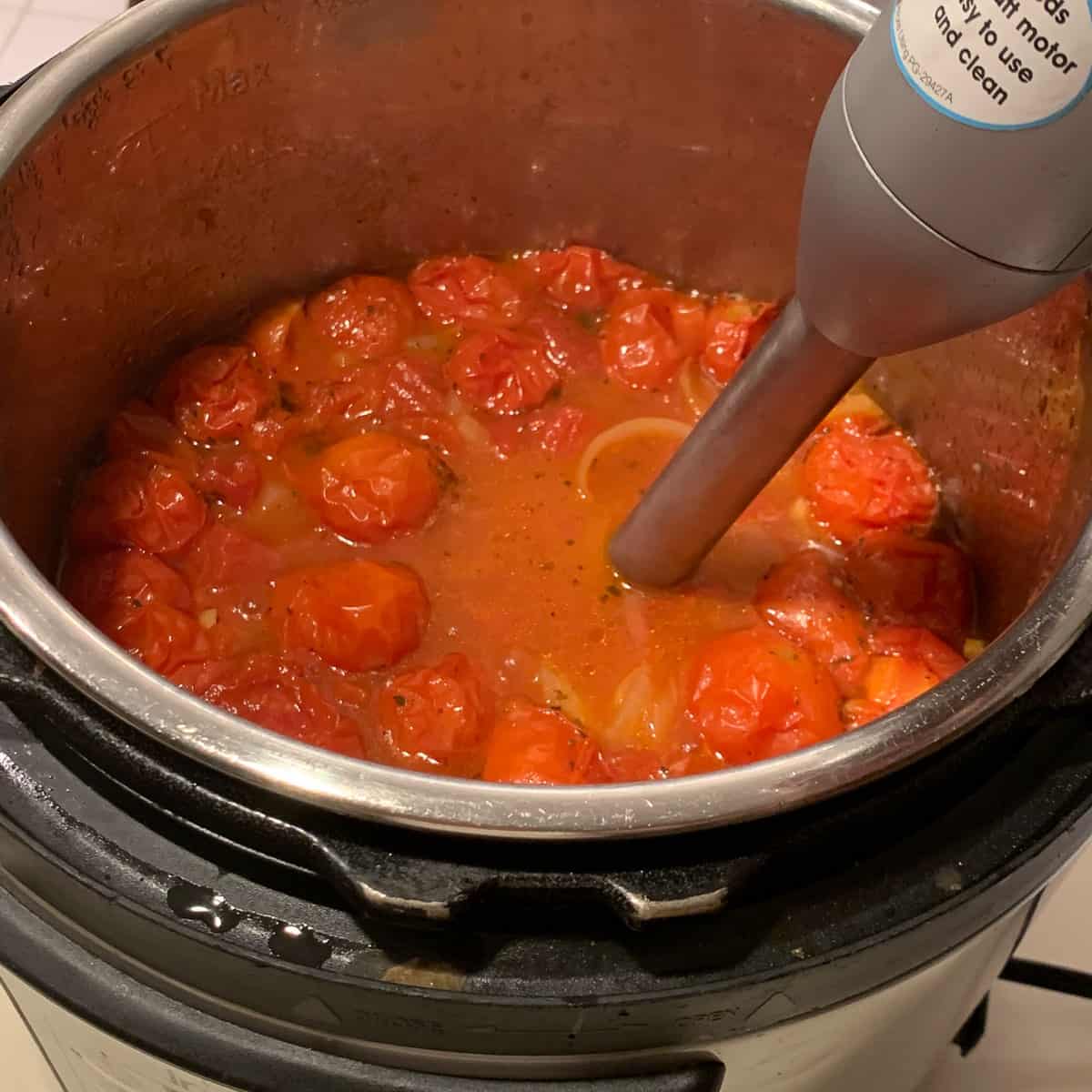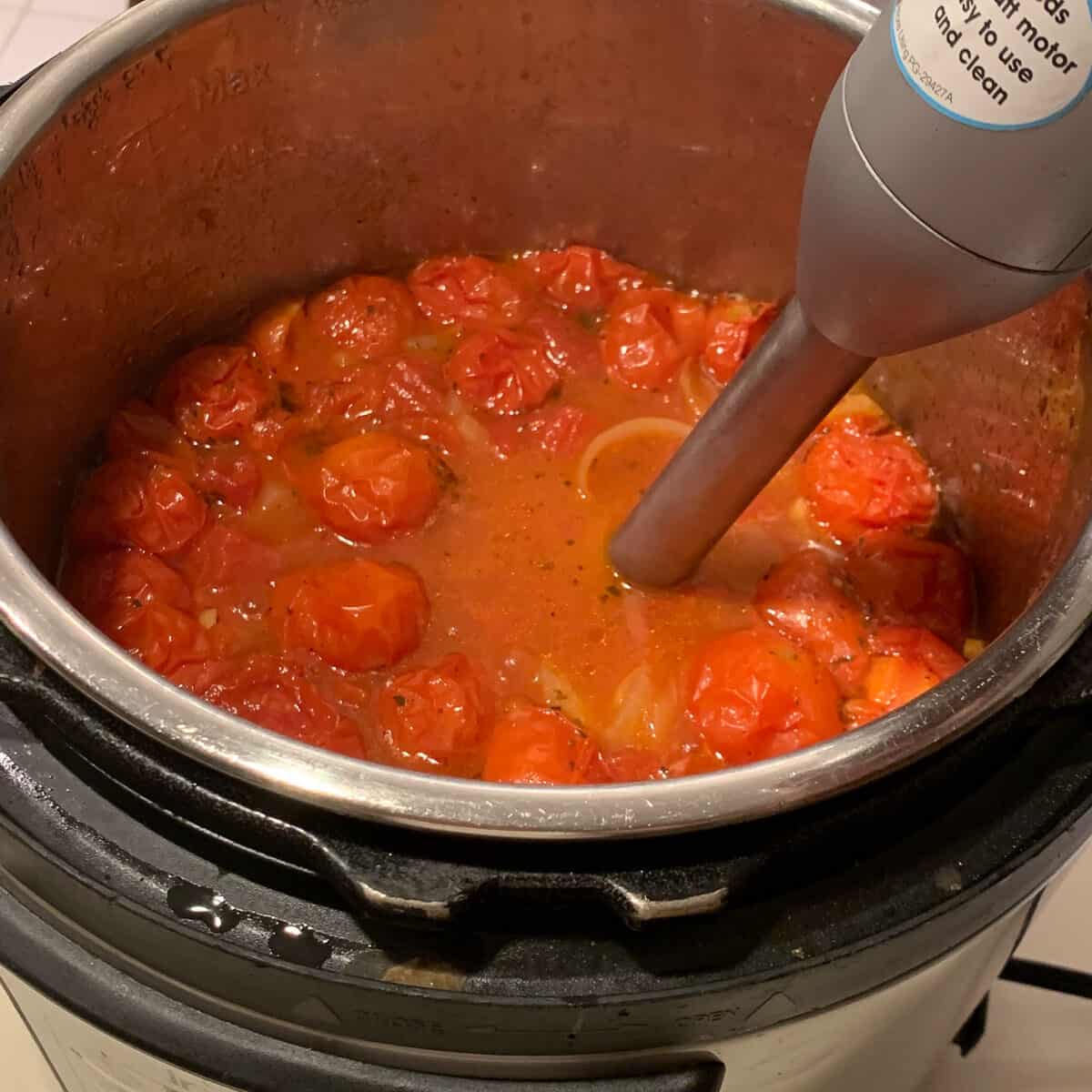 After the soup has been cooked and pureed, you can add optional toppings. I like to use seasoned croutons, pesto, or grated cheese.
What to Serve with Tomato Soup?
Tomato soup can be served alone as a small meal or snack but also goes great with the following:
Salads like this Italian Chopped Salad, a Greek salad, or even a Cobb salad.
Sandwiches (a simple grilled cheese or maybe a turkey burger?)
As a first course for a variety of dinners like chicken or pasta.
Big fresh loaf of bread!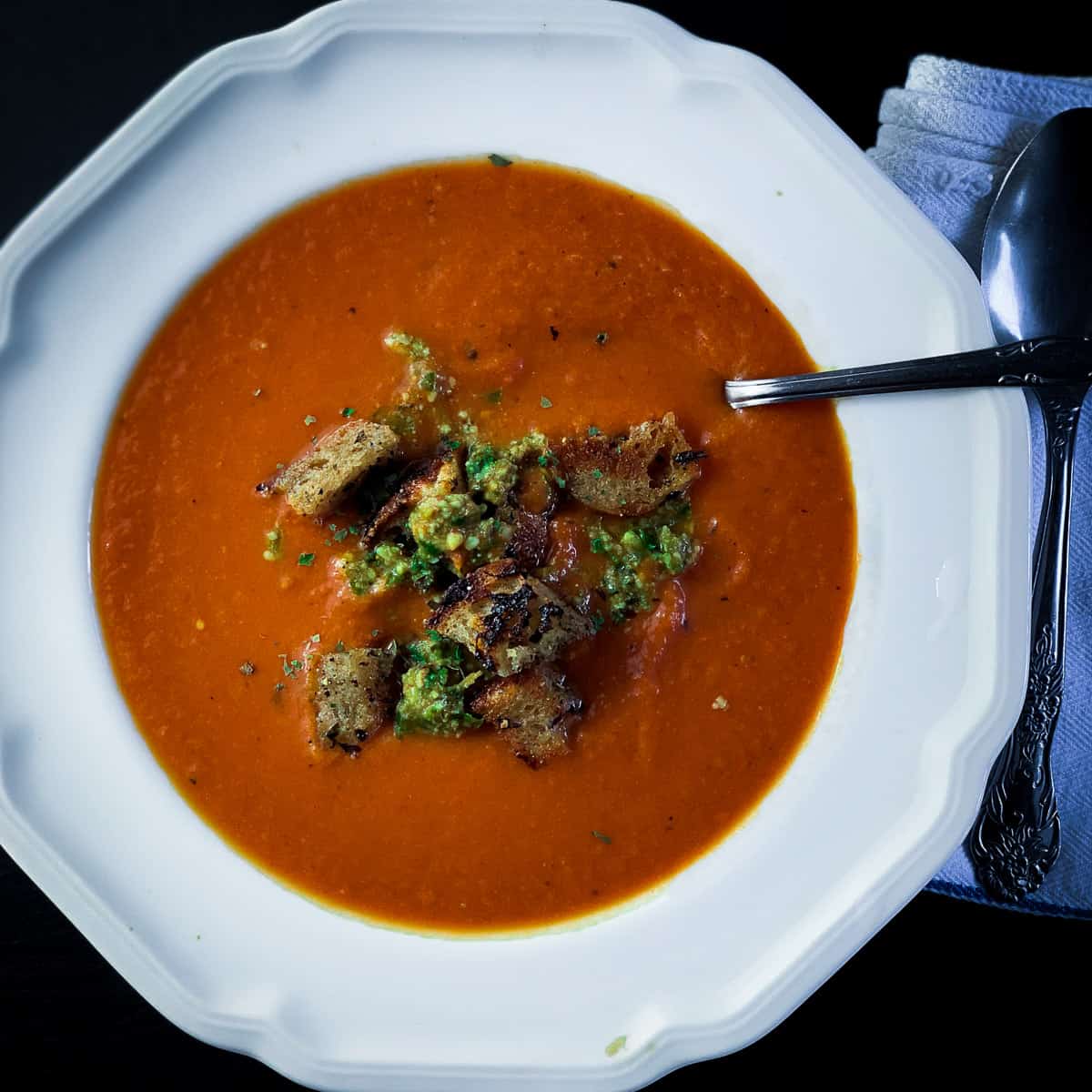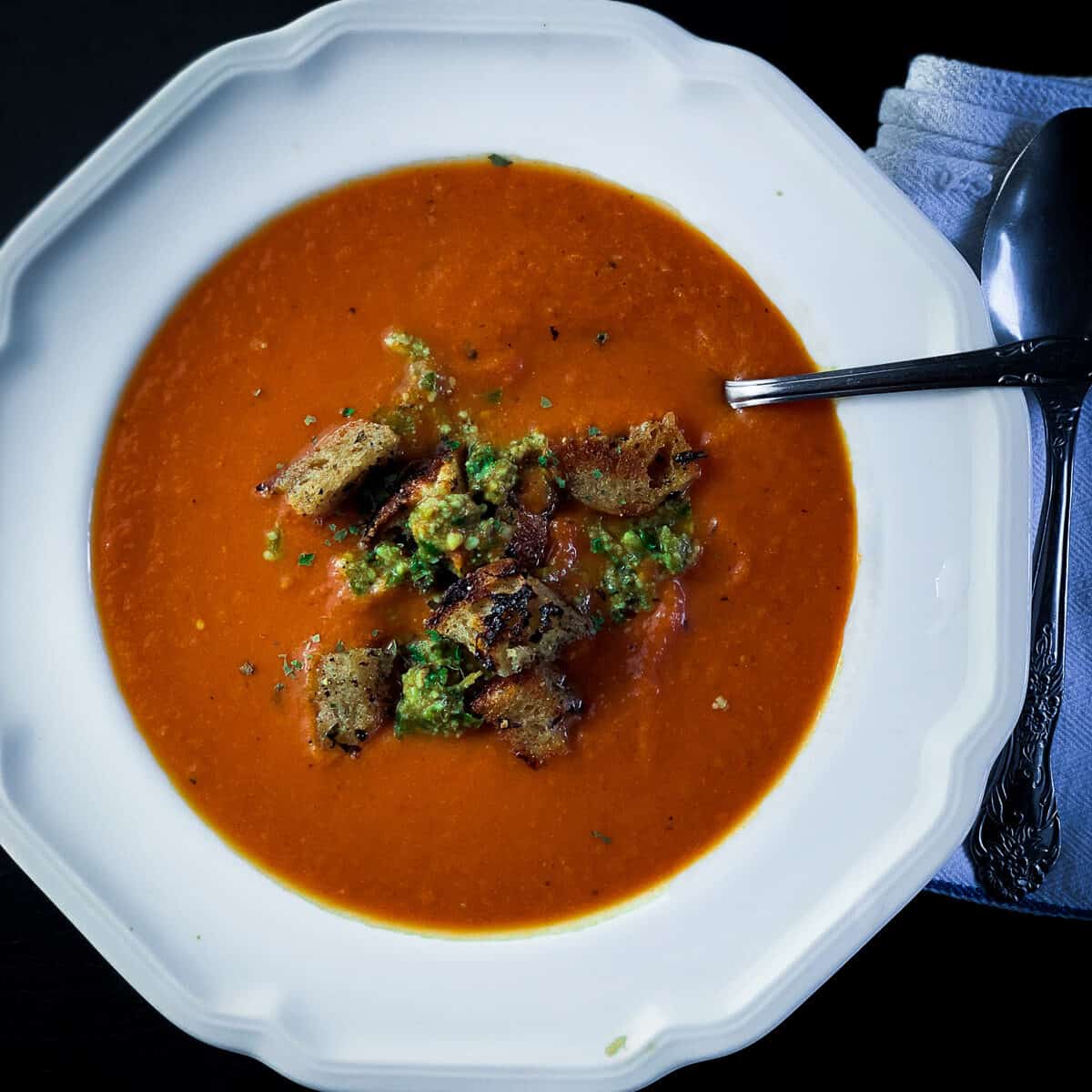 Variations
Another reason I love this soup recipe is its really so versatile. In other words, it's a very easy soup to customize. Here are some ideas to change it up a bit:
Tomato rice soup - add some cooked brown or white rice to make it heartier
Spinach - add cooked or fresh spinach to easily increase the nutrition profile
Vegan - omit the milk and butter altogether or add unflavored almond or oat milk and use vegan butter or only olive oil
Spicy - add a pinch more of red pepper flakes
Toppings - pesto, seasoned croutons, fresh herbs, grated cheese
How to Make Seasoned Croutons
I really LOVE to add seasoned croutons to this soup. If you're short on time, you can always buy pre-made but the homemade stuff is just so much better.
Like the soup, the croutons are pretty simple to make and not complicated at all. I simply cube leftover bread (you'll need a sturdy bread like sourdough, Italian, or French bread; leftover is best as it's a bit dry) and toss in melted butter and oil (1:1 ratio) in a large pan on the stove.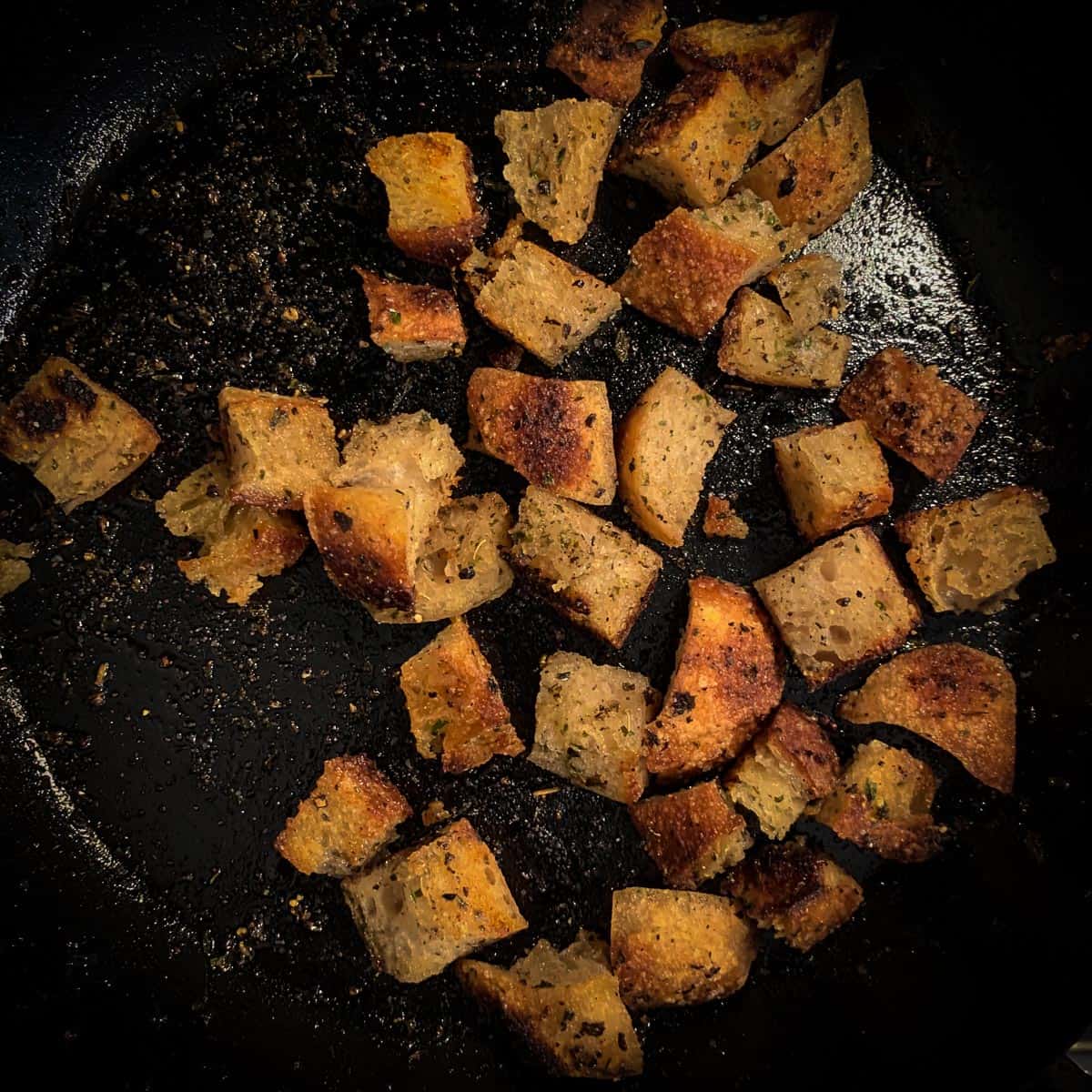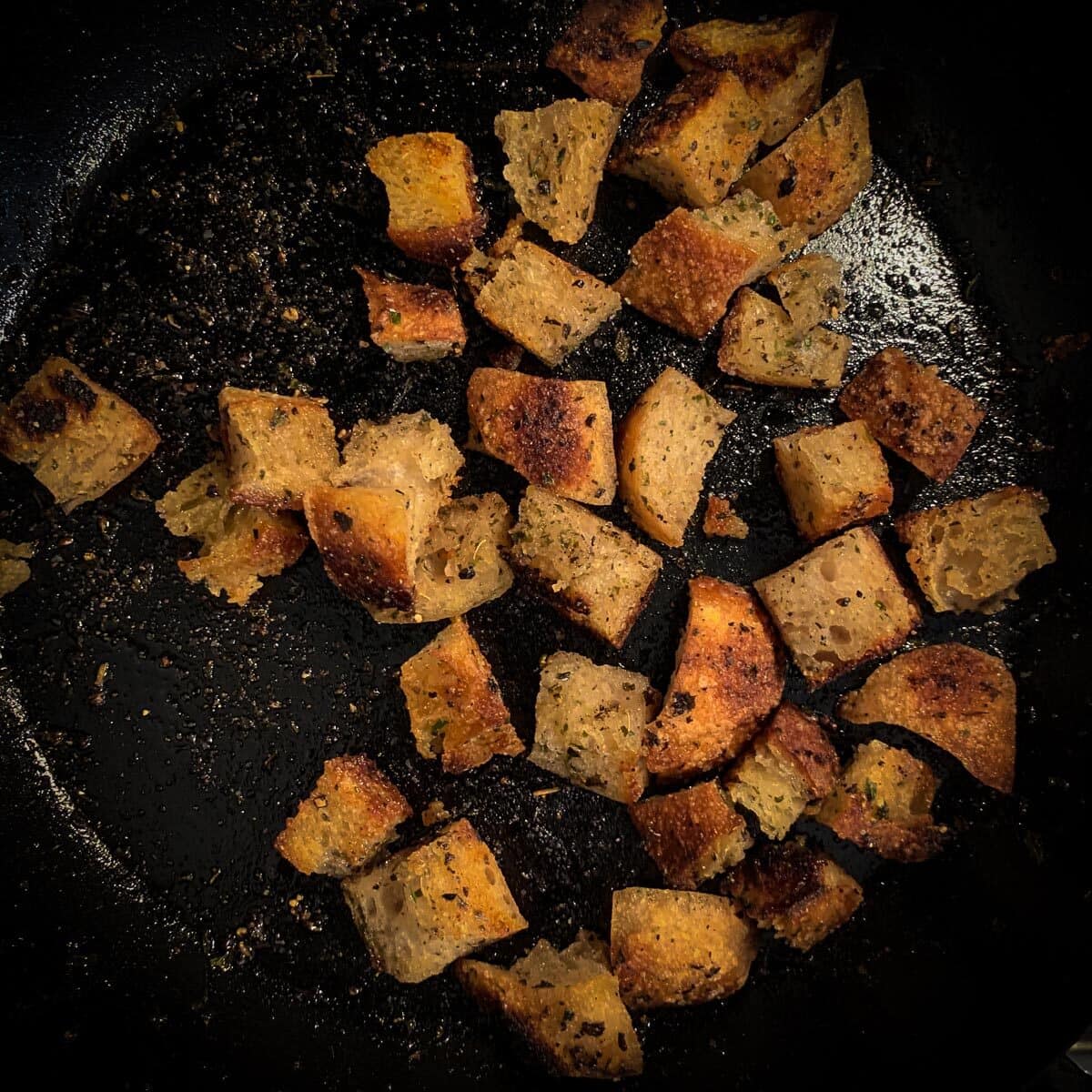 Seasonings suggestions include salt (a must), pepper, oregano, parsley, basil, garlic powder, and/or onion powder. Use what you'd like but salt is pretty necessary.
Don't drench the croutons in oil/butter or they will take too long to toast up. My croutons come together in about 15 minutes or less. I like to raise the heat just enough to get the pan and ingredients hot and then reduce heat so that the croutons don't brown too quickly.
Storage
Store leftover soup in the refrigerator for 2 to 3 days.
Soup may also be frozen for 4 to 6 months but dairy should not be added (add dairy just before serving).
📖 Recipe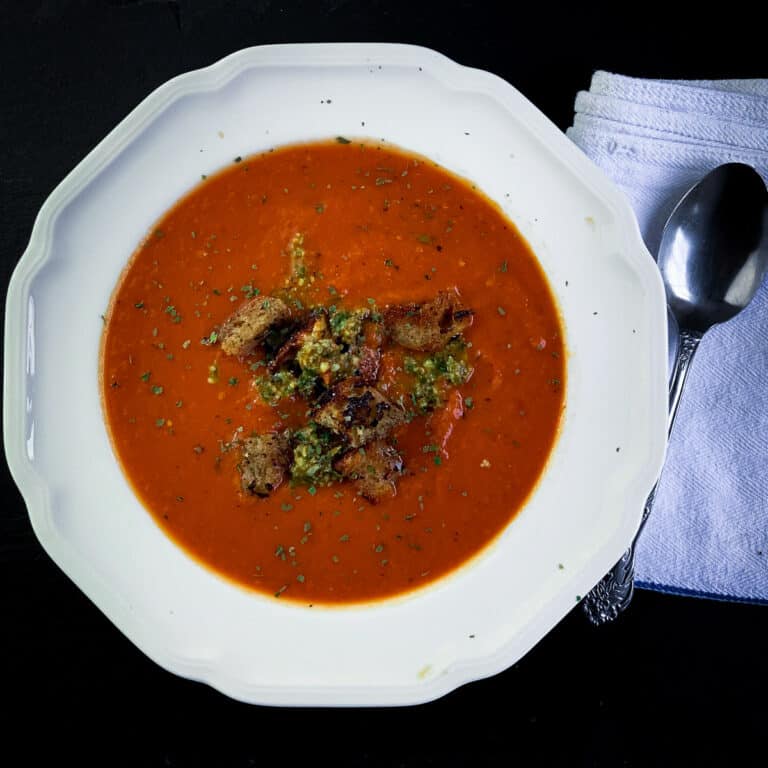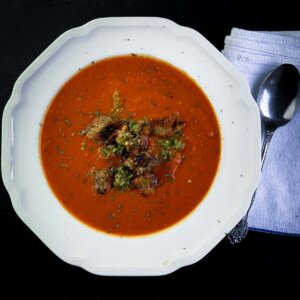 Homemade Tomato Soup (Panera's CopyCat; Instant Pot friendly)
Fresh homemade tomato soup is few in ingredients but big on flavor and it comes together very quickly. This version is creamy, packed with flavor, and has just a tiny "kick" from a hint of red pepper.
Equipment
Instant Pot (optional)

Blender or immersion blender
Ingredients
3.5

pounds

crushed and/OR whole tomatoes (diced with juices)

two 28-ounces cans or fresh or mixed canned and fresh (need ~3.5 pounds total)

1

cup

sweet onions

, sliced

2

cloves

garlic

, smashed

¼

cup

butter

2

tablespoons

olive oil

2

teaspoons

sugar

1

teaspoon

salt

¼

teaspoon

oregano

⅛

teaspoon

red pepper flakes

¼

cup

heavy cream
Optional for serving
croutons

see notes to make homemade

pesto

grated cheese
Instructions
In a large saute pan, melt butter and olive oil over medium heat and stir to combine.

Add onions and garlic and cook for about 5 to 10 minutes just until the onions have become translucent. Using Instant Pot, use the saute feature. Otherwise, on stovetop, heat over medium high heat.

After onions have become translucent, add tomatoes, sugar, salt, oregano, and red pepper and stir well.

Cover and heat over low heat for 1 hour on stovetop OR using manual pressure, cook for 20 minutes in Instant Pot.

Remove from heat, pour into blender and blend until smooth. If using Instant Pot, use manual release. Instead of blender, I like to use an immersion blender (ie, a stick blender)

Stir in milk or cream if using and serve.

Garnish with croutons, pesto, or grated cheese if desired
Notes
Use a high-quality brand of tomato (RedPack is one of my favorites but it's sometimes hard to find. Imported tomatoes or San Marzanos are very good) To make seasoned croutons, cube pieces of a sturdy bread like Italian, French or sourdough. Toss into melted butter and olive oil (1 to 2 tablespoon of each) and add salt and pepper with optional dried herbs like parsley, basil, rosemary. You can also add garlic powder. Cook in a hot pan over medium low heat until browned, tossing intermittently.  Storage: refrigerate leftovers for 2 to 3 days; freeze soup for up to 6 months (omit dairy if freezing).
Nutrition
Calories:
152
kcal
Carbohydrates:
11
g
Protein:
2
g
Fat:
12
g
Saturated Fat:
6
g
Polyunsaturated Fat:
1
g
Monounsaturated Fat:
5
g
Trans Fat:
1
g
Cholesterol:
25
mg
Sodium:
482
mg
Potassium:
337
mg
Fiber:
2
g
Sugar:
7
g
Vitamin A:
518
IU
Vitamin C:
11
mg
Calcium:
48
mg
Iron:
1
mg
Interested in More Recipes?
SUBSCRIBE to get recipes delivered to your email 🙂