I've always loved tomato soup. I remember eating it by the bowlful as a kid along with my grilled cheese. Such an American classic combination, isn't it? This season, Panera Bread is making a "grown up" grilled cheese on some kind of artisan bread with 2 different types of cheese, sliced apple, and smoked bacon. Sounds great, doesn't it? I haven't tried it but I did try their creamy tomato soup. Amazing!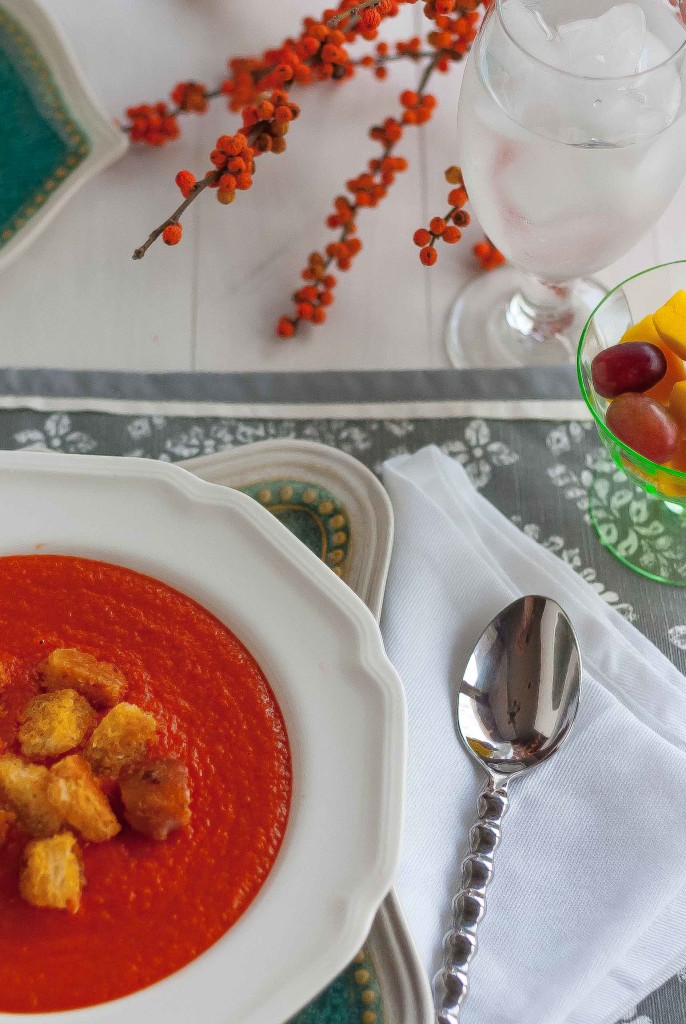 Of course, after I tried it, I came home and tried to find a Panera Creamy tomato soup recipe. I did find something that claimed to be from their cookbook, but the photos looked too orange to be the same version. My version is quite similar but it does not use flour or bay leaf, and it uses much less dairy.
I've made it twice in the past week. It makes a fairly healthy lunch and it's a good way to get more fruits and vegetables into your diet (tomato is a fruit, no?). I like to slow cook the tomatoes to bring out their natural sweetness.
If you'd like to make your own croutons, use Italian or French bread and cut into cubes. Melt a bit of butter in a saute pan, and toss the bread cubes to coat. If desired, sprinkle on some grated cheese of your choice, salt, and pepper to add even more flavor. Cook over low heat until browned on all sides.
Ingredients
two 28-cans of crushed or whole tomatoes crushed/diced

1

cup

sweet onions

, sliced

2

cloves

garlic

, smashed

¼

cup

butter

2

tablespoons

olive oil

2

teaspoons

sugar

1

teaspoon

salt

¼

teaspoon

oregano

⅛

teaspoon

red pepper flakes

¼

cup

heavy cream

croutons
Instructions
In a large saute pan, melt butter and olive oil over medium heat.

Add onions and garlic and cook for about 15 minutes

Add tomatoes, sugar, salt, oregano, and red pepper

Cover and heat over low heat for 1 hour

Remove from heat, pour into blender and blend until smooth

Stir in cream

Garnish with croutons if desired
Notes
Use a high-quality brand of tomato (RedPack is my favorite but it's sometimes hard to find. Imported tomatoes or San Marzanos are very good)