My absolute favorite way to enjoy escarole, Utica greens are a Central NY favorite and for good reason! It's a spicy take on escarole with crisped prosciutto, hot peppers, grated cheese, and breadcrumbs. If you can't find escarole, try it with kale or Swiss chard. Enjoy as a side dish, a main meal, or even with eggs and toast in the morning!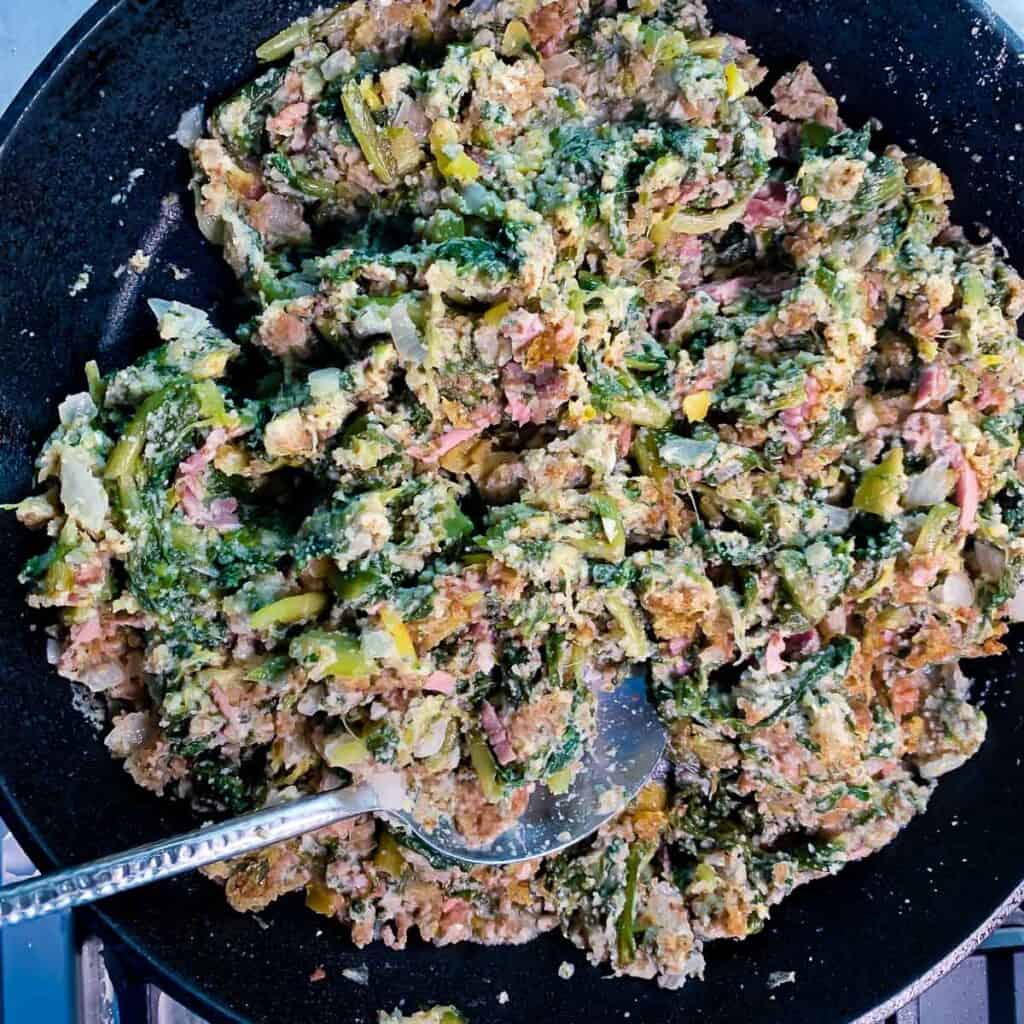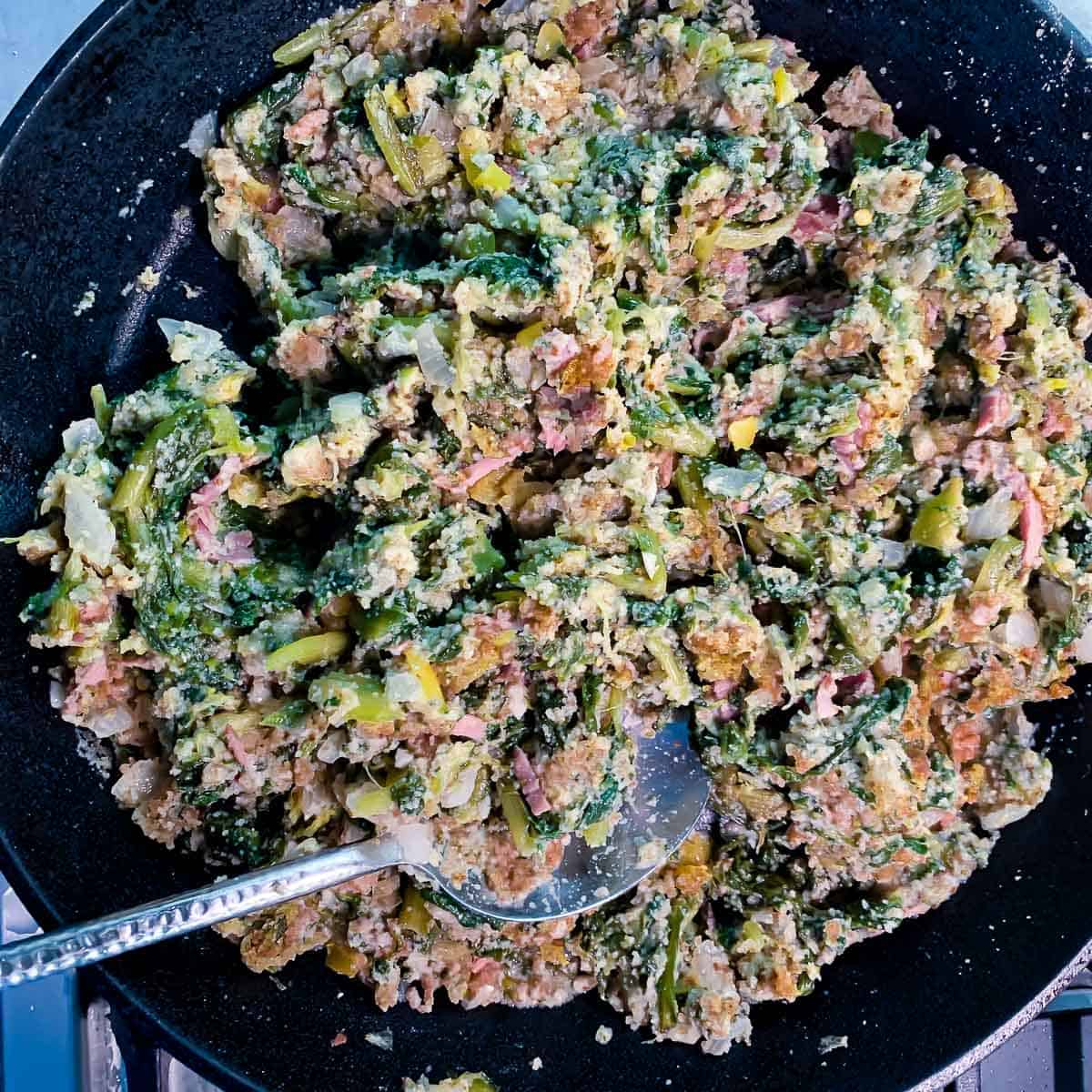 I knew that I'd love these Utica greens because I absolutely love escarole in any form. If you're not familiar with these amazing greens, please try them!
This recipe is a regional specialty from the town of Utica, NY (central NY). These people are serious about their Italian food, and they love to cook!
My husband is from Utica, and so we would visit a few times each year. Before then, I had never tried Utica greens. Clearly, I was missing out, but 20 years later, I've had plenty. The good news is that you don't have to live in Utica to make amazing Utica greens!
Where did Utica greens originate?
In this interview with the NY Times, the creator of this dish, Joe Morelle tells of how he brought the recipe to Chesterfield's restaurant, which is home of the original dish. He mentions the greens were originally called Greens Morelle, but now are commonly known as "greens" or "fried greens" to locals. By the way, you can still enjoy this dish at Chesterfield's, now called Chesterfield's Tavolo.
I was surprised to find out that Utica is home to many Italian Americans whose ancestors came from Italy. As an Italian American from Philadelphia, home to the 2nd largest population of Italian American residents in the USA, I was so surprised to see so much Italian culture in a small central NY city! Pretty amazing!
Quick overview and tips for making Utica greens and tips
To begin, boil the cleaned chopped greens in well salted water until tender (some people like the greens a little more "cooked down" (ie, soft, tender) than others; I'd advise you to make sure they are tender at a minimum and adjust cooking from there in the future.)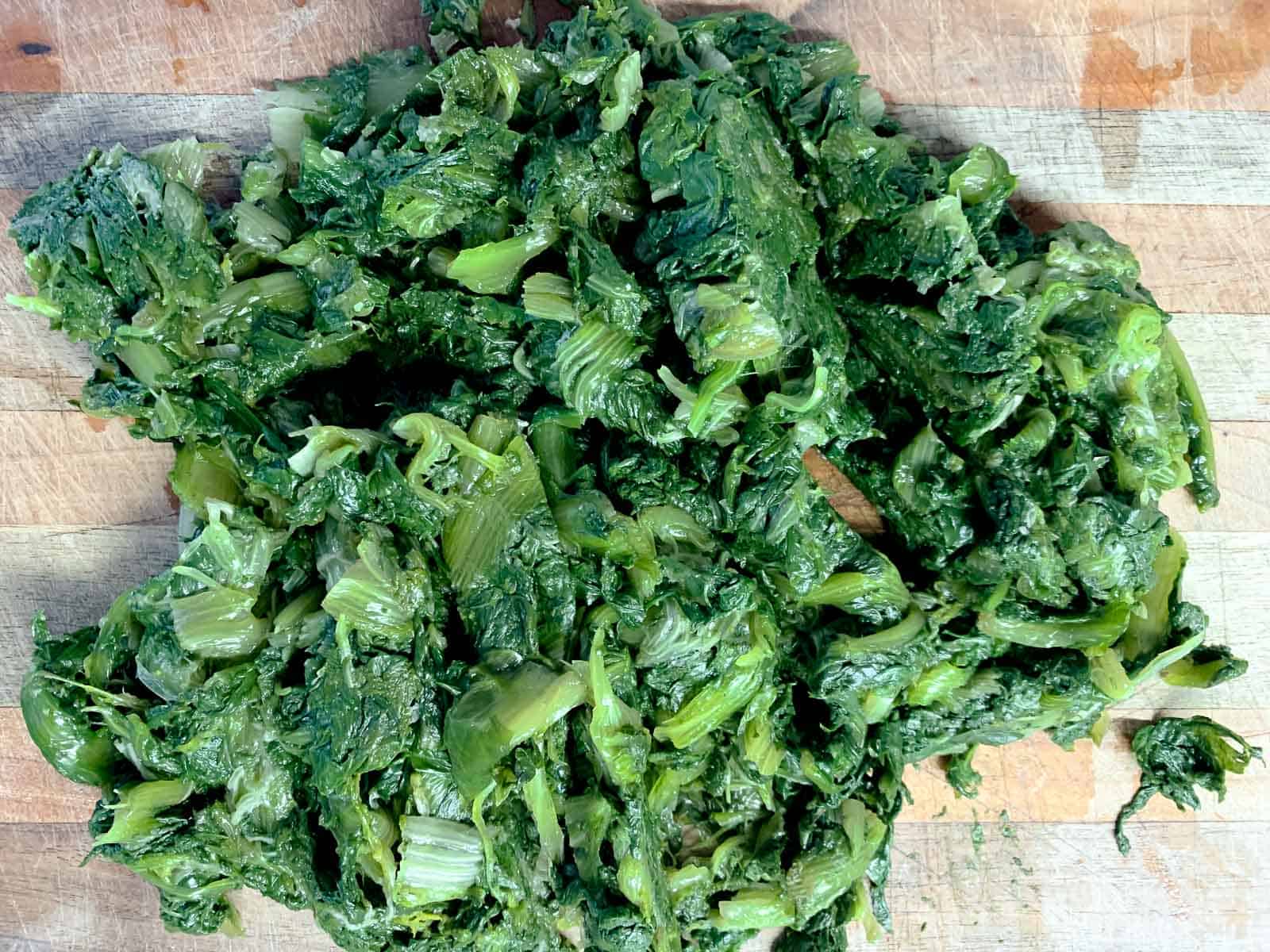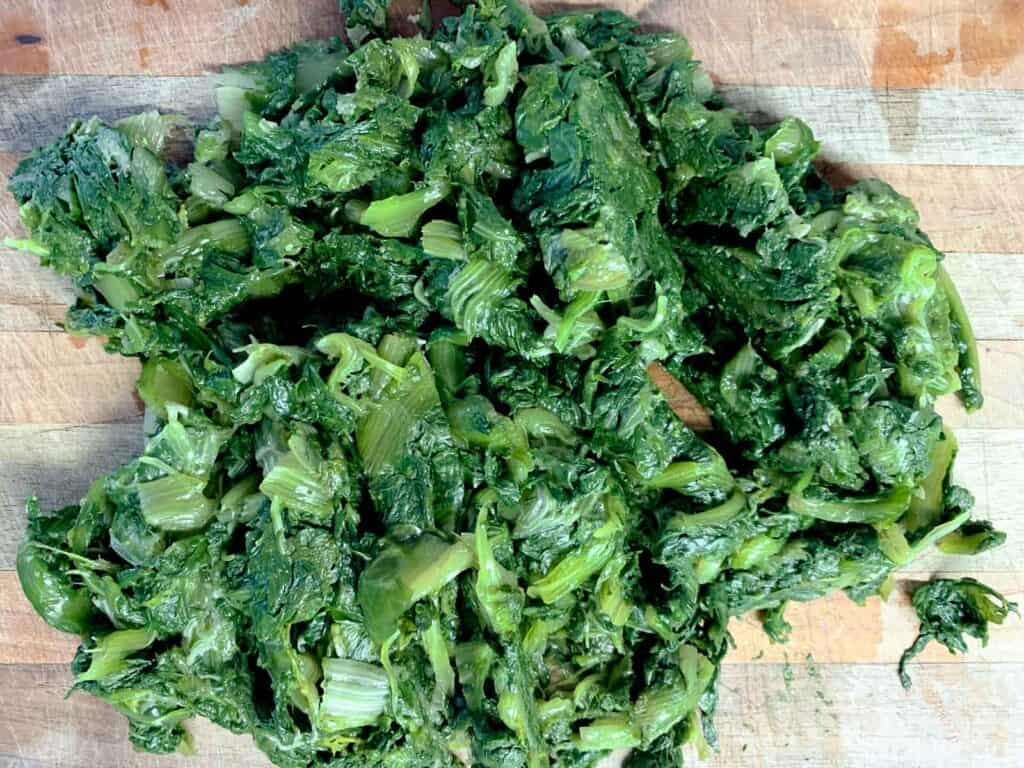 After the greens are cooked, set them aside and begin to saute the other ingredients.
The other ingredients include chopped onions, minced garlic, prosciutto (or other ham/Italian deli meats), and hot peppers (fresh or jarred; I used jarred because I add a bit of the brine from the jar too) (see photo below and caption for all additions).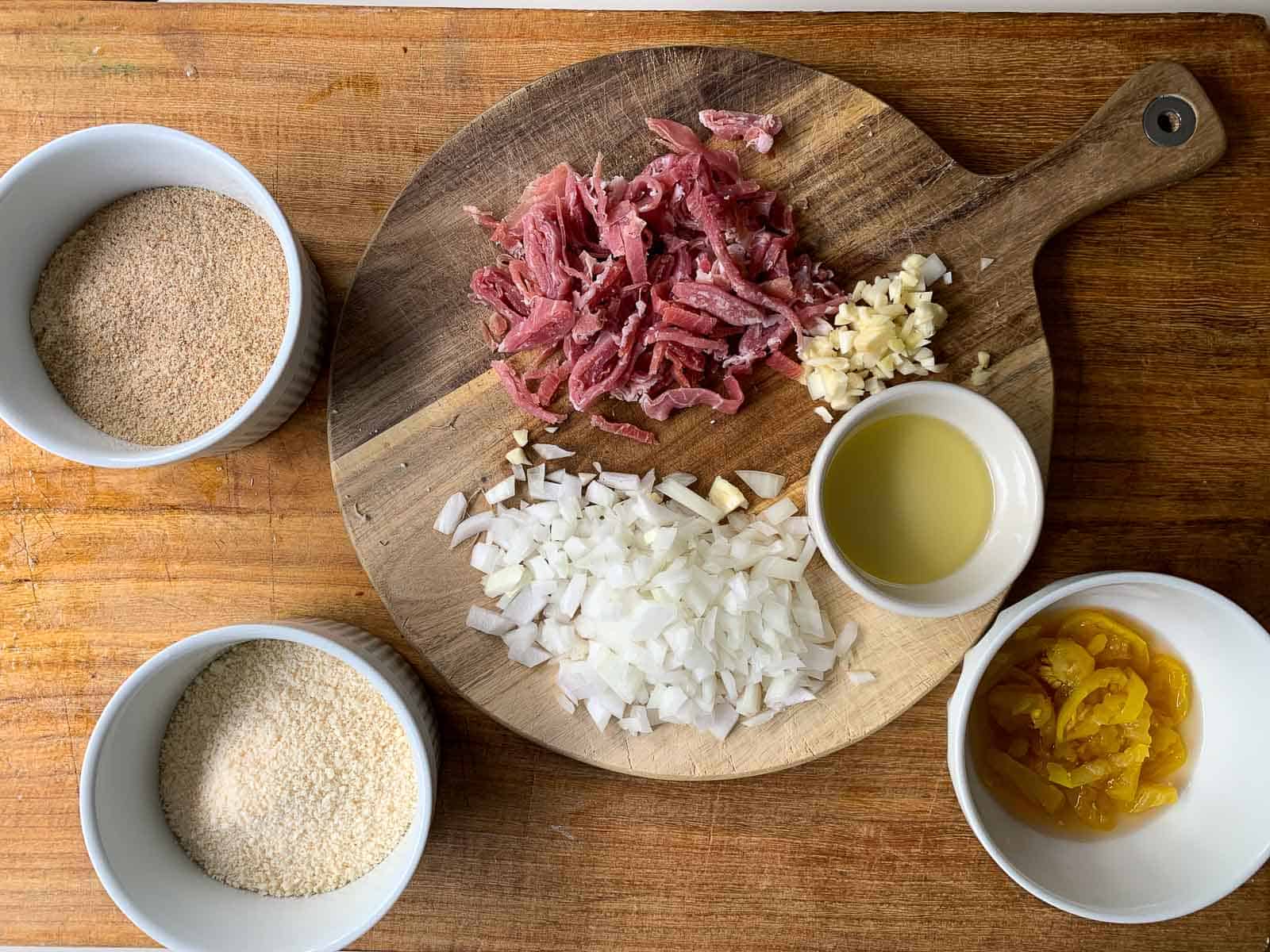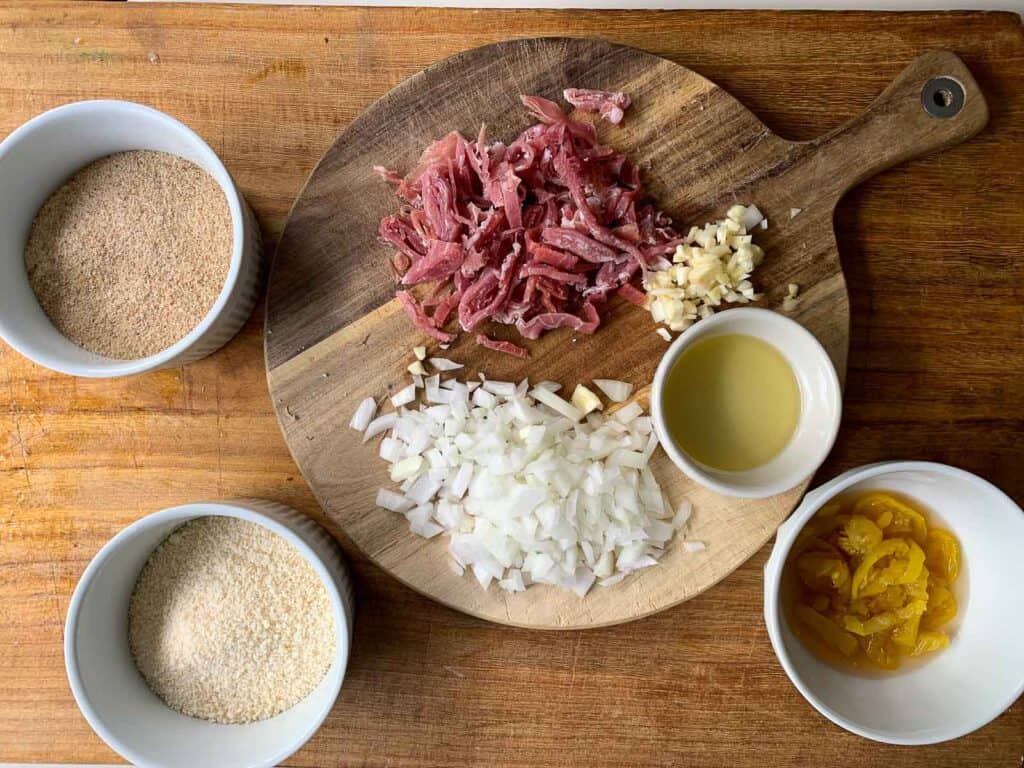 After the ingredients are sautéed, add the grated cheese and bread crumbs and continue to heat.
If the greens seems dry, add a bit of chicken broth (not shown) (or hot water in a pinch), because the greens should not be dry at all. In fact, you want moisture.
Top with ground black pepper if desired, and eat!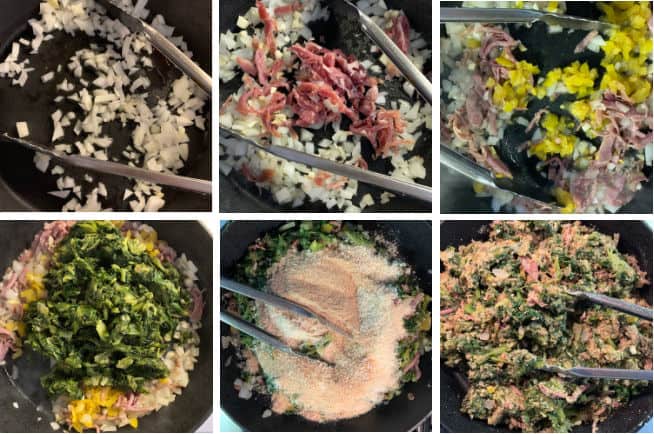 Substitutes for escarole and variations for add-ins
The availability of escarole may vary in other parts of the county. It sometimes feels like escarole may be more easily found in places where Italian Americans are most highly concentrated, such as in the East coast area and Chicago.
If you have trouble finding escarole, kale or Swiss chard can be substituted for the escarole in this recipe.
Variations on Utica greens recipes include adding cooked potato, substituting prosciutto with salami or another Italian deli meat (ie, salami, capocolla ham), using other types of hot peppers instead of cherry peppers, different types of grated cheese (ie, Romano, Parmesan) and using seasoned breadcrumbs (for example, a mixture of garlic, breadcrumbs, and olive oil).
Who makes the best Utica greens?
Well, the short answer is you will if you make this recipe! But seriously, this recipe is a guideline (as many recipes should be), and you should feel free to increase the amount of breadcrumb or cheese, or heat via the peppers, etc.
The subject of who makes the best greens in Utica has long been a subject of debate and I've tried the originals at Chesterfield's, the greens at DelMonico's and the greens at Georgio's among several other places. Ventura's greens also comes to mind...all good!!
They each follow the same basic recipe but have their own little spin. For example, I found that Georgio's cooked down the greens to a very tender point and added heaps of breadcrumbs, resulting in a dish that resembled a bit of a stuffing. That said, their version is very popular and I enjoyed it.
How are Utica greens served?
I often eat the greens alone, as it, because I like them just the way they are! That said, they are very popular served with crusty bread. Other ideas include:
with scrambled eggs and crusty bread
as a pizza topping
stuffed inside ravioli
as a side dish with grilled chicken or steak
stuffed inside a stromboli or calzone
Italian Americans love their escarole! Other popular ways to enjoy this green include sauteed with beans and/or Italian sausage, in Italian wedding soup, or simply sauteed with garlic and olive oil.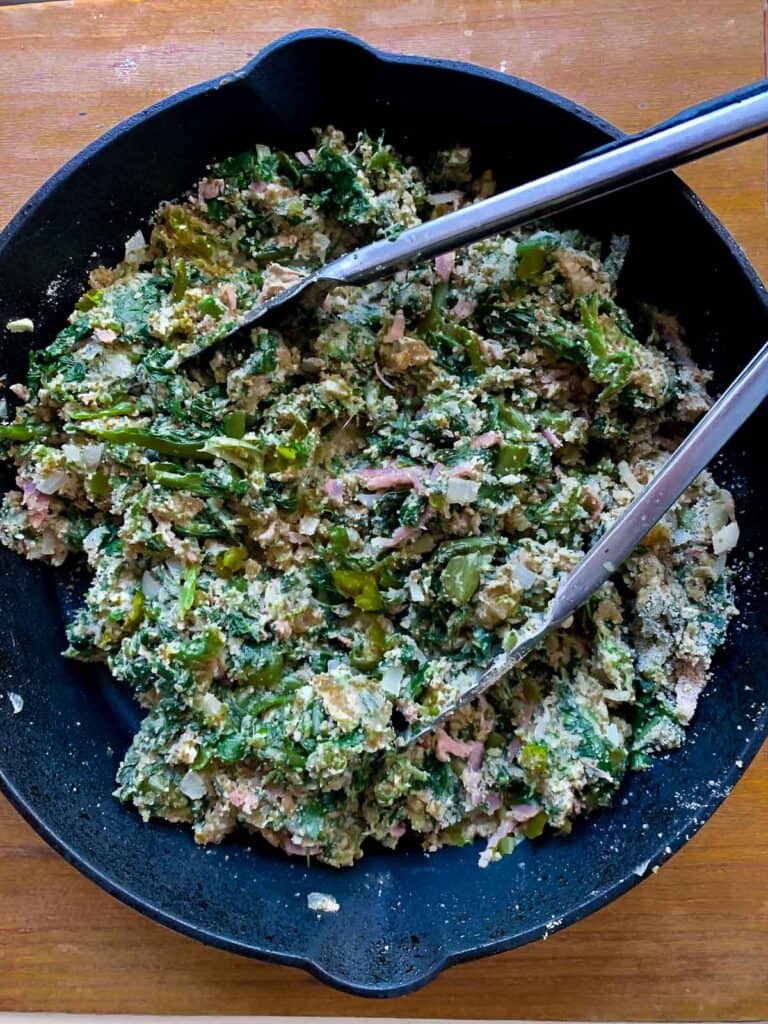 Like this recipe? If you'd like to see more recipes, SUBSCRIBE today to get free recipes from Feeling Foodish directly to your email.
📖 Recipe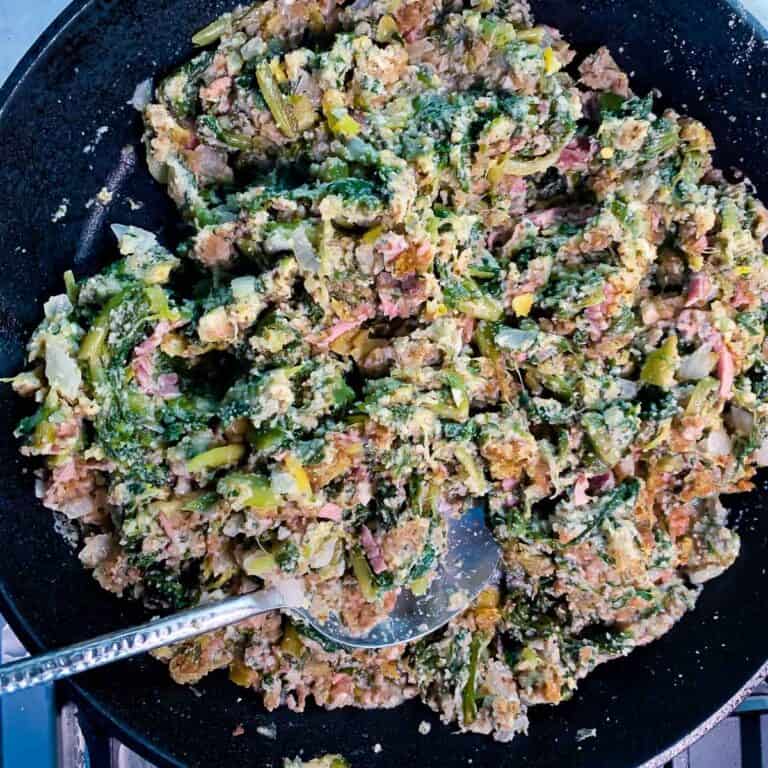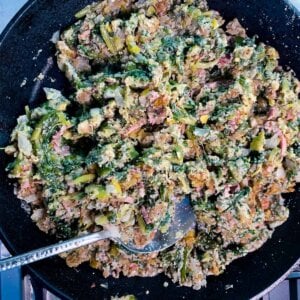 Utica Greens
One of my favorite ways to make escarole. These greens are the perfect side dish, main meal, or even along side of eggs in the morning with toast. I can't get enough!
Ingredients
2 to 3

large heads escarole

(may substitute kale or swiss chard)

1

medium

yellow onion

chopped

6

cloves

garlic

minced

4

tablespoons

olive oil

2

hot cherry peppers

diced, (or more to taste), plus brine (here I substituted sliced banana peppers)

3

ounces

prosciutto

(Italian ham), chopped (can also use salami, bacon, other ham)

1

cup

breadcrumbs

dried

¾

cup

parmesan cheese

grated (or Romano cheese)

chicken stock or hot water (in a pinch)

up to about ¼ cup, as needed

black pepper

to taste
Instructions
Cut off and discard the hard bottom stem from each head of escarole

Wash the escarole thoroughly, remove any damaged leaves, and rough chop. Escarole can be very sandy so make sure it's been rinsed well.

Place cleaned and chopped escarole in stock pot, large enough to fill with enough salted water to cover greens (salty like the ocean).

Bring to a boil and cook until tender, about 10 to 15 minutes - cook to your liking, I prefer the greens a bit crisp.

Drain escarole well, let cool, and set aside.

In the meantime, using a large saute pan, heat olive oil over medium heat

Add onion and garlic and heat until fragrant and onion becomes slightly translucent. Then add hot peppers and continue cooking for 1 or 2 more minutes. Add a bit of pepper brine (I add about 2 tablespoons or so).

Add the diced meat (prosciutto or whatever you are using) .

If necessary, chop the escarole a bit more (made sure the pieces are bite sized) and add the escarole to the pan and continue heating until the greens are warmed.

Finish by topping with breadcrumbs, and grated cheese.

Add chicken broth or hot water slowly to get the mixture moistened (it should not be too dry) a bit. Use just enough- you don't want soupy greens.

Serve with crusty bread and enjoy!
Notes
May prepare this dish ahead of time if needed
May use red pepper flakes in place of hot peppers and omit brine.
Salt not recommended as there is plenty of salt (cooked greens are in salted water, sliced meats are salty and so is the grated cheese). 
Nutrition
Calories:
315
kcal
Carbohydrates:
24
g
Protein:
12
g
Fat:
20
g
Saturated Fat:
6
g
Cholesterol:
18
mg
Sodium:
491
mg
Potassium:
831
mg
Fiber:
8
g
Sugar:
3
g
Vitamin A:
4973
IU
Vitamin C:
17
mg
Calcium:
308
mg
Iron:
3
mg
Interested in More Recipes?
SUBSCRIBE to get recipes delivered to your email 🙂
Recipe updated September 2020 to adjust ingredient ratio, add onion (yum), add cooking tips, and update photos.