I've always loved greens. The term "greens" is frequently used to describe collard greens, kale, turnip greens, and mustard greens, but I grew up eating swiss chard, escarole, and brocoli rabe as greens. I'm not sure if that was an Italian thing or maybe a Philadelphia thing?
For those of you who are unfamiliar with escarole, it is frequently used in the ever-popular Italian wedding soup whose name refers to the way the ingredients mesh together like a happy love (never knew why it was called that before reading it here on the The Kitchn). The soup is a simple chicken broth-based soup with chopped escarole added as well as tiny meatballs and rice or pastina. Of course, there are a million variations but that's the way my mom served it.
I knew that I'd love these greens because I love escarole in any form. These greens are a specialty in the town of Utica, NY, which is located in central NY. These people are serious about their Italian food, and they love to cook!  My husband is from Utica, and so we visit a few times each year. I've been going up there for about 10 to 15 years now but had never tried these greens before. Clearly, I have to make up for lost time and eat these way more often.
If you've never tried escarole before, I encourage you to give these a try. Escarole is sometimes bitter but NOT when prepared this way. The greens are first cooked in water or chicken broth (my preference), a process which removes most of the bitterness. They are then sauteed with the remaining ingredients before browning under the broiler.
These cherry peppers add a nice heat to the dish: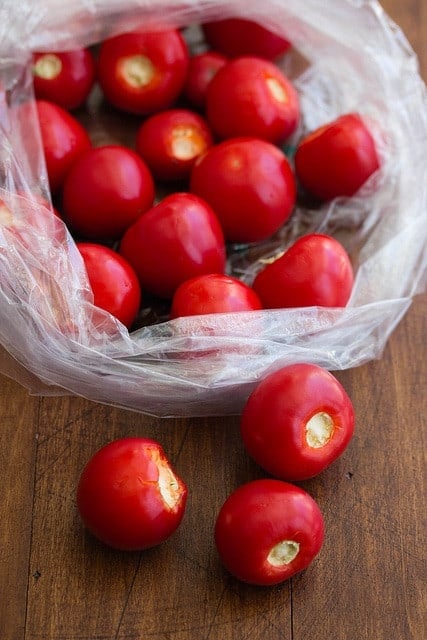 I'm curious to hear about the availability of escarole in other parts of the county since I've always thought of it as a regional dish that is popular in the Italian culture, which is fairly concentrated in the Philly/NJ/NY area. If you have trouble finding escarole, kale or any greens (swiss chard, etc) can be substituted.
Utica Greens (Escarole with Proscuitto, Hot Peppers, Grated Cheese, and Breadcrumbs)
Spicy and flavorful greens good enough to eat as a main meal
Print
Pin
Rate
Ingredients
2

large heads escarole

(or any greens that you like; kale, swiss chard, etc)

6

to 8 cloves garlic

, minced

4

tablespoons

olive oil plus 1 tablespoon

2

to 4 cherry hot peppers

(to taste), chopped/not seeded*

1/3

pound

of proscuitto

(Italian ham)**, chopped (can also use salami, bacon, other ham)

1/2

cup

breadcrumbs plus 2 tablespoons for topping

, toasted

1/4

cup

grated parmesan cheese or pecorino romano

(my preference) plus 2 tablespoons for topping

1/4

to 1/2 cup chicken stock

salt and pepper

, to taste
Instructions
Cut off and discard the hard bottom stem from each head of escarole

Wash the escarole thoroughly, remove any damaged leaves, and rough chop

Place escarole in 5 quart stock pot and fill with enough water to cover greens

Bring to a boil and cook until tender, about 10 minutes (do not overcook) (some of the greens are cooked until the greens are extremely wilted and some people prefer it that way - cook to your liking, I prefer the greens a bit crisp)

Drain escarole very well, press out all water/broth from greens, and set aside

In a large saute pan, heat olive oil over medium heat

Add hot peppers until softened, about 3 or 4 minutes, then add garlic and cook until fragrant, about 1 to 2 minutes more.

Add the cooked and drained greens to pan and stir to combine.

Optional but highly recommended - place greens in refrigerator overnight so the garlic infuses through the greens - this changes the flavor!

Finish by combining 1/2 cup toasted breadcrumbs, 1/4 cup grated cheese, and 1 tablespoon of ollive then add all but 2 to 4 tablespoons to the greens. (reserve the 2 to 4 tablespoons to top the dish)

Add proscuitto/ham, enough chicken broth to moisten the greens, and then taste and adjust salt and pepper to taste

Place greens in an over-safe casserole, top with reserved breadcrumbs and cheese

Place casserole under broiler for 4 to 6 minutes until brown checking frequently
Notes
May prepare this dish ahead of time if needed
*Can use red pepper flakes to taste in place of cherry hot peppers, jarred hot cherry peppers or any hot peppers that you enjoy.
**Parma or San Daniele; other brands are not recommended