Arrabbiata sauce is a simple, spicy tomato-based pasta sauce with a big flavor that reflects the simplicity of great Italian cooking. Whether enjoyed in a quaint Roman trattoria or in the comfort of your kitchen, Arrabbiata sauce is a perfect example of the timeless allure of Italian cuisine.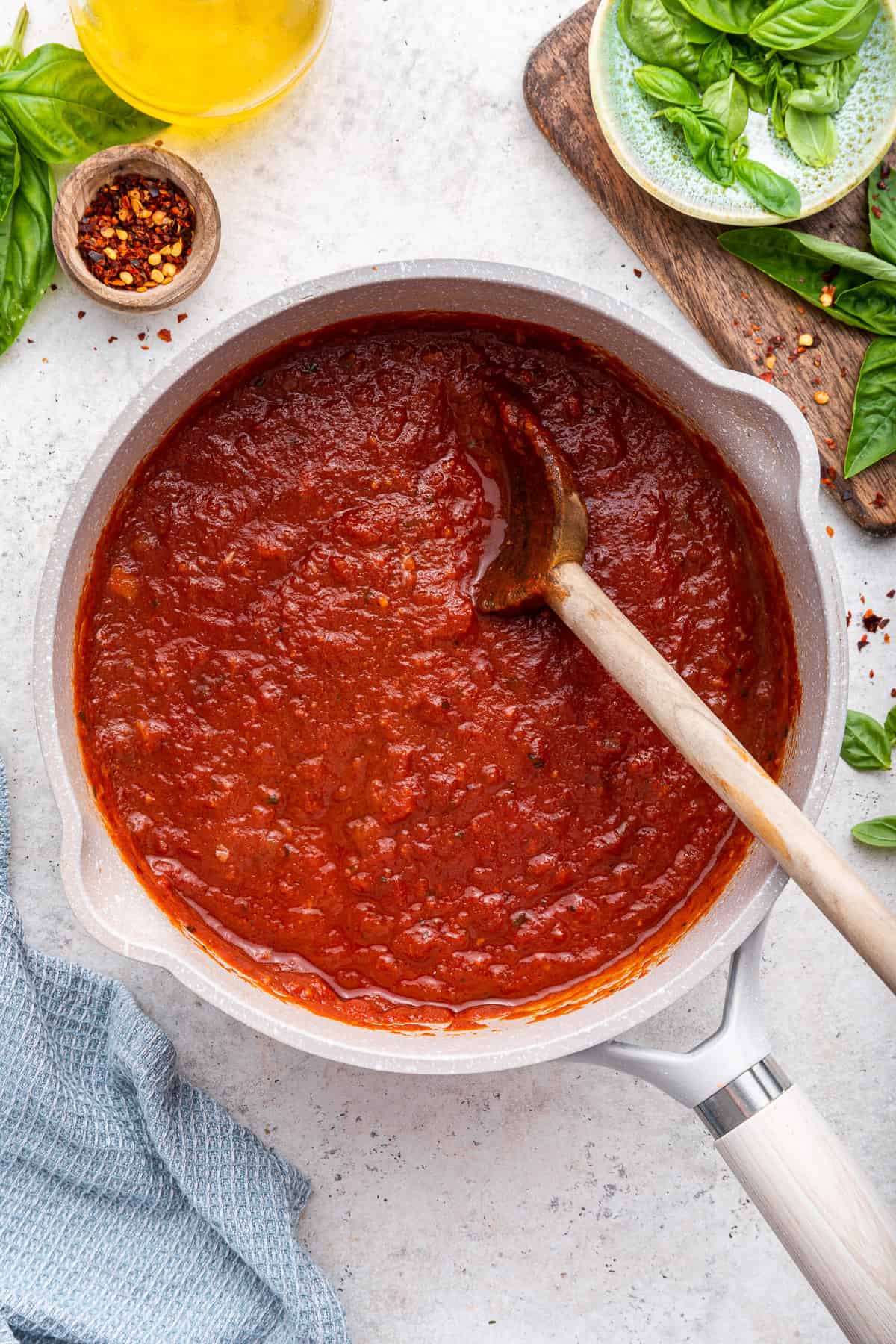 Want to know the secret to making a killer Arrabbiata sauce at home that rivals your favorite Italian restaurant sauce?
I'll tell you upfront: The secret is using the best tomatoes and olive oil you can find! There, easy, right? After all, using good tomatoes is the secret behind many recipes, like a great pizza sauce, the best quick easy marinara sauce, and the perfect Italian tomato salad.
Traditionally, Arrabbiata sauce is served with penne pasta, but I think it'd also be amazing with some homemade pasta, maybe homemade fusilli?
Jump to:
Origins and History
Translating to "angry" sauce in Italian, Arrabbiata sauce is a simple spicy tomato sauce that is a favorite among pasta lovers.
Arrabbiata sauce's roots can be traced back to the Lazio region of Italy, specifically Rome. While the exact origin story is shrouded in culinary folklore, this bold and spicy sauce is believed to be born out of the classic Italian improvisational spirit.
As the tale goes, resourceful cooks first concocted Arrabbiata sauce to add an extra kick to their pasta dishes. These cooks, often dealing with limited ingredients, infused tomato-based sauces with fiery red chili peppers, giving rise to the flavorful Arrabbiata sauce we know today.
Why Make This?
Quick and Easy yet Rich in Flavor: Perfect for when you're short on time but want a homemade meal that is big on flavor yet easy to make.
Simple Ingredients: No need for a long grocery list; you probably have most of the ingredients in your pantry already.
A Classic Must-Try: It's one of those iconic dishes that every Italian food enthusiast should experience at least once.
What You'll Need: Ingredients
The main ingredients for Arrabbiata sauce include tomatoes, garlic, olive oil, and red pepper flakes with basil, onion, and balsamic vinegar as additional.
High-quality tomatoes and olive oil are the secret sauce here - the keys to making a delicious pasta sauce!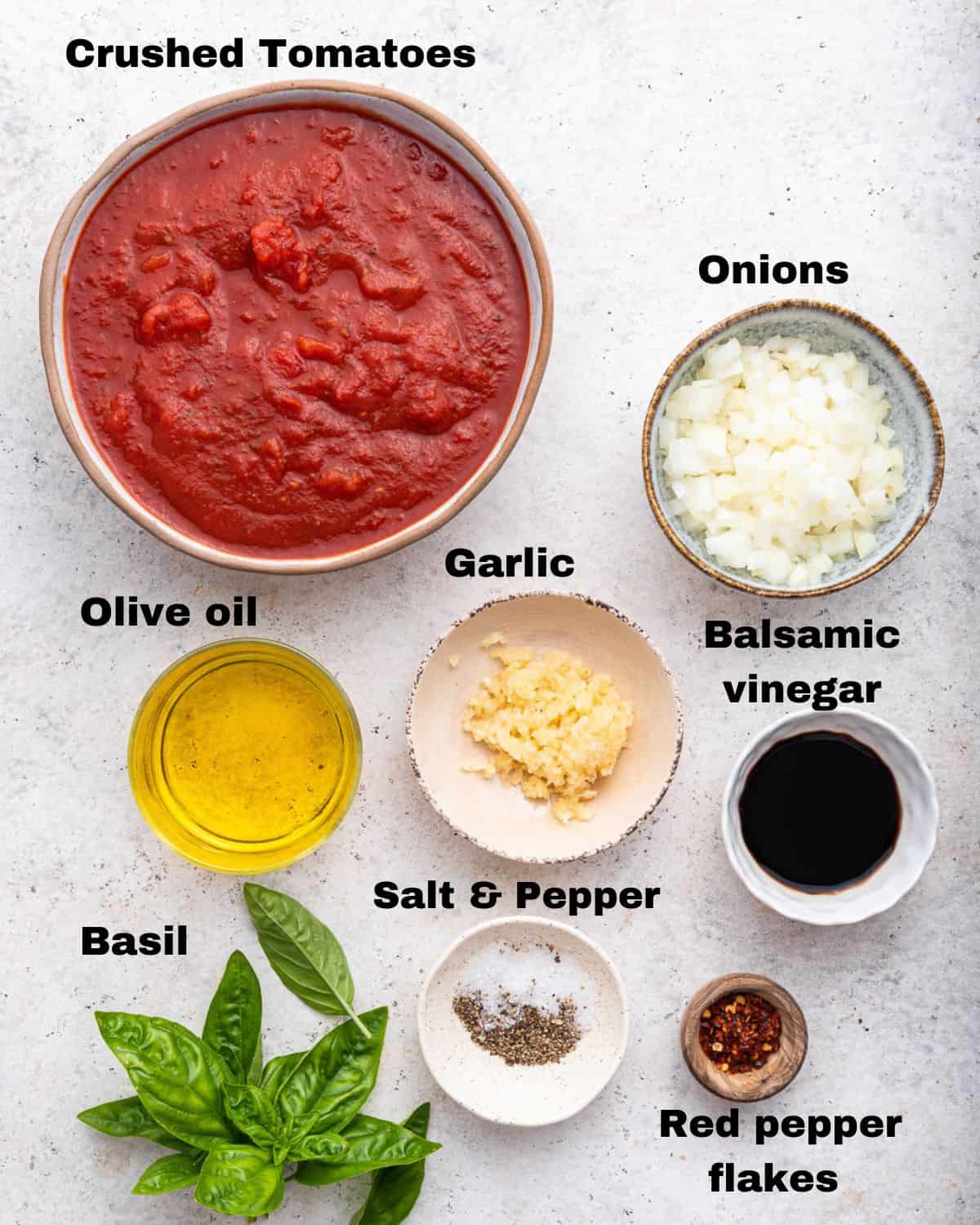 The heart and soul of Arrabbiata sauce lies in its carefully selected ingredients, each contributing to its distinct flavor profile. Central to the sauce's composition are tomatoes, typically San Marzano or Roma varieties. These tomatoes offer a natural sweetness that complements the heat of the chili peppers.
The star of Arrabbiata sauce, however, is the red chili pepper. Known for its ability to impart intense heat and a vibrant red hue, the chili pepper lends its "angry" nature to the sauce. Often in the form of dried red pepper flakes, the level of spiciness can be adjusted according to personal preference.
How to Make
Just a few easy steps to make this delicious Arrabbiata sauce!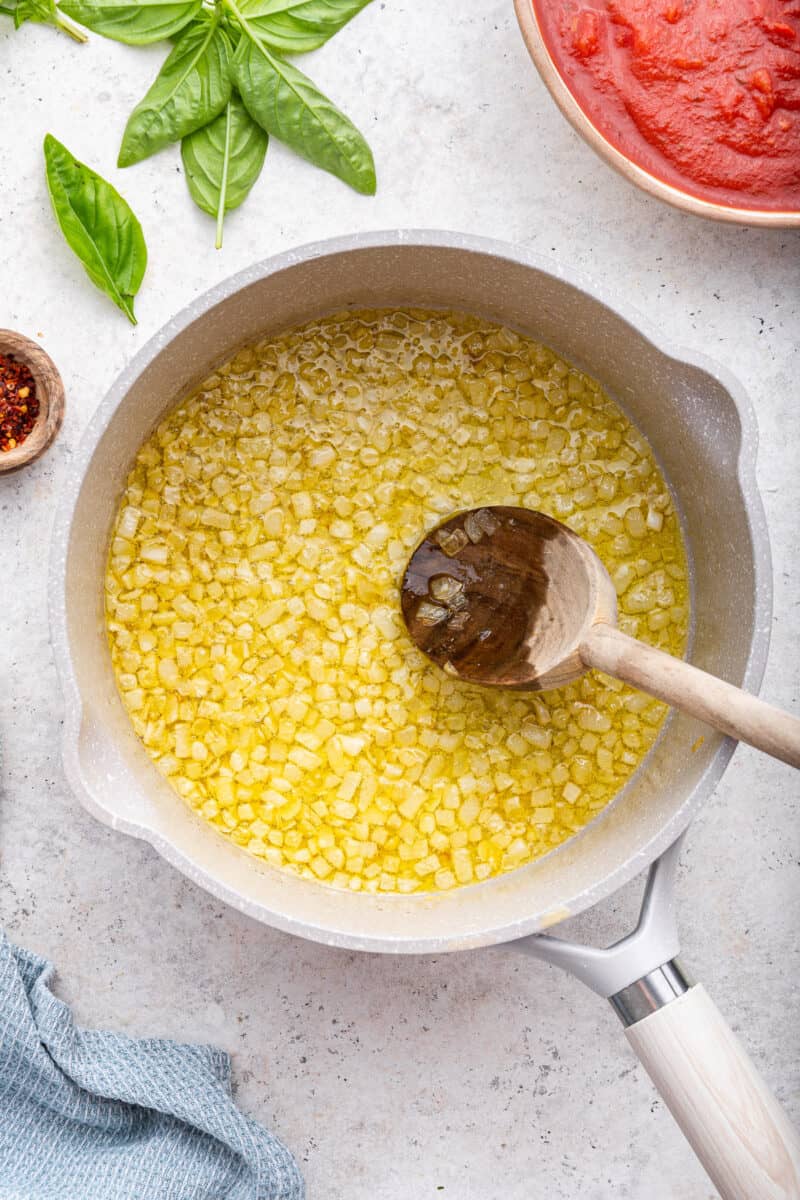 Step 1: Start by warming olive oil in a large Dutch oven over medium heat. Once hot, add onions and sauté until they turn translucent, which should take about 3-4 minutes.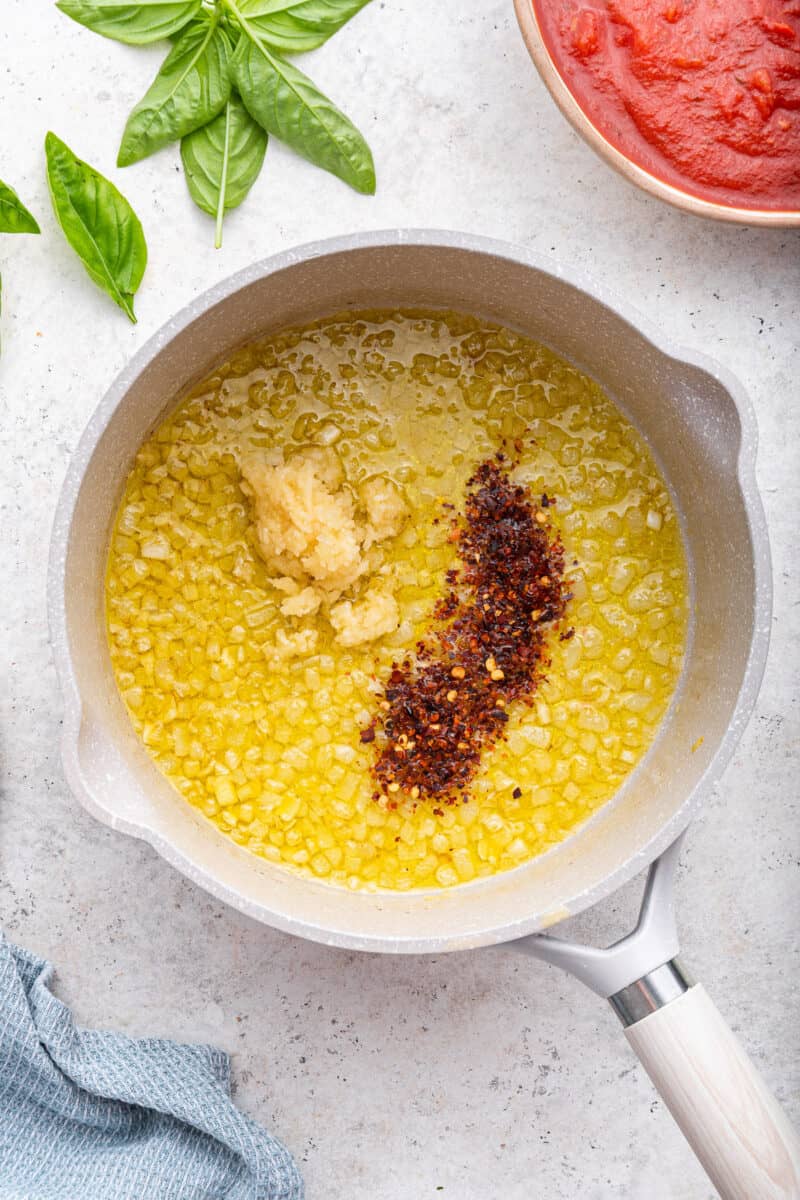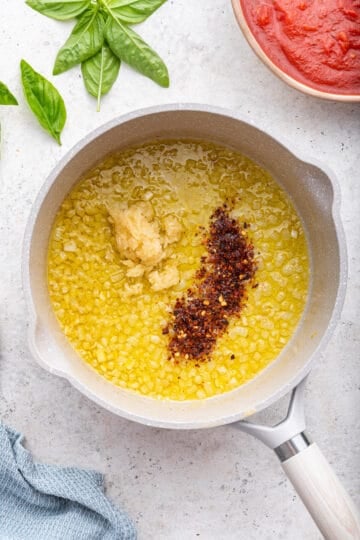 Step 2: Introduce garlic and red pepper flakes, cooking briefly to unleash their flavors. Add tomatoes, vinegar, and salt/pepper.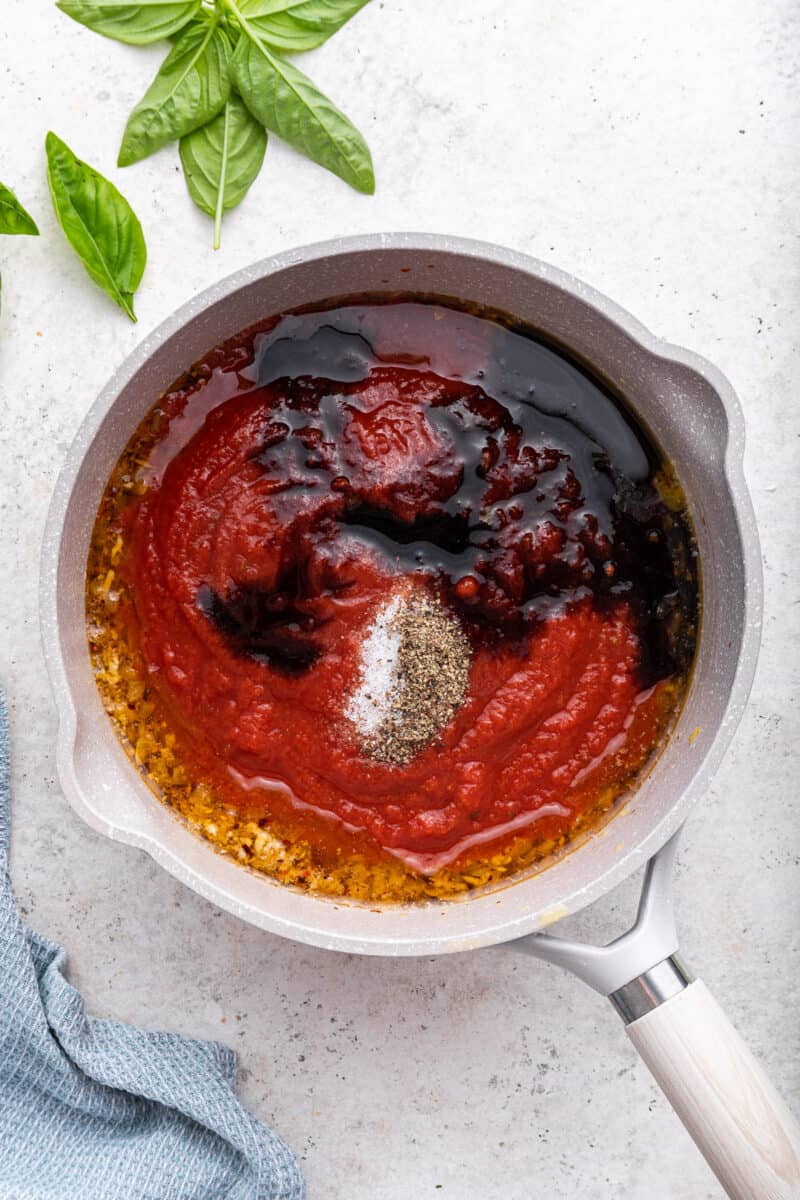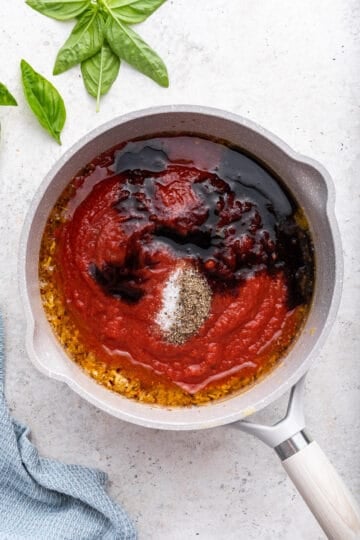 Step 3: Add tomatoes, vinegar, and salt/pepper.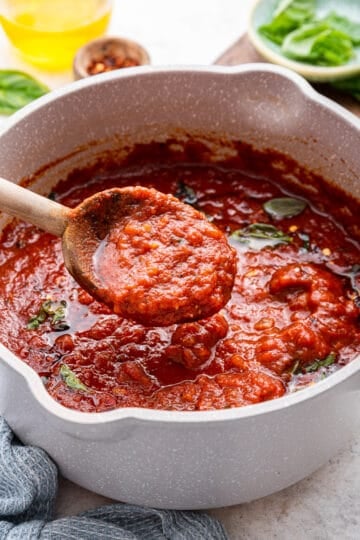 Step 4: If the sauce appears too dense, dilute it with water or reserved pasta water, ensuring it retains a consistency that allows it to cling to the back of a spoon.
Step 5: Increase the heat until the sauce reaches a gentle boil, characterized by the first few bubbles surfacing. As soon as this happens, lower the heat, partially cover the pot, and let the sauce simmer for 15-20 minutes.
Step 6: For the finishing touch, sprinkle a generous amount of parsley or basil over the sauce. If you wish, you can also enhance its richness by drizzling an additional two tablespoons of olive oil.
This sauce traditionally pairs with penne pasta; in Italy, it's often crowned with pecorino Romano cheese. If you're serving it with pasta, you can adjust its consistency using reserved pasta water.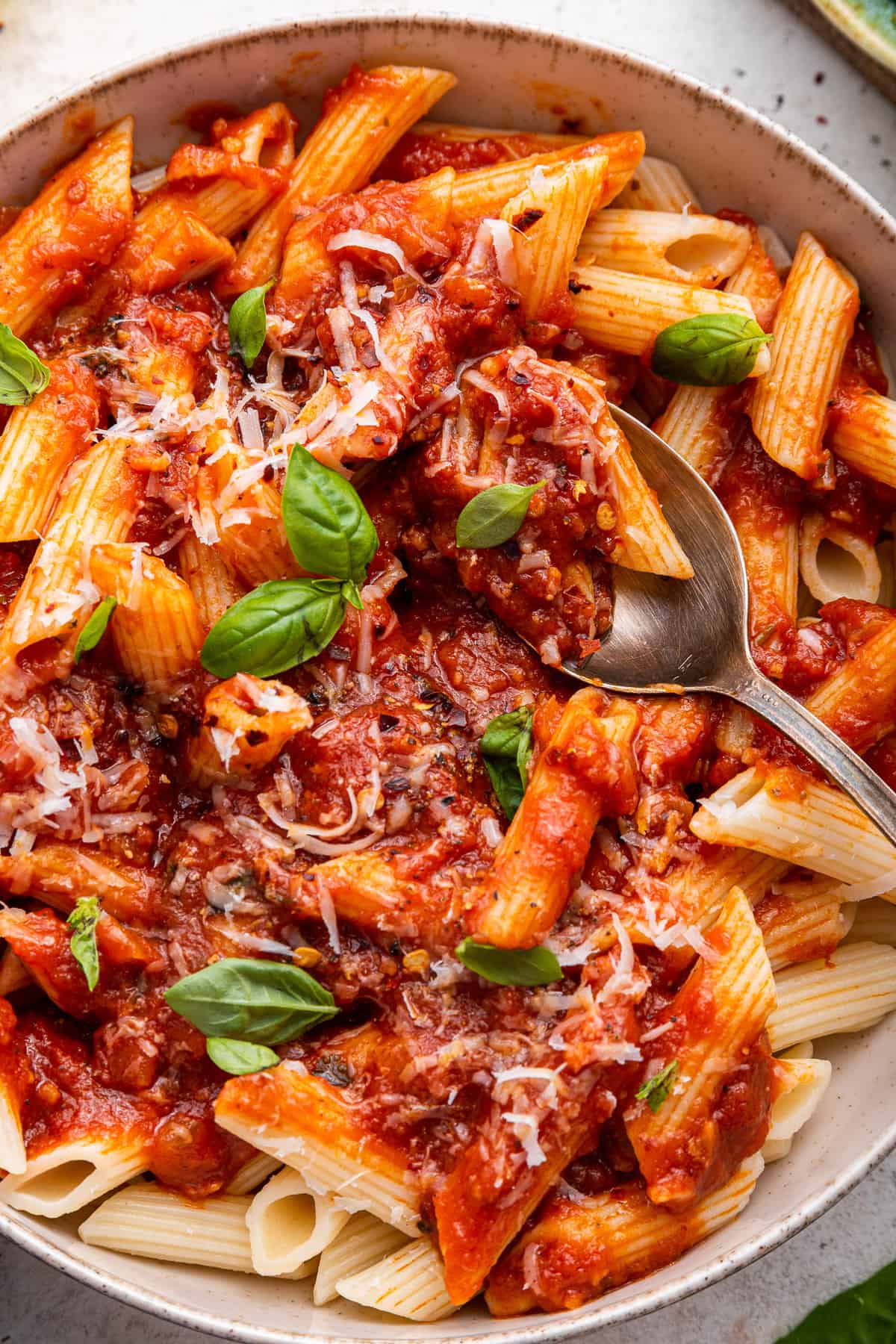 Expert Tips
Here are some essential tips to help you make a delicious Arrabbiata sauce:
Choose the Right Tomatoes: Opt for high-quality tomatoes, preferably San Marzano or Roma varieties, as they are naturally sweeter and have fewer seeds. Canned tomatoes work well for this sauce; you can crush or blend them to your preferred consistency.
Adjust Heat Level: The spiciness of Arrabbiata sauce can vary widely based on personal preference. Start with a small amount of chili peppers or red pepper flakes, and gradually add more until you reach your desired level of heat. Remember, you can always add more spice, but you can't take it away once it's added!
Sauté the Chili Peppers and Garlic: Sautéing the chili peppers and minced garlic in olive oil over low to medium heat helps release their flavors and aromas. This step forms the foundation of the sauce's taste.
Simmer for Flavor Development: Allow the sauce to simmer gently over low heat to meld the flavors and reduce excess liquid. A longer simmering time can help intensify the taste.
Add an Acid: may sound odd if you've never tried it, but adding acid to tomato sauce will improve your sauce Adding acid, such as lemon juice or balsamic vinegar, to tomato sauce serves multiple purposes. It brightens the sauce's flavor, making it more vibrant, and adds complexity by introducing a subtle tangy or tart note that complements the richness of the tomatoes and other ingredients.
Frequently Asked Questions
What does Arrabbiata mean?
"Arrabbiata" is Italian for "angry," referring to the spicy heat from the chili peppers used in the sauce.
What are the main ingredients for Arrabbiata sauce?
The primary ingredients are tomatoes, garlic, red chili peppers, and olive oil. Our variation also includes onion, a touch of balsamic vinegar, and basil or parsley.
How spicy is Arrabbiata sauce?
The spiciness can vary based on the number and type of chili peppers used. However, it's typically moderately spicy. You can adjust the heat to your preference.
What pasta is best served with Arrabbiata sauce?
Penne is the most traditional choice, but the sauce pairs well with many pasta types, including spaghetti, rigatoni, and linguine.
Can I store leftover Arrabbiata sauce?
Absolutely! Store it in an airtight container in the refrigerator for up to 4-5 days. You can also freeze it for more extended storage.
Can I add protein to this sauce?
Yes! Chicken, shrimp, or even tofu can be added to the sauce for an extra protein boost.
What is the difference between marinara and Arrabbiata sauce?
While both are tomato-based sauces, Arrabbiata is spicier due to the addition of red chili peppers. Marinara is milder and doesn't typically include chili peppers.
Help! My Arrabbiata sauce is too spicy, what should I do?
Add more tomatoes or a touch of sugar to balance the heat.
More Pasta Recipes
If you tried this Pumpkin waffle recipe or any other recipe on my website, please leave a 🌟 star rating and let me know how it went in the 📝 comments below!
📖 Recipe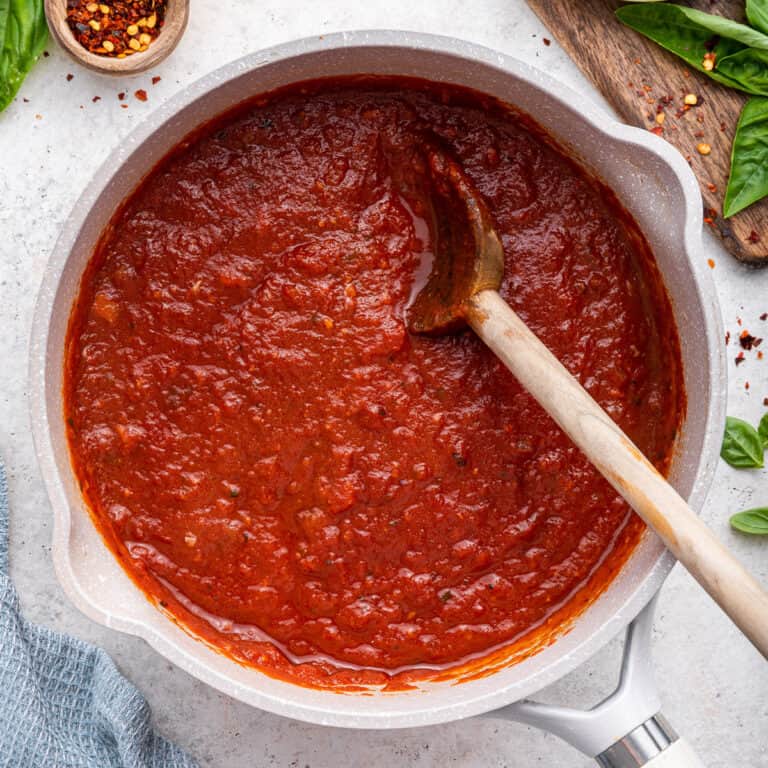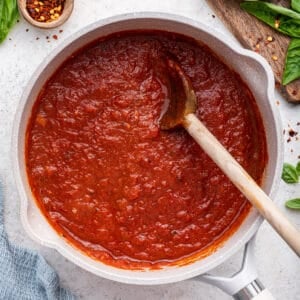 Arrabiata Sauce
An easy to make pasta sauce that comes together quick! Makes enough to generously coat 1 pound of pasta.
Ingredients
¼

cup

olive oil

plus more for drizzling at end if desired.

1

small

onion

diced

4

cloves

garlic

sliced (for milder flavor) or minced (for stronger garlic flavor)

1

teaspoon

crushed red pepper flakes

up to 3 teaspoons

28

oz

crushed tomatoes

can use pre-crushed or buy San Marzano whole tomatoes and then crush with potato masher, fork, or pulse in a food processor.

2

tablespoons

balsamic vinegar

optional but highly recommended

1

teaspoon

salt

½

teaspoon

black pepper

1

small handful

fresh parsley

or basil, chopped finely (optional)
Instructions
Heat the olive oil over medium heat in a large dutch oven and add onion.

Saute the onion for 3 or 4 minutes, until translucent, and then add garlic and red pepper flakes. Keep cooking for about 20 seconds to release the flavor. It is recommended to start with fewer red pepper flakes (ie, one teaspoon) and add more at the end if desired.

Add crushed tomatoes, vinegar, salt, and black pepper.

Thin with some water ONLY if sauce is too thick. Make sure that the sauce is thick enough to coat the back of a spoon. Alternatively, you can thin it with reserved pasta water if you'll serve this sauce on pasta.

Increase heat to high, bring to slow boil (bubbles are just starting to rise to surface) , then immediately reduce heat to low, cover with lid slightly ajar, and simmer for 15 to 20 minutes.

Remove garlic if it was sliced.

Garnish with plenty of parsley or basil. You can also drizzle a bit more olive oil (2 tablespoons or so) over the sauce if desired.

This sauce is typically served with penne pasta (it Italy, often topped with pecorino Romano cheese) and can be thinned with reserved pasta water if desired.
Notes
Refrigerate the sauce for 3-4 days or store it in the freezer for 3-4 months.
San Marzano or Roma tomatoes are recommended; use any brand or type you enjoy. 
Note: At its simplest, you can omit the herbs, onions, and balsamic vinegar, but I highly encourage you to try this version at some point. 
Optional Add Ins:
Cooked seafood (1 pound of clams, scallops, mussels, shrimp, calamari, or a mixture of any)
Italian sausage (1 pound, sweet or spicy)
Heavy cream (a splash or two) to make the sauce creamy
Nutrition
Calories:
136
kcal
Carbohydrates:
13
g
Protein:
3
g
Fat:
9
g
Saturated Fat:
1
g
Polyunsaturated Fat:
1
g
Monounsaturated Fat:
7
g
Sodium:
570
mg
Potassium:
431
mg
Fiber:
3
g
Sugar:
7
g
Vitamin A:
441
IU
Vitamin C:
15
mg
Calcium:
56
mg
Iron:
2
mg
Interested in More Recipes?
SUBSCRIBE to get recipes delivered to your email 🙂