A very easy focaccia recipe made with sourdough starter. This sourdough focaccia is fluffy, crispy and very light. Switch up the toppings, turn it into a pizza, or even sandwiches! Very good!!
Like so many other recipes, focaccia making is almost more about technique than it is about ingredients.
Jump to: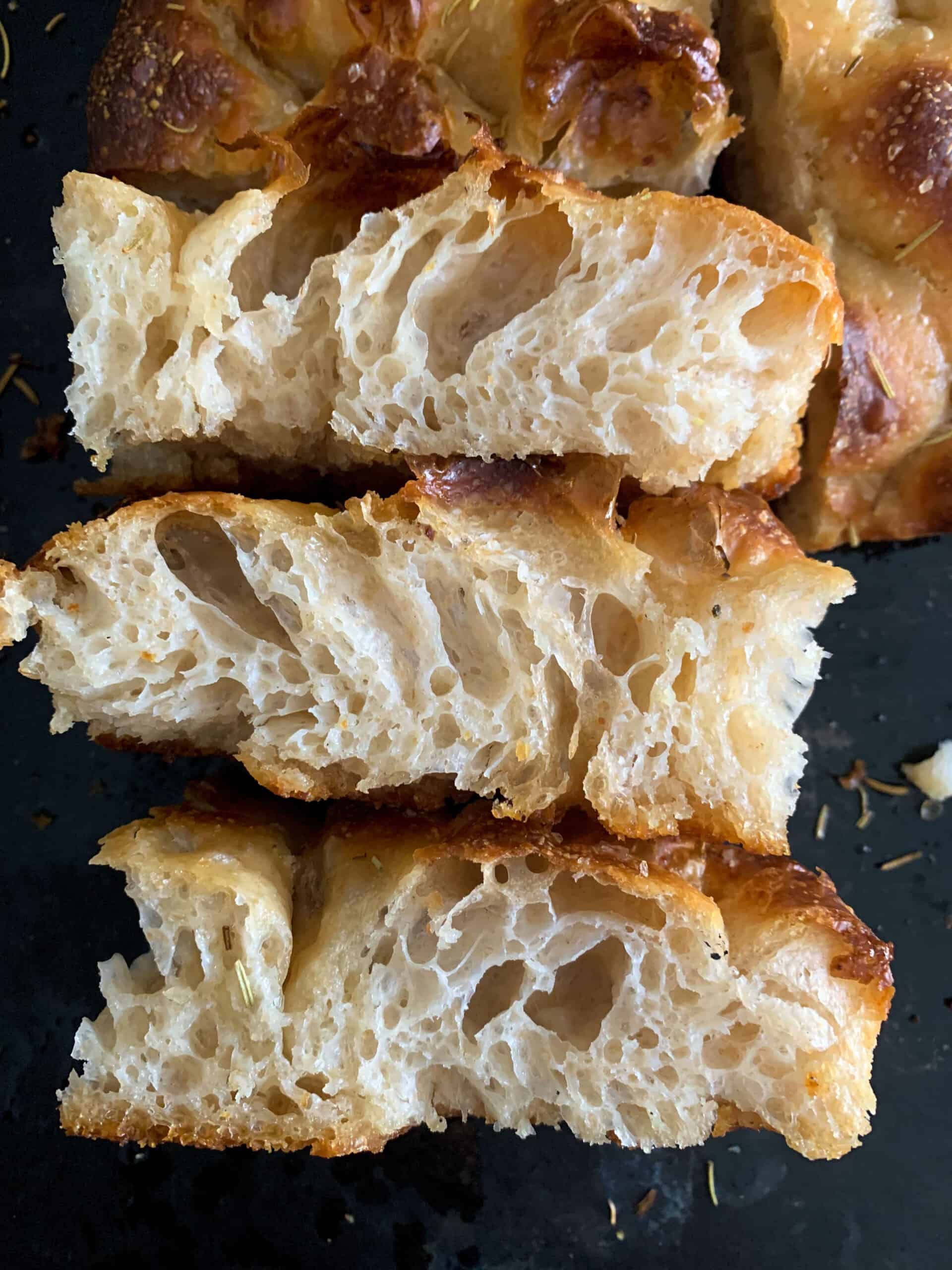 Why Focaccia and What Makes a Good One?
Focaccia is an Italian rustic flatbread that is very versatile.
According to master baker Jeffrey Hamelman, it may have herbs and oil in the dough or it may be plain. Traditionally, people made it with whatever was in season or whatever they had on hand.
At its simplest and as is shown here, it is made with olive oil, rosemary, and a sprinkling of coarse salt. In Florence, it is popular to use grapes and fennel seeds (As described in "Bread, A Baker's Book of Techniques and Recipes").
Many suggestions are shown below under "Variations and Topping Ideas" - just make sure not to overload your focaccia with too much toppings and ensure that you do spread them evenly.
So...there are a million focaccia recipes out there, but what really makes a good focaccia? Well, my ideal focaccia it must be flavorful with a soft chewy fluffy interior yet crispy on the outside. I also prefer my focaccia on the thick side, but that's not an absolute must.
How do we get there? A few important tips!
A long slow rise or overnight cold rise gives the dough that delicious taste that you can only get from a slow rise, much like my favorite NY Pizza dough. Some people may also use a preferment like a biga to get good flavor.
To get a good crisp, you need the dough to be well developed (long rise) and also need to baking on a baking stone/steel OR in the bottom third of your oven.
A fluffy interior comes from a long final rise, and the right amount of starter or yeast (must be active)!
Also, we can't forget, a high amount of water is going to help give you that beautiful crumb inside.
Using the right amount of dough for your pan will give you the desired thickness.
This recipe also contains a bit of oil in the dough for more of a chewy crumb.
I love focaccia because it is delicious, soft and chewy on the inside with a crispy crust, and it is so incredibly versatile. Change up the toppings or make it into a sandwich. The options are plentiful.
Read more tips from an Italian baker who shares a top 10 list of tips.
Variations and Toppings Ideas
Here are some focaccia topping ideas (always with salt and a drizzle of olive oil).
Rosemary, coarse salt, and olive oil
Red and green grapes with fennel seeds 🍇
Pesto and chicken 🐓 (precooked chicken)
Pizza sauce and cheese 🧀
Olives and lemon zest 🫒
Oregano, red pepper flakes 🌿
Garlic, olive oil, and fresh herbs
Tomatoes, olive, feta 🍅
Roasted eggplant or zucchini (lightly roasted) 🍆
Fresh tomatoes, cheese, basil
Cherry tomatoes and pesto
Sausage and cheese (precooked meat)
Artichoke and spinach
Caramelized onions 🧅
Pepperoni and cheese
Roasted garlic and oregano 🧄
Balsamic reduction
Thinly sliced potatoes and rosemary 🥔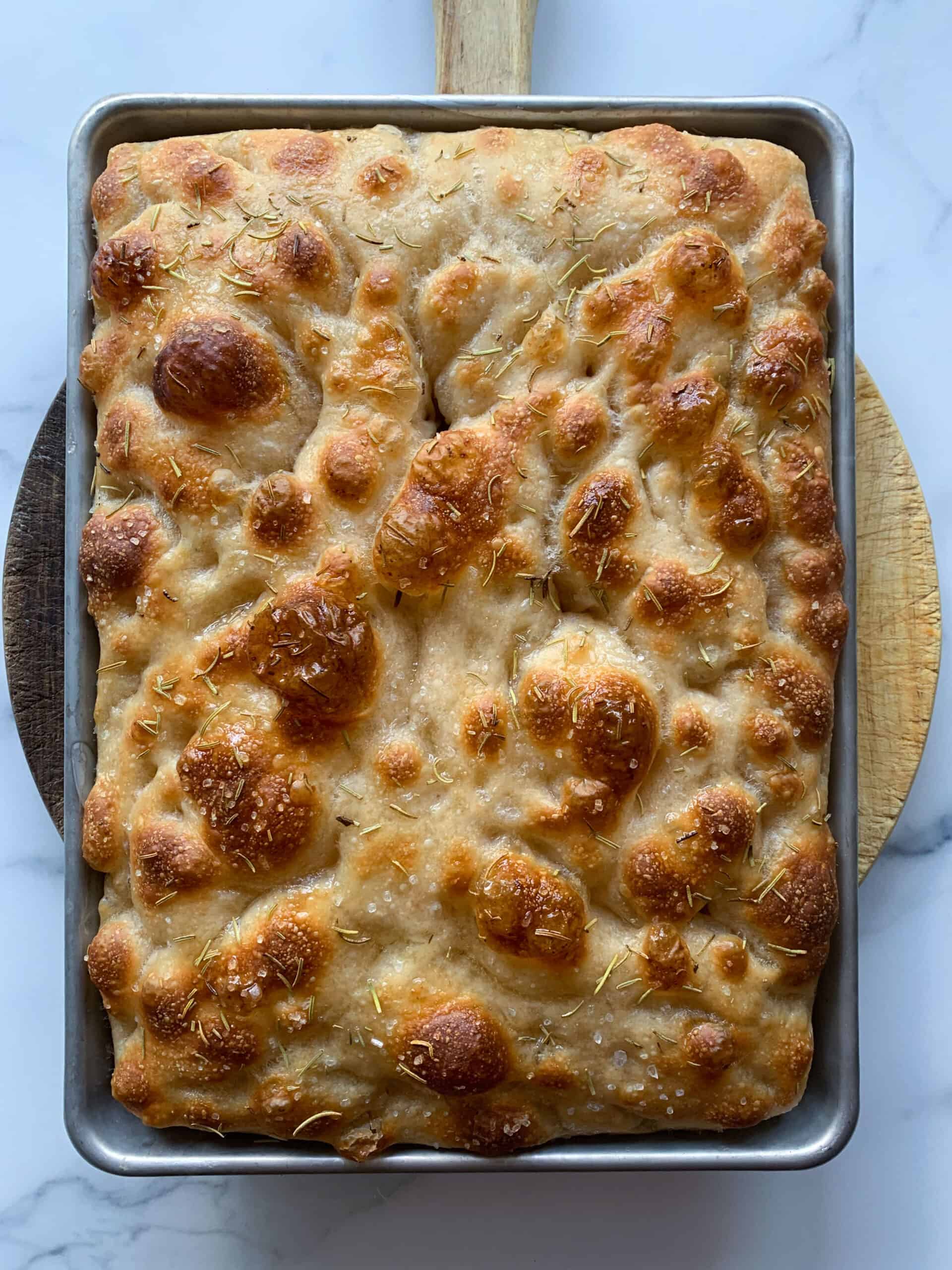 Focaccia Sandwich Ideas
Thick sourdough focaccia can be easily sliced open to make a great sandwich or, for bigger appetites, use 2 pieces. You can also make paninis by grilling any of these sandwich combinations.
Some ideas for making a delicious focaccia sandwich include:
Mixed cheeses
Ham and cheese
Caprese (tomato and cheese)
Meatball sandwiches
Italian meats (ie, proscuitto, capicola, salami, etc)
Bacon, lettuce, and tomato
Club sandwiches with turkey
Grilled vegetables with pesto
Egg salad or chicken salad
Cuban sandwich
Chicken breast with spinach, roasted peppers
Leftover Focaccia
I doubt you'll have leftover, but just in case here are some ideas....
Cut and use focaccia to make plain croutons or flavored croutons
Dry the focaccia and make breadcrumbs (plain focaccia)
Storage, Make Ahead, Freezing
The dough can be made the night before and is best tasting after a long cold proof in the refrigerator.
After baking, the focaccia is best enjoyed the same day.
To freeze place slices in freezer bag for up to 1 to 3 months.
You can flash freeze sliced focaccia on a cookie sheet and then transfer the pieces to a freezer bag or you can wrap pieces in plastic wrap and then place in sealed contained in the freezer.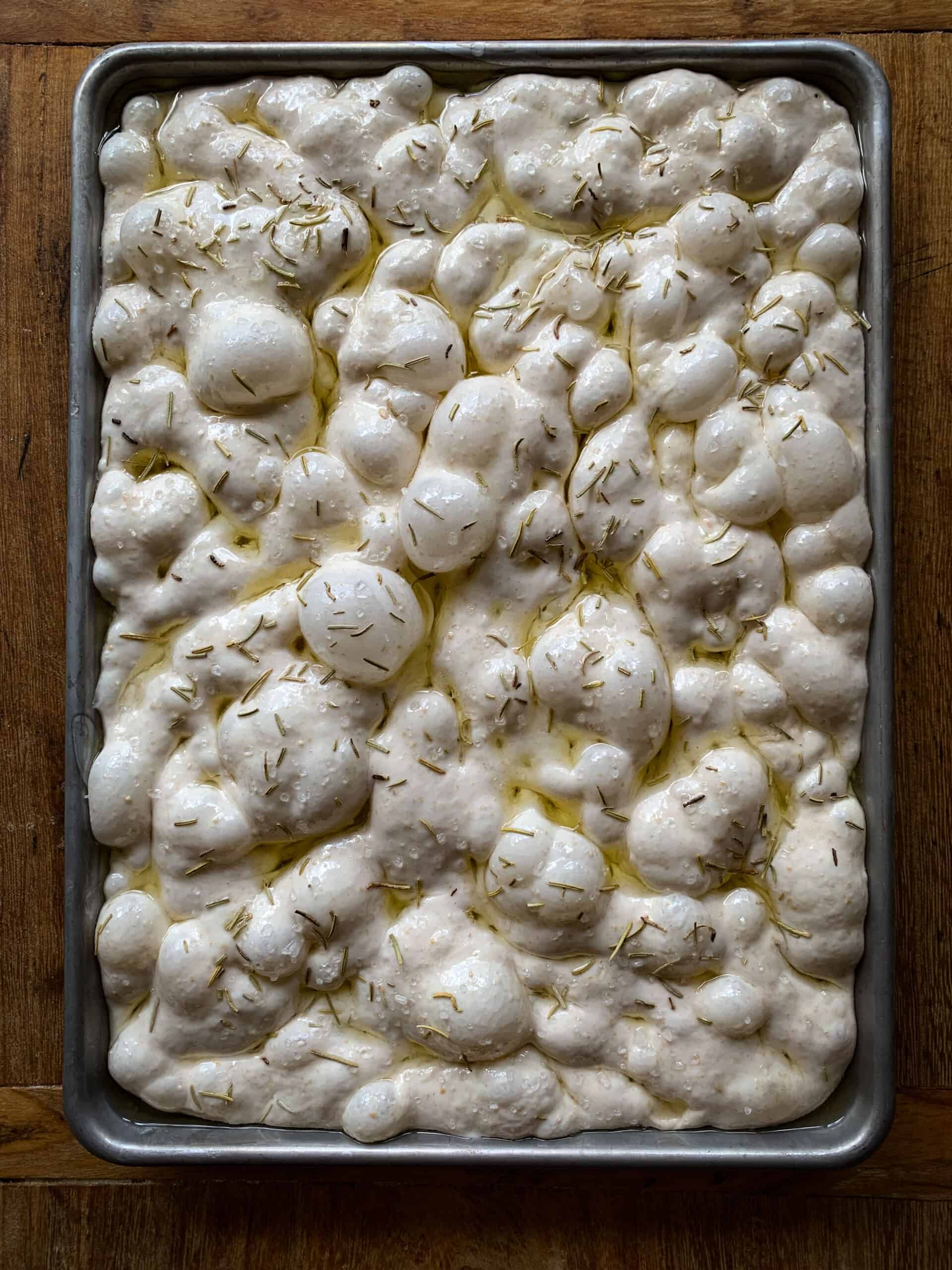 📖 Recipe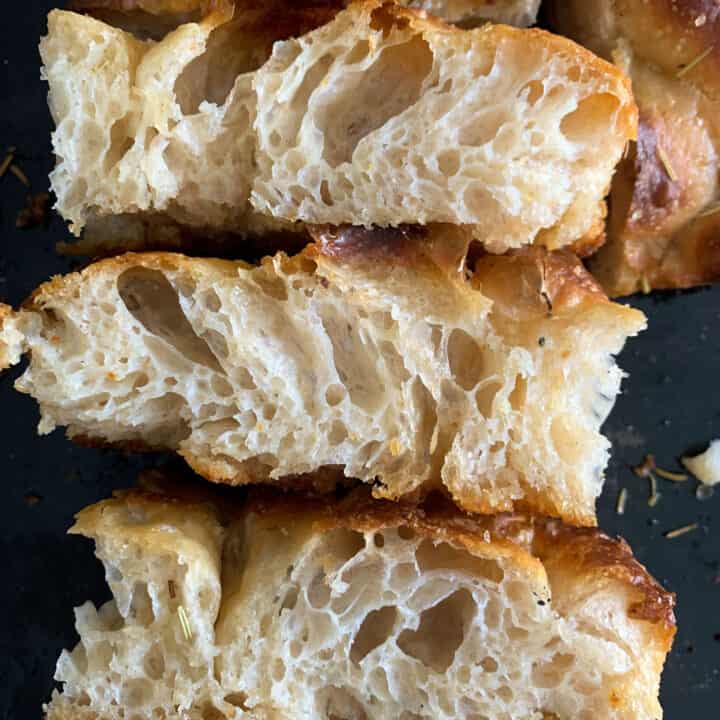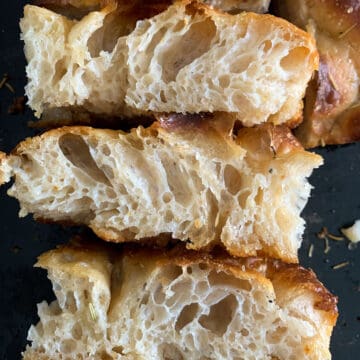 Thick Soft yet Crispy Sourdough Focaccia Recipe
Thick, soft and fluffy yet crispy long rise focaccia is absolutely delicious and so versatile. Eat plain, change up the toppings, or serve as a pizza or sandwich. Makes about 1000 grams of dough (or ~2 pounds of dough).
Equipment
13 x 9, baking sheet, small sheet pan, casserole dish

For rectangular focaccia

10-inch cake pans (two)

For round focaccia

large mixing bowl

baking stone or steel

optional but highly recommended
Ingredients
125

grams

(

0.5

cups

)

mature sourdough starter

375

grams

(

1 ⅔

cups

)

water

10

grams

(

2.5

teaspoon

)

sugar

500

grams

(

4

cups

)

bread flour

15

grams

(

1

tablespoon

)

olive oil

10

grams

(

1 ¾

teaspoon

)

salt
For the Topping
¼

cup

olive oil

or as needed (and to drizzle after baked)

1

teaspoon

salt

coarse flaky salt is recommended for topping but use what you have on hand.

rosemary (fresh or dried)

as needed
Instructions
To Mix the Dough
Mix the mature sourdough starter, sugar, water and flour into a shaggy mass of dough and set aside, covered, in a warm spot for 1 hour.

After 1 hour has passed, add the salt and olive oil to the dough.

Mix the dough well after the salt and oil have been incorporated. I like to scrunch/pinch it in, you can use your fingers to press it in and keep folding the dough until incorporated.
First Rise of the Dough
Place dough in a covered container to let rise for a total of about 1.5 hours in a warm spot. Every 30 minutes, stretch and fold the dough. Try to form a square like shape - a square baking dish helps here. You can also coil fold the dough, which is a simple and very effective technique.
Final Rise of the Dough
Place the dough in your baking sheet (which must be well oiled) and allow it to rest at room temperature in a warm location for 3 to 4 hours until it's nice and bubbly. It should spread out naturally on its own but if it needs some help gently stretch it.

If you are using cake pans (10-inch), divide dough in half and gently place into the cake pans. (500 grams or 1 lb of dough in each one).

Alternatively, instead of the 3 to 4 hour warm rise, place in the refrigerator overnight (or up to 2-3 days) and bake the next day. The focaccia can be baked directly from the refrigerated state.
Baking the Focaccia
Preheat your oven to 450 degrees and insert a baking stone or baking steel if you have one, in the center of the oven.

Before baking, dimple the top of the focaccia heavily by pressing your fingers in the dough and pushing all the way down to the bottom. Do this repeatedly all over the top of the focaccia.

Top your focaccia with olive oil, salt and rosemary (or whatever topping you'd like) and bake on the baking stone or steel for about 20 minutes until golden and the bottom is crispy.

IMPORTANT: If you don't have a baking stone or steel, ensure you are baking the focaccia in the bottom third of your oven so the bottom gets nice and crispy.

To finish, drizzle the baked focaccia with additional olive oil l
Notes
Nutrition calculated at ⅙ of the recipe using the 13x9 pan. 
May use a baking sheet or pan that is 13 x 9 (for 1000 grams/2 pounds of dough) or two cake pans (10-inch) holding 500 grams/1 pound of dough each. 
Note that the focaccia will be a little bit thinner using the cake pans (but also less calories per slice!). 
Slightly adapted from Baking Bread in the Netherlands 
Nutrition
Calories:
445
kcal
Carbohydrates:
69
g
Protein:
11
g
Fat:
13
g
Saturated Fat:
2
g
Polyunsaturated Fat:
2
g
Monounsaturated Fat:
9
g
Sodium:
1039
mg
Potassium:
94
mg
Fiber:
2
g
Sugar:
2
g
Vitamin A:
2
IU
Calcium:
17
mg
Iron:
1
mg
Interested in More Recipes?
SUBSCRIBE to get recipes delivered to your email 🙂