These ricotta cookies are an ethereally light and tender cookie that is topped with a simple vanilla buttercream – so simple to make and everyone will love them! This recipe comes from a dear friend's beautiful Italian mom, Angela, whose passion was always baking.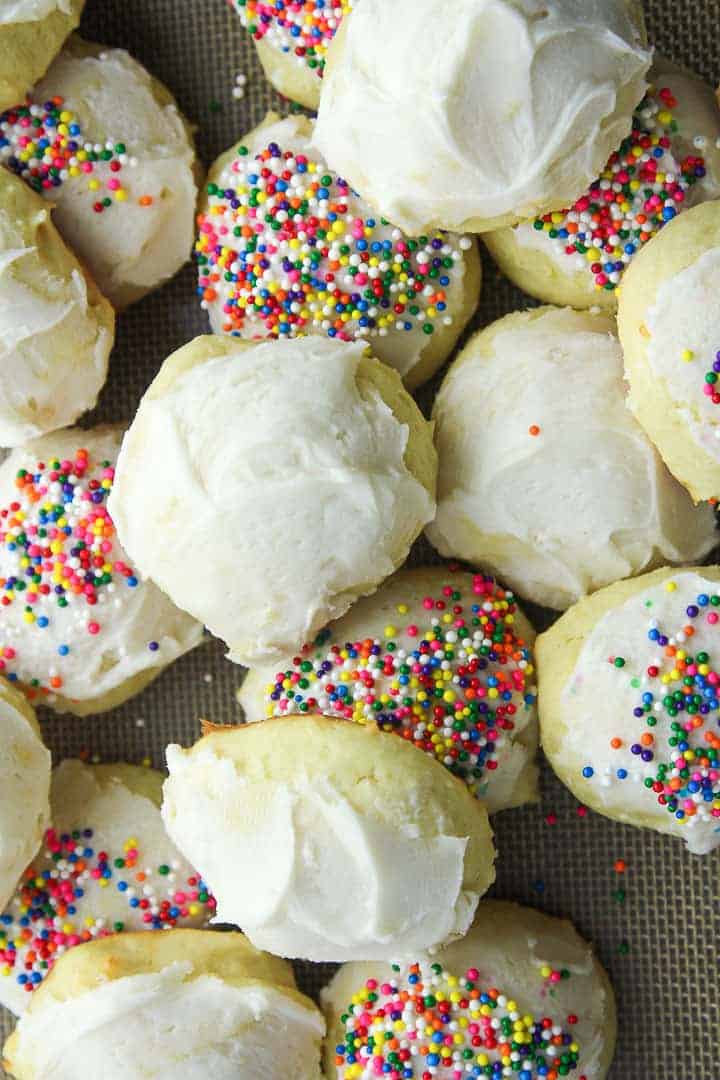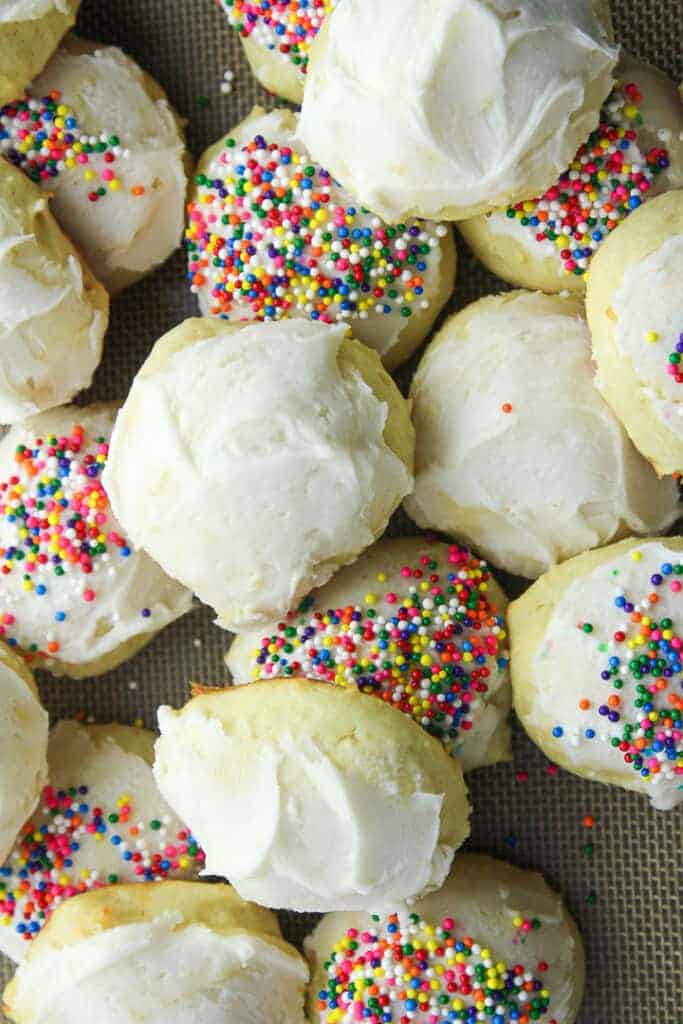 Ricotta cookies: the ingredients
This is an "old school" Italian recipe that was very popular in the Italian neighborhoods of Philadelphia.
These cookies come together so quickly and consist of 8 ingredients including butter, sugar, eggs, ricotta cheese, vanilla, flour, salt, and baking soda. You'll probably have most of these on hand, with the exception of ricotta, which I don't normally keep on hand (but you may?).
This recipe also uses a buttercream frosting that is a bit different than the glaze used in my Italian wedding cookies, which do not use ricotta and are flavored with anise or almond extract. Feel free to use the glaze instead but the buttercream is a nice change and we love it!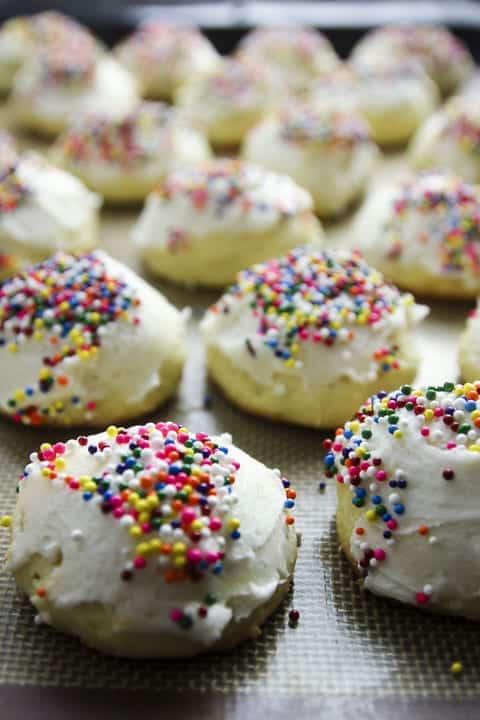 Baking time and tips for sticky dough
The cookies bake up quick! They are done in 15 minutes and are a very pale yellow when finished. I think the most challenging part of baking this cookie is that the dough is quite sticky. I use a cookie scoop to address this challenge. The use of a cookie scoop works like a charm and helps to make all your cookies a consistent size.
Other ways to work with sticky cookie dough like this one include using a pastry bag to pipe small mounds for each cookie, using cooking spray on your hands to reduce stickiness, adding a bit of powdered sugar or flour to your hands, or even wetting hands helps!
How to store ricotta cookies
Store these cookies in an airtight container for up to 3 days or so. I've frozen mine and they keep well for at least a month.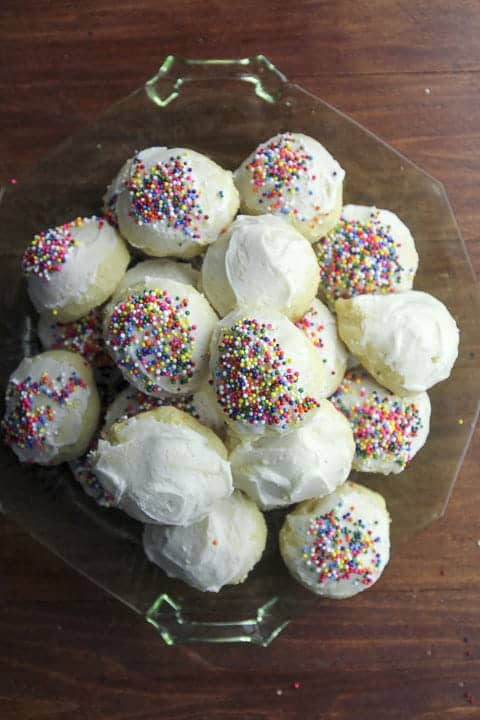 Decorating these cookies
I liked to leave some cookies plain, without sprinkles or nonpareils. Either way works or customize them depending on the time of year (ie, red and green for Christmas, pastel colors for spring, black and orange for Halloween, the options are endless).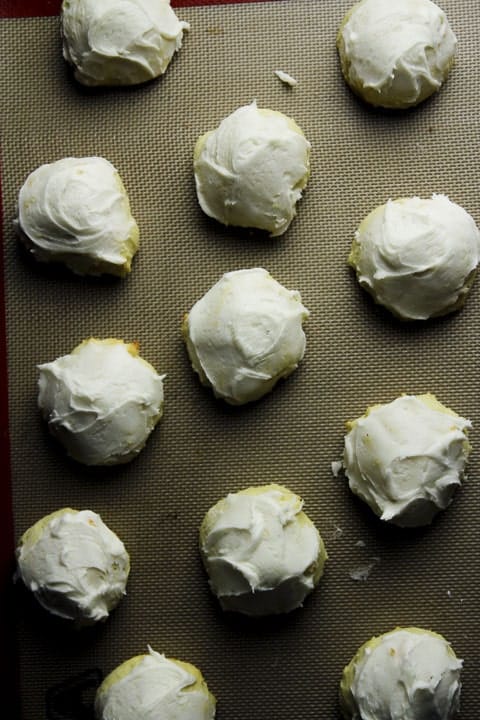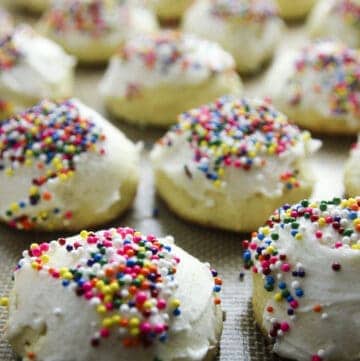 ricotta cookies
Makes about 6 dozen (72) ricotta cookies, light and tender cookies that are topped with a vanilla buttercream. These will vanish quickly!
Ingredients
For the cookie dough
3

large

eggs

1

cup

unsalted butter

cubed

2

cups

sugar

1

pound

ricotta cheese

2

teaspoons

vanilla extract

4

cups

all purpose flour

1

teaspoon

salt

1

teaspoon

baking soda
For the frosting
1

pound

powder sugar

¼

cup

unsalted butter

2

teaspoons

vanilla extract

¼

teaspoon

salt

¼

cup

milk

(may need more or less; add by the tablespoon)
For decorating (optional)
¼

cup

sprinkles or nonpareils
Instructions
For the cookie dough
In the bowl of a standing mixer, cream sugar and butter together until combined. Add eggs and continue to mix until well combined

Add ricotta and vanilla and mix for another minute

Add flour, baking soda, and salt and mix until just combined
To bake
Preheat oven to 350 degrees and place rack in center of oven

drop cookie dough onto ungreased cookie sheet (use parchment paper if you have it) and bake for 15 minutes

do not overbake! cookies will be very light in color

allow cookies to cool before frosting; if desired top with sprinkles (I like to pour sprinkles into a small ramekin/bowl and dip cookies into the sprinkles)

place cookies in a single layer into the refrigerator to allow frosting to harden.
Nutrition
Calories:
115
kcal
Carbohydrates:
17
g
Protein:
1
g
Fat:
4
g
Saturated Fat:
2
g
Cholesterol:
20
mg
Sodium:
65
mg
Potassium:
19
mg
Sugar:
11
g
Vitamin A:
140
IU
Calcium:
17
mg
Iron:
0.4
mg
Interested in More Recipes?
Subscribe now to get recipes delivered to your email 🙂