Philadelphia tomato pie is regional type of pizza (popular in Philadelphia and Central NY/Utica) that can be described as a medium thick rectangular pizza topped with a slightly sweet, thick tomato sauce and a dusting of grated cheese (typically pecorino Romano) and sometimes oregano.
Always served at room temperature, tomato pie is great for entertaining or anytime you want to have a slice of "home".
To me, the hallmarks of a good Philly tomato pie include a crisp crust, a very slightly sweet yet thick tomato sauce, and a dusting of slightly tart grated cheese (Pecorino Romano).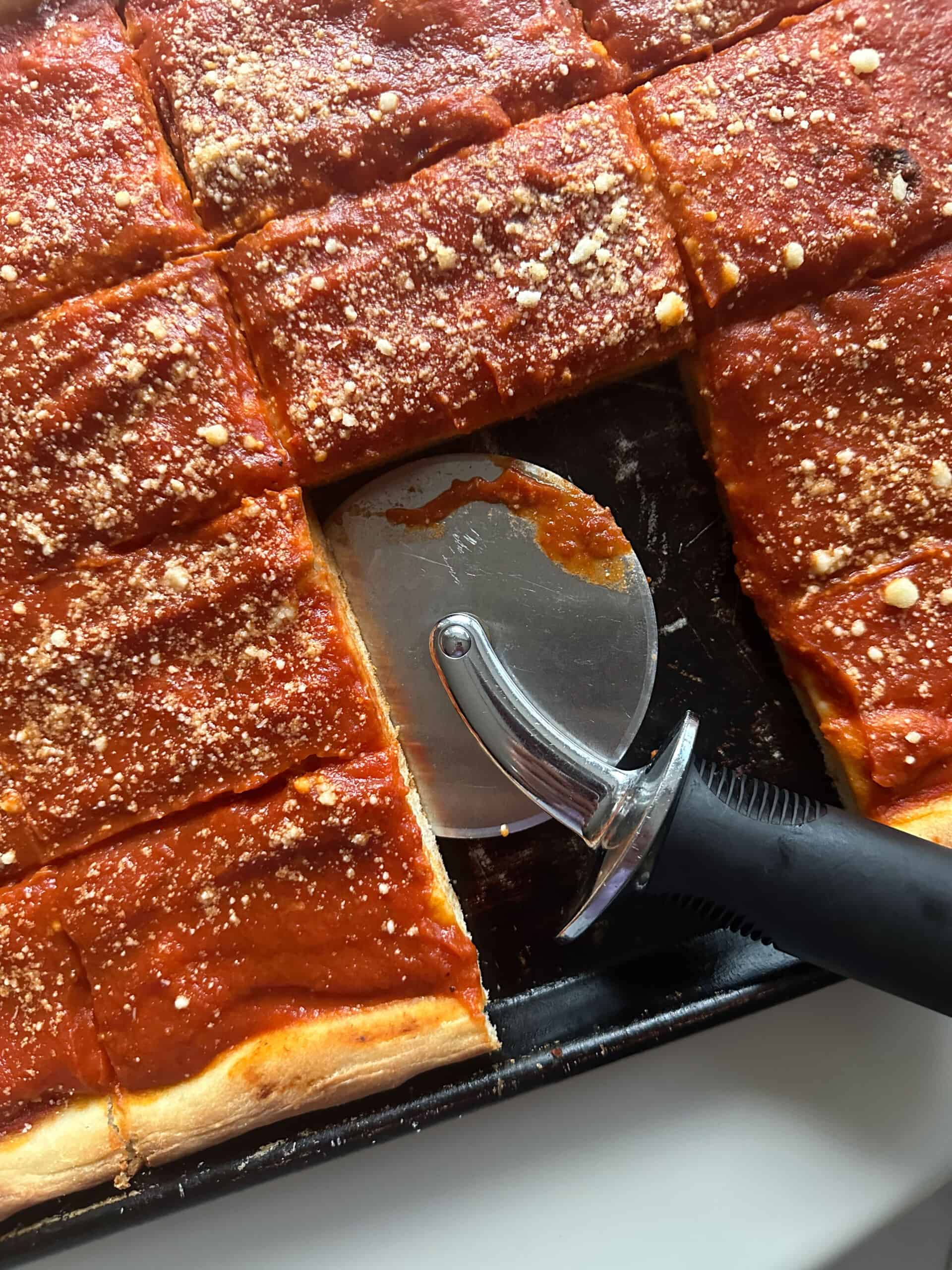 The contrast of the sweet sauce and the tart cheese is what makes this tomato pie soooo good!
Tomato pie is often served at parties, because it's well loved and it's easy to buy or make ahead.
Jump to:
Ingredients
For the Dough
I like to make the dough using a bread flour with 65% hydration, 8% oil, 2% salt, 3% sugar, and 1% dry yeast (instant). The dough is fairly wet but not too wet to handle.
Bread flour
Water (room temp or slightly cool)
Salt (non-iodized if you have it)
Oil (I use olive oil)
Sugar (tenderizes the crust a little and helps browning)
Yeast (I like dry, instant and keep loads of it in the freezer)
For the Tomato Sauce
The tomato sauce for this pizza is cooked for about 40 minutes, to thicken it up and to also deepen the flavor. Both thickness and a bit of sweetness are key.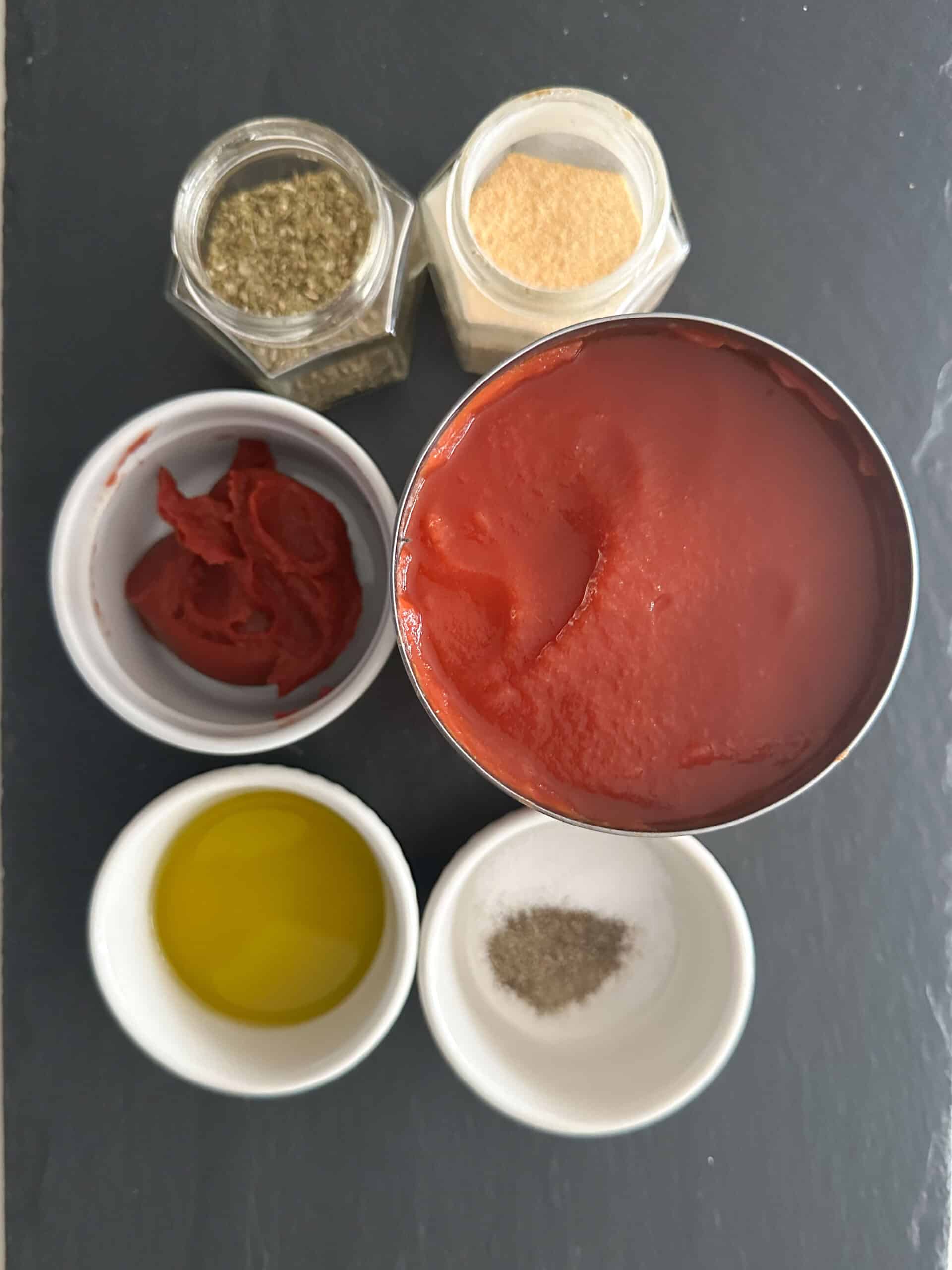 Tomato puree (28 oz can)
Olive oil
Garlic
Salt
Pepper
Oregano
Sugar (just a little bit!)
Hot pepper flakes
For the Cheese
Method
Make the dough and let it rise (best is overnight in fridge but can be done same day)
Stretch out the dough and let it rise again in the pan.
In the meantime, cook the tomato sauce.
Top the risen and shaped dough in the pan with some sauce and bake.
Add the remaining tomato sauce to the pizza and sprinkle gently with grated cheese after it has cooled.
Slice and devour!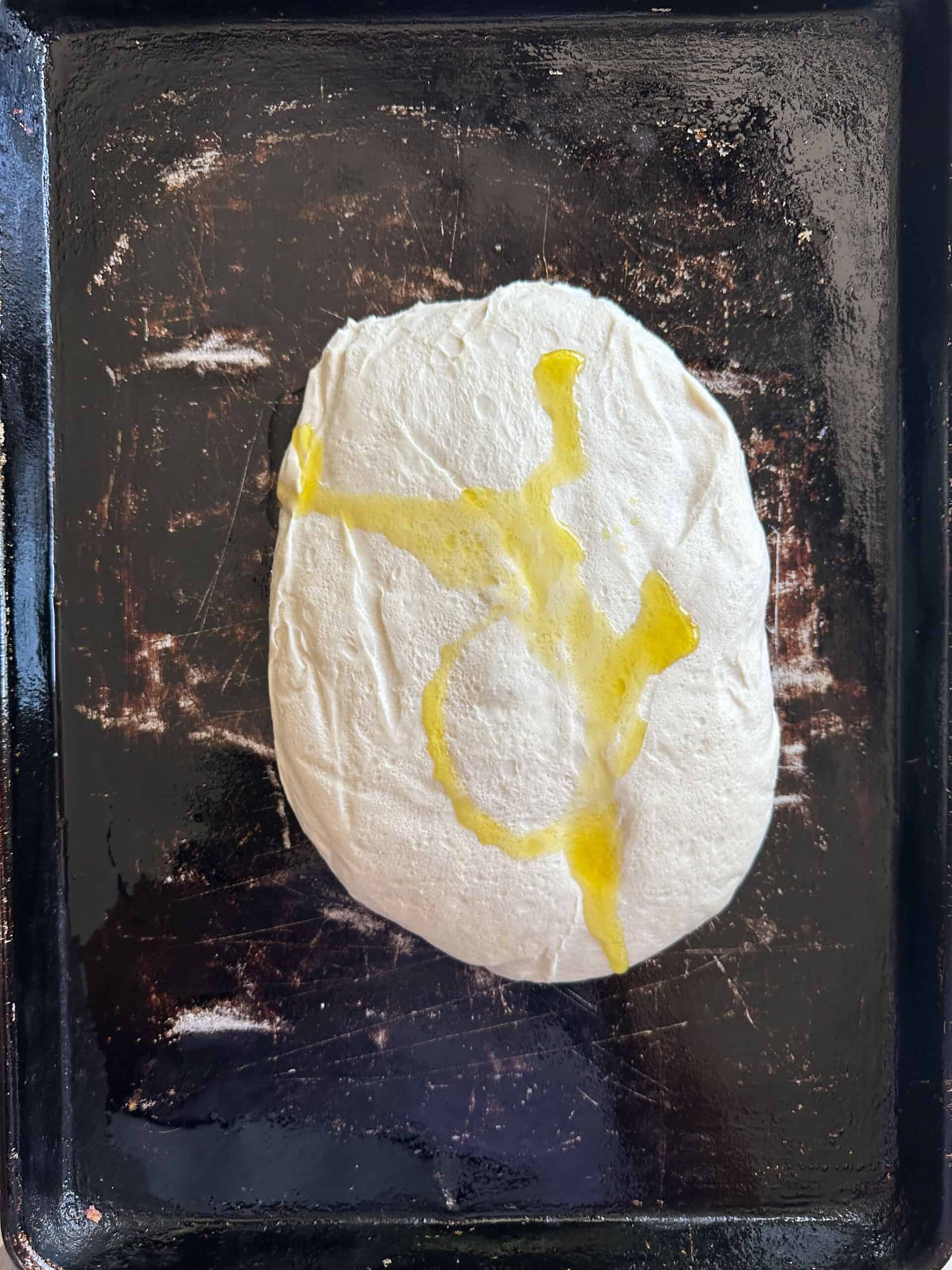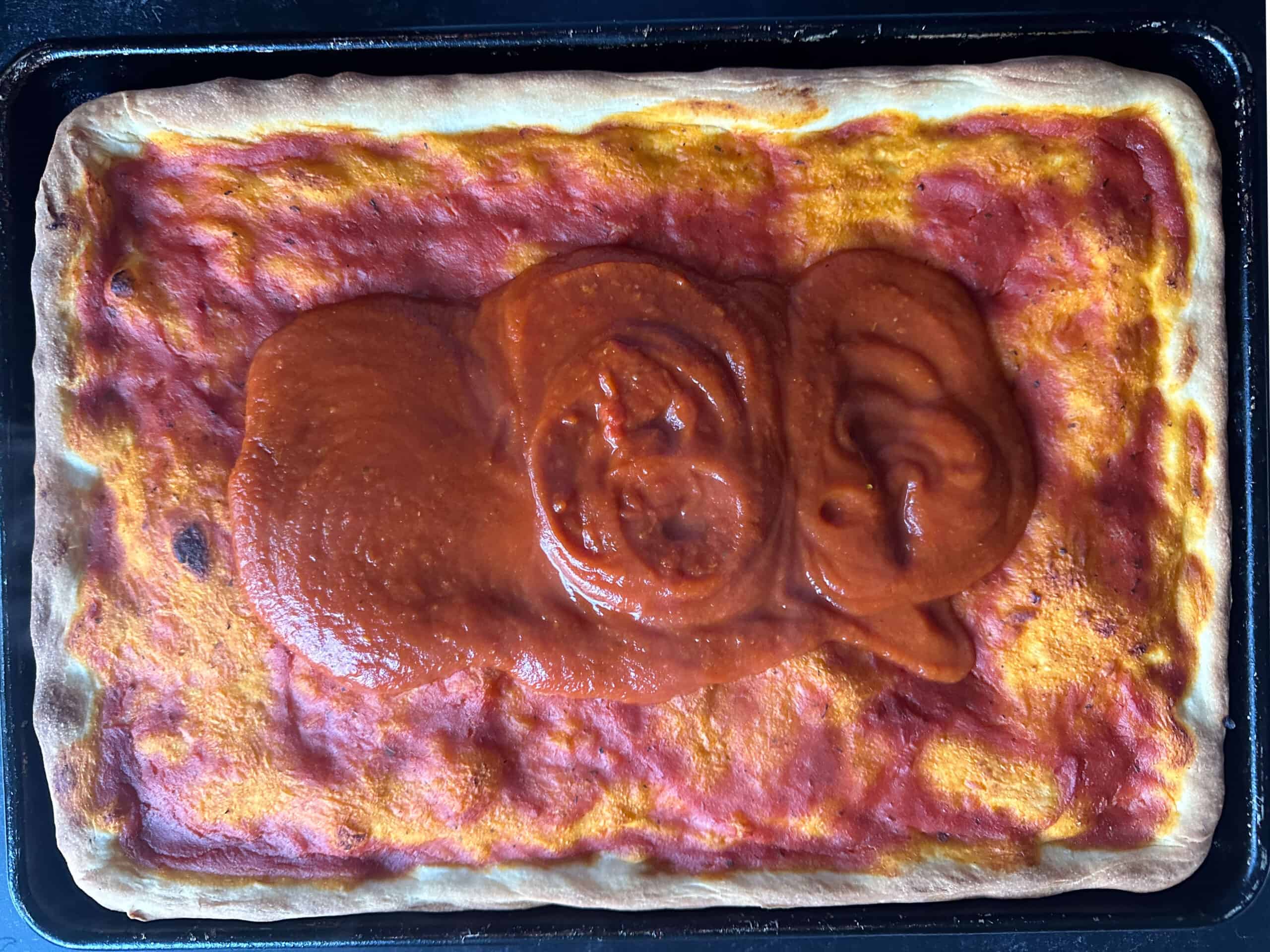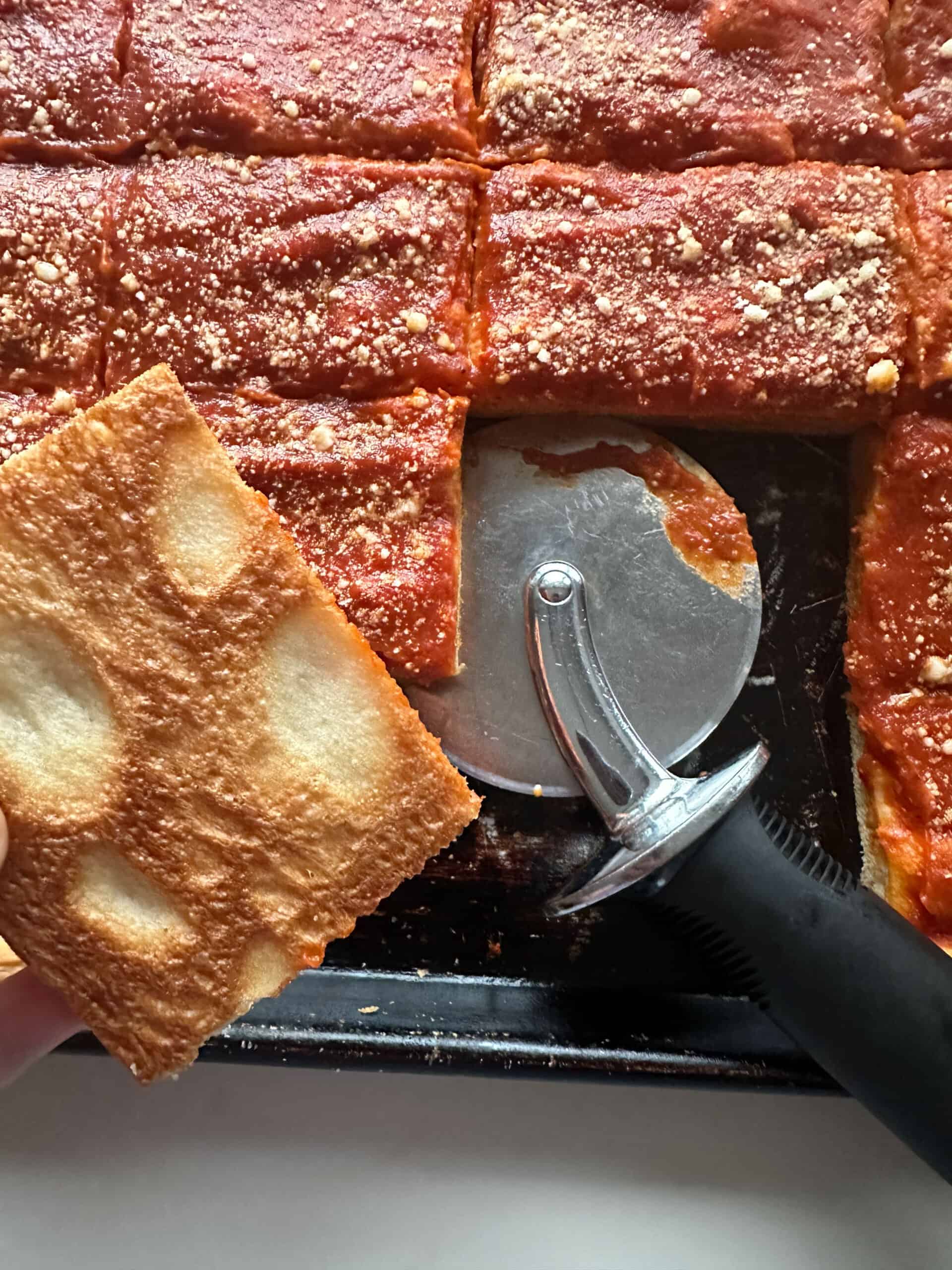 Variations
Tomato pie is typically served plain, with tomato sauce and grated cheese. That said, Corropolese, one of the most popular bakeries in the Philadelphia area also makes it with a number of toppings including:
Sweet peppers
Mixed veggies (tomato, broccoli and cheese)
Spinach
Eggplant
Hot peppers
Pepperoni
Surpreme (pepperoni, sweet peppers, and cheddar cheese).
They'll also use a stencil to apply various designs, to top of the pizza using the grated cheese - most often I've seen sports team logos dusted on top of the pizza.
Best Places to Try Tomato Pie in Philly
Don't want to bake? Visiting Philadelphia? Here are some places to try tomato pie (if you're a local and want to recommend a place, please leave a comment!). Or narrow the list by reading the local newspapers **winners:
New York Bakery (Center City Philadelphia)**
Liberty Kitchen (Philadelphia)**
Park Pizza (West Philadelphia)**
Pizza Shackamaxon (Fishtown in Philadelphia)**
Marchianos (Roxborough in Philadelphia)**
Sarcones (South Philly)**
Carlino's (Ardmore, West Chester)**
Pizzeria Beddia (Center City)**
Corropolese bakery (Various locations Philly suburbs) **
Aversa (South Jersey and NJ Beaches)
Caccia Bakery (South Philly and South Jersey)
Liscio Bakery (South Jersey)
**Read highlights of the cities best and narrow the list by reading about the Philadelphia Inquirer's (local newspaper) tomato pie winners.
Storage
Philly tomato pie is really best eaten the day it's made, after it cools off. Leftovers can be enjoyed for a day or two but not as good as first day!
📖 Recipe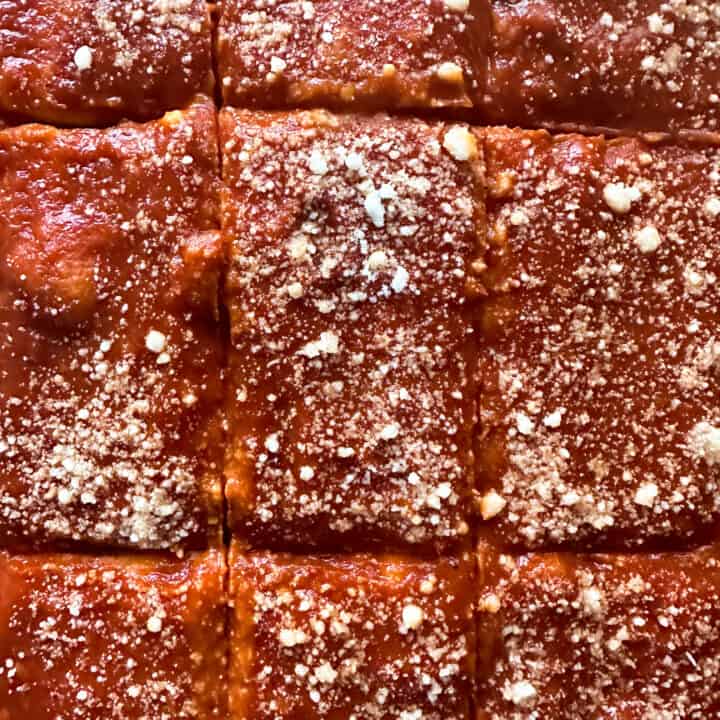 Philly Tomato Pie
Philadelphia tomato pie is a medium thick rectangular pizza topped with a slightly sweet thick tomato sauce and a dusting of grated cheese (typically pecorino Romano). Always served at room temperature, tomato pie is great for entertaining or anytime you want to have a slice of home.
Equipment
Sheet pan for baking pizza

("half sheet pan"; ~18 inch x 13 inch x 1 inch) OR two "¼ sheet pans" (~9 inch x 13 inch x 1 inch)

Stand mixer

optional but highly recommended

wire cooling rack

optional but helpful
Ingredients
For the Dough
484

grams

(

4

cups

)

bread flour

(see "How to Measure Flour" in Recipe Notes below).

302

grams

(

1.3

cups

)

water

32.5

grams

(

2.5

tablespoon

)

olive oil

9

grams

salt

4.5

grams

instant dry yeast

can also use active dry but must activate it first using a bit of water from this recipe and a pinch of sugar (wait 5 minutes to make sure it foams, which means it's active)

14

grams

sugar
For the Tomato Sauce
28

ounce

(

3

cups

)

tomato puree

can use crushed or whole if you prefer but blend into a puree.

3

tablespoon

tomato paste

optional, if you have it

2

tbsps

(

2

tbsps

)

olive oil

2

cloves

garlic

minced or grated

2

teaspoons

dried oregano

1

teaspoon

salt

½

teaspoon

sugar

½

teaspoon

black pepper

¼

teaspoon

red pepper flakes

¼

cup

water

may need more after cooking if it's too thick
For the Topping
3

tablespoons

(

3

tablespoons

)

pecorino Romano cheese (grated)

more if you'd like
Instructions
To Prepare the Dough
Add flour, yeast, and sugar into the bowl of a standing mixer and mix until combined.

Slowly add water and mix on low until all the flour has been incorporated.

Add the oil and mix until incorporated.

Cover and let rest for 20 to 30 minutes before adding salt.

After 20 to 30 minutes, add salt and mix on medium speed for about 5 to 6 minutes total. Alternatively you can hand knead for about double the time, taking breaks every few minutes.

To bake the NEXT day (highly recommended), form dough into a large ball and then place in a gallon ziplock or a large bowl covered well with plastic wrap and place into the refrigerator.

To bake the SAME day: Allow dough to double in a covered bowl for about 1 hour, at room temperature.
To Make the Tomato Sauce
Add all ingredients to a medium sized pot and bring to a low simmer, reduce heat if necessary and simmer for about 40 minutes. Keep lid slightly ajar so sauce can thicken. May prepare the sauce ahead of time and store in the refrigerator overnight.
To Bake the Pizza
For overnight method: Remove dough from refrigerator, remove from plastic wrap/bowl, and place on a well oiled baking sheet. Pour a little oil on top of dough, cover loosely and allow it to come to room temperature (~60 minutes or so). Stretch to fit into well oiled baking sheet (18 by 13), press finger tip along the sides for form the cornicione (edge/rim), and let rise for 30 to 60 minutes.

For SAME day baking: After the dough has doubled in size, remove dough from bowl, and place on a well oiled baking sheet. Stretch the dough gently to fit into the pan (18 x 13) using a tiny bit of oil on your hands if needed. You may need to let the dough rest between stretches. (It is easier to stretch if you refrigerate overnight.) Form the edge/rim (ie, cornicione) by pressing fingertip along the edge of the dough. After stretching, let rise for about 30 to 60 minutes.

When reading to bake: Preheat oven to 450F and set rack in bottom third of oven (ie, about 8 to 10 inches from bottom). Baking this pizza closer to the bottom of the oven helps to crisp the bottom of the pizza.

Top the dough with about ¼ of the tomato sauce mixture, taking care to leave a rim about the edges (and reform if needed), and then place in oven and bake for about 30 minutes (check the pizza at 20 minutes - edges should be golden brown and bottom should be golden). It will take anywhere from 20 to 40 minutes - everyone's oven is different. If my oven has been on a while it'll take closer to 20 minutes whereas if it has just come to temperature it'll take longer.

After the pizza is done and the edges look golden (also be sure to check if the underneath is golden), remove pizza from oven, add remaining sauce (which should be thick- If it's not thick, continue to cook with lid ajar).

If you have a wired rack, remove pizza from pan and cool on wire rack to keep crisp.

After the sauced pizza cools for at least 15 to 20 minutes, dust liberally with grated cheese. I use about 3 tablespoons

To slice, move pizza to pan or wooden board and cut pizza into 16 equal slices. An easy way to do this is to cut it in half both length wise and widthwise. Now cut each quadrant into 4 pieces.
Notes
Baker's percentages:
Bread flour 100%
Water 65%
Oil 7%
Sugar 3%
Salt 2%
Dry yeast 1%
Recipe (1x) yields approximately 825 grams of dough for 13 by 18 pan. Baked thickness is approximately ¾ inch high. 
PLEASE NOTE: Kitchen scale is recommended; recipe is based on weight and converted to volume for convenience. Volume amounts are estimates as a measurement of 3.82 cups would not be practical. 
How to Measure Flour: If you don't have a kitchen scale, measure flour by spooning flour into a measuring cup and leveling off with a knife. The flour should not be directly scooped as this may result in compacting flour, resulting in adding too much flour. 
Nutrition
Calories:
248
kcal
Carbohydrates:
40
g
Protein:
8
g
Fat:
7
g
Saturated Fat:
1
g
Polyunsaturated Fat:
1
g
Monounsaturated Fat:
4
g
Cholesterol:
2
mg
Sodium:
328
mg
Potassium:
289
mg
Fiber:
3
g
Sugar:
3
g
Vitamin A:
281
IU
Vitamin C:
5
mg
Calcium:
37
mg
Iron:
1
mg
Interested in More Recipes?
SUBSCRIBE to get recipes delivered to your email 🙂