Transform your dinner routine into a gourmet experience with Lemon Garlic Shrimp Pasta. Imagine plump shrimp bathed in a sauce that whispers of garlic and sings of lemon, all paired with your favorite pasta. This recipe strikes a balance between simplicity and sophistication, offering a flavorful journey that's a easy to prepare and so good to savor.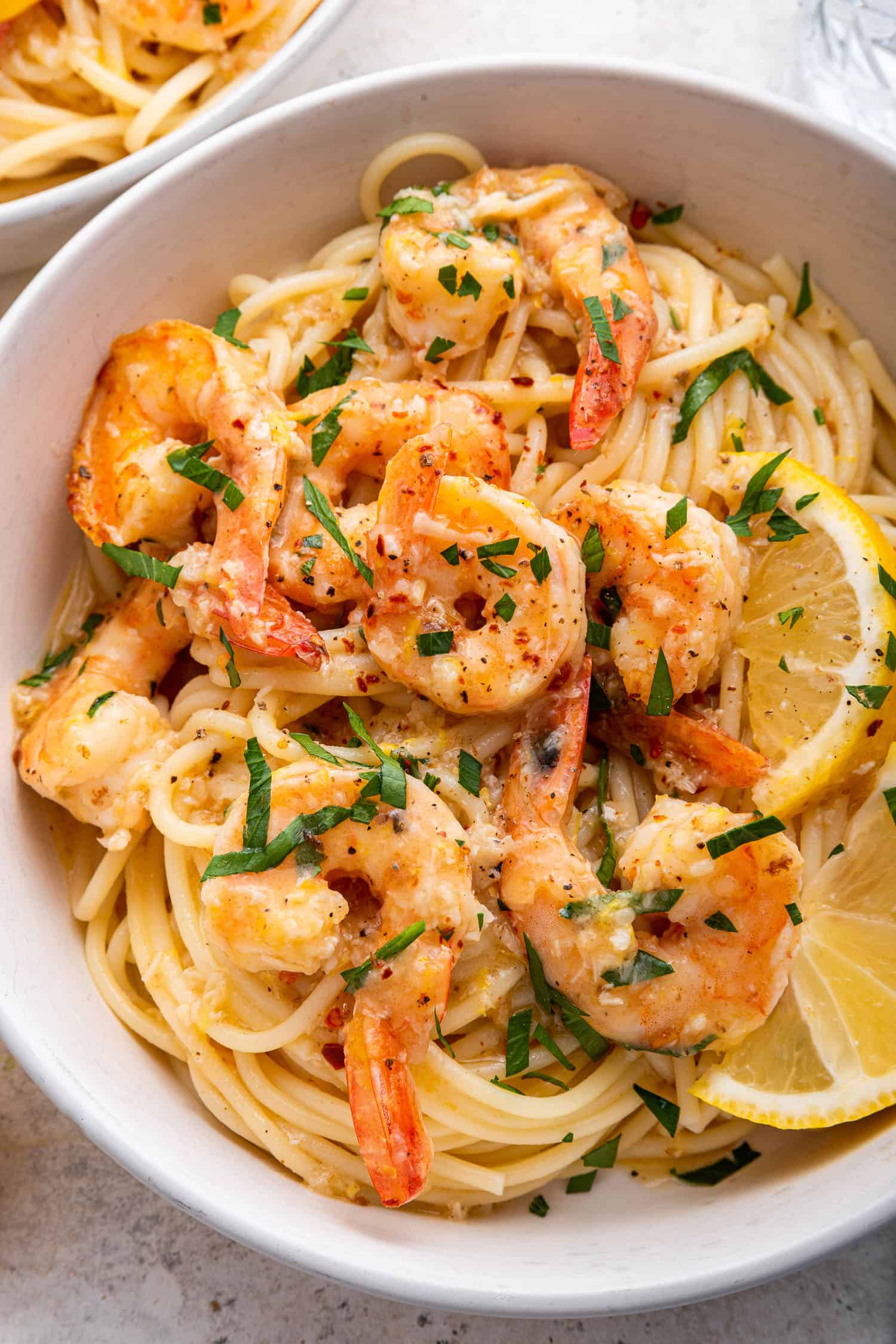 Jump to:
Why Make This?
The beauty of Lemon Garlic Shrimp Pasta lies in its skillful juxtaposition of contrasting flavors. The tangy brightness of fresh lemon zest cuts through the richness of the garlic-infused olive oil, creating a dynamic and refreshing contrast.
The shrimp, which serves as the protein powerhouse, imparts a subtle sweetness and tender texture that complements the zesty and garlicky elements of the dish. This harmonious interplay of flavors is what makes this dish so inviting and irresistible. Are you hungry yet?
Beyond taste, Lemon Garlic Shrimp Pasta is a feast for the senses. The dish is a harmonious blend of vibrant colors – the bright yellow of the lemon zest, the pink hues of the shrimp, and the pale gold of the sautéed garlic. The aromas of garlic and lemon fill the kitchen, and anticipation mounts for the moment when it's all ready for eating!
What You'll Need: Ingredients
Gather your ingredients. For this dish, you'll need the following items: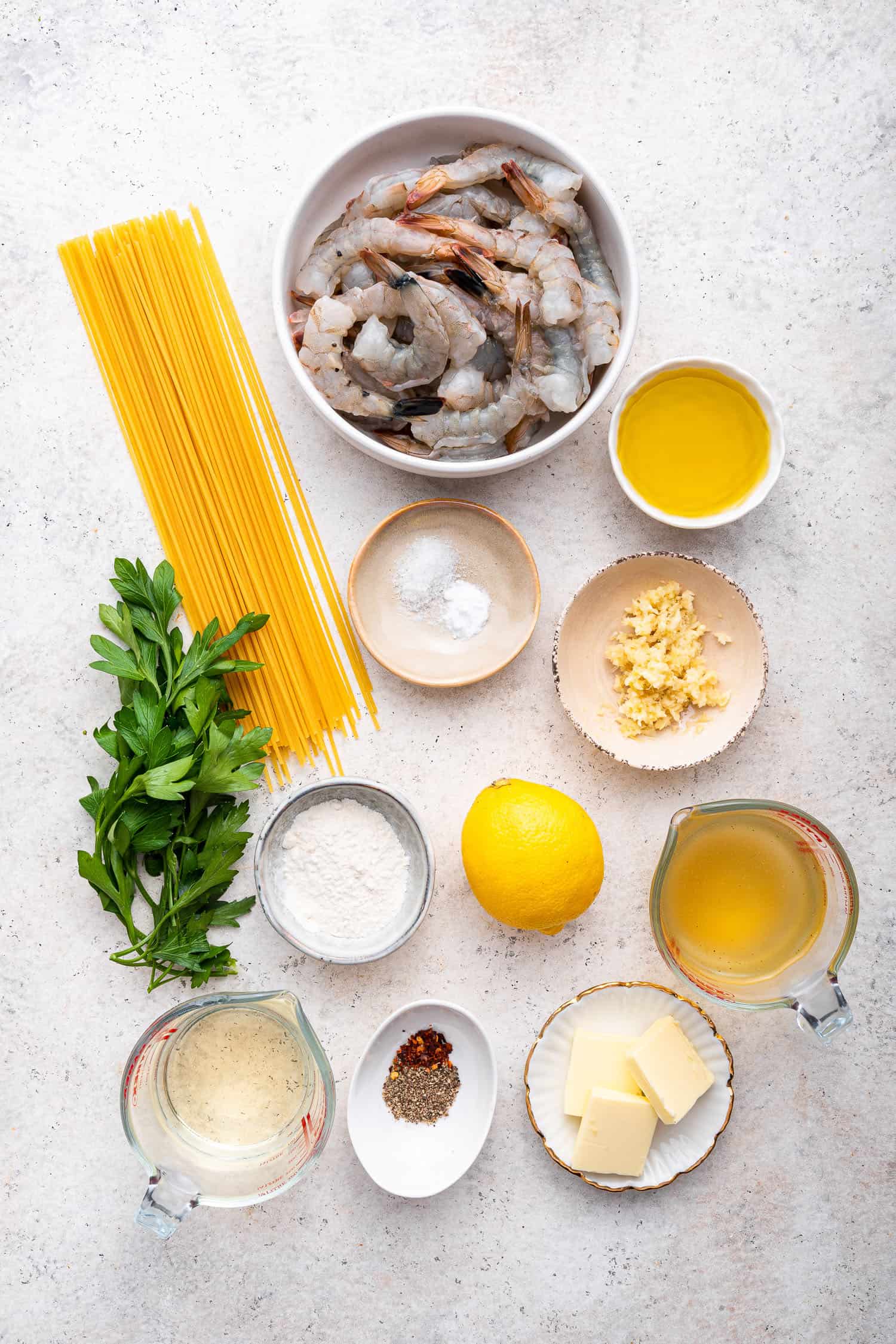 Shrimp: The shrimp serve as the primary protein, offering succulence and absorbing the marinade and sauce flavors.
Salt: Enhances shrimp flavor and helps retain moisture.
Baking soda: Tenderizes the shrimp for a delicate texture.
Unsalted butter: Adds richness and depth to the sauce.
Olive oil: Serves as a cooking medium, infusing the garlic with savory notes.
Garlic (minced): The heart of the sauce, releasing a pungent and aromatic flavor.
White wine: Contributes acidity and complexity to the sauce.
Crushed red pepper: Infuses the dish with a subtle spicy kick.
Black pepper: Adds depth and warmth to the sauce.
Lemon (juiced and zested): Provides a burst of freshness and acidity.
Fresh parsley (chopped): Adds color and a final touch of freshness.
Spaghetti or linguini (cooked al dente): The pasta absorbs the sauce, contrasting with the tender shrimp.
How to Make
Marinating the Shrimp:
Although not completely necessary, this step, which calls for a quick baking soda and water soak, will help prevent the shrimp from overcooking and keep them tender and juicy.
In a large bowl, immerse shrimp in water, adding salt and baking soda. Mix thoroughly, cover, and chill for 20-30 minutes. After marination, drain and rinse the shrimp thoroughly, then pat dry.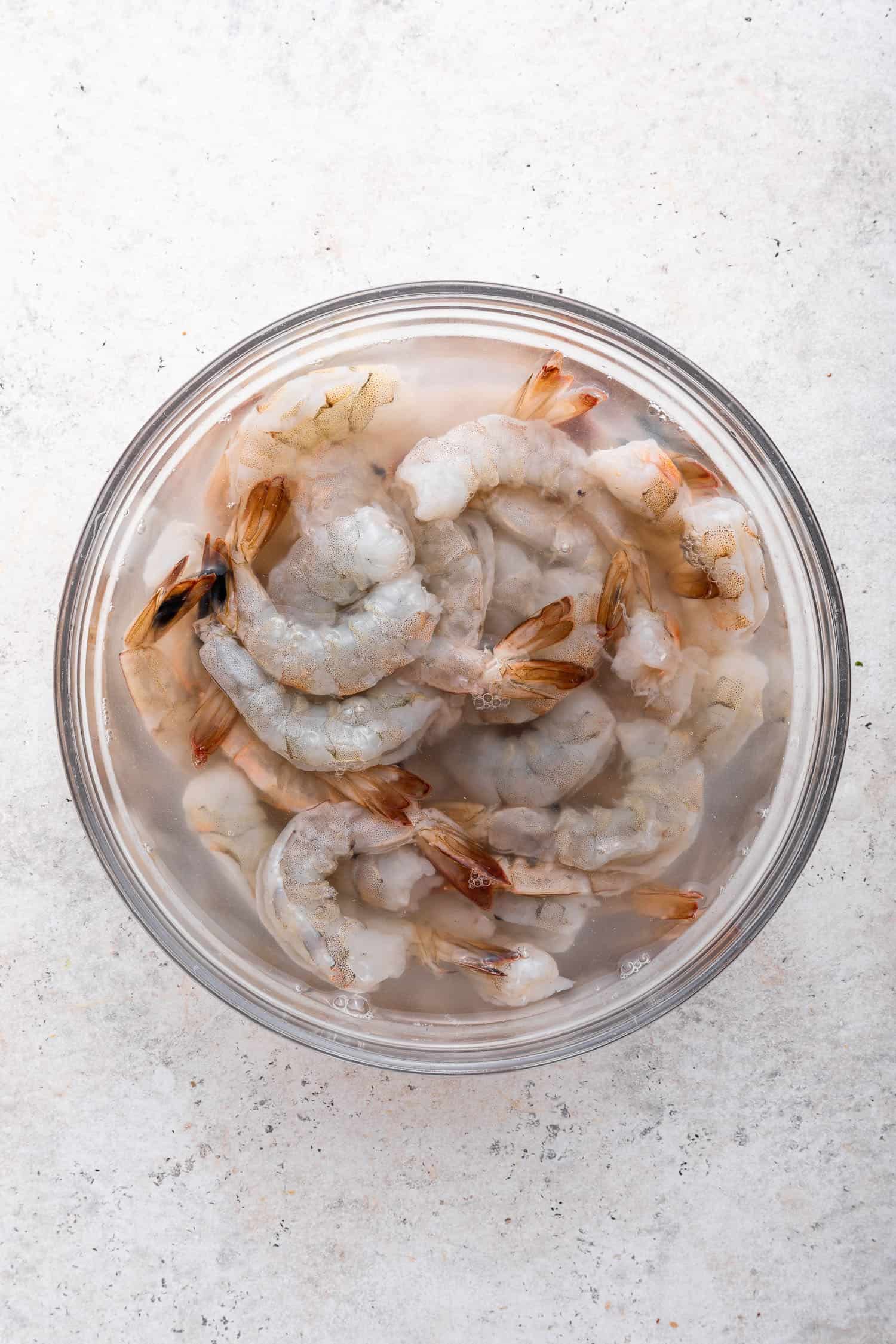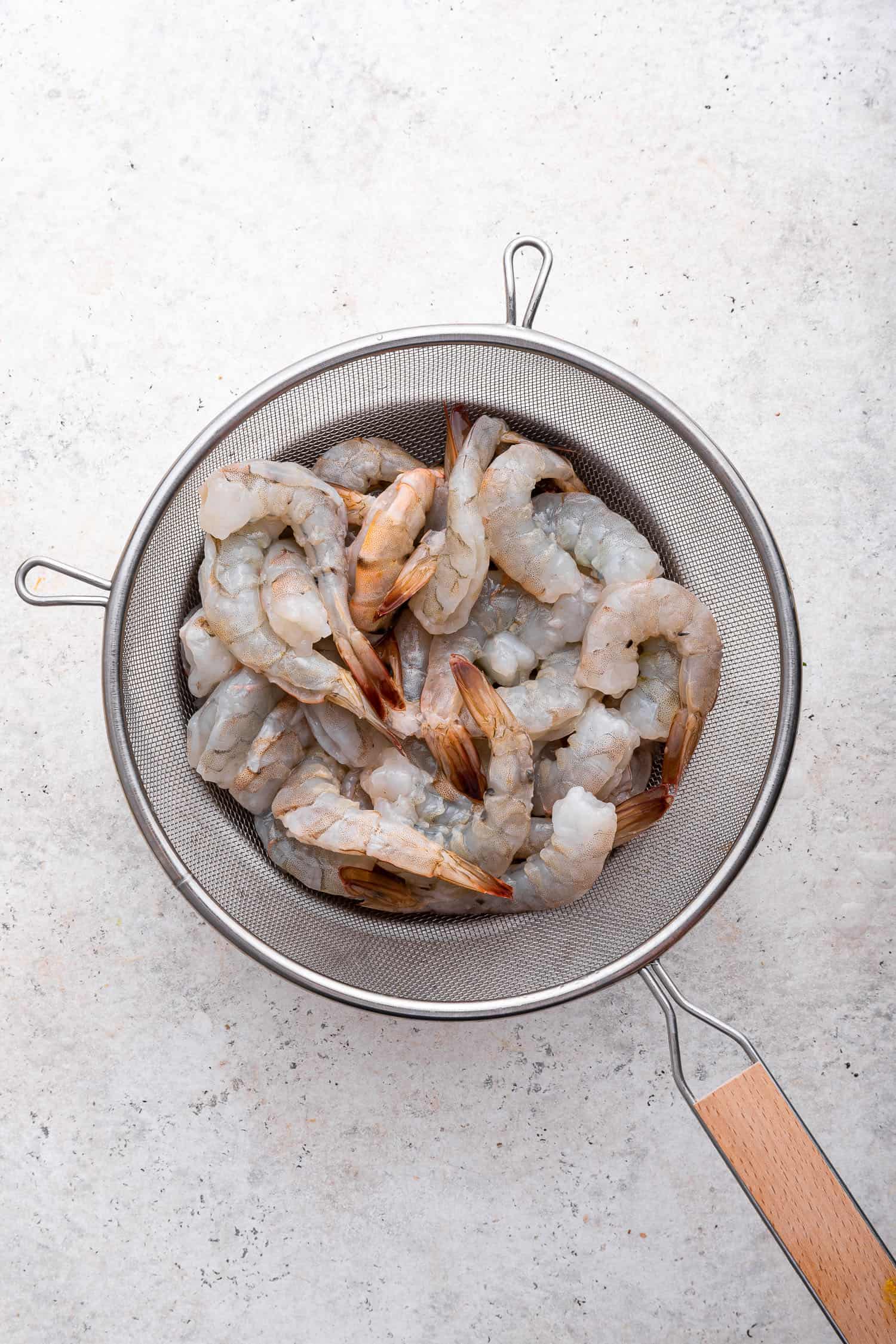 Preparing the Pasta:
In a large stock pot, bring water to a boil. Season with salt, ensuring the water tastes "salty like the sea". Cook the pasta as per the package directions, aiming for an al dente texture. Set aside a cup of pasta water for potential use in the sauce.
Making the Shrimp Sauce:
Over medium-high heat, warm a tablespoon of olive oil. Add the shrimp, cooking only until they turn pink. Remove the shrimp with a slotted spoon and set aside. Retain any juice in the pan.
Pour in the remaining olive oil, reduce heat to medium, and sauté garlic until fragrant. Quickly move to the next step.
Incorporate white wine, red and black pepper, and let it simmer on high heat until slightly reduced. This takes about 2-2.5 minutes.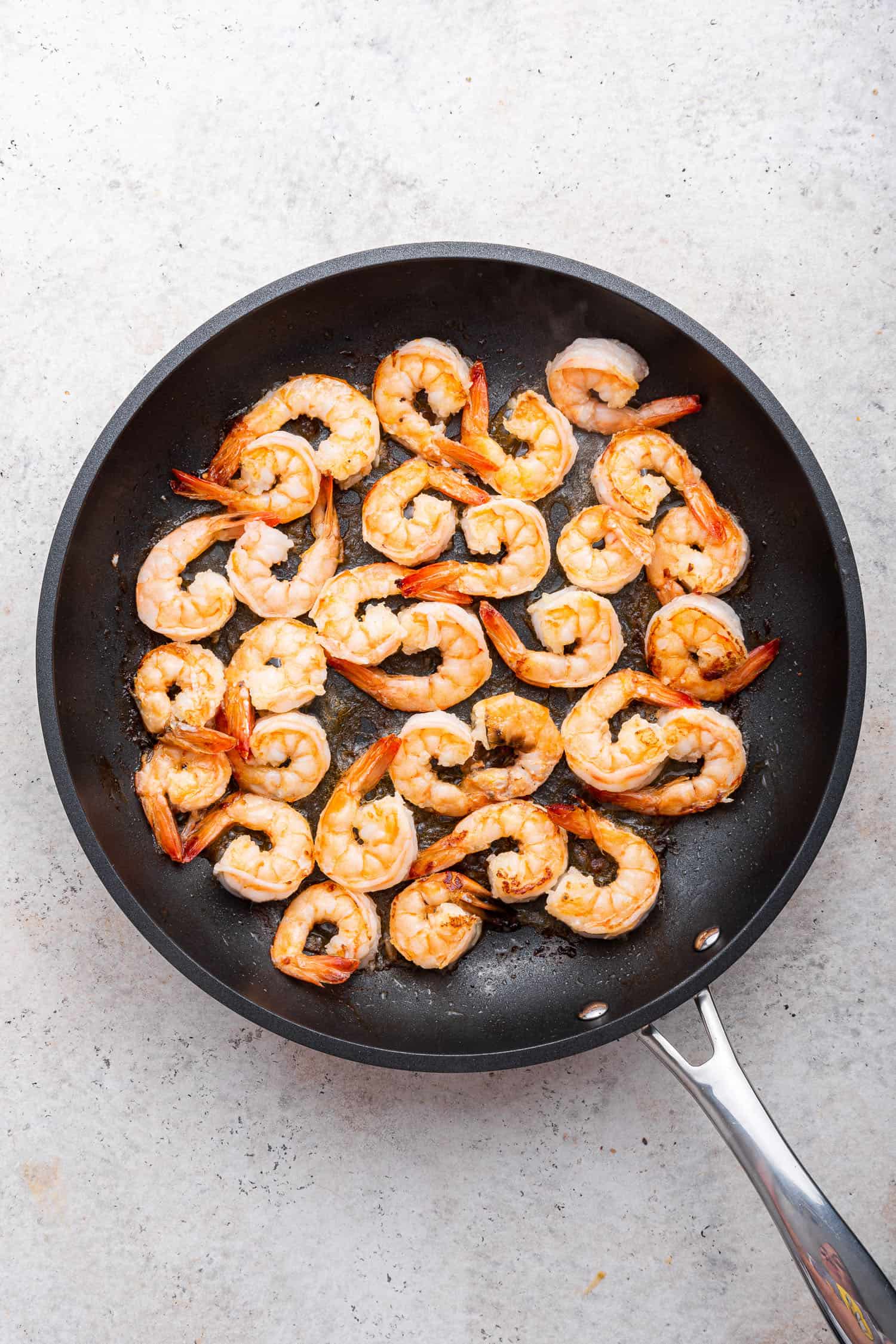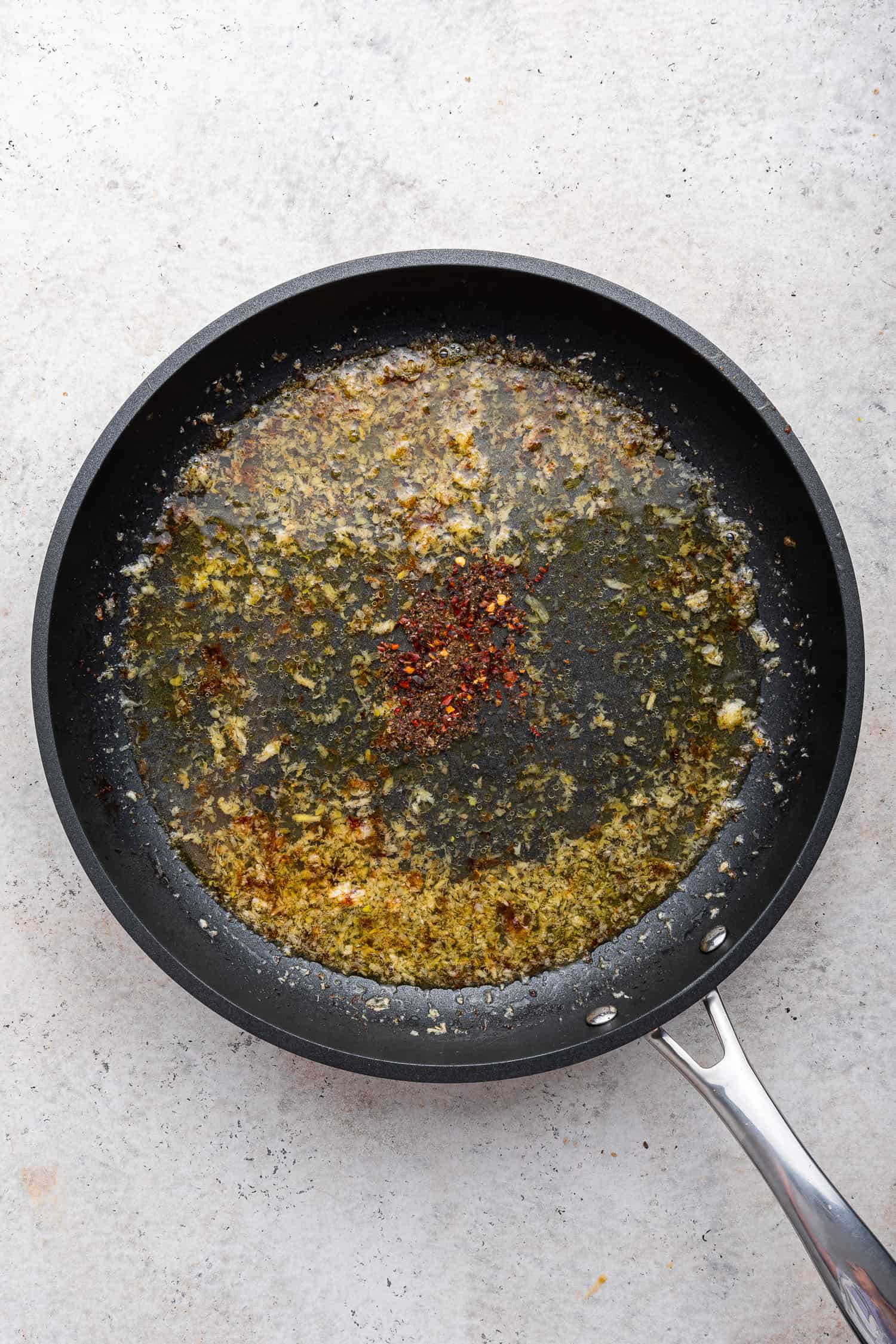 Then, on medium heat, whisk in flour and cook until its raw aroma dissipates. Gradually add clam juice or broth, stirring continuously. Return the shrimp to the sauce.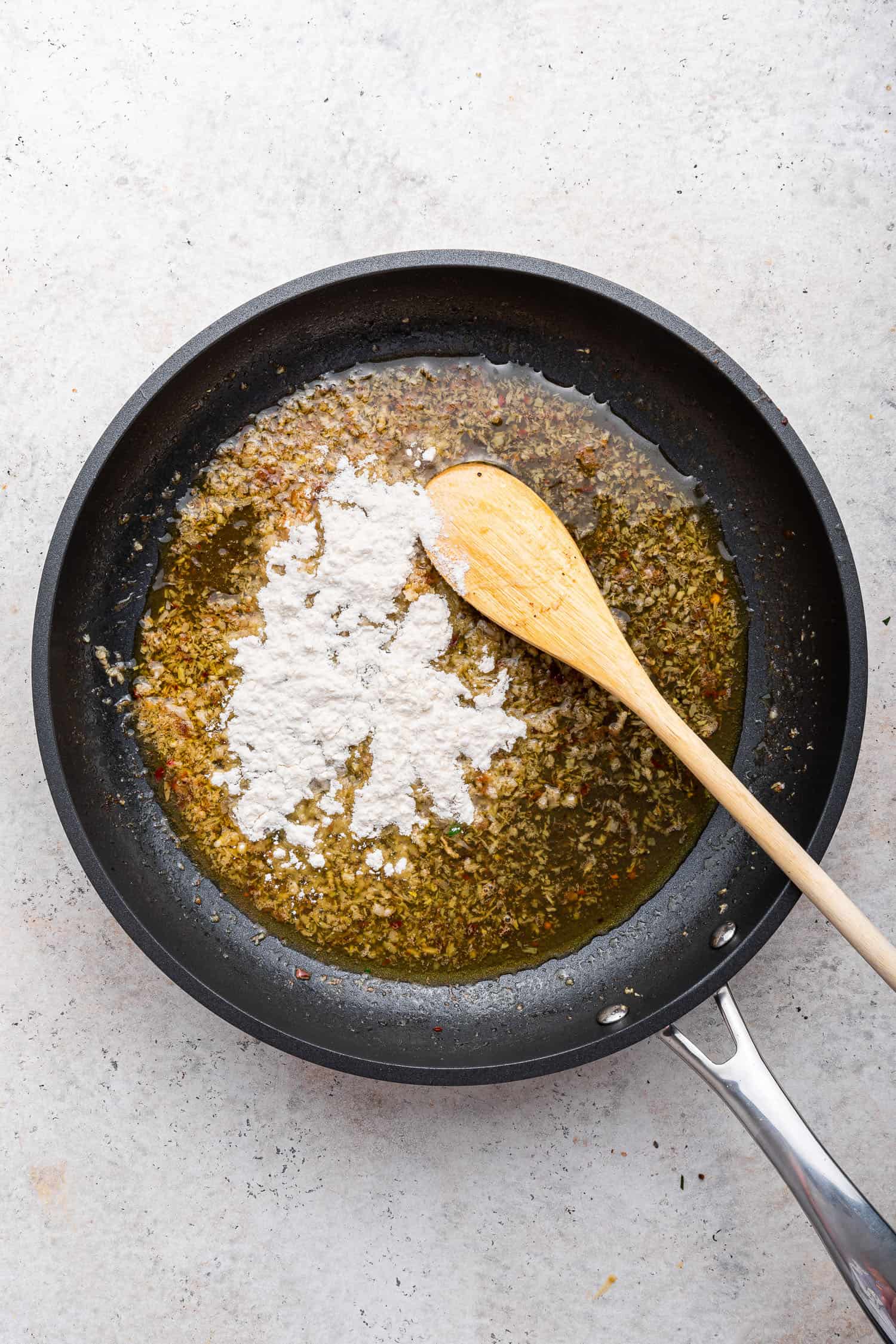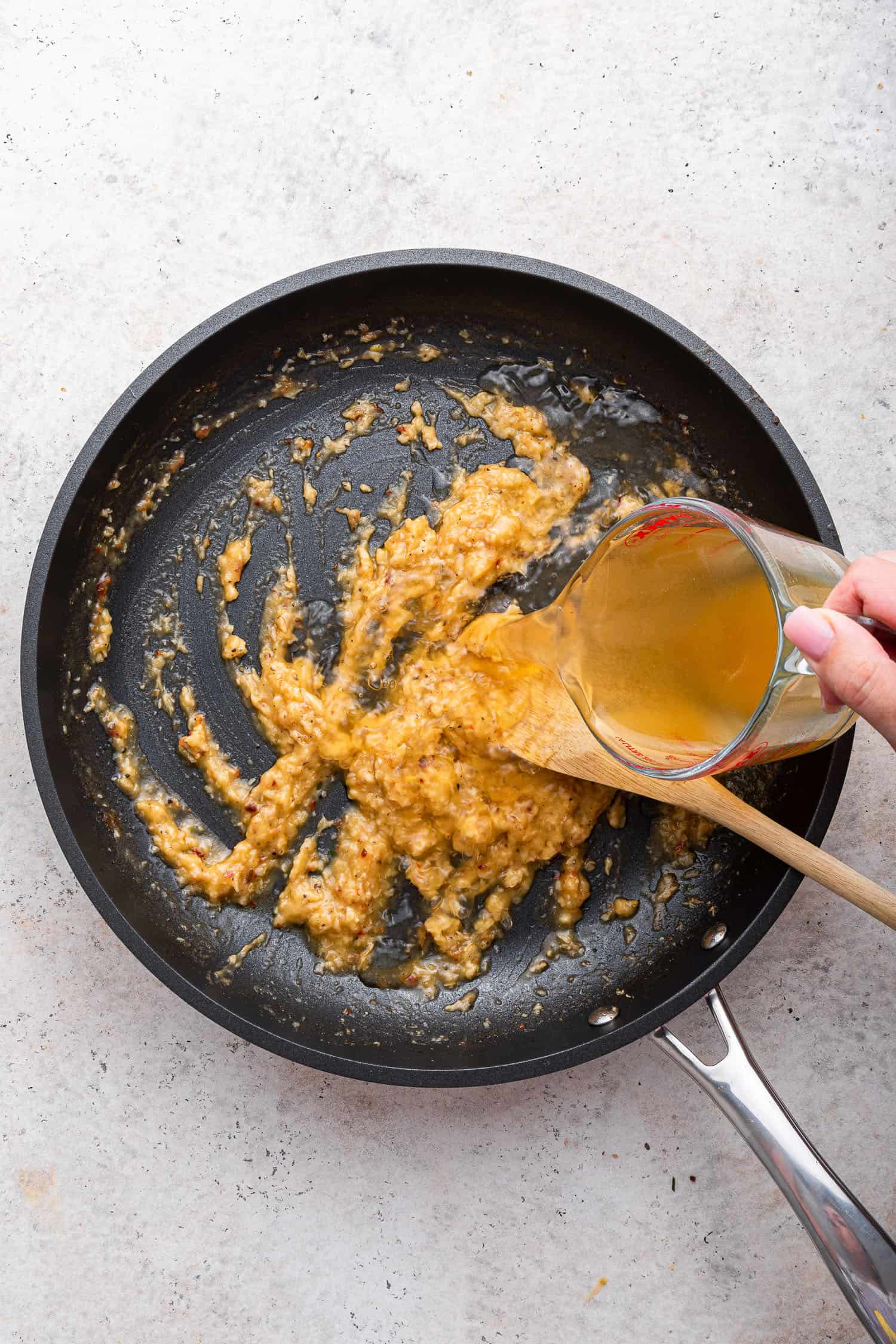 Finish by removing from heat, adding lemon juice, zest, and butter. Adjust seasoning if necessary. If the sauce is too thick, add reserved pasta water.
Pour the shrimp sauce over the pasta, garnish with fresh parsley, and serve immediately to prevent the pasta from absorbing too much sauce.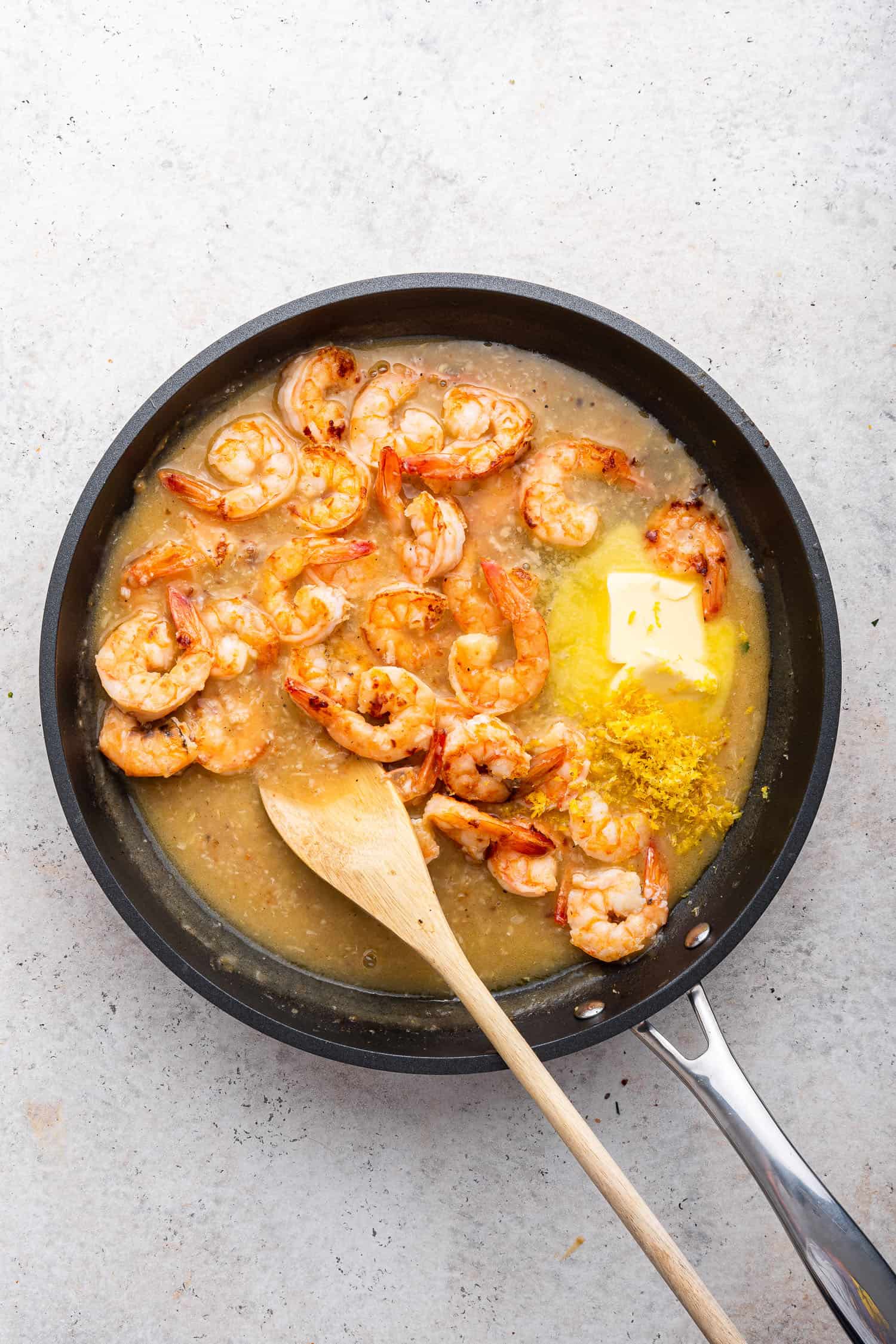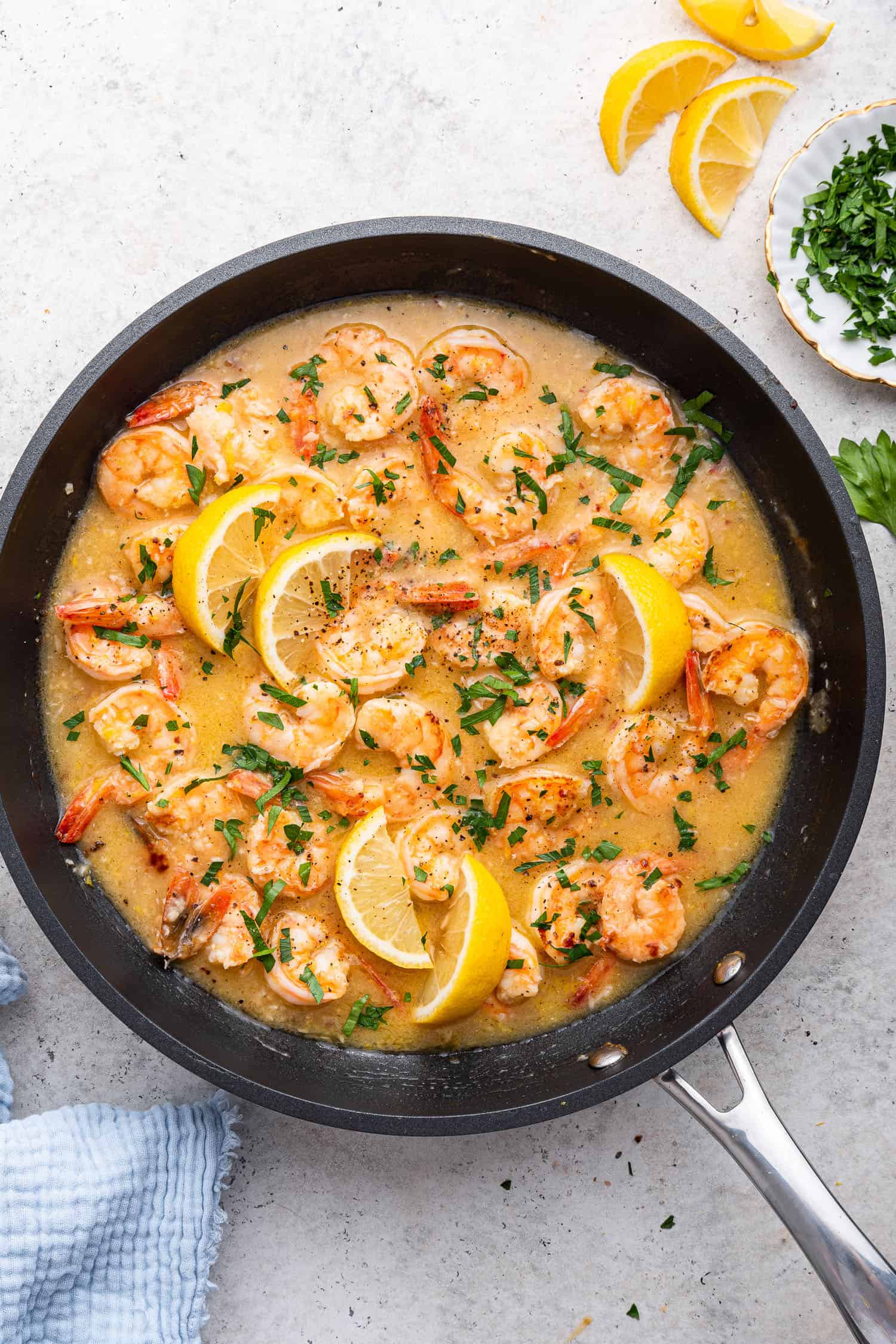 Tips for Making
1. Quality Ingredients: Start with fresh, high-quality ingredients, especially shrimp. I prefer frozen shrimp because fresh shrimp may have been sitting around for a while. Frozen shrimp have rarely let me down.
2. Properly Marinate the Shrimp: Follow the marinating instructions carefully. Marinating the shrimp with salt and baking soda helps enhance its tenderness and flavor absorption.
3. Don't Overcook the Shrimp: Shrimp cook quickly, so be cautious not to overcook them. Overcooked shrimp can become rubbery and lose their delicate flavor, although marinating them helps prevent this.
4. Sauté Garlic with Care: Sauté the minced garlic over medium heat until it's fragrant and just turning golden. Be cautious not to burn it, as burnt garlic can impart a bitter taste.
5. Control Heat Levels: Adjust the amount of crushed red pepper to your preferred spice level. Start with a small amount and gradually increase if you desire more heat.
6. Choose the Right Pasta: Opt for spaghetti, linguini, or pasta shapes that can hold the sauce well. Cooking the pasta al dente ensures it maintains a pleasant texture when combined with the sauce and shrimp.
7. Time the Lemon Zest and Juice: Zest the lemon before juicing it. This ensures you have both elements ready when needed. Lemon zest adds an aromatic essence, while lemon juice provides the tangy brightness.
8. Add Wine Wisely: When adding white wine, allow it to simmer for a bit to reduce slightly and mellow out its flavors. The wine should complement, not overpower, the other ingredients. I rely a lot on my sense of smell here, knowing it has cooked enough when the alcohol smell dissipates.
9. Balance Flavors: Taste and adjust the seasoning as needed. Balance the saltiness, tanginess from the lemon, and the richness of the butter and olive oil.
10. Reserve Some Pasta Water: Before draining the cooked pasta, save a cup of the pasta water. This starchy water can be added to the sauce to help bind it to the pasta and create a silky texture.
11. Toss Vigorously: When combining the cooked pasta with the sauce and shrimp, toss everything vigorously. This ensures an even distribution of flavors and ingredients.
12. Garnish Wisely: Garnish with chopped parsley just before serving. The fresh parsley adds color, freshness, and a hint of herbal flavor.
13. Presentation Matters: Serve the Lemon Garlic Shrimp Pasta immediately after preparation to enjoy the textures and flavors at their best.
14. Experiment and Personalize: Don't be afraid to make small adjustments to the recipe to suit your taste preferences. You can add vegetables like spinach, cherry tomatoes, or roasted red peppers for extra color and nutrients.
15. Enjoy with Complementary Sides: Consider serving the dish with a light salad, garlic bread, or a simple vegetable medley to round out the meal.
What to Serve Alongside
Since this is a starch-heavy meal, I prefer to serve a salad or vegetable, although it's hard to beat garlic bread!
Garlic Bread: Toasted bread brushed with garlic-infused butter adds a savory crunch.
Simple Salad: Mixed greens with a lemon vinaigrette, cherry tomatoes, cucumber slices, and feta cheese.
Roasted Vegetables: Asparagus, broccoli, or zucchini bring color, flavor, and added nutrition.
Steamed Greens: Spinach, kale, broccoli rabe, or Swiss chard lightly seasoned with salt, pepper, and olive oil.
Caprese Salad: Fresh tomatoes, mozzarella cheese, and basil leaves drizzled with balsamic glaze.
Cucumber Tomato Salad: Fresh, vibrant, crisp, and refreshing.
Caesar Salad: Romaine lettuce, Caesar dressing, croutons, and shaved Parmesan cheese.
Storage
If you have leftovers of your Lemon Garlic Shrimp Pasta, store in an airtight container in the refrigerator.
Consume within 2-3 days to ensure the best quality and flavor.
📖 Recipe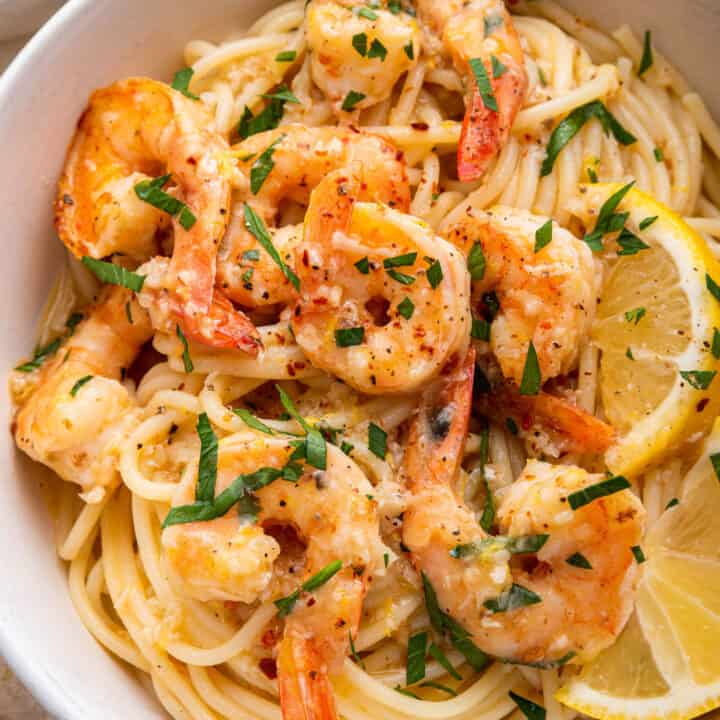 Lemon Garlic Shrimp Pasta (Shrimp Scampi)
This Lemon Garlic Shrimp Pasta is full of succulent shrimp tossed in a luscious garlic-infused sauce with zesty lemon undertones. Delish!
Ingredients
To Marinate the Shrimp
1

pound

shrimp (cleaned, shell removed)

tail intact (defrosted if frozen)

½

teaspoon

salt

¼

teaspoon

baking soda
For the Sauce
marinated shrimp

from step 1

4

tablespoon

olive oil

divided

5

cloves

garlic

minced

½

cup

white wine

or dry vermouth

⅛

teaspoon

crushed red pepper

(pinch), plus more if needed

¼

teaspoon

black pepper

plus more if needed

1

tablespoon

all purpose flour

¾

cup

clam juice

or chicken or vegetable broth

3

tablespoon

unsalted butter

1

large

lemon

juiced and zested, about 2 tablespoons juice per large lemon

1

handful

fresh parsley

chopped

½

cup

reserved pasta water

only if needed
For Serving
½

pound

spaghetti or linguini

cooked al dente; up to one pound for bigger appetites
Instructions
To Marinate the Shrimp
Place shrimp in a large bowl, cover with water, add salt and baking soda.

Mix well, cover and refrigerate for 20 to 30 minutes.

Drain, rinse well with plenty of water (a colander works well here) and dry.
To Make the Pasta
Bring water to a boil in a large stock pot.

Add 1 tablespoon of salt per gallon of water, and cook pasta according to package instructions. I don't measure but make sure the water is "salty like the sea".

Do not overcook pasta - it is best served al dente

Reserve about 1 cup of pasta water for possible use in the sauce if needed.
To Make the Shrimp Sauce
In the meantime, heat 1 tablespoon of the olive oil over medium high heat and add the drained and rinsed shrimp. Cook just until the shrimp turn pink and are cooked through. Do not overcook. Remove from pan with a slotted spoon, place in a dish/bowl, set aside, and proceed to next step. If there is some juice from shrimp left it pan, leave it in the pan.

Add the remaining olive oil, reduce heat to medium, and add the garlic to the pan and cook, stirring intermittently, until fragrant, about 25 to 60 seconds; cook only until fragrant and then immediately proceed to next step.

Add white wine, red pepper, and black pepper, and cook over high heat until slightly reduced, about 2 to 2.5 minutes or until the wine is less pungent in smell and it has thickened.

Lower heat to medium, sprinkle flour while whisking well, and cook for about 2 minutes or until the raw flour smell is gone.

Add clam juice/broth slowly while stirring well and add shrimp back into the sauce.

Remove from heat, add the lemon juice, zest, and the butter. Stir well to incorporate.

Taste sauce, and adjust for red and black pepper. Add pasta water if needed but I find this sauce is enough without the water.

Garnish with plenty of fresh parsley and serve over pasta immediately before eating (as the pasta will tend to soak up the sauce if left for a long period of time).
Nutrition
Calories:
476
kcal
Carbohydrates:
53
g
Protein:
9
g
Fat:
24
g
Saturated Fat:
8
g
Polyunsaturated Fat:
2
g
Monounsaturated Fat:
13
g
Trans Fat:
0.3
g
Cholesterol:
23
mg
Sodium:
529
mg
Potassium:
253
mg
Fiber:
3
g
Sugar:
4
g
Vitamin A:
438
IU
Vitamin C:
19
mg
Calcium:
37
mg
Iron:
1
mg
Interested in More Recipes?
SUBSCRIBE to get recipes delivered to your email 🙂