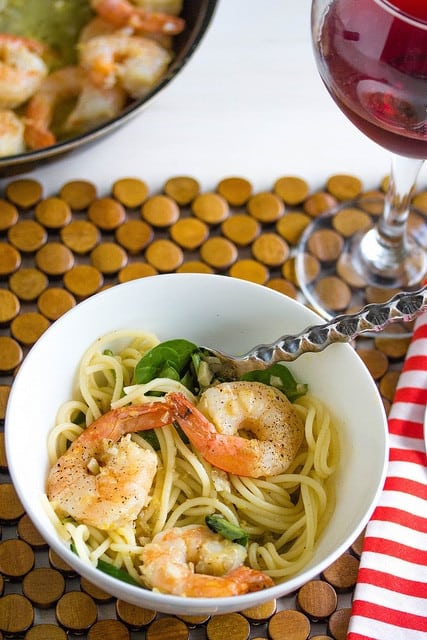 I love love love one-pot meals! It makes dinner so much easier, doesn't it? I also love seafood and pasta, so this dinner is most definitely a favorite.
It's also an easy dinner that can be on the table within a half hour or so.
Pasta recipes are fairly adaptable, so feel free to customize this one to your taste. I love fresh garlic in pasta and so I'm a bit heavy handed with it. I also love the flavor of fresh lemon with shrimp, so I use plenty of it.
The addition of spinach adds a healthy element, and I love serving it wilted instead of fully cooked. If spinach isn't your favorite thing, add another vegetable like mushrooms, peppers, or artichokes.
These days, there are so many pasta options available. One of my favorites is Barilla Plus, which contains the protein of 11 eggs (in one box), omega-3 fats, and fiber. This is a such a healthy choice!!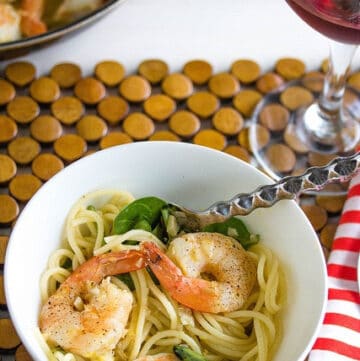 shrimp scampi with wilted spinach
A garlic and lemon flavored pasta sauce atop of spaghetti with shrimp
Ingredients
1

pound

shrimp

, cleaned

1

pound

of spaghetti

6

cloves

of garlic

, minced

2

lemons

, juiced and zested

⅔

cup

of olive oil

, divided

¼

cup

white wine

crushed red pepper

, ¼ teaspoon

salt and pepper

fresh parley

, chopped (optional)

fresh spinach

, 2 to 3 cups, rinsed and dried
Instructions
Bring one gallon of water to a boil in a large stock pot.

Add 4.5 teaspoons of salt and pasta to water and bring back to a boil, cooking according to package instructions.

Do not overcook pasta - it is best served al dente

Reserve pasta water

In the meantime, heat ⅓ cup olive oil in a large saute pan.

Season shrimp with salt and pepper and add to pan.

Cook shrimp for 4 to 5 minutes, 2 minutes on each side.

Using slotted spoon, remove shrimp from pan and set aside

Add the garlic to the pan and cook until fragrant, about 1 to 2 minutes - do not brown!

Add white wine and cook over medium-high heat until reduced by half, about 3 to 4 minutes.

Add the remaining olive oil, lemon juice, zest, and crushed red pepper and cook for another minute.

Drain pasta and then toss with spinach, shrimp, and sauce.

Add a bit of reserved pasta water if desired.

Garnish with fresh parsley if desired.
Interested in More Recipes?
SUBSCRIBE to get recipes delivered to your email 🙂