Cinnamon buns have to be one of my favorites sweet treats, although I don't make them often. When I do, I love to make them on the weekends, letting them rise slowly overnight on Saturday night and then baking them on Sunday morning. The smell is just amazing and is a welcome treat.
Ever since trying my first Cinnabon, I'd been on a mission to replicate the frosting as this is probably one of my favorite parts of the experience - that, together with the pull-apart-tender center of the bun itself. Never dry, never overcooked. One of the techniques is most definitely not to allow the buns to brown too much. A pale golden color signals that you are good to go while a brownish color is a sure signal than your buns will be dry. This is a little more tricky with these buns since the dough is already colored but the photo above shows the finished rolls out of the oven. Veryyy slightly browned. Don't overdo it!
These rolls were adapted from the popular cookbook Baked Elements via Smitten Kitchen. I believe the original recipe contained an error since the mixed dough, as directed, was more like batter and so it has been adjusted. Smitten Kitchen simply used less milk than called for, which is reflected in the recipe below.
On another note, while I still have beets on my mind, I wonder how this recipe would translate using a small bit of beet puree in place of the pumpkin for the next holiday? Or maybe a red velvet breakfast roll?
📖 Recipe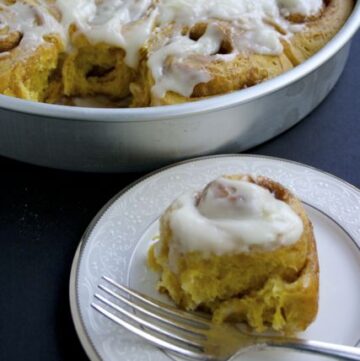 Pumpkin cinnamon rolls
These pumpkin cinnamon rolls are a delicious and seasonal twist on a classic breakfast treat. The dough is enriched with pumpkin puree and warm spices like cinnamon, nutmeg, and ginger, and then filled with a sweet cinnamon sugar filling. After baking, the rolls are topped with a creamy and decadent cream cheese frosting, making them the perfect way to start any autumn morning.
Ingredients
For the dough:
4.5

cups

bread flour

plus

¼

cup

granulated sugar

¼

cup

brown sugar

(I used light)

1

tablespoon

instant dry yeast

1

teaspoon

salt

½

teaspoon

cinnamon

¼

teaspoon

ground ginger

¼

teaspoon

ground nutmeg

3

oz

unsalted butter

softened and cut into ½-inch cubes

½

cup

whole milk

scalded

1

large egg

⅔

cup

pumpkin puree
For the cinnamon filling:
¾

cup

light brown sugar

firmly packed

¼

cup

granulated sugar

½

teaspoon

cinnamon

¼

teaspoon

ground cloves

¼

teaspoon

grated nutmeg

¼

teaspoon

salt

1

oz

unsalted butter

melted
For the assembly:
1

oz

unsalted butter

melted
For the frosting:
3

oz

cream cheese

¼

cup

butter

softened

1.5

cups

powdered sugar

½

teaspoon

vanilla extract

⅛

teaspoon

salt
Instructions
To make the dough:
Prepare a 10-inch round pan by lining the bottom with parchment paper and buttering the paper. Dust with flour and knock out excess.

In bowl of stand mixer, add dry ingredients and stir until incorporated.

Add the butter and mix for 1 minute

Add the milk and egg and mix on low until incorporated

Add the pumpkin puree and mix for 3 minutes

Remove dough from bowl and place in oiled bowl. Cover and let rest for 30 minutes
To make the filling
Stir together the dry ingredient and then add the butter and mix until combined.

Set aside
To assemble the rolls
Dust your work surface with flour

Roll your dough out to a 20 by 10 inch rectangle and brush with half of the melted butter.

Sprinkle filling evenly over the dough being careful to leave a ½ inch border around the edges

Roll the dough up, jelly roll style, into a long log and place the seam side down.

Slice the roll into 2-inch portions (10 rolls - I sliced by a bit smaller and got 12 rolls)

Arrange the rolls in the pan and brush with the remaining butter

Cover the let rise until doubled in size (at least 45 minutes) or put in refrigerator and bake the next morning (ensure that the rolls have come to room temperature before baking)

Preheat the oven to 350 degrees

Bake rolls for 25 minutes or until the top of the rolls are just starting to show color

Pour icing over hot rolls so that icing will melt

In the meantime, make the frosting
For the frosting
Combine the cream cheese and butter and mix well

Add powder sugar, in small portions and mix well

Add vanilla and salt and set aside
Nutrition
Calories:
589
kcal
Carbohydrates:
93
g
Protein:
9
g
Fat:
21
g
Saturated Fat:
12
g
Polyunsaturated Fat:
1
g
Monounsaturated Fat:
5
g
Trans Fat:
1
g
Cholesterol:
69
mg
Sodium:
404
mg
Potassium:
166
mg
Fiber:
2
g
Sugar:
51
g
Vitamin A:
3198
IU
Vitamin C:
1
mg
Calcium:
65
mg
Iron:
1
mg
Interested in More Recipes?
SUBSCRIBE to get recipes delivered to your email 🙂