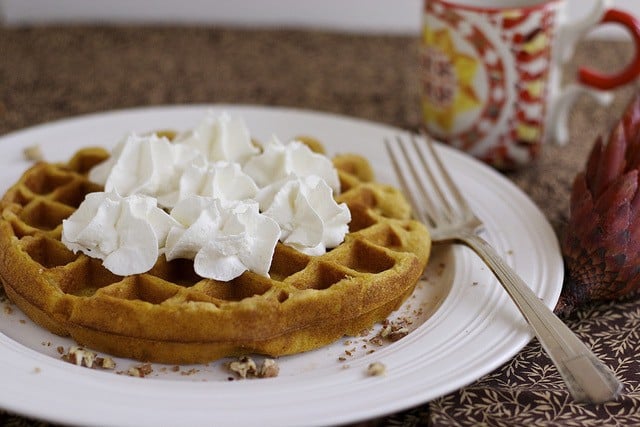 Are you getting your pumpkin on yet? I love pumpkin…you name it – pumpkin pie, pumpkin smoothies, pumpkin ice cream, and even pumpkin soup. Eating pumpkins and picking apples are hands-down two of my favorite fall traditions. These fall favorites become that much more special because we only do them once a year. This year, I tried something a bit different (for me anyway): pumpkin waffles. I took a basic waffle recipe and adapted it by increasing the sugar and adding  pumpkin, cinnamon, nutmeg, and one of my favorite ingredients – Philly cream cheese. When I make these waffles again, I will substitute the white sugar with brown sugar as well (I used white sugar for this recipe). I topped these with sugared pecans and whipped cream. My daughter even ate one with vanilla ice cream. We really enjoyed these! They went quickly….
Pumpkin Cheesecake Waffles
Ingredients
all-purpose flour

, 1 ¾ cup

milk

, 1.5 cups

sugar

, 3 tablespoons (white or brown)

baking powder

, 1 tablespoon

cream cheese

, ½ cup

eggs

, 2 large

oil

, ½ cup

pumpkin

, ½ cup

vanilla

, 1 teaspoon

cinnamon

, ½ teaspoon

nutmeg

, ¼ teaspoon
Instructions
Heat waffle iron

Combine flour, sugar, baking powder, cinnamon, nutmeg

Add eggs, milk, oil, cream cheese, pumpkin

Stir gently, just enough to combine (lumps will remain)

Add batter and cook waffles according to manufacturer instructions
Interested in More Recipes?
Subscribe now to get recipes delivered to your email 🙂