These Lemon Ricotta Pancakes are a must try! Imagine fluffy clouds of pancake goodness kissed by the tangy ricotta and a burst of lemon zest – a combo that's pretty much heavenly. Grab your spatula, get that batter sizzling, and let's whip up an amazing breakfast!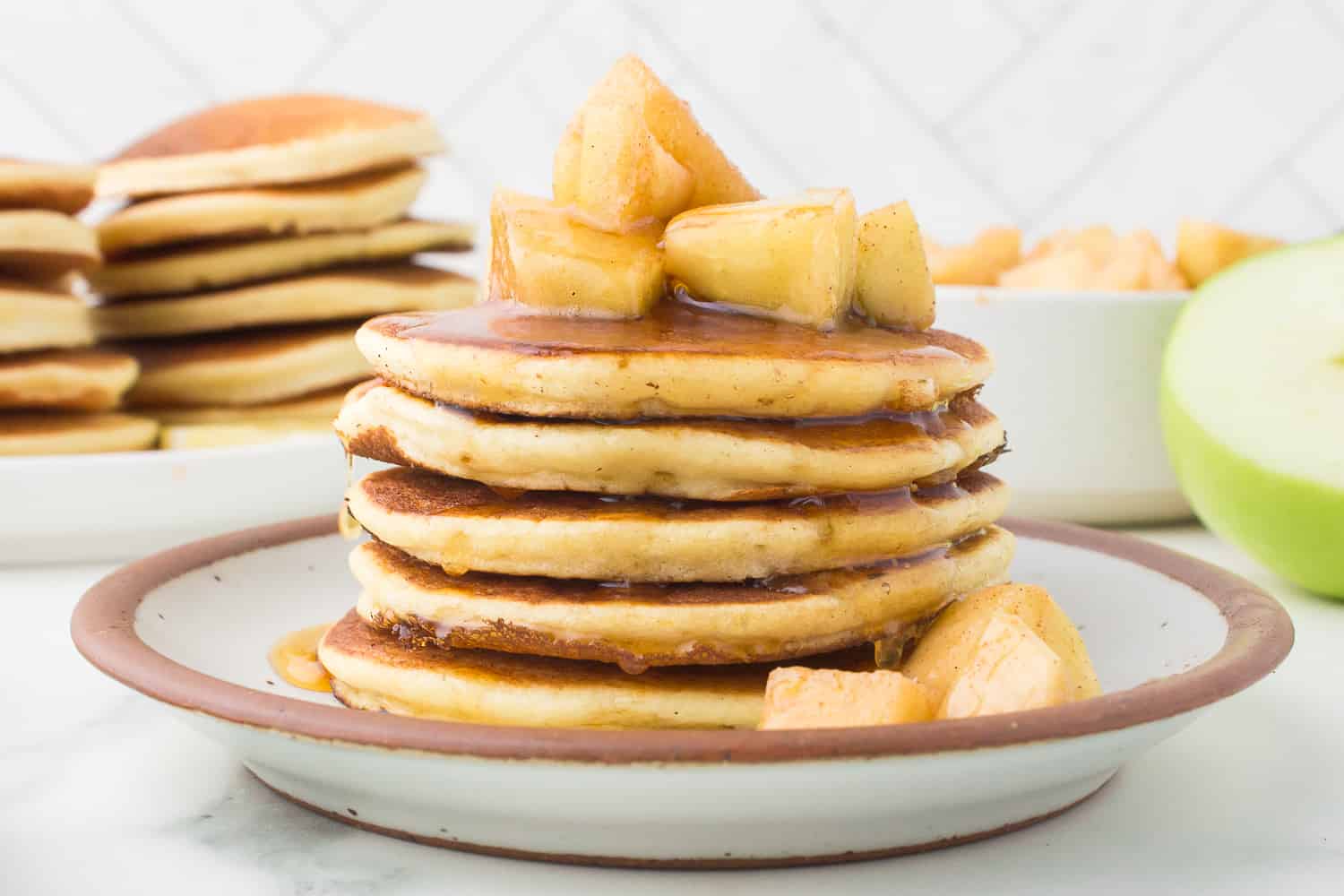 Jump to:
When to Make
Lemon ricotta pancakes are a versatile and delightful dish that can be enjoyed in various settings. Here are a few occasions when you might want to make them:
Weekend Brunch: Lemon ricotta pancakes are a perfect treat for a leisurely weekend brunch, when you have a bit more time to enjoy a special meal.
Special Celebrations: These pancakes can be a delightful addition to birthday breakfasts, anniversary mornings, or other celebratory occasions.
Guests or Visitors: If you have friends or family staying over, surprising them with a batch of lemon ricotta pancakes can make their visit even more memorable.
Holiday Mornings: Serve these pancakes on holidays like Easter, Mother's Day, or Christmas morning for a festive touch to the breakfast table.
Indulgent Breakfast: Sometimes, you just need a little extra indulgence. Lemon ricotta pancakes can be the perfect treat for those moments.
Ultimately, there's no wrong time to enjoy these delicious pancakes. Their tangy and fluffy nature makes them suitable for various occasions – whether you're seeking comfort, celebration, or simply a delightful meal.
Ingredients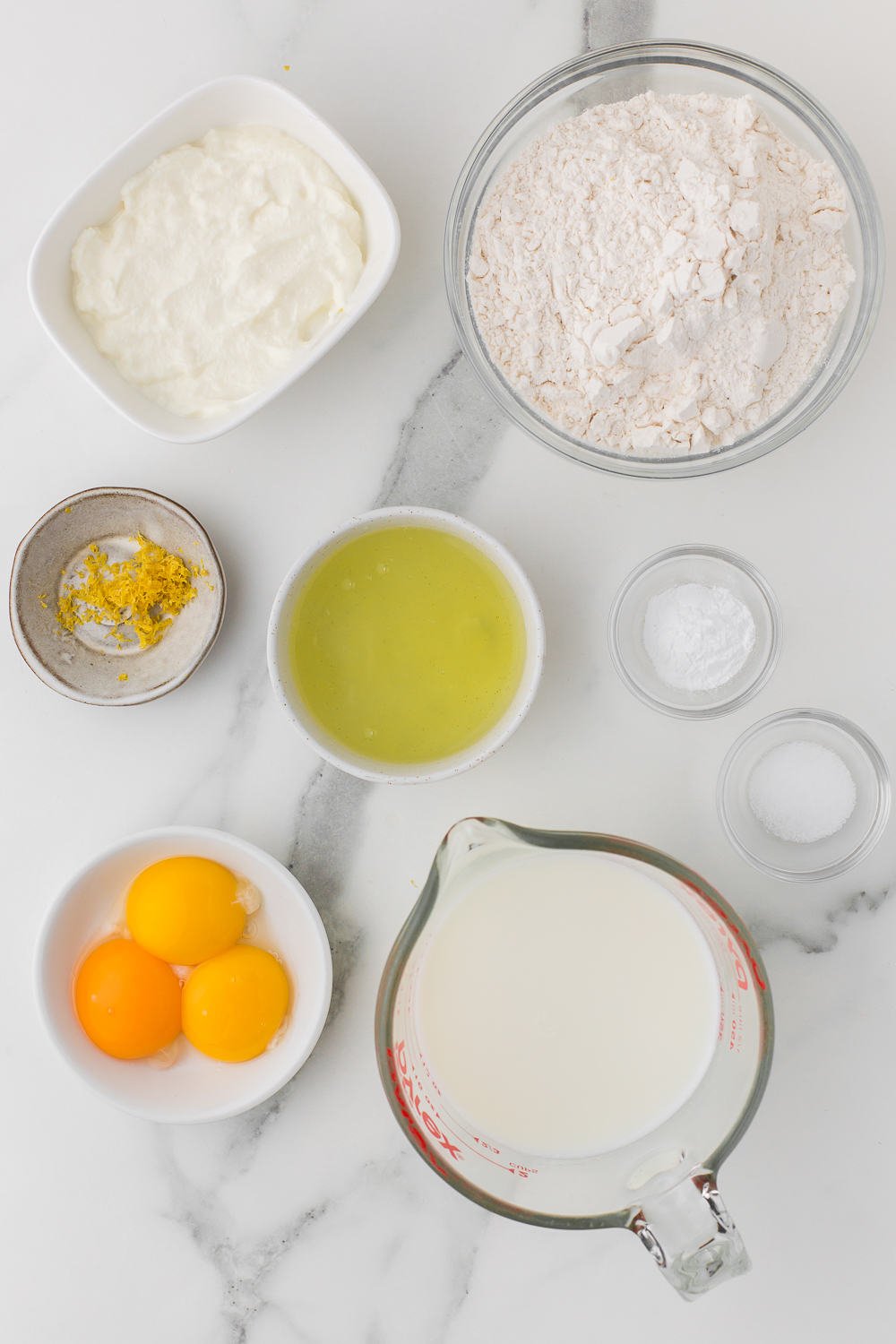 All-Purpose Flour: Provides the base structure and texture for the pancakes.
Baking Powder: Leavening agent that helps the pancakes rise and become fluffy.
Table Salt: Enhances the overall flavor and balances the sweetness.
Eggs, Separated: Egg whites are whipped to create air pockets for a lighter texture, while egg yolks contribute richness.
Ricotta: Adds creaminess, tanginess, and moisture to the pancakes.
Milk: Provides additional moisture and helps bind the ingredients together.
Lemon Zest: Infuses the batter with a bright, citrusy aroma and flavor.
Method Overview
To whip up these delectable lemon ricotta pancakes, start by preparing your dry ingredients – a mix of flour, baking powder, and salt – and setting them aside. In another bowl, whisk together egg yolks, milk, ricotta, and lemon zest until well blended.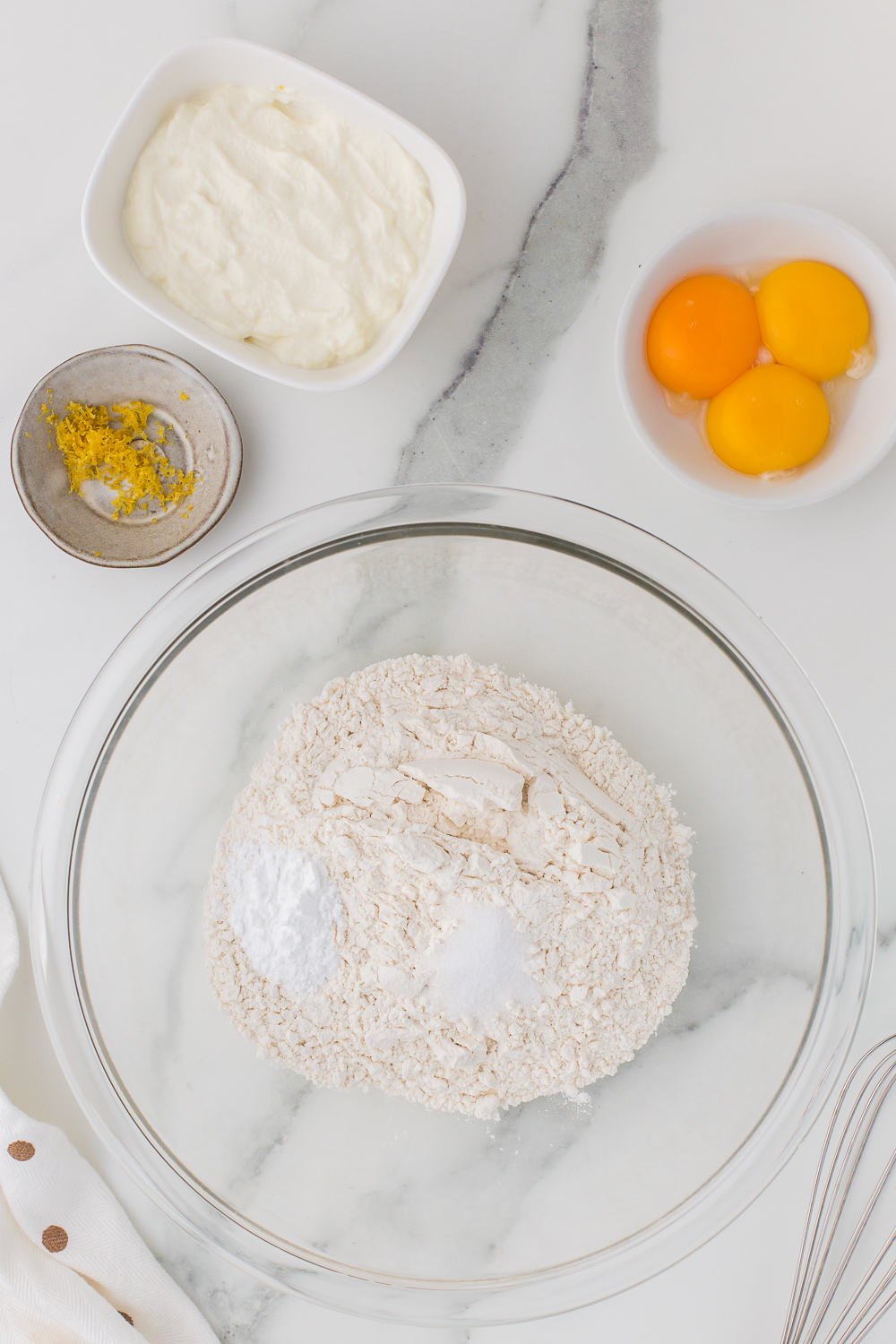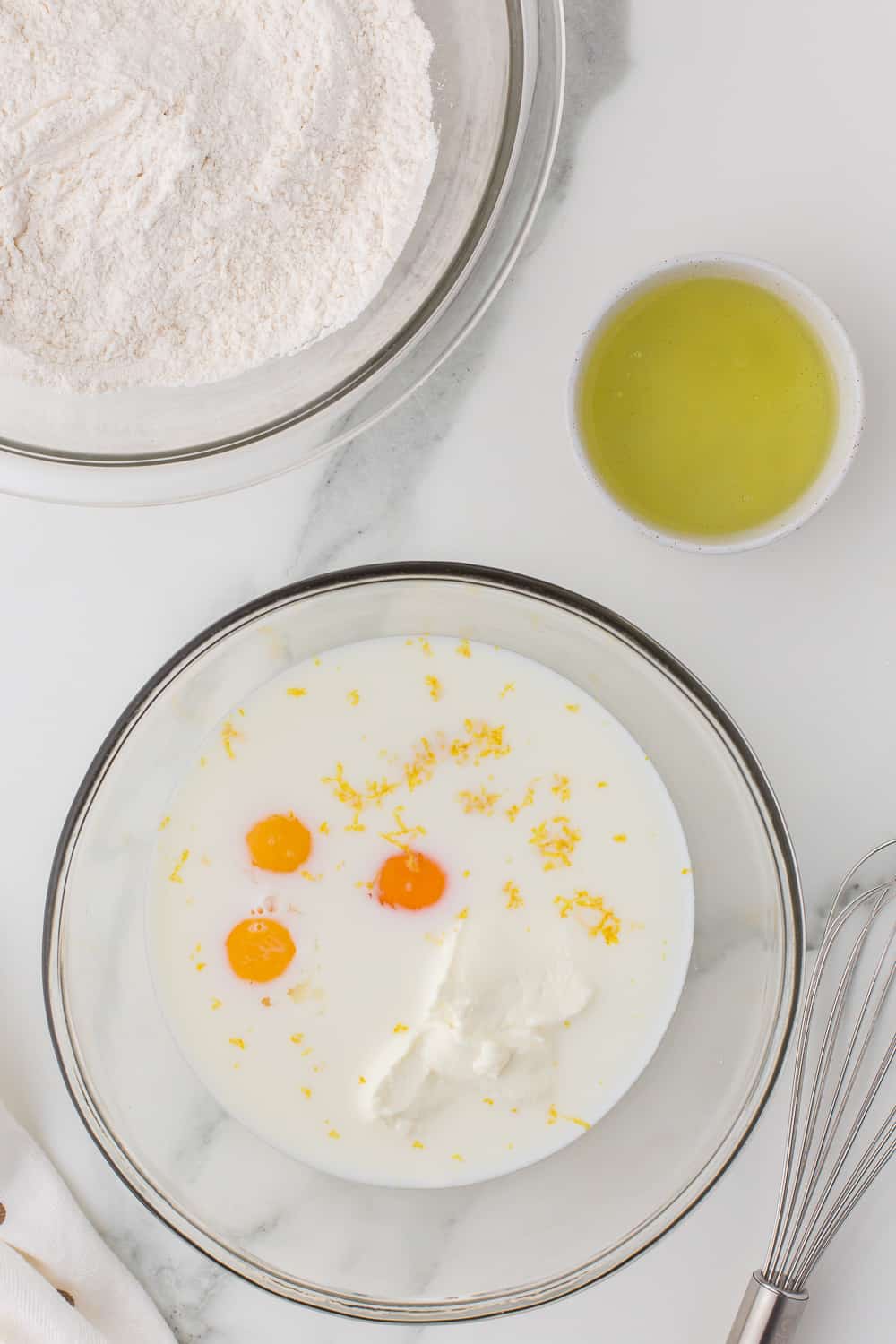 Gently combine this wet mixture with your dry ingredients, ensuring not to over-mix for the fluffiest result.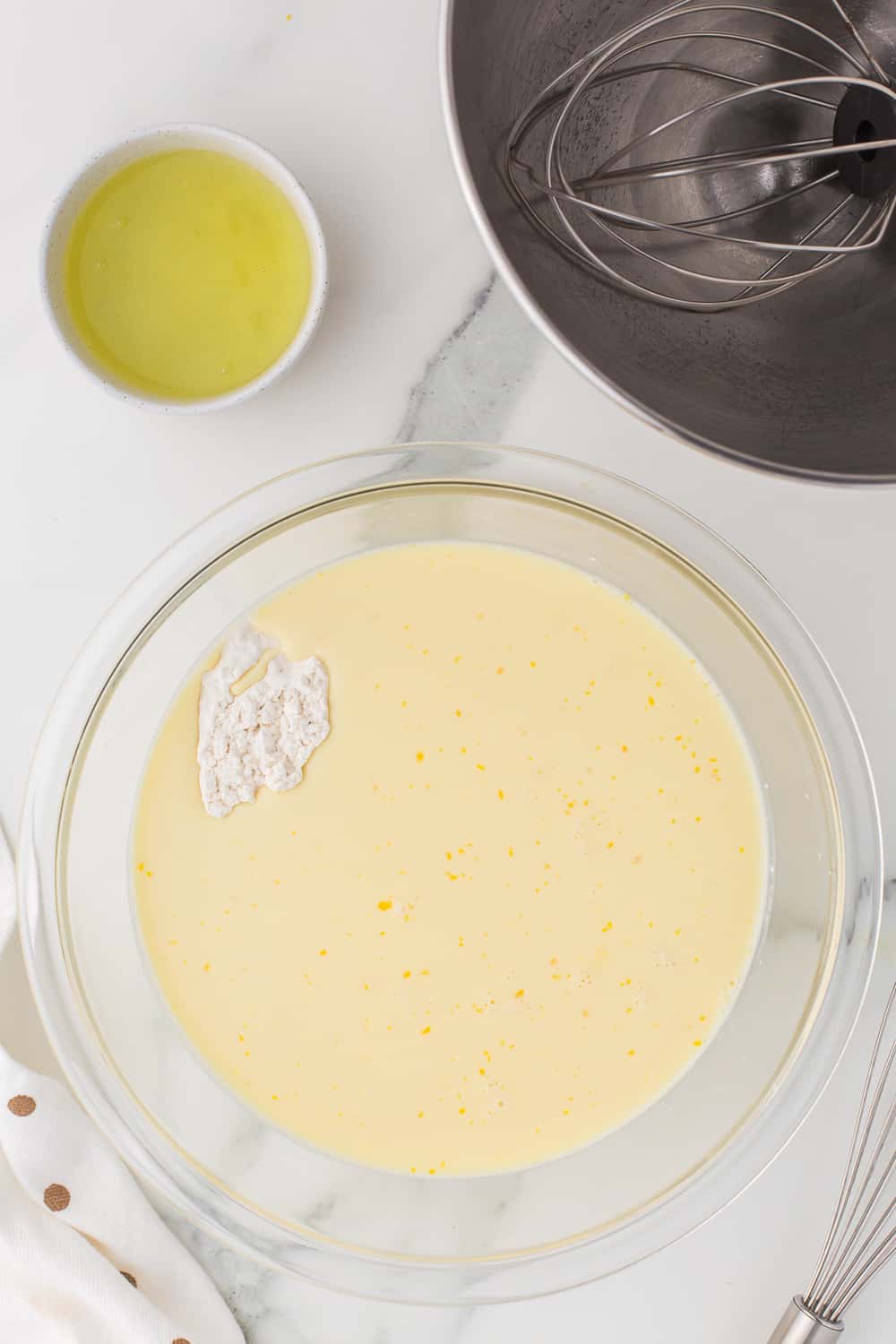 Whip egg whites into stiff peaks, adding a touch of magic to the batter. Carefully fold the whipped egg whites into the batter for an airy texture. Next, preheat your griddle or cast iron pan over medium-high heat. Pour a ¼ cup of batter for each pancake, allowing them to cook until bubbles form on the surface.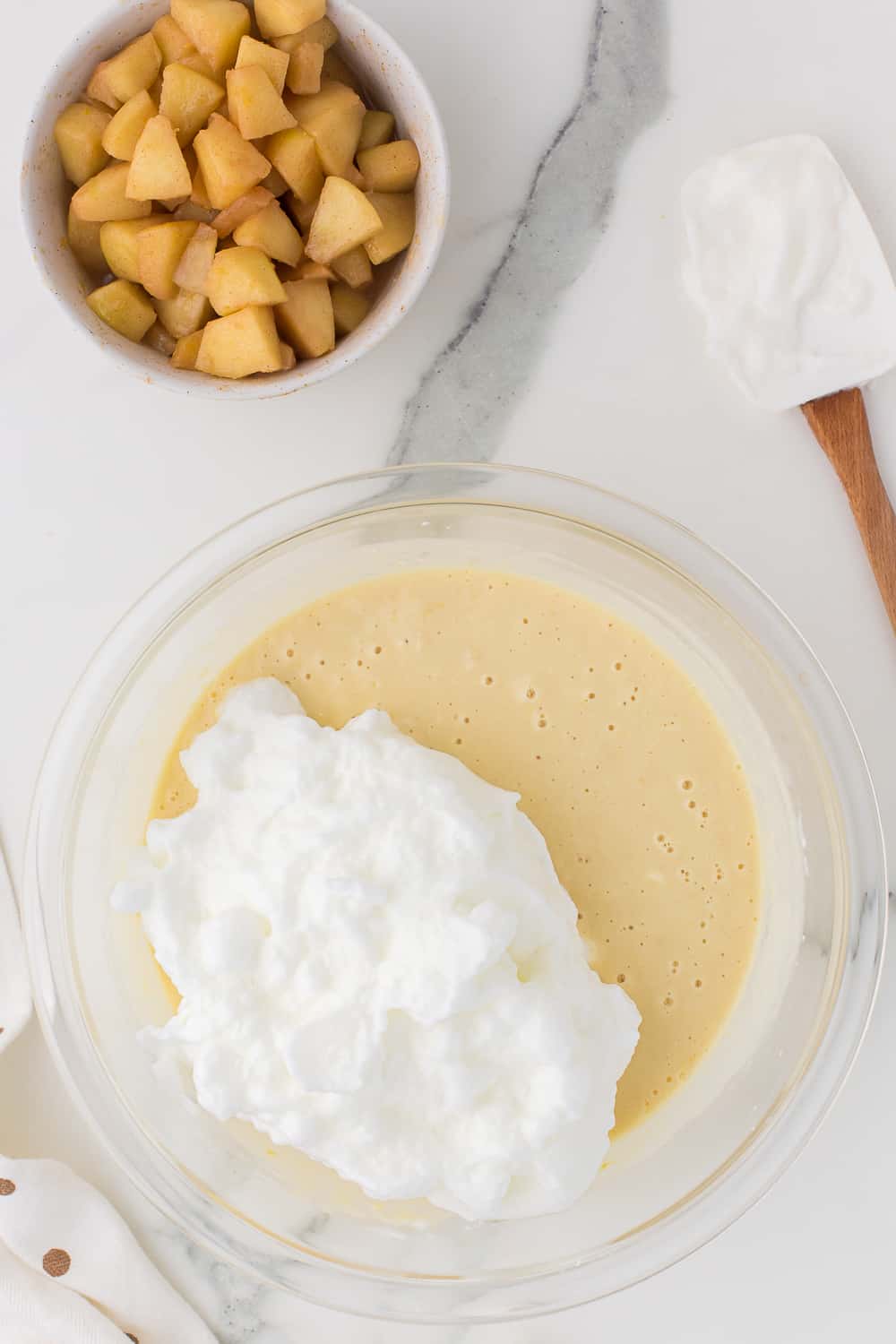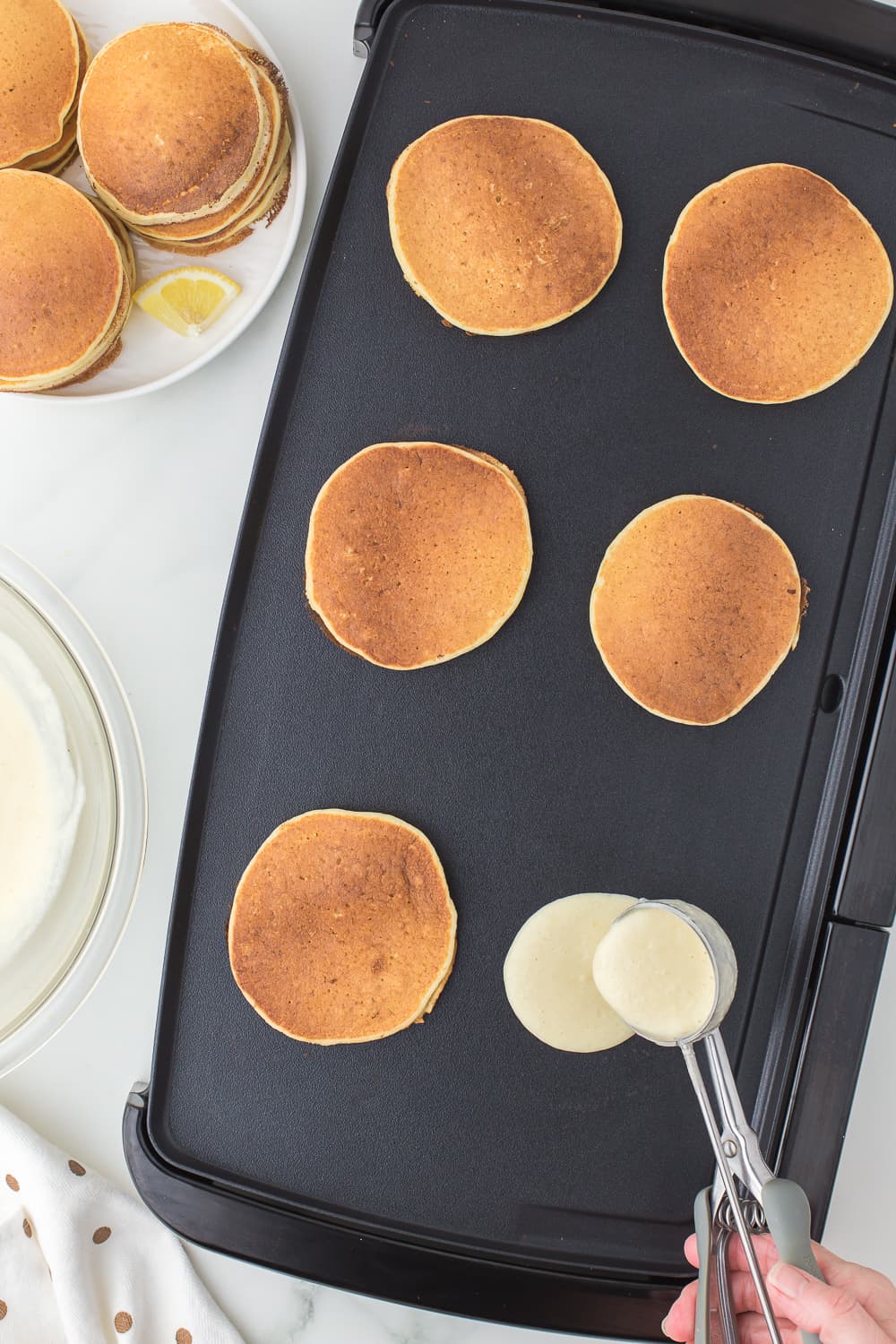 That's your signal to flip and let them cook a bit more until both sides are golden. Your pancakes are ready to savor – a symphony of flavor and texture!
To make the topping, add all ingredients to a saucepan and cook for about 15 to 20 minutes until the fruit is caramelized (softened, darkened, and syrupy!).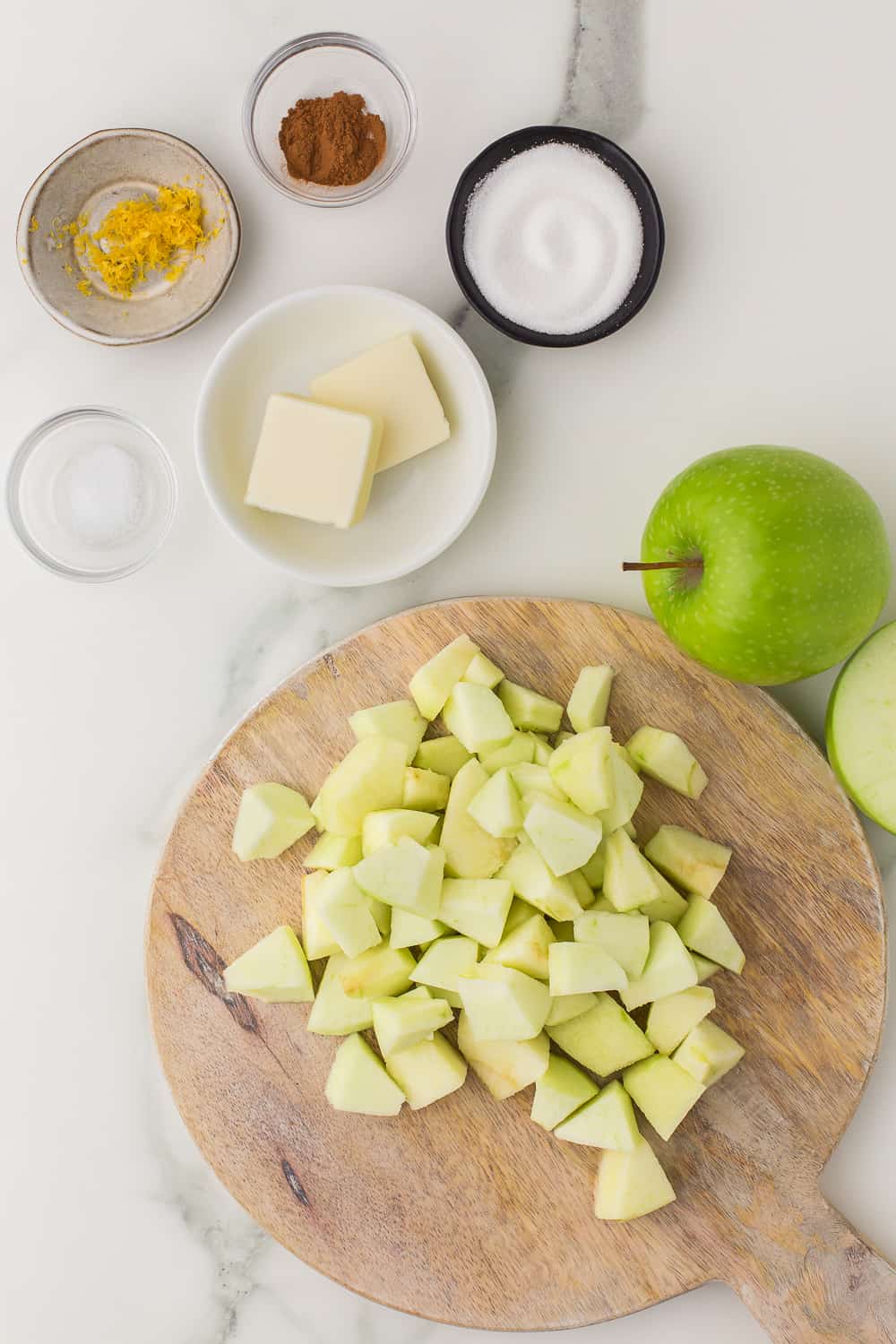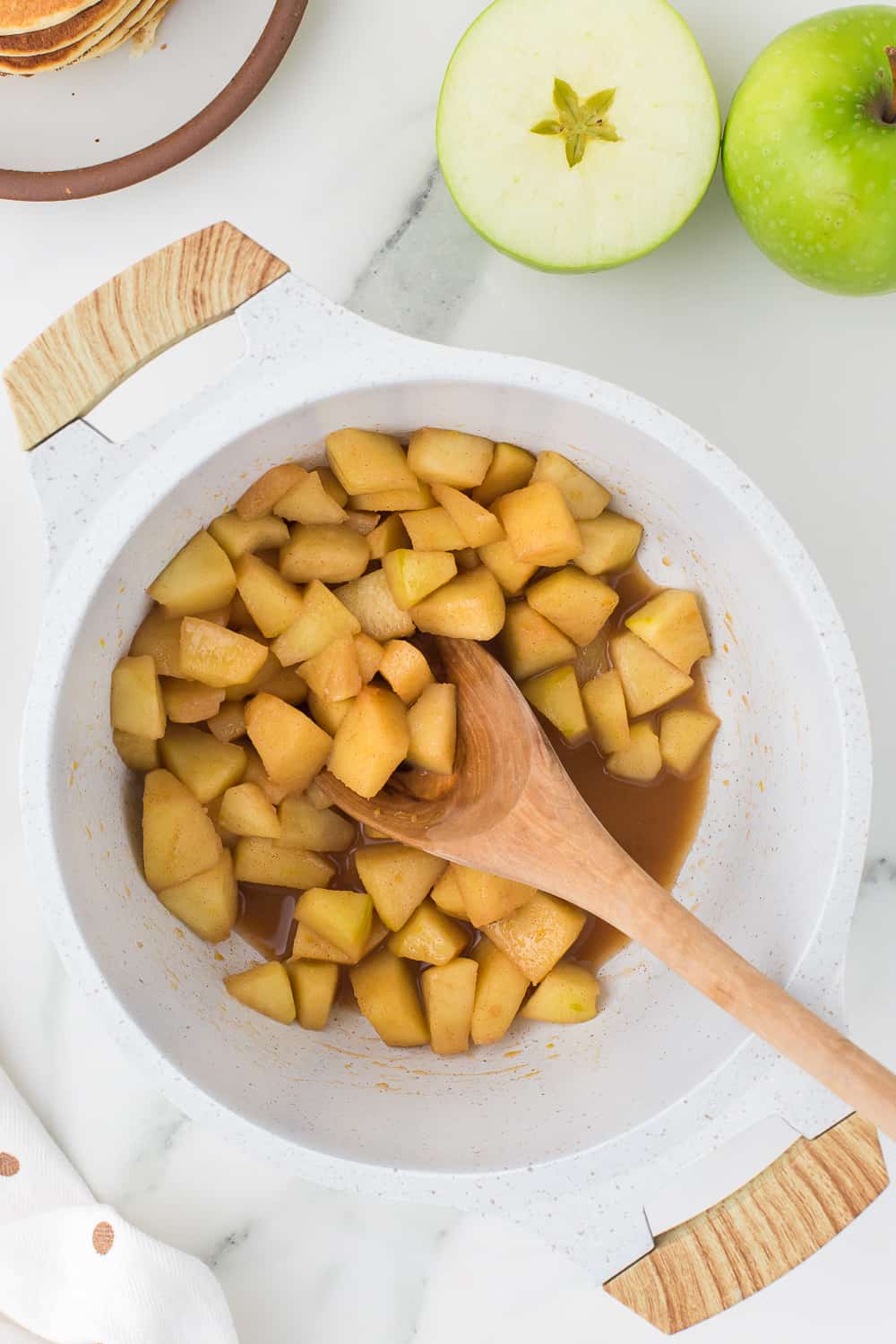 Apple Varieties
You can use various apple varieties to make the caramelized apple topping. While some apples might have slightly different flavors and textures when cooked, many types work well for caramelization. Here are a few popular apple varieties that are often used for caramelizing:
Granny Smith: These tart apples hold their shape well during cooking, making them a great choice for caramelizing.
Honeycrisp: With their natural sweetness and crisp texture, Honeycrisp apples can create a luscious caramelized result.
Fuji: Fujis have a sweet flavor and firm flesh that caramelizes beautifully, adding a delightful sweetness to your dish.
Golden Delicious: These apples have a mellow flavor and hold up nicely during cooking, resulting in tender caramelized slices.
Jonagold: A blend of Jonathan and Golden Delicious, Jonagolds offer a nice balance of tartness and sweetness, making them versatile for caramelizing.
Pink Lady: These apples maintain their structure and bring a balanced sweet-tart flavor to caramelized dishes.
Braeburn: With a firm texture and sweet-tart taste, Braeburn apples caramelize well and add complexity to your dish.
The choice of apple can influence the overall flavor and sweetness of your caramelized apples. If you prefer a sweeter result, opt for apples with naturally high sugar content. It's always a good idea to experiment with different varieties to find the one that suits your taste preferences best.
Top Tips
Here are some tips to help you make the best lemon ricotta pancakes:
Prep Ingredients First: Measure out all your ingredients and have them ready before you start cooking. This helps streamline the process and prevents over-mixing.
Room Temperature Ingredients: Use room temperature eggs and milk for better incorporation into the batter.
Gentle Mixing: When combining wet and dry ingredients, mix gently until just combined. Over-mixing can lead to dense pancakes.
Whip Egg Whites Well: Whip the egg whites until they form stiff peaks – this is what gives the pancakes their airy texture.
Fold Wisely: When folding the whipped egg whites into the batter, do so gently to maintain their fluffiness.
Medium-High Heat: Use a medium-high heat on your griddle or pan to ensure even cooking and a nice golden color.
Non-Stick Surface: Ensure your cooking surface is non-stick to avoid any sticking or tearing of the delicate pancakes. If you have a well seasoned cast iron pan, that counts as non stick too!
Wait for Bubbles: Let the pancakes cook undisturbed until bubbles form on the surface. This indicates it's time to flip.
One Flip Only: Flip the pancakes just once to maintain their fluffiness. Avoid pressing down with the spatula.
Keep Warm: If making multiple batches, keep the cooked pancakes warm on a plate in a low oven (around 200°F or 93°C) until serving.
Toppings Last: Add your favorite toppings just before serving to keep them fresh.
Topping Ideas for Pancakes
If you want to change things up or aren't a fan of apples, there are many other ways to top your pancakes. Here are some really simple ones and some that are fancier:
Berry Bliss: Fresh strawberries, blueberries, and raspberries for bursts of juiciness and color.
Maple Magic: Warm maple syrup for that classic touch of sweetness.
Sweet Snowfall: A delicate dusting of powdered sugar for an elegant finish.
Caramelized Delight: Sautéed apples or bananas in butter and sugar for a warm and cozy topping.
Peaches 'n Cream: Ripe peach slices with a dollop of whipped cream for a luscious treat.
Whipped Wonderland: Fluffy whipped cream to add an airy indulgence.
Chocolate Elegance: Chocolate chips or shavings for a touch of decadence.
Simply Buttered with Nuts: Creamy butter melting over warm pancakes for a simple pleasure with or without a few sliced nuts.
Honey Drizzle: A drizzle of golden honey for a natural touch of sweetness.
Ice Creamy Dream: Vanilla ice cream for an ultimate decadent experience.
Cooking Methods: Cast Iron vs Non-Stick Griddle?
Have you ever been curious about how the choice of griddle material might influence the flavor of your pancakes? We used a non stick griddle this time around, but have often used cast iron as well in the past:
Cast Iron Griddle:
The heat retention and even cooking of a cast iron griddle can create a slightly richer and more caramelized exterior on the pancakes. This can result in pancakes with a deeper, golden-brown color and a slightly more complex flavor profile due to the Maillard reaction, which develops during browning. The surface of the pancakes might have a subtle, pleasant crunch.
Non-Stick Griddle:
Pancakes cooked on a non-stick griddle often have a softer and more tender texture due to the gentler cooking surface. The even heat distribution of non-stick griddles can result in pancakes that are more uniformly cooked. While the exterior might not be as deeply caramelized, the pancakes can have a smoother, more delicate surface. The focus here is on the pancakes' interior texture and flavor rather than the exterior crunch.
Keep in mind that the primary flavors of your pancakes come from the batter itself and any added ingredients like lemon zest or ricotta. The influence of the griddle material is more subtle and affects factors like browning and texture. The choice between cast iron and non-stick griddles is largely based on your personal preferences for cooking experience, ease of use, and maintenance.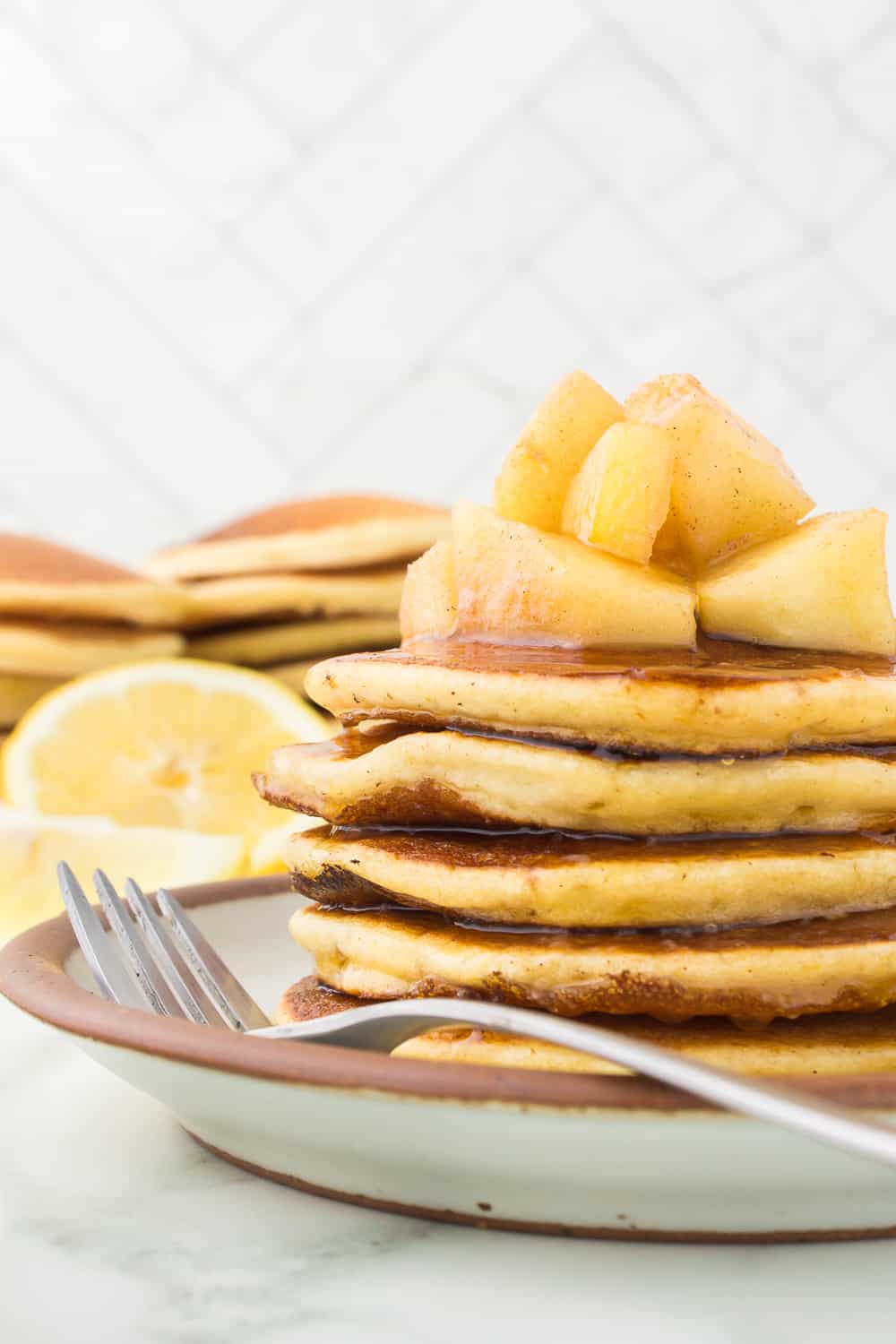 Storage and Make Ahead
You can make ahead pancake batter by preparing your lemon ricotta pancake batter following the recipe instructions. Store it in an airtight container in the refrigerator for up to 1-2 days. When you're ready to cook, give the batter a gentle stir before using to ensure even consistency.
If you want to store cooked pancakes, cook them as usual, let them cool to room temperature, and then layer them between parchment paper in an airtight container or resealable bag. When you're ready to enjoy, simply reheat the pancakes using a toaster, oven, or microwave until warmed through. This makes breakfast a breeze without compromising on flavor!
You can freeze either the pancake batter or cooked pancakes. To freeze batter, prepare it and chill, then divide into portions in resealable freezer-safe bags, labeling with the date. Frozen batter can last around 1 to 2 months.
Thaw frozen batter in the refrigerator before using and reheat cooked pancakes in a toaster, oven, or microwave. It's a convenient way to have homemade pancakes ready whenever you want them!
For cooked pancakes, cool them, stack with parchment paper in between, and freeze in a bag, labeled with the date. Frozen cooked pancakes can be enjoyed within 1 to 2 months.
📖 Recipe
Lemon Ricotta Pancakes with Caramelized Apples
Imagine fluffy clouds of pancake goodness kissed by the tangy ricotta and a burst of lemon zest – a combo that's like heaven on a plate!
Ingredients
For the Apple Topping (Optional)
2

tablespoons

unsalted butter

2

apples

peeled and diced into small bite sized pieces

½

teaspoon

cinnamon

2

tablespoons

sugar

⅛

teaspoon

table salt

1

teaspoon

lemon zest
For the Pancakes
1.5

cups

all purpose flour

can also use white whole wheat; do not use regular whole wheat

1

teaspoon

baking powder

½

teaspoon

table salt

3

eggs

, separated

½

cup

ricotta

1.5

cups

milk

1

teaspoon

lemon zest

maple syrup

, honey, or powdered sugar for serving (optional)
Instructions
For the Topping (Optional):
Caramelize Apples: In a medium sized saucepan, heat all topping ingredients over moderately high heat for about 15 to 20 minutes until apples are softened and then set aside.

Check for Readiness: Caramelized apples are ready when they turn a golden color, become soft to the touch, release their juices to form a syrup, and emit a sweet aroma.
For the Pancakes
Prep the Dry Ingredients: In a bowl, combine the flour, baking powder, and salt. Give them a good mix and set aside.

Mix the Wet Ingredients: In a separate bowl, whisk together the egg yolks (save the whites), milk, ricotta, and lemon zest. Blend until everything's well incorporated, then set this mixture aside.

Blend Wet with Dry: Gently introduce the wet ingredients into the dry mixture. Stir until just combined – don't worry if there are a few lumps. The key is to avoid over-mixing, which can lead to denser pancakes.

Whip Up the Egg Whites: Take those saved egg whites and whip them at high speed until they form stiff peaks. This is where the magic happens – the whipped whites will make your pancakes gloriously fluffy.

Combine Batter and Whipped Whites: With a light hand, carefully fold the whipped egg whites into the prepared batter. The goal is to keep things airy and light.

Preheat the Griddle: Get your non-stick pancake griddle ready over medium-high heat. You can also use a cast iron pan that's been seasoned.

Pour and Cook: Using a ¼ cup measure, pour the batter onto the griddle or pan to form each pancake. Let them cook until you see bubbles forming on the surface. This is your cue to flip!

Flip and Finish: Once flipped, give them another minute or two to cook on the other side. You'll know they're ready when both sides are a lovely golden hue.
Nutrition
Serving:
2
g
Calories:
339
kcal
Carbohydrates:
49
g
Protein:
12.5
g
Fat:
10.3
g
Saturated Fat:
5.5
g
Cholesterol:
122
mg
Sodium:
426
mg
Fiber:
3
g
Sugar:
16.5
g
Interested in More Recipes?
SUBSCRIBE to get recipes delivered to your email 🙂
Recipe slightly adapted from: Food and Wine