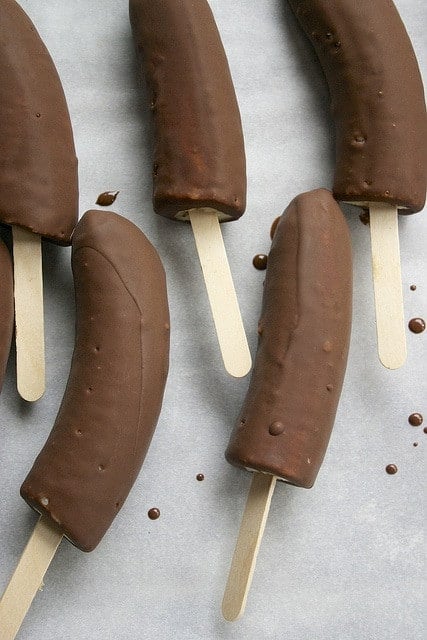 Chocolate covered bananas have always been one of my very favorite frozen treats. Probably because I love the combination of chocolate with bananas and the freezing just makes it even better. As a kid, I'd often pass up ice cream or water ice (Italian ice) in favor of a chocolate covered banana. Typically, I'd enjoy these during the summer while walking on the boardwalk at the beach or when visiting the local Dairy Queen.
More recently, chocolate covered bananas have become easier to bring home since grocery stores have been stocking brands like Banana Babies, which are mini chocolate covered bananas, and Gone Bananas, which are Trader Joe's bite-sized chocolate-covered frozen banana slices. While these products are both very good, my daughter will burn through a box of those in one day! So imagine my excitement when I realized that I could make this delicious treat at home, easily and quickly (aside from the time it takes to freeze the bananas, which is inactive time). This way, we could enjoy these more often and keep them on hand for more than one day at a time.
These treats are made with only three ingredients: bananas, chocolate chips, and coconut oil. I wasn't familiar with coconut oil until a few years ago. Apparently, it is claimed to be associated with a number of health benefits that include blood sugar control, and weight loss. Sounds like a great ingredient to include when making a sweet treat, no?
📖 Recipe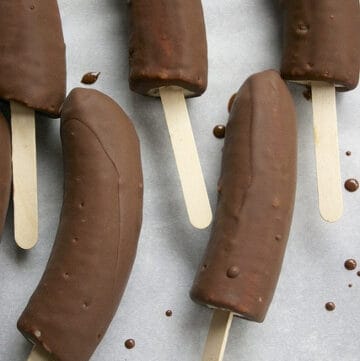 easy chocolate covered bananas
A healthy frozen treat made with whole bananas
Ingredients
12

large

bananas

1

cup

(

236.59

g

)

Chocolate chips

½

cup

(

109

g

)

Coconut oil

, or ¼ cup (many readers have suggested using half the amount for less coconut taste)

24

Popsicle sticks

Parchment paper
Instructions
Peel the bananas and cut each in half crosswise

Insert a popsicle stick into each half

Arrange bananas on a tray lined with parchment paper and freeze until frozen, about 3 to 4 hours.

Just before removing bananas from the freezer, prepare the chocolate coating.

In a microwave-safe dish, combine the chocolate chips and coconut oil.

Heat for 1 minute, then remove and stir vigorously for 1 full minute.

If necessary, heat for an additional 30 seconds and then stir for another minute until smooth.

Pour the chocolate mixture into a tall narrow glass and dip each banana until well coated.

Allow the excess chocolate to drip back into glass for several seconds and then place on the parchment paper to dry.

After all the bananas have been covered, store in plastic bag in freezer.
Notes
After microwaving the chocolate/coconut oil combination, the mixture may not look as though is has melted, but it is very often softened enough to allow for smoothing during vigorous stirring. It is easy to scorch chocolate by overheating so less is more here! Using ½ of a large bananas makes dipping easier
Nutrition
Calories:
100
kcal
Carbohydrates:
16
g
Protein:
1
g
Fat:
5
g
Saturated Fat:
4
g
Sodium:
1
mg
Potassium:
243
mg
Fiber:
2
g
Sugar:
8
g
Vitamin A:
44
IU
Vitamin C:
6
mg
Calcium:
3
mg
Iron:
1
mg
Interested in More Recipes?
SUBSCRIBE to get recipes delivered to your email 🙂