This easy homemade granola recipe is a "blank canvas" that uses rolled oats, nuts/seeds, oil, salt, and sweetener as a base, and it is so simple to customize.
If you've never had homemade granola, this is a must try as homemade is genuinely on a different level compared to most store-bought granola!
Jump to:
Why I LOVE This Recipe
This recipe is super easy to customize and make it your own. Love coconut? Add it in! Hate it? Add something in its place or leave it out altogether.
Pick your favorite kinds of each ingredient, the only constant being the rolled oats. You can also easily incorporate a number of add-ins after it's baked like chocolate chips, or dried fruits like raisins - the list is really endless.
I use a very low temperature to promote crispiness and discourage burning. Using this low temperature (250F/120C), you can make this granola recipe from start to finish in about 90 minutes.
Homemade granola is easily one of my favorite oat-based breakfasts, the other being my baked oatmeal, which is also must try!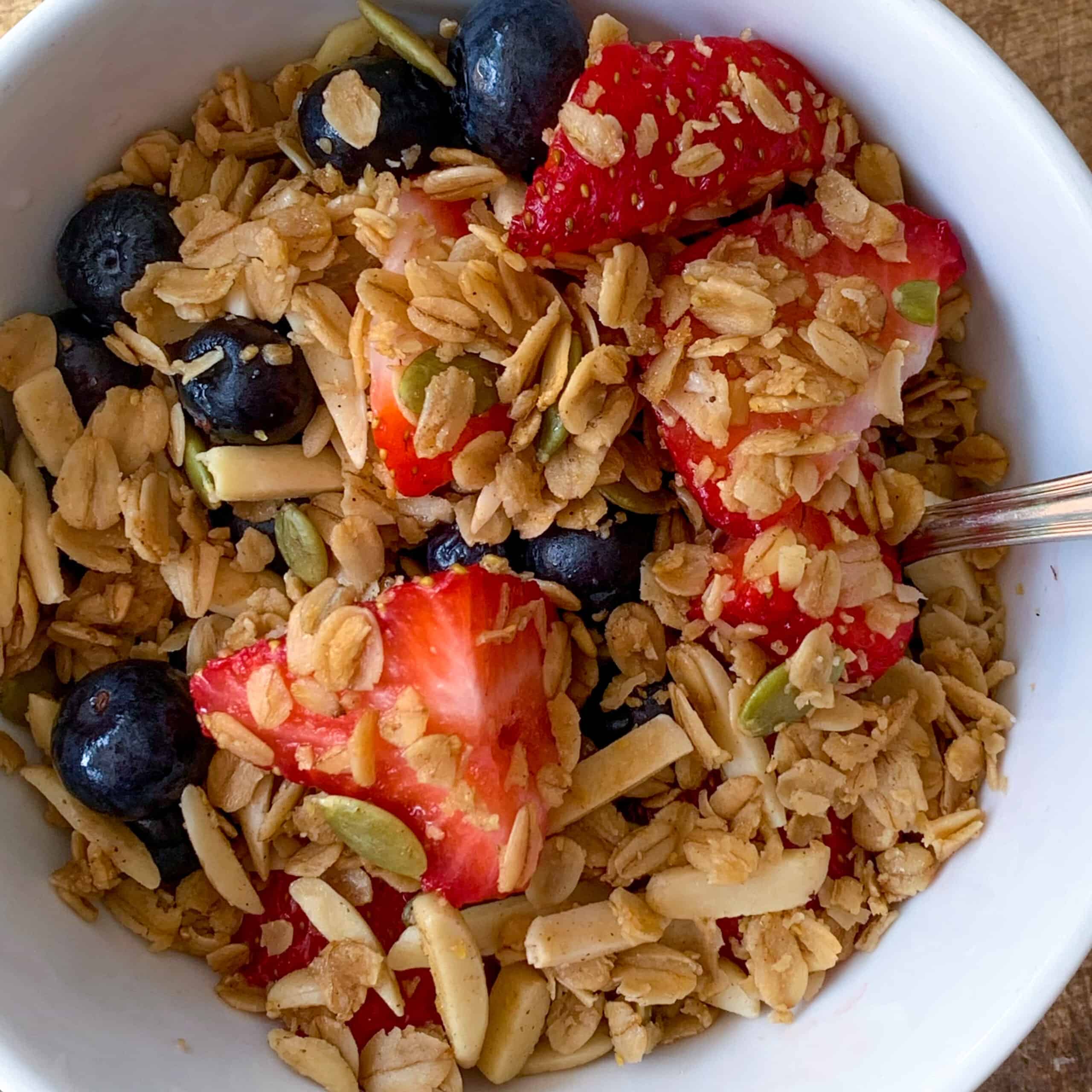 Basic Granola Ingredients
I suppose the most basic ingredients for this granola are oats, sweetener, salt, and oil but many people also include nuts and seeds. Flavorings and add-ins are used to customize the flavor to your own palate.
Old fashioned, rolled oats: The base of the granola. It's important to use rolled oats, not quick oats, which are chopped down into much smaller pieces and tend not to keep their shape.
Nuts: Use whatever nuts you like including almonds, walnuts, pecans, pistachios, peanuts, or macadamia.
Seeds: I recommend pumpkin seeds but you can use sunflower, chia, or flax; if you're not a fan of seeds, you can opt to add additional nuts in the place of the seeds.
Sweetener: This recipes uses a combination of liquid sweetener such as honey, maple syrup or agave along with brown sugar. I used maple syrup because I love it and it's never crystallized like my honey!
Oil: Just a bit to help with browning and flavoring, I love olive oil, but you can also opt for coconut oil or neutral oils such as avocado or canola oil.
Flavorings: don't skip the salt (just a bit; it really amps up the flavor), vanilla extract, cinnamon and other spices. Orange or lemon zest can also be used.
Add-ins: A few ideas include coconut, chocolate chips, butterscotch chips, white chocolate chips, raisins, dried blueberries, chopped dried mango or dried cherries.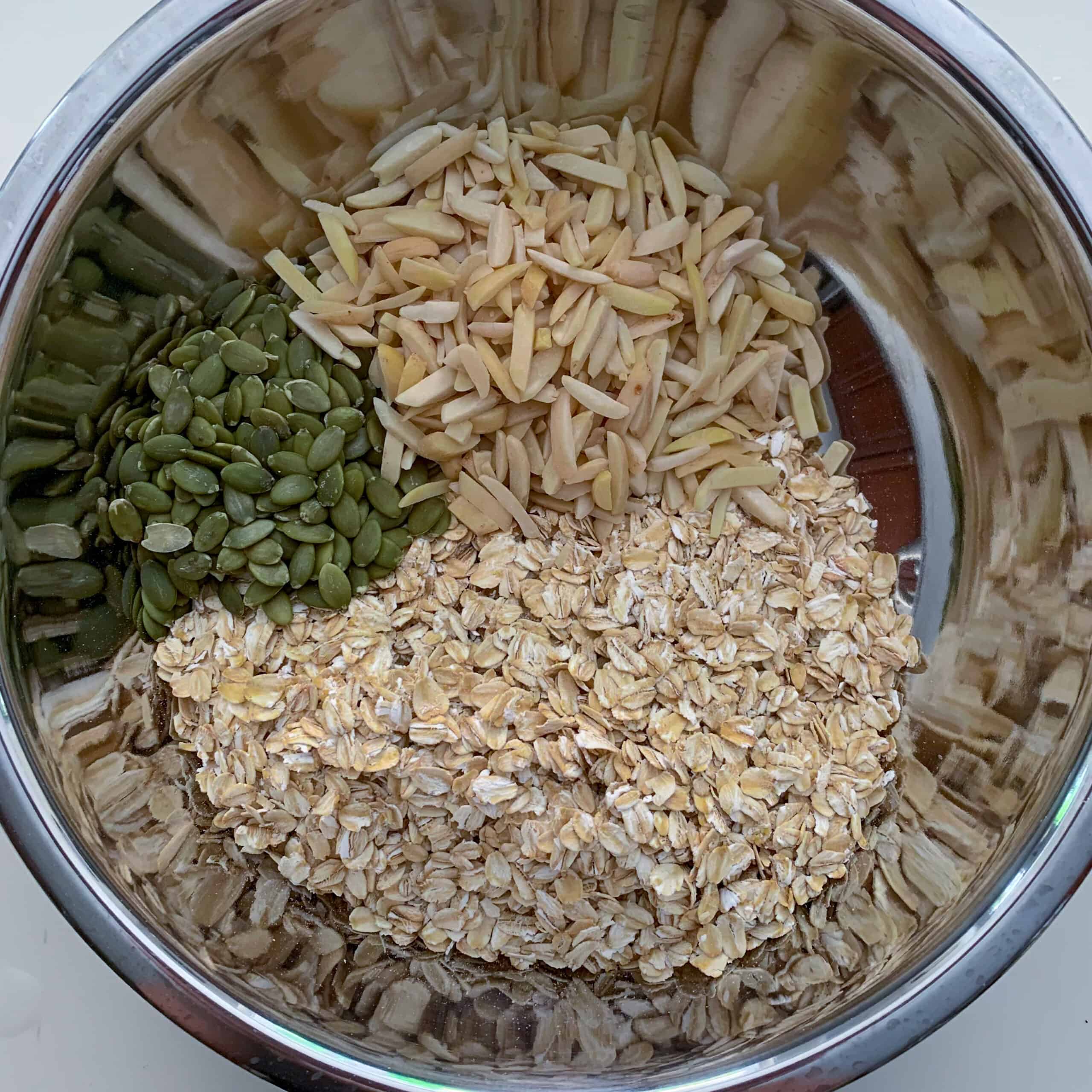 Overview of How to Make Granola
Mix the oats, nuts, and seeds in a large bowl
Combine the water, sweeteners (liquid and sugar), oil, cinnamon, and vanilla extract.
Pour the wet mixture over the oat mixture and stir to combine
Place granola in a rimmed baking sheet lined with parchment and gently pat down to flatten
Bake the granola in a preheated oven at 250F/120C for about 1 hour and 15 minutes.
If you want a chunky granola, pat down firmly and do not stir during baking; otherwise, stir the granola about halfway through the bake.
After it has thoroughly cooled, break it apart if you opted for chunky granola.
Incorporate optional add-ins (coconut, chocolate chips, dried fruit) after cooling.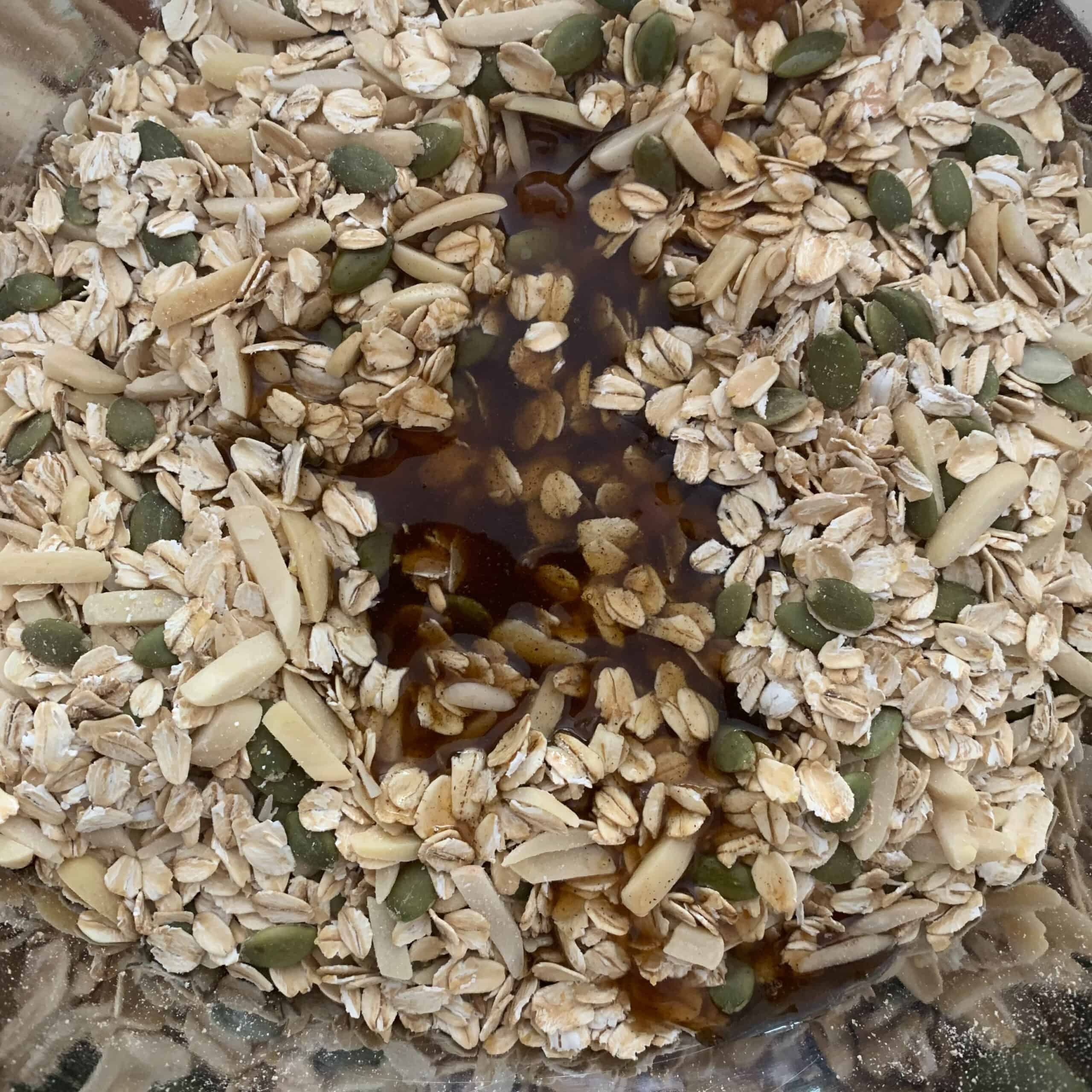 Tips for Making Homemade Granola!
Timing of add-ins. Know when to add ingredients; some adds in should be incorporated after baking while others should be added before baking. See recipe for more details.
To make crispy granola, pat down firmly into a ¼ inch high rectangle (patting sides to get the shape correct) before baking and do not stir during baking.
Let the granola thoroughly cool before removing if you want larger chunks in your granola. You may even opt to let it cool overnight.
Use the right oats - rolled oats are the best choice as quick oats will not retain their texture as they cook
Consider bulking up your oats base with quinoa flakes, rye flakes, or spelt flakes.
You need to use oil to get crispy granola; otherwise, the result will be dry granola.
According to Bob's Red Mill, honey is the best binding ingredient to make granola. Try it for yourself and see what you think.
Salt is a must ingredient! To avoid overly sweet granola and add complexity of flavor and balance, do not skip the salt.
Baking temperature - some recipes call for baking temperature up to 350F; this recipe is much lower although it takes a bit longer. The benefit? No burnt granola!
Baking time: do not over bake your granola; I think this is harder to do with a low temperature used here.
Use parchment paper to line your rimmed baking sheet so the sugar sticks to your oats and not the baking sheet (that said, I have made granola without it, try at your own risk!)
Substitute ingredients until your heart is content but try to stick to the same wet: dry ingredient ratio.
See more details and tips from Bon Appetit and the Kitchn.
How to Enjoy Granola
As a topping for a smoothie bowl
On top of yogurt with berries or other fruit
Alone as a cereal with some milk for breakfast
As a topping for ice cream
As an ingredients for granola cookies
Alone straight out of the bag as a snack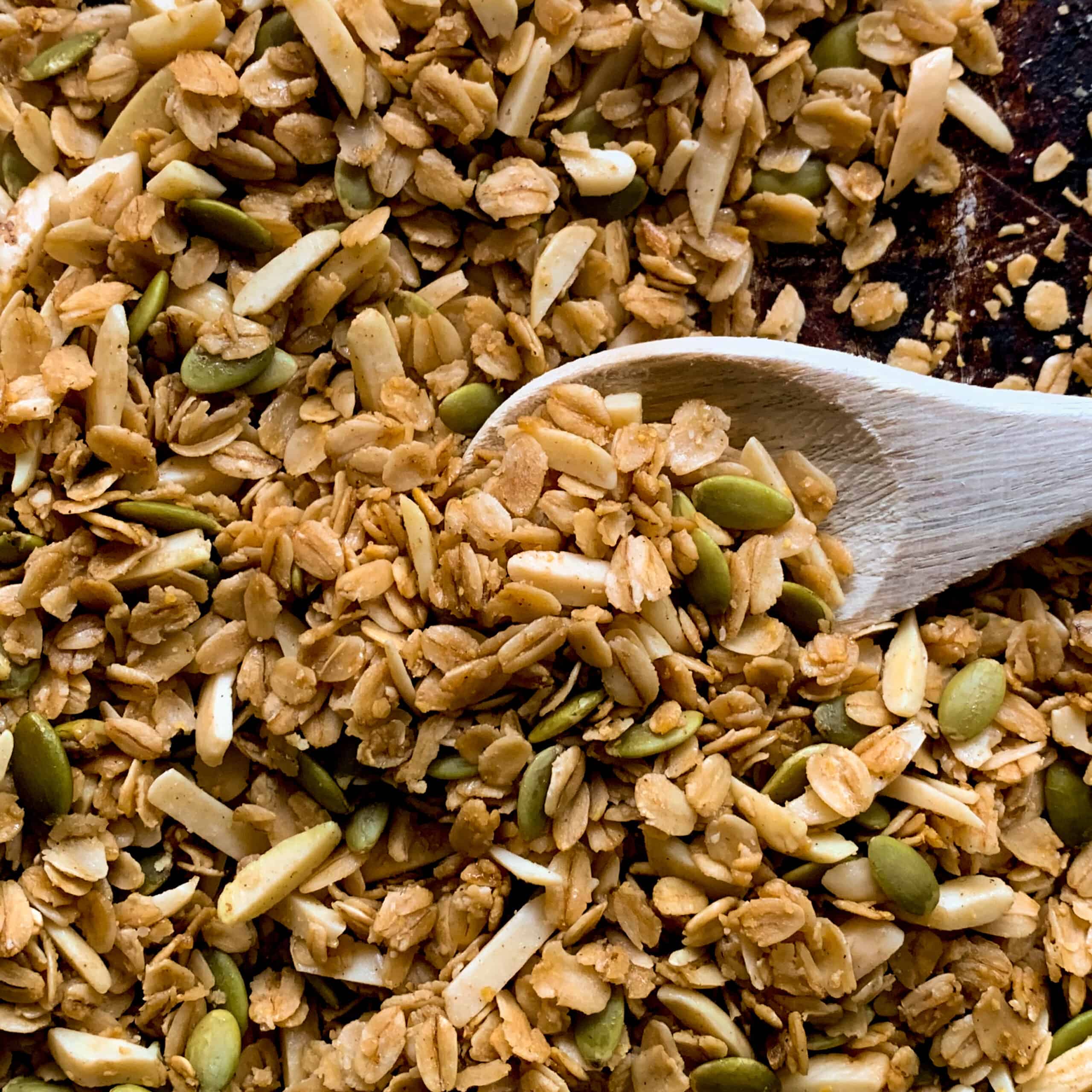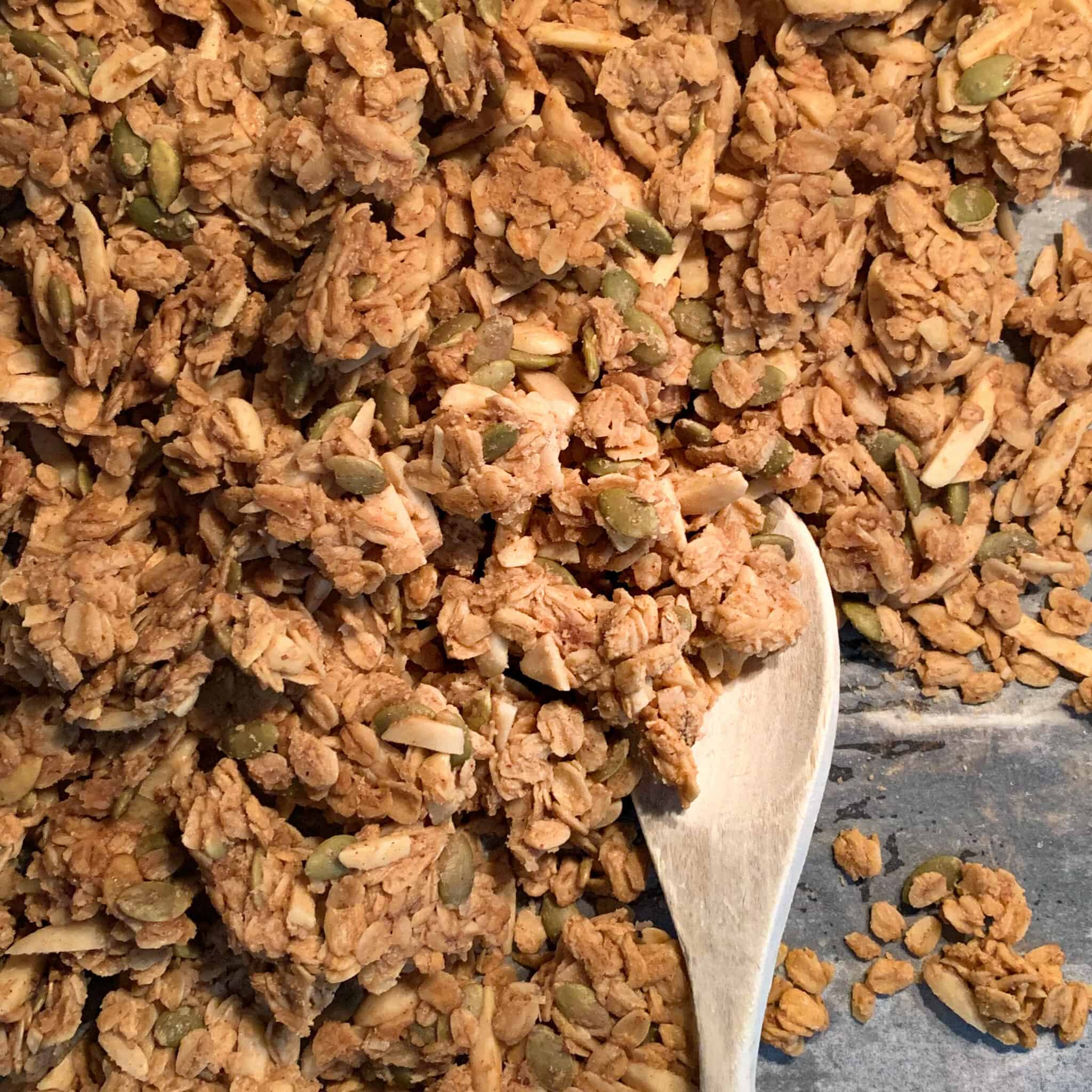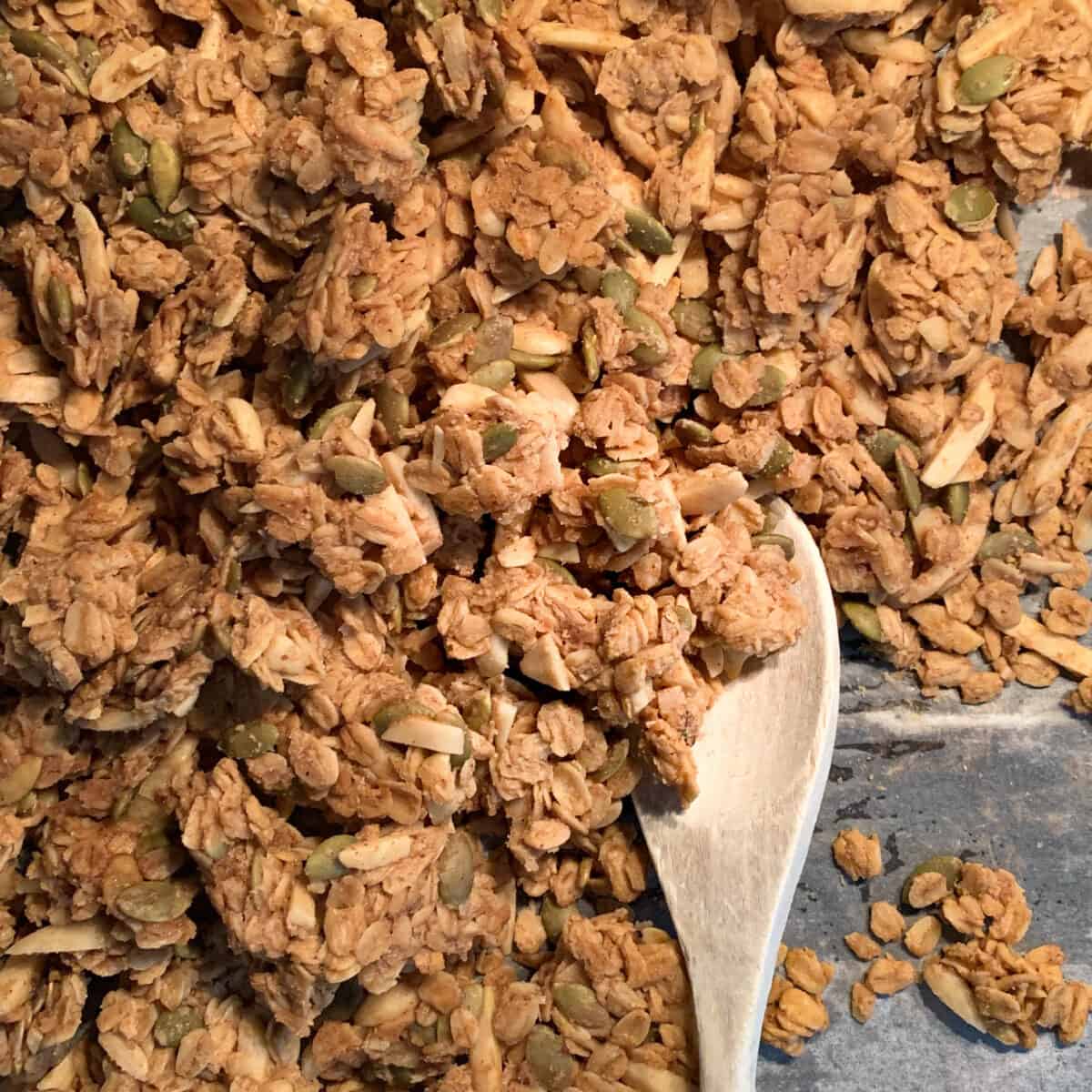 Granola Ingredients to Try
Chia seeds and flax seeds
Pumpkin and sunflower seeds
Almonds, walnuts, pecans, peanuts
Spices and flavorings such as vanilla, cardomom, cinnamon,
Orange or lemon zest (add before baking)
Bulk up your oat base by adding quinoa, rye, or spelt flakes.
Suggested Flavor Combinations
Honey almond granola (no seeds; use almonds in place of seeds and honey as liquid sweetener)
Chocolate granola (add chocolate chips after granola has cooled and a teaspoon of cocoa powder to wet ingredients)
Cherry almond granola (dried cherries and almonds)
Chocolate cherry granola (chocolate chips and dried cherries)
Lemon blueberry granola (lemon zest added to oats base and dried blueberries after baking and cooling)
Coconut lovers (use coconut oil and also add coconut flakes halfway through baking or after cooling)
Cranberry walnut granola (dried cherries added after cooling and walnuts added to oat base)
Chocolate pistachio granola (chocolate chips after cooling and pistachio added to oat base)
Maple syrup and cinnamon granola
Omega-3 infused granola (add flax and chia seeds in place of pumpkin or added to pumpkin seeds)
Orange macadamia nut granola (orange zest and macadamia nuts added to oat base)
White chocolate chip and macadamia nut granola (white chocolate added after cooling and macadamia nuts added to oat base).
Storing Homemade Granola and Shelf Life
I like to store homemade granola in an airtight container at room temperature. It should stay fresh for about 3 weeks if you haven't devoured it by then.
Do not store in a sealed container until the granola is completely cooled; otherwise, you may see condensation form in the container, which will lead to soggy granola.
According to the Kitchn, you may freeze granola for up to 3 months; try not to incorporate air into your freezer bag. To defrost, pour onto baking sheet and let sit out on counter overnight.
📖 Recipe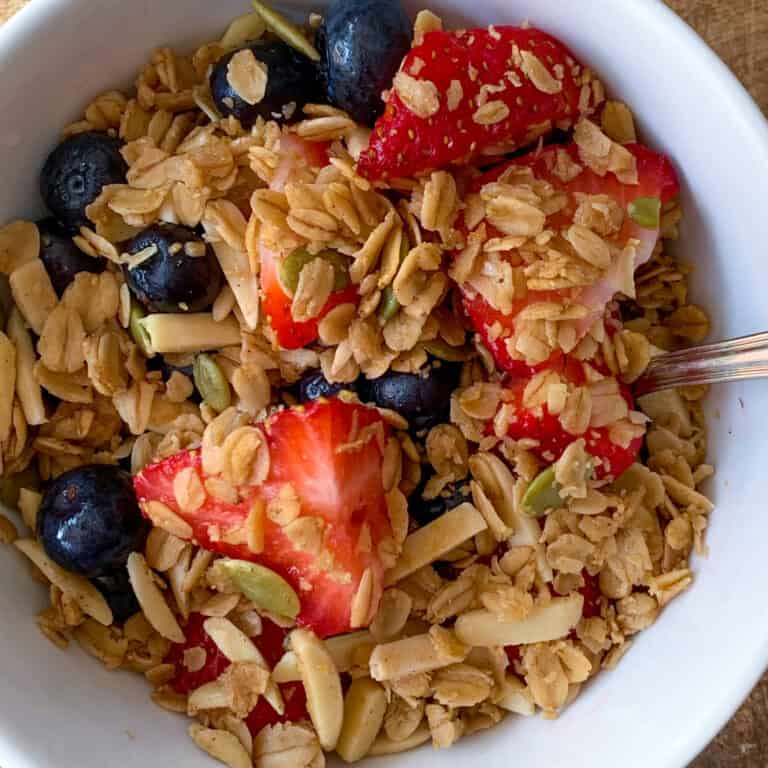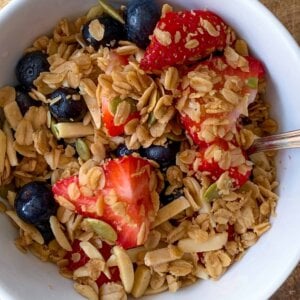 Easy Homemade Granola (Make It Your Own)
A super easy homemade granola that can be mixed in minutes and is baked for 75 minutes. Includes directions for customizing to your own taste.
Equipment
rimmed baking sheet

large mixing bowl

small mixing bowl or glass jar

measuring cups and spoons

Parchment paper

to prevent sticking
Ingredients
3

cups

(

243

g

)

old fashioned oats

Use rolled oats, NOT quick oats

1

cup

(

144

g

)

nuts (I used almonds)

almonds, walnuts, hazelnuts, pecans, pistachios etc

½

cup

(

32

g

)

seeds (I used pumpkin seeds)

pumpkin seeds, sunflower seeds, chia seeds, flax seeds. (or may omit and add more nuts instead)

⅓

cup

(

113

g

)

liquid sweetener (I used maple syrup)

honey, maple syrup, or agave

⅓

cup

(

73.33

g

)

brown sugar

¼

cup

(

54

g

)

oil (I used olive oil)

olive oil, melted coconut oil, canola oil, avocado oil

2

tablespoon

(

30

g

)

water

1

teaspoon

(

6

g

)

salt

1

tablespoon

vanilla

½

teaspoon

cinnamon

optional
Optional Add-ins (added after granola has been baked and cooled)
1

cup

(

236.59

g

)

chocolate, raisins, or dried fruit

white chocolate chips, raisins, yogurt chips, or other dried fruit such as blueberries, cherries, mango etc.

¾

cup

shredded coconut
Instructions
Preheat oven to 250F/120C

In a large bowl, add oats, nuts, and seeds and stir to combine.

In a large jar or smaller bowl, add maple syrup or honey (or agave), brown sugar, oil, water, vanilla and cinnamon (if using) and stir or shake.

Pour wet ingredients over dry and combine with large spoon

Transfer granola to a large baking sheet lined with parchment paper and pat down lightly (firmly if you would like more chunks/clusters of granola).

If you like a chunky granola, aim for ¼ inch thickness when forming and patting down the granola. Use clean hands to form rectangle shape.

Place tray in center rack of oven and bake for about 1 hour and 15 minutes.

Stir about halfway through baking time (unless you want chucks of granola, then do not stir.)

After baking, allow to fully cool before breaking up into chunks, and add then optional add ins (chocolate chips, dried fruit)

Granola continues to crisp as it's left out in open air, so feel free to leave out for a few hours after it's cooled.

Store in sealed container only after it has completely cooled or the condensation will cause the granola to soften.

Freeze for up to 3 months in a sealed freezer bag with excess air squeezed out of bag.
Notes
Estimated nutrition doesn't include optional add ins. 
Make sure to fully cool granola before incorporating add ins. 
Do not store granola in sealed container until it has completely cooled. 
Nutrition
Serving:
0.5
cup
Calories:
286
kcal
Carbohydrates:
34
g
Protein:
6
g
Fat:
15
g
Saturated Fat:
4
g
Polyunsaturated Fat:
3
g
Monounsaturated Fat:
8
g
Trans Fat:
1
g
Sodium:
214
mg
Potassium:
201
mg
Fiber:
4
g
Sugar:
16
g
Vitamin A:
2
IU
Vitamin C:
1
mg
Calcium:
28
mg
Iron:
2
mg
Interested in More Recipes?
SUBSCRIBE to get recipes delivered to your email 🙂