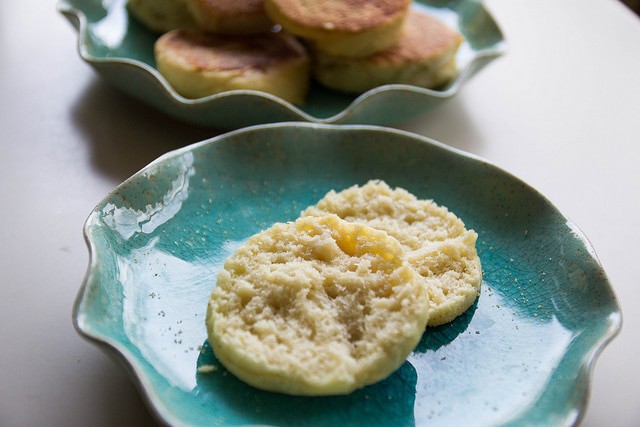 Are you looking for an English muffin recipe with lots of nooks and crannies? Try these amazing English muffins! Easy to make too! After mixing the batter, you will let it sit covered for 30 minutes and then you are ready to put them on the griddle.
I'd been interested in making English muffins for a while now, and just never got around to it. Many of the recipes that I saw did not show crumb shots (ie, the inside of the muffin) and those that did showed a bread-like interior that wasn't what I was hoping to duplicate.
I knew that the dough I was shooting for would have to be very very wet to get those holes inside, and so my attention shifted towards Alton Brown's recipe. The only downside is that you'll need 3-inch English muffin rings (or egg rings) (you can make them free-form but they will be oddly shaped).
I used egg rings and only had 3 on hand so it was a bit of a pain because I had to make them 3 times. But, all worth it and so good that I just ordered English muffin rings for next time. These are great with some jam, or just a pat of butter. I'm also looking forward to making some Eggs Benedict with them…mmmm!
By the way, if you want to get the nooks and crannies, make sure that you split them open with a fork, not a knife.
Recipe from Alton Brown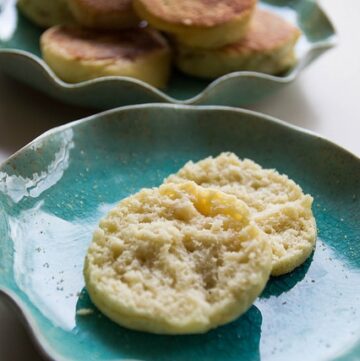 Ingredients
1/2

cup

non-fat powdered milk

1

tablespoon

sugar

1

teaspoon

salt

1

tablespoon

shortening or butter

1

cup

hot water

1

envelope dry yeast

(2 1/4 teaspoons)

1/8

teaspoon

sugar

1/3

cup

warm water

2

cups

all-purpose flour plus more for flouring English muffin tins

Non-stick vegetable spray

Cornmeal for dusting griddle

3-

inch

metal rings
Instructions
In a medium sized bowl, combine the milk powder, 1 tablespoon sugar, salt, shortening, and hot water and then set aside until cooled

In a small bowl, add the yeast, 1/8 teaspoon sugar, and warm water and stir to combine

After about 5 minutes, combine the first and second mixture ensuring that the first mixture has cooled sufficiently (if it is still hot, the yeast in the second mixture could be killed off)

Beat the dough until well combined, cover bowl with clean towel, and set aside for 30 minutes

In the meantime, grease and flour your muffin tins and warm up your pancake/electric griddle (I used a plug-in electric griddle)

Sprinkle cornmeal on top of griddle (grease first if it isn't nonstick), then set the muffin tins on top

Fill each tin with about 1/4 cup of batter, sprinkle tops with more cornmeal, and then cover the tins with a flat try or inverted baking pan.

Cook at about 350 to 375 degrees (medium heat) for 5 to 6 minutes and then flip to other side

Do not use a knife to cut these open - use a fork to carefully open each one to get those nooks and crannies

Enjoy!