Ring in the holidays with these traditional Italian Fig Cookies (also "Cuccidati," in Italian). These decadent, tender, sweet fruit-filled cookies are drizzled with a lemon glaze and traditional holiday sprinkles. Perfetto!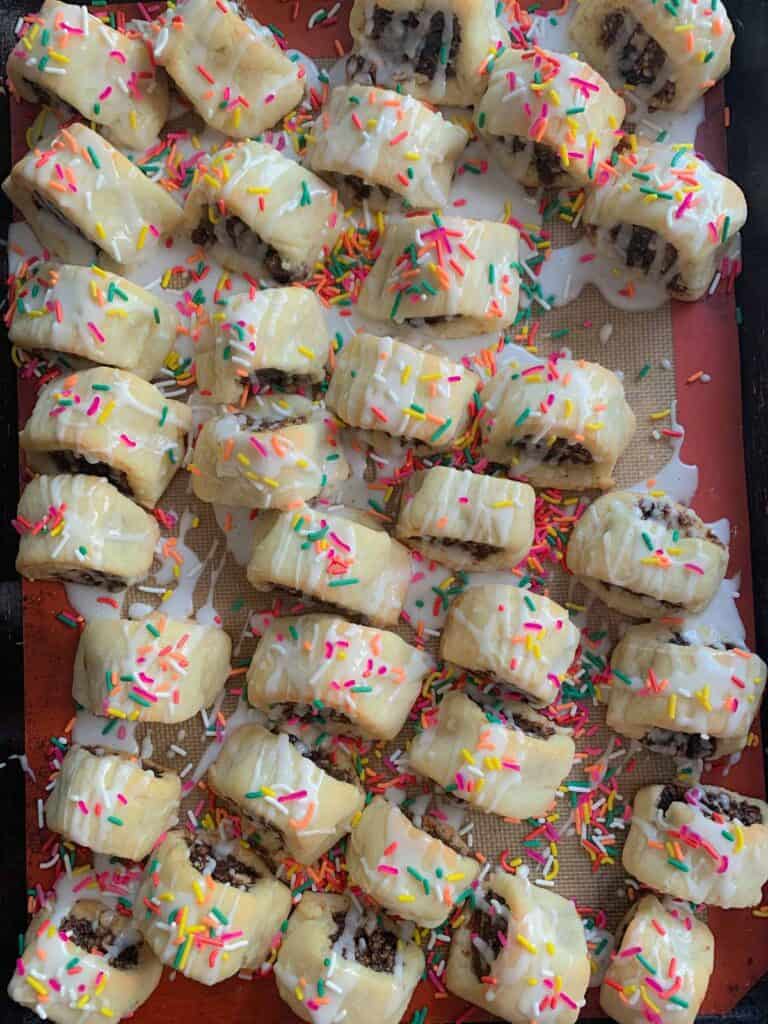 What Are Cuccidati?
Italian Fig Cookies, aka Cucidati, are deliciously moist, tender, and sweet fruit- and nut-filled cookies. The filling generally consists of some combination of walnuts, dates, figs, honey, spices and orange or apricot jam.
The pastry is rolled around the filling, and those rolls of fruity, buttery dough are then either baked whole and then sliced into individual cookies when they're finished baking and still warm from the oven, or they're cut into short tubes before they're baked. They're finished off with a sweet lemon glaze and traditional holiday nonpareils, or sprinkles.
In other words, they're basically the O.G. Fig Newtown cookie, but MUCH better homemade than what you can buy at the grocery store. In fact, most Italians would roar with laughter at the thought of comparing their beloved Cuccidati to the overly processed, Americanized Fig Newton. There's just no comparison, really. This homemade version wins every time!
The unique flavor of these Italian Fig Cookies is like any other with its spicy, aromatic, fruity filling and simple vanilla sugar cookie dough. This recipe is a must-bake for your holiday table!
Where Do Cuccidati Originate From?
Cuccidati are said to have originated hundreds of years ago in southern Italy and Sicily, particularly in the Palermo region, where there is a strong Arab influence. They're often made with figs, dates, and raisins — all of which were first introduced by the Arabic people who lived on the island — and served at Christmastime.
These special holiday pastries are beloved by Italians and Italian descendants, so much so that Chicago hosts its own annual Cuccidati Festival.
Cuccidati goes by many names, depending on who's making them. Some include the following:
Cucidati
Cucciddati
Buccellati
Italian Fig Cookies
Sicilian fig cookies
Christmas Fig Cookies
Traditional Sicilian Cookies
Italian Date Cookies
Buccellato
What Are Figs, Exactly?
It's assumed that figs are fruit because of what they look like and how they're eaten, but they're not fruits at all! Can you guess what they are?
If you guessed inverted flower, then you're right! Figs are made when their flowers bloom inside of the pod. How cool is that?
These delicacies are also famous for their health benefits, and both dried and fresh figs are good for you.
Figs are the perfect filling ingredient for these cuccidati. Their naturally sweet flavor satisfies even the biggest craving for dessert without going overboard.
Key Ingredients for Homemade Italian Fig Cookie Dough
With notes of citrus from fresh orange juice and lemon zest, the unique and richly spiced filling is wrapped inside a buttery vanilla sugar cookie dough that is then baked in strips and sliced into individual cookies when warm from the oven. This method truly couldn't be easier! Once fully cooled, the cookies are drizzled with a lemon glaze and traditional holiday sprinkles.
Flour: All-purpose flour keeps these cookies thick surprisingly light with a good bite before hitting the fruity center.
Baking Powder: This is the leavening agent that helps the cookie fluff up and not spread out across the hot baking sheet.
Salt: Just a pinch helps balance out the sweetness of these cookies.
Shortening: Margarine or lard would also work in this recipe.
Granulated sugar: Opt for white granulated sugar over light or dark brown sugar to not affect the color of the cookies and keep the sweet flavors light as to not compete with the fruit filling.
Eggs: This recipe calls for four eggs total, which help the cookies rise and offer a rich flavor that compliments the rest of the ingredients.
Grated orange peel: You can't have Cucidati without citrus! The oils from the orange peel offer bright pops of flavor in the cookies that pair perfectly with the fruit filling.
Milk: There aren't many cookie recipes that call for milk in the dough, but this one does. It helps get the dough to the consistency we're looking for, and offers a pleasant hint of dairy flavor.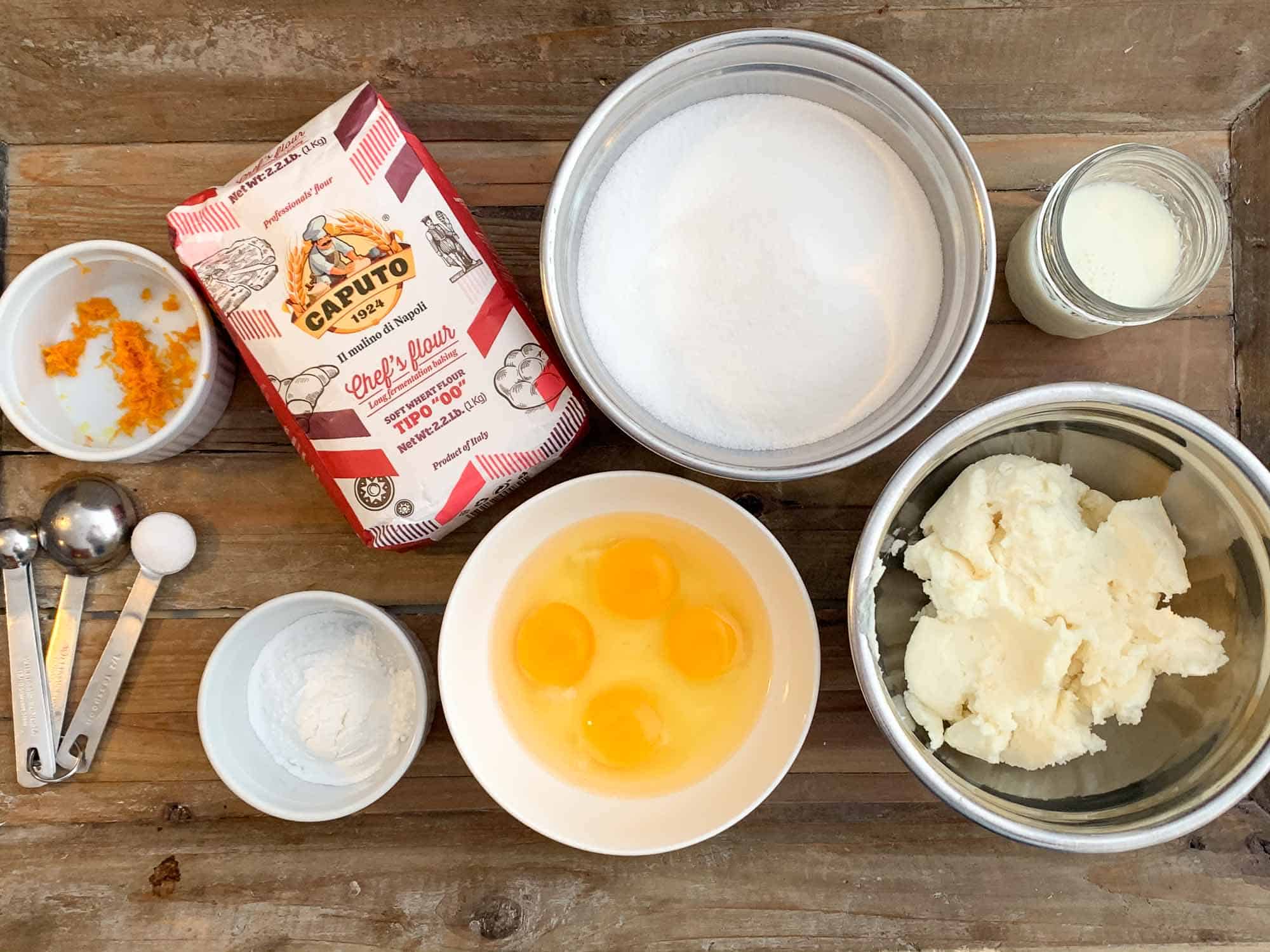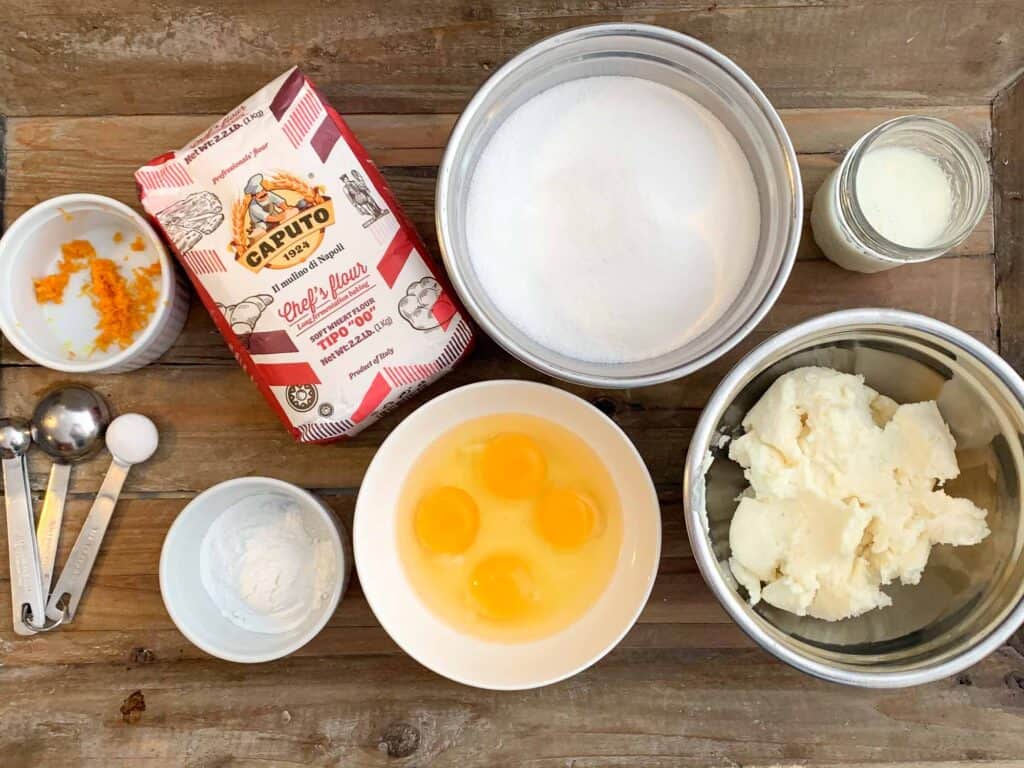 Key Ingredients for Homemade Cuccidati Filling
The jammy, sweet filling in these Italian Fig Cookies is made by rehydrating the raisins and dried figs in hot water for approx. 10 minutes. Then, drain and puree them with all of the other ingredients — .dark chocolate, marsala wine, rum, orange zest, and cinnamon. Fold in the chopped at the end and voila! The figgy filling is complete.
And the best part of this filling? You don't have to cook it! That's right, just combine the ingredients in your food processor, and you're done!
Here's a breakdown of the cuccidati ingredients:
Dried Figs: Figs are crucial for homemade cuccidati. After all, they're Italian Fig Cookies! They offer a bright, deep, fruit, sweet flavor that has made this dish famous.
Raisins: A crucial ingredient for Italian Fig Cookies that people don't often think of it raisins. They're cheap and plentiful, and when rehydrated and combined with the figs create a sweet, jam-like filling.
Dark chocolate chips: These are folded into the pureed fruit along with the other ingredients. The bittersweetness works brilliantly with the super sweet fruit and spices.
Nuts: Almonds, hazelnuts, or mixture of the two will do.
Marsala wine: This is optional if serving the cookies to children, but great for sticking to the original Italian tradition.
Rum: Also optional, but preferred for this recipe. It works great with the marsala wine. Just two tablespoons does the trick!
Orange: But only the zest! This compliments the sweet ingredients and the zest in the sugar cookie dough.
Cinnamon (not shown below): Only half of a teaspoon makes a big difference in this recipe!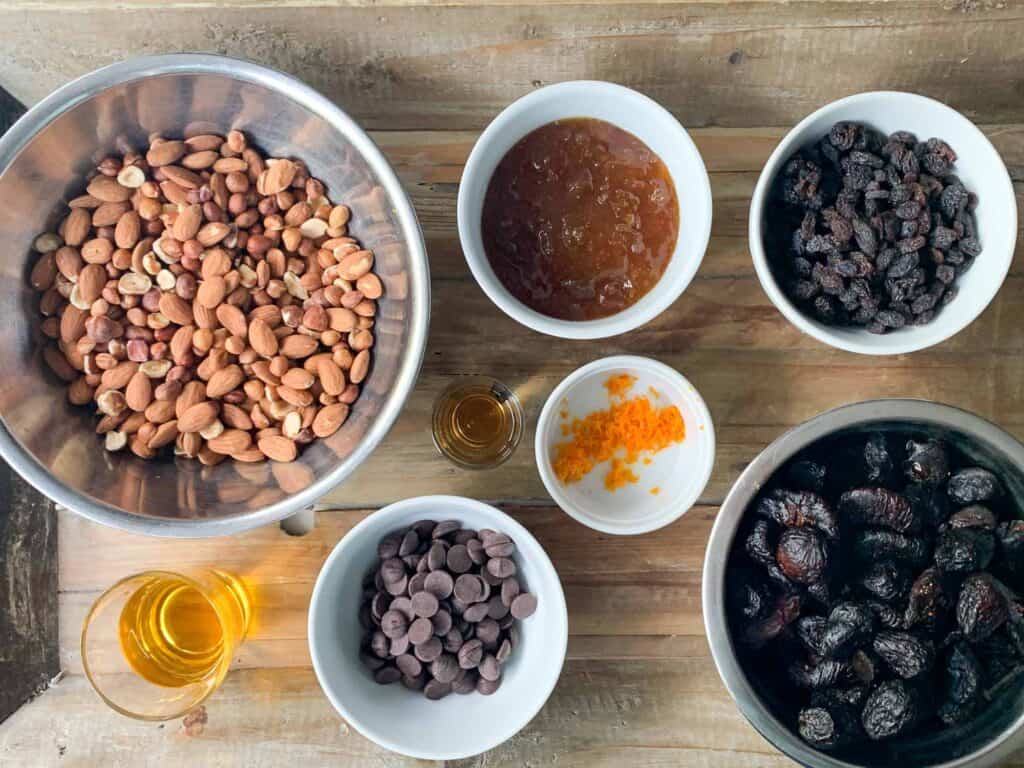 How To Make Homemade Italian Fig Cookies
Mix the dough, knead the dough, slice, and form into logs
Place logs of dough into a plastic bag and refrigerate while you make the filling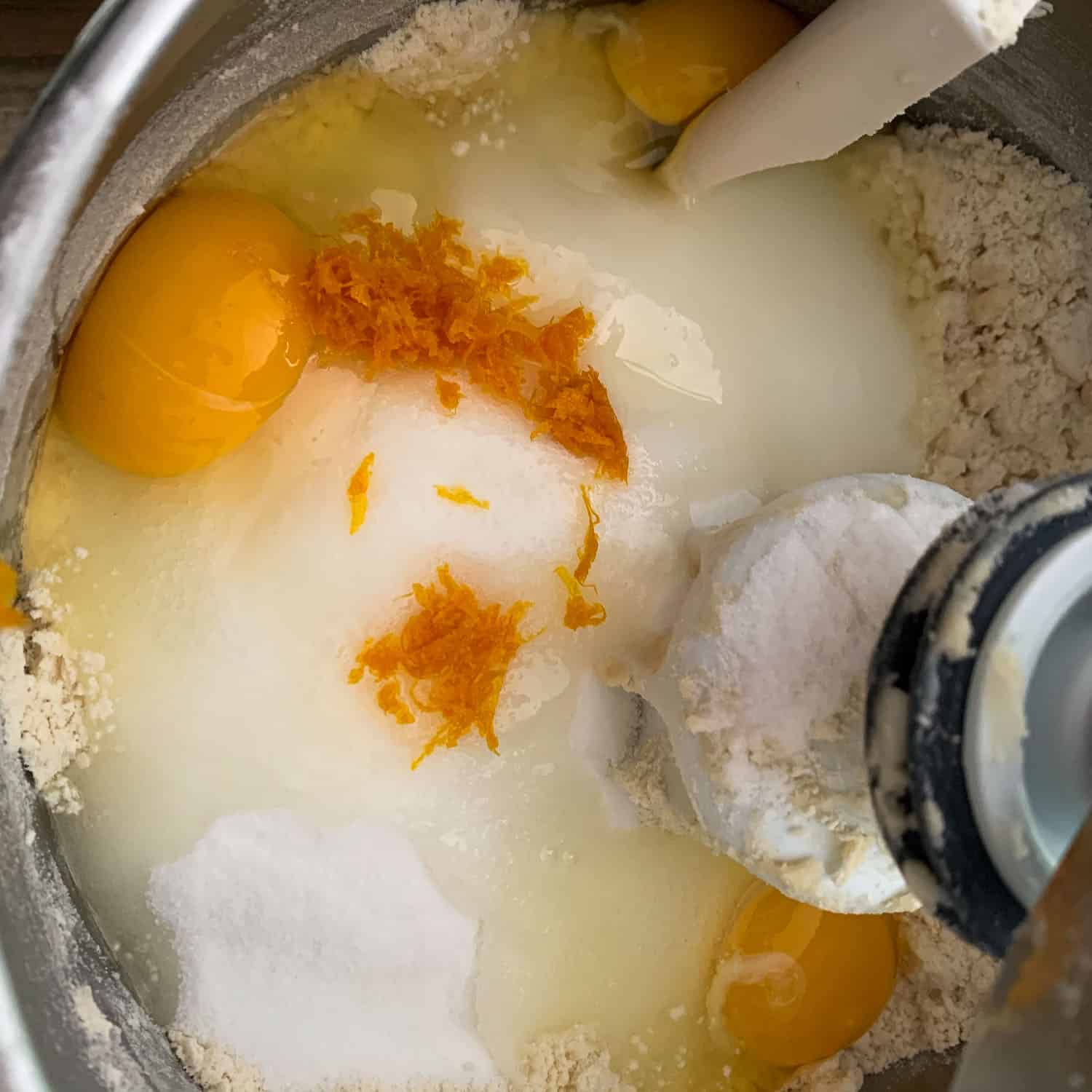 After the filling has been made, roll the dough out to approximately 24 inches by 6 to 8 inches wide on a well floured surface.
Using a tablespoon, fill the center of each strip of dough with the filling, making a long line of filling.
Enclose the filling by folding over the dough and then gently roll the log and slice into cookies.
Place cookies on a parchment or silicone lined baking sheet and bake until very lightly golden.
Cool cookies and decorate with icing and sprinkles.
How To Store Cuccidati
Storage: These cookies are best when eaten fresh. Keep leftovers in an airtight container on your counter at room temperature for no more than two days after baking. If they are not all consumed by Day 2, store in the refrigerator for up to three additional days and allow to come back to room temperature before serving.
Freezing: Cookies taste best when eaten within a day or two, and refrigerating them isn't ideal because it can cause them to develop a stale taste or dry out. Cut the recipe in half if you can't use all the cookies within a few days, or freeze the raw cookie dough logs or cubes and bake as you need it. Wrap them well with plastic and use them within one month. Allow them to thaw overnight in the refrigerator before baking them. Don't thaw them before baking.
Tips for Success
Completely cool the fruit filling mixture before spreading it on the strips of tender vanilla cookie dough. It can get a bit warm when mixing in the food processor, so set aside for a few minutes to ensure it's completely cooled through. If you spread it while the it's still hot, you risk melting the butter and sugar in the dough, which would result in a flat or tough cookie.
You can serve these year-round and top them with festive nonpareil sprinkles like the rainbow variety I went with, but if you're making these for the holidays, go with the colors of the season. Reds, greens, and whites would pop against the colors of these Italian Fig Cookies!
Instead of milk for the icing, try a couple tablespoons of the juice from your zested orange, or add zest to the milk and powdered sugar mixture. A little more citrus can't hurt!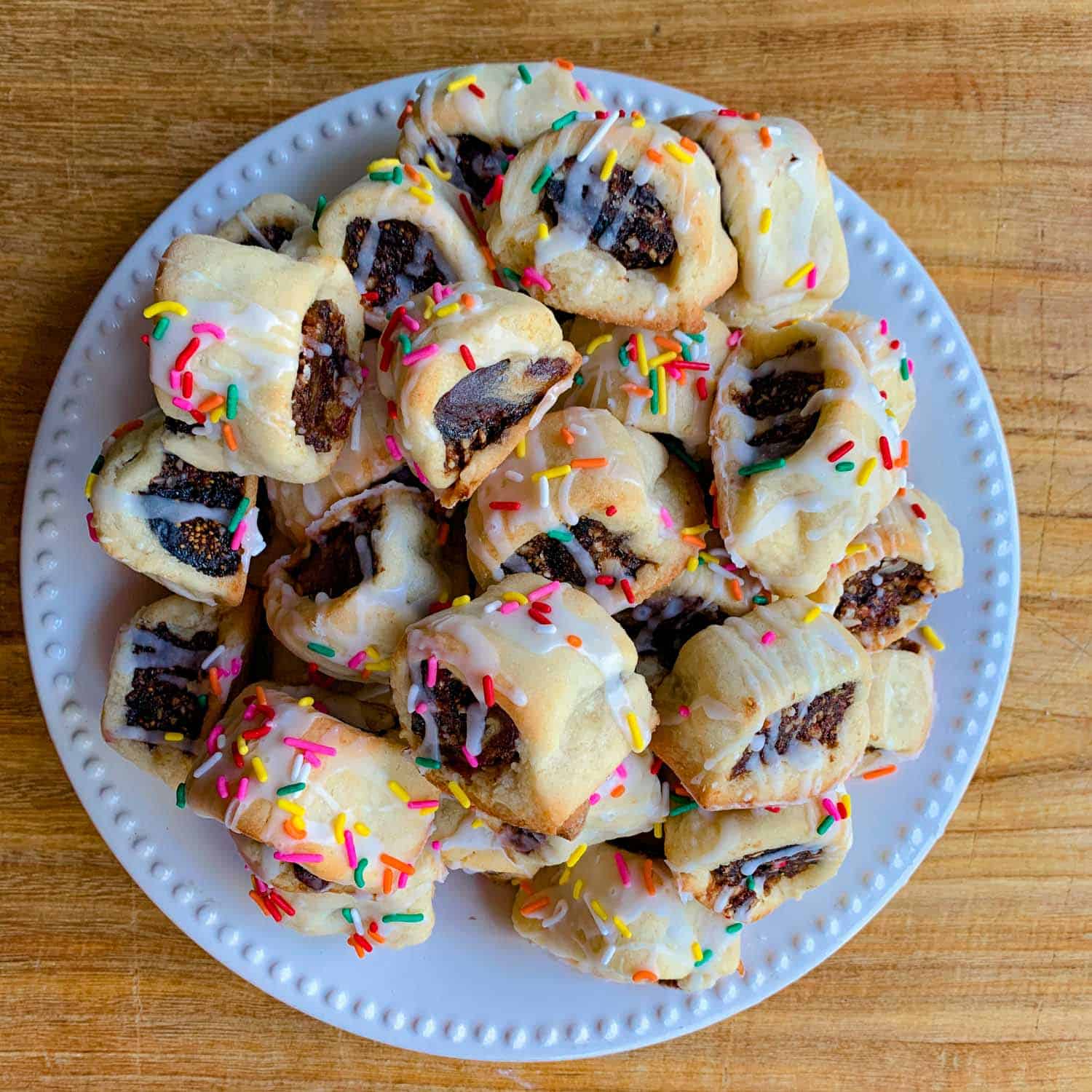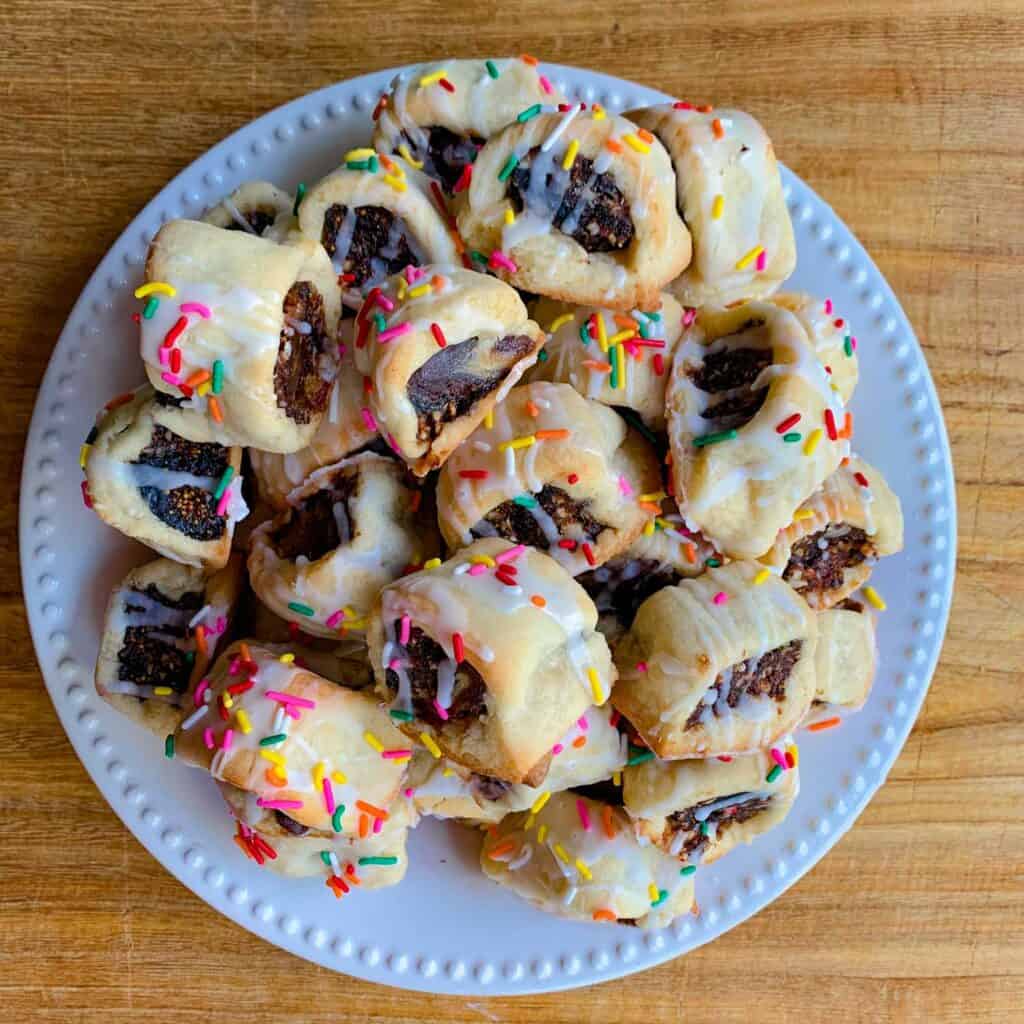 More Traditional Italian Dessert Recipes
Like this recipe? If you'd like to see more recipes, SUBSCRIBE today to get free recipes from Feeling Foodish directly to your email.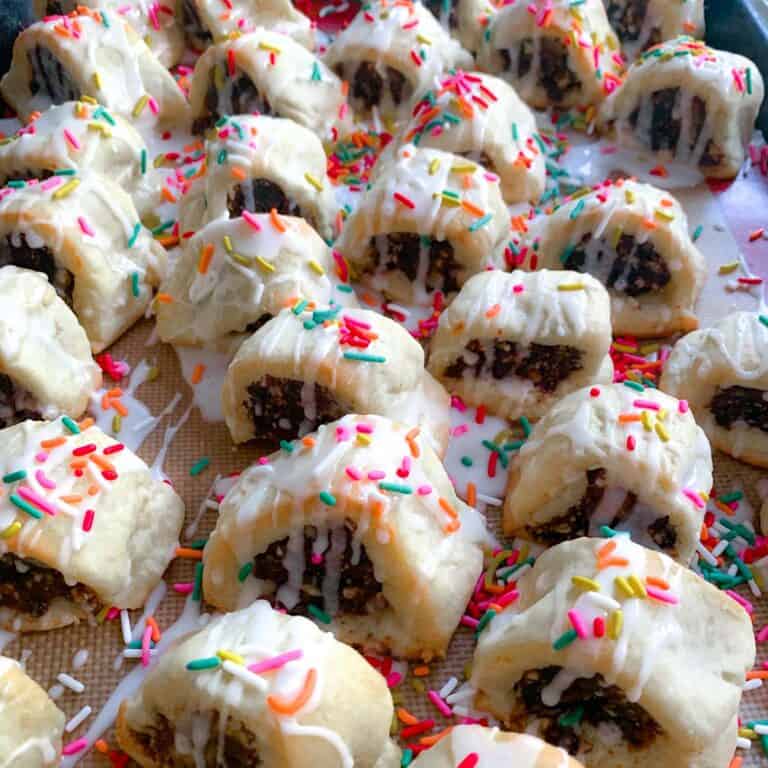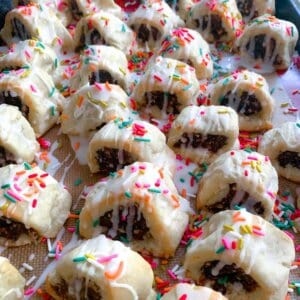 Italian Fig Cookies (Cuccidati)
Ring in the holidays with these traditional Italian Fig Cookies (also "Cuccidati," in Italian). These decadent, tender, sweet fruit-filled cookies are drizzled with a lemon glaze and traditional holiday sprinkles. Perfetto! Makes 8 dozen cookies, recipe can be halved!
Ingredients
For the cookie dough
8

cups

(

1000

g

)

all purpose flour

2

cups

(

410

g

)

shortening

may also use lard or margarine

1

tbsp

(

1

tbsp

)

baking powder

½

tsp

(

½

tsp

)

salt

3

cups

(

600

g

)

sugar

4

large

(

4

large

)

eggs

2

small

(

2

small

)

oranges

zest only

½

cup

(

122

g

)

milk

scant
For the filling
1.5

cups

(

217.5

g

)

raisins

6

cups

(

894

g

)

dried figs

in a pinch, may substitute prunes or mix with prunes.

¾

cup

(

135

g

)

dark chocolate chips

1

cup

(

340

g

)

jam

may use any flavor jam, preferably orange, apricot, or fig

3

cups

(

432

g

)

nuts

almonds, hazelnuts, or mixture of them

2

tbsp

(

2

tbsp

)

rum

optional

1

small

(

1

small

)

orange

zest only

½

tsp

(

½

tsp

)

cinnamon powder

1

shot glass

(

1

shot glass

)

marsala wine

optional (substitute vanilla extract for kids)

hot water

as need to achieve thick smooth paste-like filling
To decorate
1

cup

(

120

g

)

powdered sugar

2

tbsp

(

2

tbsp

)

milk

or more, use less at first to get very thick consistency

colored sprinkles or jimmies

lemon extract

a few drops (or a teaspoon of lemon zest or juice)
Instructions
To Make the Dough
Add flour, shortening, baking powder, and salt to the bowl of a food processor and mix/pulse until you obtain a sandy mixture. You can do this by hand if you don't have a food processor (use a fork or a whisk to alternate breaking up the shortening and mixing)

On a clean work surface or in a large mixing bowl, add sugar, orange zest, and eggs to the sandy mixture and then knead to form a soft dough.

If necessary, add milk a little at a time if the dough is too dry.

Cut the dough into 4 equal pieces and roll into log shapes. Store in plastic bag while making filling. May chill overnight if desired.
To Make the Filling
Soak raisins (and figs if they are very dry/brittle) in hot water for about 10 minutes to rehydrate them.

Drain, and then add raisins to the clean bowl of a food processor with all the other ingredients including the nuts (except hot water) and mix until you get a thick smooth paste.

If necessary, add some hot water (a tablespoon at a time) if mixture is too dry or will not smooth out.
To Fill and Bake the Cookies
Preheat oven at 375 degree F.

On a clean work surface, dust surface with flour and roll out each log into a long rectangle that is approximately 24 inches long by 6 to 8 inches wide.

Divide the filling by 4. For each strip of dough, add a strip of filling to the center and then fold the edge of the dough over to seal the filling inside. Roll the filled logs gently to seal.

Slice each log into about 24 pieces (each piece, about 1 inch wide) and place on lined cookie sheet (I use parchment or silicone baking sheets)

Bake for 15 to 20 minutes until cookies just begin to get some color.
To Make the Frosting and Decorate the Cookies
While cookies are cooling, make frosting.

In a small bowl, add powdered sugar and one tablespoon of milk (and lemon if using) at a time until you get a very thick frosting. Drizzle the frosting over the cooled cookies and then while frosting is still wet, decorate with sprinkles.
Nutrition
Calories:
178
kcal
Carbohydrates:
26
g
Protein:
3
g
Fat:
8
g
Saturated Fat:
2
g
Cholesterol:
8
mg
Sodium:
20
mg
Potassium:
161
mg
Fiber:
2
g
Sugar:
13
g
Vitamin A:
22
IU
Vitamin C:
2
mg
Calcium:
36
mg
Iron:
1
mg
Interested in More Recipes?
SUBSCRIBE to get recipes delivered to your email 🙂