This recipe is from my Italian born mom who has been baking pignoli cookies for over 40 years! These chewy, delicious cookies contain only 3 major ingredients and no flour. This recipe does not require almond paste, it uses almond flour instead so it is much less expensive to make.
What are pignoli cookies?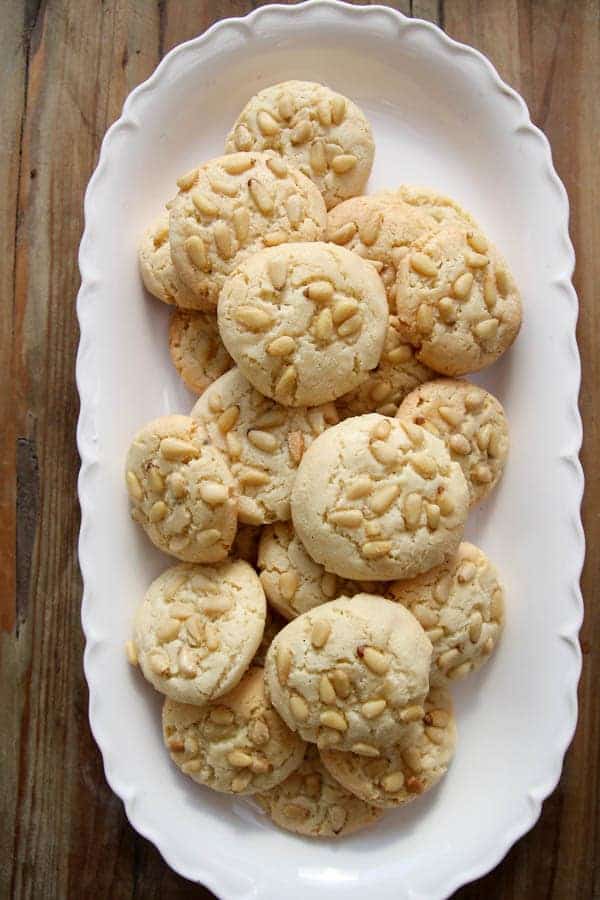 A variety of Italian cookies were made by mom and many other Italian American families in the Philadelphia area, including this pignoli cookie, which is a "no almond paste needed" recipe - much cheaper to make! Another very popular Italian cookie is something called the Italian wedding cookie.
The pignoli cookies are one of my mom's speciality (probably because it is her favorite cookie). She has been making this recipe for sooooo many years that I've lost count! I'm estimating that she makes about 1000 of these cookies a year!
These cookies seem fancy (pignoli is Italian for pine nut) but they are incredibly easy to make at home. And, although they cost a small fortune at the bakery (if you can even find them), they are not expensive to make at home (unless you are using a recipe that calls for almond paste, which is expensive).
There are only 3 main ingredients (almond flour, sugar, eggs) plus almond extract and of course, pine nuts (pignoli) to top them.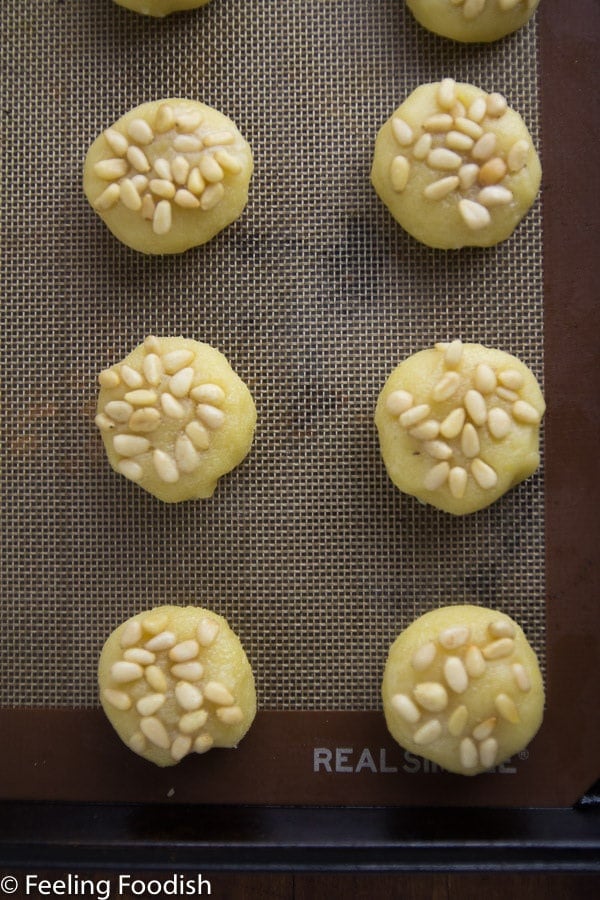 Dough consistency
I was surprised to see that dough for these cookies is rather stiff (see photo below) but it is NOT dry. You may have to add an extra egg if your dough is too dry. My mom recommends a ratio of 1 pound almond flour: 1 pound sugar: 2 large eggs. Add the extract and pine nuts topping and viola, you have these cookies!
Forming the cookies
This recipe is enough to make 40 cookies (2 half sheet pans)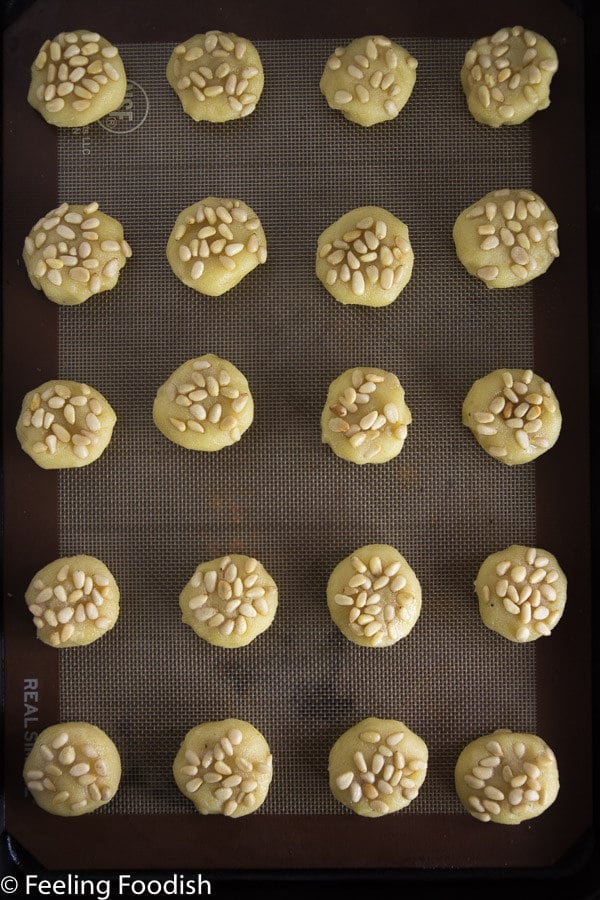 My mom seems to be able to fit a good amount of the unbaked cookies (20 cookies!) per ½ sheet pan: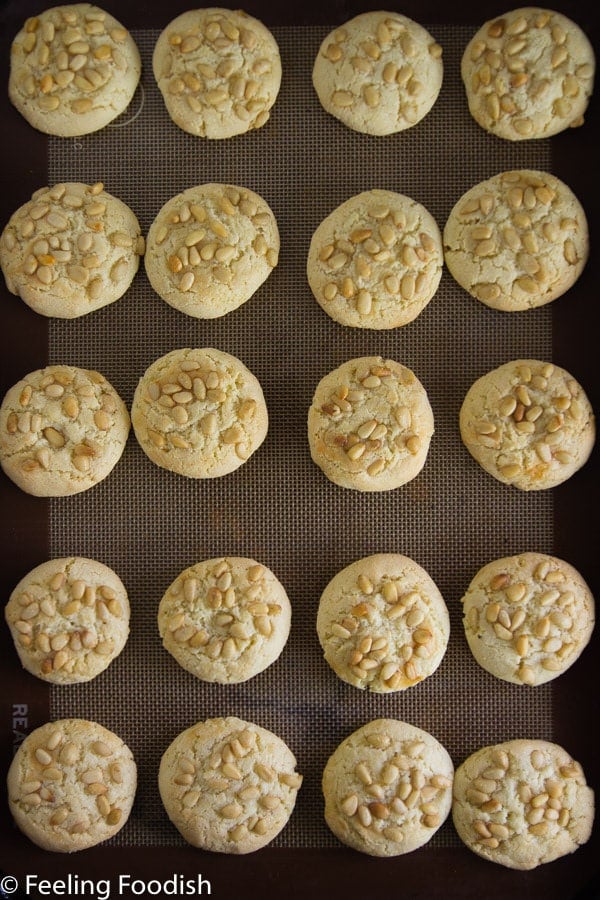 As you see here, they don't expand too too much after they are baked (they get about 30% bigger). I was concerned that they would spread and attach but they didn't.
These are also a great option for those who follow a gluten-free diet, since they do not contain any wheat flour. These are great anytime you want a little treat!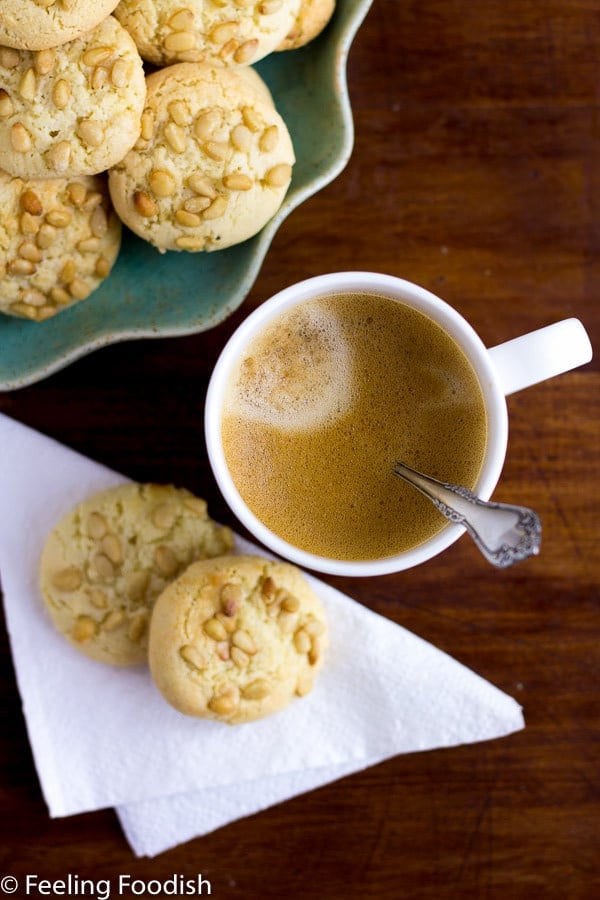 Storage
Place cookies in layers separated by waxed paper in an airtight container; cover.
Store at room temperature for up to 1 day, chill for up to 3 days, or freeze for up to 3 months.
Other Favorite Italian Cookies:
📖 Recipe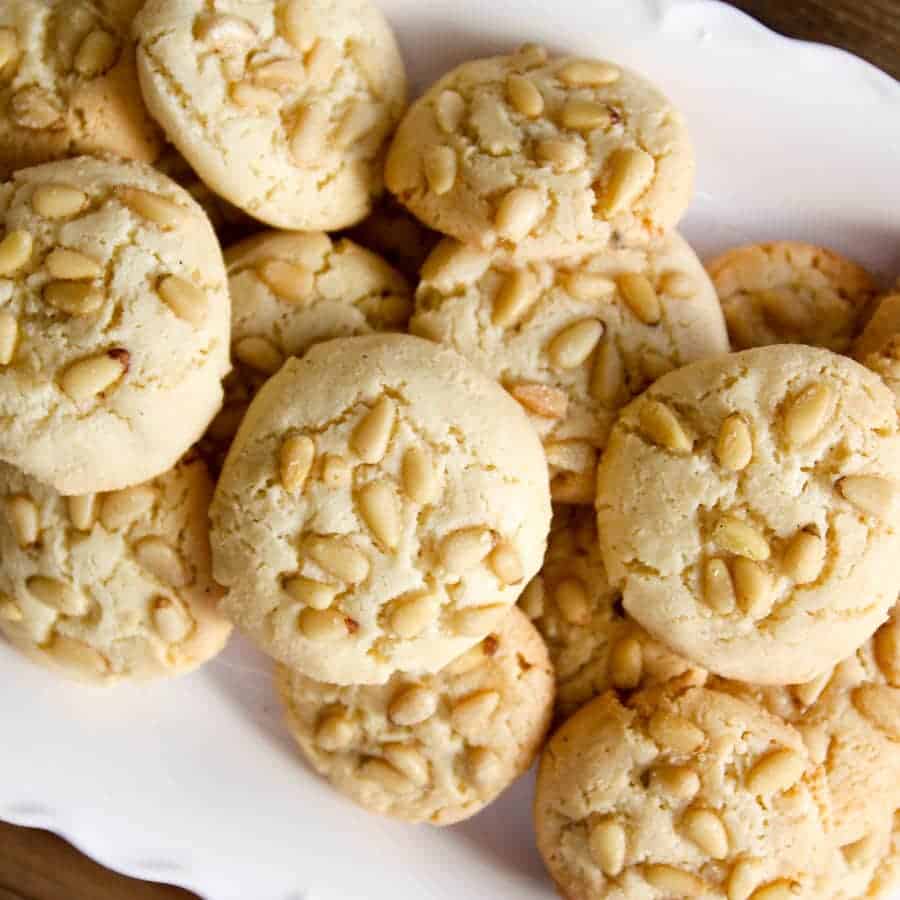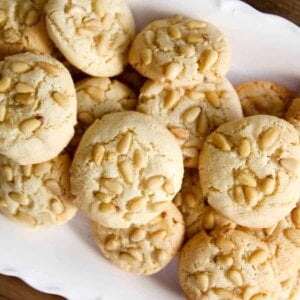 Pignoli Cookies
This authentic chewy heavenly pignoli cookie recipe uses almond flour, sugar, and eggs. No almond paste needed. Flavored with almond extract and topped with pine nuts, and baked in 20 minutes. Better than the bakery!! Makes 40 cookies but recipe can be halved
Ingredients
Cookie dough
4 ¾

cups

(

448

g

)

almond flour

(~1 pound total)

2 ¼

cups

(

466.67

g

)

sugar

(~1 pound total)

2

large

(

2

large

)

eggs

1

tablespoon

(

1

tablespoon

)

almond extract
To top cookies
1

large

(

1

large

)

egg white

½

cup

(

67.5

g

)

raw pignoli nuts

(~ 4 ounces)
Instructions
To make the cookie dough
Preheat oven to 340 degrees

Add eggs and about half of the sugar to the bowl of a standing mixer and beat on medium speed until the mixture is light and fluffy (see photos)

Add flour and remaining sugar and almond extract and beat until everything has been well incorporated. The texture will be somewhat stiff but not overly dry (see photos)

Line a cookie sheet with parchment paper or silicone baking mat.
Forming and topping the pignoli cookies
Form cookies into round balls that are a bit smaller than the size of a golfball

In a small container, add the egg white with about a tablespoon of water and mix. In another small flat container, add the pignoli nuts

Dip the top of each cookie into the egg white mixture, then dip into the nuts, slightly flatten the ball into a cookie shape, and place the cookie nut side up, on the lined cookie sheet

Bake cookies for about 20 to 22 minutes until just slightly golden. Do NOT overbake as the cookies will be dry. Begin checking your cookies after about 15 minutes as oven temperatures/power may vary.
Nutrition
Calories:
226
kcal
Carbohydrates:
27
g
Protein:
5
g
Fat:
11
g
Cholesterol:
21
mg
Sodium:
11
mg
Potassium:
10
mg
Fiber:
2
g
Sugar:
23
g
Vitamin A:
30
IU
Calcium:
51
mg
Iron:
1
mg
Interested in More Recipes?
SUBSCRIBE to get recipes delivered to your email 🙂