This is a super easy recipe for Italian-style baked turkey meatballs that comes together in minutes. I like to let the meatball mixture marinate in the refrigerator for a few hours or even overnight (so easy for make ahead dinner) before cooking, but that is completely optional!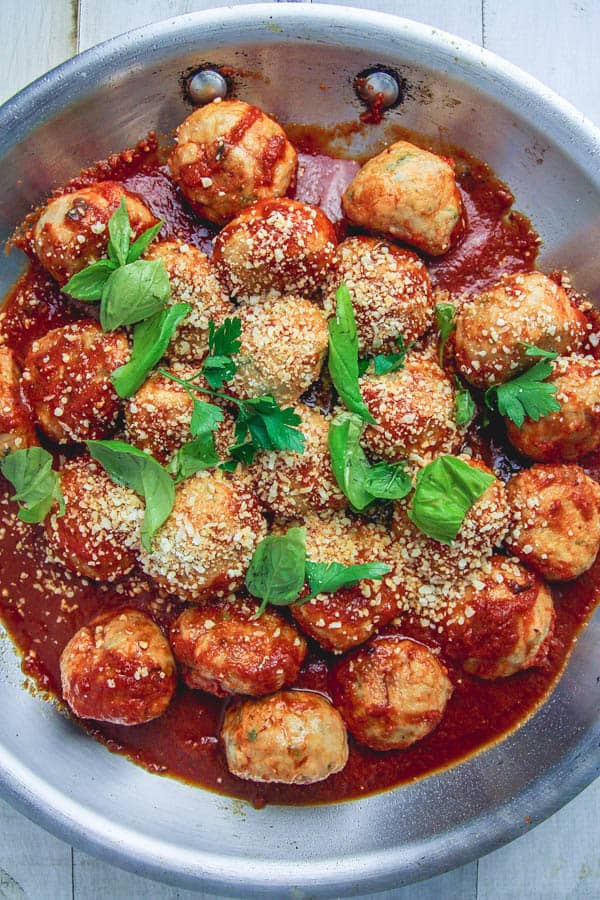 Baked Turkey Meatballs Are an Easy Weeknight Meal
The best part of this baked turkey meatball recipe is that it is so easy to throw together and cook. All you have to do is mix the ingredients together in a bowl, roll them into balls, and pop them in the oven. Then you're only 20 minutes away from a delicious, home-cooked, Italian meal!
I love these turkey meatballs because, much like my turkey burgers, they are such an easy weeknight meal or even great for those busy weekends! One key reason this recipe is labeled as "easy" is because I chose to bake them to avoid the hassle and mess associated with frying meatballs. Honestly, I may never fry meatballs again after trying them this way!
Key Ingredients for These Meatballs
These turkey meatballs consist of a simple mixture of the following ingredients:
Ground turkey: Don't go with the ultra-lean variety. 80/20 works best for this recipe.
Onion: Yellow, sweet, or white onion would work well. Red, may be too strong, but it's up to you. Also, make sure to dice or mince the onion so it melts into the meat mixture while it cooks, yielding ultimate flavor.
LOTS of fresh basil: Whatever you do, don't use dried basil! The flavor won't be the same or nearly as good.
An egg: This helps bind the meatball mixture together.
Breadcrumbs: These also help bind the meatball mixture together and make more of a paste. Opt for Italian-Style over Panko.
Grated cheese: Freshly grated Parmesan is best, but the pantry-safe kind is fine, too.
Garlic: You'll use three cloves total for this recipe, minced.
Salt and pepper: I recommend one and a half teaspoons of salt and have a teaspoon of pepper, but you can use more or less depending on your preference.
Dried oregano: This gives the meatballs a true Italian flavor, and it compliments the basil well.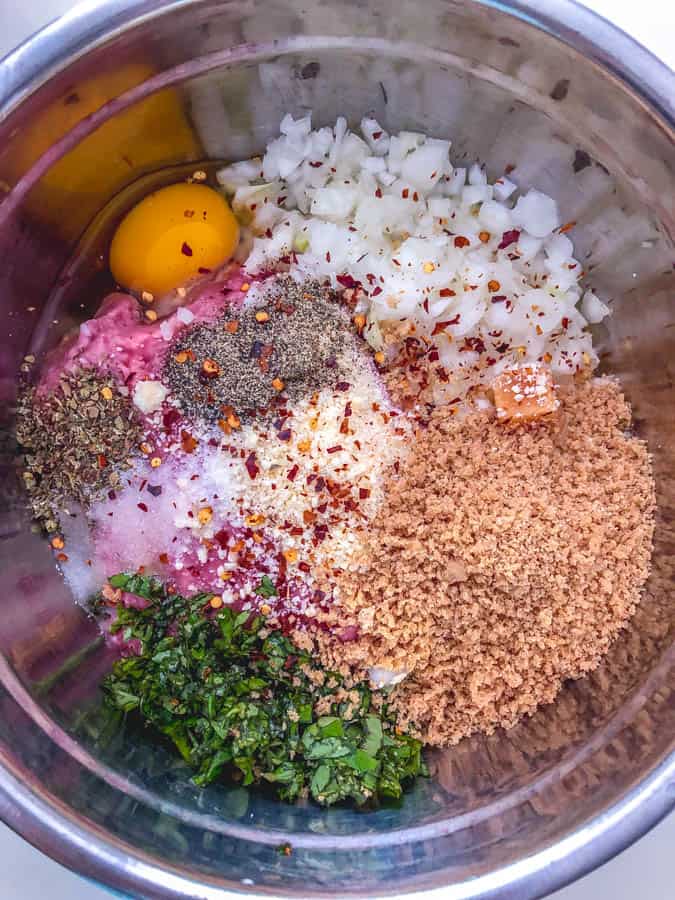 How To Make Baked Turkey Meatballs Step by Step
Simply combine all of the meatball ingredients in one large bowl (shown below). And preheat your oven to 350 degrees.
Next, portion the meatball mixture onto a prepared baking sheet and pour a bit of flour to help roll them into round balls, as the mixture is quite sticky.
TIP: You could also spray your hands with nonstick spray intermittently to prevent the meatball mixture from sticking.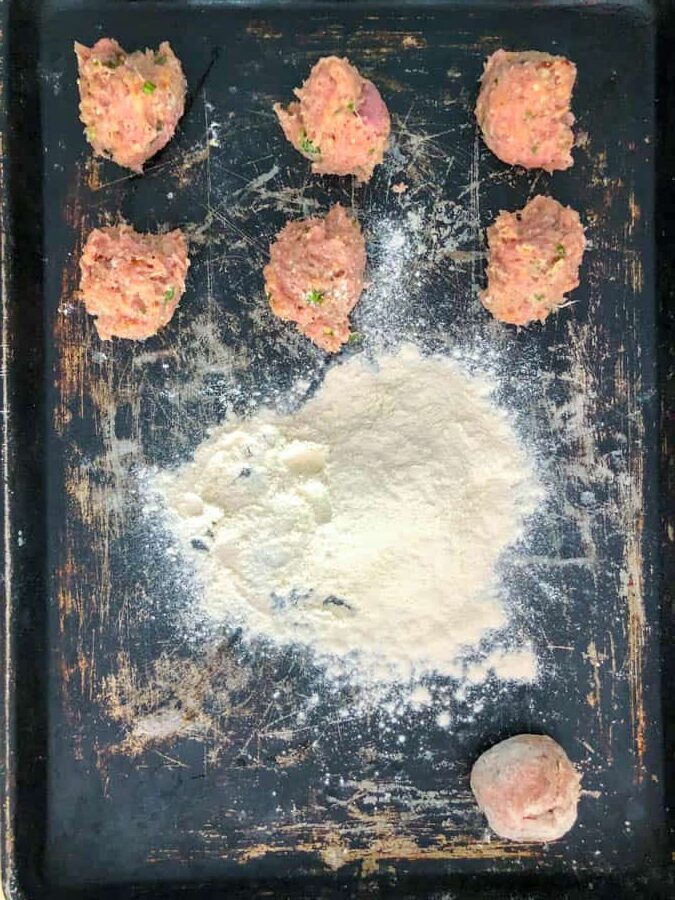 All finished rolling? Next, line the meatballs up on the tray and bake for 20 minutes. Here's how mine looked after they were all rolled out and about to go into the oven: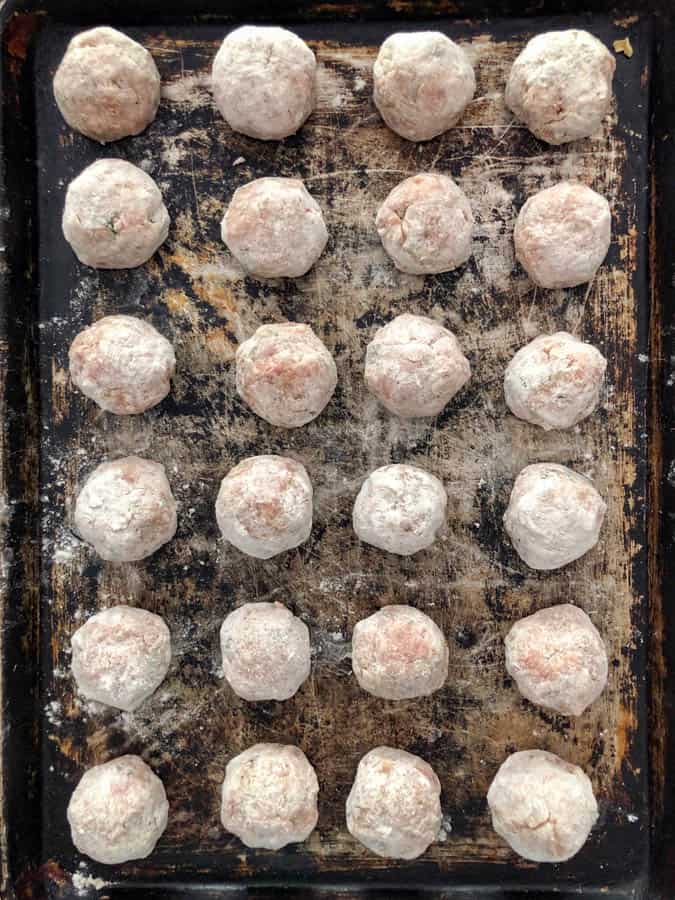 Trust me, you won't miss the frying! Look at how good these look fresh out of the oven. *Insert heart eyes emoji*
I baked these for 20 minutes, and they turned out perfect. However, the baking time depends on how large or small you make your meatballs. Just keep an eye on them, and once they're golden brown, they're done!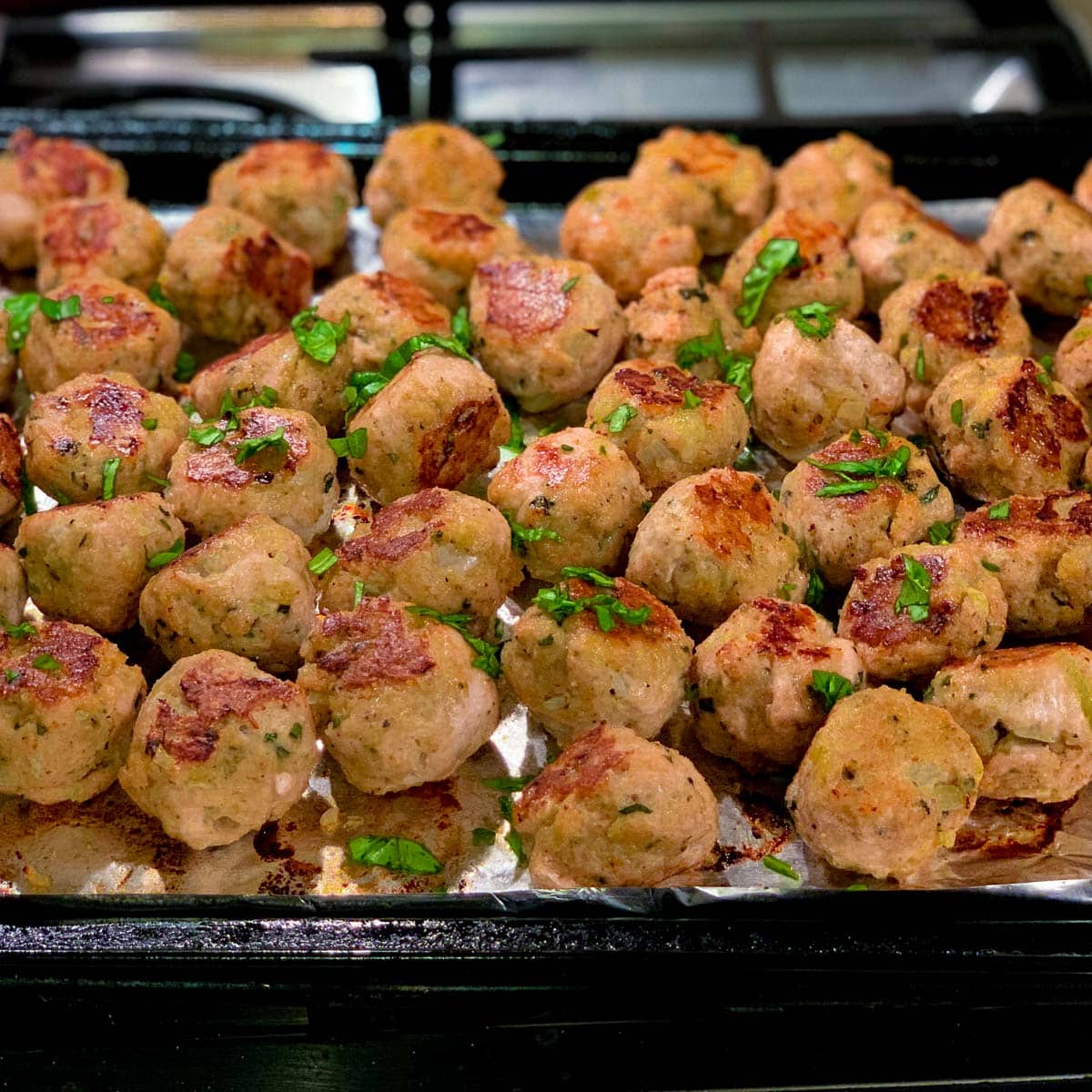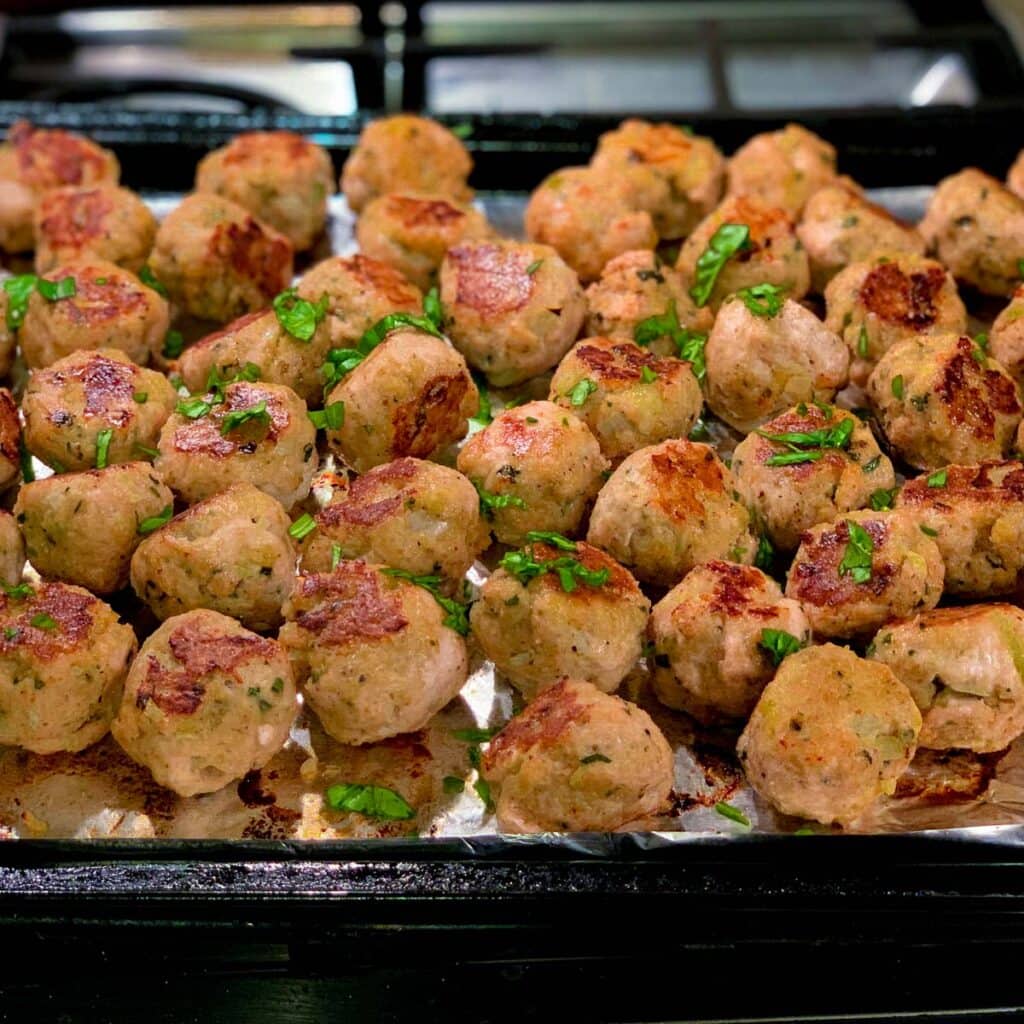 You can see the little flecks of basil, which is one of my favorite herbs and a staple in Italian cooking! If you don't have fresh basil, lots of stores carry frozen cubes of it. The dried basil doesn't make a good substitute in this recipe because basil changes flavor when dried, so you must use fresh.
Tips for Success
Don't use an ultra-lean turkey for these meatballs. A little fat will add to the flavor and allow them to remain moist (use 80% lean)
If time allows, you can let the mixture sit in the refrigerator, covered, to allow for the flavors to meld and marinate.
Use fresh basil! Dried is not a good substitute. If basil is not in season, try looking for fresh frozen basil
Use a scooper (ie, ice cream scooper) or large spoon to portion the meatballs equal in size so they all cook evenly
The turkey mixture is often very wet, so I like to roll the turkey meatballs in a bit of flour to prevent the mixture from sticking to your hands.
You can also spray your hands with some nonstick spray to prevent the meatball mixture from sticking to your hands.
How To Make Air Fryer Turkey Meatballs
Preheat your air fryer to 400 degrees and spray basket with nonstick spray.
Follow instructions for mixing the baked turkey meatball mixture in a large bowl and shape into round balls using wither flour or nonstick spray to prevent sticking.
Place half the meatballs a single layer in air fryer basket and cook for 7-10 mins until lightly browned and cooked through. Shake halfway through.
Remove and keep warm in a 250-degree oven, and repeat with the remaining meatballs.
Serve warm and enjoy!
How To Serve Baked Turkey Meatballs
These baked turkey meatballs are a very versatile dish. I like to top these baked turkey meatballs with a simple red spaghetti sauce and LOTS of grated parmesan cheese (fresh, if possible).
They can also be eaten in a sub sandwich topped with melted mozzarella cheese and more fresh basil, or even served as an appetizer.
Looking for a low-carb option? Serve these turkey meatballs over cauliflower rice or veggie noodles for a healthy, comforting meal.
Of course, you can always serve them with spaghetti noodles for a classic meal of spaghetti and meatballs. Bellissimo!
How To Store and Freeze These Baked Turkey Meatballs
These baked turkey meatballs can be stored or frozen and then reheated for future use.
Store any leftover meatballs in an airtight container or Ziplock bag in the refrigerator for up to five days.
Freeze leftover fully cooked meatballs in a freezer-safe container or Ziplock bag for up to six months. Like with any meat, beware of freezer burn!
Reheat refrigerated meatballs in the oven at 350 degrees for 10-15 minutes.
Reheat frozen meatballs by letting them thaw in the fridge overnight and then warming in the oven as explained above.
More Italian Recipes To Try
If you liked these easy baked turkey meatballs, then you'll love these other Italian recipes: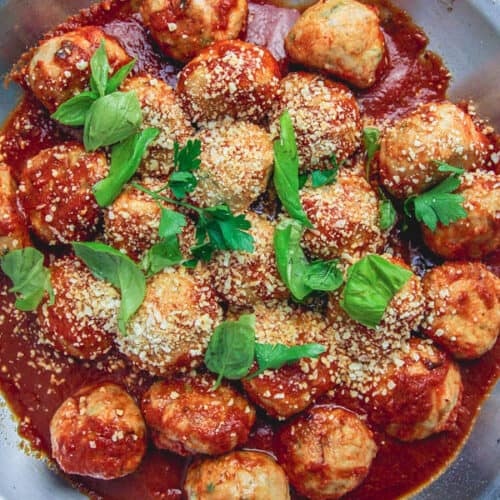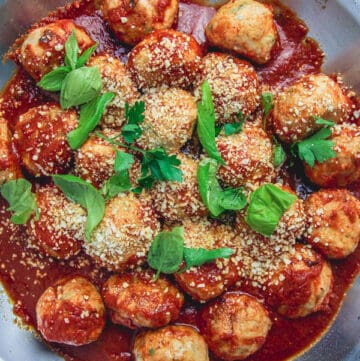 Baked turkey meatballs
This is a super easy recipe for baked turkey meatballs Italian-style that comes together quickly. Can easily be made ahead or cooked and then frozen.
Ingredients
For the meatball mixture
2

pounds

(

907.18

g

)

ground turkey

don't use ultra lean (use 80/20)

1

medium

(

1

medium

)

onion

finely diced/minced

½

cup

(

12

g

)

basil

chopped, loosely packed

1

(

1

)

egg

½

cup

(

50

g

)

parmesan

grated

½

cup

(

54

g

)

breadcrumbs

unseasoned

3

cloves

(

3

cloves

)

garlic

1.5

tsp

(

1.5

tsp

)

salt

½

tsp

(

½

tsp

)

black pepper

1

tsp

(

1

tsp

)

dried oregano

all purpose flour

enough for rolling the meatballs
For serving
56

ounces

(

1587.58

g

)

marinara sauce

3

ounces

(

85.05

g

)

parmesan

grated
Instructions
Preheat oven to 350 degrees

Add all ingredients for the meatball mixture, except for flour, to a large mixing bowl

Gently combine the ingredients

Using a large spoon or ice cream scooper, drop equal portions of the mixture onto a baking sheet

Sprinkle each portion with all purpose flour and roll into a ball, adding a bit more flour if necessary to aid in rolling as the mixture will be quite sticky

Transfer rolled meatballs to a clean baking sheet and bake in preheated oven for about 20 minutes. You may turn the meatballs halfway through cooking (at about 10 minutes)

Top with your favorite red sauce (optional)
Nutrition
Calories:
95
kcal
Carbohydrates:
6
g
Protein:
12
g
Fat:
3
g
Saturated Fat:
1
g
Cholesterol:
31
mg
Sodium:
621
mg
Potassium:
352
mg
Fiber:
1
g
Sugar:
3
g
Vitamin A:
375
IU
Vitamin C:
5.2
mg
Calcium:
85
mg
Iron:
1.2
mg
Interested in More Recipes?
SUBSCRIBE to get recipes delivered to your email 🙂