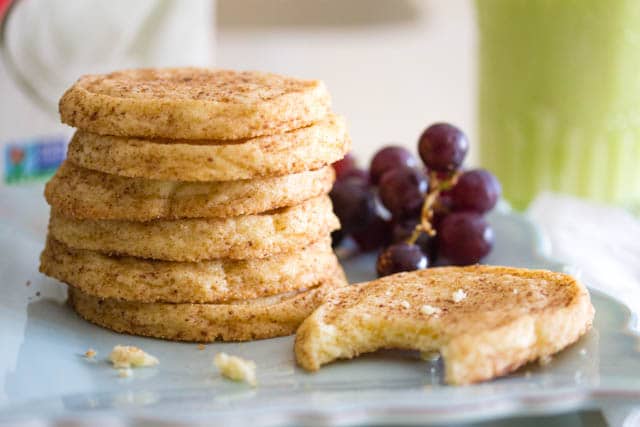 These are my youngest daughter's favorite cookie. She loves snickerdoodles and with good reason.
I have read that some people experience problems with spreading while making snickerdoodles. I didn't have such a problem, although I should mention that I didn't bake the dough the same night that I made it. I'm not sure if this helped or not. Of course, baking with cold dough will help prevent spreading, but I took the dough out of the refrigerator while the oven warmed. The dough had warmed up a bit when it was baked and the cookies still stood up well.
One common problem that causes cookies to spread involves over-creaming the sugar and butter mixture. You should make sure that you scrape down the sides of the bowl to ensure that the ingredients are sufficiently mixed, but you shouldn't cream them too much. A minute or 2 should suffice. Using a low-protein (10 to 12%) bread flour can also prevent spreading. I used King Arthur bread flour and it worked out very well.
Another problem that can cause cookies to spread are baking them at too low of a temperature. If you are using a home oven that is non-convection, try baking at 375 degrees instead of 350 degrees. Too low of a temperature can also dry out your cookies. I formed the dough into a log and sliced them at a thickness of about 3/8″, which is halfway between 1/4 inch and 1/2 inch.
Everyone likes soft snickerdoodles. It can be difficult for a beginner baker to visualize when the cookies are done because if they become browned, chances are that they will be overdone. Cookies tend to set up a bit more after they are taken out of the oven. To test if cookies are done, try lifting the edge of a cookie slightly. If it lifts off the cookie sheet, chances are that your cookies are done!
Here are more tips about common cookie mistakes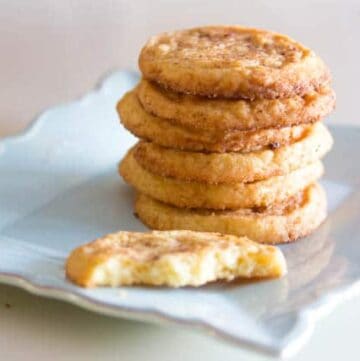 Ingredients
For the cookie dough:
1

cup

butter

, 8 ounces (room temperature)

Granulated sugar

, 10 oz (1.5 cups)

Eggs

, 2.5 oz (1 extra large egg) (room temperature)

Vanilla extract

, 1.5 teaspoons

Bread or all-purpose flour

, 10.5 oz (2.5 cups)

Salt

, 1/2 teaspoon

Baking powder

, 1 teaspoon
For the sugar topping:
granulated sugar

, 3.5 oz (1/2 cup)

cinnamon

, 1 tablespoon
Instructions
For the sugar topping:
Combine the sugar and cinnamon and set aside until ready to bake.
For the cookie dough:
In a large mixing bowl, beat the butter and sugar until combined (don't over-beat, as this will cause spreading), ensuring that you scrape down edges of bowl intermittently

Add eggs and vanilla slowly and mix until combined

Combine flour, salt, and baking powder and then gently stir in mixing bowl until combined

Arrange dough into a log form and wrap with plastic wrap

You may refrigerate until ready to use

Slice log into 24 to 30 cookies (3/8 inch each) and dip into cinnamon-sugar mixture to coat

Arrange on parchment-lined cookie sheet and bake at 350 (convection) or 375 (nonconvection) for 10 to 12 minutes.