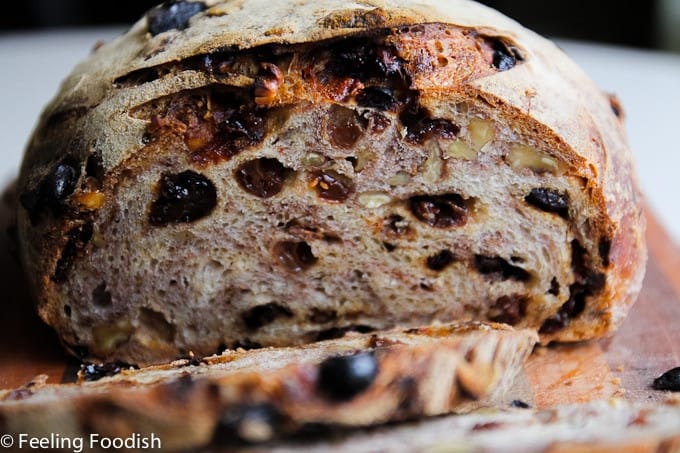 This is another favorite, and it is no-knead. I absolutely loved this bread. This particular loaf never lasts long in this house. Personally, I like to have a slice in the morning, with a bit of butter on top, but anytime is good if you ask me.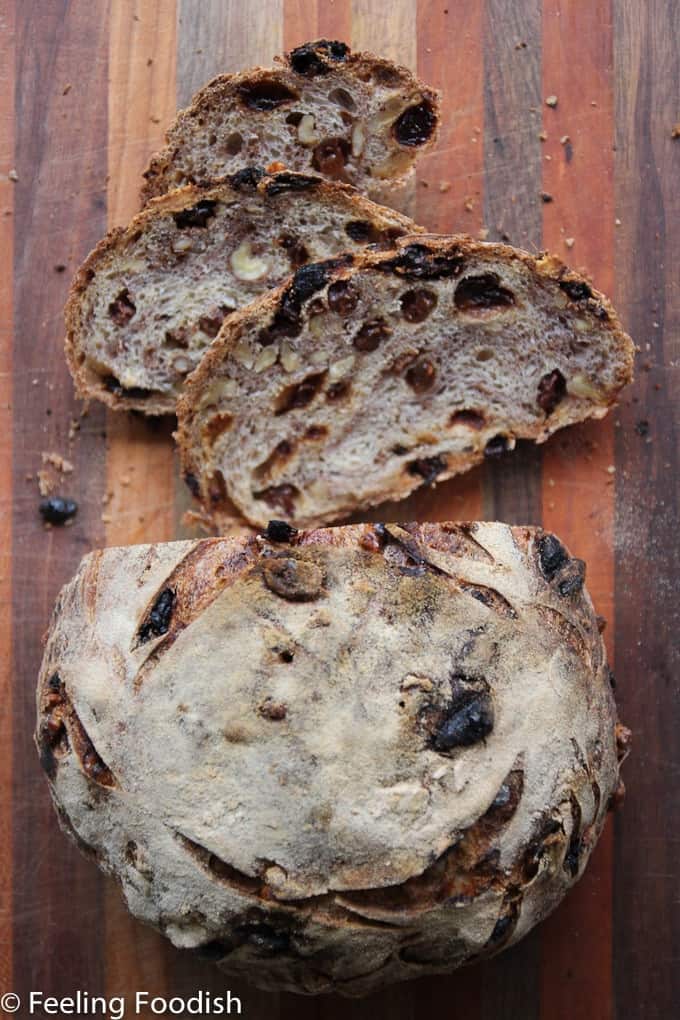 It's an easy bread to make compared to some others especially since it's no-knead. No folding, no kneading, and yet - it tastes great. I will typically stir together the ingredients at night, around 9 or 10 PM and then form the loaf in the AM after I wake up. It does take another 2 hours to rise in the morning and then another hour or so to bake it so it's not going to be ready for breakfast but it keeps pretty well and I love it toasted anyway.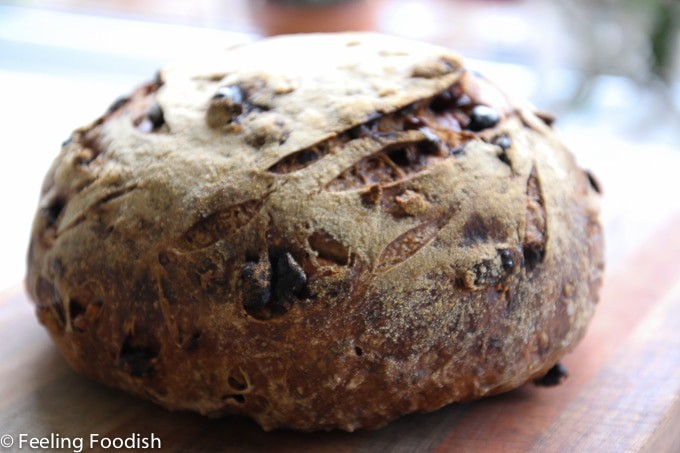 This particular day, I had to run out to an appointment, and so there was no time for baking in the morning. I formed the loaf and set it in the refrigerator. It rose quite a bit in the refrigerator, I was surprised and a little worried that it might be overproofed but it rose nicely in the oven. The next time I bake this loaf, I will try to bake as recommended by King Arthur, in a cold oven (that is, you place the bread in at the same time that you turn on the oven). I preheated the oven for 30 minutes and then baked it.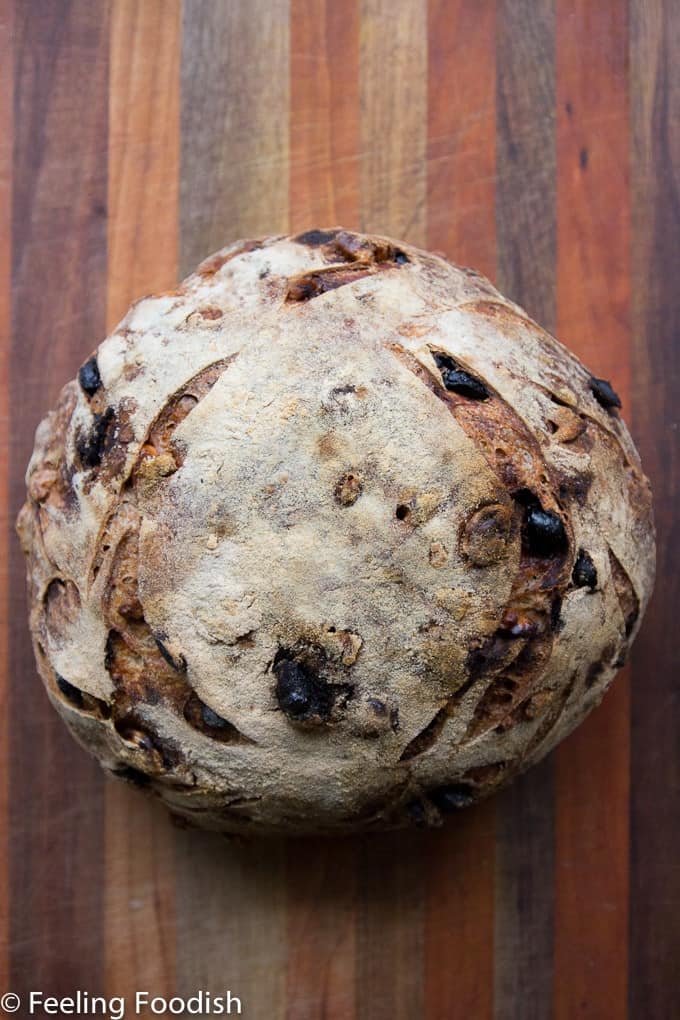 This loaf would also be nice with pistachios for a lovely green and red theme around the holidays.
Recipe from King Arthur
📖 Recipe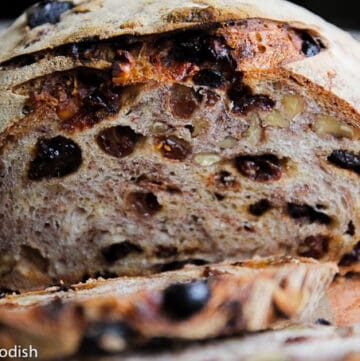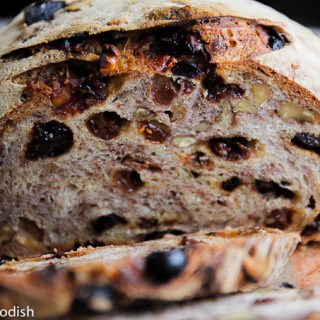 No Knead Harvest Bread
Easy no-knead harvest bread with whole wheat, walnuts, and dried berries
Ingredients
3 ¼

cups

(390 grams) of bread flour

1

cup

(113 grams) of white whole wheat flour

2

teaspoons

salt

½

teaspoon

instant yeast

1 ¾

cups

(397 grams) cool water

¾

cups

(92 grams) dried cranberries or cherries

½

cup

(85 grams) golden raisins

1

cup

(113 grams) coarsely chopped pecans or walnuts
Instructions
Mix flours, salt, yeast, and water in a large bowl until a sticky dough forms

Add dried fruits and nuts to the dough and mix to combine

Cover the bowl with a large dish or cling wrap and allow the dough to rise at room temperature for at least 8 hours or overnight

Turn dough out onto a lightly floured countertop and form into round or oval loaf and place seam side up into a brotform basket or seam side down into a greased 9 by 13 oval casserole dish

Allow loaf to rise for about 2 hours (I placed mine directly into the refrigerator for 6 hours because I did not have time to bake in the morning)

Preheat oven for at least 30 minutes at 450 degrees F with baking stone or baking steel in lower position (if using a dutch oven, heat this also)

Score top of loaf with lame, knife, or scissors, and place loaf into oven

Bake covered for 20 minutes and then uncovered for about 30 to 40 minutes (50 to 60 minutes total) until center is 205 degrees F.

Cool before slicing

For more information on baking, including baking in a cold oven, follow

this link
Notes
I should note that I used 300 grams of white wheat and 200 grams of all purpose flour in the loaf pictured here.
Nutrition
Calories:
192
kcal
Carbohydrates:
33
g
Protein:
5
g
Fat:
5
g
Saturated Fat:
0.5
g
Polyunsaturated Fat:
2
g
Monounsaturated Fat:
3
g
Sodium:
294
mg
Potassium:
118
mg
Fiber:
3
g
Sugar:
7
g
Vitamin A:
5
IU
Vitamin C:
0.2
mg
Calcium:
15
mg
Iron:
1
mg
Interested in More Recipes?
SUBSCRIBE to get recipes delivered to your email 🙂