This is my favorite recipe for fish fry batter. Inspired by my trip to "England" in Epcot, this really hits the mark! Crispy and so flavorful. You'll think you are in an English Pub. Serve with fries and plenty of tartar sauce or malt vinegar!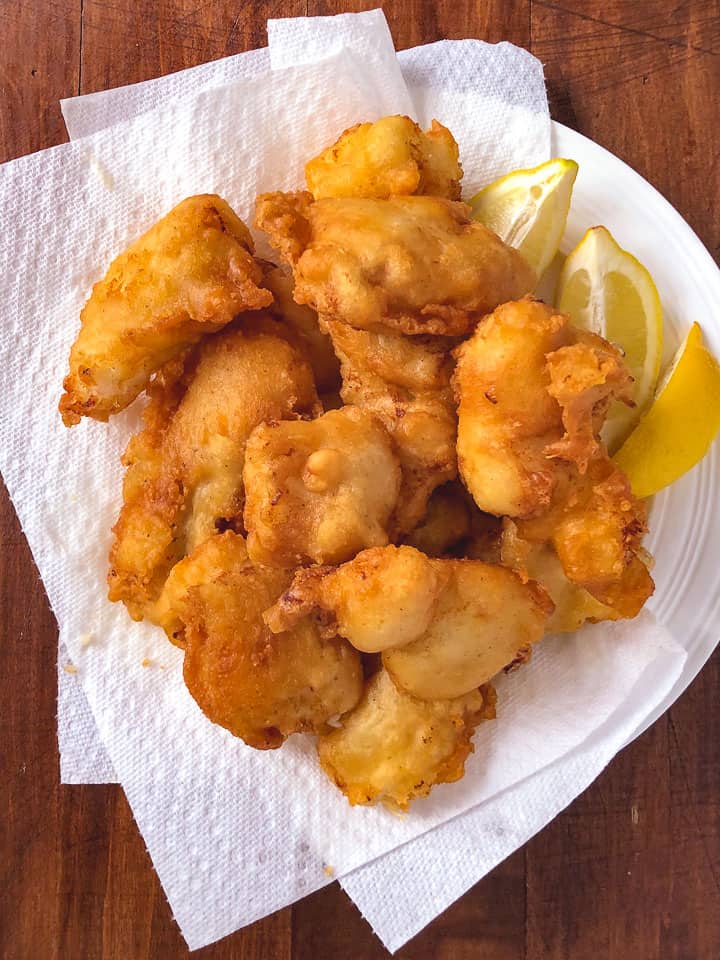 This is another one of those recipes that I've wanted to post for a while now. We've made it a few times, always with great results. My husband grew up eating fish fry in upstate (central?) NY, which is another version of frying fish. But this recipe is the British version - think fish and chips - and it uses a fish fry batter, not breading.
I used some very fresh fish, which was amazing. Thick fish fillets are necessary. Cod or haddock work best, but I used what I had on hand.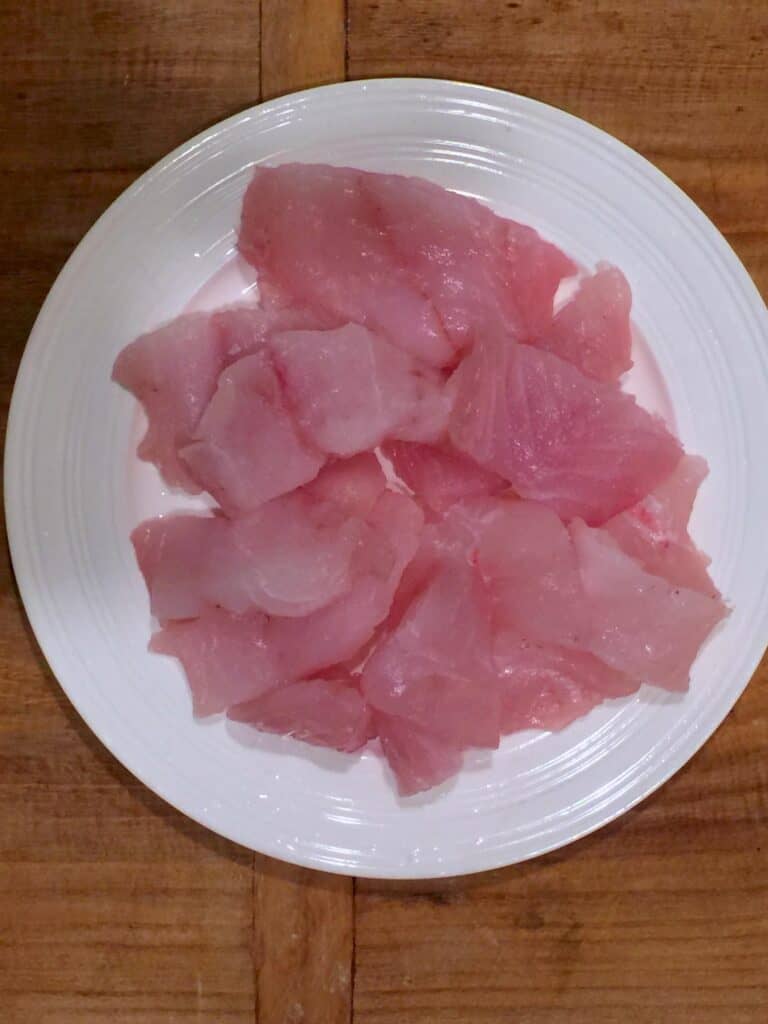 Cut the fish like so (or even smaller) because when you batter and fry it, it will just about double in volume!

The batter is made from 4 simple ingredients: flour, beer, baking powder, and salt. You can combine the flour, baking powder, and salt ahead of time in a bowl, and then leave the bowl in the refrigerator until you are ready to fry.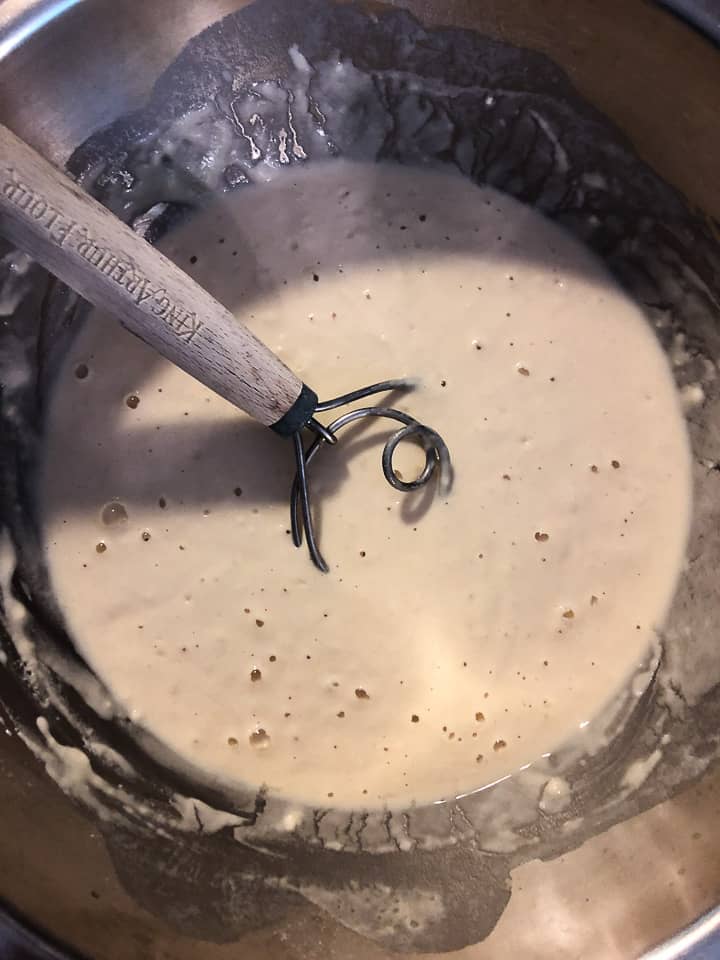 Dip in your fish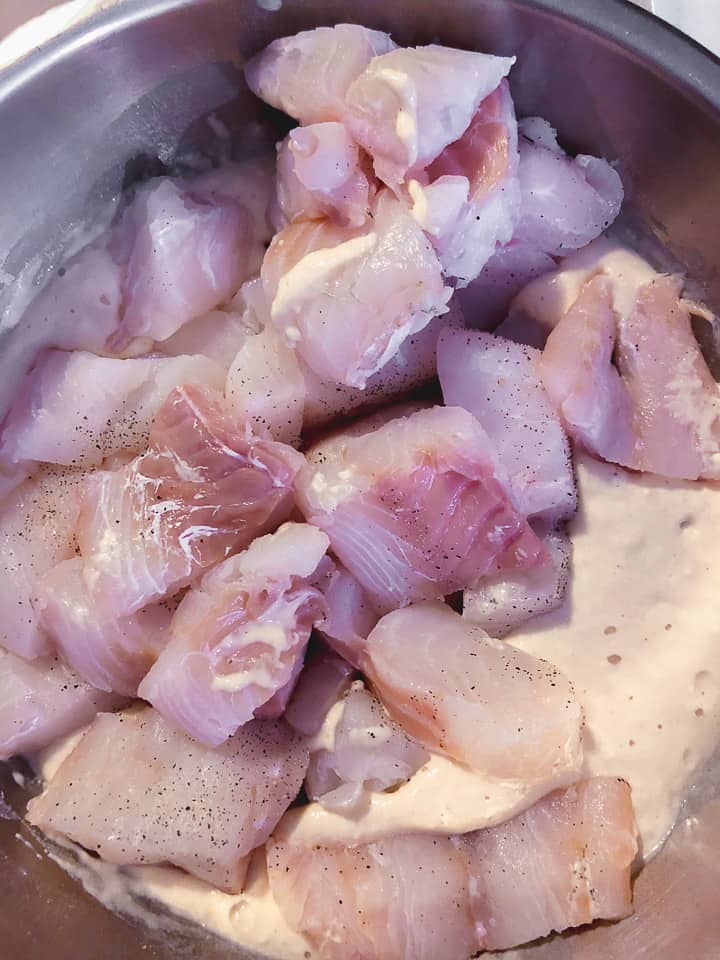 When your oil is hot enough, add your very cold beer to the flour and stir to combine.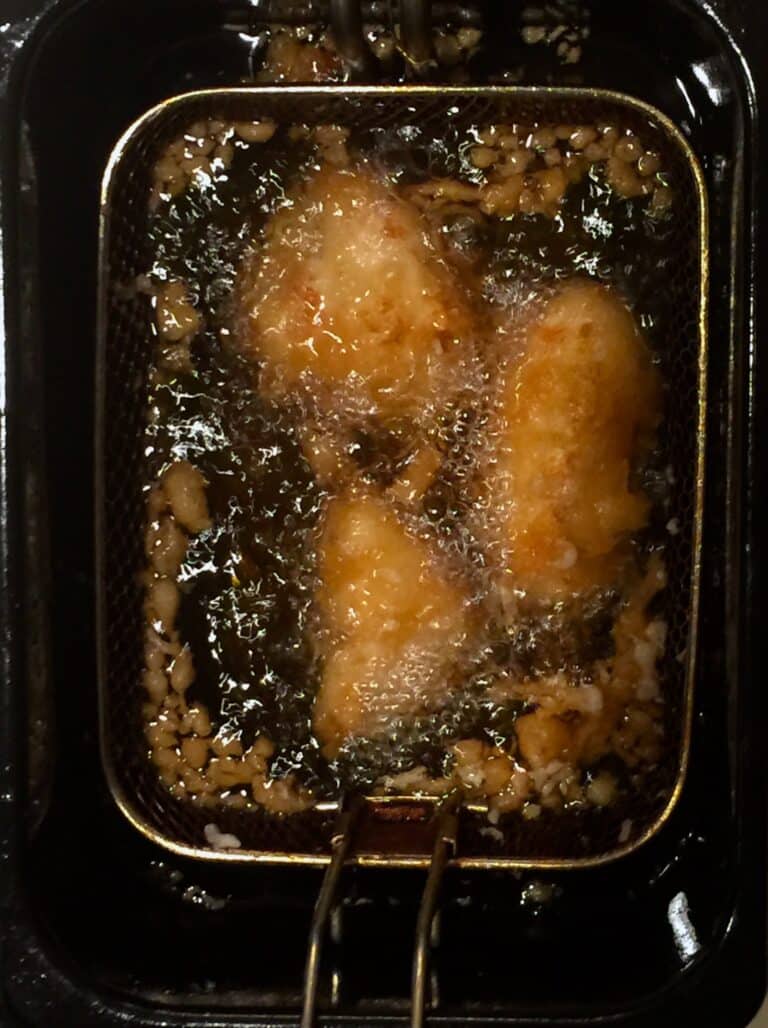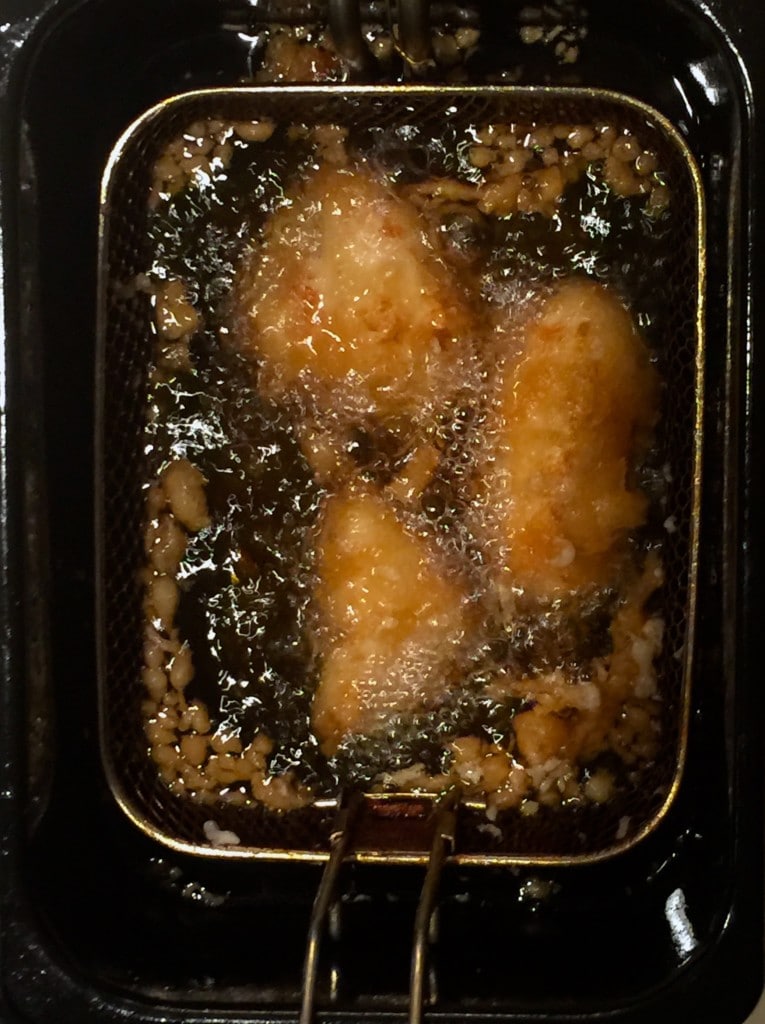 Drop the fish in the batter and then fry away! You need to work in small batches or you run the risk of having the fish stick together.
Outside you will have a very crisp and lovely coating while inside is perfectly moist tender fish. So good. I ate mine with malt vinegar and my husband opted for tarter sauce.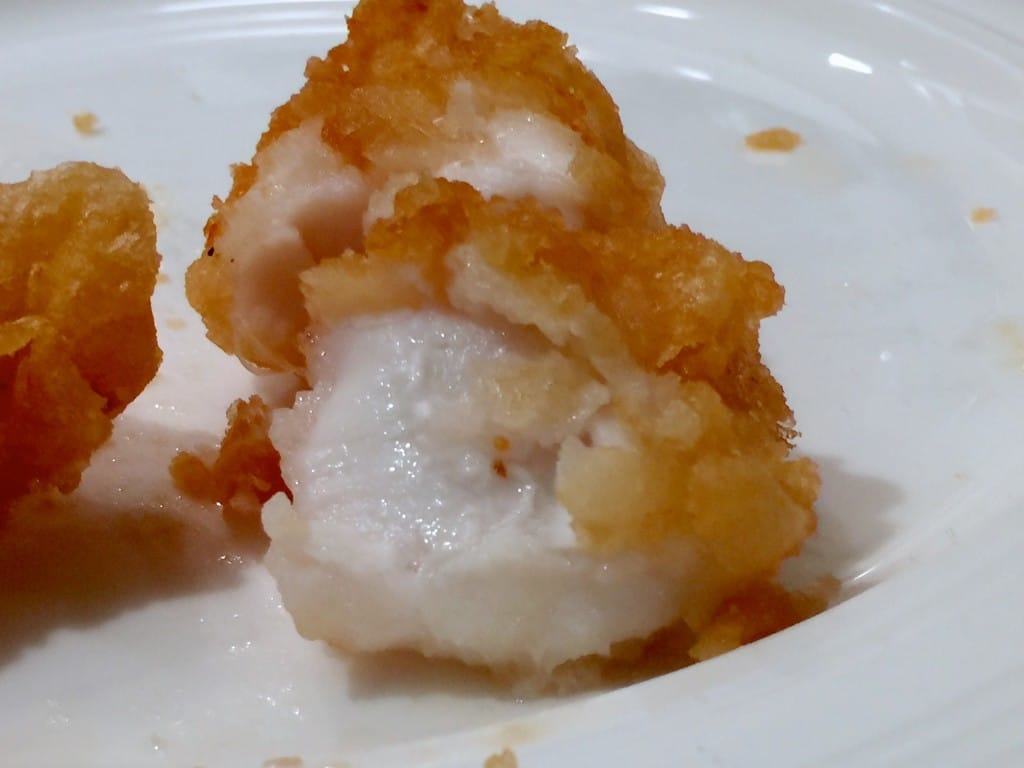 📖 Recipe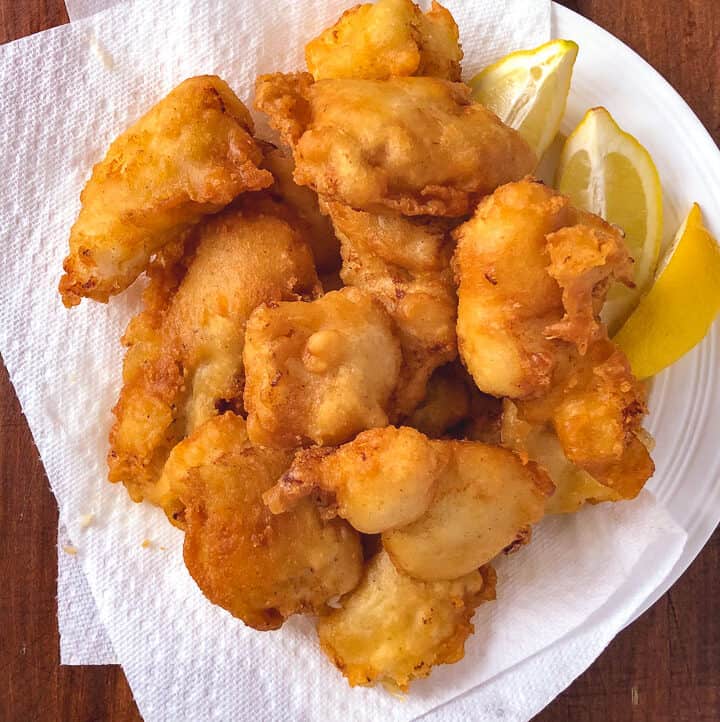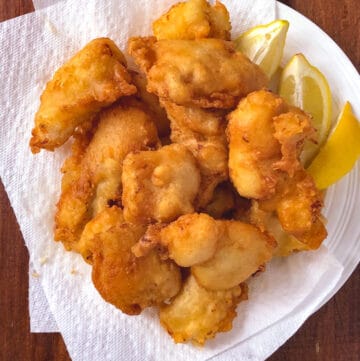 Fish fry batter
Easy and authentic fish fry batter to make fried fish - just add chips!
Ingredients
400

grams

all purpose flour

(about 3 ¼ cups)

3

teaspoons

baking powder

½

teaspoon

salt

550

ml

very cold beer

(about 2 ⅓ cups; you'll need 2 bottles but will have some leftover)

Oil

for frying

2

pounds

fish

thick cut into 1.5 inch strips
Instructions
Combine flour, baking powder, and salt and place bowl in fridge for at least 15 minutes.

Heat oil to 365 degrees F (165 C)

Just before you are ready to fry, pour cold beer into flour mixture, and whisk the mixture.

Add fish, a few (2 to 4) pieces at a time (depending on how large your cooking vessel is) and coat well in the batter. Allow the batter to drip off a bit before placing the fish in the fryer.

If using a deep fryer, add the fish when the basket is in the lower position or else it will stick to the basket. After adding fish, immediately shake the fryer basket a bit so the fish doesn't stick to the basket.

Fry for 4 to 6 minutes watching carefully for a golden brown color, and then transfer the fish to a plate lined with paper towels.

Enjoy!
Notes
Cooking time is 4 to 6 minutes per batch = about 15 mins to finish cooking all fish
Nutrition
Calories:
563
kcal
Carbohydrates:
55
g
Protein:
38
g
Fat:
18
g
Saturated Fat:
2
g
Cholesterol:
76
mg
Sodium:
279
mg
Potassium:
755
mg
Fiber:
2
g
Sugar:
1
g
Calcium:
115
mg
Iron:
4.1
mg
Interested in More Recipes?
SUBSCRIBE to get recipes delivered to your email 🙂
Source: Thanks to The Guardian for teaching me how to cook perfect battered fish. It's easy!