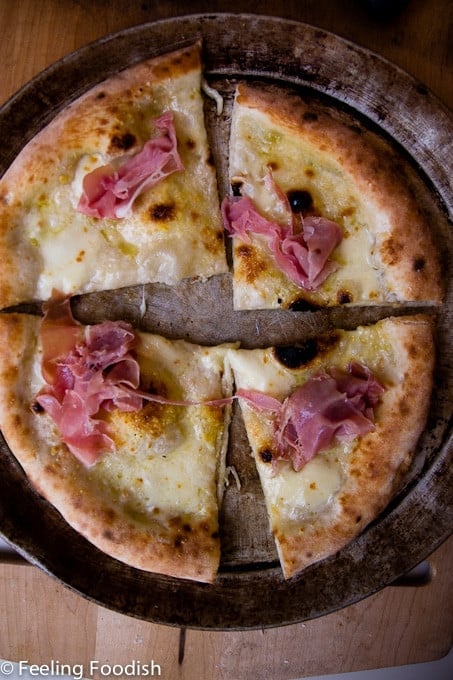 It's been a while now since I first shared my favorite NY pizza dough recipe. I've received so many positive comments, and I'm thrilled to know that many folks are as happy with the recipe as I am.
I love being able to make good pizzas at home. After a while, experimenting with new flavors becomes more and more interesting, especially since I love to try new foods.
Since purchasing my BlackStone oven, I've even been experimenting with making new doughs, namely by using 00 Italian flour since the Caputo flour has been specially designed to perform at very high oven temperatures. But, the 00 flour is not easy to find, even here locally in the Philadelphia suburbs where Italian foods have been so popular for so many years.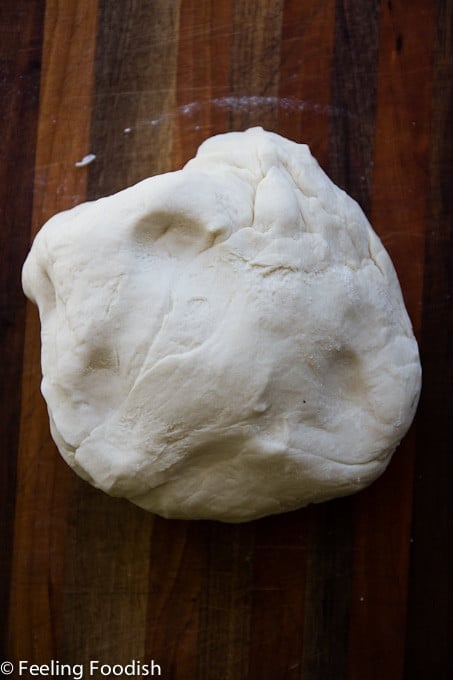 Experimenting with various toppings has also become routine around here over the past several years. And so, when the folks over at Vegas.com asked me to think about a pizza inspired by one of their Las Vegas hotels, I immediately thought of the Italian-inspired Bellagio.
To me, the one mark of great Italian foods is that they are not overly complicated, but instead use simple yet high quality ingredients to produce an incredible end product.
Based on that principle, I chose to make a white pizza, drizzled with olive oil, sprinkled with grated hard cheese, and topped with proscuitto crudo, and fior di latte (fresh mozzarella).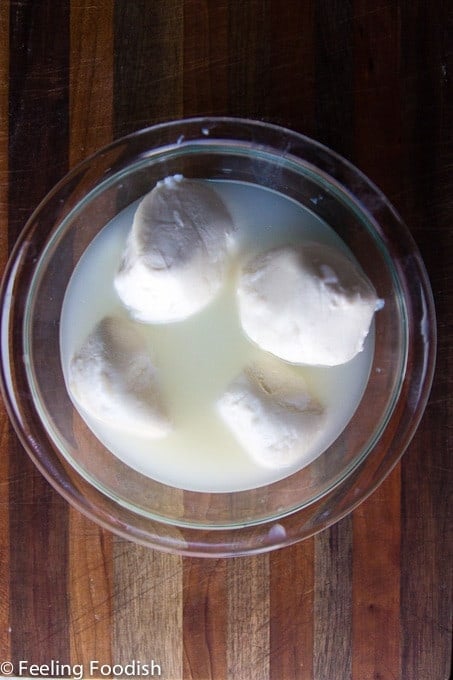 After forming the dough into the pizza shape, you simply drizzle some extra virgin olive oil on top along with a sprinkling of grated cheese (I used Parmesan) and chunks of fresh mozzarella (fior di latte)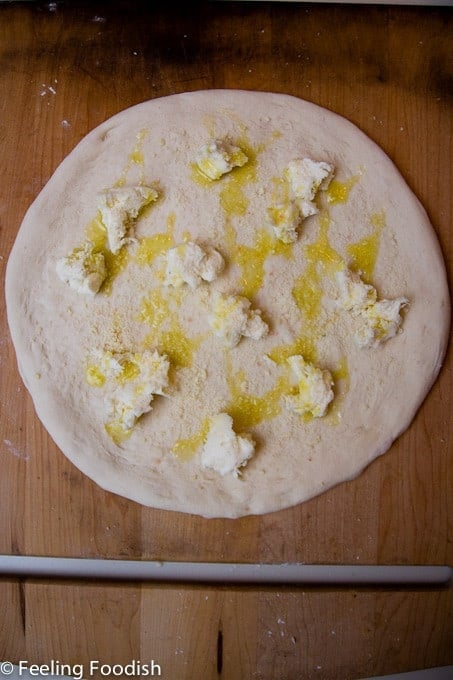 After baking, the pizza is removed and topped with a few slices of proscuitto crudo.
Serve with a nice salad and maybe even a glass of wine, and you'll be transported to beautiful Italia!
📖 Recipe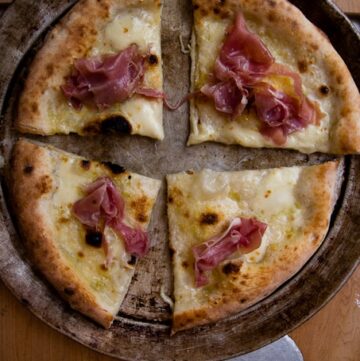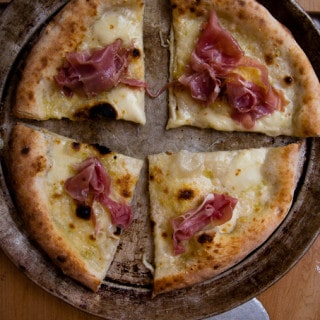 white pizza with fior di latte and proscuitto
Recipe for 4, individual-sized white pizzas with Italian ham (proscuitto) and imported mozzarella (fior di latte) cheese, drizzled with olive oil and grated cheese.
Ingredients
For the dough:
Flour

, bread flour or all-purpose*: 597.01 g | 21.06 oz (about 4.5 to 5 cups flour)

Water: 370.15 g | 13.06 oz

(about 1 ½ cups)

Instant Dry Yeast: 2.99 g | 0.11 oz |

(1 tsp)

Salt: 11.94 g | 0.42 oz

(2 tsp)

Oil: 5.97 g | 0.21 oz

(1.5 tsp)

Sugar: 11.94 g | 0.42 oz

(1 tbsp)

Total dough weight: 1000 g | 35.27 oz | 2.2 lbs

A single ball: 250 g | 8.82 oz | 0.55 lbs

(recipe makes 4 individual sized pizzas)
For each individually sized pizza:
pizza dough

, 250 grams (~9 ounces)

Fior di latte or fresh mozzarella

(½ ball), torn into chunks

Proscuitto crudo

, about 3 to 4 slices (use San Daniele or Parma proscuitto; domestic brands are overly salty and not very good)

Grated parmesan cheese

, about 2 tablespoons

Olive oil

, about 2 tablespoons
Instructions
For the pizza dough
Combine all ingredients in the bowl of a standing mixer, with the exception of the salt and oil and stir to combine

Add salt and knead until all flour is incorporated, then add oil and continue kneading for 5 to 10 minutes

Divide dough into 4 portions and seal into oil coated plastic containers or plastic bags and place in refrigerator for 1 to 3 days.

Take dough out of refrigerator and the containers about 30 to 45 minutes before using and place on countertop to warm up when ready to bake
To prepare pizza and bake
In a conventional oven, insert a pizza stone or steel within 6 to 8 inches of the top of your oven and preheat for at least 45 minutes prior to baking

Just before the oven is ready, form the dough ball into a round shape, taking care to leave slightly more dough around the rim and place on parchment paper or a lightly floured pizza peel

Top with olive oil, grated cheese, and mozzarella

Transfer pizza to oven using pizza peel or parchment paper and bake until golden brown (between 4 to 5 minutes depending on your oven make and model)

After baking, top with proscuitto crudo
Notes
According to finercooking.com, "All-purpose flours have a protein range between 9% and 12%. King Arthur flour has a protein content of 11.7%, while Pillsbury and Gold Medal are both 10.5%."
For this pizza dough, aim to use a brand like King Arthur flour, preferably, or Pillsbury or Gold Medal. Flours will a 9% protein content will not produce the same results.
Nutrition
Calories:
699
kcal
Carbohydrates:
118
g
Protein:
24
g
Fat:
13
g
Saturated Fat:
6
g
Cholesterol:
30
mg
Sodium:
1433
mg
Potassium:
197
mg
Fiber:
4
g
Sugar:
4
g
Vitamin A:
215
IU
Calcium:
196
mg
Iron:
7.1
mg
Interested in More Recipes?
SUBSCRIBE to get recipes delivered to your email 🙂