my favorite new thing to grill:)
Over the years, I've tried so. many. different. turkey burger recipes (and some non-turkey too!). Some tend to taste too much like turkey meatloaf, which isn't always a bad thing! But I wanted a recipe that was super easy, super tasty, and really moist. This recipe is ALLLL that! I've already made it multiple times since I first spied it in the NY Times recipe archive. This is a great recipe for a quick weeknight meal. Maybe with a salad like this or this, or an easy roasted vegetable.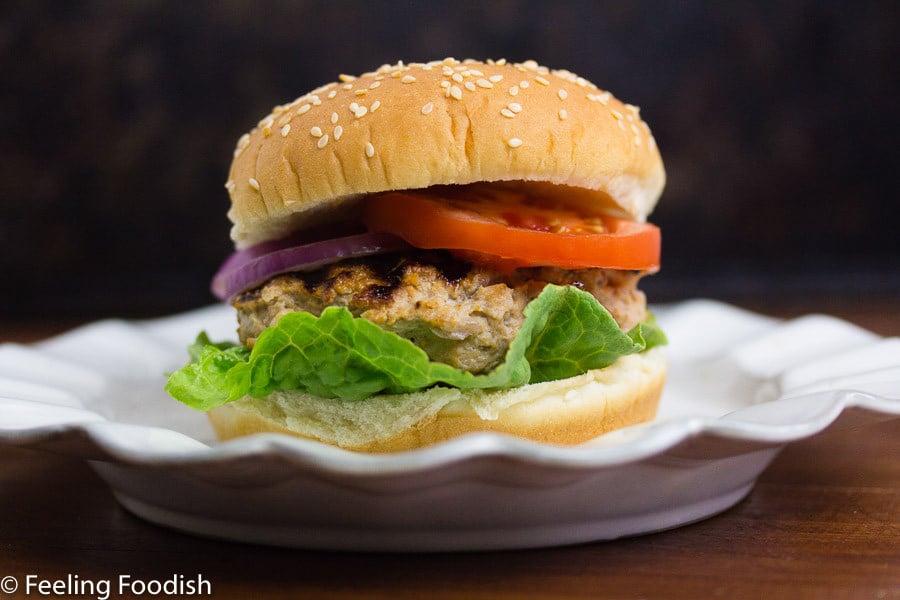 chopping the onion
I think the  hardest part of the recipe (if you can even call it "hard") is that you have to grate or chop the onion. You can either use a box grater or even a small food processor to help get that fine mince going. I've never used the box grater for this recipe, always opting to use the food processor and sometimes even simply chopping it finely by hand on the chopping block. I will definitely get around to grating the onion some day to see how/if it makes a difference.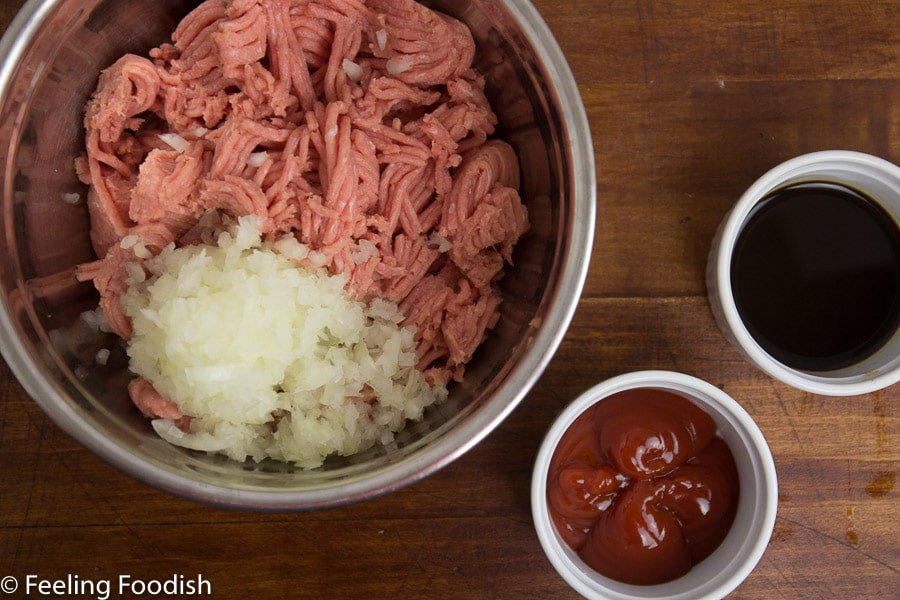 toppings for turkey burgers and tips to prevent sticking
I usually just serve these burgers with lettuce, onion, and tomato (and condiments, of course). Other ideas include bacon, melted cheese, avocado slices, baby spinach, and various other sliced vegetables. Maybe even a bit of Sriracha?
One final note: turkey burgers, because they are lean, tend to stick to the grill or pan. Be sure to oil your pan or grill before grilling.
📖 Recipe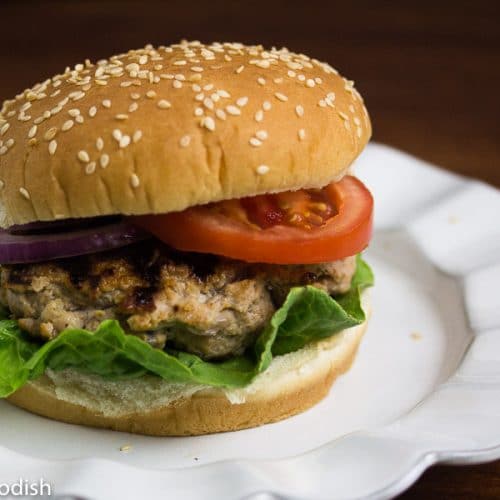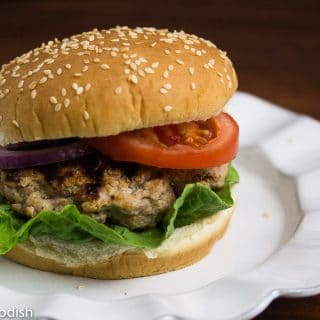 moist and juicy turkey burgers
sick of dry tasteless turkey burgers? try this!! Easy to make, only 3 ingredients plus ground turkey. ready in 15 minutes!
Ingredients
1

pound

(

453.59

g

)

ground turkey (lean)

½

medium

(

0.5

medium

)

onion, grated or finely chopped

1

tablespoon

(

1

tablespoon

)

Worcestershire sauce

2

tablespoon

(

2

tablespoon

)

ketchup

¾

teaspoon

(

0.75

teaspoon

)

salt
Instructions
In a large bowl, combine ground turkey with onion, Worcestershire sauce, ketchup, and salt

On a large plate, form meat into 4 patties

Spray a cooking pan with oil and place over medium high heat

Cook/grill patties for about 5 minutes and then flip and cook for another 6 minutes on the opposite side

Serve burgers with tomato, lettuce, onion and your preferred condiments (mayo, ketchup, mustard)
Notes
Turkey burgers, because they are so lean, can often stick to the pan - make sure you oil your pan or grill before cooking
Also note that a lot of ground turkey is not so lean. Opt for meat that is 93% lean or higher. I used 93% lean; extra lean is also available but I cannot vouch for how moist it would be when used in this recipe. 
Nutrition
Calories:
188
kcal
Carbohydrates:
4
g
Protein:
21
g
Fat:
9
g
Saturated Fat:
2
g
Cholesterol:
83
mg
Sodium:
633
mg
Potassium:
322
mg
Sugar:
2
g
Vitamin A:
125
IU
Vitamin C:
1.9
mg
Calcium:
32
mg
Iron:
1.5
mg
Interested in More Recipes?
SUBSCRIBE to get recipes delivered to your email 🙂