This is my absolute favorite recipe for guacamole. It's authentic, health, and very easy to make homemade guacamole! Takes minutes to make (and probably will only last minutes, lol!)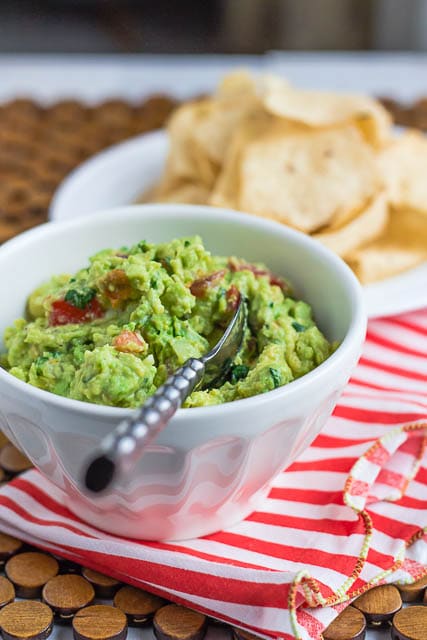 Guacamole love <3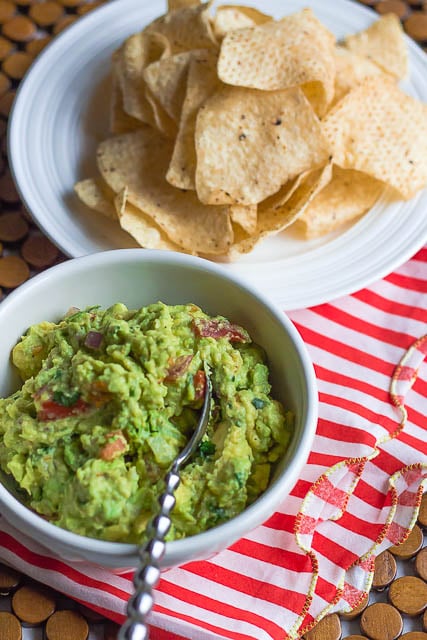 What can I say? This is another one of my all-time favorite foods. I find myself making a big batch of this fairly often. Sometimes, I have this for lunch. It also makes an amazing topping for omelets, salads, or nachos for your Superbowl Party. Healthy too! Guilt-free and delish? Sign me up!!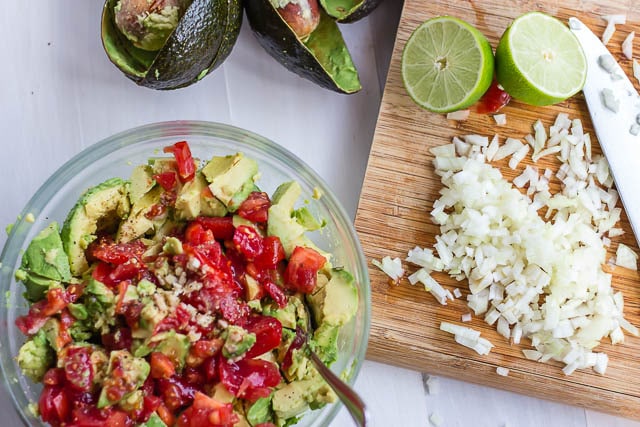 When I lived in NJ, there was a nearby small family-run Mexican restaurant that had fabulous guacamole. And, it was cheap. It was amazingly fresh and super chunky, not like the over-processed stuff that you find in the supermarket. With that guacamole in mind, I set out to recreate it.
This recipe is fairly simple and includes the usual ingredients but I think the difference is that it is not overmixed. I like to use 6 nice sized avocados so the dip lasts longer than one day:) And, I like the ingredients to complement the avocado but not overpower them in any way, a perfect balance.
Some tricks I've read about for preventing the guacamole from darkening/oxidizing: save the pits and put a few in your dip and/or place plastic wrap directly on top of the dip. I've also read that putting a layer of sour cream on top of the dip will help, but I've never tried it. I've had the most luck with putting plastic wrap right on top of the dip.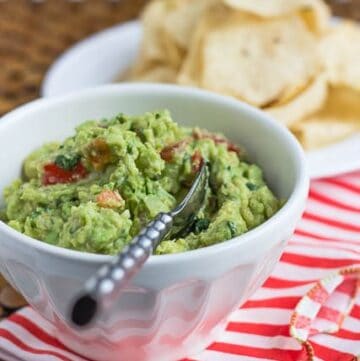 Homemade Guacamole
This is an easy recipe for authentic homemade guacamole. It's healthy, easy to make, and delicious too! Heaven on a plate
Ingredients
6

avocados

, pitted and roughly chopped

2

tomatoes

, chopped

1

lemon

, juiced (I always use lemons not limes)

1

small red onion

, finely diced

½

cup

fresh cilantro

, finely chopped

2

serrano chile peppers

, finely diced (optional or use a few drops chili sauce)

1

tsp

salt

, or to taste

¼

tsp

pepper

, or to taste
Instructions
Combine all ingredients in a large bowl.

Do not overmix; leave plenty of chunks throughout.

To store, cover the guacamole with plastic wrap, ensuring that the plastic comes in direct contact with the dip.

Store in refrigerator.
Notes
Supposedly, authentic guacamole uses red onion, does not contain any garlic, and uses jalapeno in place of serranos. I use lemon in place of lime. You will love this guacamole!!
Nutrition
Calories:
171
kcal
Carbohydrates:
11
g
Protein:
2
g
Fat:
14
g
Saturated Fat:
2
g
Sodium:
202
mg
Potassium:
568
mg
Fiber:
7
g
Sugar:
1
g
Vitamin A:
370
IU
Vitamin C:
19
mg
Calcium:
19
mg
Iron:
0.7
mg
Interested in More Recipes?
SUBSCRIBE to get recipes delivered to your email 🙂