Who doesn't LOVE Chipotle guacamole? We all do, right? It's probably because their guacamole is made daily with fresh ingredients, it's got perfectly balanced flavors, and it's made with perfectly ripe avocados.
Are you looking for the Chipotle guacamole recipe? Well, you're in luck because recently, Chipotle shared their recipe, including ingredients and techniques, for their famous guacamole!
It was a really special treat to see Chef Chad, the executive chef at Chipotle, make guacamole on Instagram!
According to the chef, the guac recipe he shared is just like that made in the restaurant - same recipe, same technique, but smaller batch!
Jump to:
Interesting Facts
Technique: Chef Chad uses a big bowl for mashing the avocados and a small bowl for mixing the aromatics, which first get macerated in a small bowl and then are gently folded into the bigger bowl with the mashed avocado.
Avocados: Chipotle primarily uses Hass avocados, which are mostly from Mexico but also from the Dominican Republic and Southern California.
Volume: Some Chipotle locations go through 7 cases of avocado in a day (there are 80 avocados in a case!) – that's a lot of guacamole! No wonder why we love it – they get lots of practice to make it perfect.
Chef's Tips
Use ripe avocados. If the avocados are too mushy, the texture of the guacamole won't be ideal and if the avocados aren't ripe, the guacamole will not taste good, and the avocados will be hard to scoop out.
To see if avocados are ripe, gently press the avocado with your thumb; they should have a little give but not be too soft or mushy. If there is a touch of give, it's ready. They should be not too hard and not too soft.
If they are too hard, let them sit out in bowl for a day or two to ripen.
If the avocados are ripe, but you won't need them for a few days, place them in the refrigerator to slow down the ripening and you can prolong ripening for another day or two.
Grocery store avocados (most but NOT all) usually need 2 to 4 days to ripen.
How to Cut an Avocado
Wash and dry the avocado. Remove nub at top if there.
Hold the avocado on a cutting board and cut it lengthwise around the pit, starting at the top and ending at the bottom. You can cut on each side or use a circular motion and cut all the way around in one go.
After cutting, hold the two halves and twist them in opposite directions to separate them.
Remove the pit by gently tapping it with a knife and twisting it out of the flesh.
Use a spoon to scoop out the flesh from both halves of the avocado. The flesh should easily come out if the avocado is ripe.
Ingredients
Avocados: the main ingredient; should be perfectly ripe (not too hard and not too soft).
Jalapeno: for spice and adds texture and crunch.
Red onion: imparts a mild sweet flavor and adds texture and crunch.
Limes: used for flavor and slows the oxidation of the guacamole.
Cilantro: fresh is best and avoid any with yellow leaves; adds a bright citrus flavor and texture. Use both leaves and stems in your guac.
Salt: any salt will do; this also slows the oxidation of the guacamole.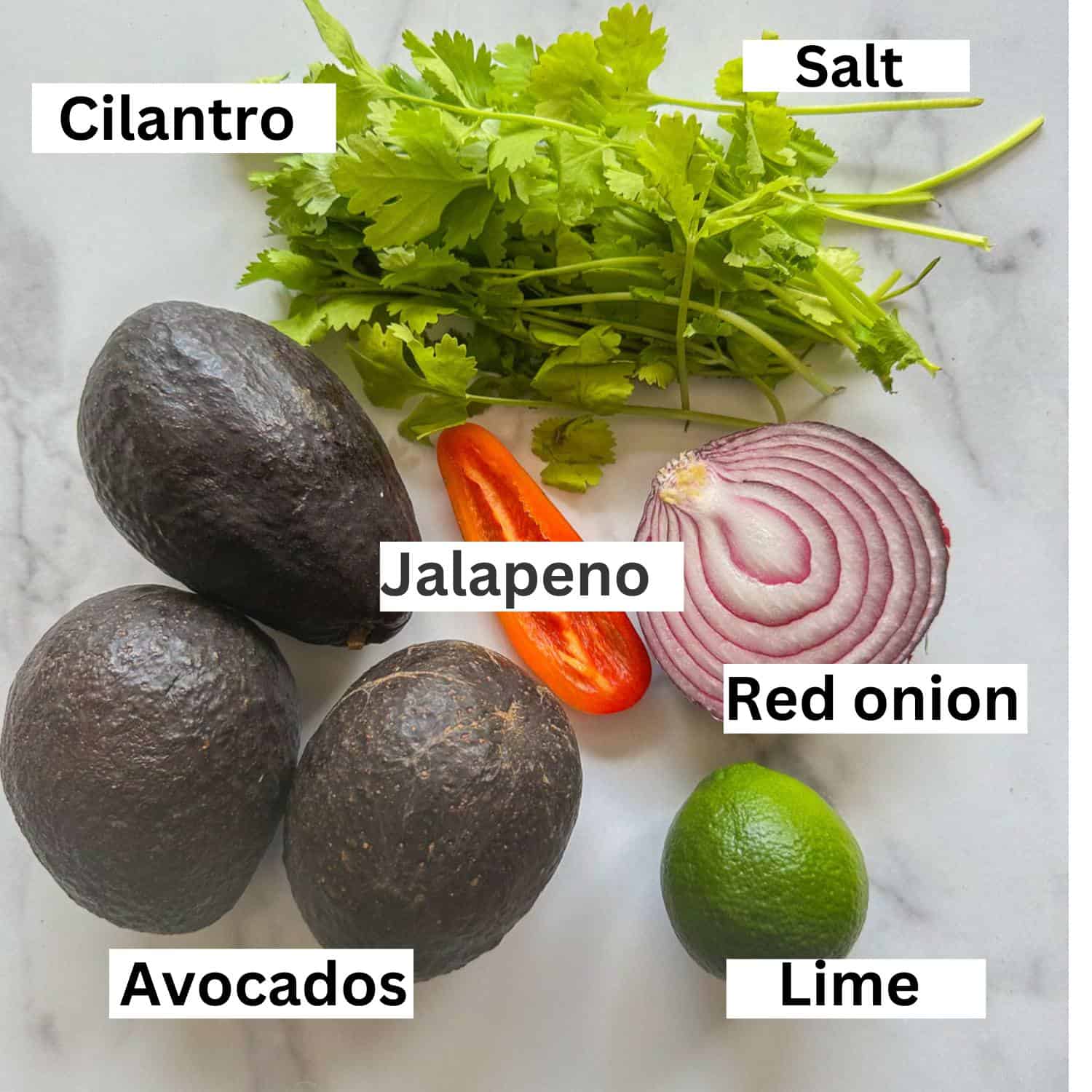 Method
Mash the avocado and salt it.
Slice open avocados – pull off nub off top of avocado and then slice around the periphery until you feel pit, slice slowly.
Separate the avocado into two halves and take the pit out.
Start cutting at long end of the avocado, and after cutting all the way around, twist each side, and then pull apart.
Remove the pit by gently tapping it with a knife and then twisting.
Scoop out the avocado from the skin with a spoon and place the avocado into a large bowl.
Mash the avocado - but not too finely! Leave some chunky (ie, about ½ or ¼ inch chunks. Aim for 50/50 ratio of creamy to chunky in your mixture).
Add salt to the avocado; I recommend starting with 1 teaspoon for 3 avocados and adjusting later if needed. Remember if you serve with chips, the chips will contribute a lot of salt.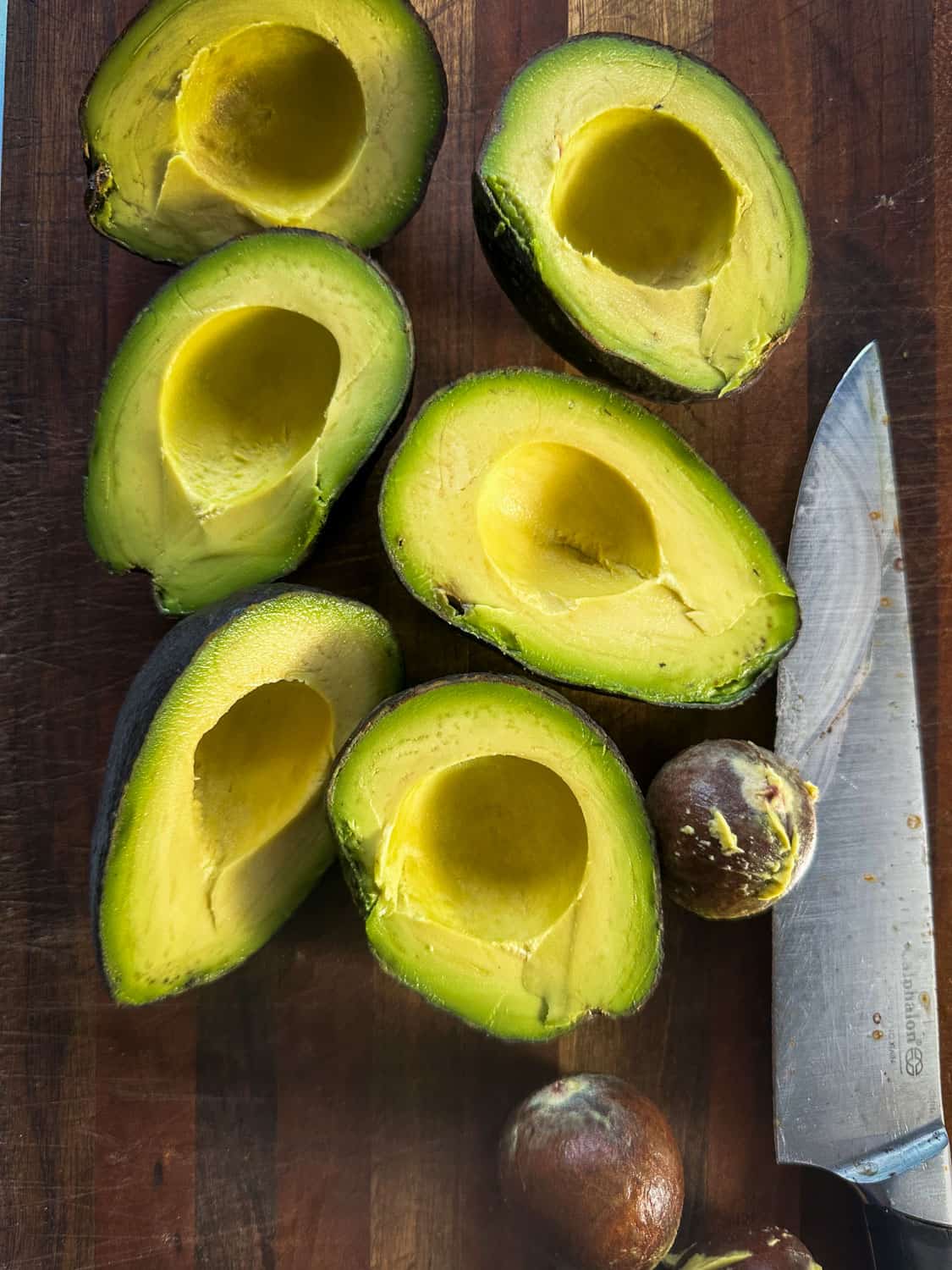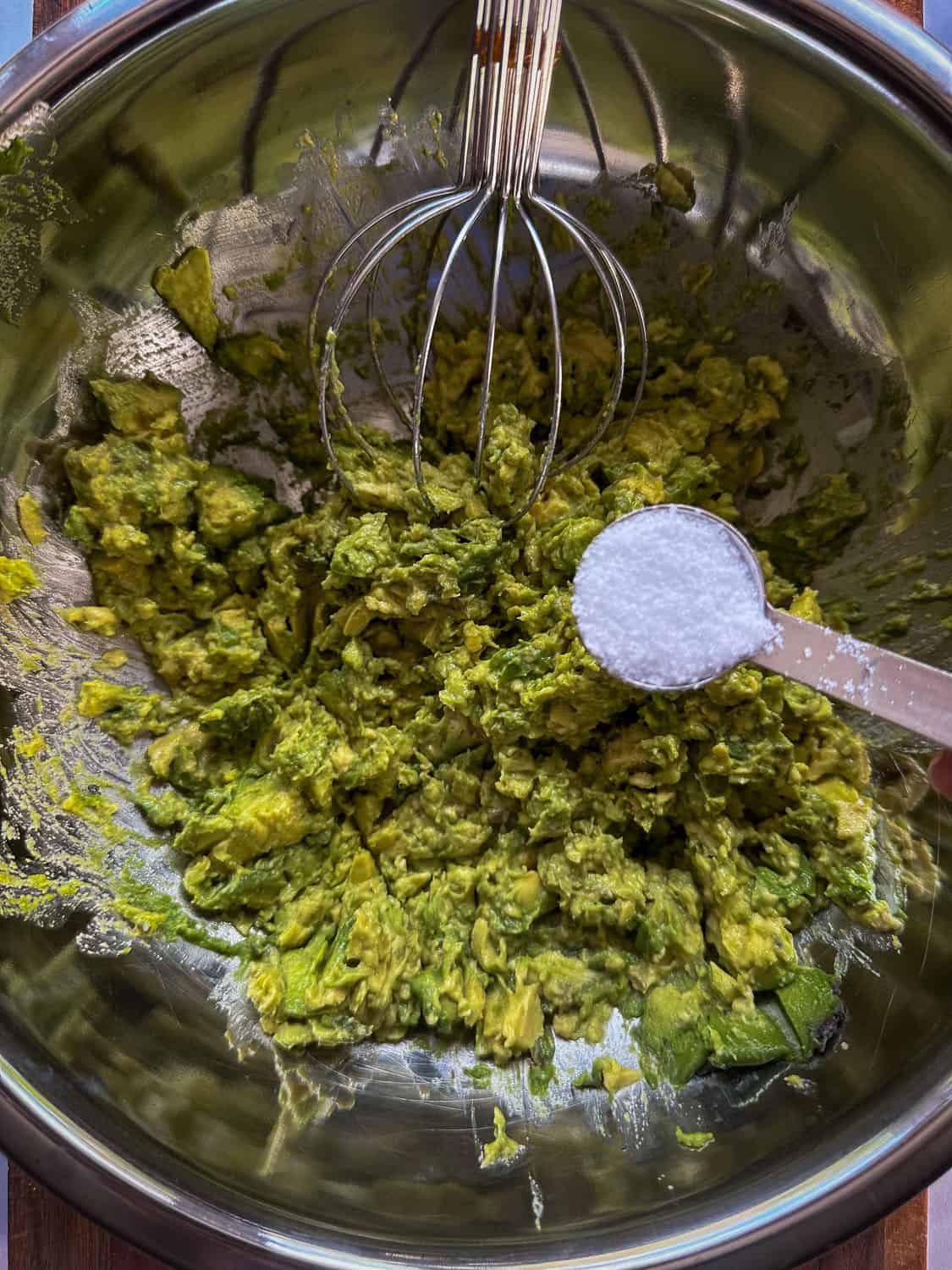 Mix the Aromatics
In a small bowl, start mixing the aromatics.

Using one quarter to one third of a small to medium red onion, begin to finely dice your onion with a very sharp knife and place into a small bowl.Take about one third of a jalapeno (~1 TB jalapeno), remove ribs and seeds (to tame heat) rinse, and finely dice. Add jalapeno to onion in bowl. Fold over the cilantro or roll it up and cut through with sharp knife; if green patches appear on your cutting board, you are bruising it. Don't cut it too fine; and remember to use the stems also.Add cilantro to other aromatics in the small bowl.Squeeze the lime and add about 1 teaspoon to the onion pepper cilantro mixture.If you have a juicier, use it as the juicer gets some of the lime oil in there too. If you don't have a juicer, you can add a touch of lime zest if you have a box grater or zester (just a touch or if it might be bitter). Reserve some lime juice to adjust flavors if necessary.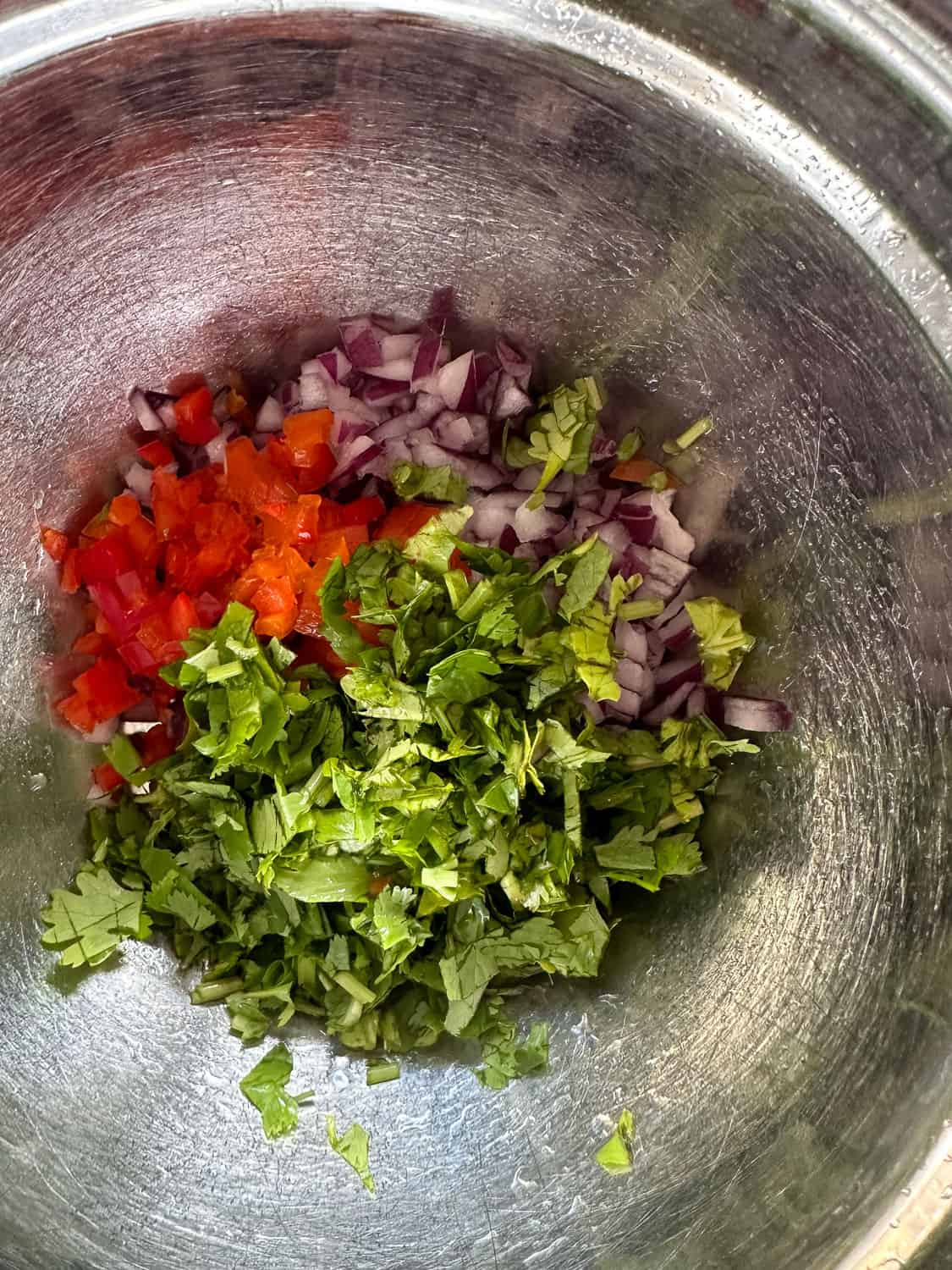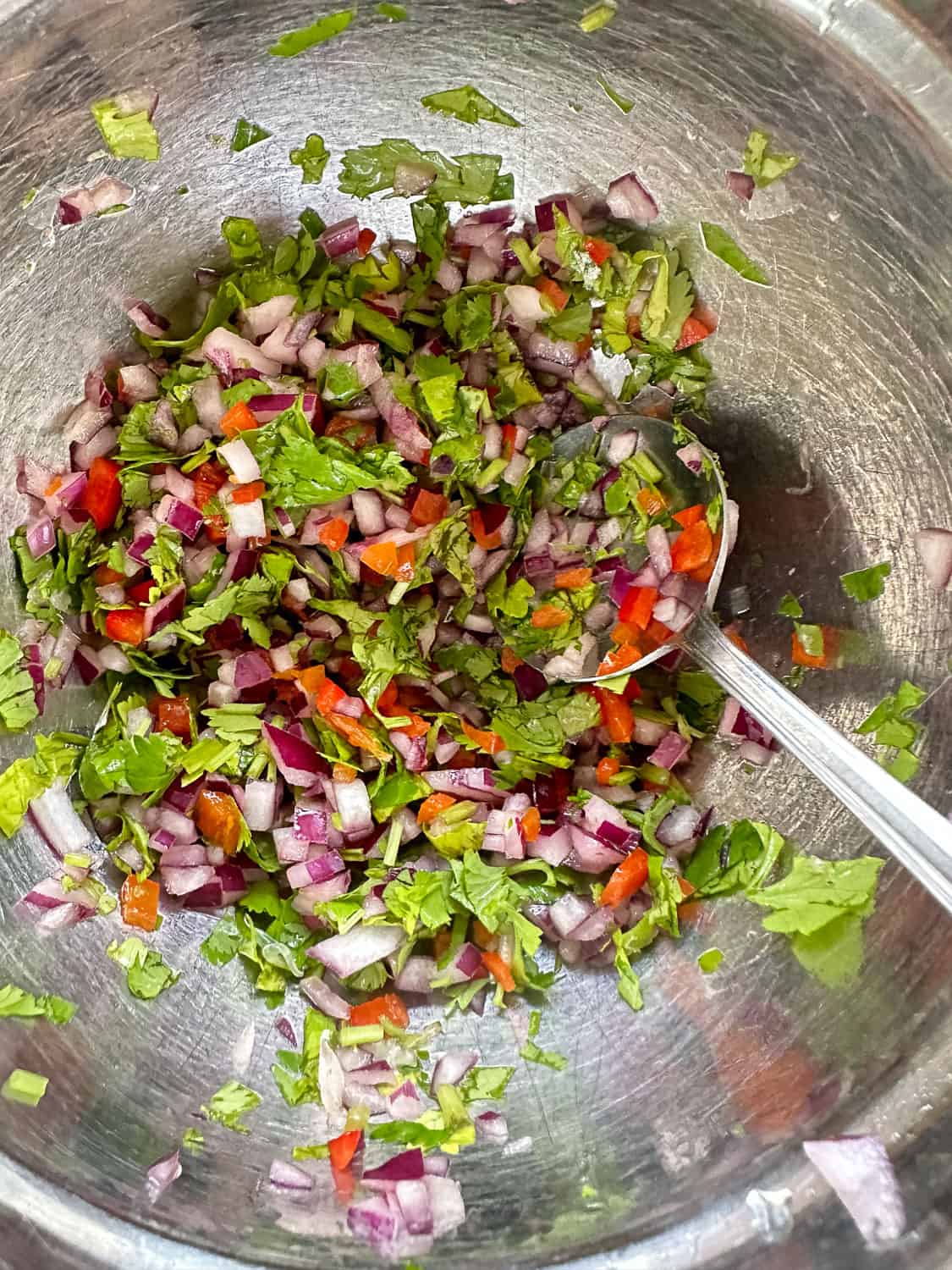 Fold the Mashed Avocado with the Aromatics
Pour the aromatics with lime juice into the mashed avocado and fold gently!
Don't mash all the aromatics because you want the aromatics to release flavor in mouth not into guacamole!
Taste test and adjust for salt and lime juice to personal preference.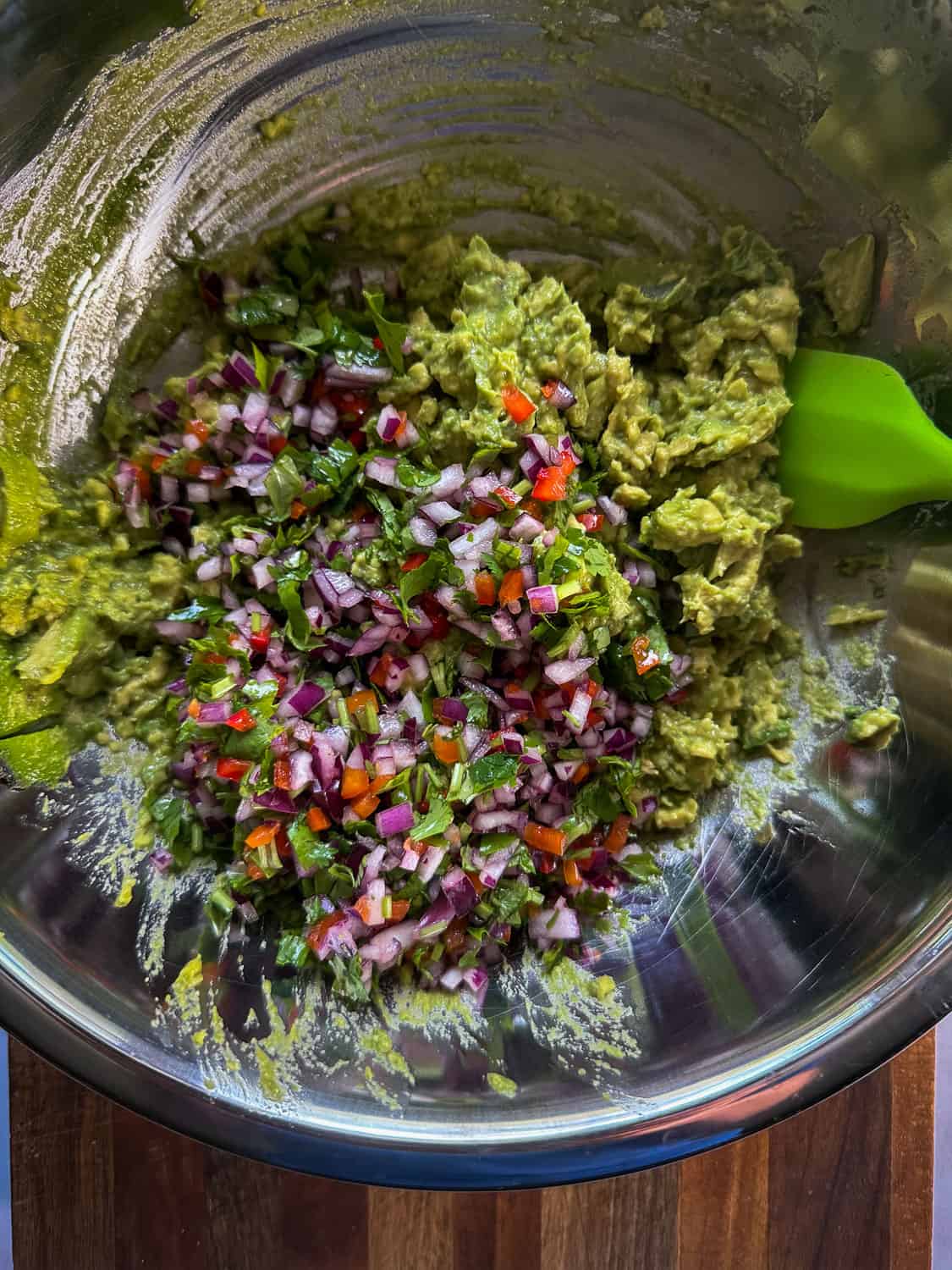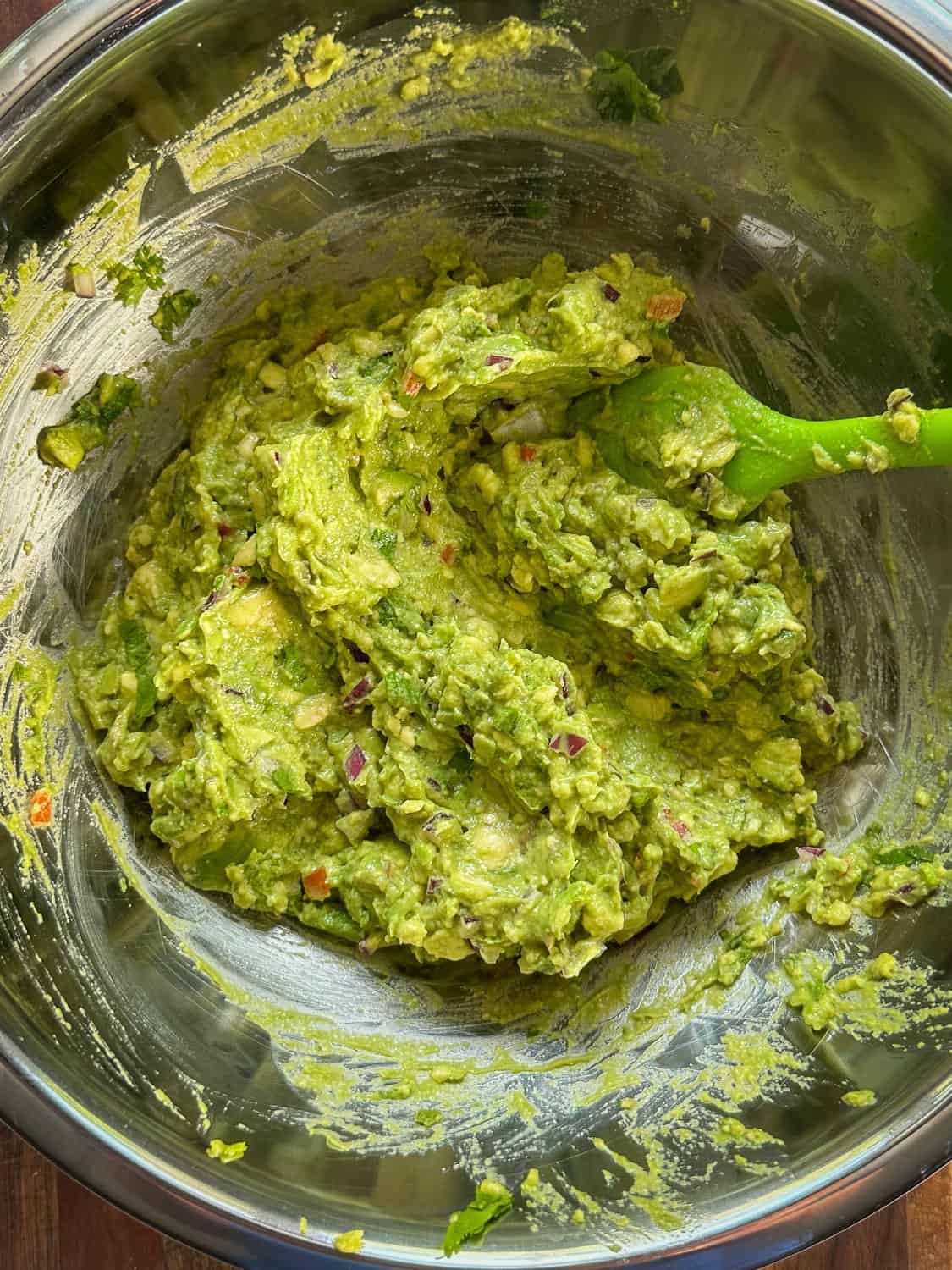 Substitutions
No jalapenos ? Use red pepper flakes; chipotle sauce; or green pepper if you don't like spice.
No red onion? Use white onions, scallions, chives.
No limes? Use lemons or sour orange or any combination of these.
Variations
Although these variations are NOT In Chipotle's guacamole feel free to customize the recipe to your own tastes (including some ideas from chef Chad)
Tomatoes can be added (remove seeds and extra juices); Roma tomatoes are a good choice as they have few seeds.
Garlic (fresh, dried, or roasted)
Pomegranate with cotija cheese and pumpkin seeds/chili adobe chipotle (chef Chad)
Ranch dressing (1:1 ratio of ranch to mashed avocado) (chef Chad)
Hemp oil/seeds and chia seeds (chef Chad)
Salsa with mashed avocados (quick guacamole)
Fold in diced mango to make a mango guacamole
Storage and Make Ahead
Guacamole can keep fresh in the refrigerator for a few days if you keep it in an airtight container. Smooth out the top and lay plastic wrap directly on top to prevent contact with air. Seal the container.

The top of the guacamole will turn brown over longer periods of time.

Freeze it for 2 to 3 months; but know that the texture gets a bit watery and the taste or flavor will become a bit diluted.
How to Enjoy
Guacamole is an incredibly versatile dip that can be used in a variety of dishes, from topping burgers and tacos to being served with chips as a snack. Ideas include:
As a dip (of course!) with chips, or veggies like cucumber or carrots.
As a spread/condiment on a sandwich, wrap or burger.
As a dressing for a salad
On scrambled eggs for breakfast
As a topping for baked potatoes
As a topping for tacos
FAQs
Is guacamole healthy?
Guacamole is generally considered healthy because it's high in healthy fats, fiber rich, and packed with vitamins and minerals (since avocado is a good source of vitamins C, E, K, and B6 as well as folate and potassium).
How can I tell if my avocados are ripe?
Gently press the skin with your thumb. If the avocado yields to pressure, it is ripe and ready to eat. If it's too hard, the avocado is not ripe and if it's too soft, it may be overripe and could have dark spots inside when you cut it open.
 
How can I prolong the freshness of avocados?
If your avocados are ripe, you can store them in the refrigerator to preserve freshness for a few days. If they are not yet ripe, you can store them in the refrigerator to prolong the ripening process.
How to quicken the ripening of avocados?
Place the avocados in a brown bag with an apple or a banana – the ethylene gas released by the fruit will speed the ripening process. Leave the bag at room temperature for 1 to 3 days.
What are some common mistakes to avoid when making guacamole?
If you use avocados that are overripe, your guacamole too soft with not enough texture (and sometimes the overripe avocados taste off).
If the avocados are underripe, the flavor will not be good, and they are difficult to mash.
Using too much salt or lime will overpower the flavor of your guacamole.
Overmixing the guacamole will cause it to lose its texture.
More Ideas for Mexican Night!
📖 Recipe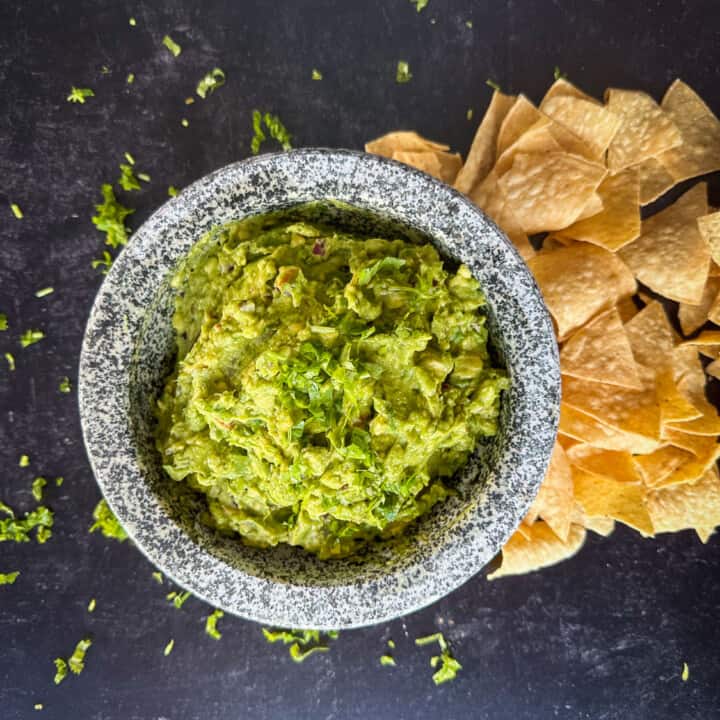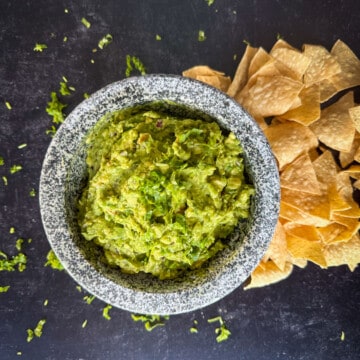 Chipolte Guacamole
Chipotle guacamole is made daily with fresh ingredients, it's got perfectly balanced flavors, and it's made with perfectly ripe avocados - make some today!
Equipment
masher or large fork for mashing
Ingredients
3

avocados

ripe

1

teaspoon

salt

or more to taste

⅓

small

red onion

finely diced

⅓

small

jalapeno

finely diced (remove ribs and seeds before dicing)

½

cup

fresh cilantro

finely chopped

1

lime

juiced (will not use all juice)
Instructions
Slice avocados in half, remove pit, and mash coarsely in large bowl. Aim for a mixture that is half creamy and half chunky

Add 1 teaspoon of salt to the avocado and set aside.

In a small bowl, add the diced onion, diced pepper, and minced cilantro. Stir well and then add 1 teaspoon of lime juice. Stir well.

Gently add the aromatics (lime, pepper, onion, cilantro) to the mashed avocado and fold gently.

Test for salt and lime juice and add more if you'd like.

To store, place guacamole in container and add plastic wrap directly on top of guacamole so that no air is in contact with the guacamole. Seal with lid and refrigerate for a few days.
Nutrition
Calories:
167
kcal
Carbohydrates:
10
g
Protein:
2
g
Fat:
15
g
Saturated Fat:
2
g
Polyunsaturated Fat:
2
g
Monounsaturated Fat:
10
g
Sodium:
396
mg
Potassium:
517
mg
Fiber:
7
g
Sugar:
1
g
Vitamin A:
251
IU
Vitamin C:
15
mg
Calcium:
18
mg
Iron:
1
mg
Interested in More Recipes?
SUBSCRIBE to get recipes delivered to your email 🙂