Imagine juicy tomatoes, creamy mozzarella, and fragrant basil leaves mingling in a symphony of flavors - that's the perfect Caprese Salad. Drizzle with olive oil, add a pinch of salt, and voilà! A dish that's simple, fresh, and bursting with goodness.
Perfect for those lazy days when you want something amazing without the fuss and create this satisfying salad that's as easy as it is impressive. And if you'd prefer an oil free, cheese free tomato salad, my easy Italian Tomato Salad is absolutely fantastic too!
Need a main dish to complement this salad? Try my Chicken Florentine Pasta, which is so easy yet impressive.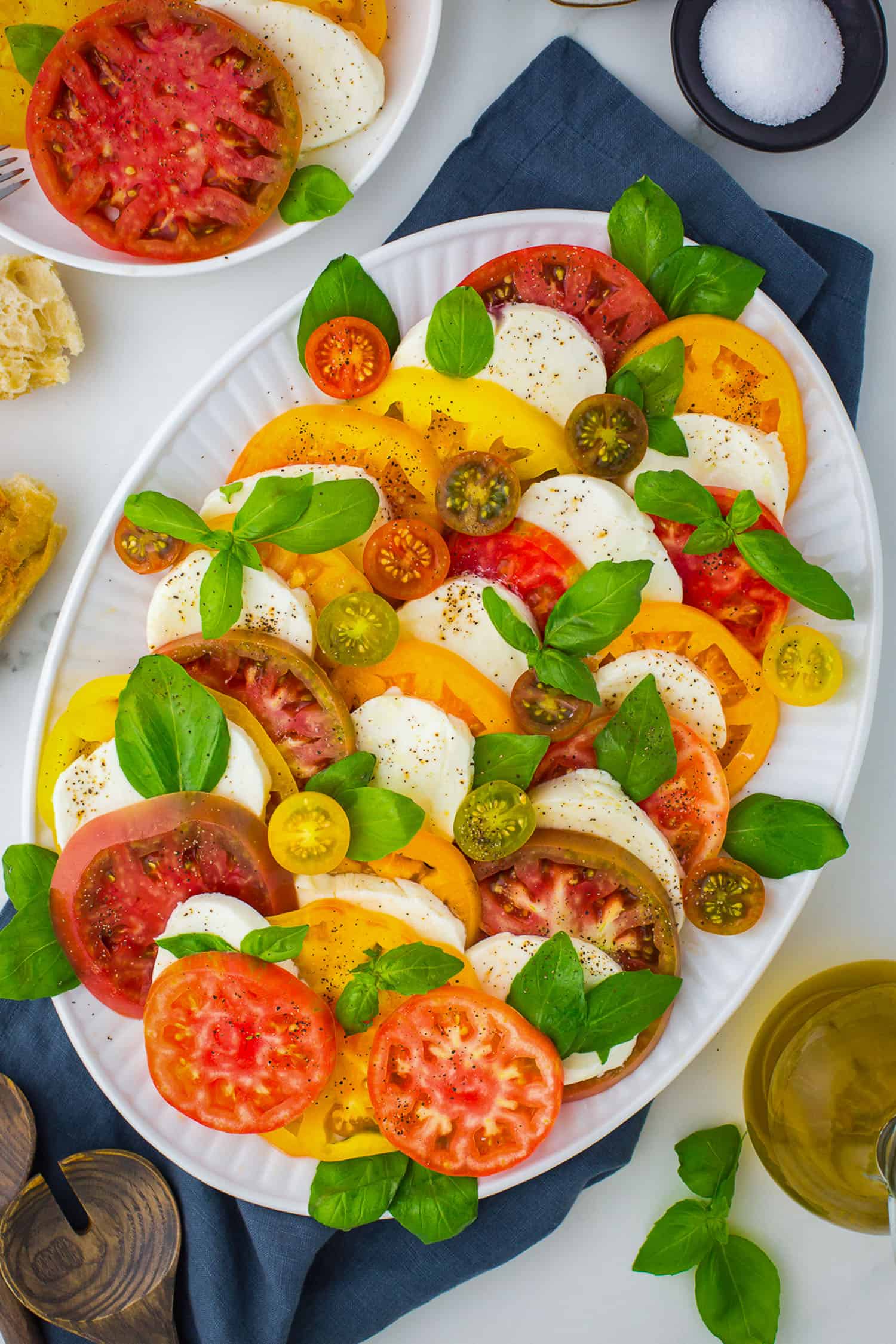 When it comes to refreshing, simple, and delightful salads, few dishes can rival the Caprese salad. Hailing from the sun-drenched Mediterranean region, this classic Italian creation embodies the essence of the Mediterranean diet with its vibrant colors, rich flavors, and wholesome ingredients.
The Caprese salad has stood the test of time, evolving into numerous delightful variations while maintaining its timeless charm.
The Origins and History
The origins of Caprese salad are firmly rooted in the beautiful region of Campania, Italy (where my parents are from), specifically on the island of Capri. Legend has it that the salad was first created in the 1950s as a tribute to the island's colors, representing the Italian flag with its red tomatoes, white mozzarella, and green basil leaves.
As the story goes, a local chef sought to celebrate the island's rich flavors and fresh ingredients by arranging them into a simple yet exquisite salad that would eventually become an icon of Italian cuisine.
The name "Caprese" itself is derived from the island's name, where this vibrant dish first gained popularity. Over the years, the salad's fame spread throughout Italy and the rest of the world, becoming a staple on menus of Italian restaurants worldwide.
Ingredients
At the heart of a traditional Caprese salad lies a harmonious blend of fresh, high-quality ingredients:
Tomatoes: Choose ripe, firm tomatoes, preferably heirloom or vine-ripened varieties, for the best flavor and texture. Slice them into rounds or wedges, depending on your preference, although rounds are most traditional.
Mozzarella: The quintessential cheese used in Caprese salad is buffalo mozzarella, known for its delicate flavor and soft, creamy texture. However, buffalo mozzarella is hard to find for many folks and so cow's milk mozzarella is often used. Choose fresh mozzarella if you can find it, although I have used low moisture mozzarella in a pinch. Slice the mozzarella into similar thickness as the tomatoes.
Basil: Fresh basil leaves provide a delightful burst of aroma and add a herbal note to the salad. Tear or thinly slice the leaves before adding them to the dish.
Extra Virgin Olive Oil: High-quality extra virgin olive oil enhances the flavors of the salad and brings a luscious richness to the dish. Use it generously for the dressing.
Salt and Pepper: A pinch of salt and freshly ground black pepper is all that's needed to season the salad to perfection.
Balsamic Vinegar
While balsamic vinegar is a popular and delicious addition to many salads, it is not traditionally used in the authentic Caprese salad recipe.
However, modern variations and creative interpretations of the salad often incorporate balsamic glaze or reductions as an optional addition for those who enjoy the sweet and tangy contrast it provides.
The original version of Caprese salad consists of just four essential ingredients: tomatoes, mozzarella, basil, and extra virgin olive oil.
The salad is meant to showcase the natural flavors and freshness of these ingredients without overpowering them with additional dressings or toppings.
It's essential to note that balsamic vinegar will turn the cheese an unappetizing color and so if you choose to use vinegar, I suggest serving it on the side or drizzling it on just before serving.
Choosing Mozzarella
Fresh mozzarella and low moisture mozzarella are distinct variations of the cheese, both made from cow's milk. Fresh mozzarella has a high moisture content and a soft, delicate texture. It's commonly sold in water or whey to preserve its freshness but I have also seen commonly in plastic wrap with just a tiny bit of water surrounding it.
Fresh mozzarella is the type of mozzarella that is ideal for dishes like Caprese salad due to its creamy consistency and mild flavor.
On the other hand, low moisture mozzarella has a lower water content, making it firmer and better suited for melting. You'll often low moisture mozzarella pre-shredded or in block form, commonly used for pizza and pasta dishes.
When shopping, fresh mozzarella appears moist and pliable, while low moisture mozzarella is denser and less yielding to the touch.
Tips for Making the Perfect Caprese Salad
Creating an exceptional Caprese salad is easy with a few essential tips:
Ingredient Quality: Since the salad relies on a few key ingredients, ensure that they are of the highest quality. Use fresh, ripe tomatoes, the best mozzarella you can find, fragrant basil leaves, and premium extra virgin olive oil.
Slice Thickness: Aim for consistent and relatively thin slices of tomatoes and mozzarella. This allows for even distribution of flavors and ensures a balanced mouthfeel in every bite.
Assembling with Care: Arrange the tomato and mozzarella slices alternately on a serving plate, interspersing them with basil leaves. Avoid overcrowding the plate to maintain an appealing presentation.
Seasoning: Use salt and pepper sparingly but effectively. A light touch of seasoning brings out the natural flavors without overwhelming them.
Drizzling with Olive Oil: A generous drizzle of extra virgin olive oil ties the salad together. Its fruity and peppery notes enhance the taste of the tomatoes and cheese, making the salad truly irresistible.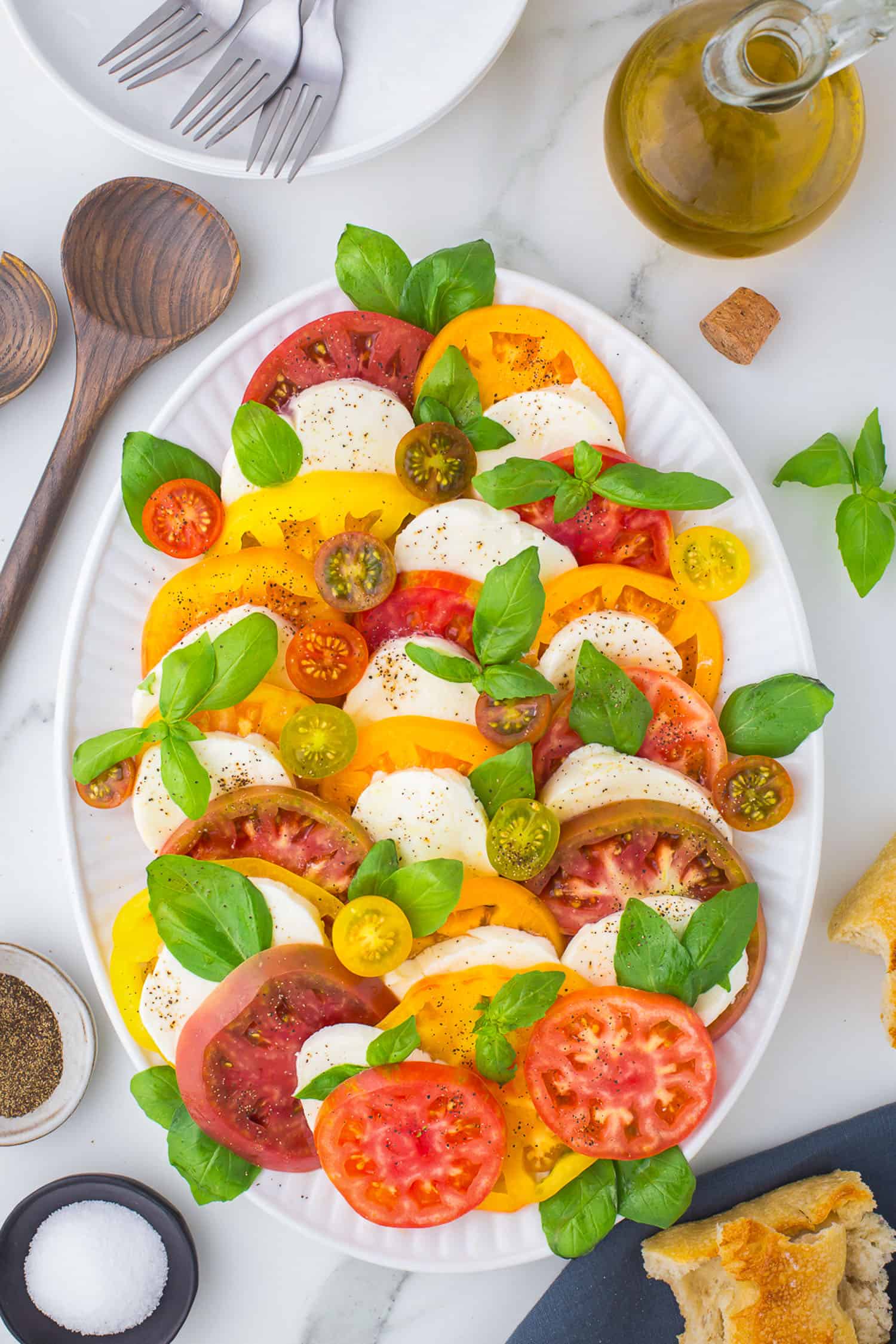 Variations on Presentation
Some ideas to consider for assembling your Caprese salad include:
Stacks:
Instead of arranging the ingredients in a flat arrangement, create vertical stacks of tomato, mozzarella, and basil. Drizzle each layer with olive oil and season with salt and pepper before building the next layer. Top the stack with a whole basil leaf for a visually appealing presentation.
Skewers:
Thread cherry tomatoes, bite-sized mozzarella balls, and small basil leaves onto skewers for a convenient and appetizing finger food version of Caprese salad. Arrange the skewers on a platter and drizzle with olive oil just before serving.
Platter:
Go for a rustic approach by placing the tomato, mozzarella, and basil slices in a charmingly haphazard manner on a large platter. Allow the ingredients to slightly overlap and create a vibrant, artistic presentation. Drizzle generously with olive oil for an inviting look.
Salad Cups:
Serve individual portions by layering diced tomatoes, mozzarella, and torn basil leaves in small cups or glasses. Drizzle with olive oil and a dash of balsamic glaze for a visually stunning and easy-to-eat appetizer.
Tart:
Create a Caprese salad tart by layering tomato slices, mozzarella, and basil leaves over a pre-baked pastry crust. Drizzle with olive oil and bake until the cheese melts. This variation combines the classic flavors with the comforting texture of a tart.
Salad Spiral:
Arrange the tomato, mozzarella, and basil slices in a spiral pattern on a round platter. Starting from the center, work your way outward, creating a visually captivating presentation that highlights the colors and flavors of the ingredients.
Salad Bowl:
Hollow out larger tomatoes and use them as bowls for your Caprese salad. Fill the tomato bowls with diced mozzarella, chopped tomatoes, and torn basil leaves. Drizzle with olive oil for a unique and impressive serving idea.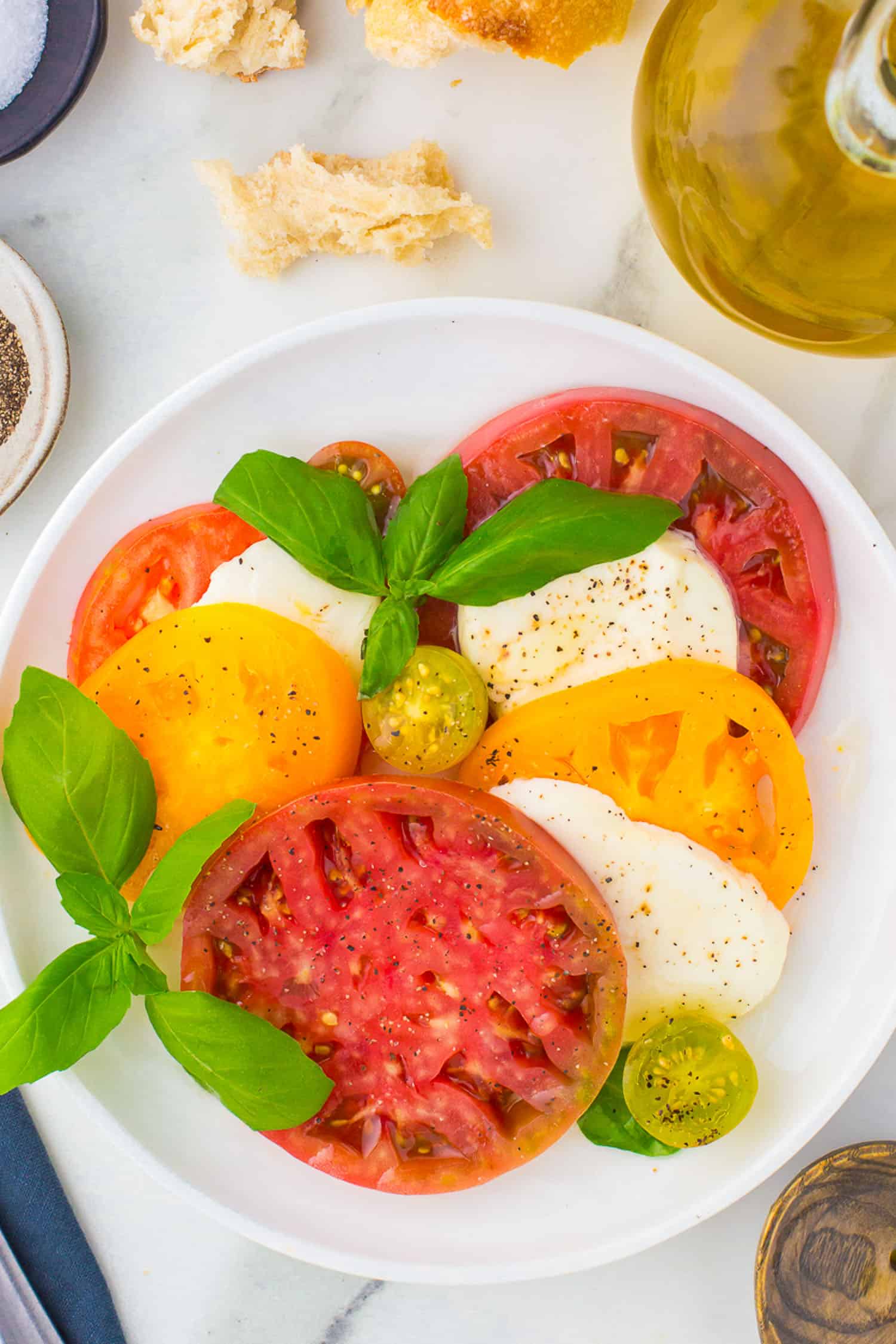 Frequently Asked Questions
How can I prevent the salad from becoming watery?
To avoid excess water, make sure to pat the mozzarella and tomatoes dry with a paper towel before assembling the salad. This step helps to retain the salad's vibrant colors and prevents dilution of the flavors.
What tomatoes should I use for a Caprese salad?
Opt for ripe, flavorful tomatoes with a good balance of sweetness and acidity. Heirloom tomatoes or vine-ripened tomatoes like Campari tomatoes are excellent choices but any ripe slicing tomato will do. Cherry or grape tomatoes can also be used for a bite-sized version.
Can I add other ingredients to my Caprese salad?
While the traditional Caprese salad consists of tomatoes, mozzarella, basil, and olive oil, you can certainly experiment with additional ingredients. Some common additions include avocado, prosciutto, pine nuts, or a balsamic reduction drizzle. However, keep in mind that these additions can change the salad's classic character.
How should I store leftover Caprese salad?
Caprese salad is best enjoyed fresh, but if you have leftovers, store them in an airtight container in the refrigerator. Keep in mind that the texture of the ingredients may change slightly, especially the tomatoes, which might become softer after refrigeration.
Can I use dried basil instead of fresh basil?
Fresh basil leaves provide a unique flavor and aroma to the salad that dried basil cannot fully replicate. Whenever possible, it's best to use fresh basil for an authentic Caprese salad experience.
Can I serve Caprese salad with a dressing?
The traditional Caprese salad doesn't require additional dressing as the olive oil provides a natural, light dressing. However, you can experiment with a variety of dressings if you prefer a more pronounced flavor. Simple vinaigrettes or lemon-infused olive oil can complement the salad nicely without overpowering its essence.
How can I enhance the flavor of my Caprese salad?
Choosing high-quality, fresh ingredients is essential for a delicious Caprese salad. Additionally, you can enhance the flavor by adding a pinch of sea salt and freshly ground black pepper to season the salad. For an extra burst of flavor, drizzle the salad with a good-quality balsamic glaze or reduction immediately before serving.
Is it essential to use buffalo mozzarella, or can I use cow's milk mozzarella?
While buffalo mozzarella is the traditional choice and has a distinct creamy flavor, cow's milk mozzarella is a commonly used alternative and more readily available in many regions. Both options work well for a Caprese salad.
Can I prepare the Caprese salad in advance?
It's best to assemble the Caprese salad just before serving to ensure the freshest taste and appearance. However, you can prep the ingredients separately ahead of time and then combine them right before serving to save time.
📖 Recipe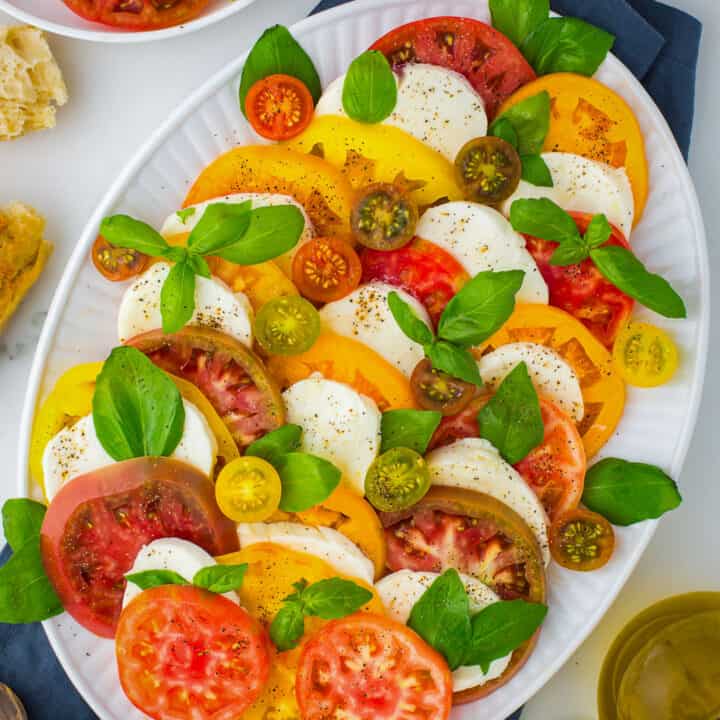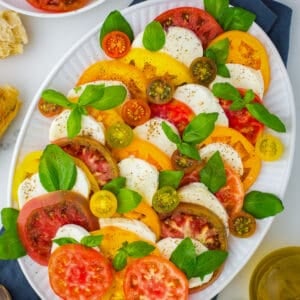 Caprese Salad
Enjoy the timeless flavors of a Caprese salad – juicy tomatoes, creamy mozzarella, and fragrant basil drizzled in olive oil. Delish!
Ingredients
4

large

ripe tomatoes

heirloom or vine-ripened like Campari (any ripe and flavorful slicing tomato)

8

ounces

fresh mozzarella

buffalo or cow's milk

basil leaves

fresh not dried

3

tablespoons

extra virgin olive oil

Salt and freshly ground black pepper

to taste
Instructions
Wash the tomatoes and pat them dry with a paper towel. Remove the stem and slice the tomatoes into rounds, about ¼-inch (0.6 cm) thick.

Similarly, slice the mozzarella into rounds, approximately the same thickness as the tomatoes.

Wash the fresh basil leaves and gently pat them dry with a paper towel.

On a serving platter, begin assembling the Caprese salad. Arrange the tomato slices on the platter, followed by a slice of mozzarella slightly overlapping each tomato.

Place a fresh basil leaf on each mozzarella slice, slightly overlapping the tomato.

Continue overlapping until you have used all the tomatoes, mozzarella, and basil leaves. The final presentation should be a beautiful arrangement of alternating tomato and mozzarella slices, adorned with basil leaves.

Drizzle the extra virgin olive oil over the salad, making sure to cover all the ingredients evenly.

Season the salad with a pinch of salt and a few grinds of freshly ground black pepper to taste.

Serve the classic Caprese salad immediately as a refreshing appetizer or side dish.
Nutrition
Calories:
296
kcal
Carbohydrates:
8
g
Protein:
14
g
Fat:
24
g
Saturated Fat:
9
g
Polyunsaturated Fat:
2
g
Monounsaturated Fat:
11
g
Cholesterol:
45
mg
Sodium:
365
mg
Potassium:
475
mg
Fiber:
2
g
Sugar:
5
g
Vitamin A:
1899
IU
Vitamin C:
25
mg
Calcium:
305
mg
Iron:
1
mg
Interested in More Recipes?
SUBSCRIBE to get recipes delivered to your email 🙂