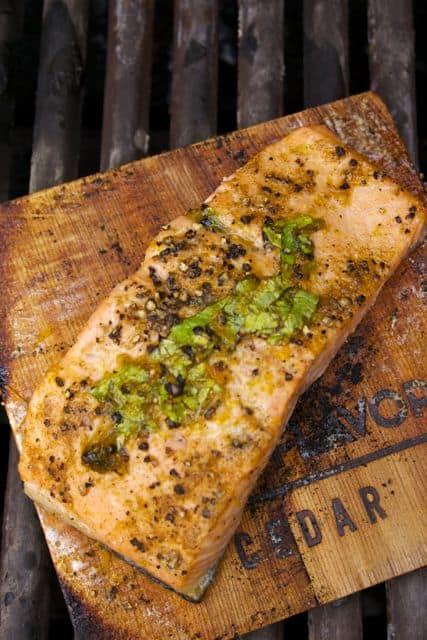 No kidding, this was the best salmon I've had yet!! Until this, my most favorite salmon was one that I had in Chicago. My family and I were visiting to see the sights and the restaurant happened to be close to our hotel. I still remember what a rainy night it was, and so we rushed inside. The fish was very fresh and it was cooked perfectly on a cedar plank. See, that's one of the hardest parts about cooking fish, isn't it? It can't be overcooked. Plus, of course, it must be fresh because no one likes fish if it's not fresh!
I'd always liked salmon but have never really explored all the different varieties until I began shopping at the local fish market. After trying a few different kinds of salmon, I came to realize that my favorite was King Salmon, which, as luck would have it, is one of the most costly varieties. I'm told that it's now out of season at this point in time. This version was another type of wild salmon, which is more sustainable than most farmed-raised. This particular salmon was much more inexpensive than the King salmon, so I wasn't expecting much. Turns out that it more than exceeded my expectations. This fish was amazing! My husband concurred. I can't wait to make this again.
I've also learned that the fattiest salmon is the tastiest (I suppose that shouldn't be surprising) and have found some wonderful tips on cooking salmon and picking out a good cut on this site. Overall, aim for pieces that come from the belly, not the tail, and cook for 7 to 10 minutes per inch of thickness (watch carefully so as not to overcook). Of course, select fish that does not have a strong odor – it should smell like the sea and be as fresh as possible. If you don't live near a good fish market, look for a Whole Foods market, which is just as good if not better since they stock high quality fish that is also  sustainable.
Recipe modified from Weber's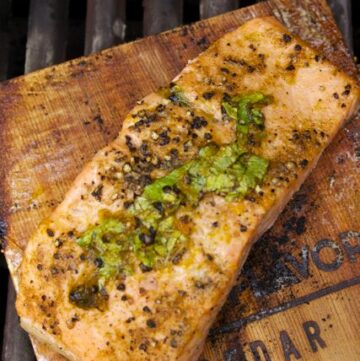 cedar planked salmon
A delicious citrus-flavored smoky salmon grilled on a cedar plank.
Ingredients
For the marinade/glaze:
1

orange

1

lemon

1

lime

1

tablespoon

of honey

2

tablespoons

of balsamic vinegar

1

tablespoon

of soy sauce

1

teaspoon

ground coriander

¼

cup

butter

3

cloves

garlic

, smashed
For the fish:
⅓

cup

fresh cilantro

2

teaspoons

ground cumin

2

teaspoons

paprika

¾

teaspoon

fresh ground black pepper

2

teaspoons

salt

1

salmon filet

, 2 pounds (preferably from the belly of the fish)

untreated cedar plank

(s), enough to accommodate the fish
Instructions
To make the glaze:
Zest the orange, lemon, and lime.

Squeeze juices from the orange, lemon, and lime using a juicer if possible.

Combine the juice (about 1 cup in all), zest, and remaining glaze ingredients (honey, vinegar, soy sauce, coriander, butter and garlic) in a sauce pan and heat over medium-high heat until it is slightly reduced, about 10 to 15 minutes

Allow the glaze to cool and then marinate the fish for up to 1 hour

In the meantime, soak cedar planks for at least 1 hour
To cook the fish:
Preheat grill to medium temperature (about 350 to 450 degrees)

Remove the fish from the marinade and sprinkle with cumin, paprika, salt, pepper, and cilantro

Place cedar planks on top of direct heat and heat until they smoke (about 5 to 10 minutes)

Flip the plank over, place it over indirect heat, and place the fish on top of cedar plank.

Cook for about 7 to 10 minutes per inch of thickness (less is better - do not overcook)

Turn off heat and let the fish rest on the covered grill for an additional 5 to 10 minutes (about 25 to 35 minutes in all).

Fish is done when it flakes easily
Interested in More Recipes?
Subscribe now to get recipes delivered to your email 🙂