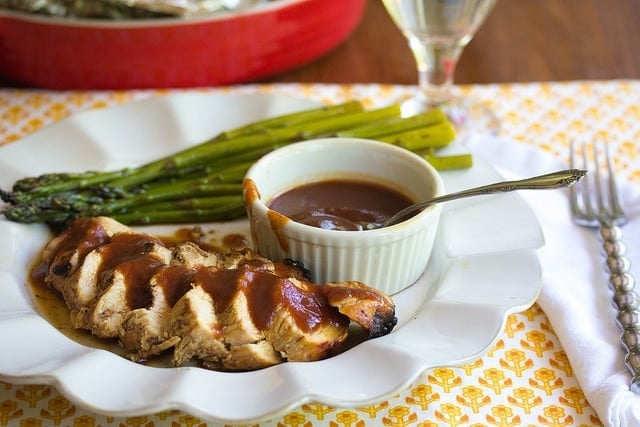 Let me tell you, homemade BBQ sauce is 1000 x's better than the bottled stuff.
I guess it's no surprise, since homemade anything is better than store bought (well…usually).
This BBQ sauce (or a similar version) was given to our family by a colleague of my husband. He gave us a nice big mason jar full of the stuff, and we really enjoyed it. When my husband asked for the recipe, he was told that it had a "secret ingredient" in it. Huh? What kind of secret ingredient could you put in BBQ sauce? Funny..
Well, turns out the secret ingredient is iced tea! Since I love iced tea, this was a must try. You can't taste the iced tea, but it was still intriguing.
For years and years, I've been on a hunt for a good BBQ sauce recipe and nothing really knocked my socks off. This here though…this is a winner!
It is a bit bold, but of course, the recipe can be tweaked easily. If you'd like a milder version, you can cut back on the black pepper and Worcestershire sauce.
Source: BBQ University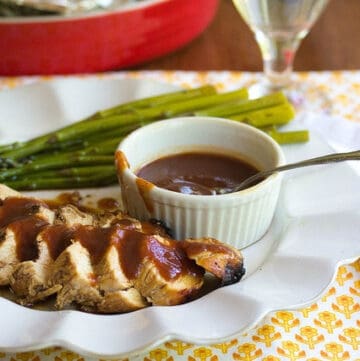 homemade BBQ sauce
Makes about 2 cups of bold, spicy BBQ sauce - you'll never go back to bottled again!
Ingredients
¾

cup

iced tea

¾

cup

ketchup

¼

cup

water

2

tablespoons

brown sugar

2

tablespoons

A-1 steak sauce

1

tablespoon

fresh lemon juice

1

to 2 tablespoons Worcestershire sauce

(see note)

½

teaspoon

black pepper

½

teaspoon

garlic powder

½

teaspoon

onion powder

½

teaspoon

liquid smoke
Instructions
Combine all ingredients in medium sized saucepan

Bring to boil, then reduce heat to simmer uncovered for about 30 minutes until thickened

Makes about 2 cups; recipe can be doubled.

Enjoy!
Notes
If you prefer a milder sauce, cut black pepper and Worcestershire sauce by half
Interested in More Recipes?
SUBSCRIBE to get recipes delivered to your email 🙂