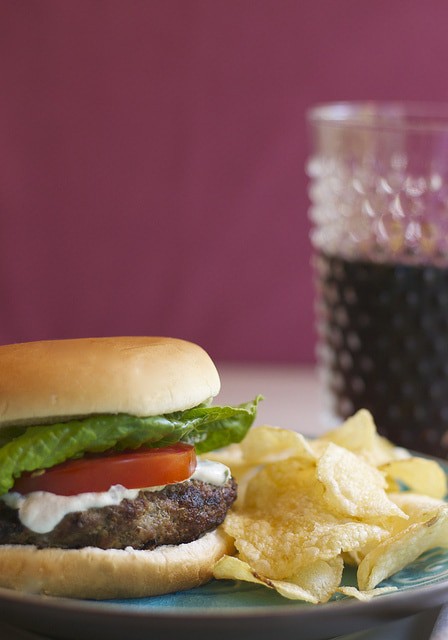 Not long ago, my family and I moved from the east coast to Michigan. We lived there for about 2 years, in a beautiful town called Brighton, a 20-minute drive to Ann Arbor. Before moving to Michigan, I didn't know much about it or other parts of the Midwest. What I learned almost immediately was how warm and friendly the people were there. Another memory that stays with me is the abundance of wonderful Greek and middle Eastern foods.
My husband often feasted on gyros, and Greek omelets. My favorite foods included hummus, baba ganoush, and fattoush salad. Oh, and let's not forget the homemade pitas – they were incredible and would often be served warm. I could never go back to store bought after eating those. I will post my recipe for pocketless pitas soon.
Given the difficulty in making traditional gyro meat, I thought this burger was a good substitute since it can be prepared in a much shorter period of time. We love burgers, and this puts a different spin on the typical pattie. I used store bought (actually from the farmer's market) tzatziki sauce, but you can easily make your own if you choose to, and so I've included a recipe for it. Allowing the unformed meat mixture to sit overnight will improve the flavor and works well if you are looking for a make-ahead meal.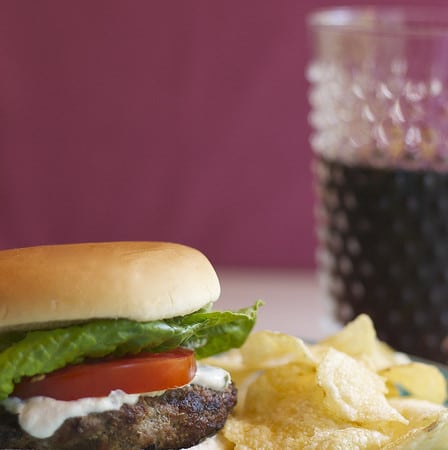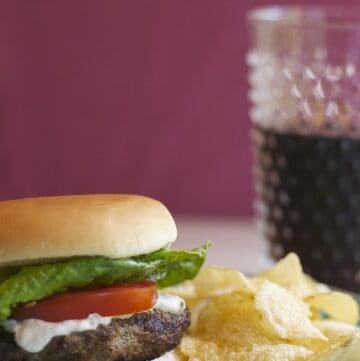 Ingredients
For the Burgers:
Ground lamb or beef

(or mixture of the two), 1 pound

Dried oregano

, 1 tablespoon

Dried rosemary

, 1 tablespoon

Garlic

, 3 cloves, finely minced

Onion

, medium,, finely chopped

Salt

, 2 teaspoons

Black pepper

, 1/4 teaspoon
For the Tzatziki Sauce:
Greek yogurt

, plain, 16 ounces

Cucumber

, 1 medium finely minced

Mint

, 4 to 5 leaves, finely minced

Red vinegar

, 2 teaspoons

Garlic

, 3 cloves finely minced

Olive oil

, 1 tablespoon

Onion

, lettuce, tomato for topping

Hamburger rolls
Instructions
For the Burgers:
Combine all ingredients (may allow mixture to sit overnight in the refrigerator to improve flavor).

Preheat gas grill to medium high.

While the grill is heating up, remove meat mixture from refrigerator if prepared ahead, and form into 4 patties.

Grill patties about 4 minutes per side for or until the internal temperature is 145 degrees.

Top with lettuce, tomato, onion, and tzatziki sauce and serve on a hamburger roll.
For the Sauce:
Wrap the diced cucumber in a clean white cloth and squeeze out any excess water.

Combine all ingredients and mix well.

Refrigerate until cold.

Keeps in the refrigerator for about 1 week.