This lobster tail pastry, an Italian American pastry, is heavenly! Think of it as a cousin to the sfogliatelle – same crust different filling. It is quite a challenge to make, so much so that many professional bakers do not make these, so make sure you are up for the challenge! Tips and tricks for success included.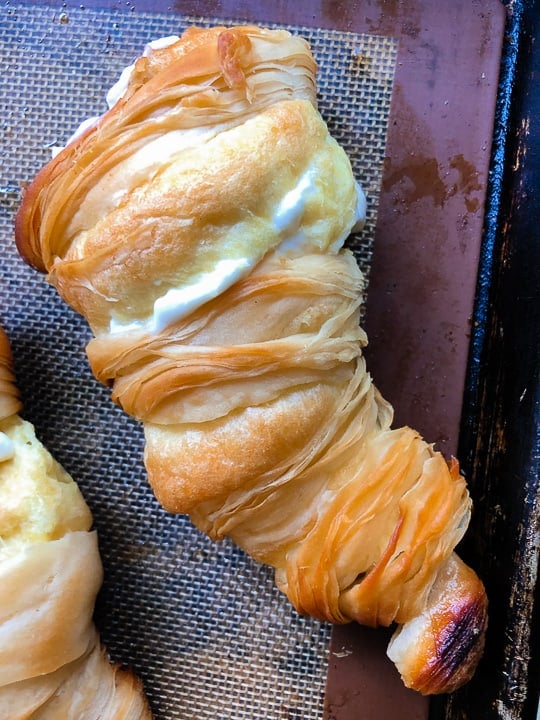 These pastries are dangerous! Everyone is my family loves them – they are the perfect combination of sweet crunchy goodness filled with a light, creamy filling. The lobster tail pastry has three major components: a crispy exterior shell made with hundreds of crunch layers, a middle layer of cream puff dough, and an interior filling of sweetened whipped cream and ricotta. It is similar to the sfogliatella.
These amazing lobster tail pastries have been on my list of things I've wanted to bake for sooooo long! I was so so thrilled with the results (although admittedly I still have to perfect my technique). Still these disappeared quickly!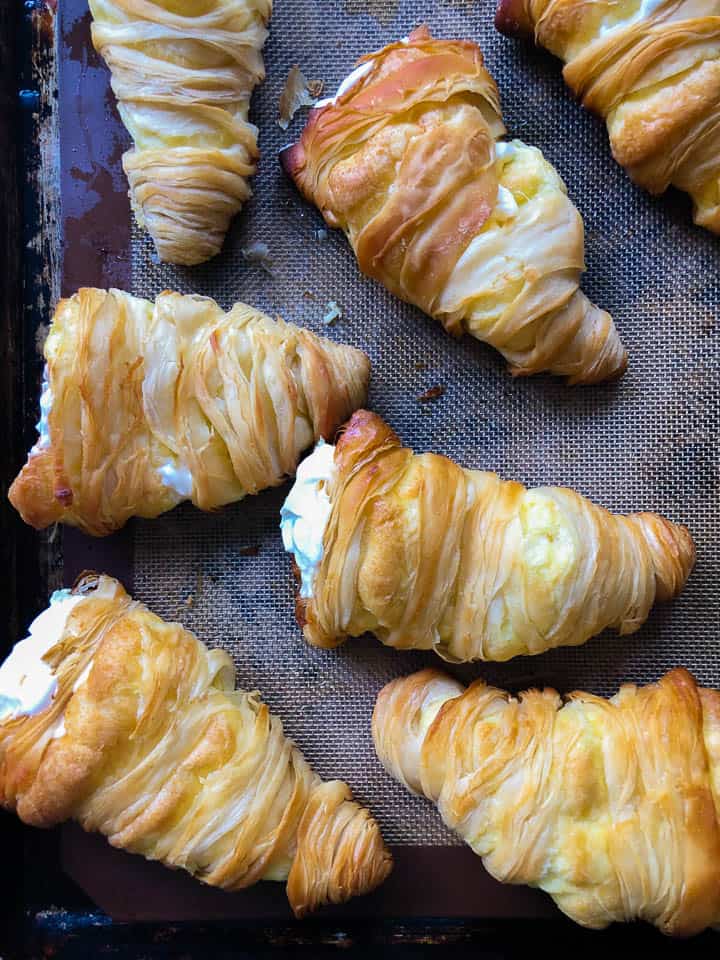 How to Make Lobster Tail Pastry: Step by Step
No doubt, the most challenging part of this recipe is getting the outer crust right. You must be very patient! I found the most difficult step to be rolling the dough and applying the softened shorting to the thin dough because it is very easy to tear the dough.
Using a pasta machine is a must! In the bakery, they would use a dough sheeter. As you can see below, I also have a motor on my pasta machine instead of a hand crank to make things easier.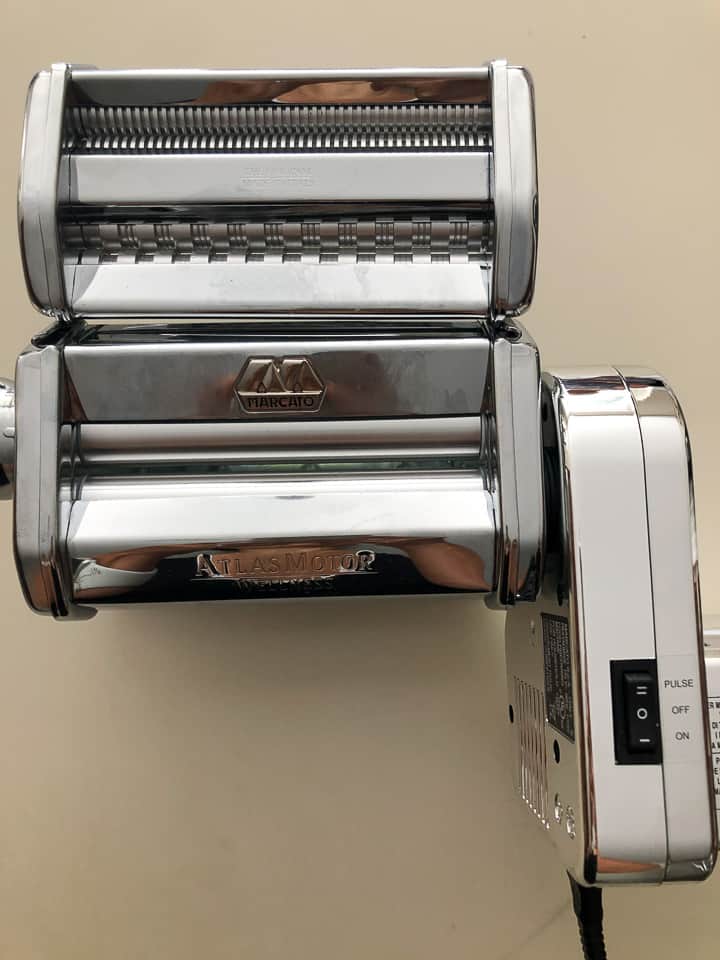 Suggested schedule, day 1 (make lobster tail pastry dough):
Mix and knead the dough for the exterior shell (see recipe below for this crispy layered outer shell).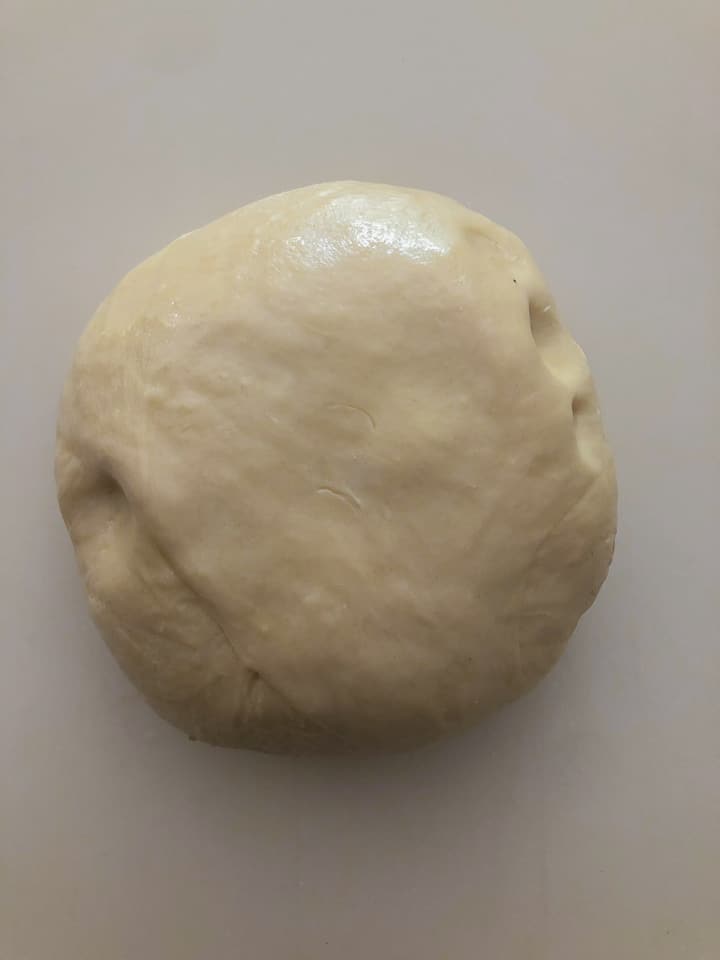 Refrigerate overnight
Suggested Schedule, Day 2 (beginning to assemble the lobster tail pastry dough)
Remove dough from the refrigerator and slice the dough into 4 pieces.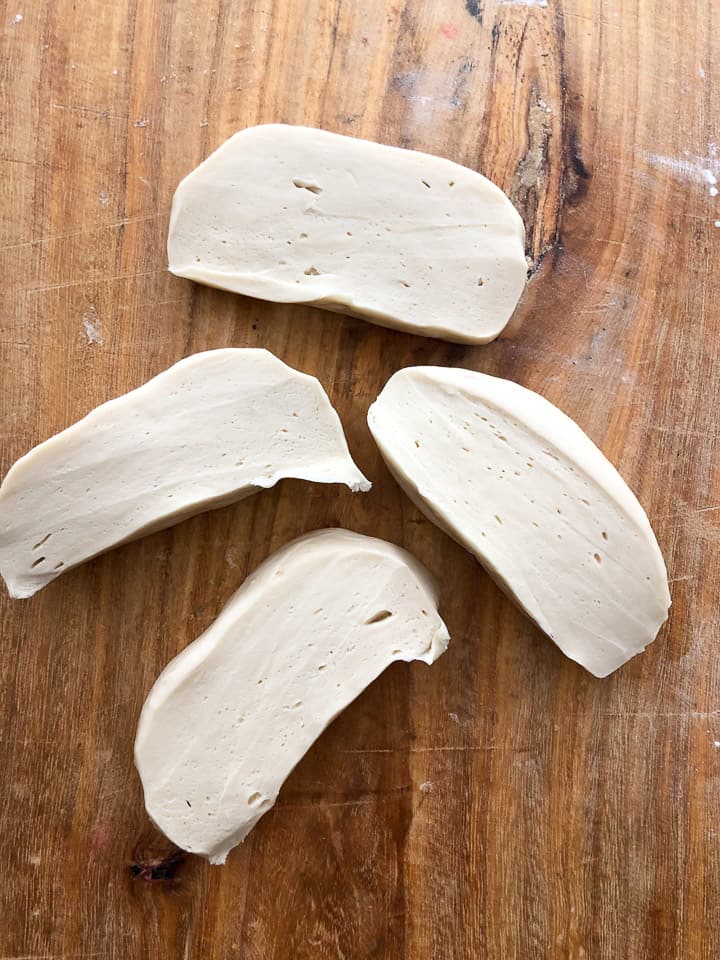 Flour your work surface and roll out the dough slightly with a rolling pin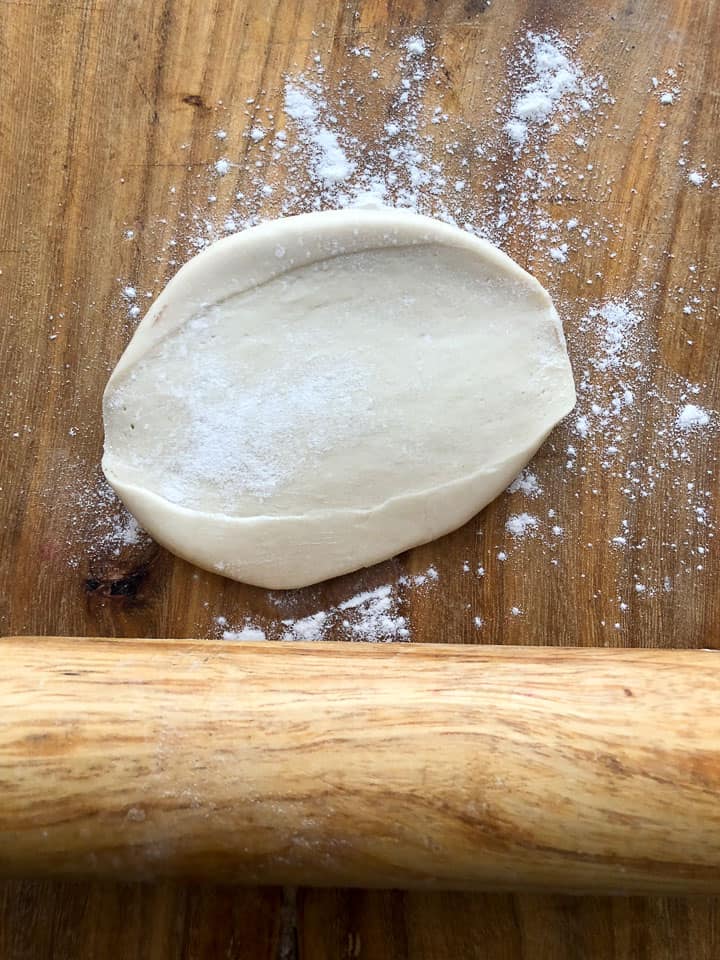 Add more flour to each side and begin passing the dough through a pasta machine beginning with the largest setting (that is a setting of "0")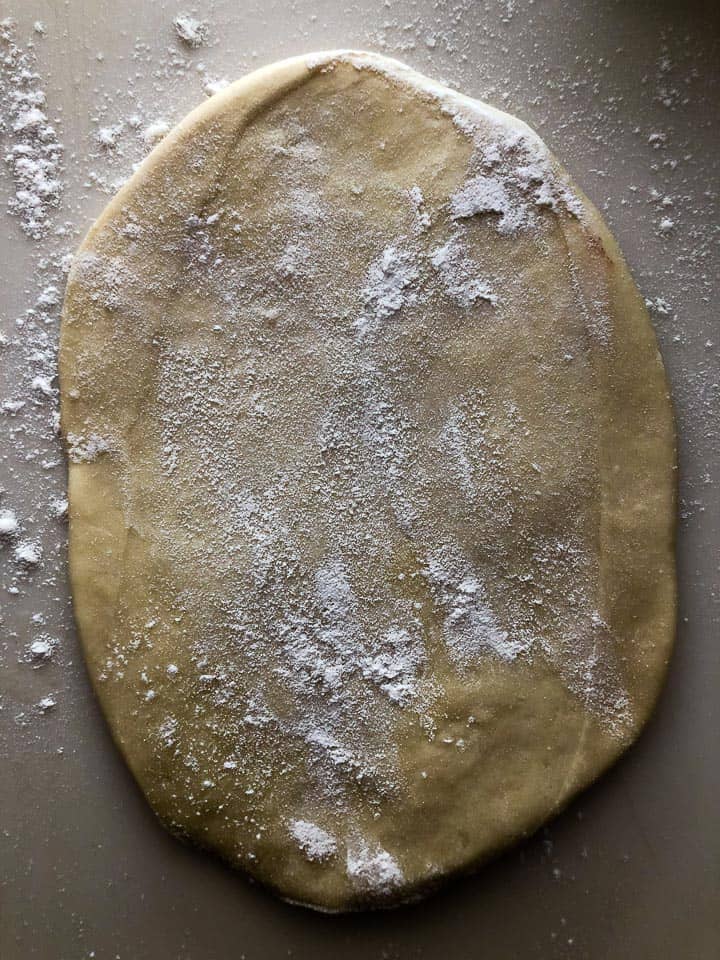 After passing through the "0" setting, pass through the settings of 1, followed by 2, then 3, and then 4 as shown here. Use a rolling pin to hold the dough but make sure you flour the dough well or it will stick!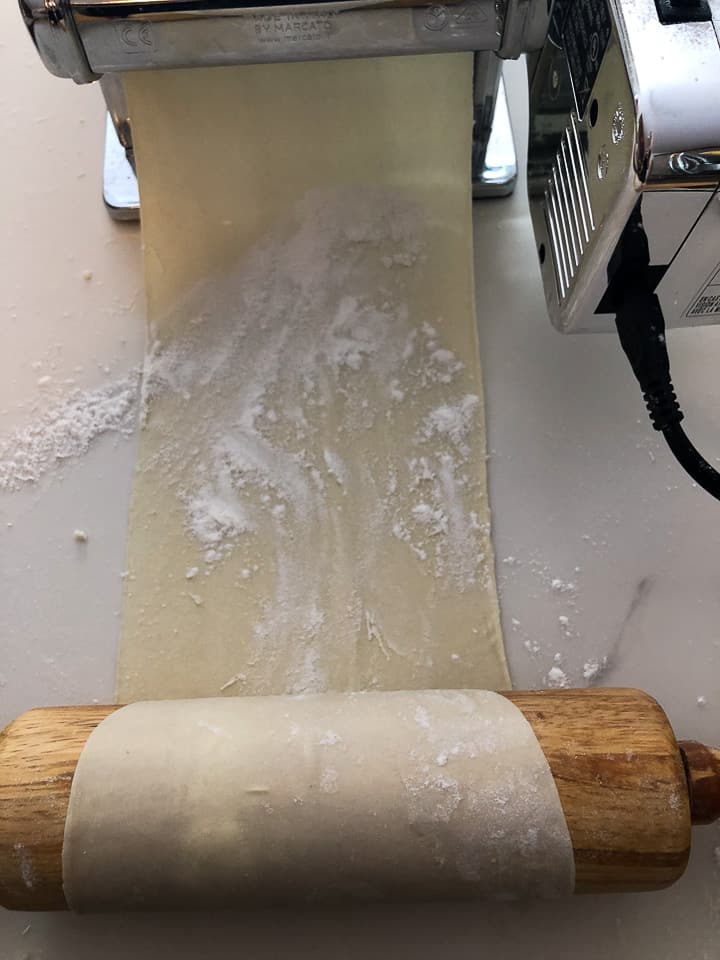 This is what your dough will look like after passing one of the four pieces through the final recommended setting of "6"  – I don't recommend going any thinner than the setting of 6. The dough should be rolled around a rolling pin but is shown here to you can see the length and thickness.
Next, carefully apply the shortening to the top of the thin sheet of dough (may use some on the other side too to prevent the dough from sliding around as you apply the shortening) and roll tightly into a cylinder/roll, pulling as you roll so it is tight and also stretching the width a bit more than it appears as it comes out of pasta machine, which limits the width.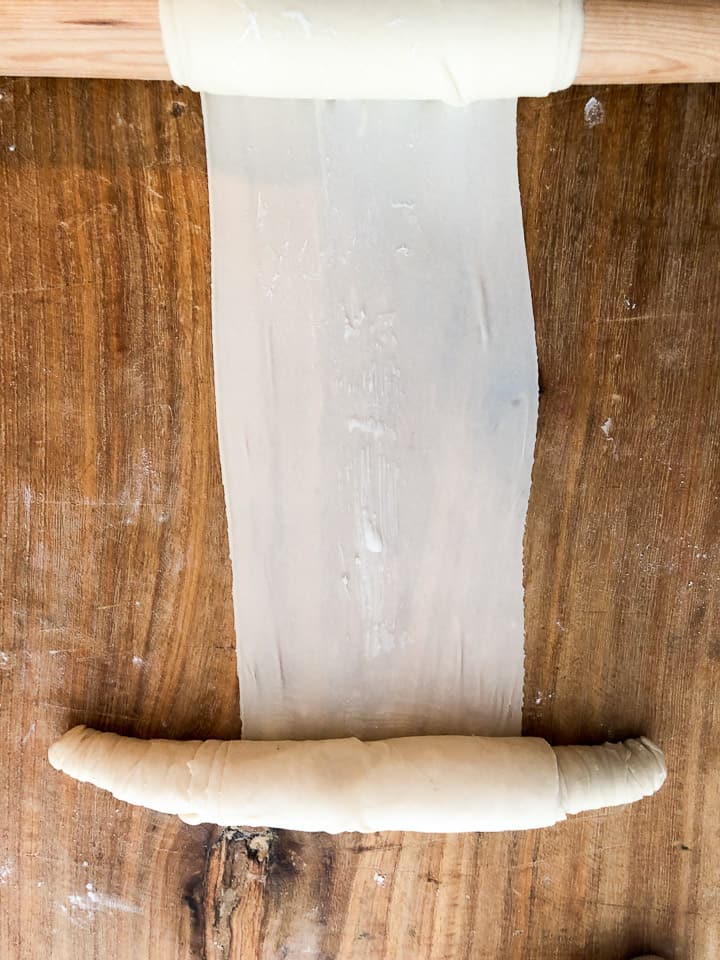 This is my softened shortening (I simply stirred it up to soften it but it may need to be slightly warmed depending on season/kitchen temperature)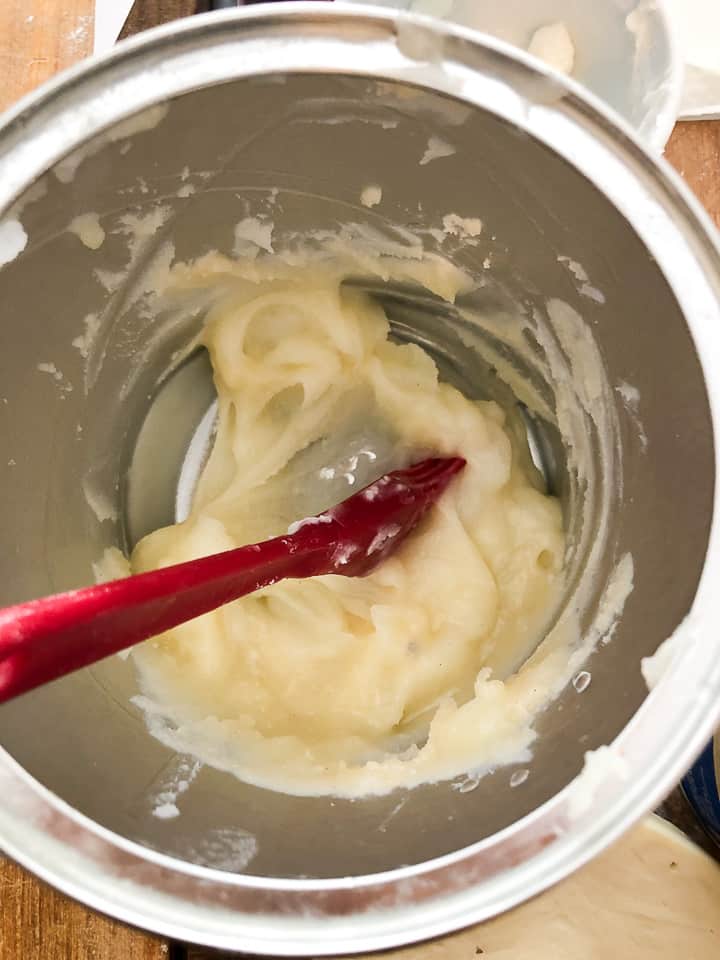 This is what my final roll/cylinder looked like – this is all four pieces of dough, rolled out thin, greased and then rolled (after you grease and roll the first piece you will continue by greasing and rolling the second, third, and fourth pieces of dough to make one big roll). Mine was about 3 to 4 inches in diameter and about 12 inches in length after I trimmed off the pointy ends.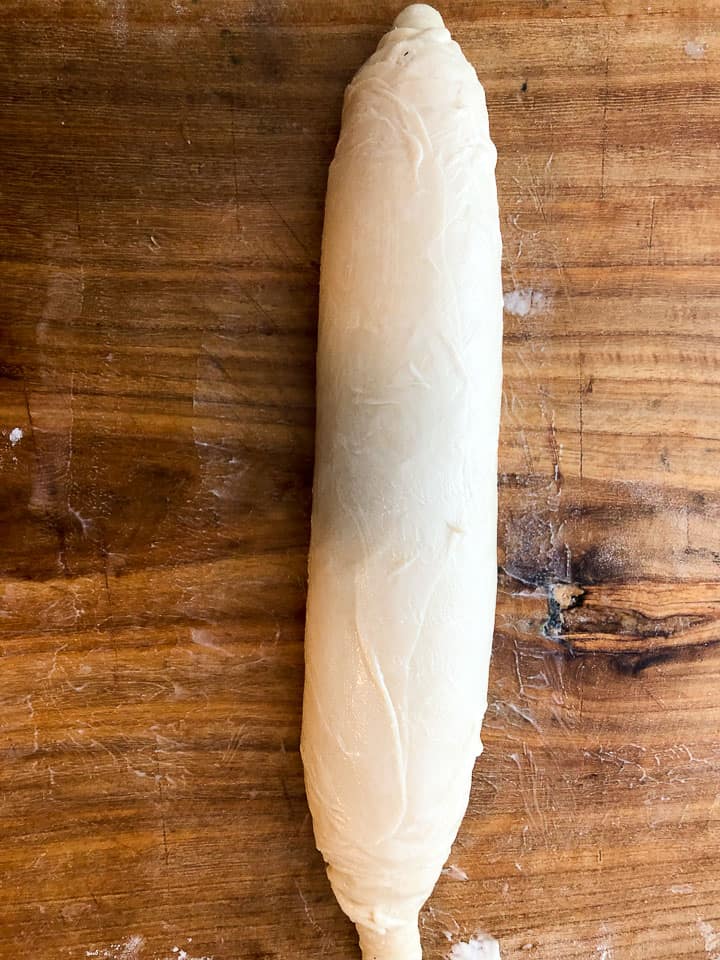 Suggested Schedule, Day 3 (lobster tail pastry)
Slice, Fill with Cream Puff Dough, and Bake (then fill again with whipped ricotta cream)
This shows how many slices I was able to make from the roll that I made. Also, roll is shown after I cut off the ends, which were pointy (see above). Final roll length was about 12 inches.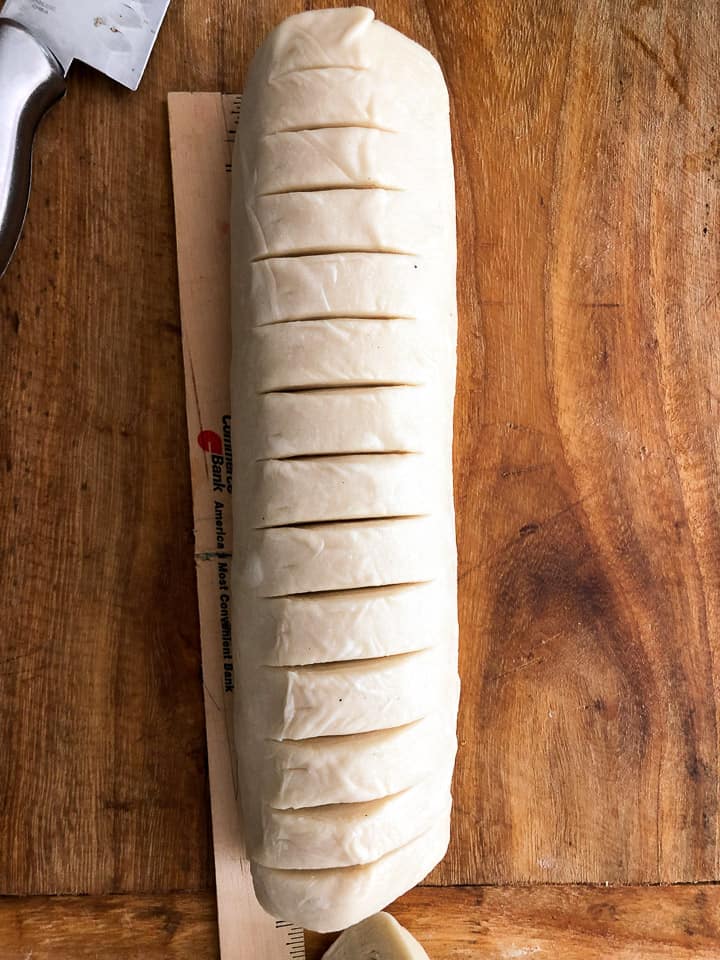 As you can see, after slicing, the inside suggests that I could have rolled this tighter.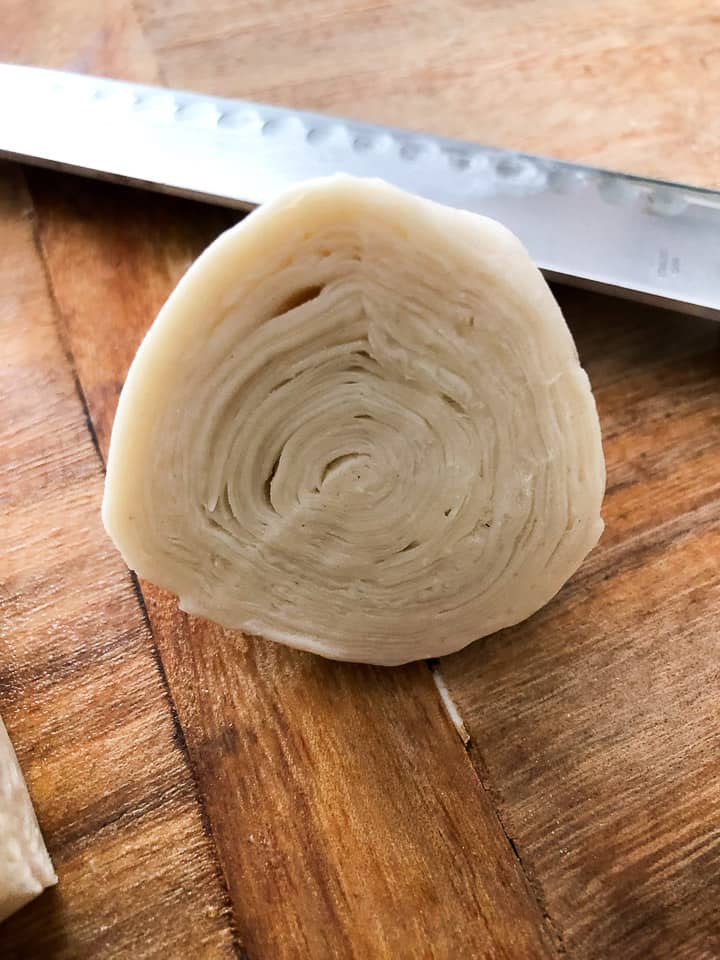 This photo shows the slices after I flattened a bit with the palm of my hand (top center) and unflattened (bottom right). If it is summer and very hot, you may want to refrigerate the slices if the shortening melts too much.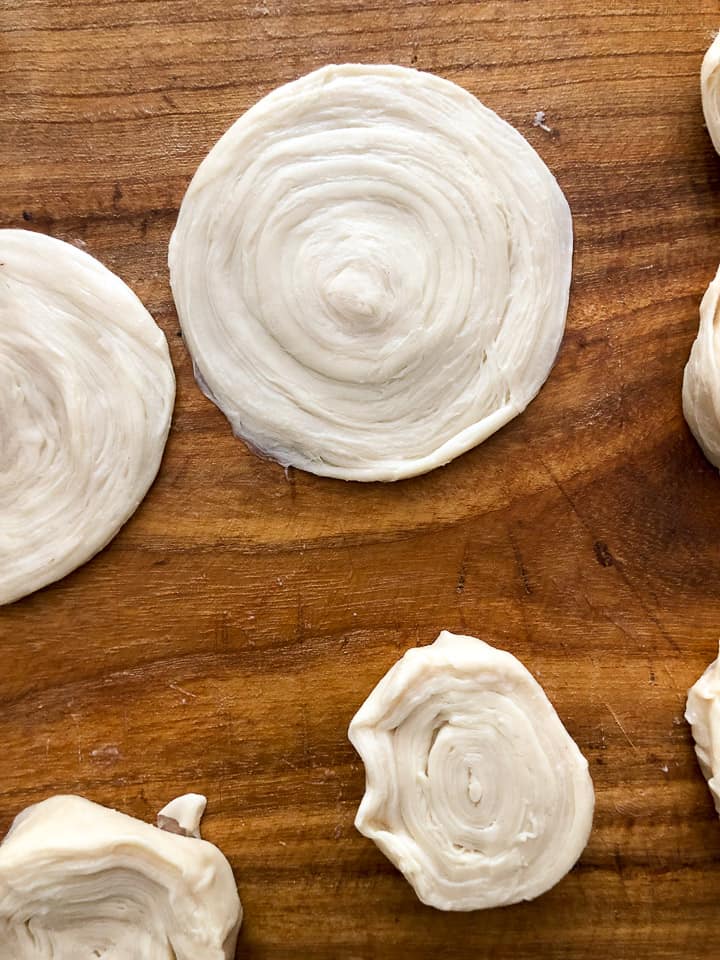 After flattening the slices, you will form a cone-like shape by pressing thumbs down into the sides and center gently.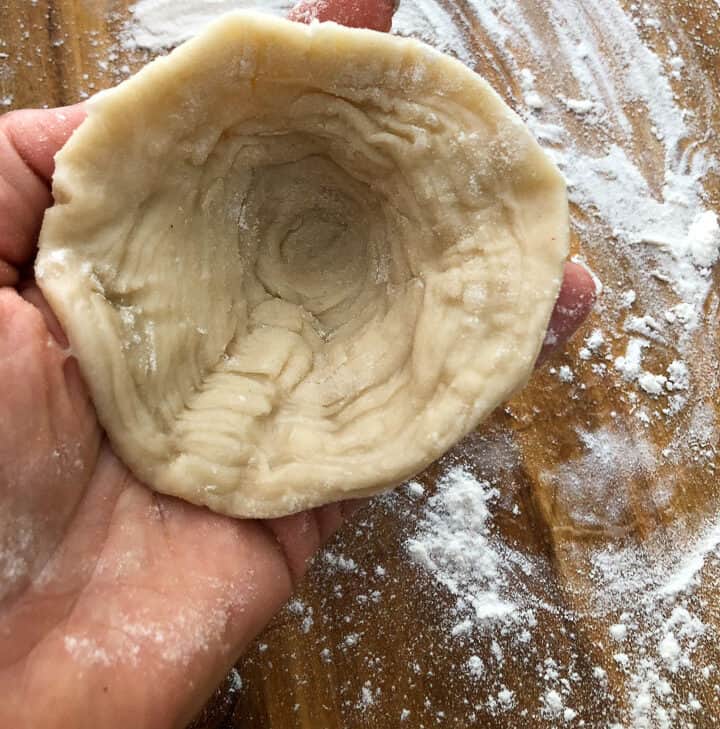 Fill with cream puff dough as shown here. Use a little more than shown here. Fill it up!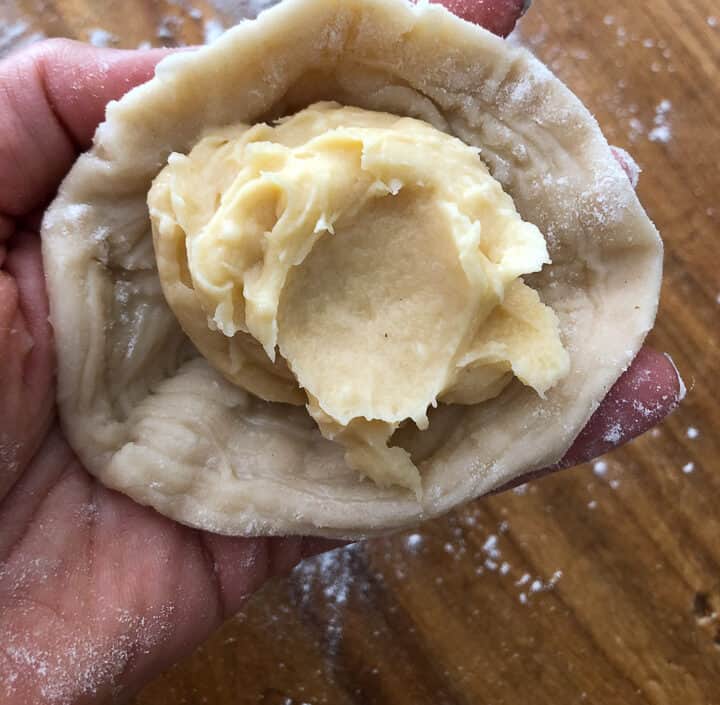 Place filled pastries on a baking sheet lined with a silicone mat or parchment paper. Do not crowd the pastries and they will expand quite a bit depending on how much filling you placed inside.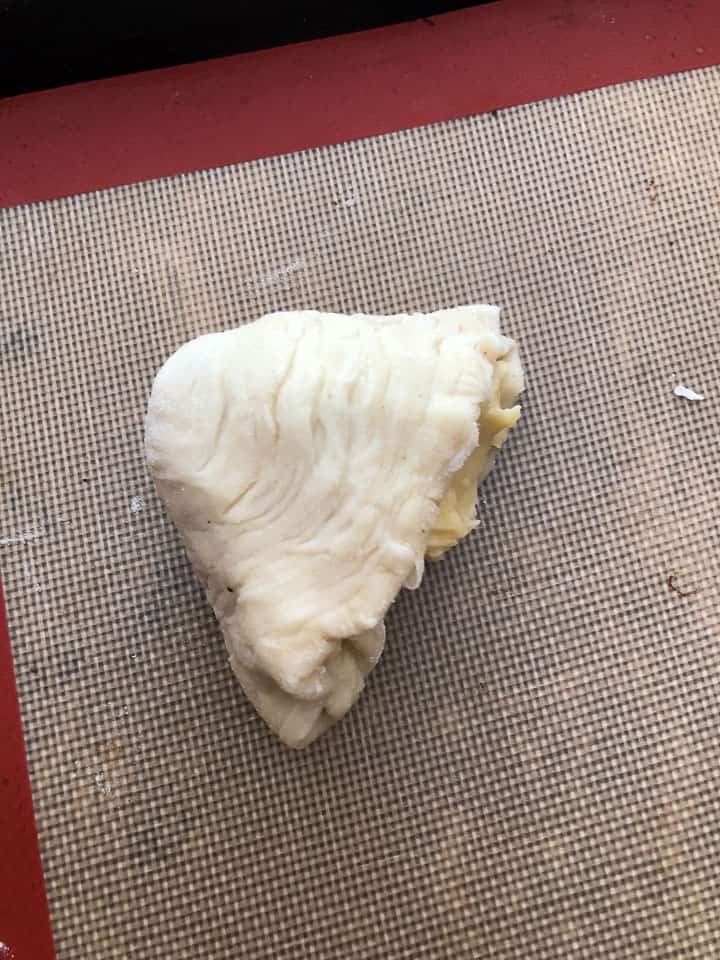 This one failed! As you can see, the interior (the cream puff dough) collapsed because I didn't bake for the full 30 minutes. If this happens, they won't look great but you can manage to "inflate" them but piping the cream into the center of the cream puff. My mistake was pulling these out of the oven too soon!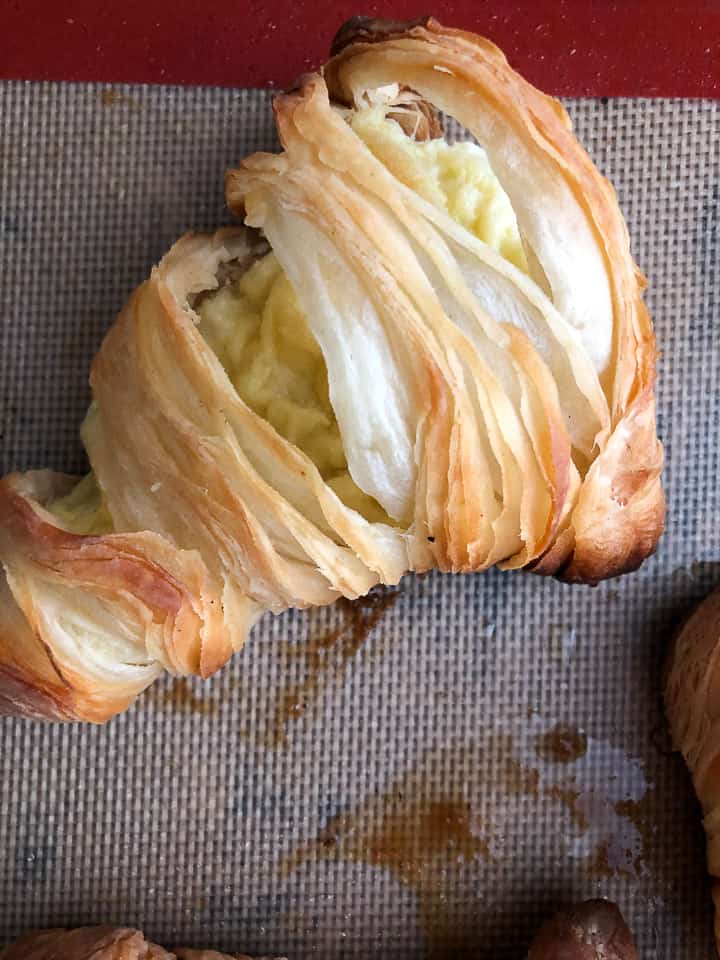 Watch the Cake Boss make his version of Lobster Tail Pastries
Try some of my other favorite Italian cake and cookie recipes: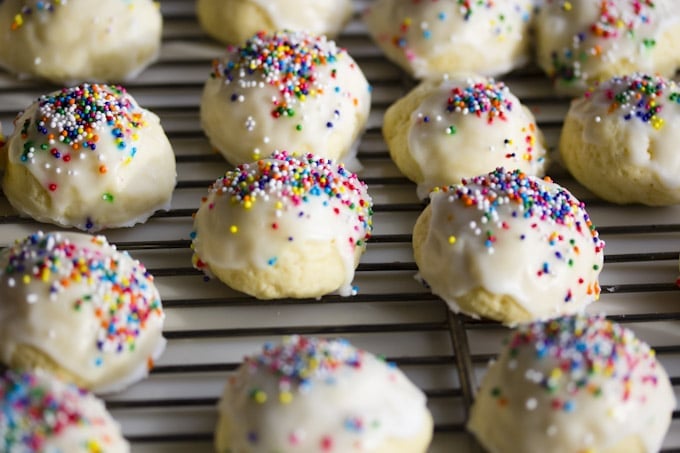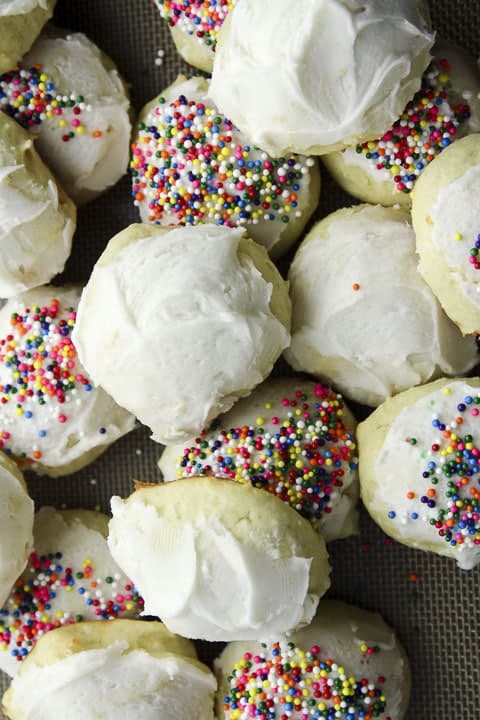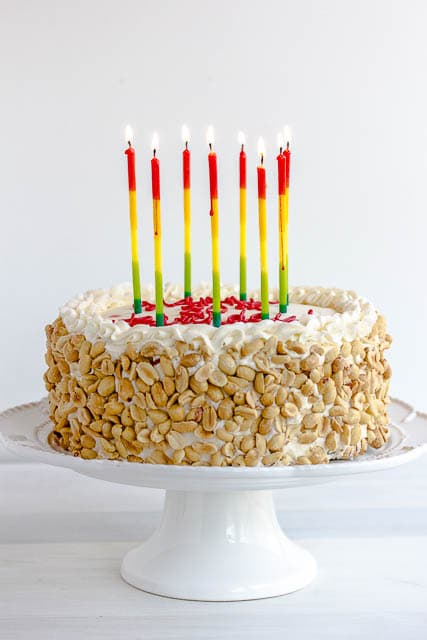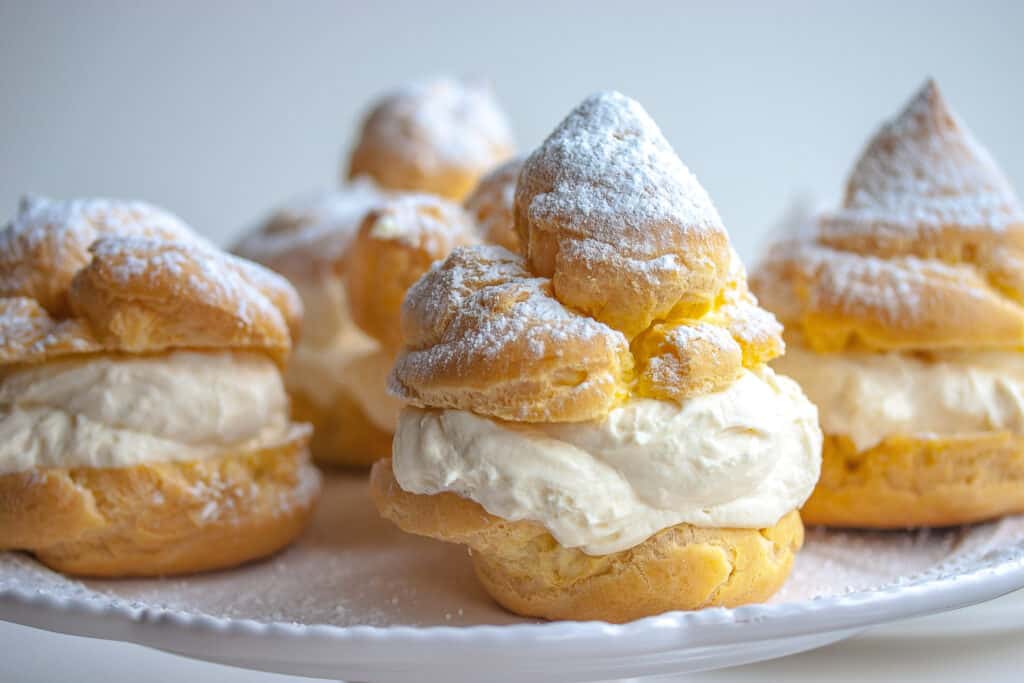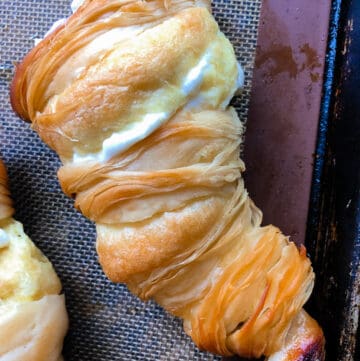 Equipment
pasta machine (with motor ideally)

baking sheets

silicone baking mats or parchment paper

pastry bag
Ingredients
Ingredients for the lobster tail pastry shells
500

grams

all purpose flour

*if using bread flour, add ~90 mls (6 tablespoons) of water

50

grams

sugar

200

ml

water
Ingredients to assemble the dough roll
Ingredients for the cream puff dough
230

grams

unsalted butter

(1 cup; 2 sticks)

473

ml

water

(2 cups)

½

tsp

salt

240

grams

all purpose flour

(2 cups)

8

large

eggs
Ingredients for the whipped cream ricotta filling
750

ml

heavy whipping cream

1

tbsp

vanilla

½

tsp

cream of tarter

420

grams

powdered sugar, divided

2 ¼

pounds

ricotta cheese

drained if necessary
Instructions
****Suggested schedule to make lobster tail pastry****
Day 1: Mix dough for lobster tail pastry shell and refrigerate overnight

Day 2: Process the dough into very thin sheets using the pasta machine and roll carefully into log form, grease the outside well, wrap with plastic wrap and refrigerate. Prepare cream puff dough, cool, cover and refrigerate.

Day 3: Assemble pastries, make whipped cream ricotta filling, bake and cool pastries, then fill with filling
Day 1, To make the lobster tail pasty dough:
Add dry ingredients of the dough to the bowl of a standing mixer and mix well. Add the water and mix until the dough forms. The dough will be very firm. Mix until well developed and you can pull a windowpane. Place in airtight container or plastic bag and refrigerate overnight.
Day 2, To form the lobster tail shell (rolling and greasing):
Cut the dough into 4 pieces

Roll out each piece until it is almost double in size; flour each side very well

Place each piece through the pasta machine beginning with the setting of 0 and progressing to the setting of 6. Use flour to prevent sticking (see photo)

Use a rolling pin to stage/hold the dough as it is extruded from the pasta machine, but make sure you flour it well or it will stick!

Apply a thin coating of shortening to one side of the dough (I also pulled slightly to make it a bit wider than the standard pasta machine width before applying fat coating) and then roll tightly in jellyroll fashion. Pull toward you every so often as you roll to tighten the roll.

Repeat this process until for each piece of dough and add each piece of thin rolled out, greased dough to the first until you have one big piece of rolled dough

Grease the outside of the dough well with the shortening, wrap, and refrigerate overnight
Day 2, To make the cream puff dough:
Sift flour and salt together in small bowl and set aside

In a medium sized saucepan, melt the butter and water over high heat until the mixture reaches a vigorous boil

Reduce heat to medium low and add flour/salt mixture all at once. Stir until the mixture pulls away from sides of pan and forms a ball

Remove from heat and add eggs one at a time, beating vigorously between additions (I used a hand mixer for this)

Place in bowl or plastic container, cover (airtight), and refrigerate.
Day 3, To make the whipped cream ricotta filling:
In a medium size bowl, combine 1.5 cup heavy cream with 1.5 teaspoon vanilla, ½ teaspoon cream of tarter, 1.5 cup powdered sugar and whip until soft peaks form. Set aside.

In another bowl, mix all remaining ingredients (1.5 cups heavy cream, 1.5 teaspoon vanilla, ~2 cups powdered sugar (scant), and all ricotta.

Combine both mixtures and refrigerate until ready to use.
Day 3, To assemble:
Remove the dough roll from the refrigerator and slice into approximately 14 to 18 pieces (about ½-inch thick slices) (I found this was difficult to slice, so I will try freezing for 20 min to firm up dough next time)

Flatten each slice with the palm of your hand (see before and after photo here) and use just enough flour to prevent sticking but not more than necessary

Form each circle into a cone by pushing down using both thumbs

Fill each cone generously with the cream puff dough (a bit more than shown)(the more filling, the longer they will expand during baking)

Place on baking sheet lined with parchment or silicone baking sheet (do not overcrowd the baking sheet as the pastries will expand during baking; if you run out of room in the oven, place pastries on baking sheet in refrigerator until ready to bake)
Day 3, To bake:
Preheat the oven to Preheat oven to 450 degrees

Bake at 450 for 15 minutes then reduce heat to 350 for an additional 20 minutes

Ensure your pastries are golden brown before turning off oven or they will deflate/fall!
Day 3, To fill the lobster tails with whipped cream ricotta after baking:
Pastries must be cooled before filling otherwise, filling will melt and become runny

Using a knife, make a slit in the bottom of the pastries so that you can insert the pastry bag with filling

Fill each pastry and set aside on a tray

Sprinkle with powdered sugar if desired (I skipped this step)
Notes
Storage guidelines: 
Dough cylinders can be chilled up to 2 days or frozen for 1 month; thaw before proceeding
Cream puff dough can be made up to 2 days ahead (according to Cooks Illustrated)
Filled lobster tails: best eaten the day they are made but will keep for a few days
Other filling ideas: 
Diplomat cream
Whipped cream with chocolate and cherries
Hazelnut cream
Tips to prevent falling of cream puffs: 
Always start with high heat to get them to puff up and cook long enough (30 min) or I find that they deflate! Also dough must be stiff and not runny. See more info here.
Tips to get a pretty crust: 
Must use good flour! All purpose or bread flours such as King Arthur, Gold Medal, or Bob's Red Mill.  
Use plenty of flour to prevent the dough from sticking as you run it through the pasta machine and roll it onto a rolling pin 
Ensure the dough is rolled thin enough (I process from 0 to 6 and then pull the dough gently to widen it a bit while applying the shortening
Rolls tightly! Pull and roll, pull and roll (tightly)
Bake until deep golden brown
Use the best ricotta you can find. I used BelGioioso and wow it is GOOD. Very creamy, not at all grainy or watery. 
Nutrition
Calories:
685
kcal
|
Carbohydrates:
62
g
|
Protein:
14
g
|
Fat:
43
g
|
Saturated Fat:
23
g
|
Cholesterol:
165
mg
|
Sodium:
131
mg
|
Potassium:
163
mg
|
Fiber:
1
g
|
Sugar:
29
g
|
Vitamin A:
1229
IU
|
Vitamin C:
1
mg
|
Calcium:
178
mg
|
Iron:
2
mg