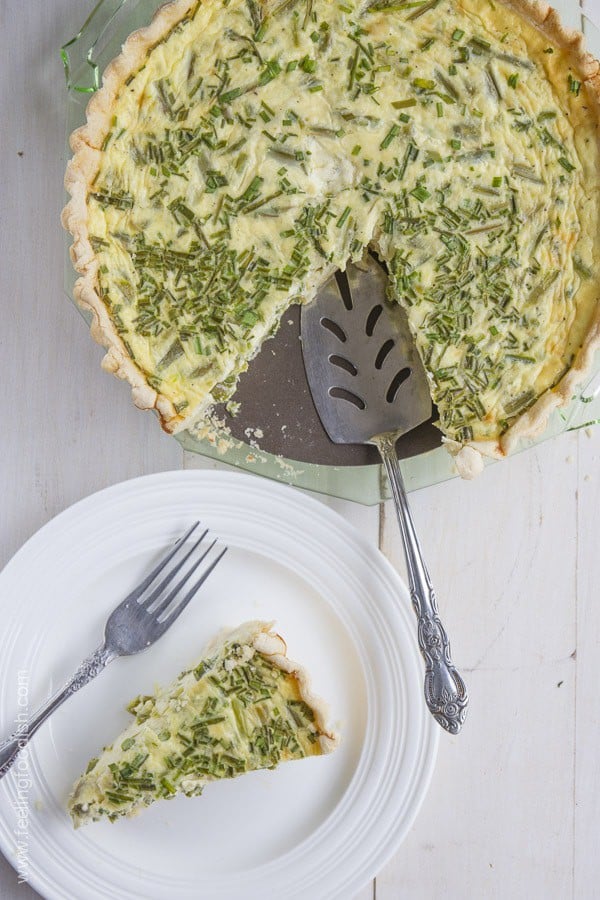 A few months ago, I bought a deep dish quiche pan from Williams Sonoma. Since I love quiche so much, I wanted to make a bigger quiche and so I thought the deep dish quiche pan would work quite well. And it did!
I chose to make a deep dish asparagus quiche with Gruyere but you can substitute any vegetable you like. You can even use cheddar in place of the Gruyere for a different flavor.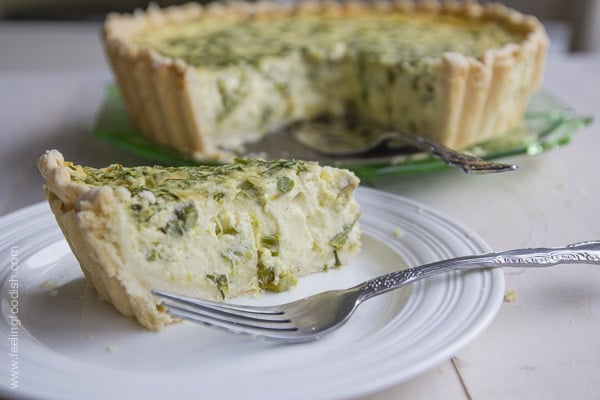 This quiche uses 7 eggs and 2 ½ cups of half and half as the base.
The vegetable is cooked first so that the moisture is drawn out and you don't end up with soggy quiche.
I alwaysss have trouble with my crust shrinking. And so, I placed the uncooked shell in the freezer for 20 minutes after it had been formed in the pan, but it did not help. I've read that pie weights are really helpful to prevent pie crust shrinkage and so I'll go that route next time.
This time, I had to reshape the crust after it was partially cooked  (fortunately, it hadn't cooked that much after 10 minutes)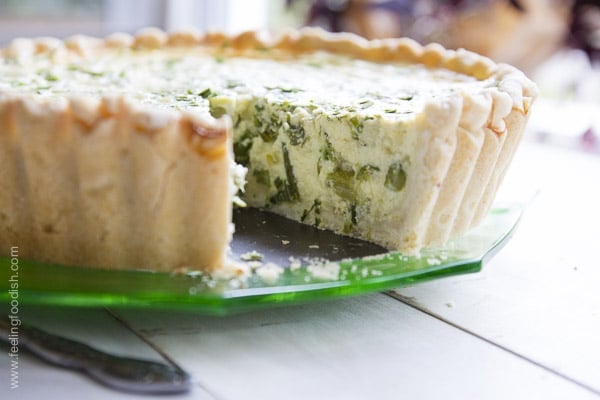 I've read that quiche is best within a few hours of making it (although it is supposed to cool for at least an hour before serving it). Eating it within several hours of making it is recommended because the crust supposedly gets soggy. I've never experienced that (maybe because I'm guilting of using pre-made pie dough from the supermarket?)…it also could be because I double up on the crust for this one. Not really sure, but I thought that I'd through that warning out there…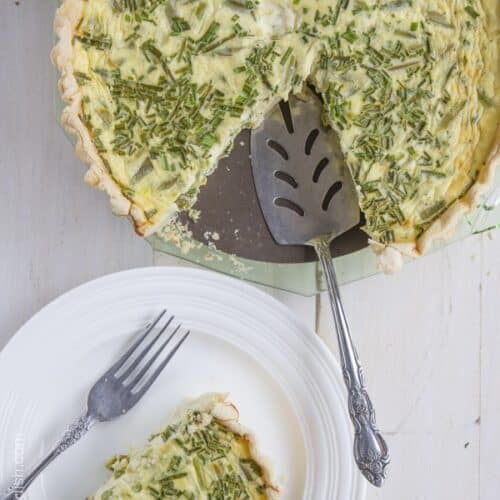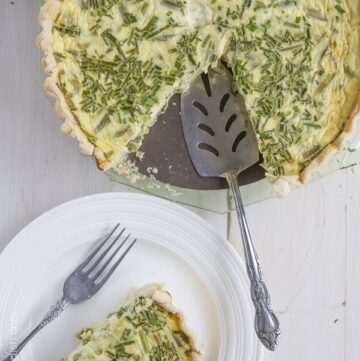 Asparagus and gruyere deep dish quiche
Super easy deep dish quiche
Ingredients
2

prepared pie crusts

3

cups

asparagus

, cooked and sliced into ¼-inch pieces(this was one small/medium bunch)

7

eggs

2 ½

cups

half and half cream

(or milk)

½

teaspoon

salt

½

teaspoon

pepper

1 ½

cups

Gruyere cheese

, shredded (6 oz)

2

tablespoons

chives
Instructions
Preheat oven to 350 degrees

stack pie crusts inside a deep dish quiche pan and press into sides

Precook pie crust for about 10 minutes (Use pie weights to prevent shrinkage of crusts)

While crust is cooking, beat eggs, cream, salt and pepper in a large bowl

Stir in cheese, cooked vegetables, and herbs.

Pour into warm crust and return to oven and bake for about 50 to 60 minutes. Check the quiche in the last 15 minutes and cover with foil if it is getting too much color

Quiche should be slightly jiggly and will firm up as it cools
Interested in More Recipes?
Subscribe now to get recipes delivered to your email 🙂