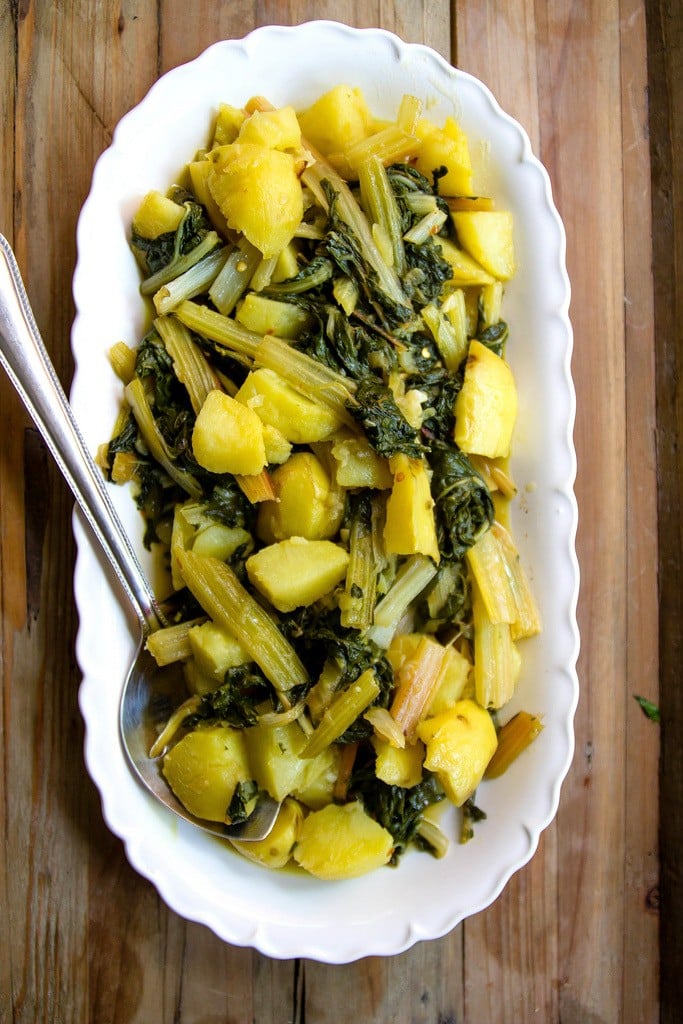 So I joined the CSA this year and have been getting lots and lots of vegetables.
We are getting 3 bags full weekly of things that are in season locally. So far, our shares have included lots of leafy greens including romaine lettuce, butter lettuce, red lettuce, swiss chard, cabbage, cucumbers, kale, spinach, arugula, carrots, turnips, snap peas, broccoli, strawberries, and herbs. So. much. stuff!!!
I like all of this veggies (although I've never eaten turnips!), but my eyes really light up when I see swiss chard. First, it's just plain ole pretty, isn't it?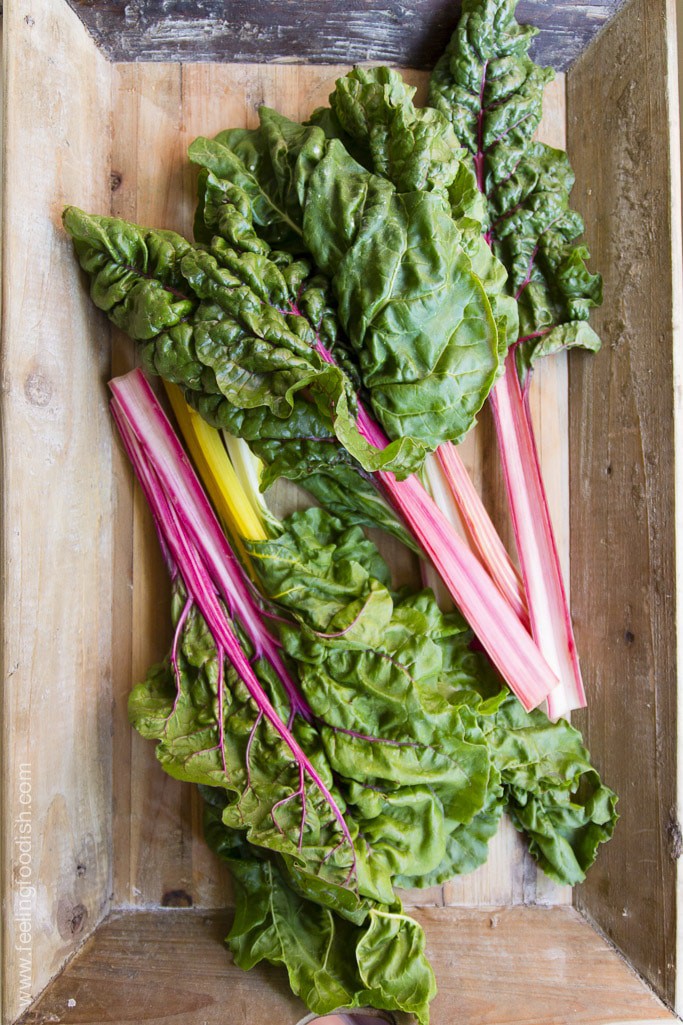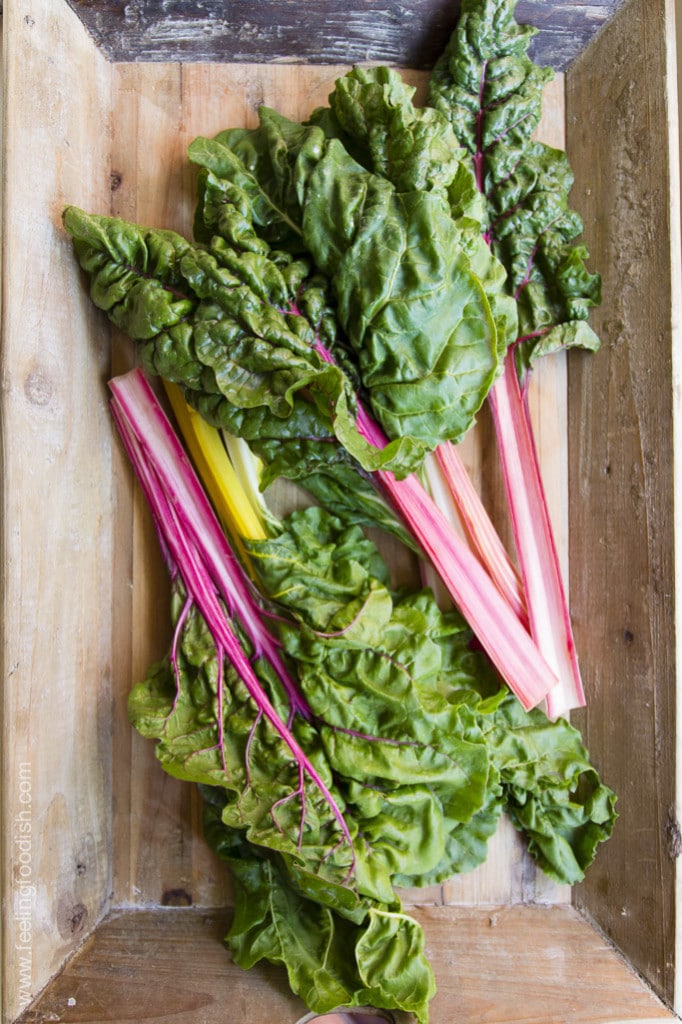 My mother makes the best swiss chard everrrr. It's simple, flavorful, and has just a hint of spice, which adds an amazing little kick. She makes it plain (without potatoes) but I thought I'd share the potato-ed version since it can easily serve as a meal with the potatoes in it.
To begin, she cuts or bends the bottom of each stem. If it's tough enough to snap off, she will break it off and then pull to tear away the threads (see below top right photo).
Then, she will slice each stem in half lengthwise, and then chop if off in 2 pieces, and then cut the vein in the center of the leaf like the photo below (see top left photo) and chop that into 2 or 3 pieces (see bottom right photo).
This recipe also uses about ½ of a medium sized onion, sliced (see bottom left photo below).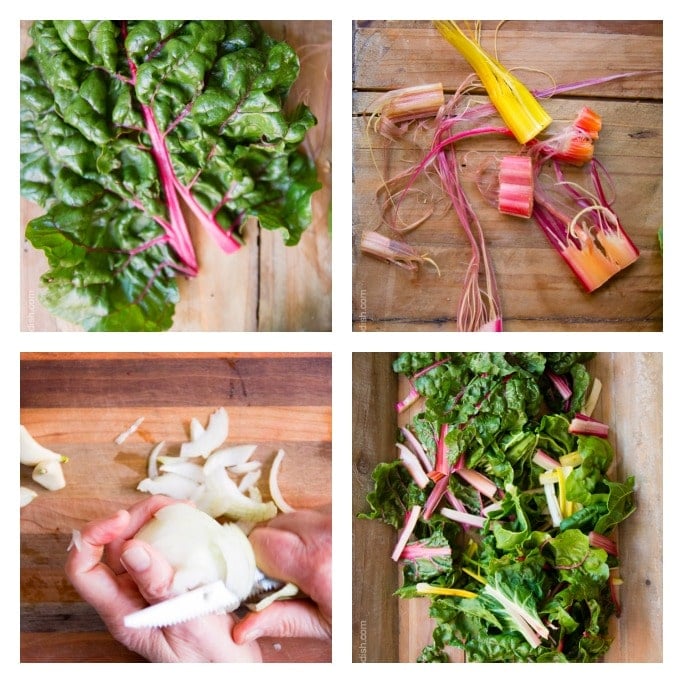 You'll also need some cooked potatoes. You can boil them, bake them, or even microwave them like we did for faster results. Slice the potatoes into pieces like so: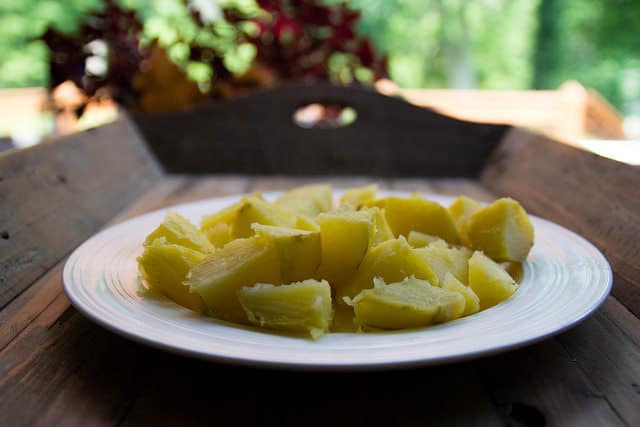 This takes about 45 minutes to an hour to make, but most of it is hands off. It just takes a while for the stem of the swiss chard to get tender. It's enough for 2 main dishes or 4 side dishes.
Have lots of Swiss chard? You can also try using Swiss chard instead of escarole in this delicious Utica greens recipe!
Worth the wait though!
📖 Recipe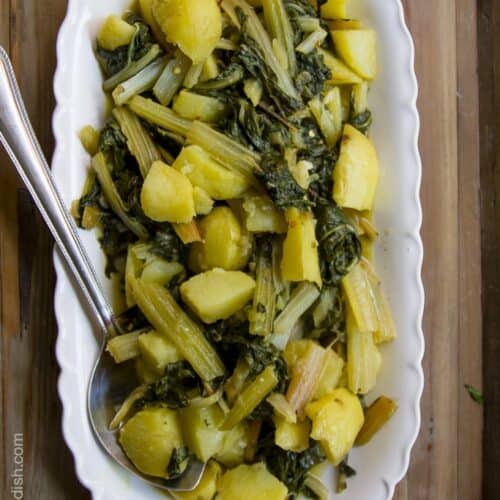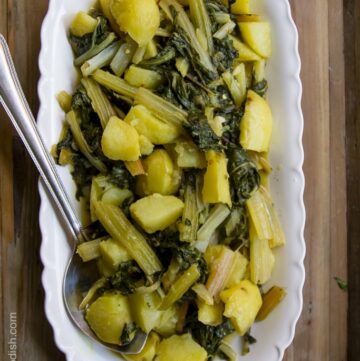 Spicy Swiss Chard with Potatoes
This Swiss chard recipe is a flavorful and nutritious side dish that's easy to make. Cooked with onions, garlic, and potatoes in olive oil until tender, then seasoned to create a perfect balance of flavors, serve it as a side dish or add it to your favorite grain bowl for a healthy and satisfying meal!
Ingredients
2

bunch

swiss chard

(I used rainbow)

4

tablespoons

olive oil

½

onion

sliced or chopped

2

cloves

garlic

minced (divided)

½

teaspoon

salt

or use chicken bouillon flavoring if you have it.

½

cup

water

½

teaspoon

red pepper flakes

4

small

potatos

cooked, peeled, and cubed
Instructions
Clean swish chard by removing tough parts of bottom stem (if needed)

Chop swiss chard stems and leafs and then wash and drain

In a large saute pan, add 4 tablespoons olive oil and then add onion and cover.

Cook onions for about 15 minutes or until tender

In the meantime, cook the potatoes (I microwaved mine for about 6 minutes then peeled and chopped them)

Add 1 clove of chopped garlic and the chopped swiss chard. Cover and cook over medium low heat for about 40 minutes or until tender (the stems take a while to become tender)

The greens will release a lot of water, but most of it will eventually cook off

Add half a cup of water after about 30 minutes of cooking the greens to help the greens become more tender

About 5 to 10 minutes before the greens are done, add the salt or chicken bouillon powder, the other clove of minced garlic, and the red pepper flakes and stir to combine

Continue cooking, uncovered, until most of the liquid is absorbed

Add the potatoes and continue cooking until heated through (about 1 to 2 minutes)
Nutrition
Calories:
292
kcal
Carbohydrates:
37
g
Protein:
6
g
Fat:
15
g
Saturated Fat:
2
g
Polyunsaturated Fat:
2
g
Monounsaturated Fat:
10
g
Sodium:
627
mg
Potassium:
1315
mg
Fiber:
6
g
Sugar:
4
g
Vitamin A:
9252
IU
Vitamin C:
80
mg
Calcium:
105
mg
Iron:
4
mg
Interested in More Recipes?
SUBSCRIBE to get recipes delivered to your email 🙂