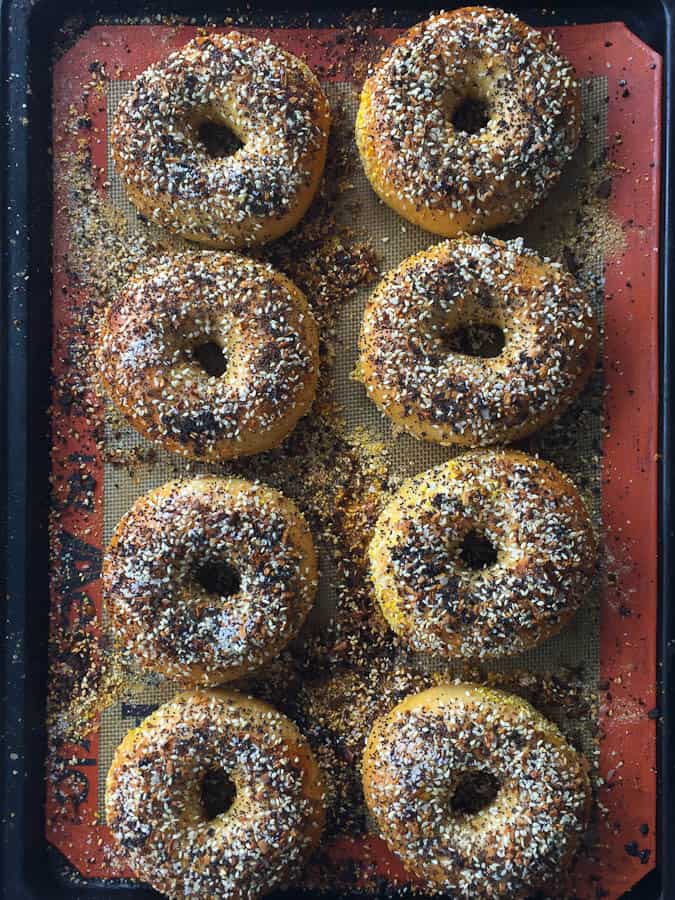 Loving this recipe!
I am SOO excited to share this recipe for authentic NY bagels, which I absolutely love love love. I've had this recipe for a loooooong time, and here it is, finally!
This is one of those recipes that I had written on an index card and would cry if I lost it. Do you know what I mean? In fact, I thought I did lose it! I'm so happy to say that it's on the blog now for safe keeping. The recipe came from a community post that I read long ago from someone who baked bagels for a living.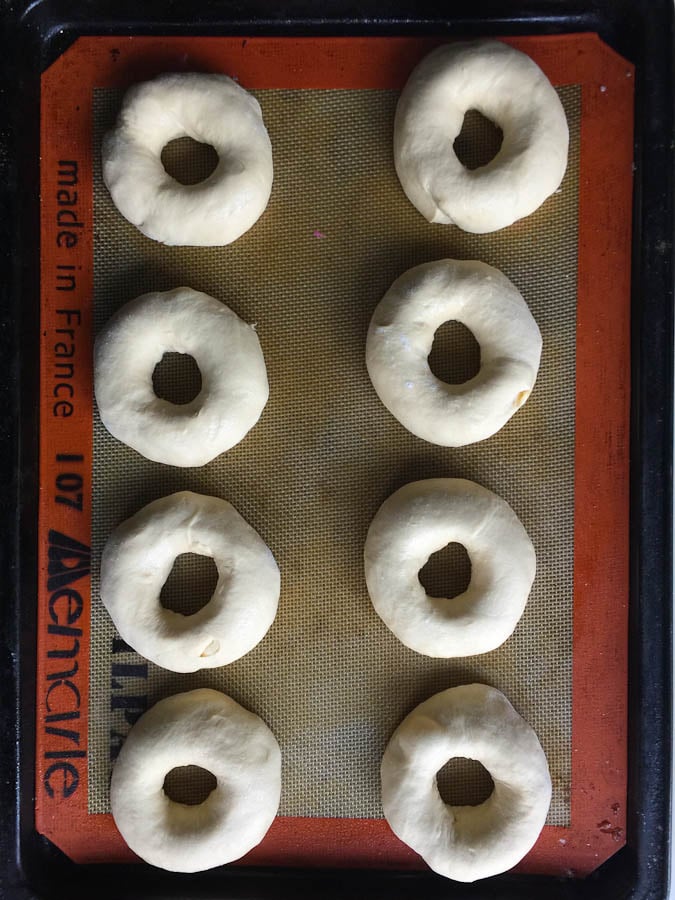 Mixing and shaping
After mixing the dough, you will divide it into 8 equal portions. Now if you are like me, you will use a scale to do this so that your bagels are all pretty close in size, but it's not necessary to do so!
Personally, I find the easiest way to shape bagels is to poke a hole right in the middle of the ball of dough and then stretch it out into the shape of a bagel. Another method would be to roll the pieces of dough into a long rope and then form the rope into a bagel and seal the edges.
After forming the bagels, they were placed on a silpat liner. If you don't have silpat, use parchment paper that has been sprinkled with corn flour. Also, you should allow these to rise for about 20 to 30 minutes at room temperature before baking them.
Increasing flavor
I opted to retard mine in the refrigerator after shaping them. See above for what they looked like before the overnight cold rise and below for what they looked like afterwards. Not too much of a difference, but they are definitely puffier and smoother as you can see: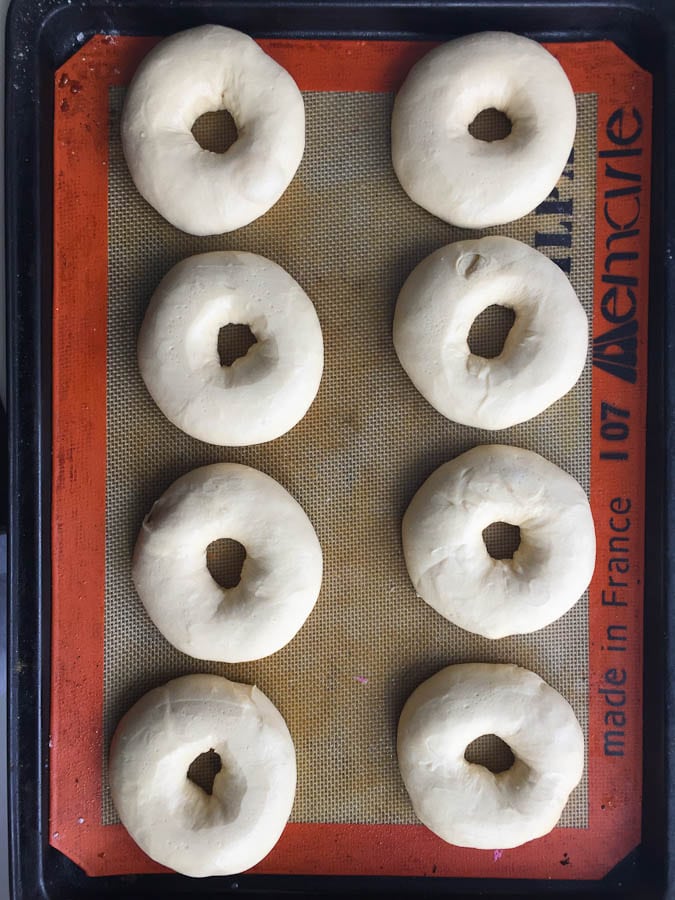 Boiling the bagels
Just prior to baking, you will prepare a kettle bath that includes barley malt syrup and salt. Use of the kettle bath gives these bagels that distinct flavor, and also sets the crust before baking, giving you that distinct bagel-y chewy crust and dense interior.
Here's what my bagels looked like after the kettle bath and after topping them with an "everything topping" (poppy seeds, sesame seeds, dried minced garlic, dried minced onion, and coarse salt). As you can see, there is also some cornmeal sprinkled on the bottom. In retrospect, I probably should have put the everything topping on the bottom and top of the bagels: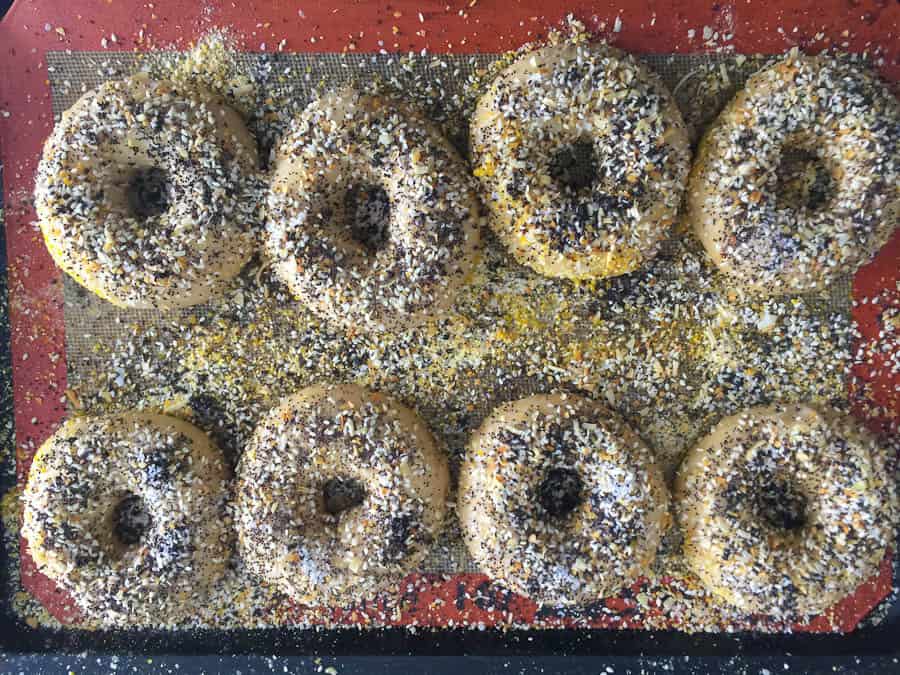 My conclusion!
I must say, these were amazing!!! And, they are totally worth the effort. Even around these parts, it's difficult to get "real" bagels. Many versions are just bagel-shaped rolls.
These take maybe 20 minutes of prep time, and then about 30 to 40 minutes in the AM to boil and bake. Not bad! I will double the recipe next time and freeze the extras. Sooo good!!
More tips on making great bagels
Like NY foods? Try my NY style pizza dough next!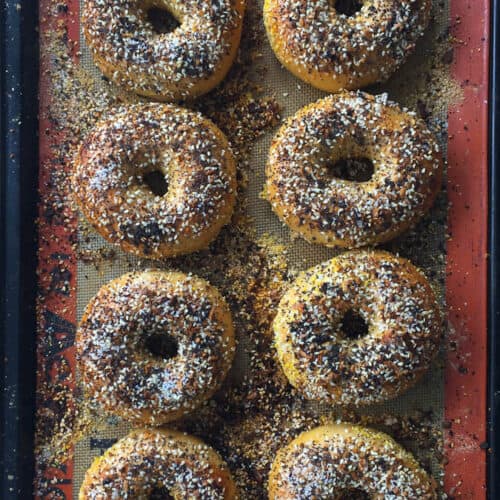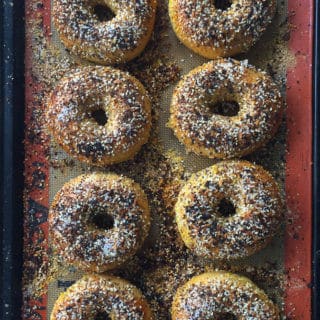 Authentic NY Bagels
An easy and authentic NY bagel recipe that makes 8 bagels (can be doubled) Prep time: active time, 15 to 20 minutes to make dough, 40 minutes to boil and bake; inactive, 20 minutes or 12 hours (if retarding for next day bake)
Print
Pin
Rate
Total Time:
1
day
1
hour
2
minutes
Ingredients
For the dough:
4.5

cups

bread flour*

(540 grams if using King Arthur bread flour or high gluten flour)

1

tablespoon

wheat gluten*

1

tablespoon

dry yeast

1

tablespoon

sugar

2

teaspoons

salt

1.5

cups

warm water

(~354 grams)

2

teaspoons

malt syrup

(barley malt syrup)**

1

tablespoon

vegetable oil
For the kettle water (can double if you have a really huge pan):
3

quarts

water

1

tablespoon

malt syrup

1/2

teaspoon

salt
For the everything topping***:
2

tbsp

Sesame seeds

2

tbsp

Poppy seeds

1

tbsp

Dried minced onion

2

tsp

Dried minced garlic

1

tsp

Coarse salt
Instructions
To make the dough:
Add all dry ingredients to the bowl of a standing mixer and blend

Add water and malt syrup and mix until blended

Add the oil and knead for 10 to 12 minutes

Rest dough for 15 minutes and then divide into 8 pieces

Line a baking sheet with parchment and sprinkle it with cornmeal or corn flour

Shape dough into balls and then poke hole in center, form into bagels, and place on prepared baking sheet

To bake same day, let the bagels rise for 20 minutes and then bake; for better flavor, cover the bagels with plastic wrap that has been sprayed with baking spray (to prevent sticking), and then bake the bagels the next morning.

When ready to bake, preheat oven to 450 degrees

In the meantime, bring kettle water (see recipe above) to a boil in a large pan with deep sides (saute pan or broiler pan) and boil bagels in batches of 3 to 4 for about 45 seconds and then flip them over and boil for another 45 seconds on the other side

Drain bagels onto a dish towel and then place onto a baking sheet

If desired, top with your favorite bagel topping or leave them plain.

Place bagels into the oven and then immediately reduce oven temperature to 425 degrees

Bake for 17 to 25 minutes
Notes
*may use high-gluten flour (14% to 15% protein) in place of bread flour (12% to 13% protein) with the wheat gluten
**barley malt syrup can be found at most health food stores, home brewing supply stores, and Whole Foods; may substitute brown sugar for less authentic flavor
***this makes about 1/2 cup of topping; I make a really big batch of this by using larger measurements with about the same proportions: 1 cup sesame seeds, 1 cup poppy seeds, 1/2 cup dried minced onion, 1/4 cup dried minced garlic, 2 tablespoons coarse salt. (store extra in plastic bag or a jar for next batch of bagels)
Nutrition
Calories:
321
kcal
|
Carbohydrates:
59
g
|
Protein:
10
g
|
Fat:
5
g
|
Saturated Fat:
2
g
|
Sodium:
1050
mg
|
Potassium:
121
mg
|
Fiber:
3
g
|
Sugar:
5
g
|
Vitamin C:
0.5
mg
|
Calcium:
80
mg
|
Iron:
1.2
mg