A good New York Bialys is hard to find unless you live in or around NYC…so, make your own. These are absolutely amazing full of oniony and poppyseed goodness. Add cheese and it tastes like a French onion soup bread. Absolutely amazing!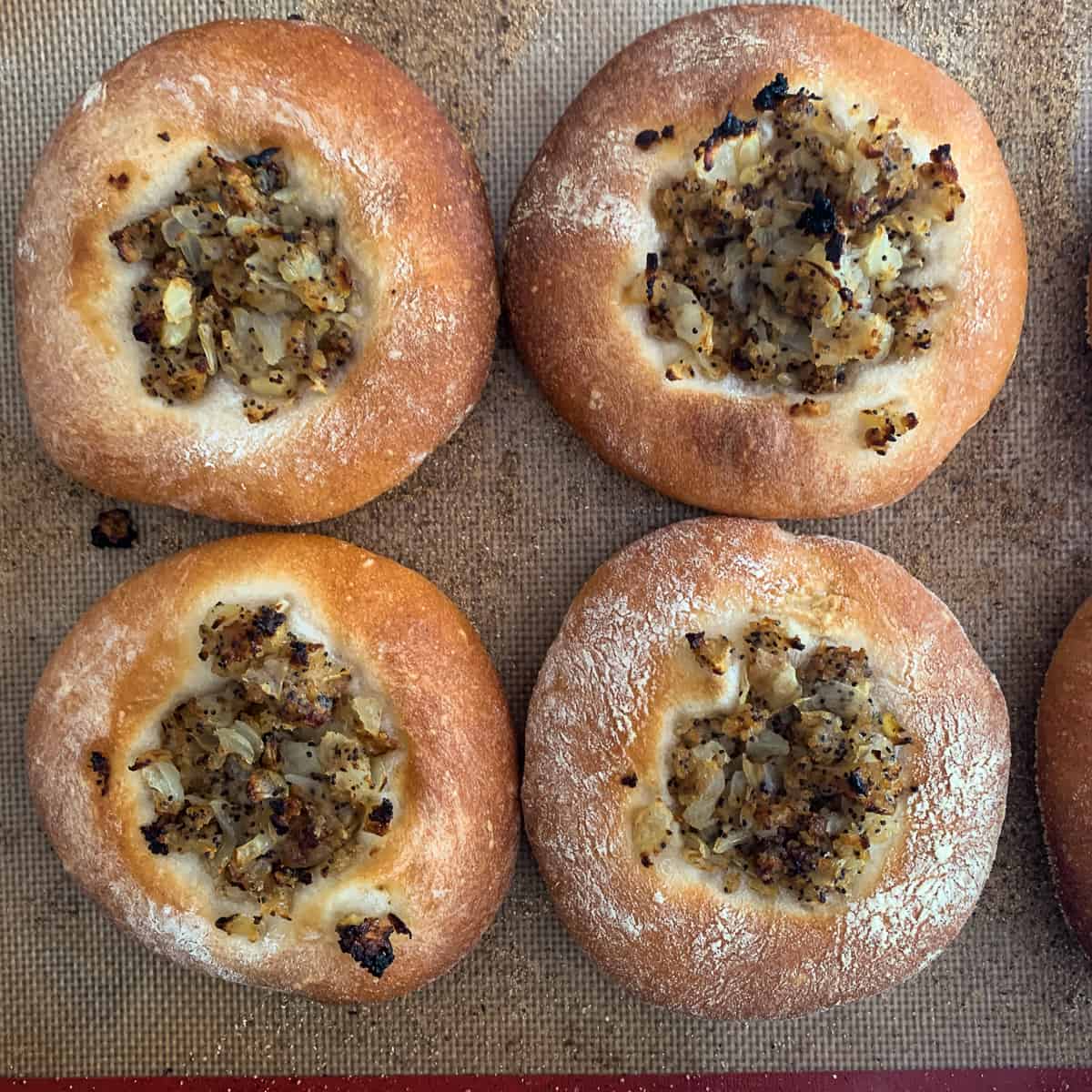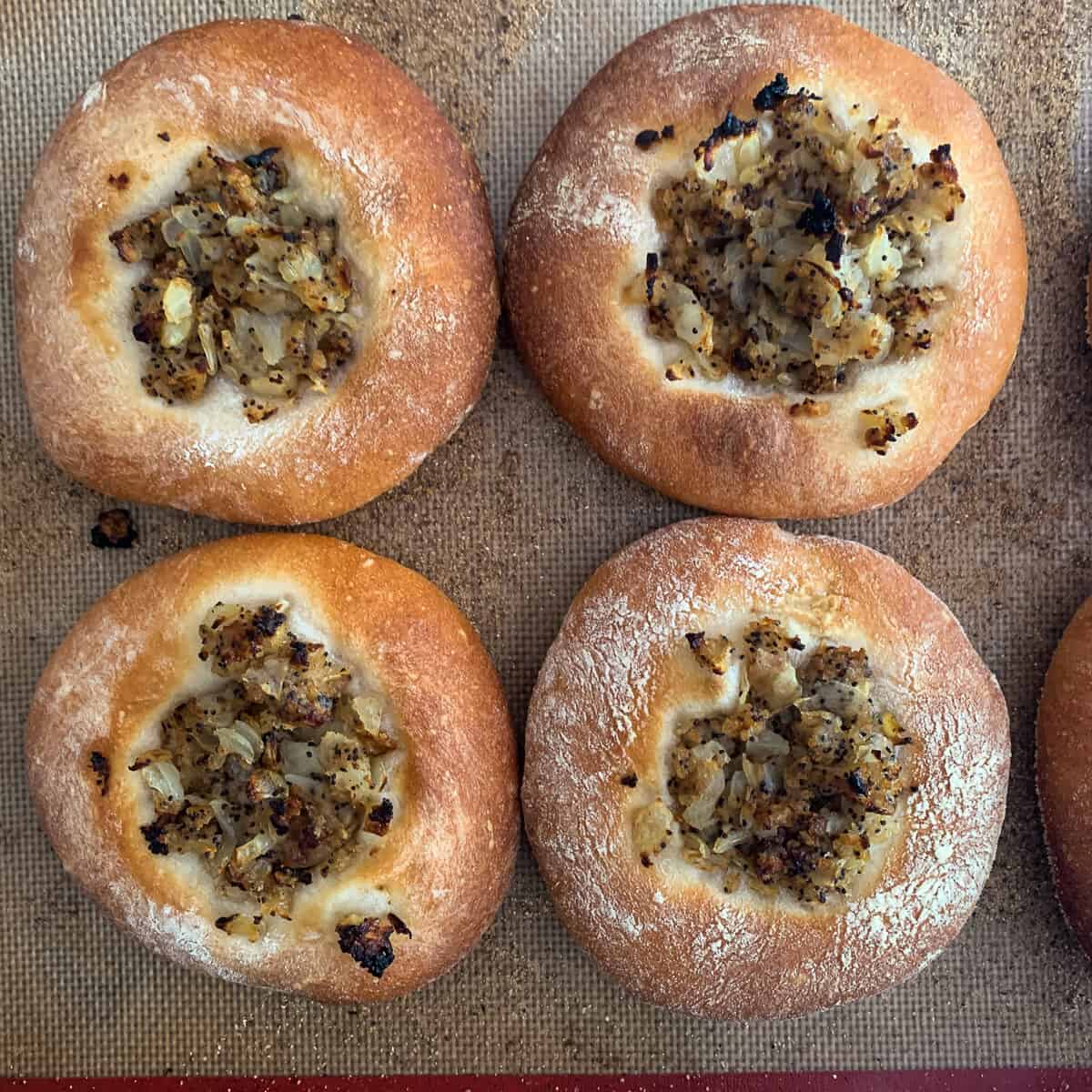 Ahhhh…bialys! These little gems bring back fond memories for me. In my past life, I was a children's wear buyer for a Philadelphia-based department store. That job brought me to NYC regularly to shop the new clothing lines each season. It feels like a lifetime ago!
Some of the perks of the job included being wined and dined and the occasional Broadway show or two. Although I didn't consider bialys part of the "wine and dine" scene, they were definitely part of the food scene, and I'd never heard of them before working in the Big Apple despite growing up near some fantastic Jewish restaurants and deli's.
Sadly, since then, I have not found many authentic bialys. You see, bialys are not simply bagels with onion toppings.
What are Bialys?
Bialys aren't nearly as puffy as bagels – I'd say they are more like a cross between English muffins and a bagel, size and shape wise.
This recipe comes from Hot Bread Kitchen Cookbook, based on the nonprofit bakery Hot Breads Kitchen in NYC. These are ahhh-mazing, and exactly as I remember authentic bialys.
Whereas NY bagels are boiled and baked which gives them their characteristic crust and chew…bialys are not boiled, they are simply baked. Bialys are also filled with onions, poppy seeds, and breadcrumbs and I think they are relatively easier to make than bagels.
Ingredients (pre-fermented dough)
The ingredients for the bialys dough include bread flour, water, salt, yeast, and pate fermentee.
The pate fermentee is very simple to make. Although it sounds fancy, it's simply a term used when you make a portion of the dough ahead of time so that it ferments for a longer time. Other types of pre-fermented doughs include poolish and biga.
The "pate fermentee", a French term for fermented dough or "old dough", is used to add a depth of flavor and extend freshness to your bread so that is stays fresh longer. The use of a preferment such a pate fermentee also reduce mixing time and accelerates fermentation.
If you don't want to make the pate fermentee, you can simply increase the amount of yeast (although you would also have to add the flour and water from the amount of pate fermentee that you are omitting). See notes section in recipe card for more information.
Overview of Process (making the filling and the dough)
Make the onion poppyseed topping -Ingredients for the onion poppyseed filling: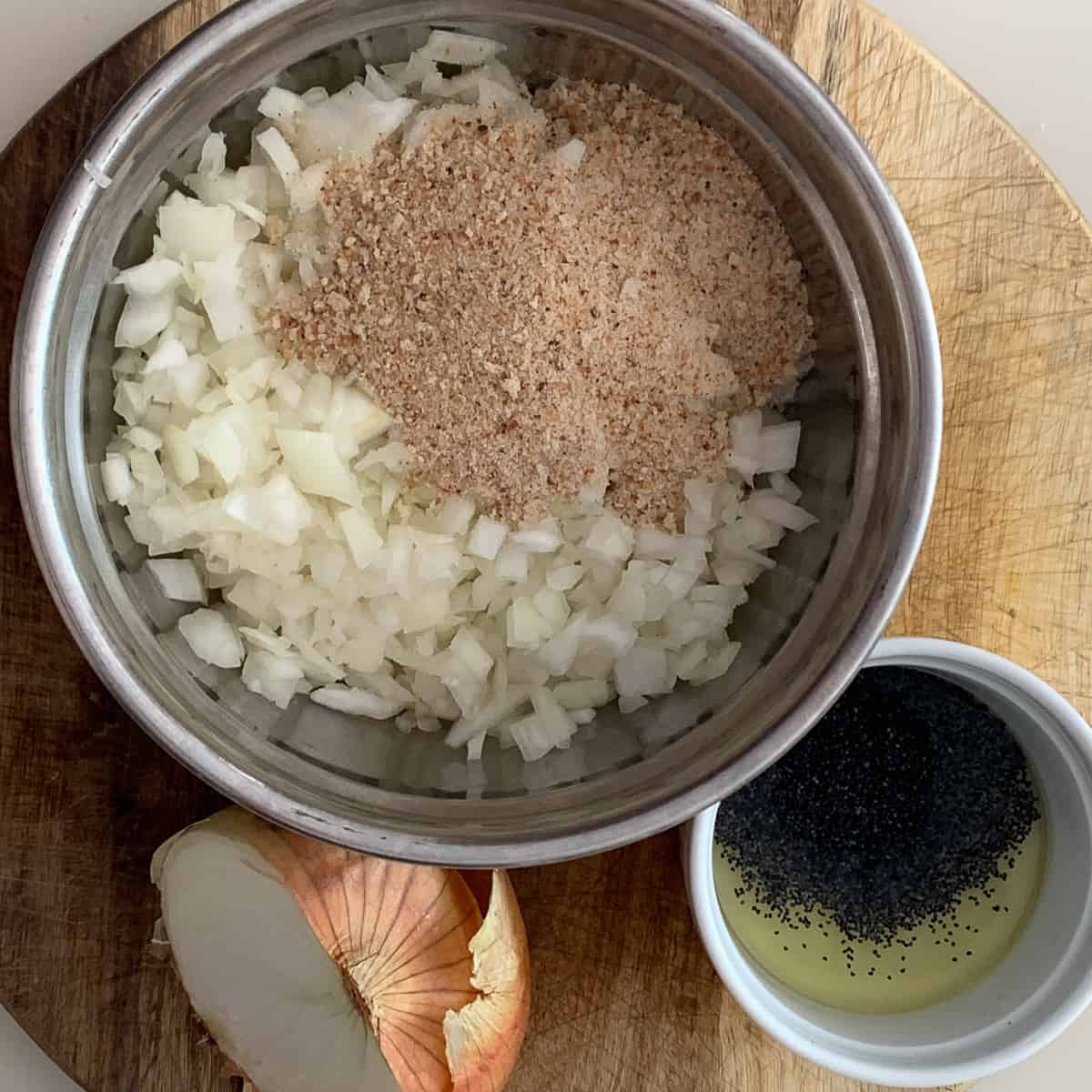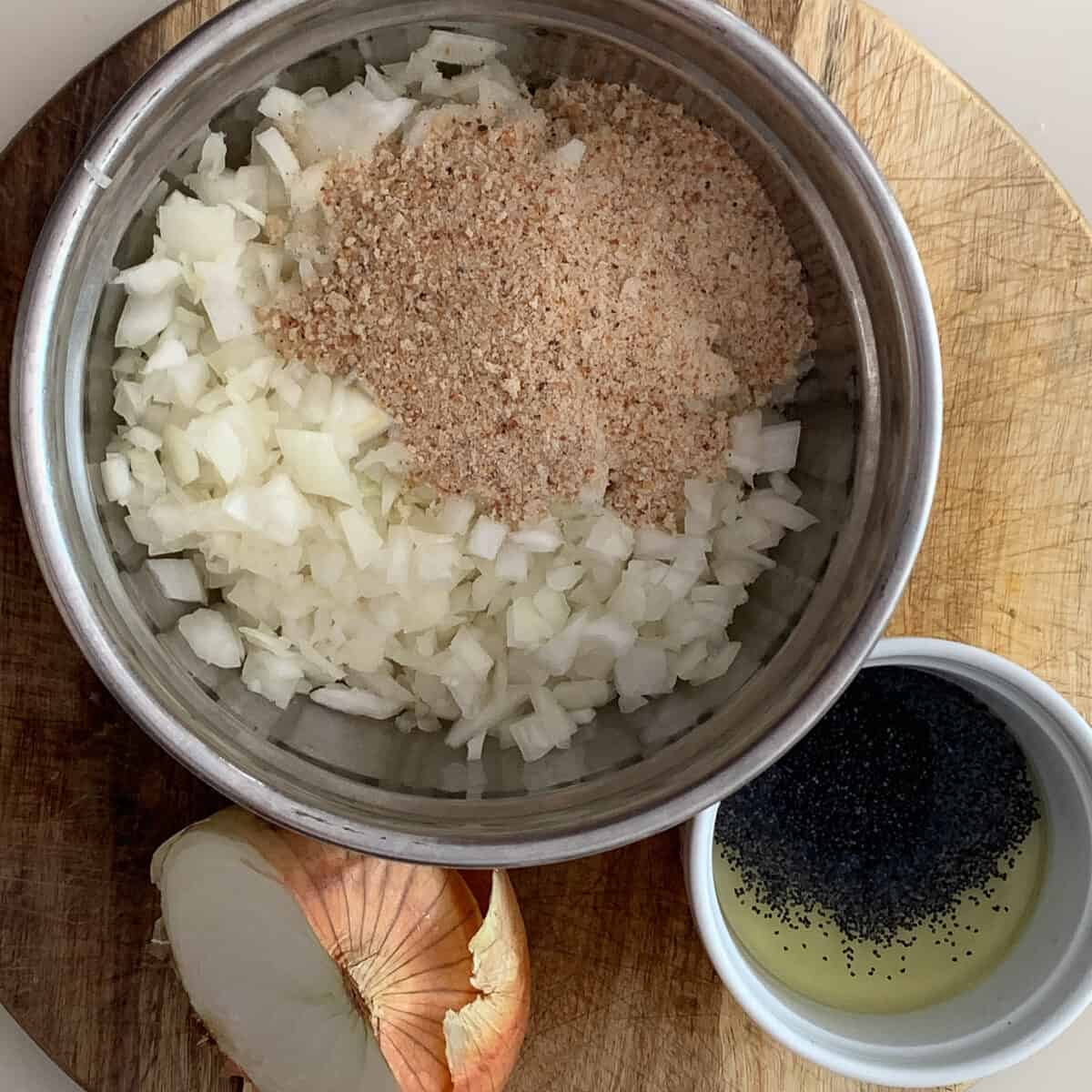 After cooking, the mixture will look like this: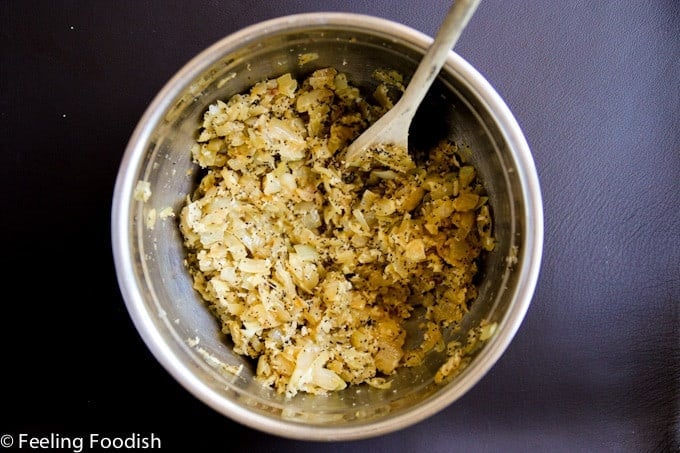 Dough ingredients include pate fermentee (this is simply flour, water, and yeast that has been made ahead of time), flour, water, yeast.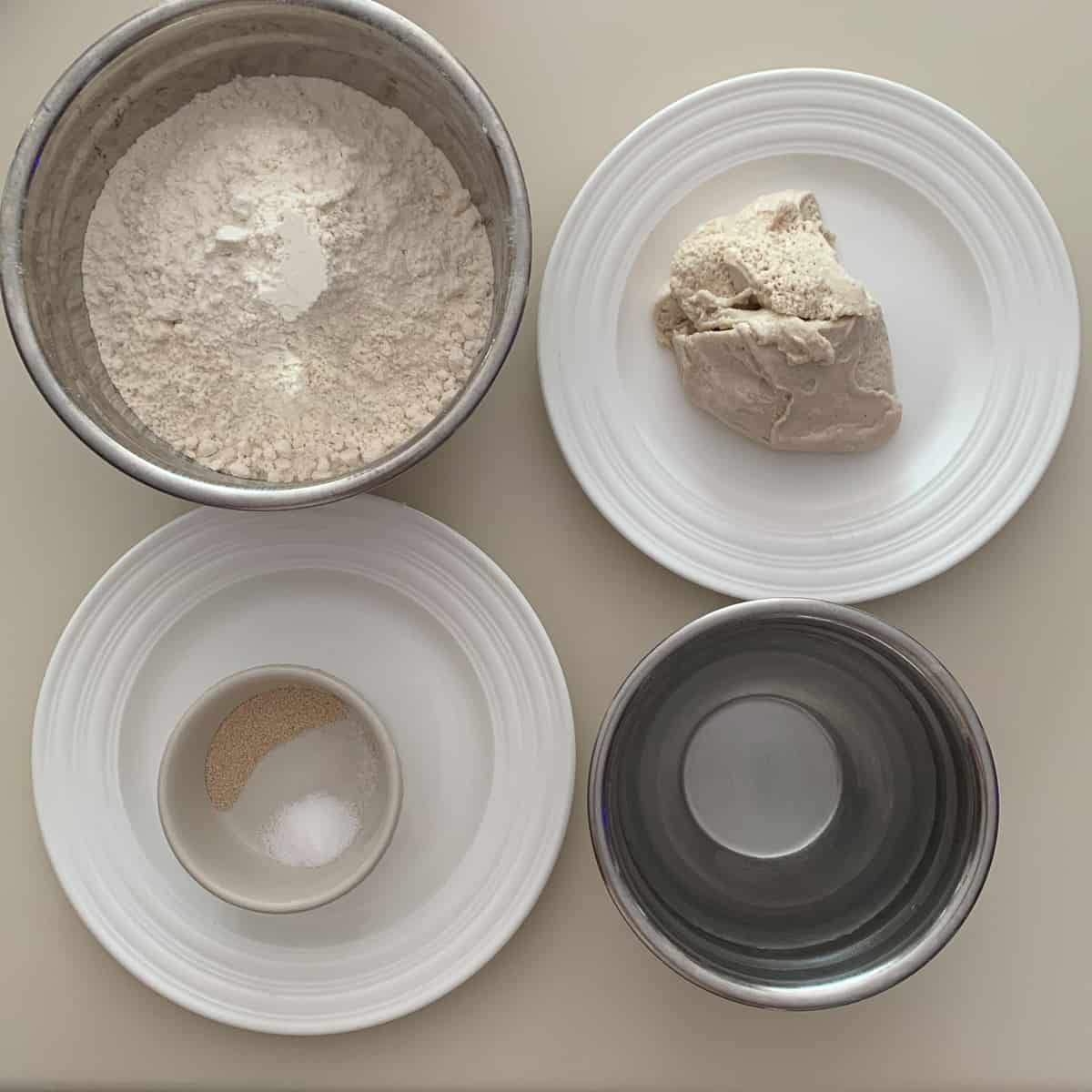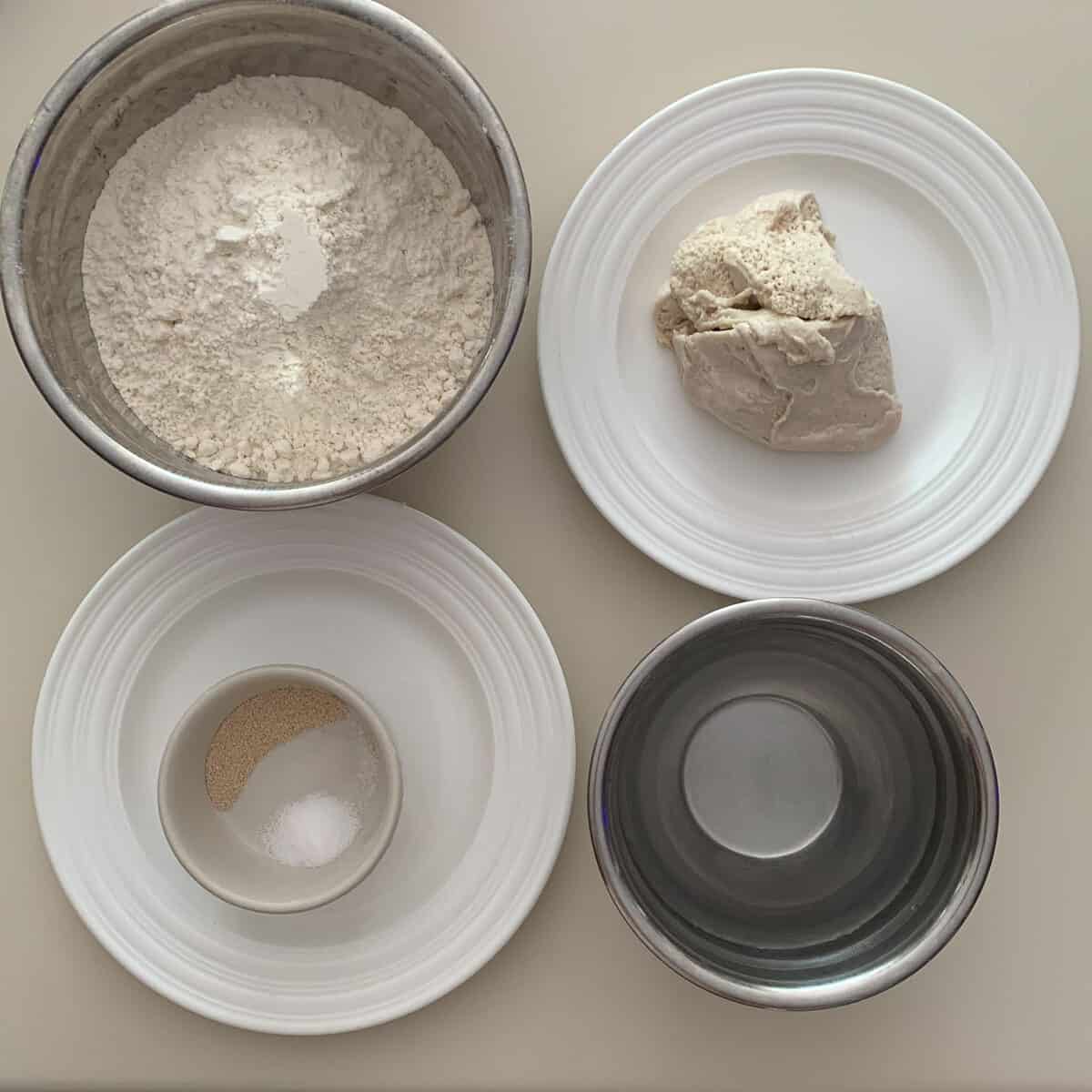 Making the dough…be sure to mix it enough to get a smooth dough that you can pull a windowpane on (see third photo), which means the gluten in the dough has been sufficiently developed.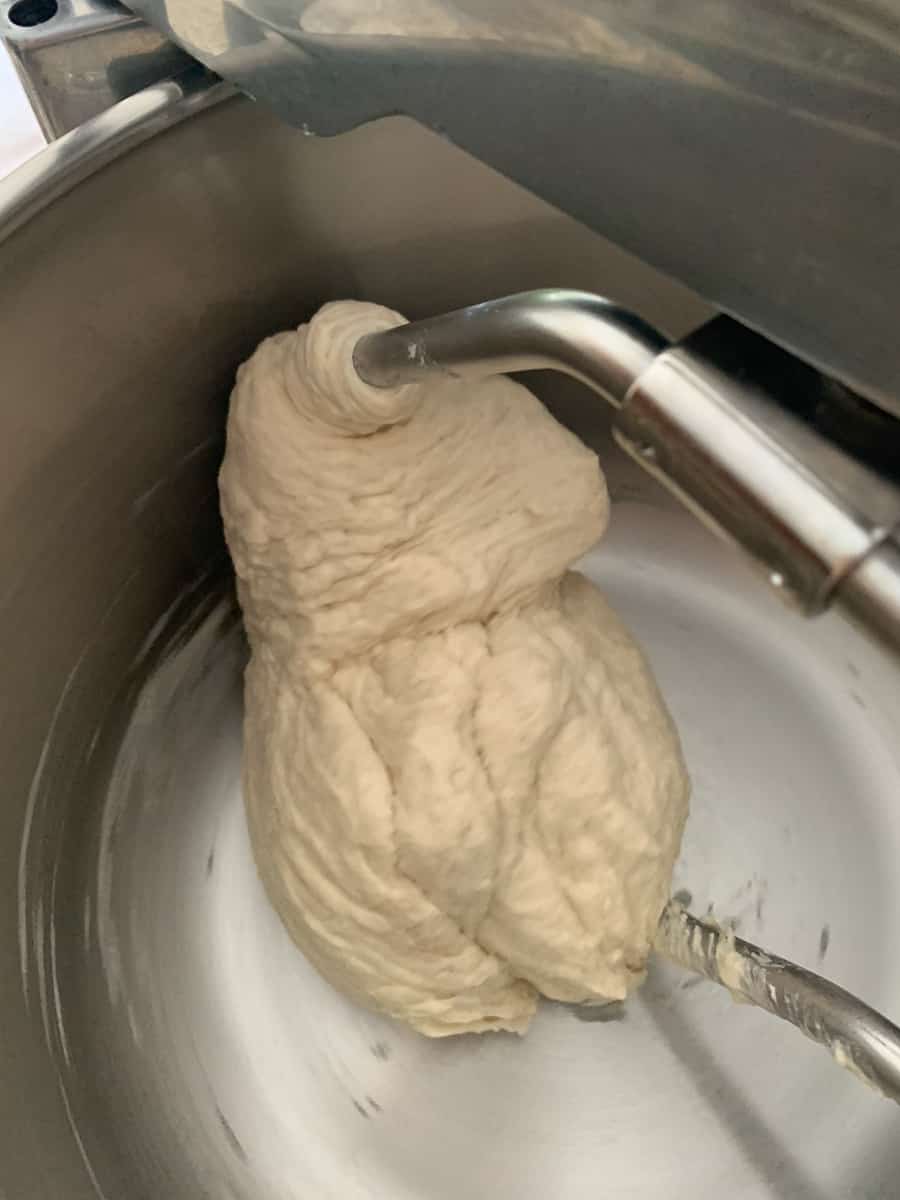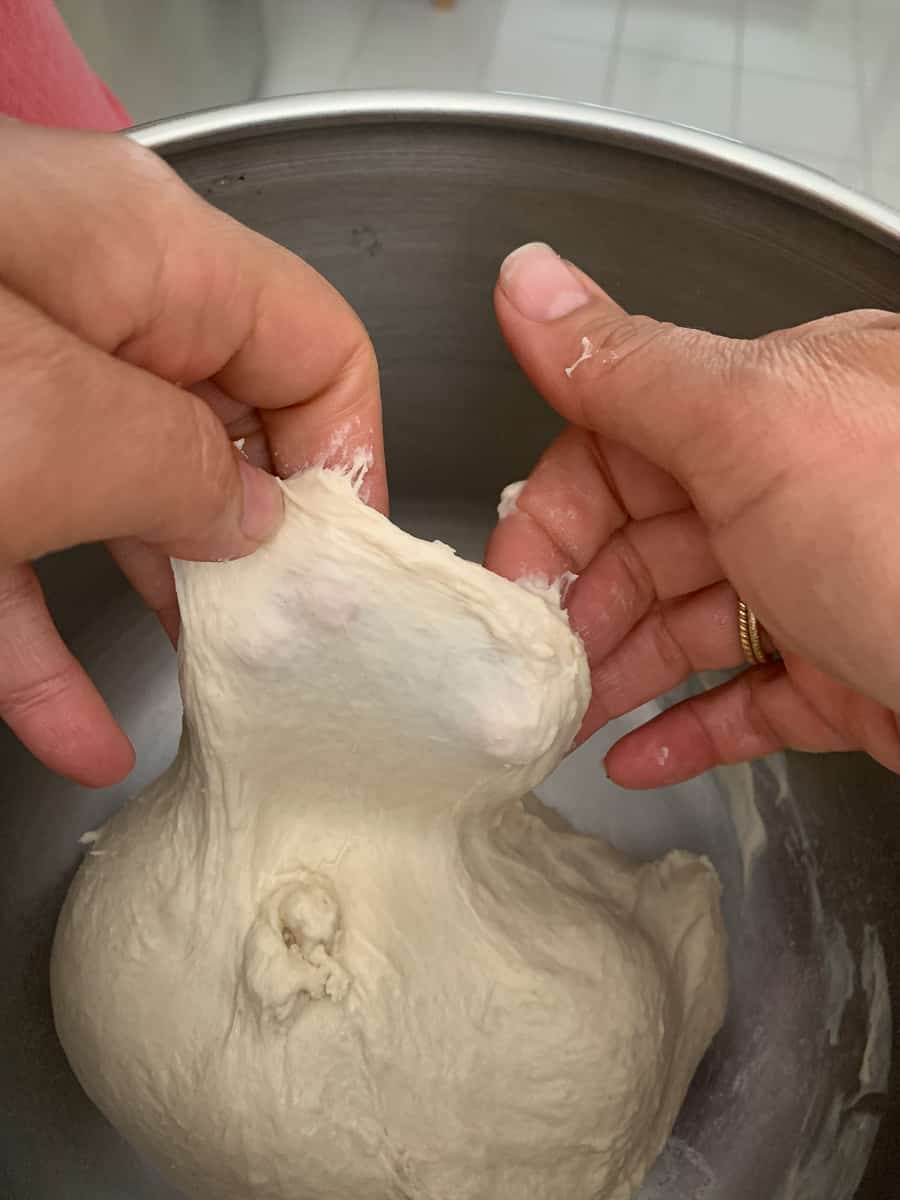 After mixing, the dough should rise for about an hour, and then you will divide it into 12 equal portions, let it rest for 5 minutes, and then shape the pieces into balls (see below). Also, prepare two baking sheets by lining with parchment paper or silicone baking sheets and dusting with cornmeal.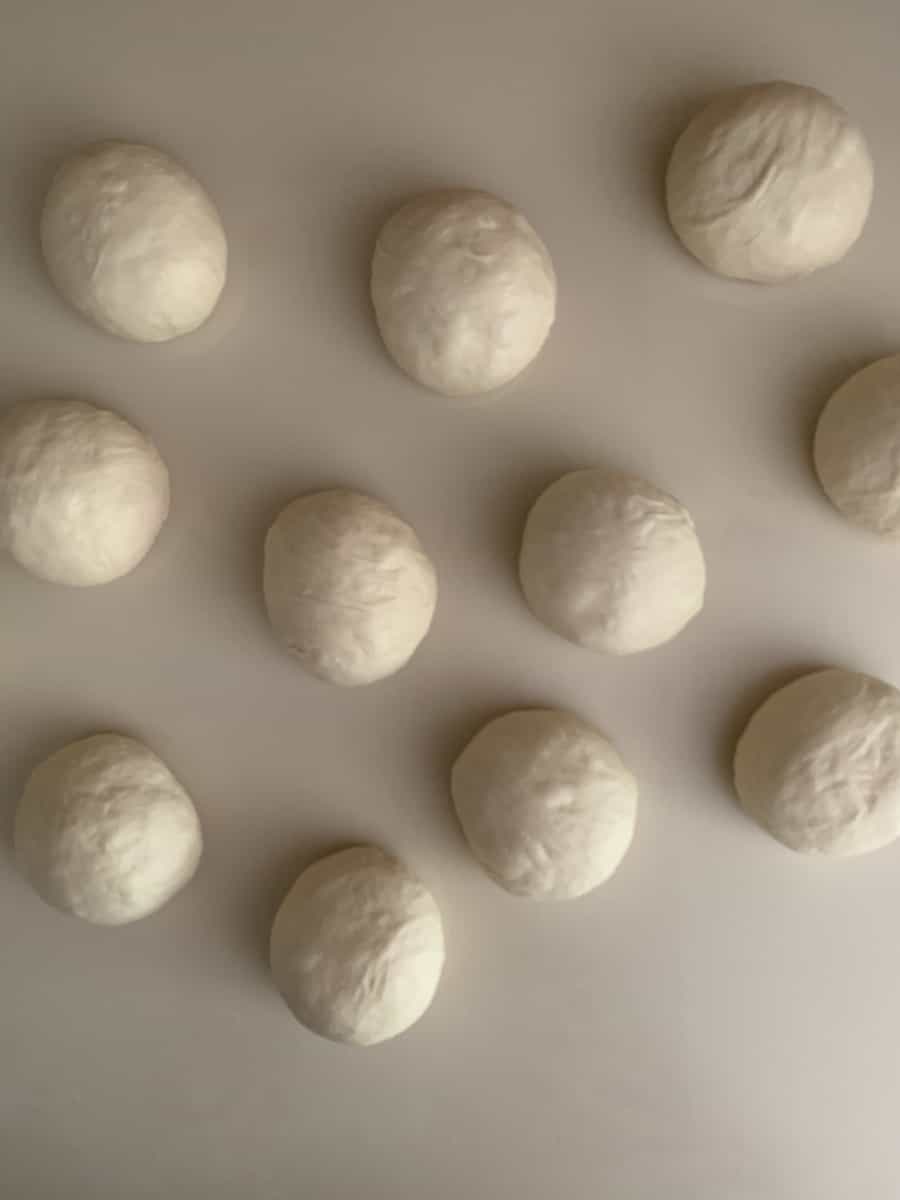 Flatten the balls into disks, about 4 inches wide and then cover with plastic wrap or cover and let rise for about 1 hour. After rising, remove plastic/cover, make dent in center, and fill before baking.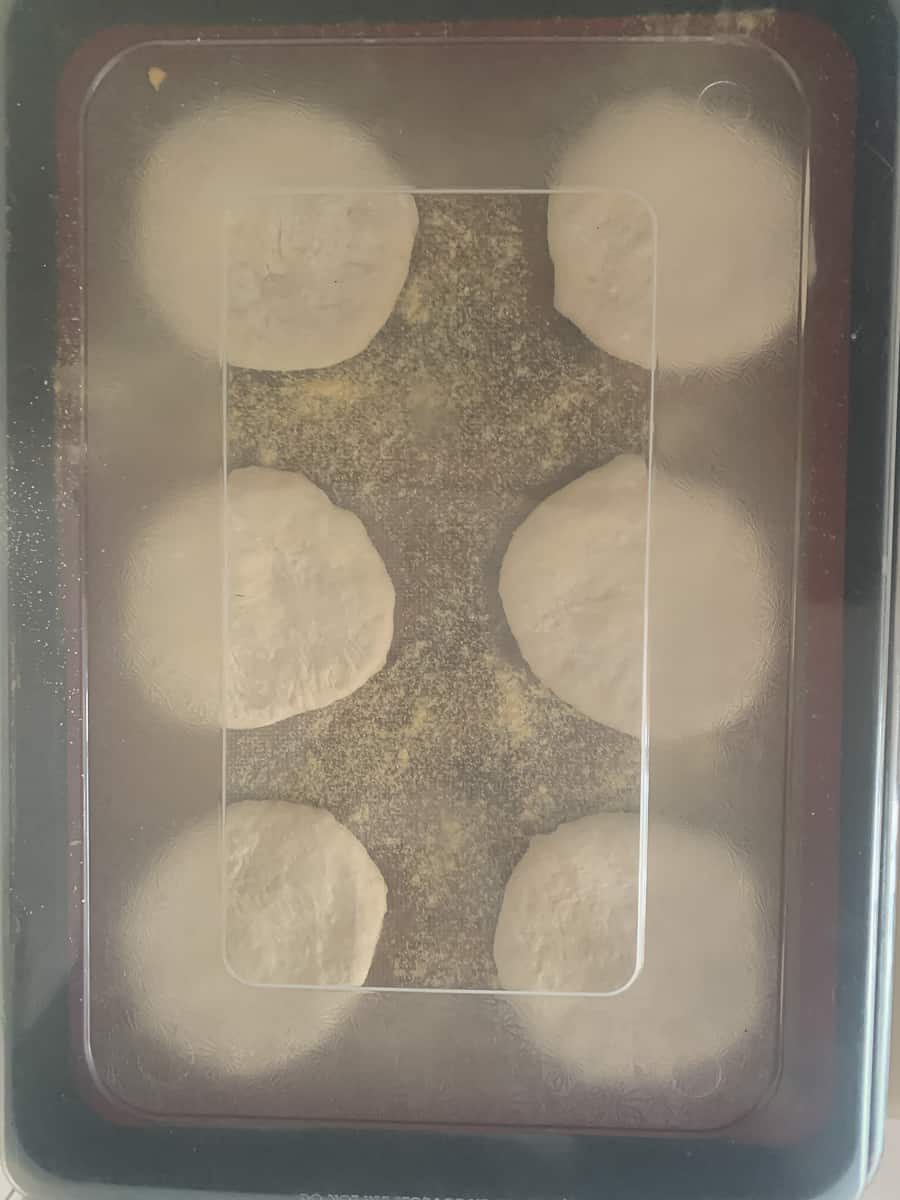 Bake for 12 to 15 minutes at 500F and then enjoy!!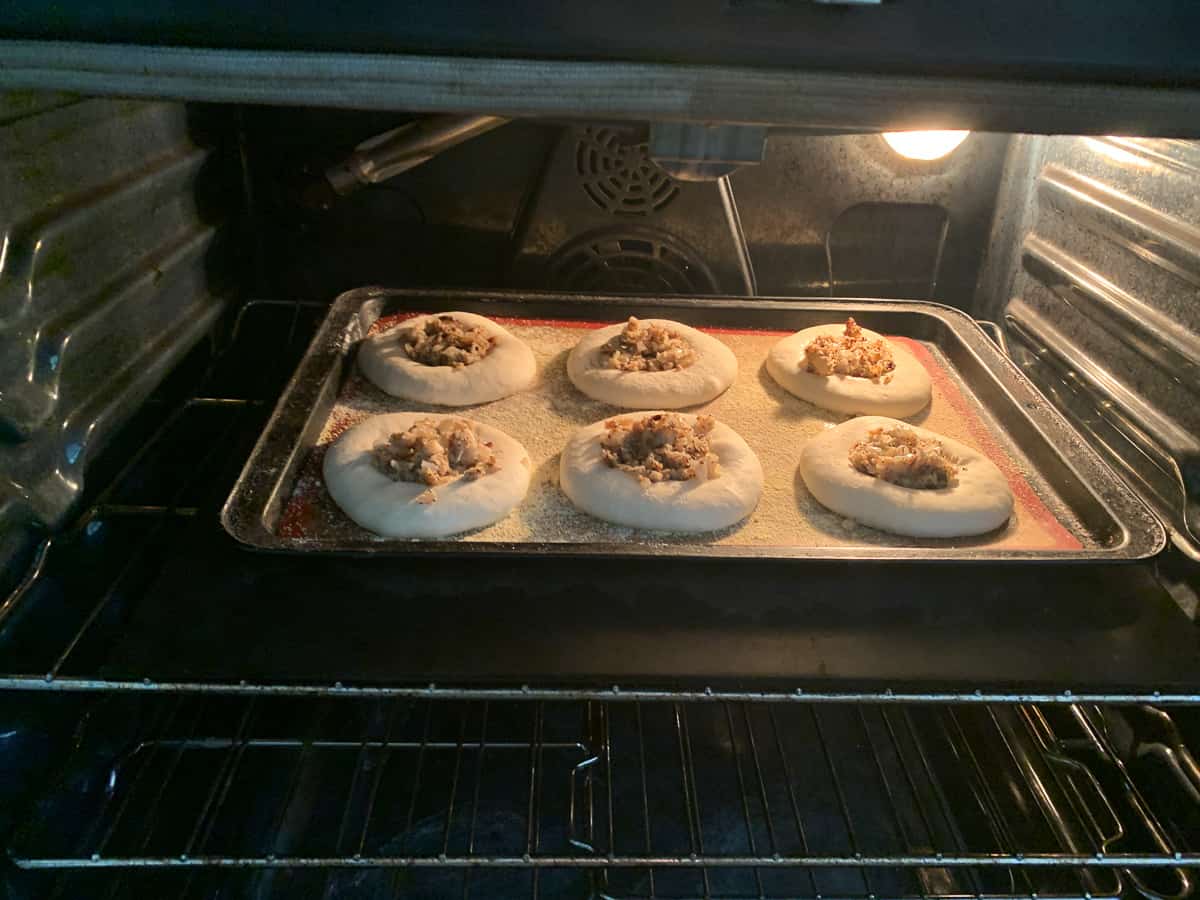 The result…fabulous!! You must try these!
Storage
These bialys can be kept airtight at room temperature for up to 2 days. They can also be frozen for up to one month.
Other NYC and Philly Favorite Recipes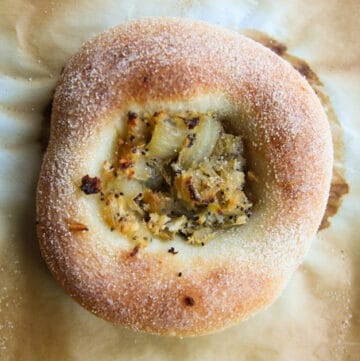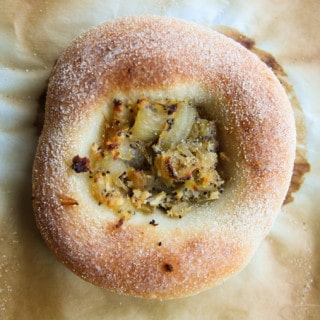 Bialys
A good New York Bialys is hard to find unless you live in or around NYC…so, make your own. These crisp little breads are full of onion and poppyseed goodness. Add cheese and it tastes like a French onion soup. Absolutely amazing!
Equipment
2 baking sheets

parchment paper or baking spray is helpful
Ingredients
To Make the Pate Fermentee
½

cup

(

120

g

)

water plus 1 teaspoon

1 ⅓

cup

(

180

g

)

bread flour plus 1 tablespoon

⅔

teaspoon

instant dry yeast

1

tsp

salt
For Poppyseed Onion Topping
3

cups

(

450

g

)

onion

finely chopped (about 2 medium onions)

2.5

tsp

poppy seeds

¼

cup

(

60

g

)

bread crumbs

1 ½

tbsp

olive oil

½

tsp

salt
To Make the Bialys Dough
1 ⅓

cups

(

320

g

)

water

3.5

cups

(

465

g

)

bread flour, plus 2 tablespoons

½

cup

(

150

g

)

pate fermentee, plus 2 tablespoons

(recipe follows or to omit, see notes section below)

¾

tsp

instant dried yeast

1.5

tsp

(

9

g

)

salt

updated 8/2022 (was 1 TB per 1X batch)
Optional
1

cup

(

113

g

)

sharp cheddar cheese

shredded

cornmeal

enough for dusting baking trays
Instructions
To Make the Pate Fermentee (pre-fermented dough)
Add water and yeast to a bowl and then add flour and salt; knead until a soft dough is formed. Cover and leave at room temperature for 30 minutes.

Refrigerate for a minimum of 8 hours or a maximum of 24 hours. (you can also freeze for up to 3 months.)
To Make the Onion Poppyseed Topping
Add onion and oil to a medium sized pan and heat over medium heat for about 20 minutes until onions are reduced by about ⅓.

Transfer to a bowl and add breadcrumbs and poppyseeds and salt. Set aside until needed.
To Make the Bialys Dough
Add water and flour in the bowl of a stand mixer and mix for 2 minutes, then let it rest for 20 minutes.

Add the pâte fermentée (not all is needed; only ½ cup), yeast, and salt and mix on low speed until the dry ingredients are completely combined.

Increase the speed to medium and mix until the dough is smooth and pulls away from the sides of the bowl (about 5 to 7 minutes). Do the windowpane test to see if dough is finished.

Transfer the dough to a clean bowl and cover with plastic wrap or a very slightly damp towel and let rise for about 1 to 1.5 hours until doubled in size.

After it has risen, punch down dough and then divide into 12 equal pieces (about 80 grams each). Shape the pieces into balls and let them rest for 5 minutes.

After 5 minutes, flatten the balls with palm of hand or a rolling pin until they are about 4 inches in width and then place then on cornmeal-lined baking sheets (or you can simply use parchment paper or baking spray).

Cover the trays loosely with plastic wrap and let rise for about 1 hour.

After the bialys have puffed up, make an indent in center of each bialys with thumb or spoon and place 2 tablespoons of filling (also top with cheese if using).
To Bake the Bialys
Preheat the oven at 500F for at least 30 minutes. If you have a pizza stone or steel, it is helpful to use one.

Bake the bialys in the center (I didn't bake my directly on the stone or steel, but rather placed my baking tray directly on top of my pizza steel – this helps to prevent burning).

Bake until lightly browned, about 12 to 14 minutes.
Notes
Storage: Baked bialys can be kept in airtight container or plastic bag at room temperature for 2 days. 
Calorie estimate does not include optional cheese topping
I have not tested the recipe without the use of pate fermentee but I'd estimate increasing the yeast to 2 teaspoons and adding 60 grams of water and 90 grams of flour to compensate for omitting the ½ cup of pate fermentee. 
Nutrition
Calories:
235
kcal
Carbohydrates:
36
g
Protein:
8
g
Fat:
6
g
Saturated Fat:
2
g
Polyunsaturated Fat:
1
g
Monounsaturated Fat:
2
g
Cholesterol:
9
mg
Sodium:
664
mg
Potassium:
123
mg
Fiber:
2
g
Sugar:
2
g
Vitamin A:
96
IU
Vitamin C:
3
mg
Calcium:
97
mg
Iron:
1
mg
Interested in More Recipes?
SUBSCRIBE to get recipes delivered to your email 🙂