This mixed berry pie is one of my absolute favorite pies and is a perfect dessert any time of the year. Loaded with a mixture of berries, fresh or frozen, and topped with a brown sugar oatmeal crumb, everyone will be asking for more! Perfect with a scoop of ice cream.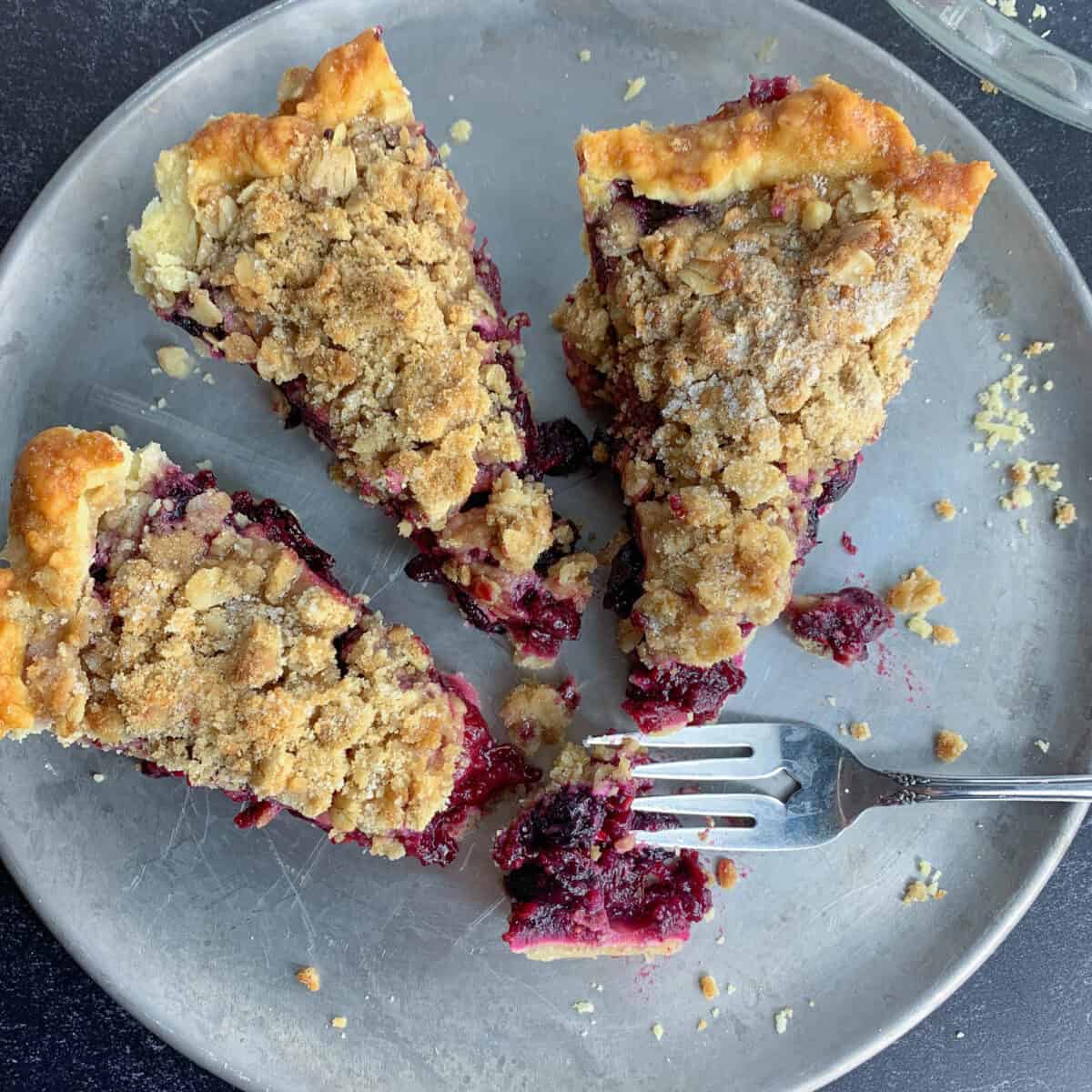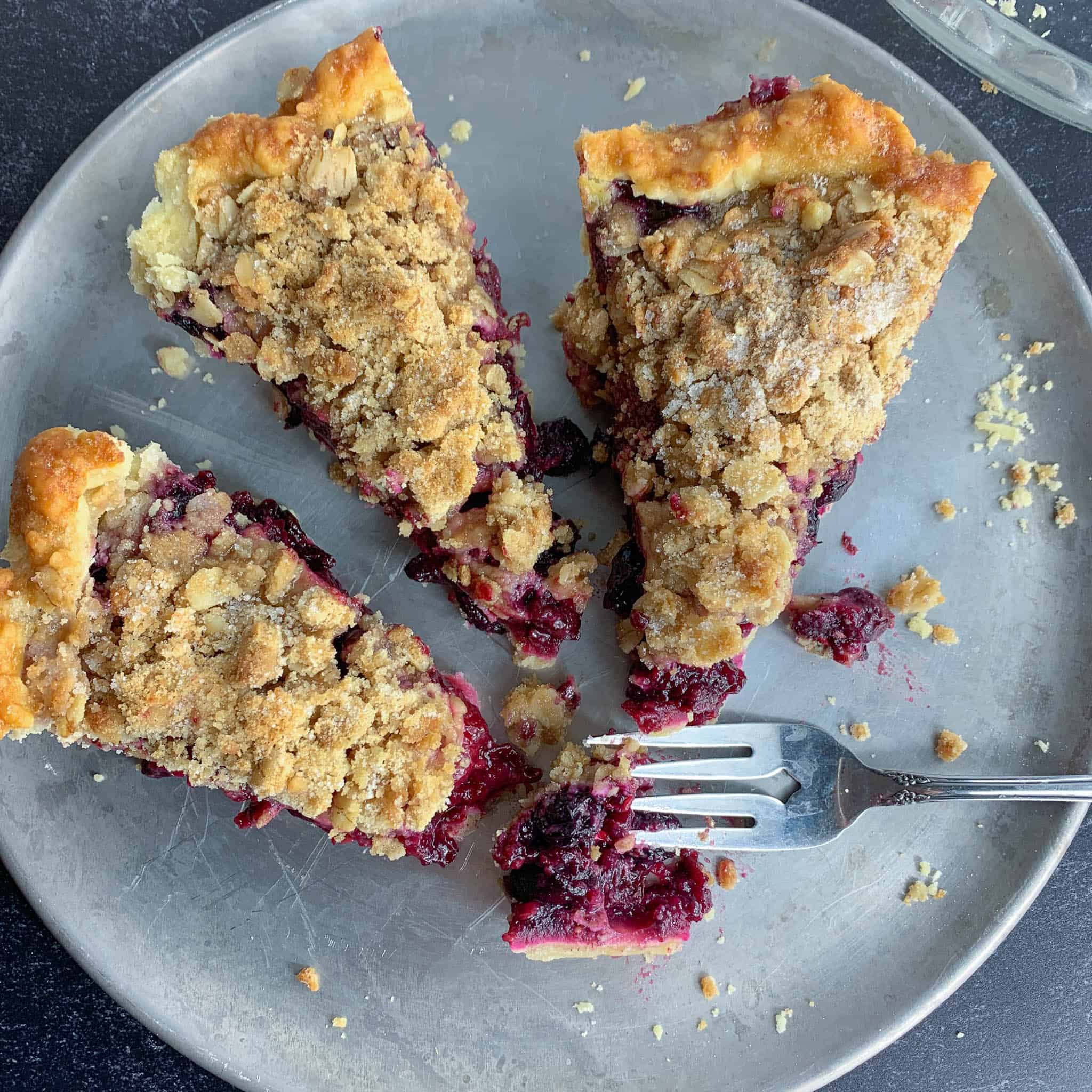 You gotta make this pie!!
We discovered this pie when we lived in Michigan, just outside of Ann Arbor at a place called the Grand Traverse Pie Company. Be still my heart. They made a slew of pies daily. Fresh and incredibly good. This one was my favorite (their "Mountain Berry Pie").
Sadly, I can't find another place that makes those kinds of pies here back home in the Philadelphia suburbs. Sure, we have the Amish farmer's markets nearby. And they do make a decent pie. But they don't make this pie. I've been able to find berry pies that either don't have all the necessary berry varieties and there are those with a lattice topping in lieu of the crumb topping (I love the crumb topping).
I've also found pies that just lack flavor because of all the preservatives used to maintain freshness. Yuck.
Really - there is nothing like homemade pie!! I think this is where Grand Traverse did their job well since they claim to make their own dough and they make pies fresh, daily.
Overview of How to Make this Pie
You will be making a pie crust, a fruit filling, and a crumb topping. All easy.
I start by defrosting the fruit (night before is ideal if you have time) and by making the pie crust.
I use a standing mixer to make the pie crust (unlike most people)! It works fine! Feel free to make the dough by hand as is traditional.
To make the pie dough, add dry ingredients to a bowl and mix to combine. Add shortening and mix until the mixture looks even, then add butter in small cubes and mix until evenly distributed. Add egg yolk, and then water 1 TB at a time! Stop when the mixture holds after being squeezed into a ball.
To make filling: Defrost the fruit, and drain well (alternatively if you are using fresh fruit, see note section on how to macerate the fruit to release some of the juices)
Mix the filling ingredients and heat over medium high heat until the mixture slightly thickens. This won't take long at all.
Add filling to pie shell and bake! Cool thoroughly before enjoying.
Full details in recipe card below.
Serve alone, with whipped cream, or vanilla ice cream.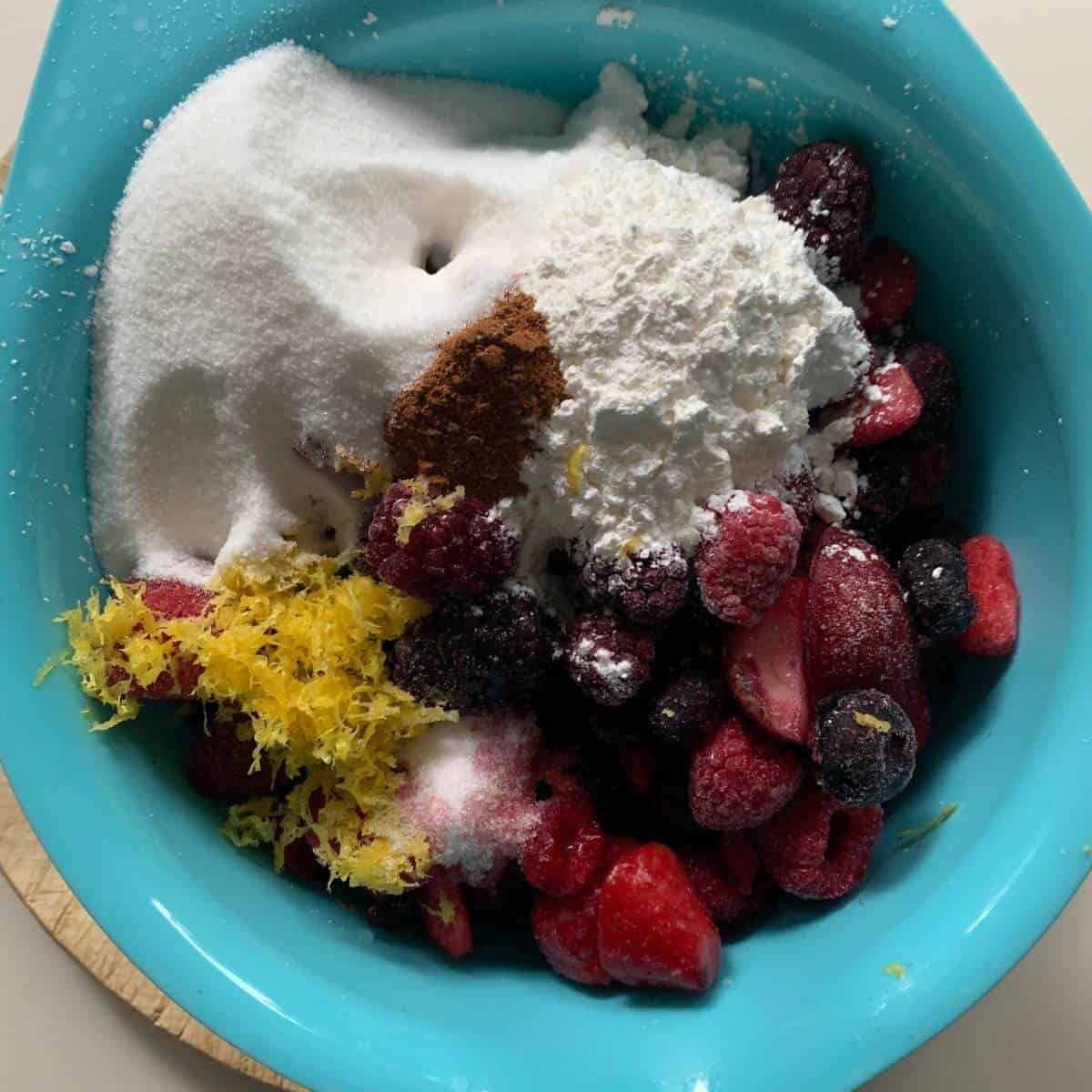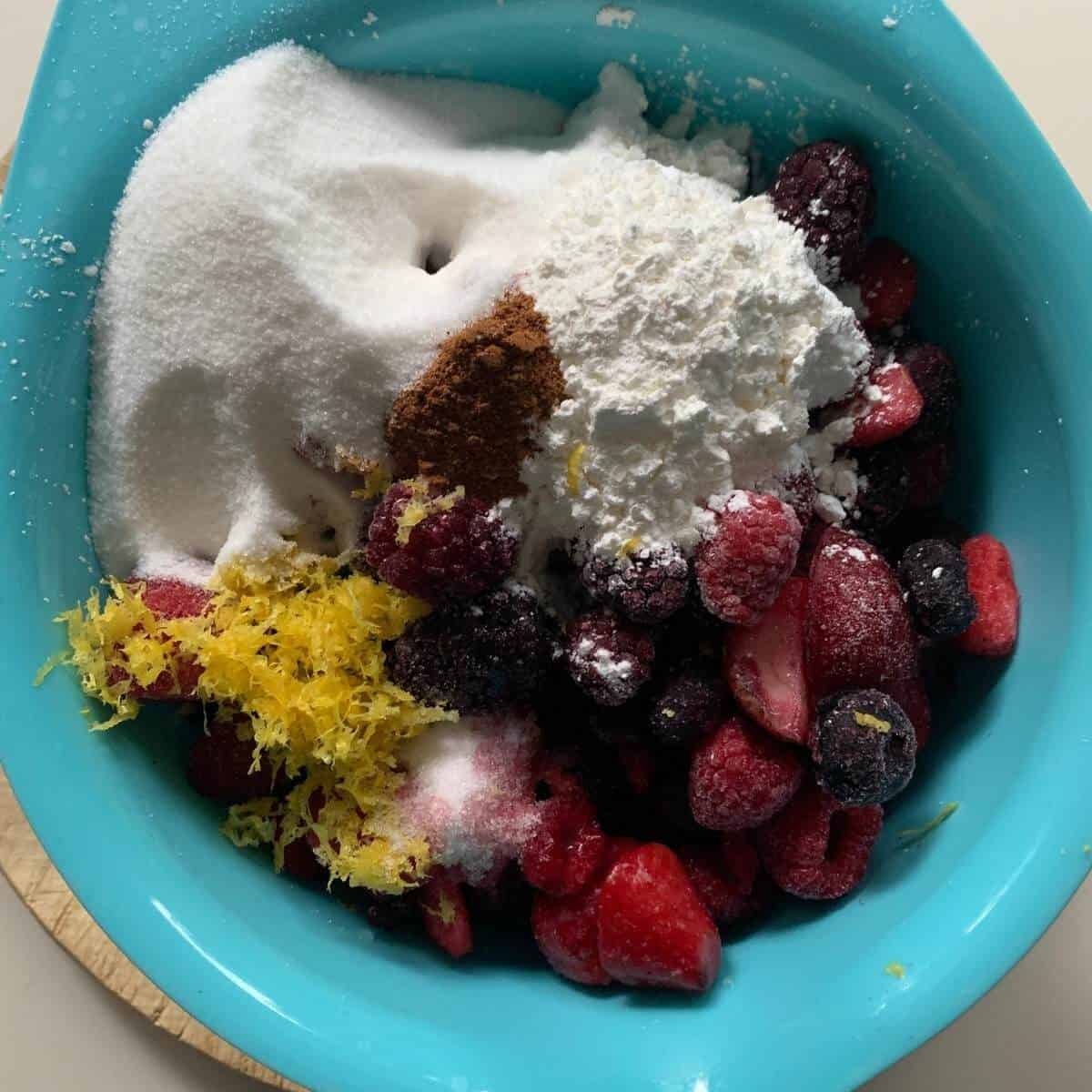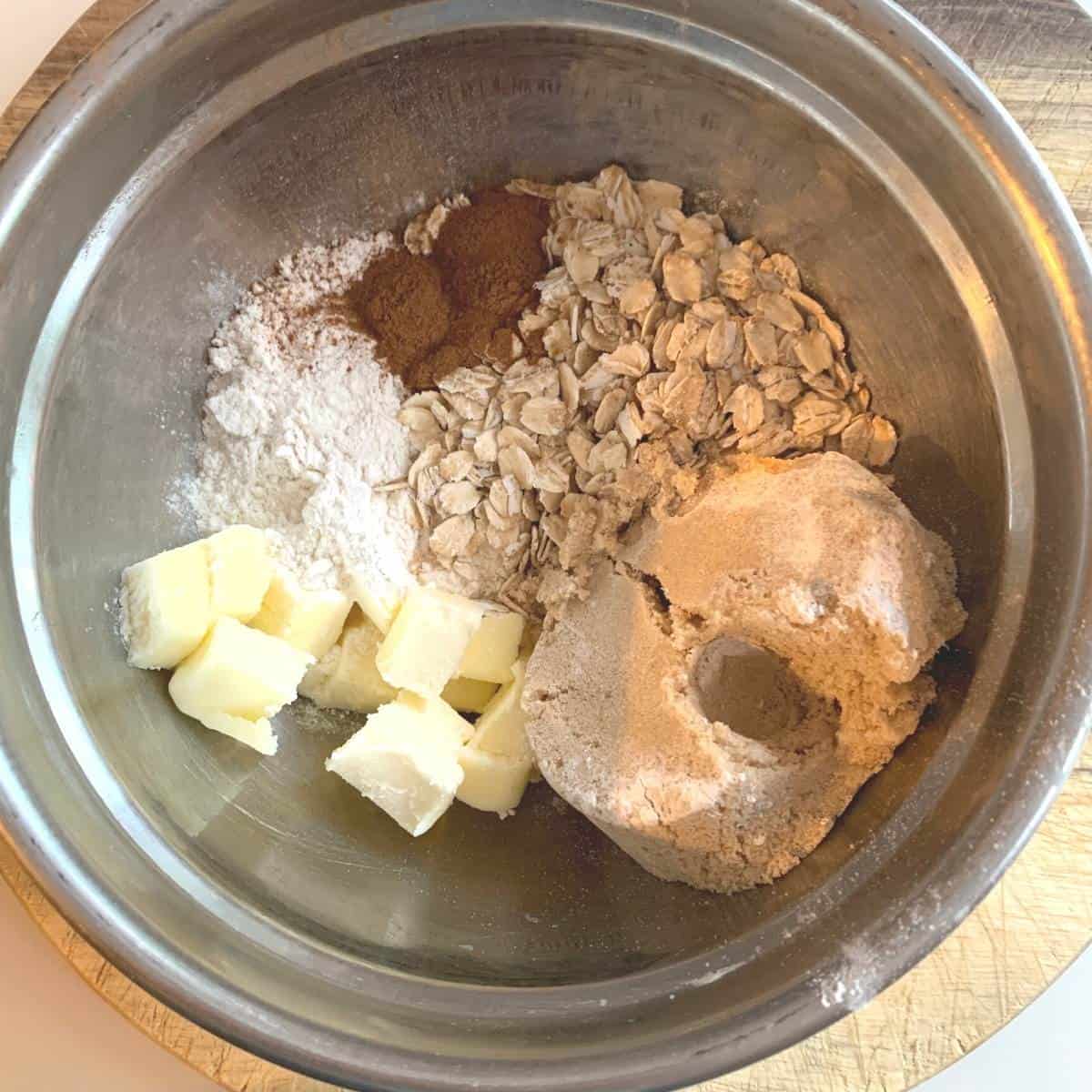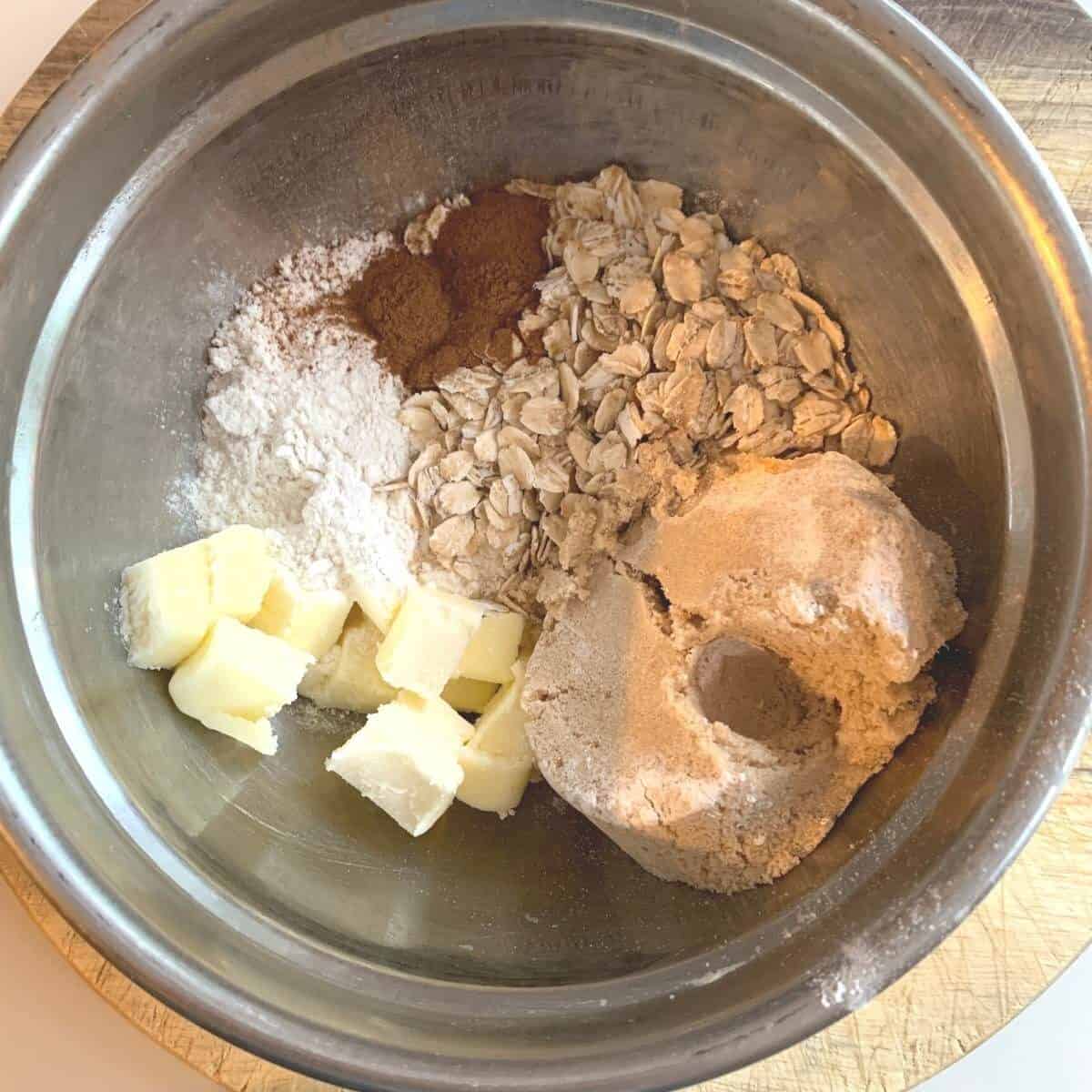 Using Frozen Berries in Fruit Pies
I love to keep frozen berries on hand for smoothies and also for morning oats and they also happen to be excellent in this pie.
Frozen berries work very well in this pie and can be used in exchange for fresh. The only recommendation when using frozen berries is to let the filling mixture thaw to ensure you don't end up with a runny pie.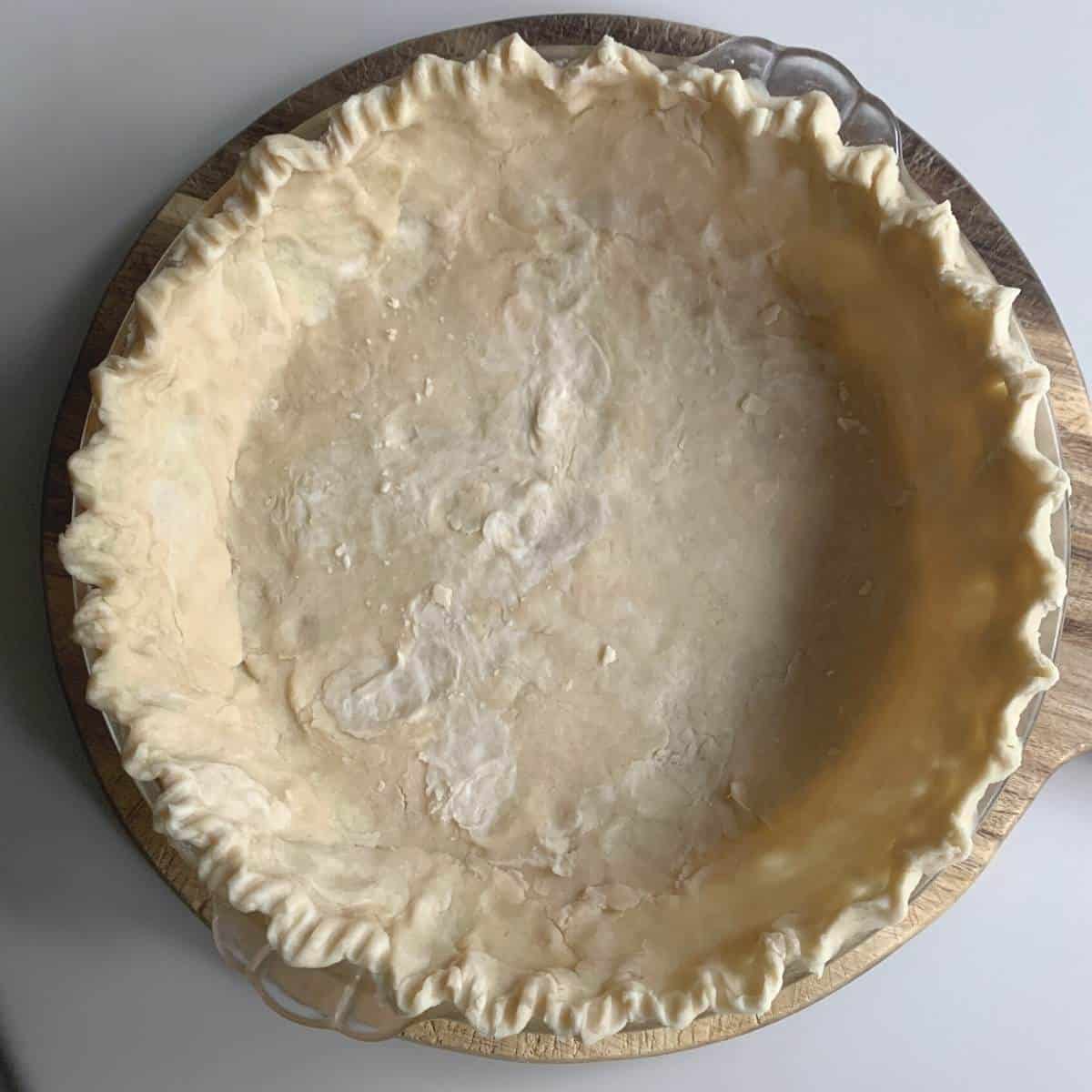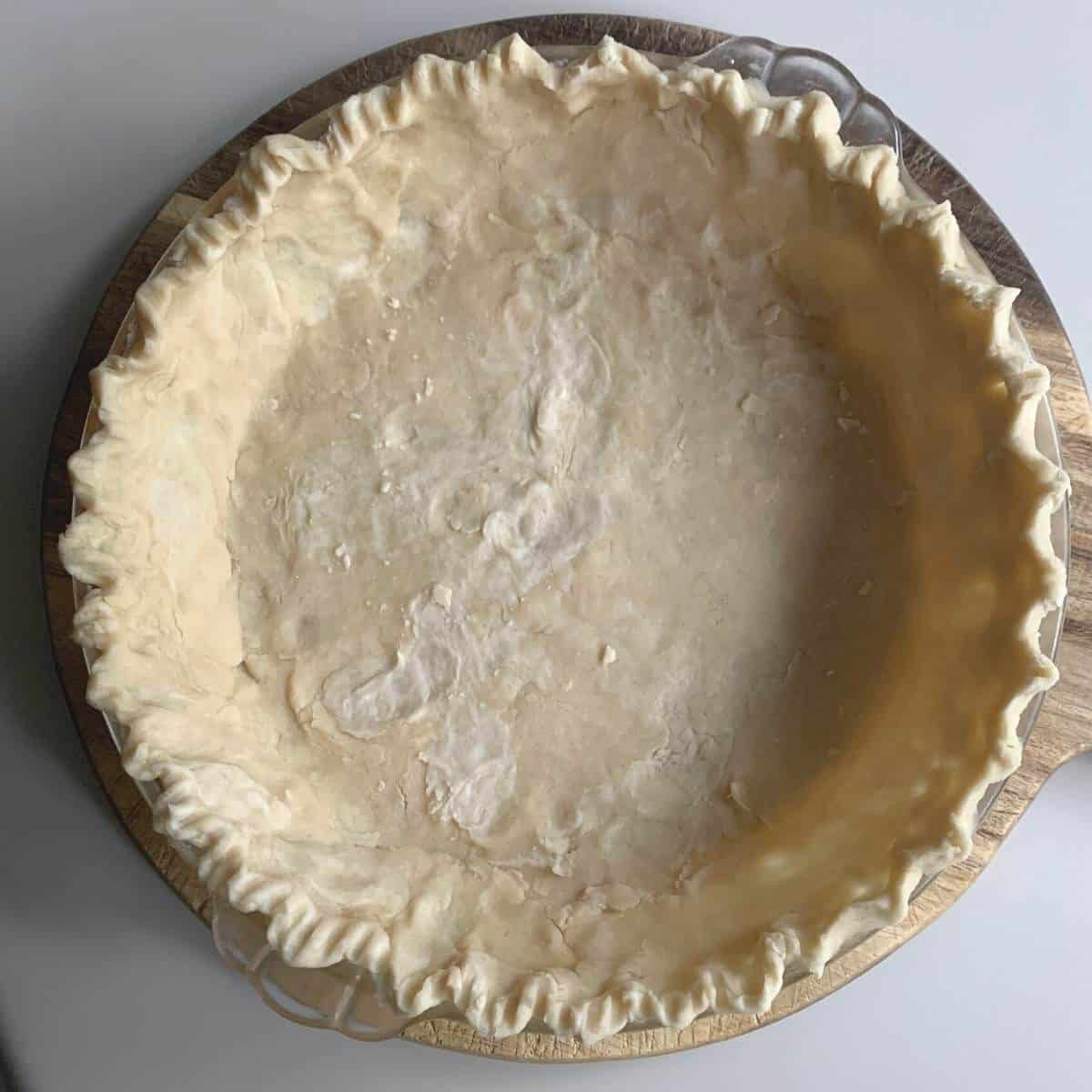 Thickener of Choice: Cornstarch
I love to use cornstarch to thicken this pie because it turns clear and is not cloudy, it stands up for a long bake, and it works very well. Read more about thickeners at Fine Cooking.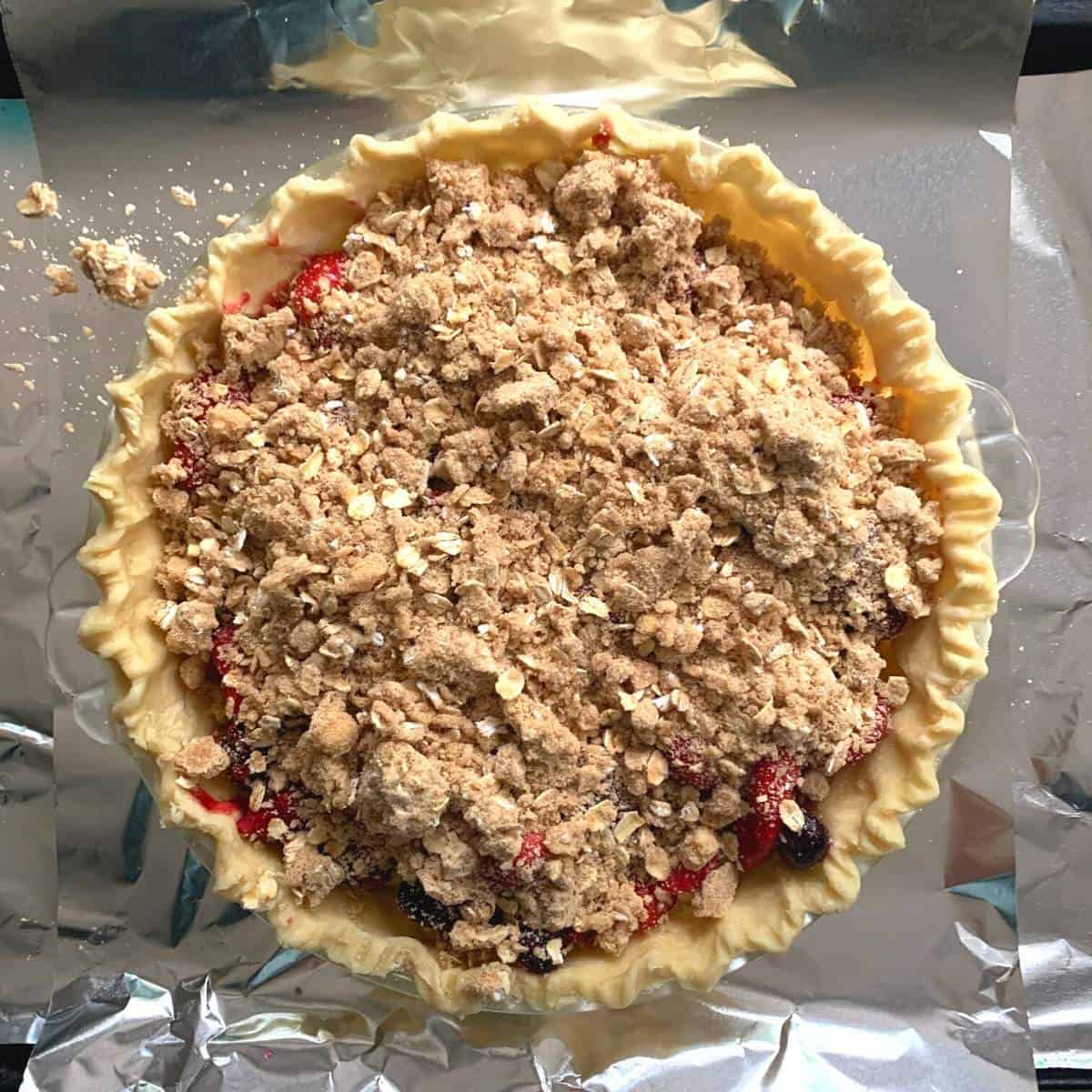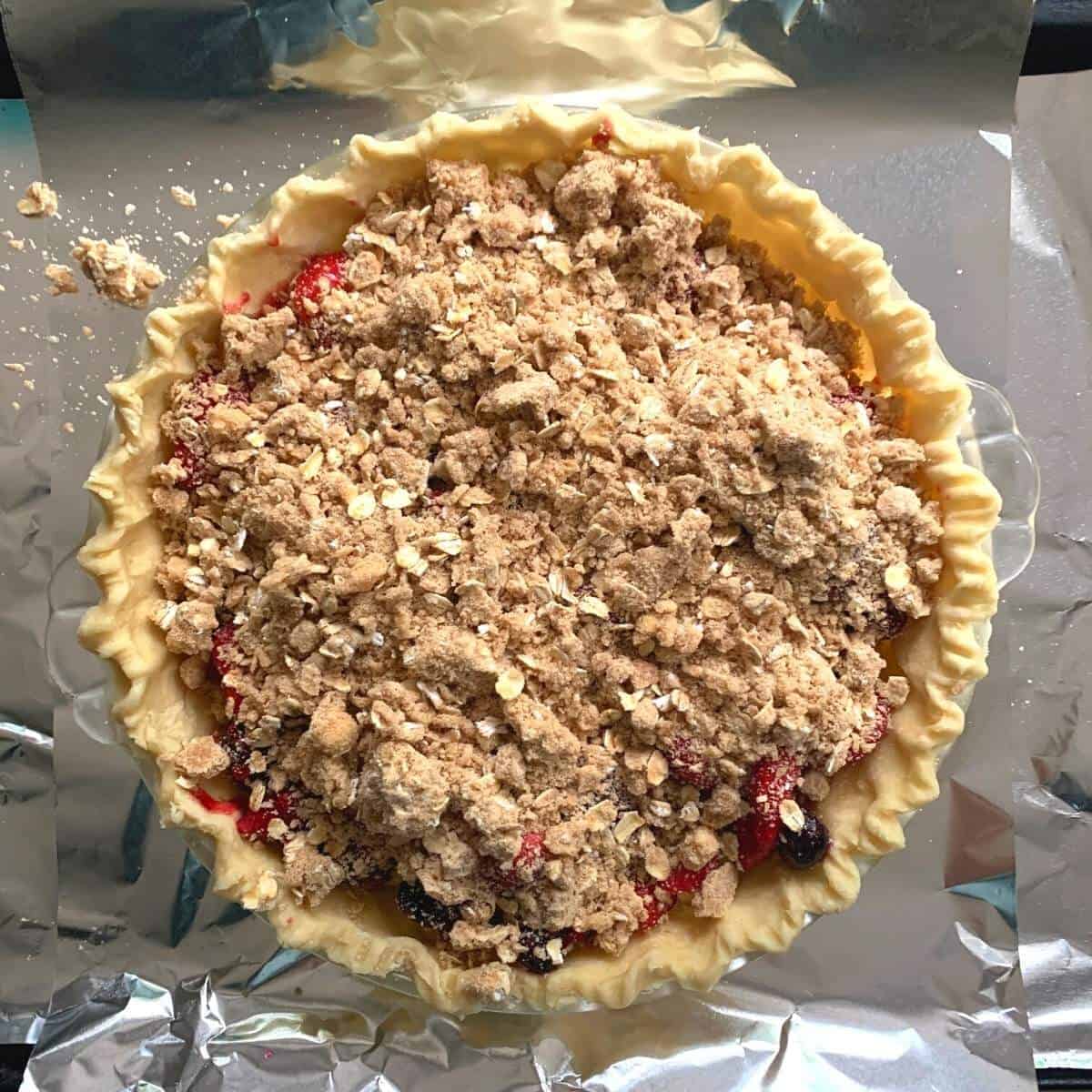 Why is My Pie Runny?
Fruit pies can be runny if you don't use enough thickener (cornstarch), if you don't let the filling bubble in the oven when baking, and/or if you don't let the pie cool enough after baking. I find that the easiest way to avoid all this is to let the fruit drain very well and to "pre-thicken" the filling by cooking the filling just a pit prior to baking the pie.
Fruit to thickener ratio: Fruit pies can be runny for a few reasons. First, the proportion of fruit to thickener may be off. I recommend ⅓ cup of cornstarch for every 5 cups of mixed berries (fresh or frozen).
No bubbling: Another reason fruit pies may be runny is if the pie filling didn't bubble during baking - this is the step that allows the filling to thicken when baking. If you precook the filling a bit you don't have to worry about the bubbling.
Insufficient resting: Fruit pies also need time to rest ideally overnight but for at least 2 hours.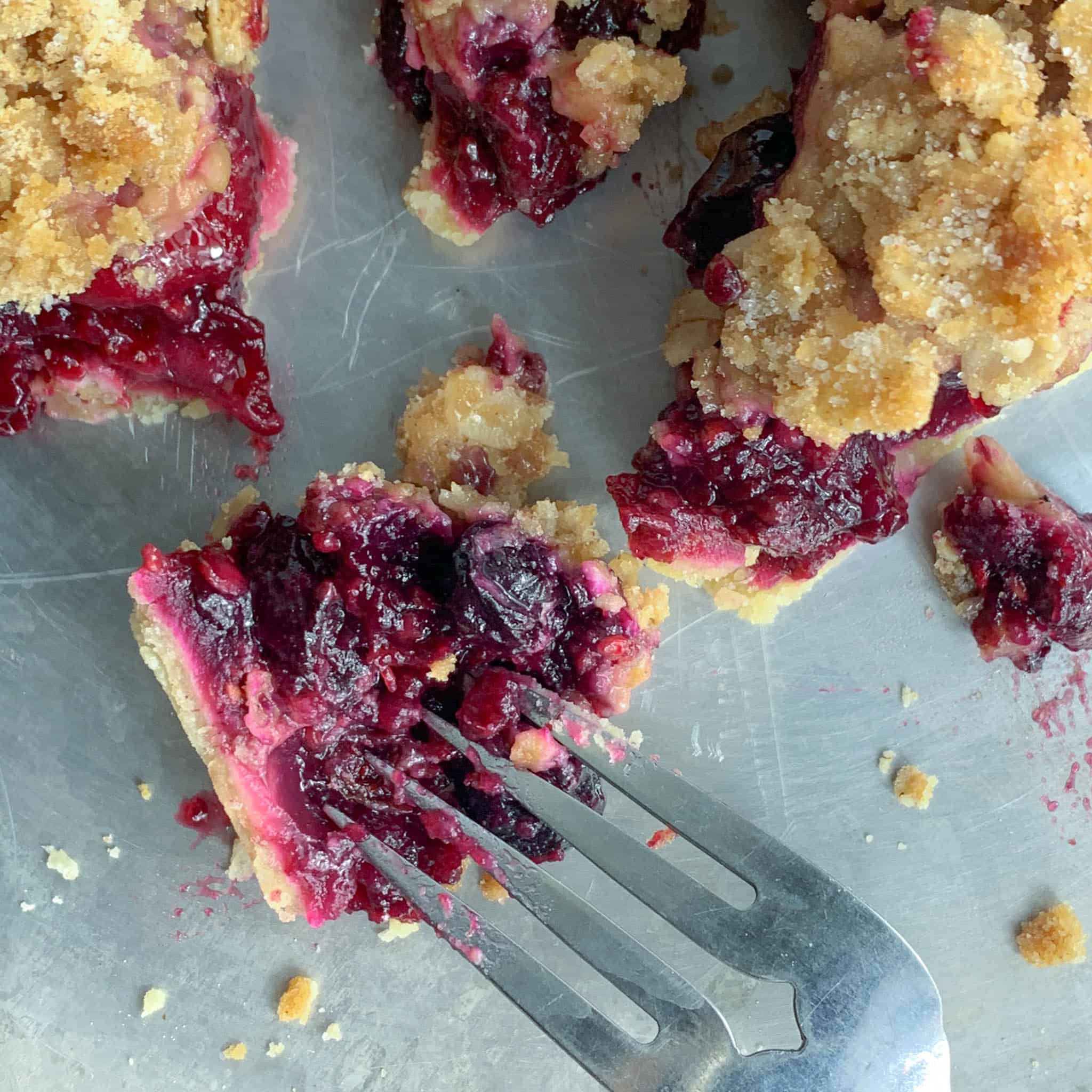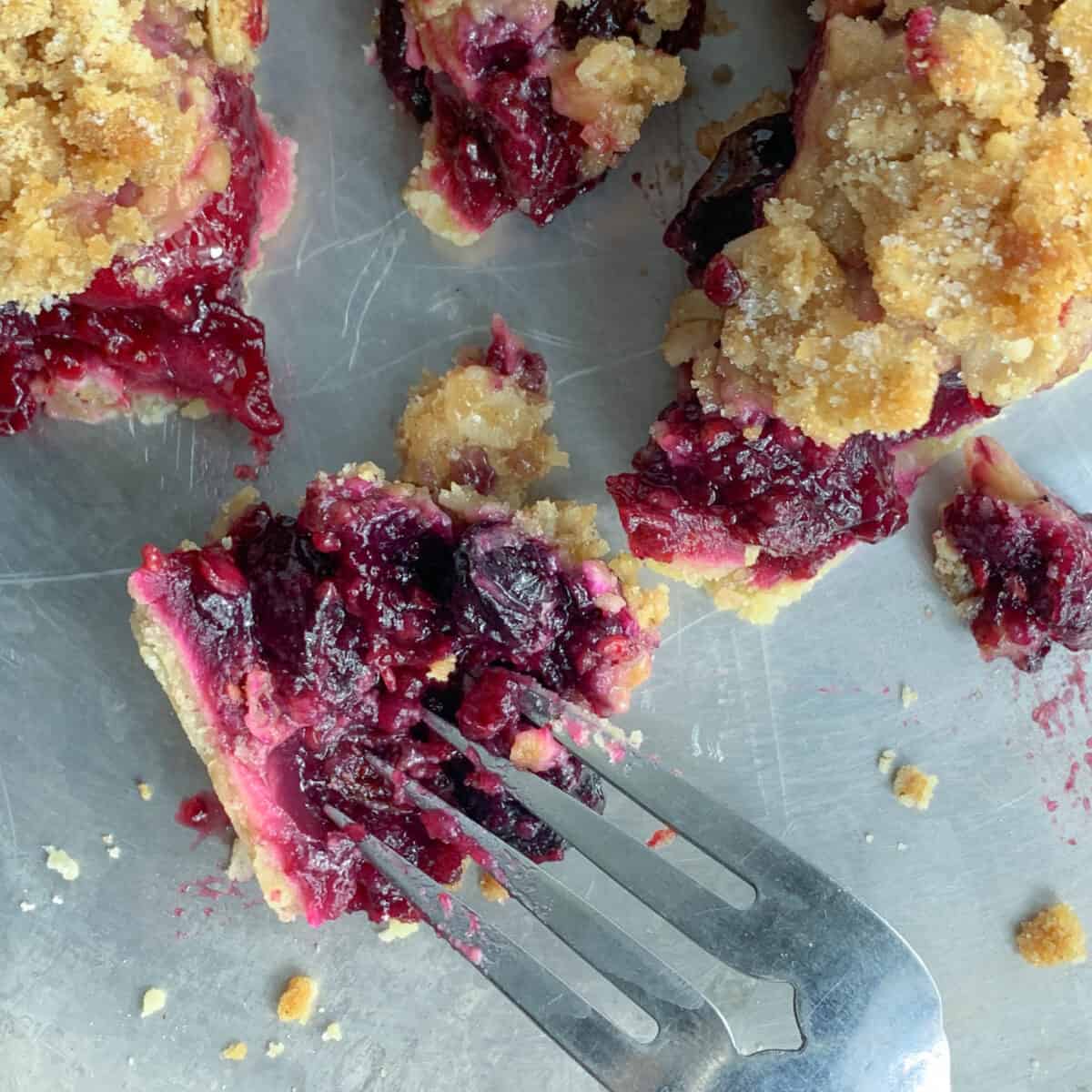 Pie Crust: Tips and Tricks
If the dough seems sticky, flour very well on both sides. Alternatively, if your dough is cracking, consider using cooking spray on top and also on counter (just a bit).
Turn the dough often: roll from the center, turn; roll, turn, roll, etc.
To flip the dough over, it helps to use a bench knife or a scraper. A spatula would also work in a pinch.
Work quickly! Pie crust is best worked with then is it chilled but not rock hard.
If the dough has been refrigerated for more than 30 minutes, leave it at room temperature for about 10 minutes before working with it.
Transfer the dough to your pie dish by very gently rolling it around the rolling pin.
After your pie crust is arranged in the pie dish, return the crust to the refrigerator for at least 30 minutes to allow it to rest (I find this helps prevent shrinkage).
Fun Fact: The ratio to make a pie crust is typically in the range of 3:2:1 (3 parts flour, 2 parts fat, and 1 part liquid)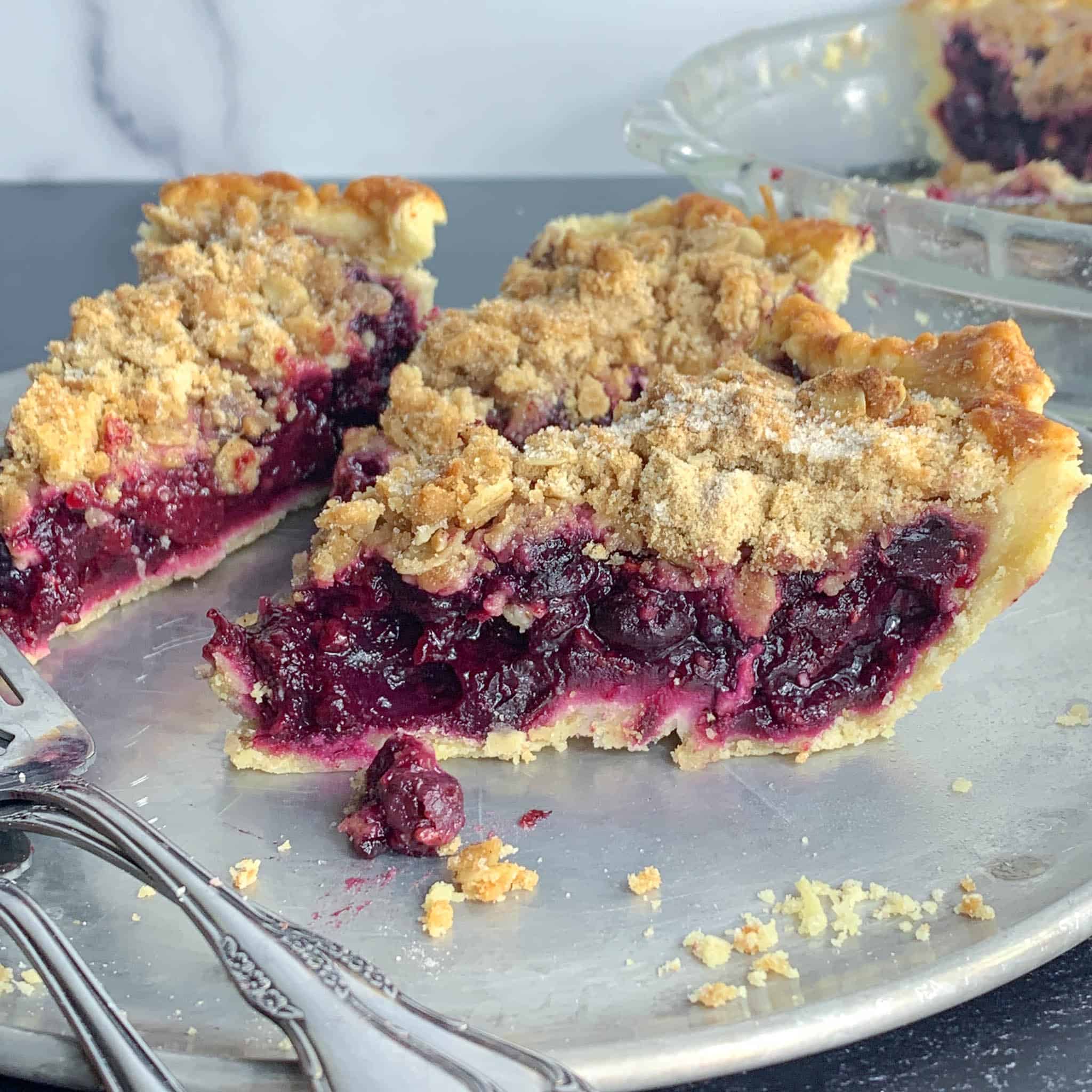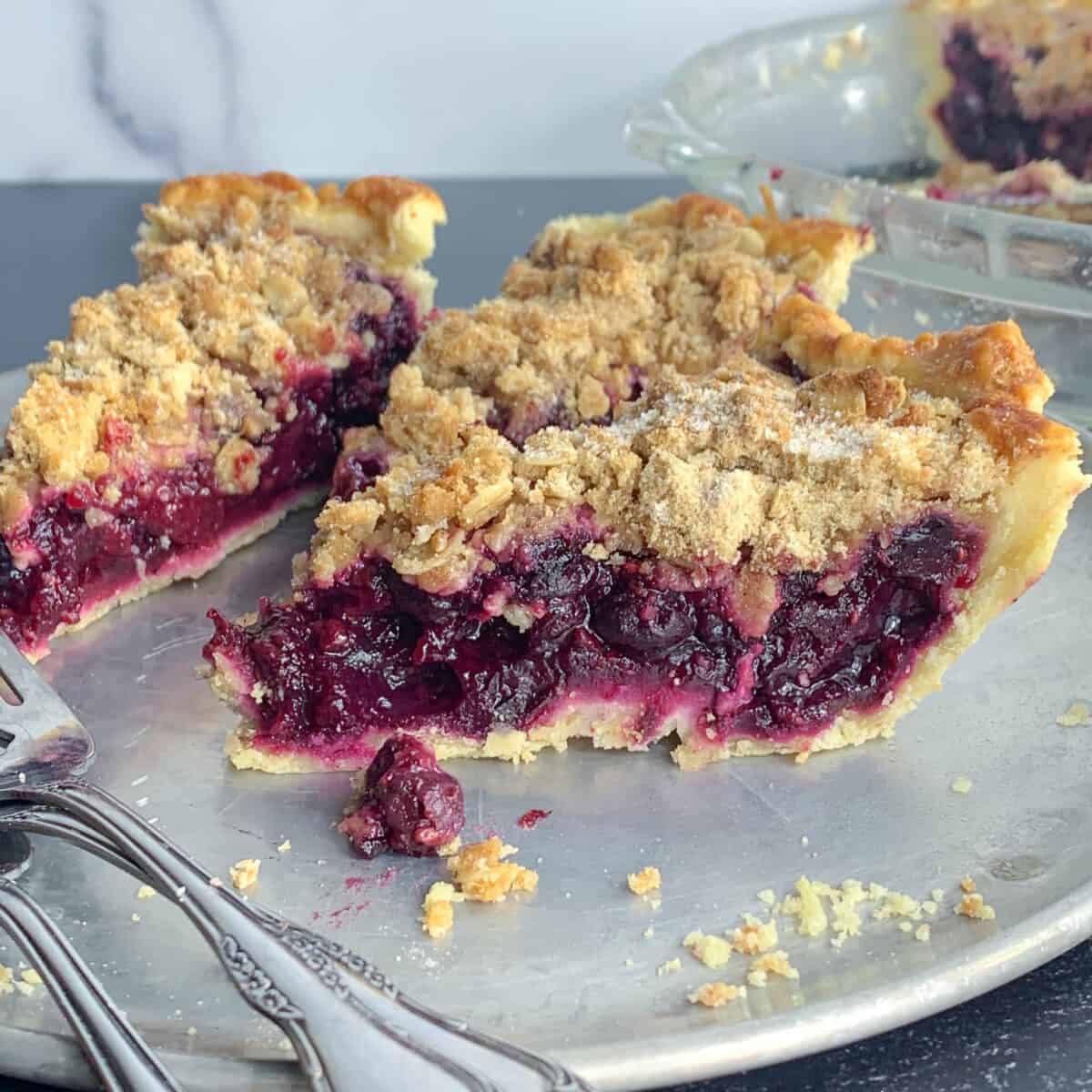 More Fruity Recipes to Try:
📖 Recipe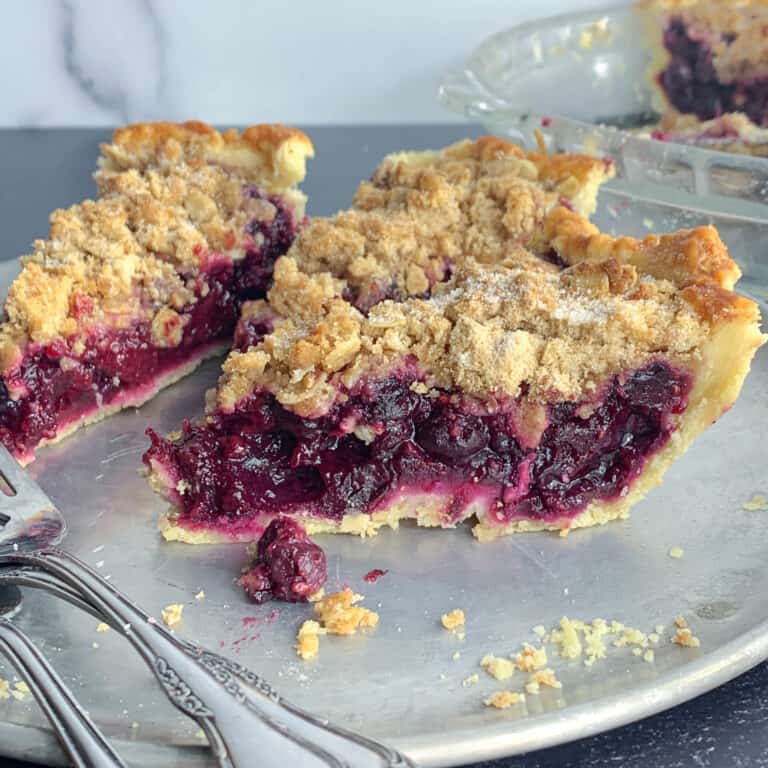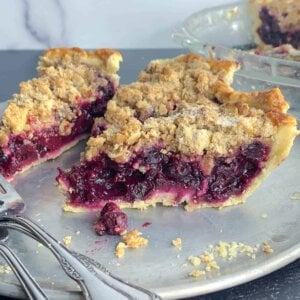 Amazing Mixed Berry Pie with Crumb Topping
This mixed berry pie is one of my favorite pies and is a perfect dessert. Loaded with mixed berries (strawberries, raspberries, blackberries, blueberries), fresh or frozen, and topped with a brown sugar oatmeal crumb, everyone will be asking for more!
Equipment
8 or 9-inch standard pie pan
Ingredients
For the pie shell (for a single 9-inch pie crust; makes 14 ounces of dough):
1 ¾

cups

(

210

g

)

all purpose flour

, plus more for rolling

1

tablespoon

sugar

¼

teaspoon

salt

6

tablespoon

(

80

g

)

shortening

4

tablespoons

(

60

g

)

butter

cold, cubed

1

egg

(

20

g

)

yolk

reserve the egg white for brushing crust

2

(

30-50

g

)

tablespoons ice water

up to 3 tablespoons if needed

egg wash (I used egg white mixed with dash of salt)

to brush edges of pie

cooking spray or oil to oil counter (optional)

if pie dough is cracking this is helpful
For the filling:
8 to 10

cups

mixed berries (frozen, thawed and drained) (see note for fresh fruit)

(2.5 to 3 pounds total)(strawberries, blueberries, raspberries, and blackberries)

⅓

cup

(

43

g

)

cornstarch

1

small

lemon

, juiced and zested (use 1 tablespoon of the juice)

¾

cup

(

150

g

)

sugar

½

teaspoon

salt

½

teaspoon

cinnamon
For the topping:
¼

cup

(

57

g

)

butter

, diced

½

cup

(

117

g

)

oatmeal

(not instant)

½

cup

(

62

g

)

all purpose flour

½

cup

(

110

g

)

brown sugar

½

teaspoon

cinnamon
Instructions
To Make the Pie Shell (3-2-1 dough)
In a large bowl, combine dry ingredients (flour, salt, sugar).

Add shortening and mix with pastry cutter or in standing bowl of mixer until the shortening is pea-sized and evenly distributed.

Add cubed butter and continue to mix until well distributed. Butter can be as large as dime-sized.

Add egg yolk and then 1 tablespoon of water at a time, trying to distribute it evenly over the surface. **Do not add all of the water if not needed.**

Squeeze the dough after each tablespoon of water has been mixed into the dough and as soon as it comes together (meaning the mixture holds when squeezed), stop adding water - it's done. Shape the dough into a flat disk shape, cover in plastic wrap and refrigerate for at least 30 minutes.

When ready to bake, remove dough from refrigerator. If the dough is too stiff, let it rest at room temperature for 10 minutes.

To roll out dough: it helps to flour each side very well, roll out from the center, and turn often. Keep adding flour if needed as you roll out and turn the dough to prevent sticking. Alternatively, if your dough is on the dry side, and is cracking, use cooking spray on your countertop and a touch on the surface on the dough (on each side). Roll until you have a circle with about a 12- to 13-inch diameter.

Transfer the dough to the pie plate by either folding the dough gently over the rolling pin, or carefully folding it in quarters and then transferring to the pan. Arrange the dough in the pie dish and crimp along the edges. Place in the refrigerator while you make the filling. I like to refrigerate for at least 30 minutes (overnight is fine as well).
To Make the Filling
Combine sugar and cornstarch (set aside a tablespoon or two of this mixture to sprinkle on bottom of pie before adding filling to prevent soggy crust). Stir in lemon juice, zest, salt, cinnamon, and defrosted and drained berries (see notes if you are using fresh berries).

Just before you are ready to bake the pie, add all ingredients to a large pan and heat over medium high heat until the mixture comes to a boil and then turn down heat and continue cooking until mixture thickens up a little.
To Make the Crumb Topping
Combine all ingredients in a small bowl and mix well with fingers. Do not use food processor or the oatmeal will become too fine and the texture will change.
To Bake the Pie
Preheat oven to 375 degrees.

If you reserved some cornstarch/sugar, add it to pie shell before adding the filling. Add berry filling to the pie shell and sprinkle the top evenly with crumb topping (there will be alot of topping, this is a good thing!). Brush edges of pie with egg wash and use aluminum foil to cover edges to prevent over browning.

Place pie on top of a baking sheet to catch any filling that might bubble over.

Bake pie for about 25 minutes with edges covered in bottom third of oven, then remove foil and bake another 25 to 30 minutes until bubbling.

Cool thoroughly, preferably overnight, so pie sets properly. Fruit pies should set at least 2 hours before serving and may stand for 24 hours at room temperature.

For longer storage, cover and refrigerate.
To Store Unbaked Pie in Freezer and Bake at Later Date
Prepare pie in a freezer safe pie pan, place in freezer bag, and seal. Freeze for up to 4 months.

To bake from frozen, unwrap, cover top with foil and bake at 450F for 15 minutes then reduce temperature to 375F and bake for 15 minutes more. Uncover and continue baking for 55 to 60 minutes more until crust is golden and filling is bubbling. (total time 90 minutes for frozen pie)
Notes
Fresh fruit may be used if it is macerated (mix with a few tablespoons of sugar to release the juices) and then drain well and proceed with the step for To Make the Filling. Fresh berries can be macerated anywhere from 30 minutes to overnight. 
Nutrition
Calories:
622
kcal
Carbohydrates:
94
g
Protein:
7
g
Fat:
26
g
Saturated Fat:
13
g
Cholesterol:
66
mg
Sodium:
531
mg
Potassium:
197
mg
Fiber:
7
g
Sugar:
44
g
Vitamin A:
640
IU
Vitamin C:
11.4
mg
Calcium:
44
mg
Iron:
2.9
mg
Interested in More Recipes?
SUBSCRIBE to get recipes delivered to your email 🙂