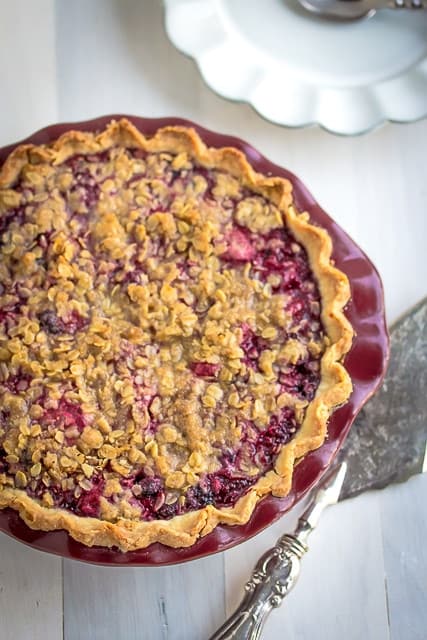 Oh my gosh. This pie. Is soooo good.
We discovered this pie when we lived in Michigan, just outside of Ann Arbor. There was a place nearby called the Grand Traverse Pie Company. Be still my heart. They made a slew of pies daily. Fresh and incredibly good.
Sadly, I can't find another place that makes those kinds of pies here back home in the Philadelphia suburbs. Sure, we have the Amish farmer's markets nearby. And they do make a decent pie. But they don't make this pie. I've been able to find berry pies that either don't have all the necessary berry varieties and there are those with a lattice topping in lieu of the crumb topping. I've also found pies that just lack flavor because of all the preservatives used to maintain freshness. Yuck.
Really – there is nothing like homemade pie!! I think this is where Grand Traverse did their job well since they claim to make their own dough and they make pies fresh, daily.
I suspect that this will be one of those recipes that my daughter will look for when she grows up and has her own family because she LOVES this pie.
The pie is tart, but not too tart, and sweet too. The pie crust that I chose to make was based on a recipe from King Arthur Baking. Within the past month, I've made about 4 different versions of pie shells including Pioneer Woman's recipe (called Sylvia's pie crust) and finally settled on this one.
Some pie crust recipes call for 100% shortening and claim to be the flakiest ever and there are those who swear by the use of butter instead of shortening because the flavor can't be beat. I chose the middle ground and used half shortening and half butter so I feel that I got the benefits of both worlds. I also add a tablespoon of vinegar to add additional flakiness.
But really, finding a good recipe for pie crust is only half the battle because rolling out that sucker is another battle, isn't it? This is something that requires a great deal of patience and a good amount of flour because when that dough starts sticking, things can go downhill very fast unless you are patient. I used a fondant measuring mat underneath and it really saved me.
I found some great advice on Smitten Kitchen's site about rolling out pie dough which really boils down to using liberal amount of flour and having lots of patience. Her mantra is "Flour well, roll, turn, repeat". Other very useful advice on pie crusts can be found on DianasDesserts.
Crust adapted from King Arthur Flour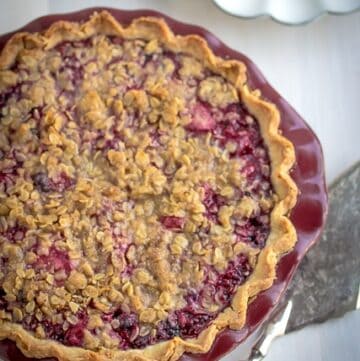 mountain berry pie
One of my absolute favorite pies with four types of berries laced with lemon and topped with a cinnamon oatmeal crumb
Print
Pin
Rate
Ingredients
For the pie shell (makes enough for 2 single crust pies):
2.5

cups

all purpose flour

(10.6 ounces), plus more for rolling

2

tablespoons

sugar

3/4

teaspoon

salt

1/2

cup

cold butter

, diced

4

tablespoons

shortening

8

to 9 tablespoons water

1

tablespoon

white vinegar

1

beaten egg to brush the pie shell
For the filling:
3

pounds

frozen mixed berries

(strawberries, blueberries, raspberries, and blackberries), defrosted and drained very well

1/3

cup

cornstarch

1

small

lemon

, juiced and zested

1/2

cup

sugar

up to 3/4 cup

1/2

teaspoon

salt

1/4

teaspoon

cinnamon
For the topping:
1/4

cup

butter

, diced

1/2

cup

oatmeal

(not instant)

1/2

cup

all purpose flour

1/2

cup

brown sugar

1/2

teaspoon

cinnamon
Instructions
For the pie shell:
In a large bowl, combine dry ingredients

Add cold butter and shortening and cut in with pastry cutter or 2 knives until the butter and shortening are pea-sized and evenly distributed.

Add the vinegar and then drizzle the water, trying to distribute it evenly over the surface.

Using the pastry cutter or your hands, works the liquid into the dough until it comes together. Use more water if necessary but try to use only what is needed.

Shape the dough into 2 disks (mine were about 10.25 ounces each), cover with plastic wrap or place in a plastic bag, and freeze for about 15 minutes. You will only need one of these disks (save the other for another pie)

Remove one disk from freezer, flour each side well, and roll out from the center, to a diameter that is 1 inch larger than your pie dish (usually 11 to 13 inches). Use liberal amounts of flour, roll from center, turn, repeat and don't be tempted to throw the dough at the wall if it sticks.

I used a fondant matte with circle guides that was tremendously helpful in rolling out my dough; this also helped prevent the dough from sticking and was useful to invert and peel the dough onto the pie dish.

You can also transfer the dough to the pie plate by either folding the dough around the rolling pin, or carefully folding it in quarters.

Arrange the dough in the pie dish and crimp along the edges

Preheat the oven to 350 degrees and then place the pie shell in the fridge or freezer for 20 minutes to allow the dough to rest (this helps prevent the dough from losing its shape during the baking period)

Remove the pie from the fridge or freezer and blind bake the shell using pie weights or dry beans/rice arranged on top of wax paper or parchment paper.

Brush the edges of the pie shell with beaten egg and bake for about 20 minutes

In the meantime, make the filling
To make the filling:
The fruit must be well drained. If in doubt, let it sit out longer and drain more.

Once the fruit has been thoroughly defrosted and drained, combine all ingredients in a large sauce pan and heat gently over low to medium heat until thickened, about 3 to 4 minutes. Stir often to prevent burning. The mixture will thicken a bit further as it cooks more and more importantly when it cools after baking.

Remove from burner and set aside
To make the crumb topping
Combine all ingredients in a small bowl and mix well with fingers. Do not use food processor or the oatmeal will become too fine and the texture will change.
To make the pie
Preheat oven to 375 degrees.

Add precooked filling to the blind-baked pie shell and sprinkle the top evenly with crumb topping

Bake pie for about 40 minutes or until crust is golden brown and topping is cooked.

Cool thoroughly, preferably overnight, so pie sets properly
Nutrition
Calories:
622
kcal
|
Carbohydrates:
94
g
|
Protein:
7
g
|
Fat:
26
g
|
Saturated Fat:
13
g
|
Cholesterol:
66
mg
|
Sodium:
531
mg
|
Potassium:
197
mg
|
Fiber:
7
g
|
Sugar:
44
g
|
Vitamin A:
640
IU
|
Vitamin C:
11.4
mg
|
Calcium:
44
mg
|
Iron:
2.9
mg