After trying sooo so many soft sugar cookie recipes, I've found THE ONE and I'm so excited to share it here!! These perfectly soft sugar cookies are really just PERFECT - slightly chewy, really soft, with melt-in-your-mouth goodness! These will have you swooning.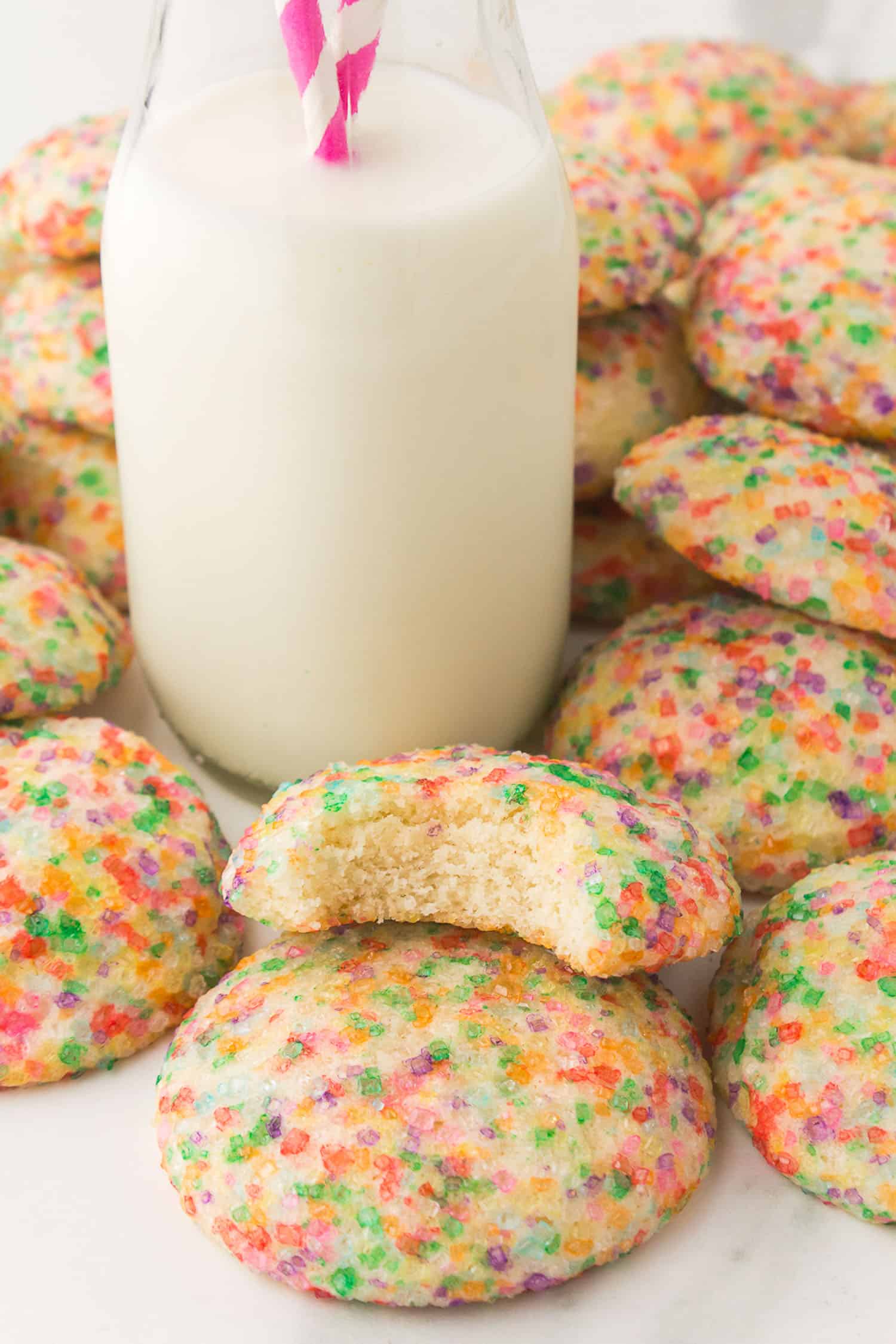 And as if that wasn't enough, they're topped with a sprinkle explosion of colors that make them as fun to look at as they are to devour. Trust me, you won't be able to resist!!
And, by the way, if you're also looking for roll out cookie dough, please try my roll out sugar cookie dough!
Jump to:
Why Make These Cookies?
Whether it's for you/your family, sharing with others, or just embracing the joy of baking, these cookies will satisfy and leave you wanting to make them time and time again.
These soft sugar cookies are a versatile treat and are perfect for a variety of occasions throughout the year! Whether it's adding a touch of magic to festive holidays like Christmas, Halloween, Valentine's Day, and Thanksgiving, celebrating special moments like birthdays, weddings, and anniversaries, or enhancing themed parties, graduations, and corporate events, sugar cookies bring a delightful sweetness to every occasion!
And you can customize the sprinkle colors to the event!
Ingredients Needed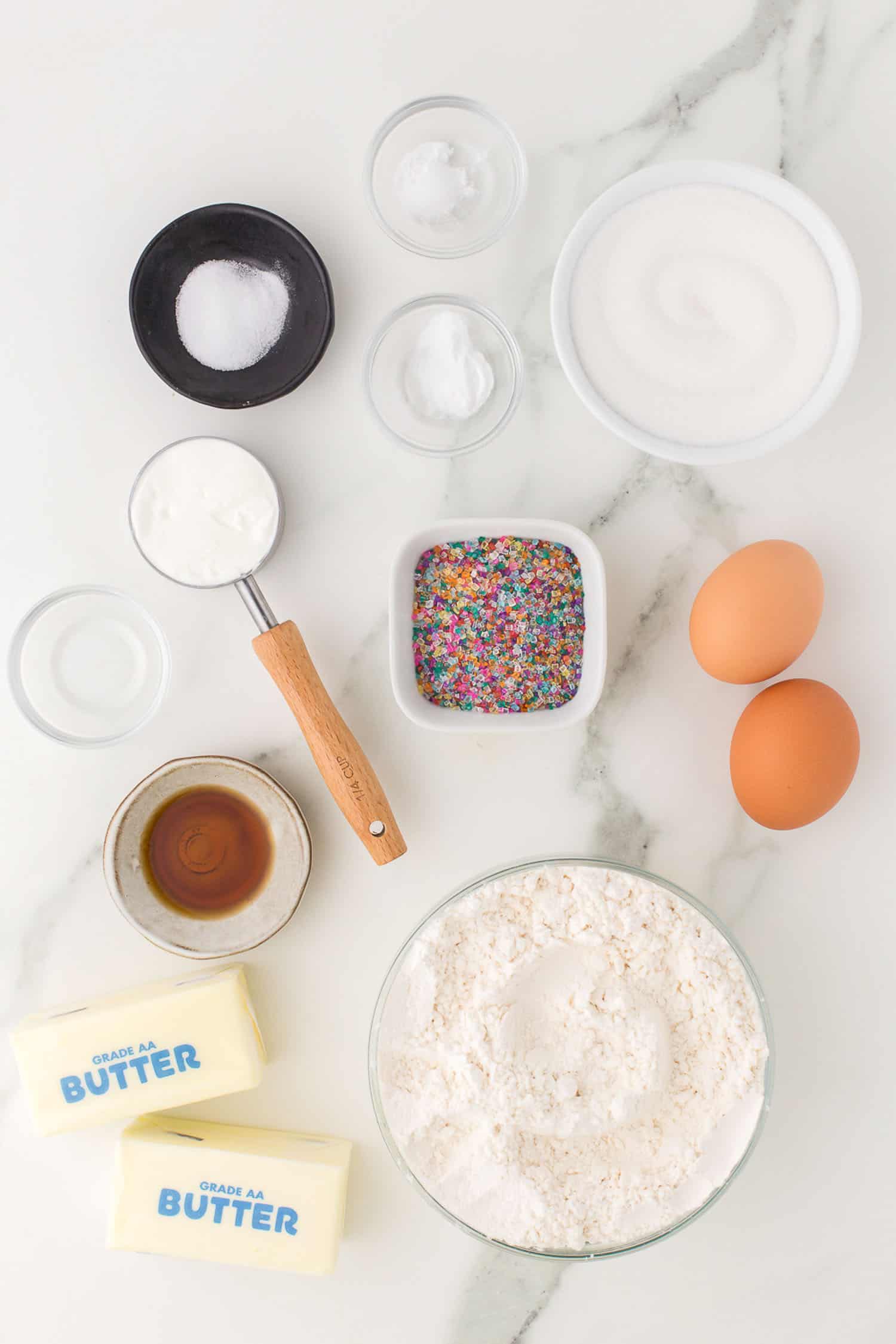 All-Purpose Flour: This is the main dry ingredient in the recipe and provides structure to the cookies. Flour contains proteins (gluten) that, when mixed with wet ingredients and worked, form a network that gives the cookies their texture. The amount used affects the cookie's tenderness and crumb.
Baking Powder: Baking powder is a leavening agent that helps the cookies rise and become light and fluffy. It reacts with the other ingredients, especially when heated, releasing carbon dioxide gas that creates bubbles and expands the dough.
Baking Soda: Baking soda is another leavening agent that works in conjunction with the acid in the sour cream. It helps the cookies rise by producing carbon dioxide gas and also contributes to the cookies' texture.
Salt: Salt enhances the flavor of the cookies. It balances the sweetness and other flavors, making the cookies more flavorful. Additionally, salt can strengthen the dough's proteins, improving its structure.
Unsalted Butter: Butter provides fat, flavor, and moisture to the cookies. It helps create a tender and rich texture. The fat in butter also helps with the spread of the cookies during baking, affecting their shape and texture.
Granulated Sugar: Sugar adds sweetness and contributes to the cookies' texture and color. It also helps tenderize the cookies by absorbing moisture from the dough, resulting in a softer texture.
Sour Cream: The magic ingredient! Sour cream is a moistening agent that adds both moisture and a slight tangy flavor to the cookies. It also contributes to the cookies' tenderness and helps with browning.
Eggs: Eggs provide moisture, structure, and binding to the cookie dough. The proteins in eggs help give the cookies their structure, while the fat and moisture contribute to the cookies' texture.
Vanilla Extract: Vanilla extract enhances the overall flavor of the cookies. It adds a warm, aromatic note that complements the sweetness and other flavors in the cookies.
Almond Extract: Almond extract is used to add a hint of almond flavor to the cookies. It complements the vanilla extract and can provide a subtle and pleasant depth of flavor.
See the recipe card for full information on ingredients and quantities.
How to Make
To make the cookies, begin by combining the flour, baking soda, salt, and baking powder.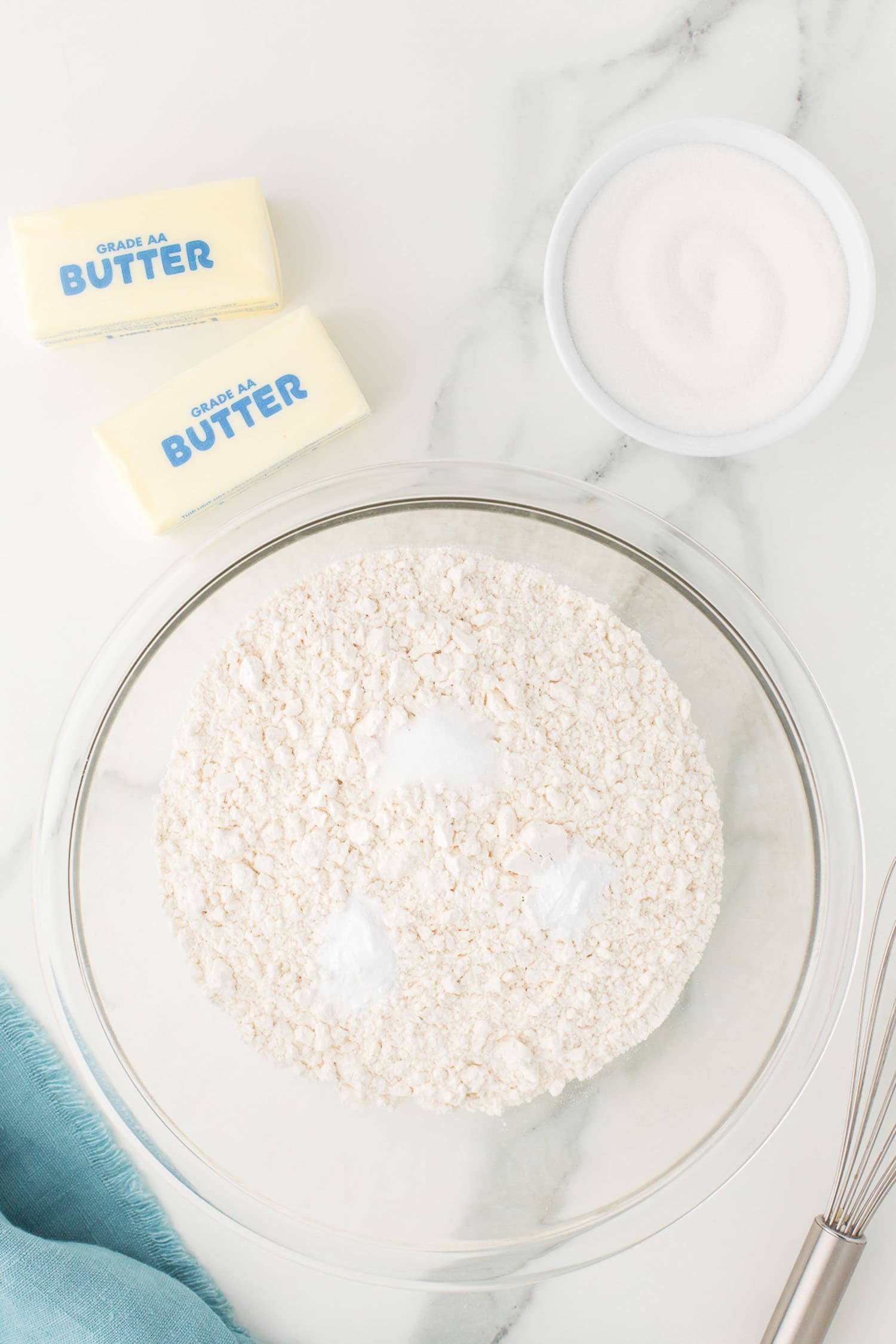 Then, cream your sugar and butter together and then add the sour cream, eggs, and extracts.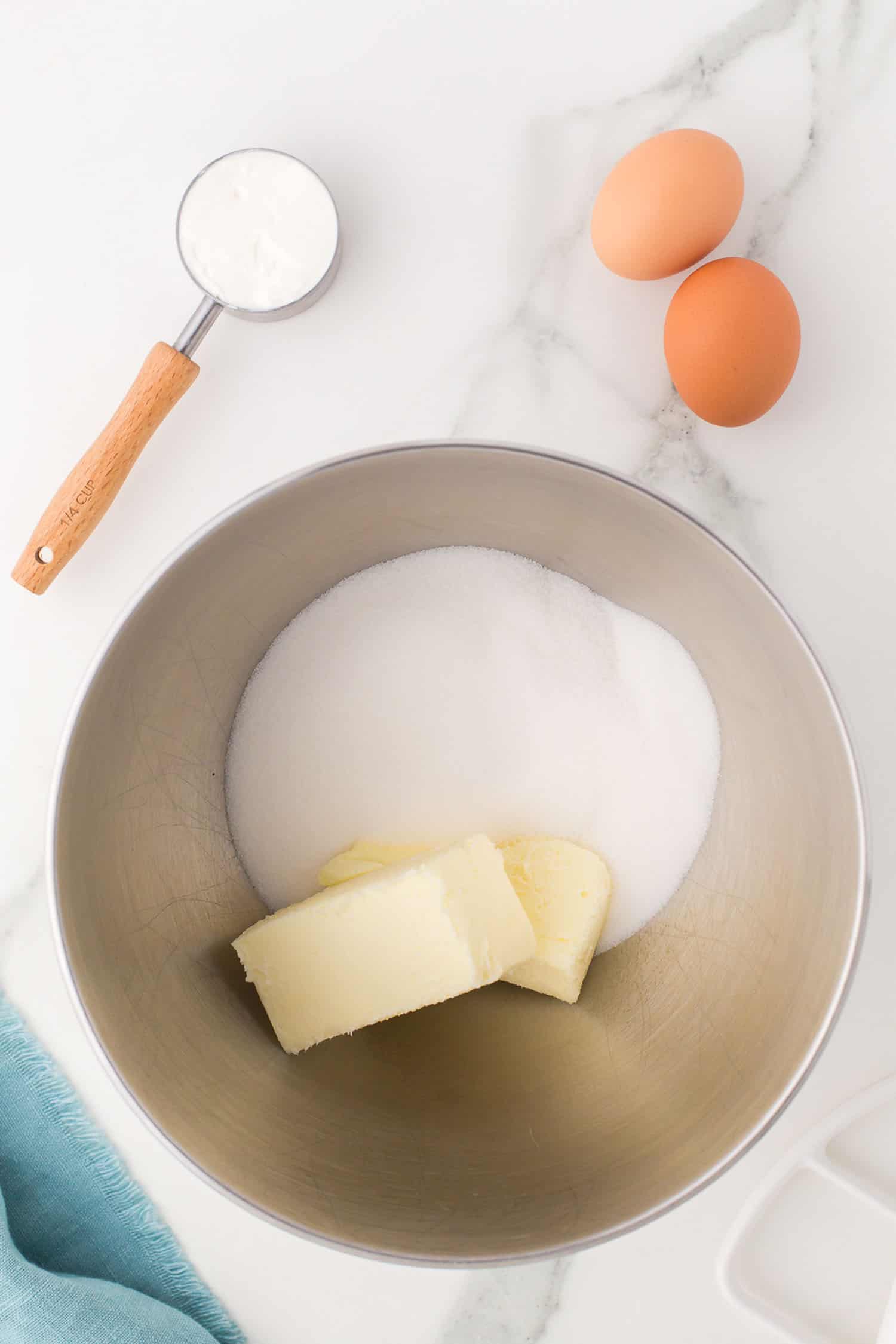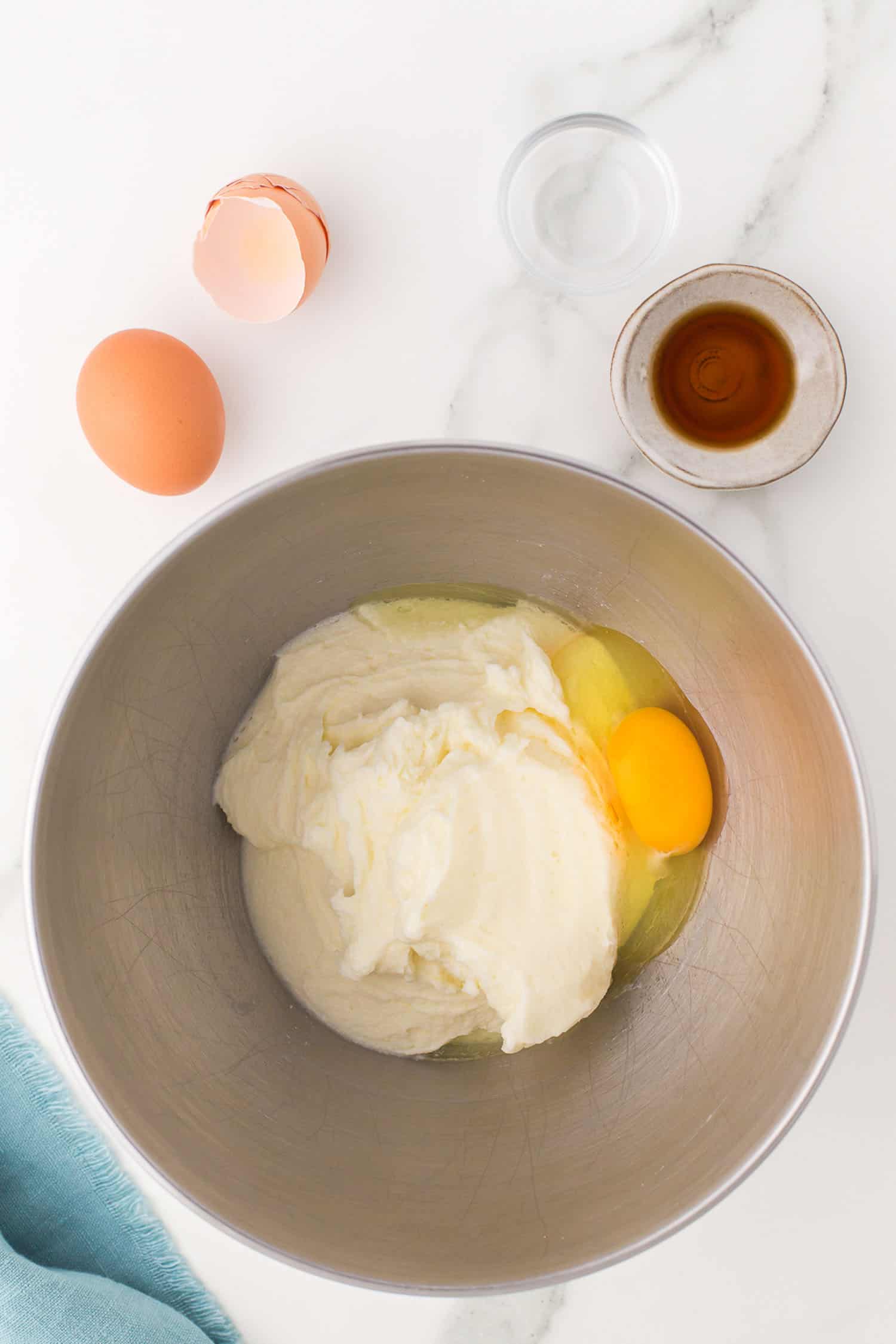 Add the flour mixture gradually and then refrigerate the dough for at least 2 hours.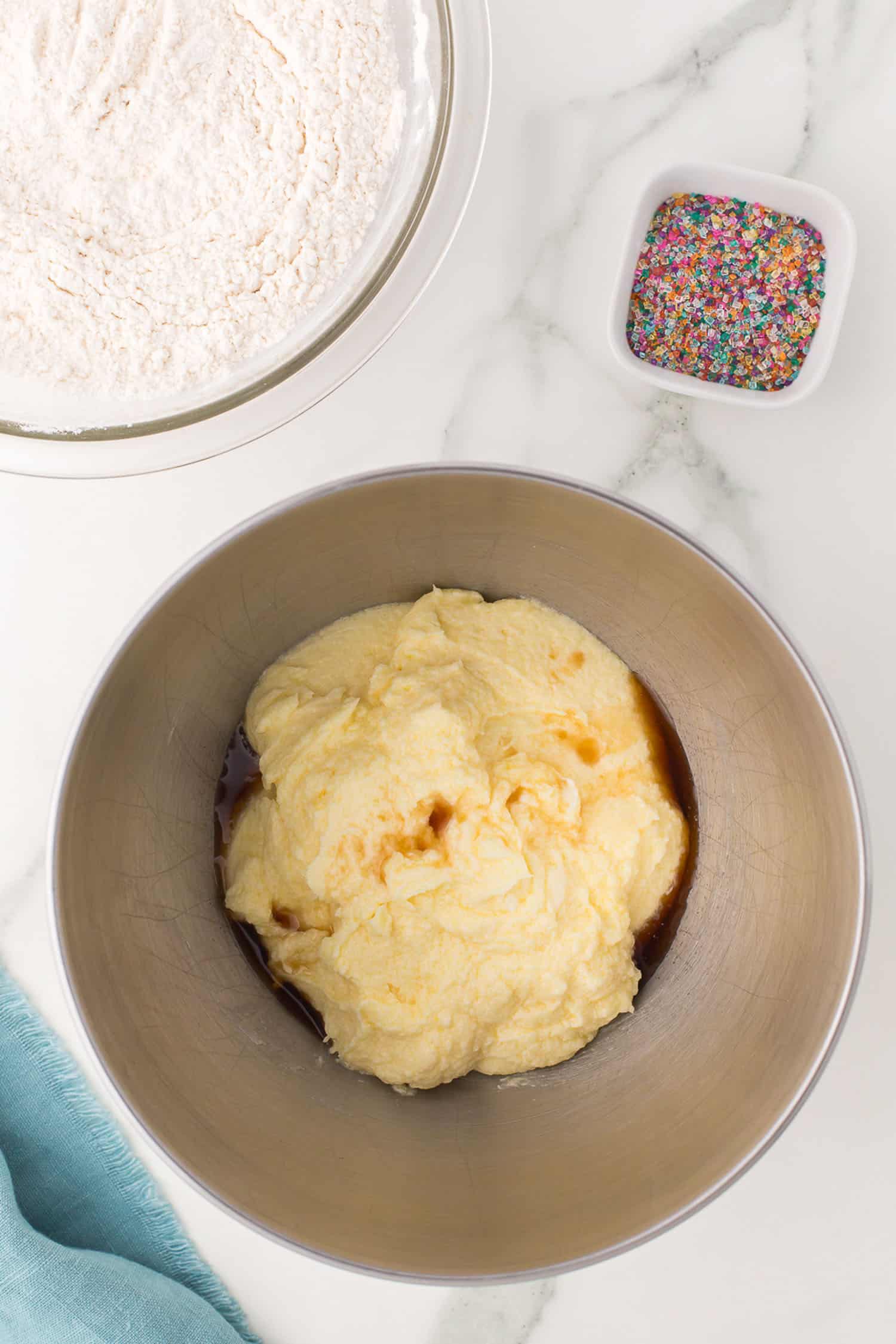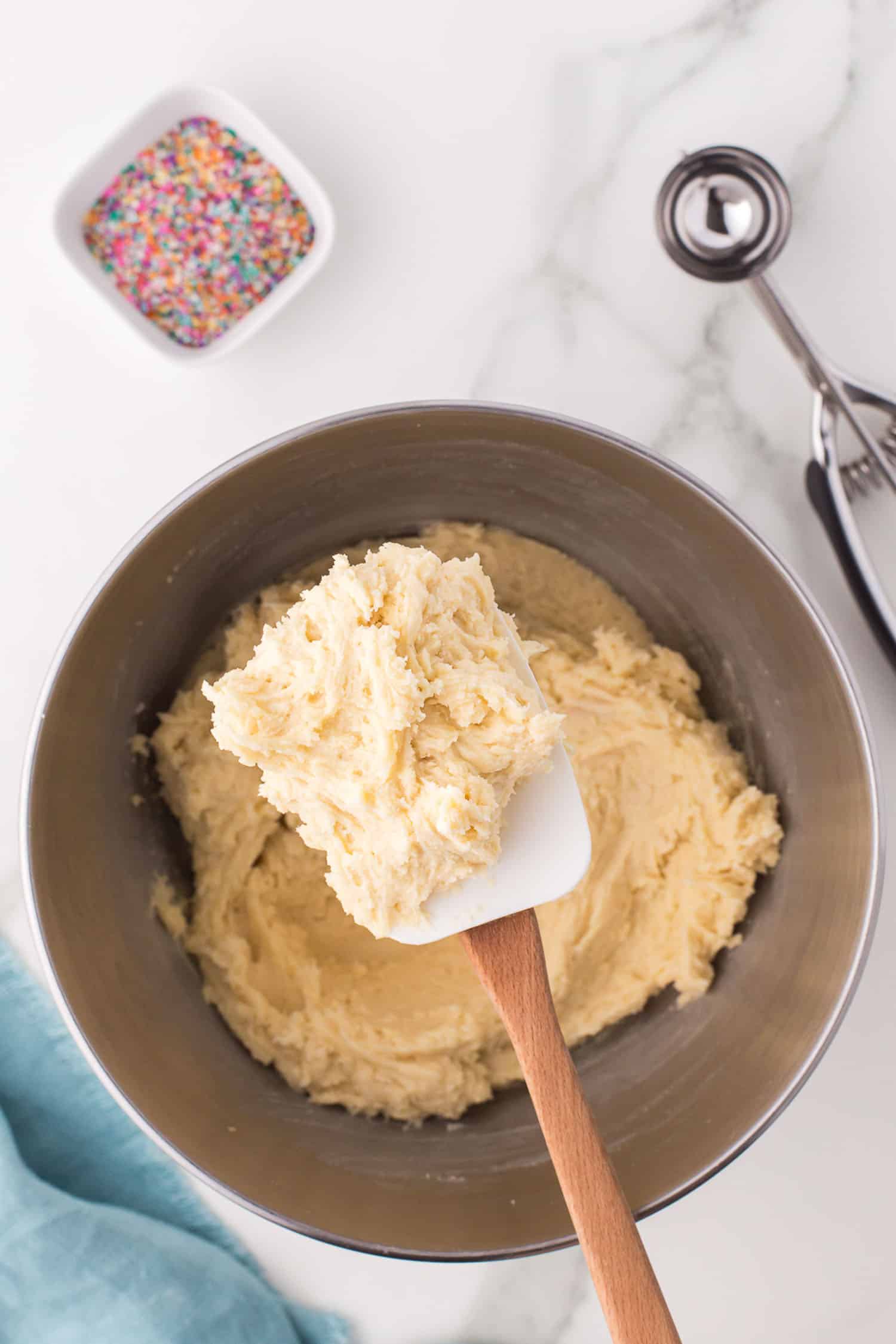 When ready to bake, preheat your oven, shape the dough into balls, roll in sugar, and bake at 350℉ for 13-15 minutes.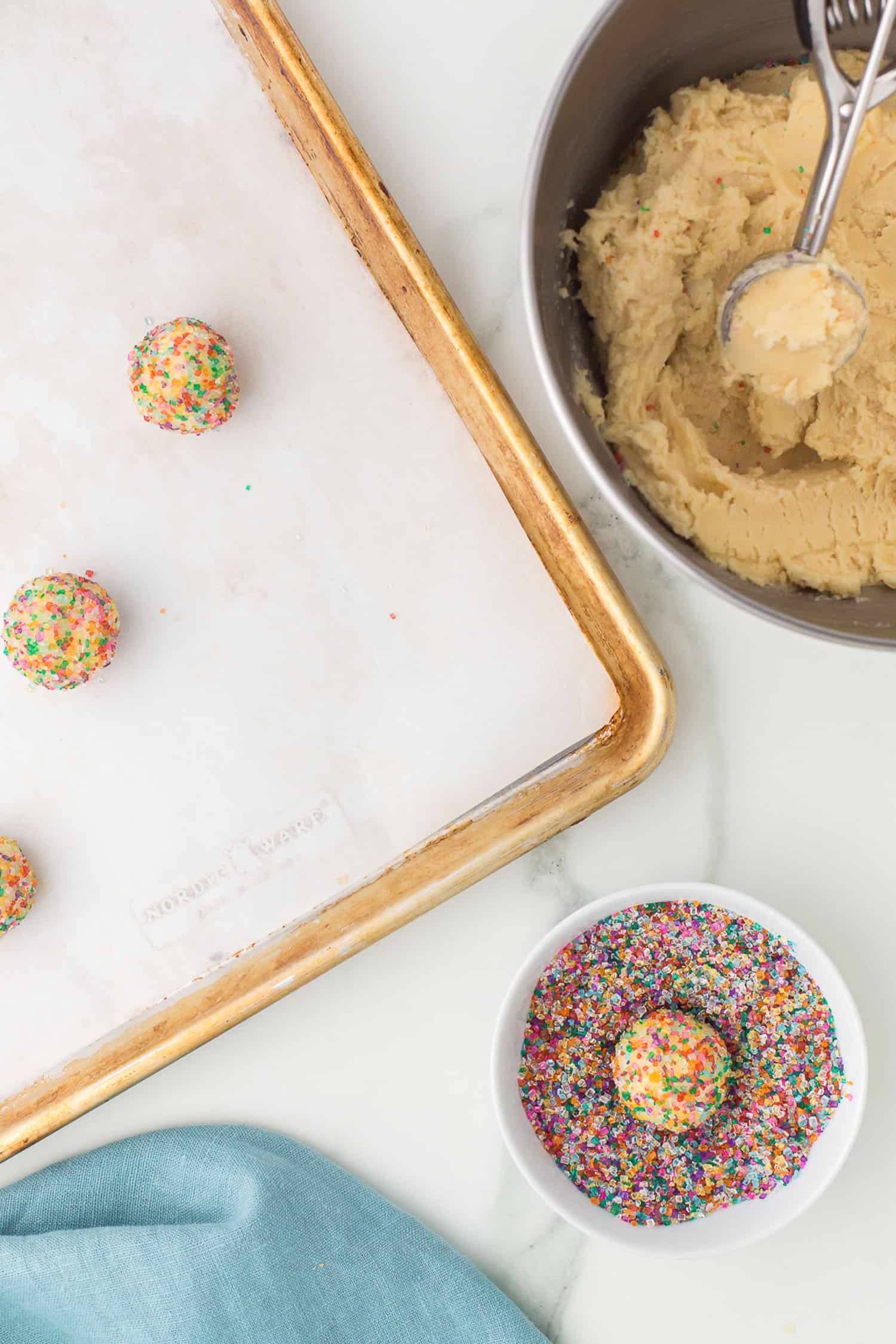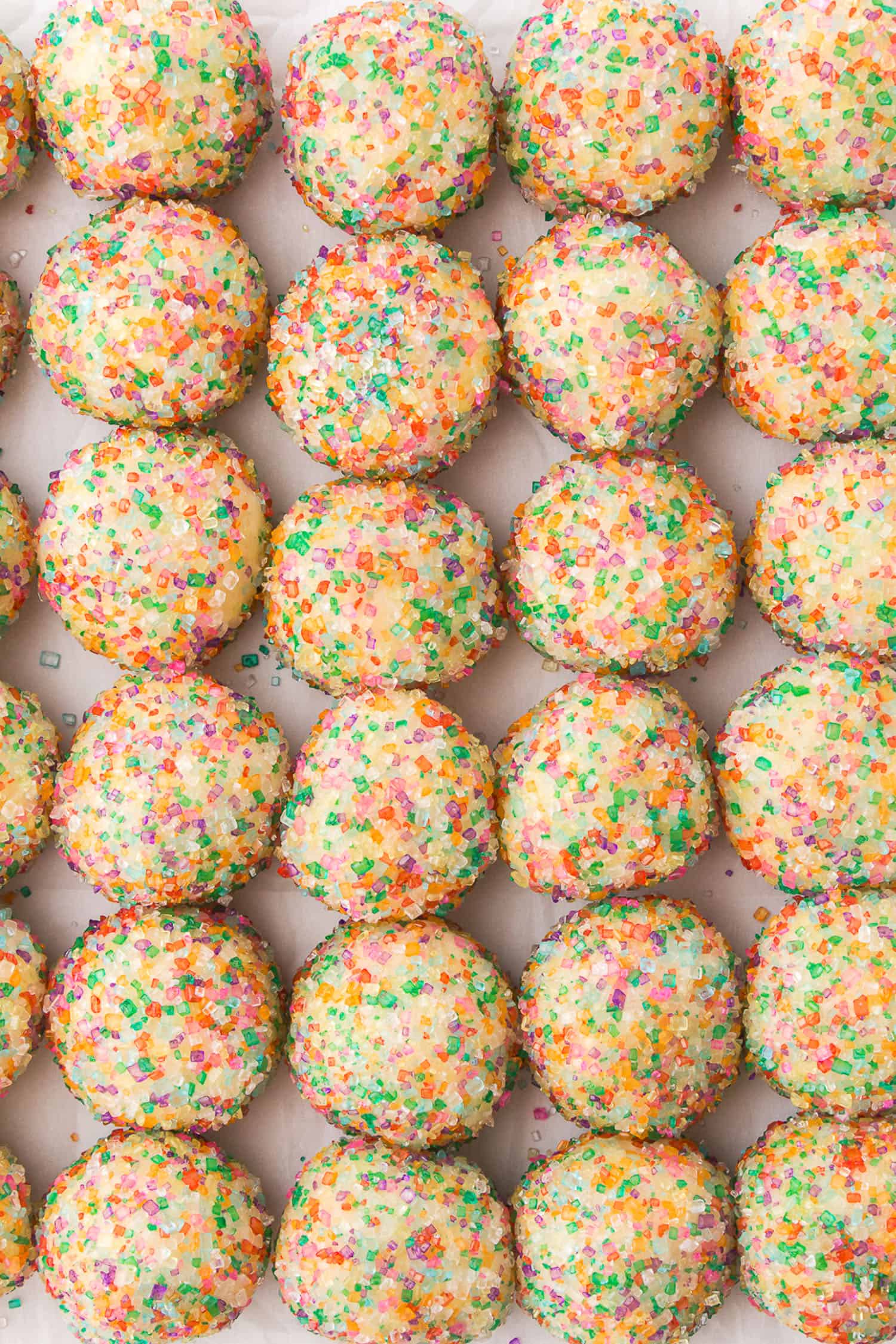 Be sure to let cookies cool on the sheet for 10-15 minutes to firm up.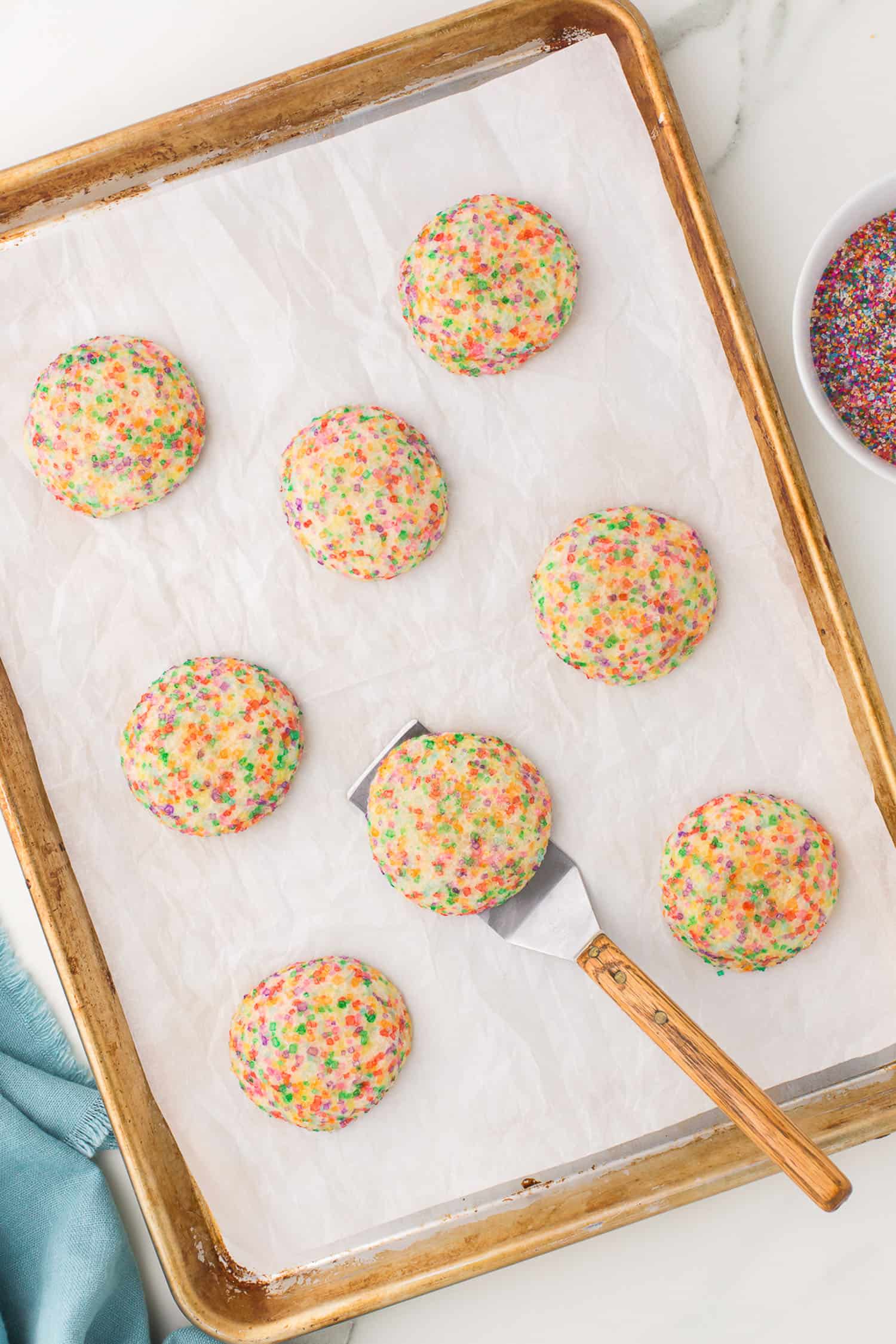 Advantages of a Refrigeration Needed Recipe
There are lots of recipes for sugar cookies that are "no refrigeration required". I'm personally not a big fan for a few reasons I'll discuss. I like slow food and feel like it has more flavor in general including slow dough cookies! Even slow pizza doughs, much like my pizza dough! Because if I'm going to make and eat cookies (or bread or pizza), it'd better be GOOD - because it's a special treat!
So what's the advantage of refrigerated cookie doughs, you may ask? Well there are lots!! Let's also check out the advantages of not doing so to be fair.
Advantages of Using a Recipe with Refrigeration:
Flavor Development: Chilling the dough can lead to enhanced flavor development as the ingredients meld together over time.
Texture Control: Chilling the dough helps control the spread of cookies during baking, leading to thicker and chewier results.
Convenience: You can prepare the dough in advance and bake the cookies whenever you're ready, making it convenient for busy schedules or special occasions.
Advantages of Using a Recipe without Refrigeration:
Immediate Gratification: If you're in a hurry or craving fresh cookies right away, recipes that don't require refrigeration are quicker to prepare and bake.
Simplicity: Recipes that skip the chilling step are often simpler and more straightforward, making them great for beginners or when you're short on time.
Keep in mind that some cookie types, like drop cookies or bar cookies, don't necessarily benefit from chilling and can be successfully baked without the extra step.
Expert Tips
Chill the Dough: So we just said this but ya, chilling the dough for at least 2 hours (or overnight) is essential. This firms up the dough, making it easier to handle and prevents excessive spreading during baking.
Measure Ingredients Accurately: Precise measurements are crucial in baking. Use a kitchen scale for best accuracy, especially for ingredients like flour and sugar.
Room Temperature Ingredients: Ensure that ingredients like eggs and butter are at room temperature. This helps with even mixing and better incorporation into the dough. I like to grate butter on a box grater if it's not at room temperature.
Preheat the Oven: Always preheat your oven before baking. This ensures that the cookies bake evenly and at the correct temperature.
Proper Spacing: Leave enough space between the cookie dough balls on the baking sheet. This prevents the cookies from merging together as they spread during baking.
Avoid Over-Baking: Watch the cookies closely towards the end of the baking time. They should be lightly golden at the edges, but not browned. Over-baking can result in dry cookies.
Cooling on the Sheet: Allow the cookies to cool on the baking sheet for a few minutes before transferring them to a wire rack. This helps them set and firm up so the cookies won't break when you transfer them.
Texture Testing: Don't worry if the cookies seem soft when you take them out of the oven. They will firm up as they cool.
Uniform Size: Try to make the cookie dough balls as uniform in size as possible. This ensures that they bake evenly. I like to use a cookie scoop!
Decoration: Rolling the dough balls in sugar or sprinkles before baking adds a nice decorative touch and a bit of extra sweetness.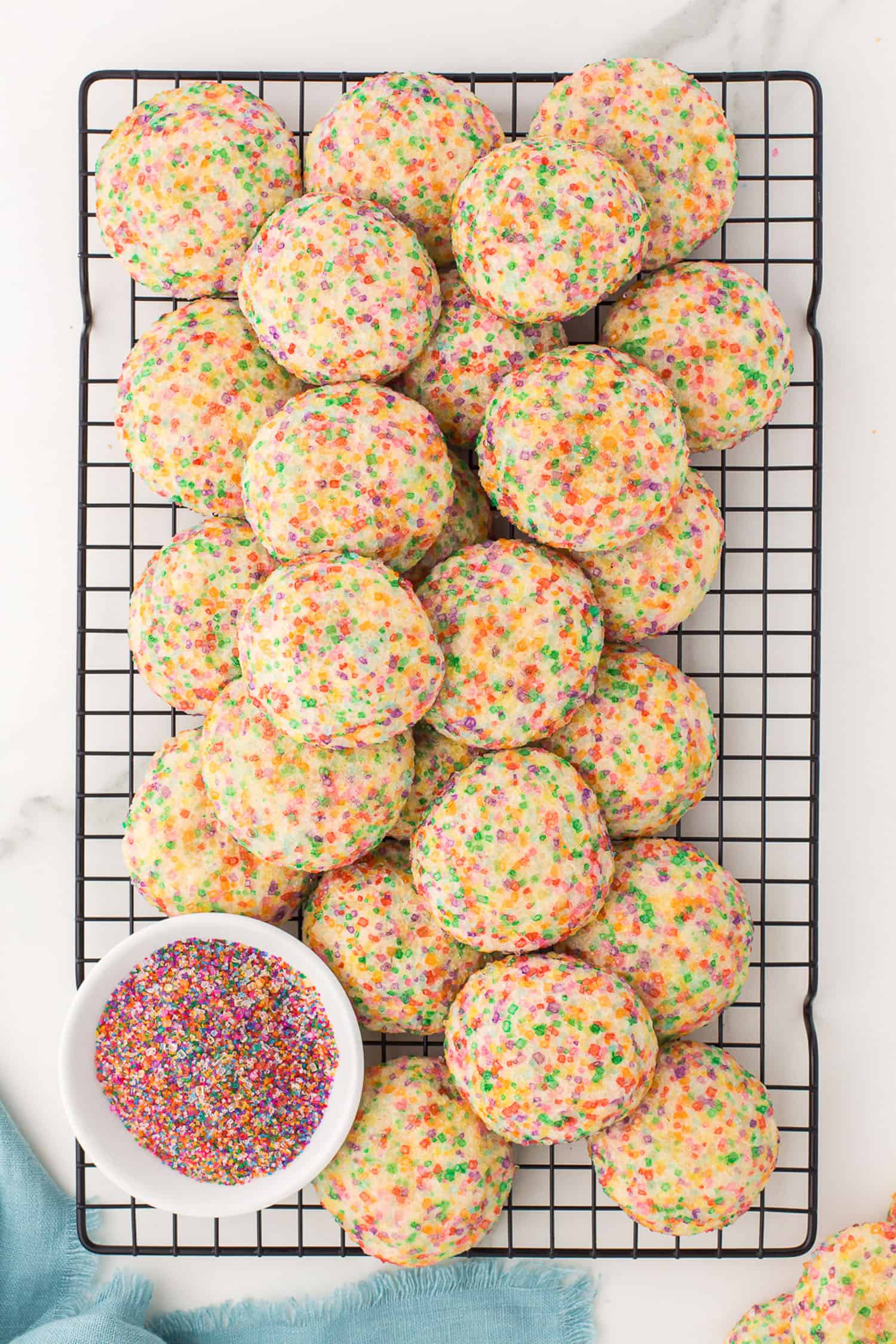 Flavor Variations
Sometimes it's fun to experiments with flavors. Here are some ideas!
Lemon: Incorporate lemon zest and a splash of lemon juice or a small amount of lemon extract for a bright and zesty flavor.
Orange: Add orange zest and a touch of orange extract for a citrusy and refreshing twist.
Blueberry Lemon: Fold in dried blueberries and lemon zest for a fruity and tangy combination.
Brown Butter: Brown the butter before mixing it into the dough for a rich, nutty, and caramelized taste.
Confetti: Mix in colorful sprinkles or nonpareils directly into the dough for a festive and playful appearance.
Thumbprint: Create indentations in the cookies before baking and fill them with your favorite jam or preserve after baking.
Raspberry Almond: Mix in chopped almonds and fold in freeze-dried raspberries for a nutty-fruity combo.
Coconut Lime: Add shredded coconut and lime zest to infuse the cookies with a tropical and tangy flair.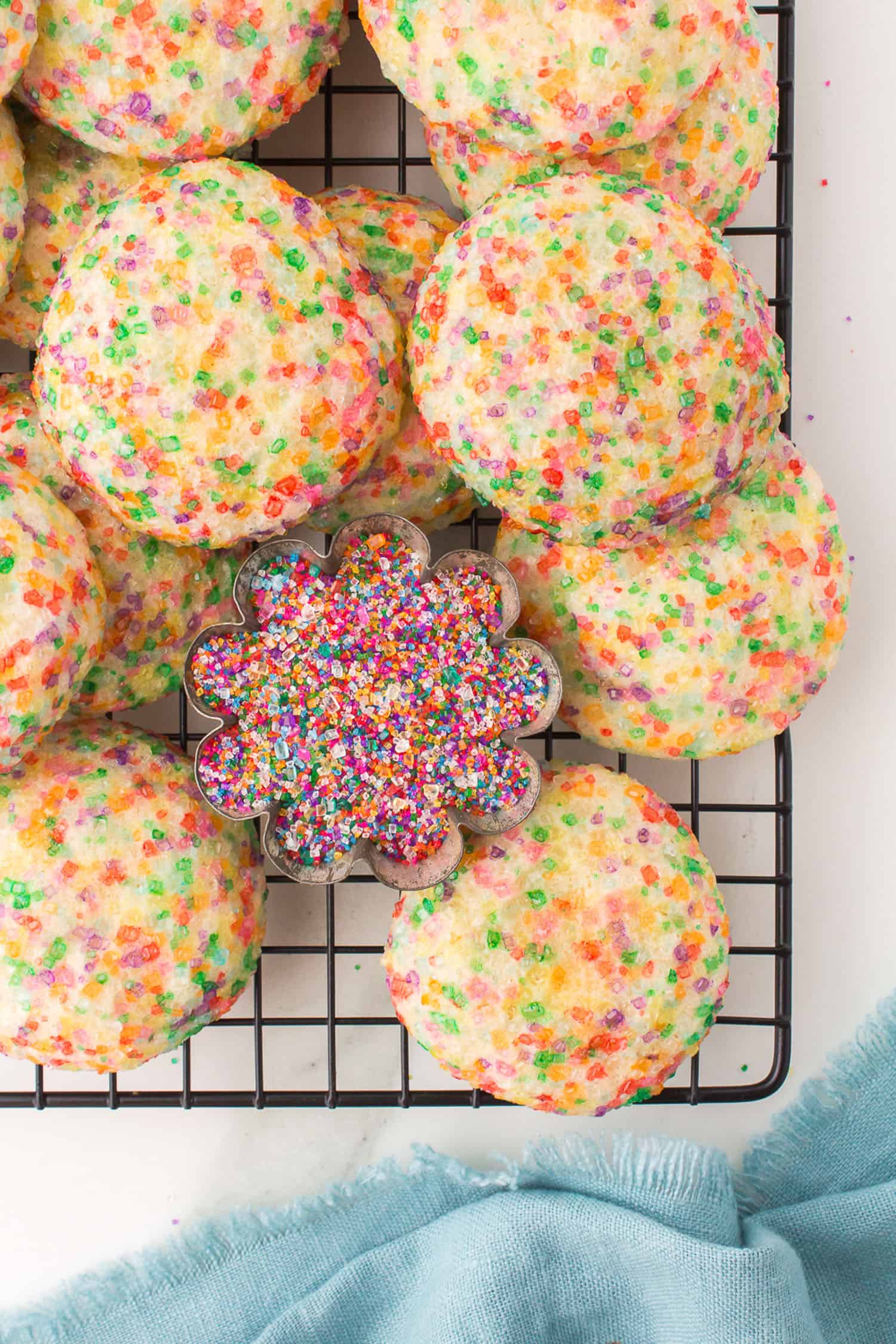 Storage and Make Ahead
Baked cookies should keep well in the freezer for 3 to 4 weeks, with the USDA saying 8 to 12 months.
At room temperature, baked cookies should keep well for 3 or 4 days.
For more tips on storing cookies at room temperature vs the refrigerator vs the freezer, read this article from Real Simple.
Most cookie doughs will freeze well for 2 months.
Homemade cookie dough can be stored in the refrigerator for 2 to 4 days.
Related Cookie Recipes
If you tried this Soft Sugar Cookies Recipe or any other recipe on my website, please leave a 🌟 star rating and let me know how it went in the 📝 comments below!
📖 Recipe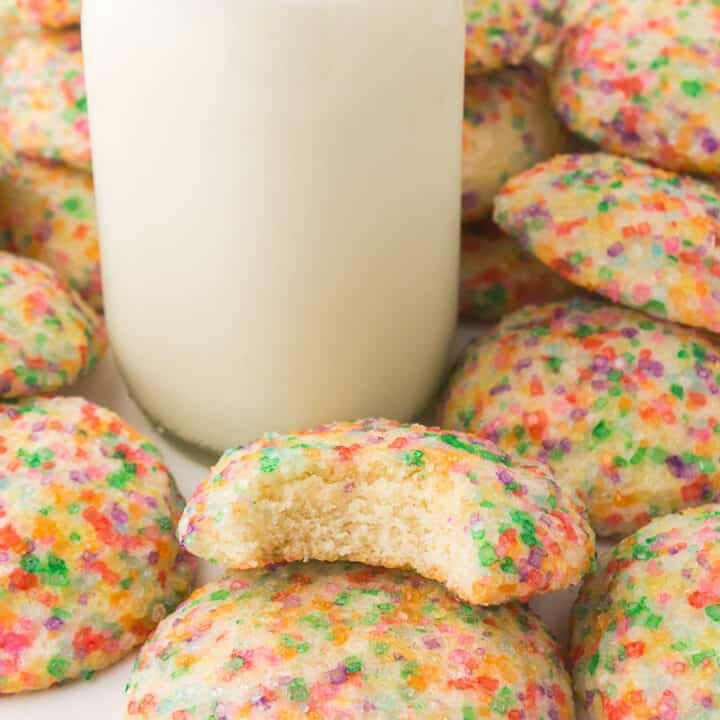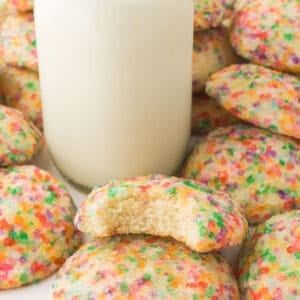 Soft Sugar Cookies
These soft sugar cookies are PERFECT and after years of trying different recipes, I promise these are THE ONES! They are soft and they have the perfect balance of crispiness and chewiness – golden edges inviting you in, while the center offers that perfect amount of soft chew!
Ingredients
For the Cookies
3 ¼

cups

(

406.25

g

)

all purpose flour

½

teaspoons

(

2

g

)

baking powder

½

teaspoon

(

2

g

)

baking soda

½

teaspoon

(

3

g

)

salt

1

cup

(

227

g

)

unsalted butter

(1 cup = 2 sticks)

1.5

cups

(

300

g

)

granulated sugar

¼

cup

(

57.5

g

)

sour cream

full fat not reduced fat, may substitute greek or plain yogurt (full fat)

2

large

(

100

g

)

eggs

room temperature

2

teaspoons

(

8

g

)

vanilla extract

¼

teaspoon

(

1

g

)

almond extract

optional but highly recommended; use ½ teaspoon if you are a big fan
To Decorate (Rolling)
1

cup

(

236.59

g

)

rainbow sparkling sugar (any color)

or rainbow sprinkles or plain sugar
Instructions
For the Cookie Dough
Combine flour, baking powder, baking soda, and salt in a medium-sized bowl and set aside.

In the bowl of a standing mixer, beat butter and sugar on medium speed until light and fluffy, about 2 minutes

Add sour cream and mix until incorporated.

Add eggs, one at a time and beat until incorporated.

Add vanilla and almond extracts and mix until incorporated

Add flour mixture slowly and mix on low only until combined.

Transfer dough to a medium sized air tight container, and refrigerate the dough for at least 2 hours or overnight. Dough must stiffen up.
To Bake the Cookies
Preheat oven to 350℉ (175℃)

Form dough into balls (about 2 tablespoons each), roll in sugar or sprinkles, and place on parchment-lined rimmed cookie sheet with at least 2 inches of space between the cookies.

Bake for 13 to 15 minutes or until the edges/bottom of the cookies are lightly golden (do not allow cookies to brown, or they will dry out). If you make smaller cookies, bake for 11 to 13 minutes.

Let them cool completely on the baking sheet before moving them. Cookies will stiffen up as they cool so do not disturb them for about 10 to 15 minutes.
Nutrition
Serving:
1
g
Calories:
177
kcal
Carbohydrates:
27
g
Protein:
2
g
Fat:
7
g
Saturated Fat:
4
g
Polyunsaturated Fat:
0.4
g
Monounsaturated Fat:
2
g
Trans Fat:
0.2
g
Cholesterol:
30
mg
Sodium:
64
mg
Potassium:
31
mg
Fiber:
0.4
g
Sugar:
17
g
Vitamin A:
219
IU
Vitamin C:
0.02
mg
Calcium:
11
mg
Iron:
1
mg
Interested in More Recipes?
SUBSCRIBE to get recipes delivered to your email 🙂