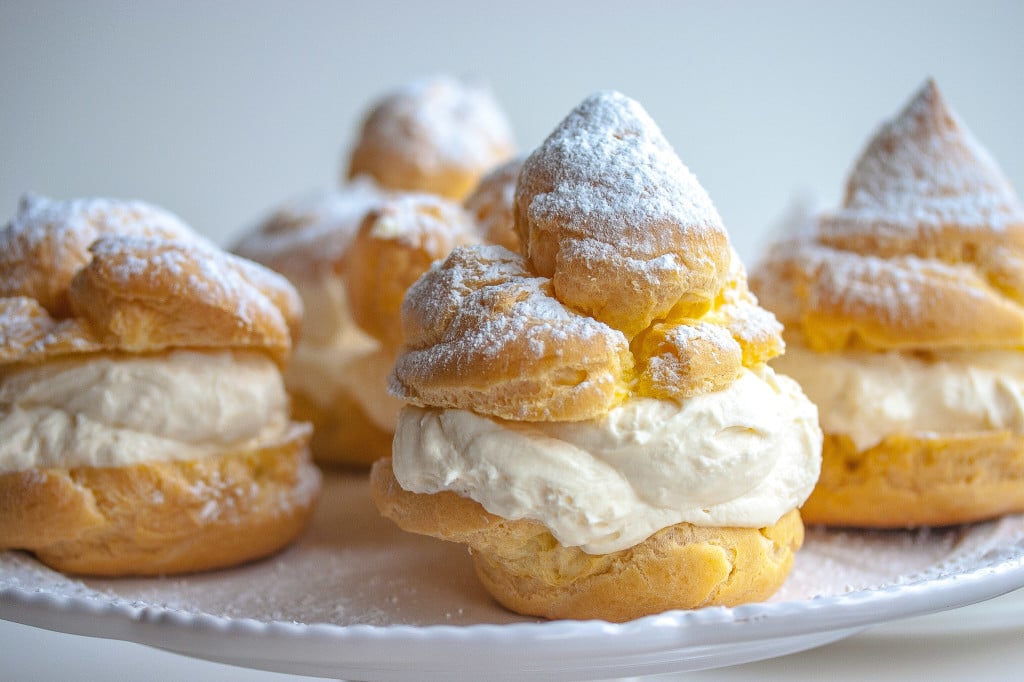 Do you like cream puffs? Until a few months ago, cream puffs didn't interest me much. That is, until I tasted THESE cream puffs.
My mom's good friend, Filomena, created the filling for this heavenly dessert. You see, cream puffs are all about the filling!
The shell is your standard cream puff shell, and just about every recipe you'll see for the shells is the same. But what goes on the inside makes the world of difference. I've grown up eating them with pastry cream in the middle – an egg-based cream. They were ooookay, but nothing spectacular in my book anyway. The inside of these are filled with a sweetened mixture of whipped cream and ricotta cheese. Oh. So. Good.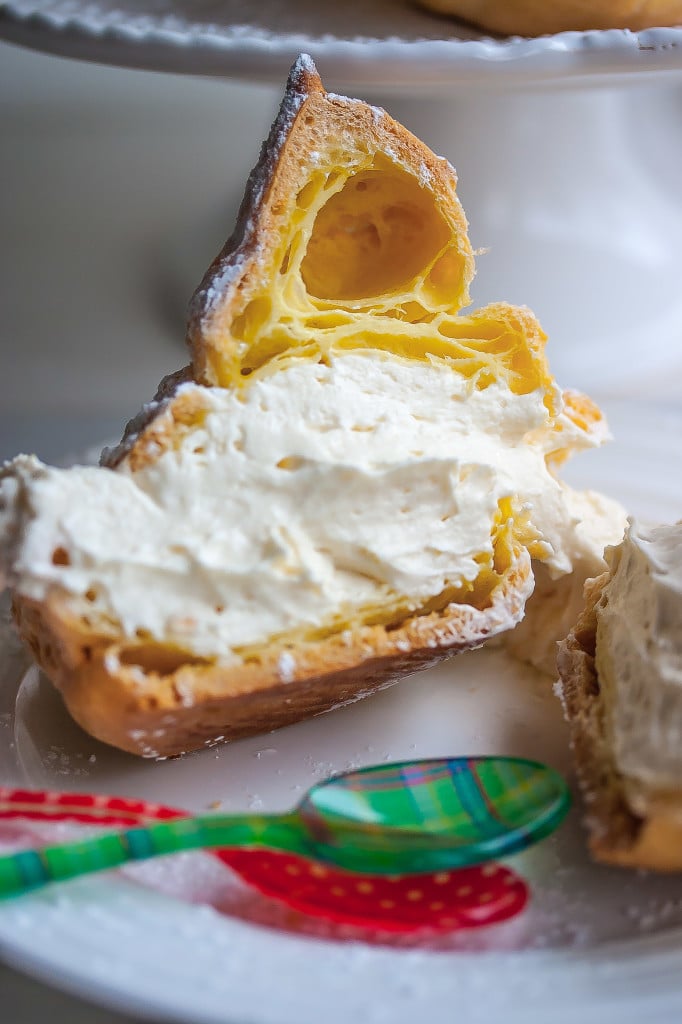 This cream reminds me greatly of a pastry shop in Utica, NY called Cafe Canole. The owners studied baking in Italy and then came home and opened the pastry shop. Their pastries are to die for.
Our favorite is something called a lobster tail. They are filled with a cream that is very similar if not exact to the filling in this cream puff. Imagine our surprise when we tasted these cream puffs for the first time and discovered that we could make this cream filling at home….with a little guidance from Filomena:)
One word of caution: although these cream puffs are simple to make at home, you really MUST use a high-quality ricotta cheese. I tried making them with the garden-variety supermarket ricotta and unfortunately they were a major fail. The ricotta must be grain-free, smooth, and thick enough to stick to a spoon (think cookie dough consistency)
I've discovered an amazing source for ricotta called Fierro and Sons, located in Wilmington DE. I asked them if they shipped their product and the good news is that they do. If you are a ricotta lover, please consider giving them a call. They will recommend one of their products based on your desired end use (impastata for canoli, whole milk for lasagne or these cream puffs, etc).
Try one of my other favorite recipes with ricotta:
Ricotta Gnocchi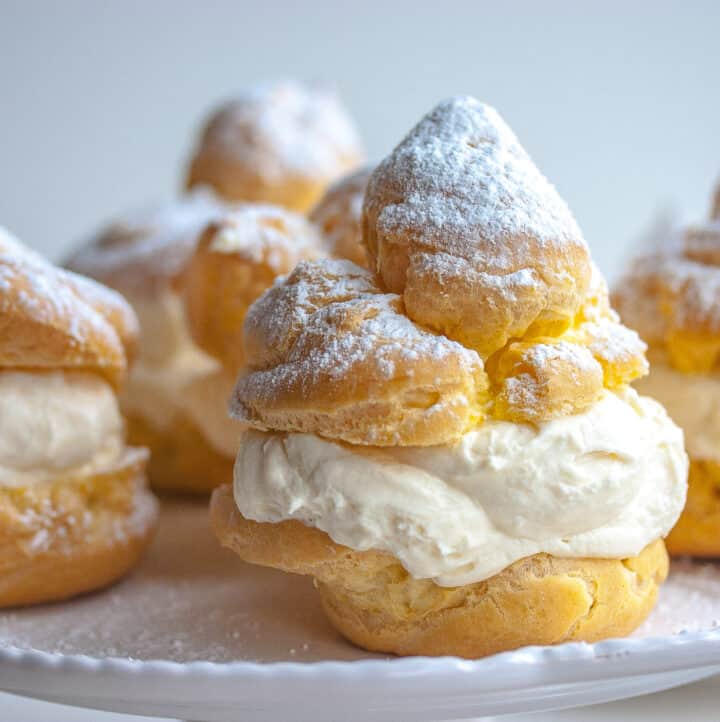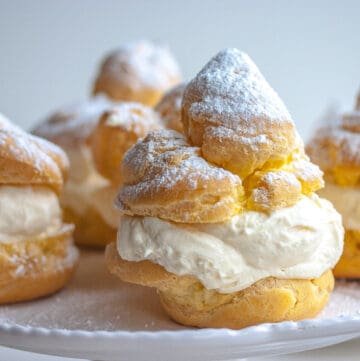 Italian cream puffs
This treasured recipe is from one of my favorite Italian home cooks. It is, hands down, the best Italian cream puff and filling ever!!!
Print
Pin
Rate
Ingredients
For the shells:
1/2

cup

butter

1

cup

water

1

cup

all-purpose flour

1/4

tsp

salt

4

eggs
For the filling:
2

cups

heavy whipping cream

(do not substitute with light cream here)

2

tsp

vanilla

(divided 1 tsp, plus 1 tsp)

1/4

tsp

cream of tarter

2 1/2

cups

powdered sugar

(divided, 1 1/2 cups plus 1 cup)

1.5

lbs

ricotta cheese

(artisan variety, see note)

1

tsp

liquor such as Sambucca or Amaretto

(optional)
Instructions
For the shells:
Preheat oven to 450 degrees

Sift flour and salt together in small bowl and set aside

In a medium sized saucepan, melt the butter and water over high heat until the mixture reaches a vigorous boil

Reduce heat to medium low and add flour/salt mixture all at once

Stir until the mixture pulls away from sides of pan and forms a ball

Remove from heat and add eggs one at a time, beating vigorously between additions (I used a hand mixer for this)

Using a piping bag or cookie press, pipe dough onto parchment-lined baking sheet (2.5 inches in diameter will yield 6 very large puffs; 1.25 inches in diameter will yield 12 puffs)

Bake at 450 for 15 minutes then reduce heat to 350 for an additional 20 minutes

Ensure your puffs are golden brown before turning off oven or they will deflate/fall!

When they are finished baking, turn off oven and let the puffs cool for 5 to 10 minutes with the oven door ajar.
For the cream filling:
In a medium size bowl, combine 1 cup heavy cream with 1 teaspoon vanilla, 1/4 teaspoon cream of tarter, 1 cup powdered sugar and whip until soft peaks form.

Set aside.

In another bowl, mix remaining ingredients (1 cup heavy cream, 1 teaspoon vanilla, 1.5 cups powdered sugar, all ricotta, and liquor [optional])

Combine both mixtures together
To Assemble:
Cut puffs in half and use ice cream scoop to fill each puff generously with the cream mixture or use piping bag with star tip to pipe filling inside (will do this next time!)
Notes
The filling may be prepared ahead of time and frozen for up to one month
Use high quality ricotta that is not watery or grainy. The supermarket variety cannot be used unless it is dried out (drain over cheese cloth in refrigerator overnight or up to 1 day). As an example, ricotta is thick enough if it sticks to the spoon when the spoon is inverted and does not drop off.
Nutrition
Calories:
461
kcal
|
Carbohydrates:
36
g
|
Protein:
10
g
|
Fat:
31
g
|
Saturated Fat:
19
g
|
Cholesterol:
158
mg
|
Sodium:
201
mg
|
Potassium:
121
mg
|
Fiber:
1
g
|
Sugar:
25
g
|
Vitamin A:
1150
IU
|
Vitamin C:
0.2
mg
|
Calcium:
155
mg
|
Iron:
1
mg