Pizza Rustica is a very traditional meat and cheese pie that is served on Easter Sunday across many Italian American households. This pie is also known as Easter pie, which is a savory Easter ricotta pie with various meats. Other Italian names for this pie include pizza ripiena, or in dialect, pizza chiena, which has led to the Americanized name, pizzagaina (pizza gain, pizza gaina). This version is so easy to make and is layered with Italian ham, cheeses, and ricotta. Chef's kiss!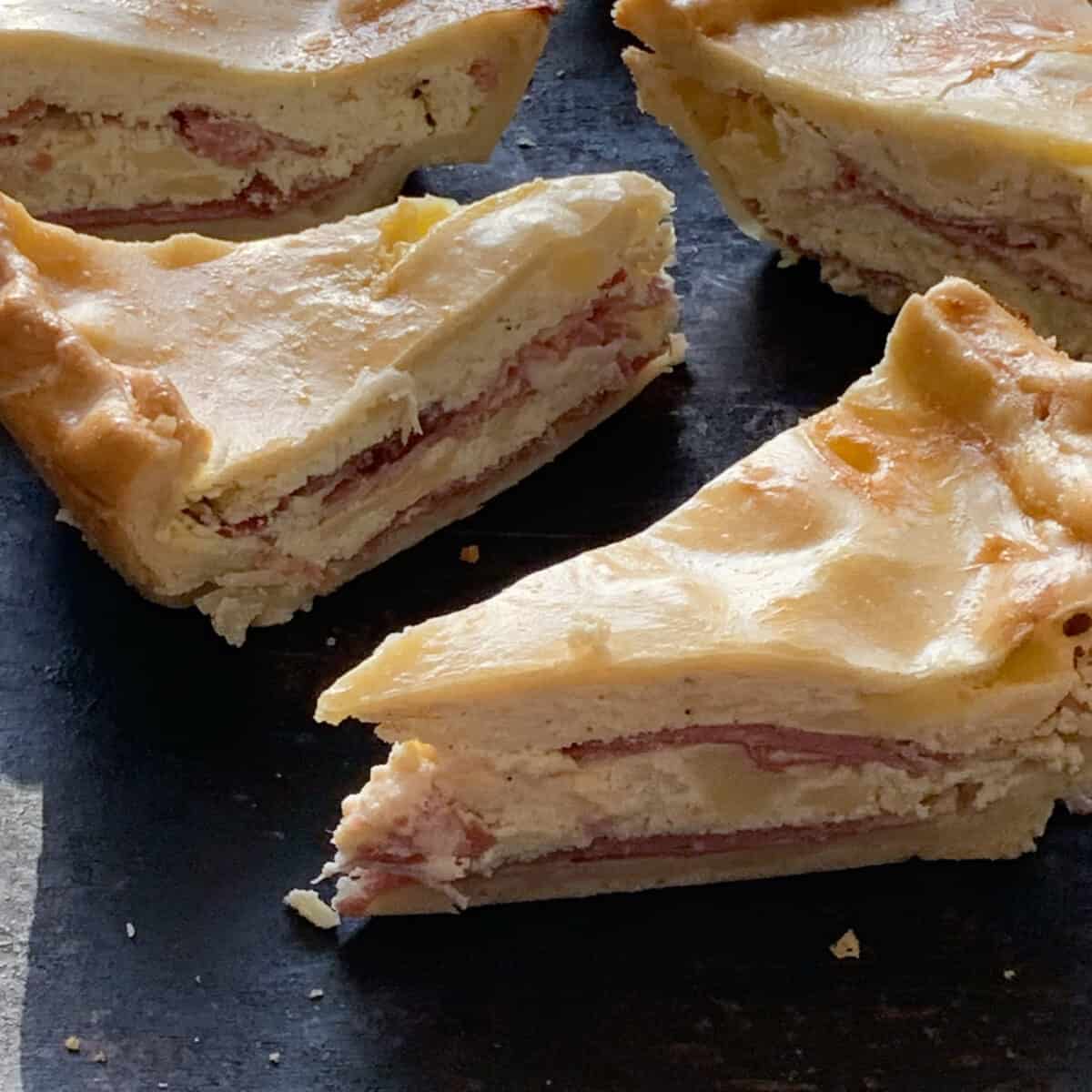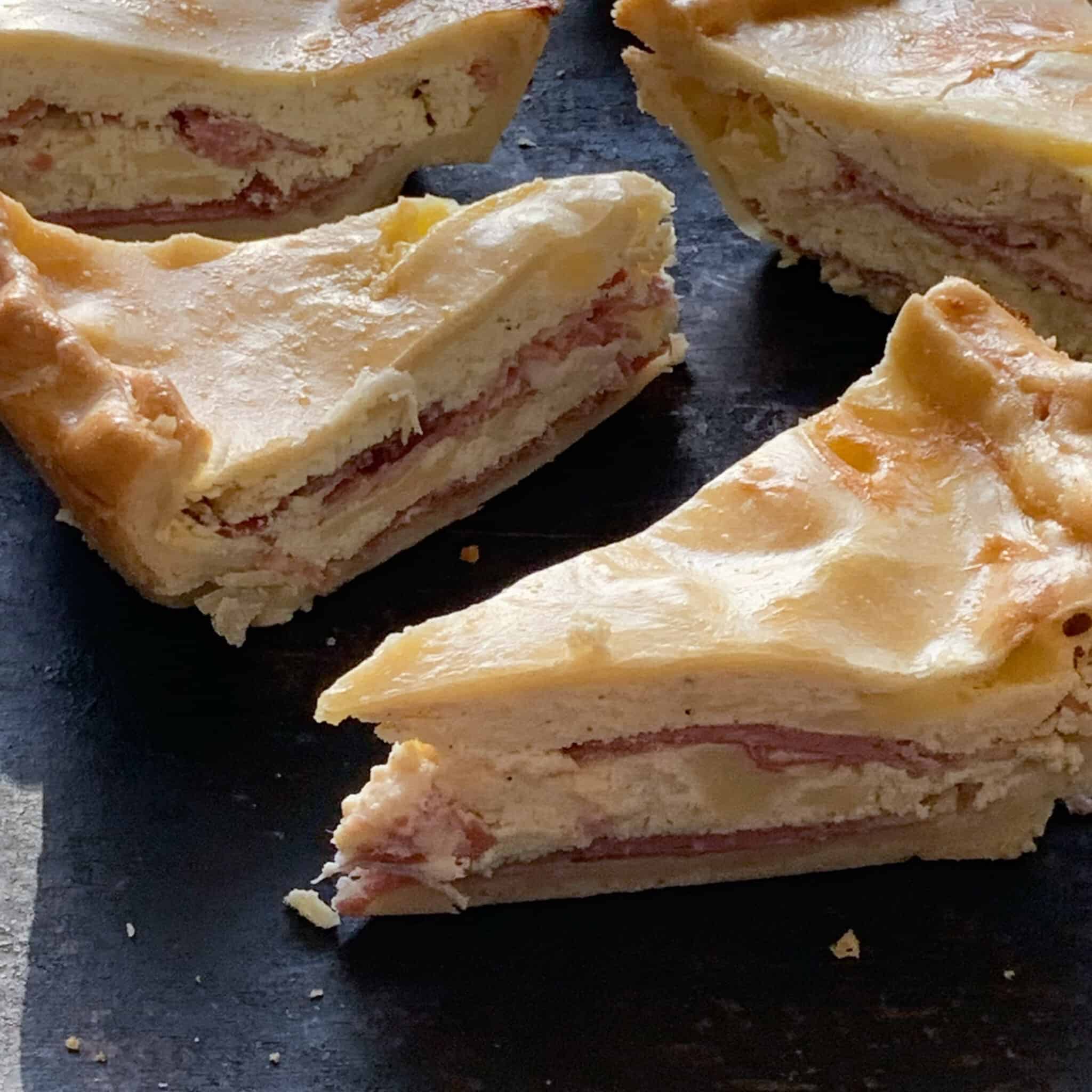 Italian American Easter Baking
Pizza rustica, which is a meat and cheese pie, is referred to by many other names including Easter pie, pizza ripiena, and pizza chiena (Americanized, pizza gain, pizzagaina, pizza gain).
It is one of several traditional foods served in Italian American households in the USA. Pizza rustica is often simply called Easter pie, although that can be confused with Italian rice pie (one of my absolute favorite desserts for Easter). My other Easter favorites include Easter bread and Italian pineapple cheesecake.
Every year, without fail, my mom would prepare this pie, and 9 times of out 10, it would be ready to eat on Good Friday, the day that many Catholics abstain from eating meat. It would be torturous as I reallllly wanted to have a piece, but couldn't eat meat. I always asked myself why she had to make the darn pies on Good Friday but that was the tradition.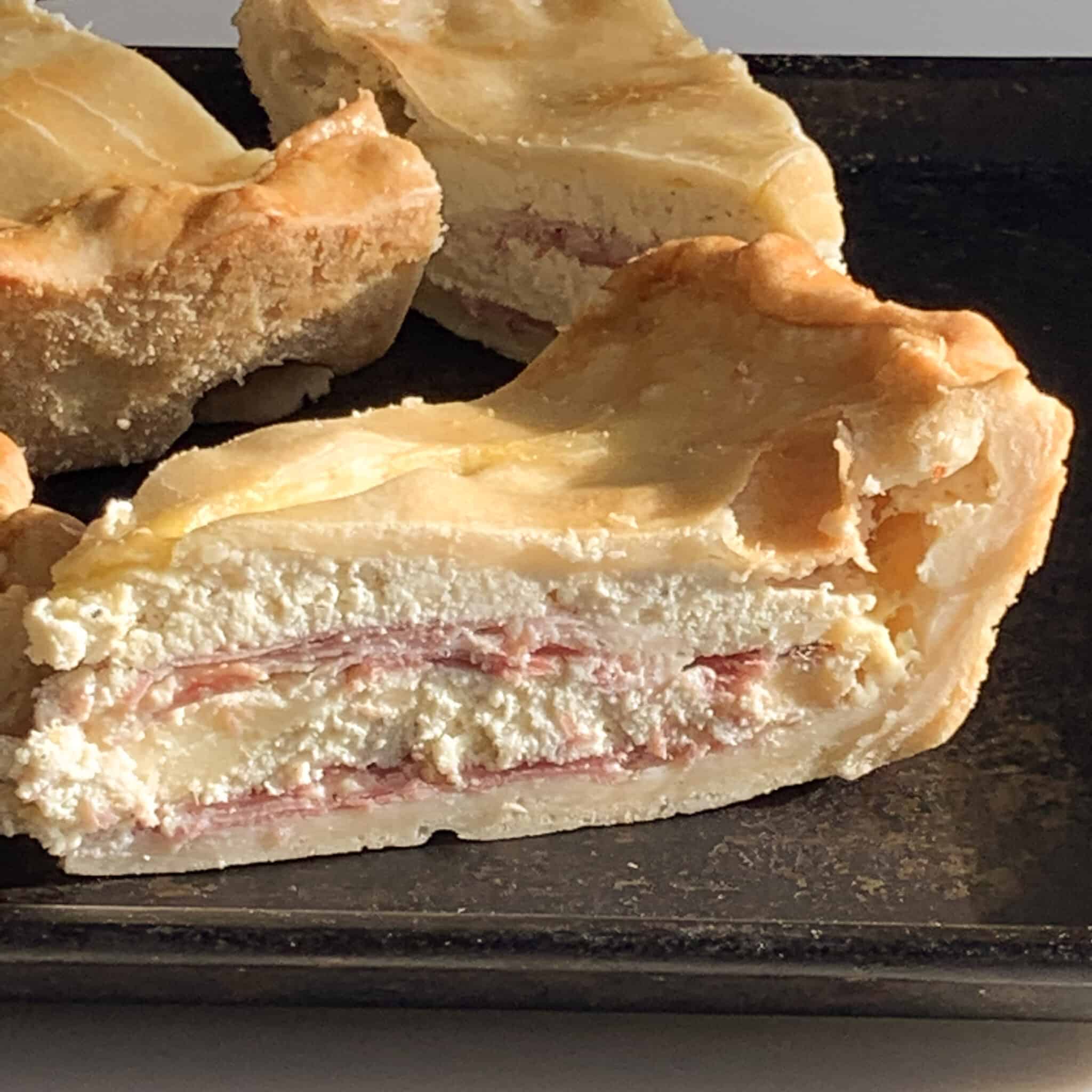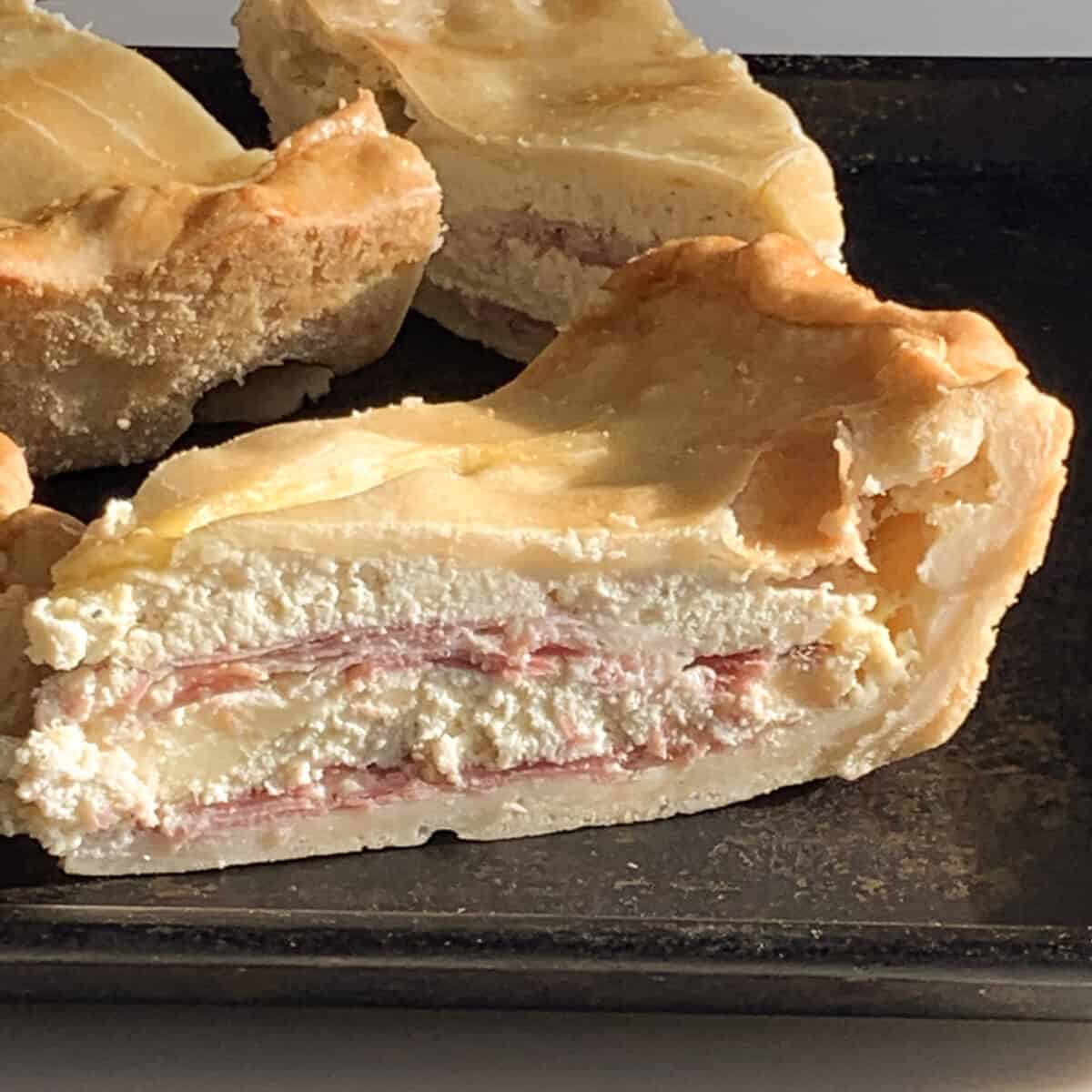 Simply put, these pies are made of eggs, cheese, and meat with copious amounts of black pepper, and the ingredients are layered.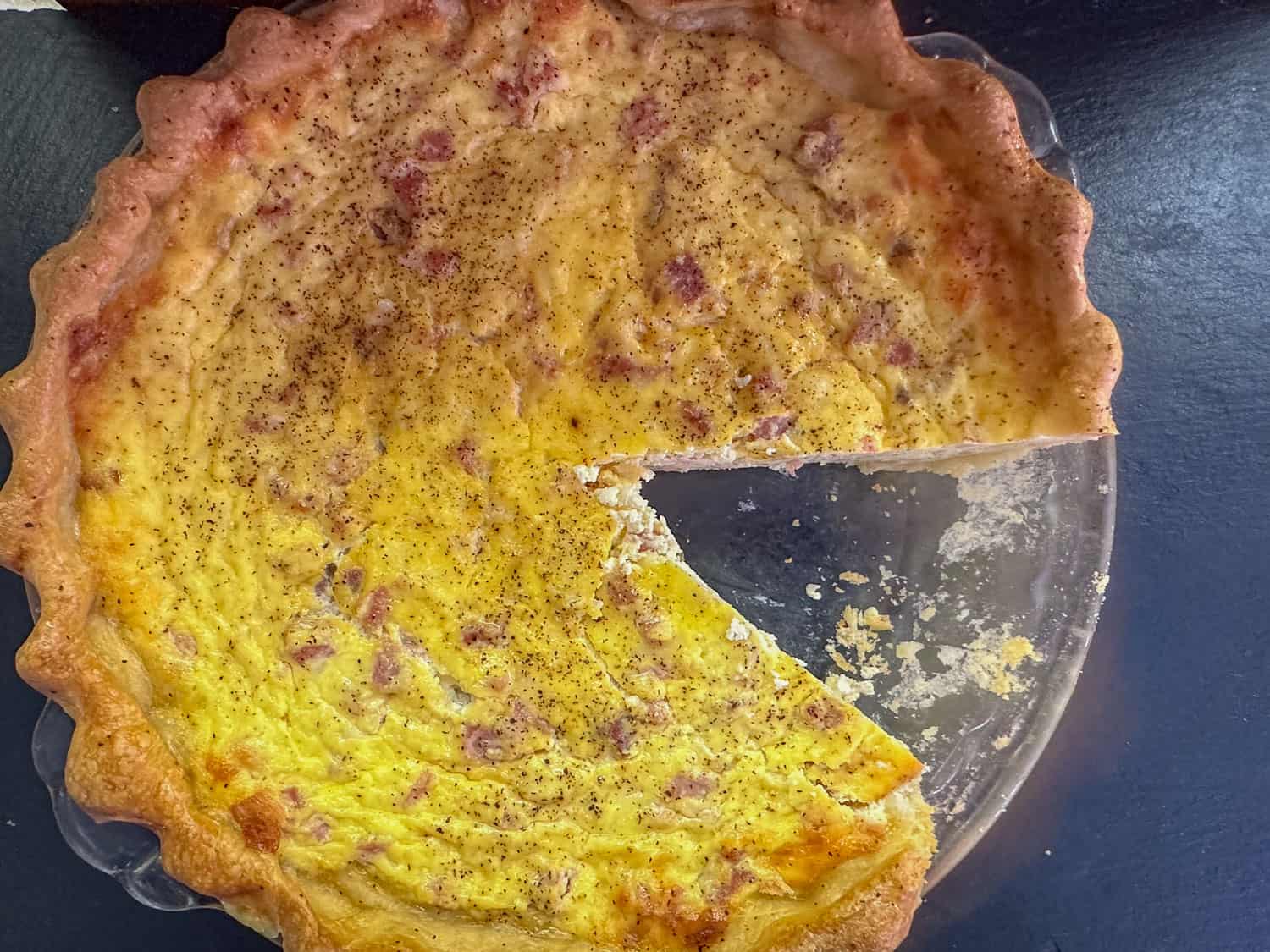 Other Versions of Pizza Rustica
This is sort of like an Italian version of quiche, and there are as many versions of these pies as there are pasta sauce recipes. Every family seems to have their favorite, which of course, is the best in their eyes.
Most people use multiple kinds of meats, including sopressata, salami, pepperoni, sausage, and prosciutto. Our version is slightly different than most others I've seen in that it uses only prosciutto, which is dry-cured Italian ham.
I've simplified the recipe over the years and I love how easy this version is that uses sliced ham.
We used to cook and shred the prosciutto (even though the meat is already cooked, we used to boil it further to lessen the salt content and to soften the meat, so that it could be shredded) but I have found that is totally unnecessary.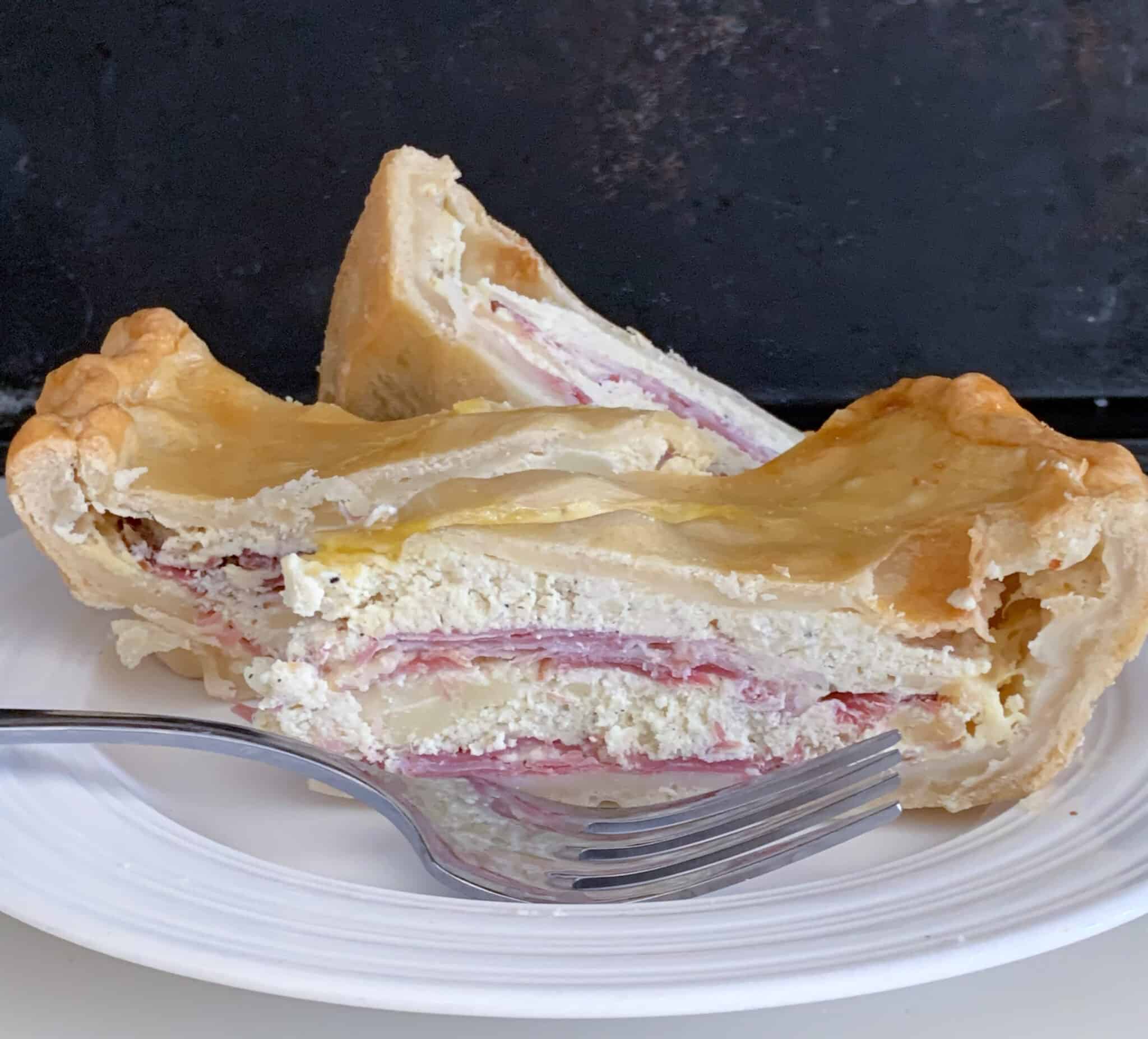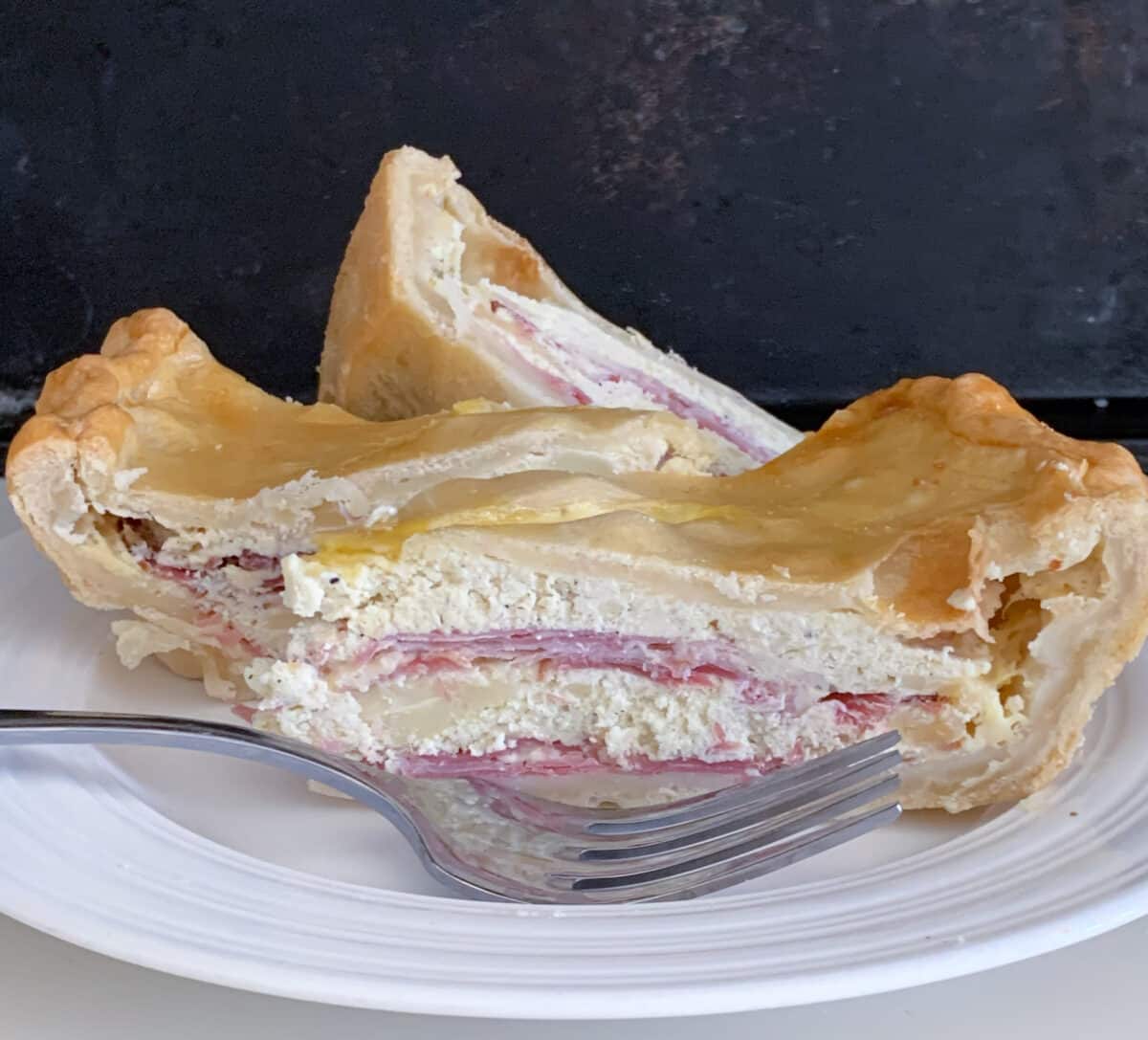 This year, I simply used sliced prosciutto to keep things simple and allow for the continuation of tradition. I also omitted the sliced hard boiled egg, which we used to include (again, one less step). Frankly, the pie is still absolutely delicious, the time savings is great, and the portion size is smaller, which is good because this is very rich.
Overview of Ingredients
Savory Pie dough (recipe shown in card below) (some use pizza dough)
Cheese filling (mozzarella, eggs, ricotta, grated cheese and black pepper)
Italian meats (prosciutto) (can use mixture of other meats like salami, capicola, pepperoni, cooked sausage, sopressata, etc)
Egg wash to bush top of pie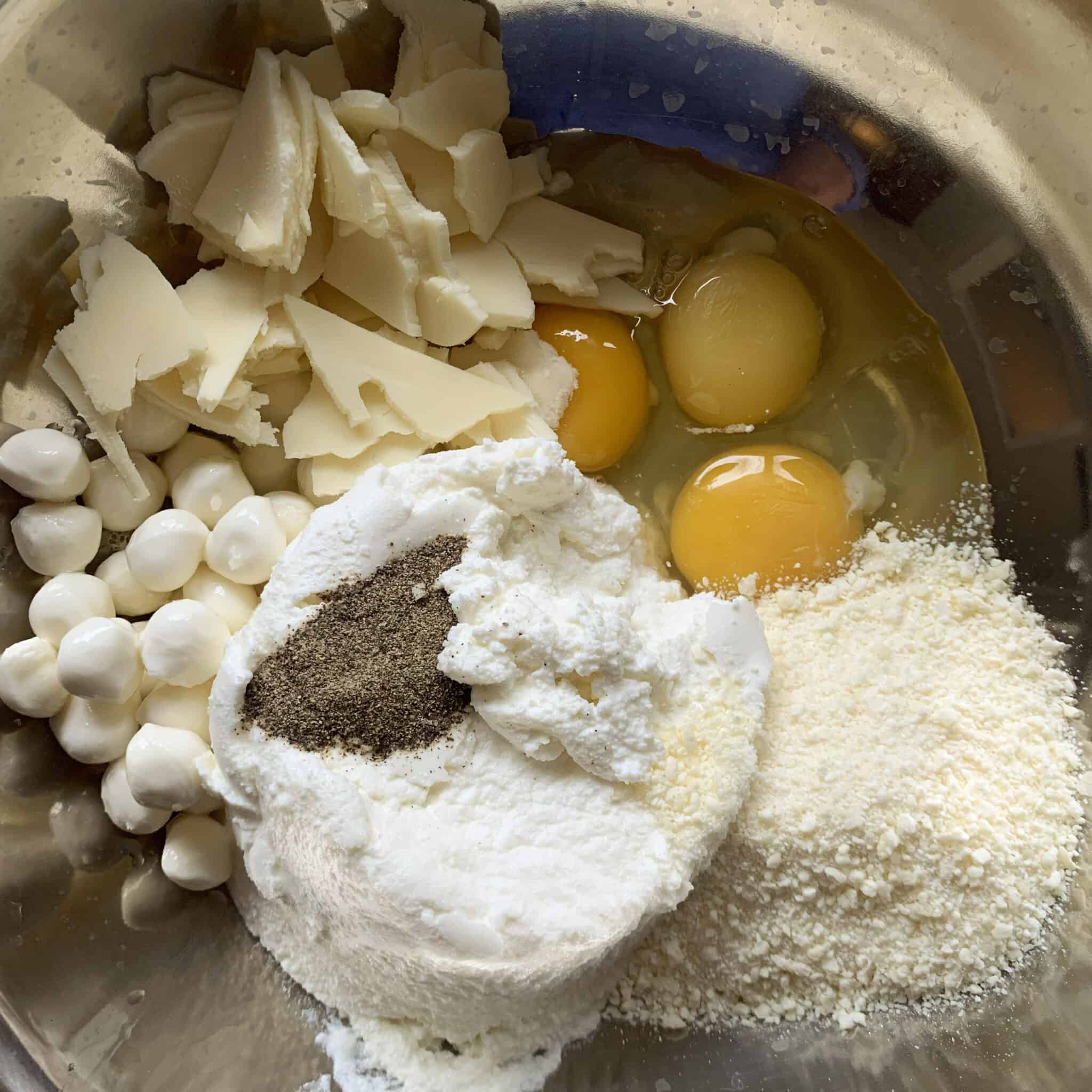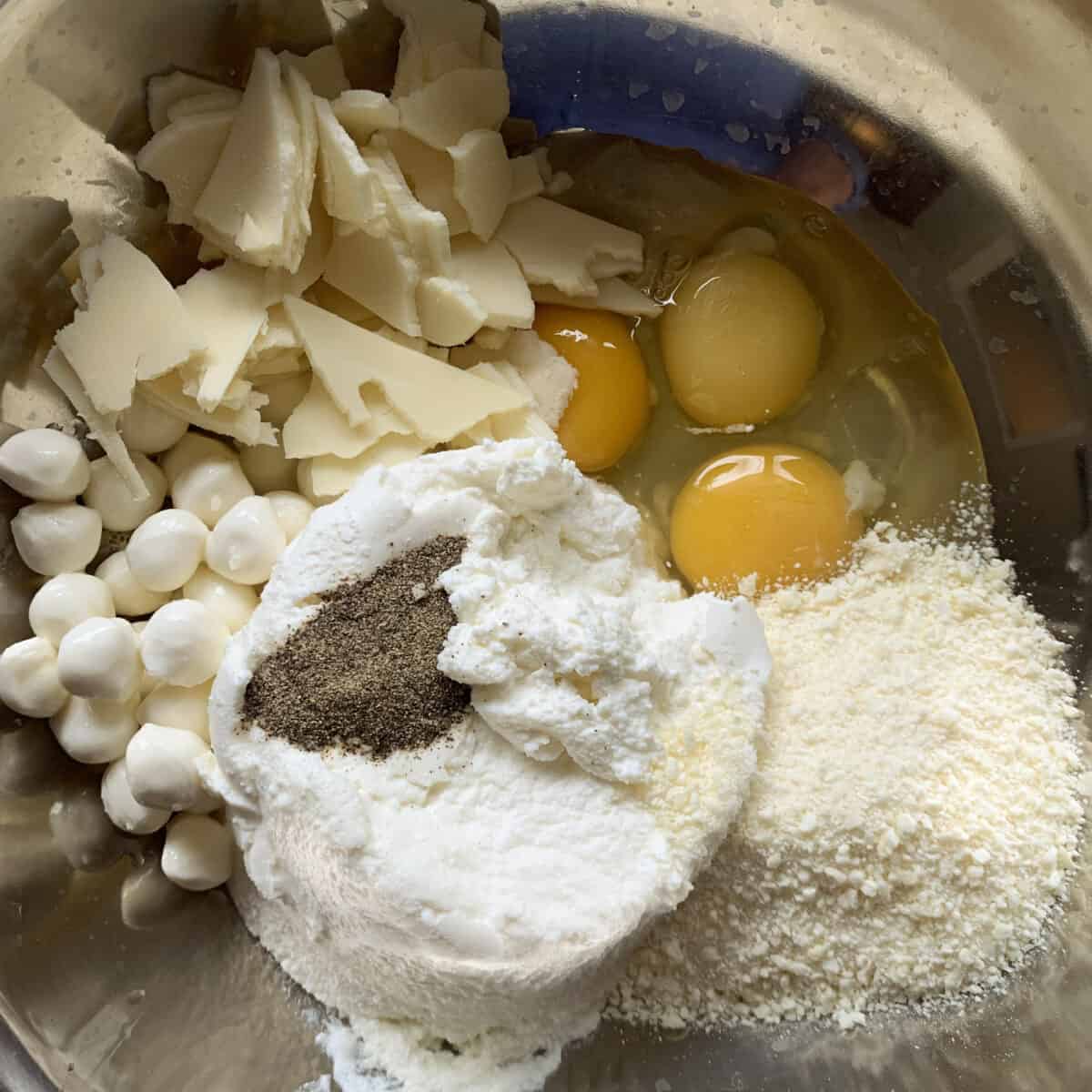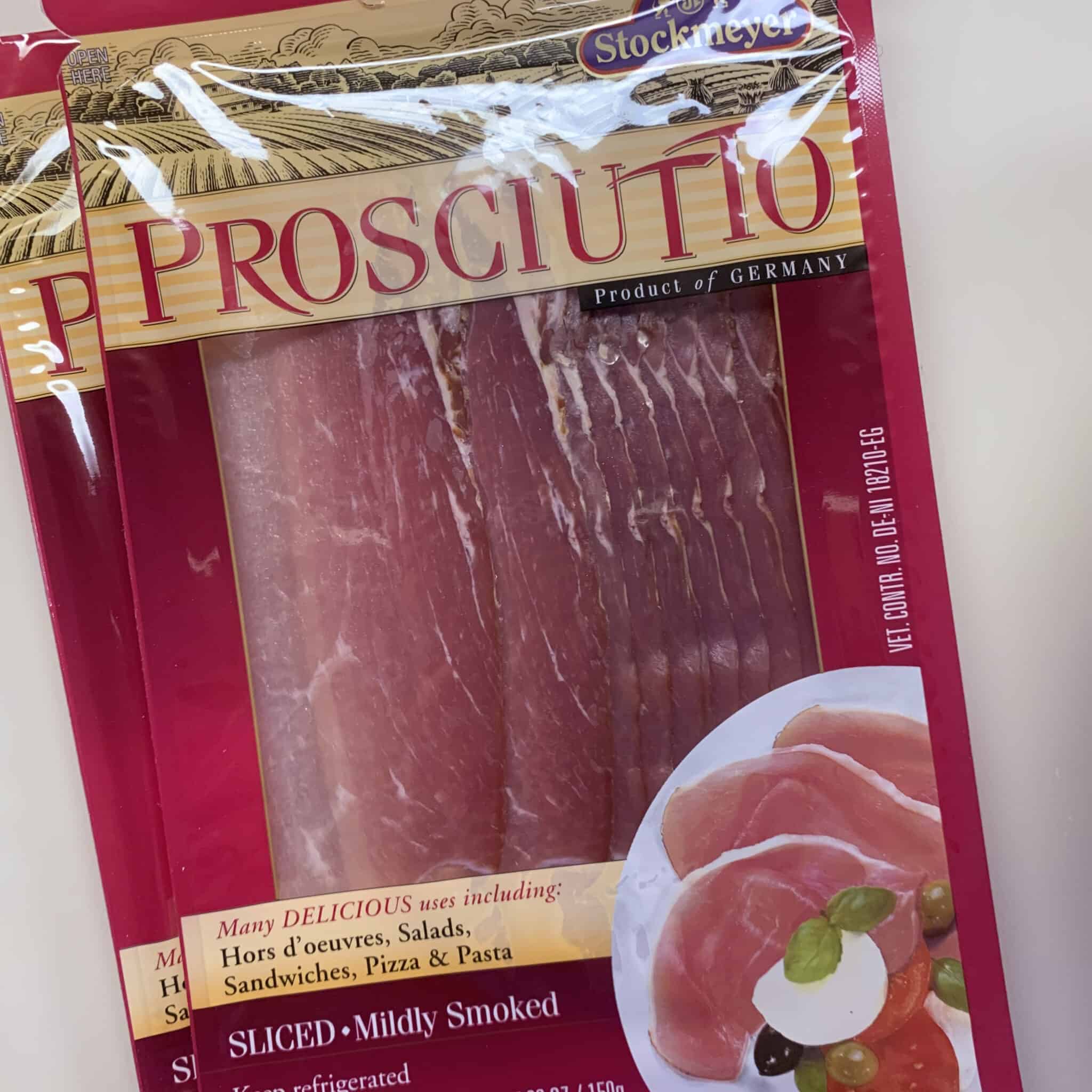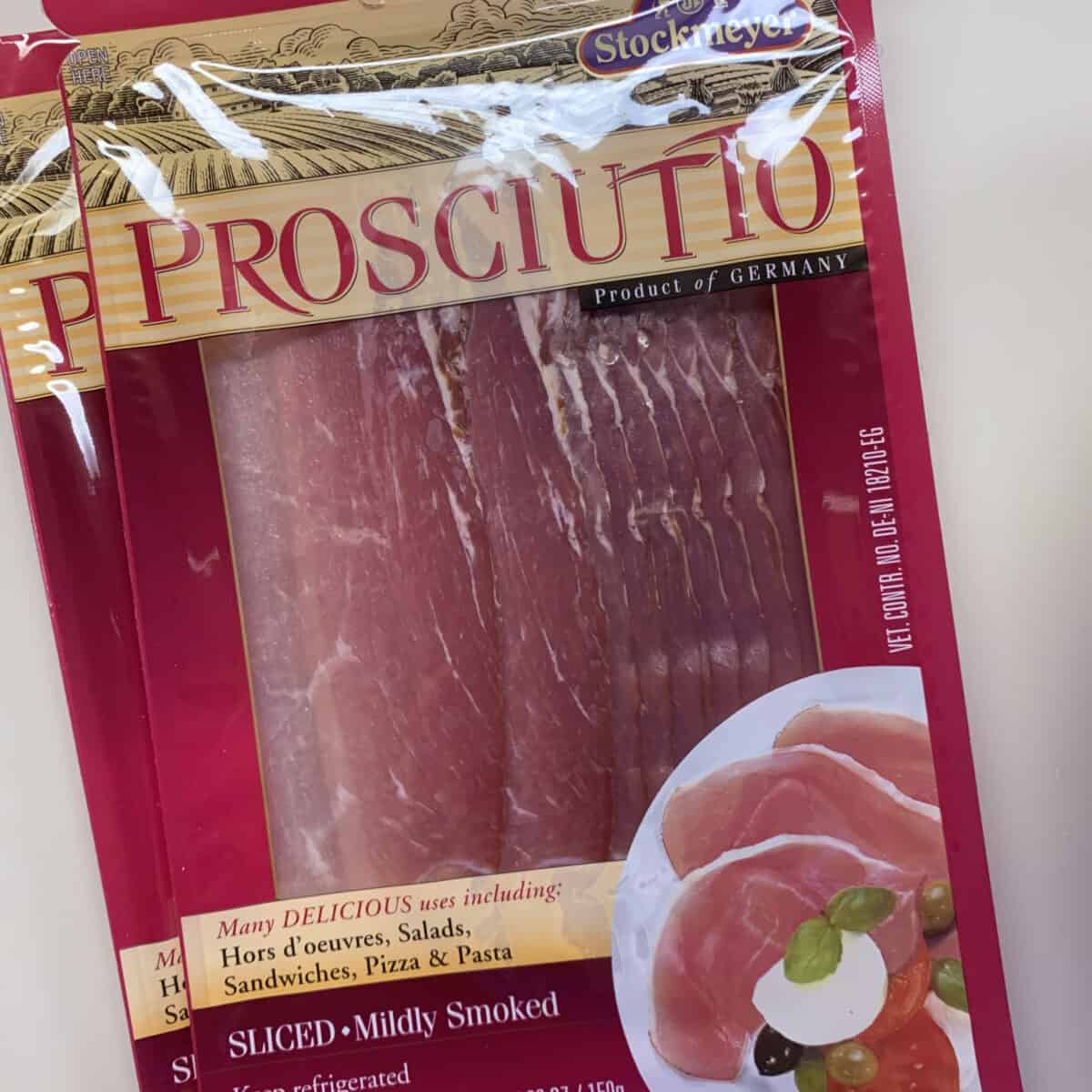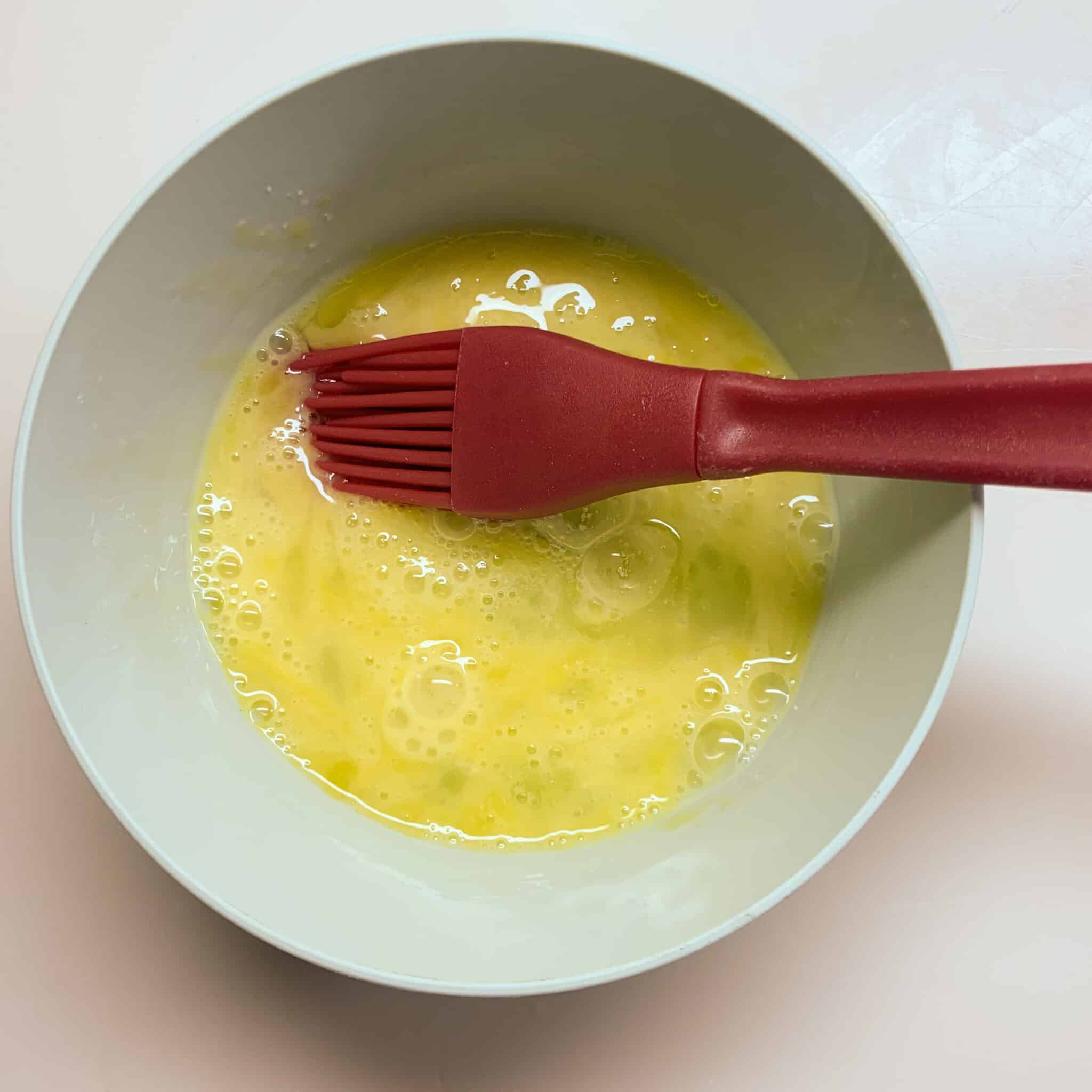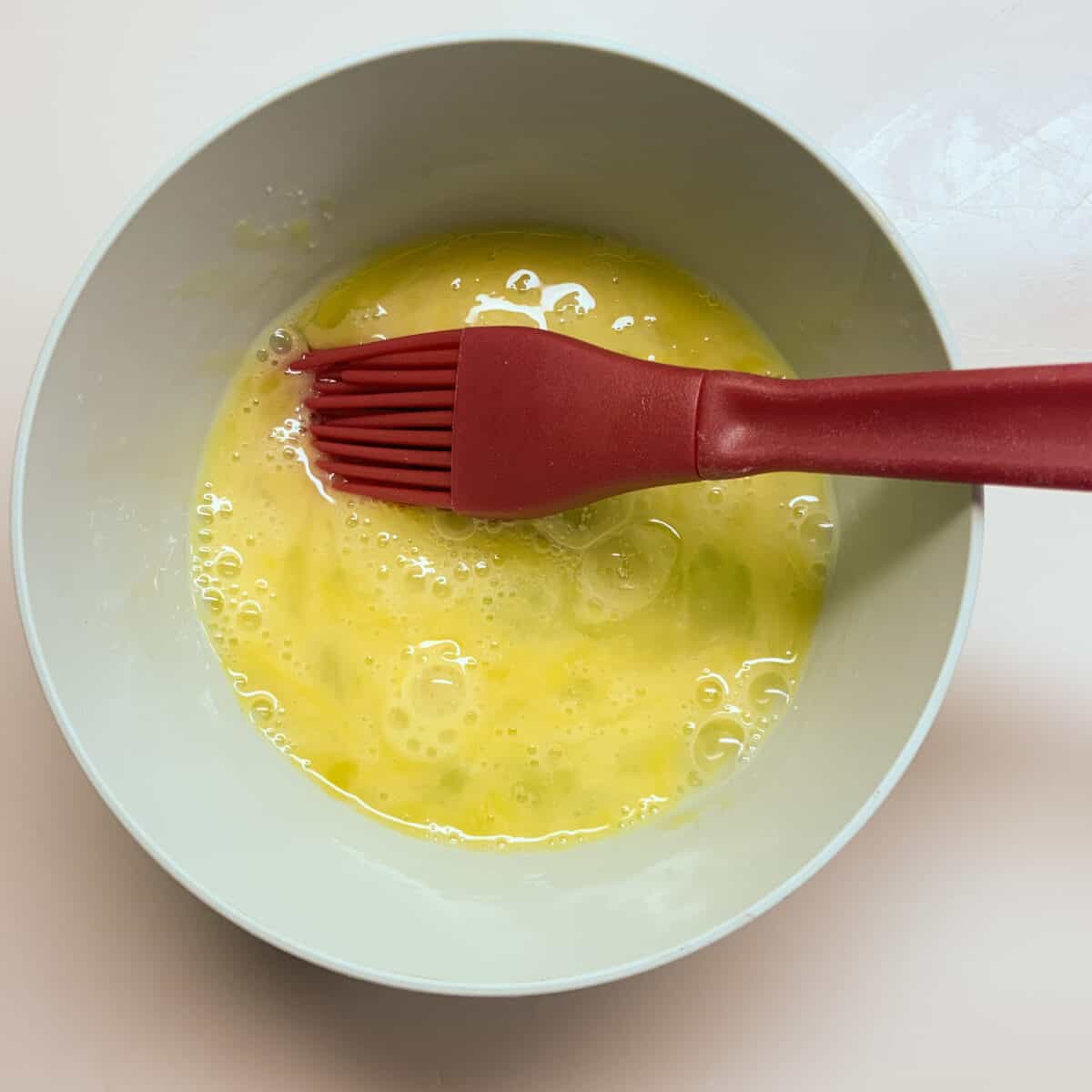 Summary of Method
Mix the pie crust and set aside (split into top [60% of dough], and bottom [40% of dough])
Combine filling ingredients (all except for the meat)
Prepare the pie by rolling out dough and forming the bottom of the pie crust
Layer the cheese mixture and the meat layers (I start with meat to try and keep bottom crust from getting to soggy)
Top with more pie crust and seal edges with fingers
Brush with egg wash and then cut slits for venting during baking
Bake and then cool for at least 4 hours (preferably overnight)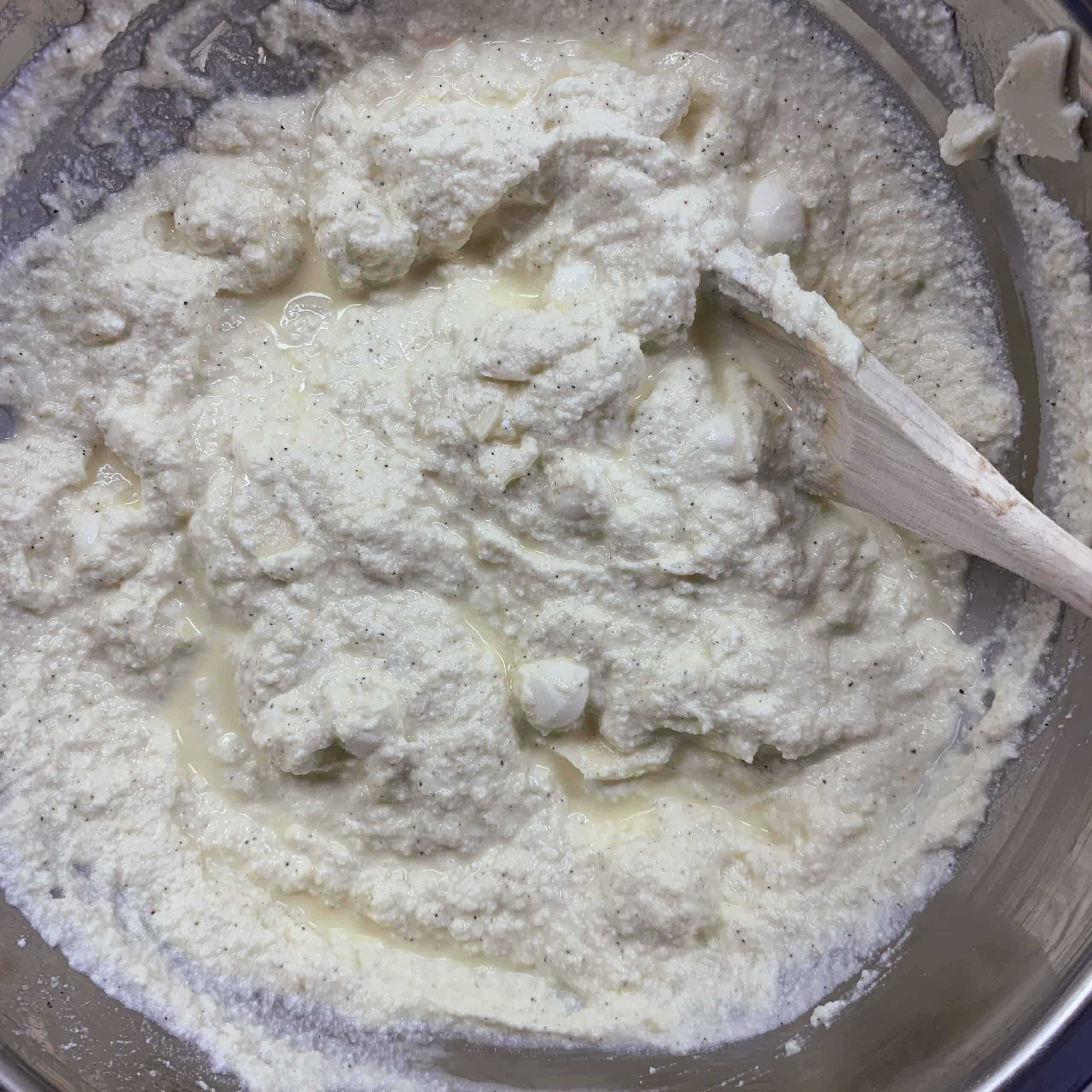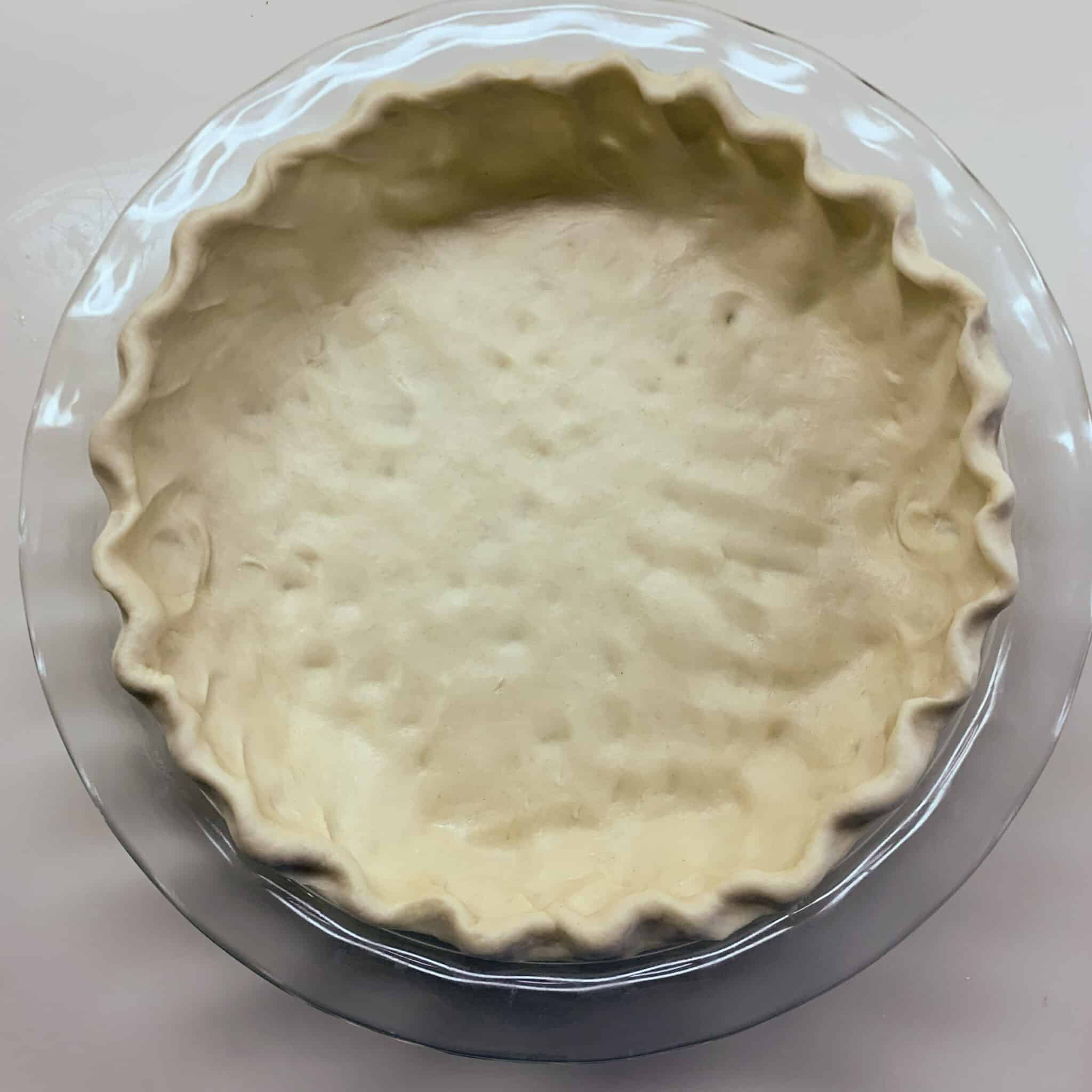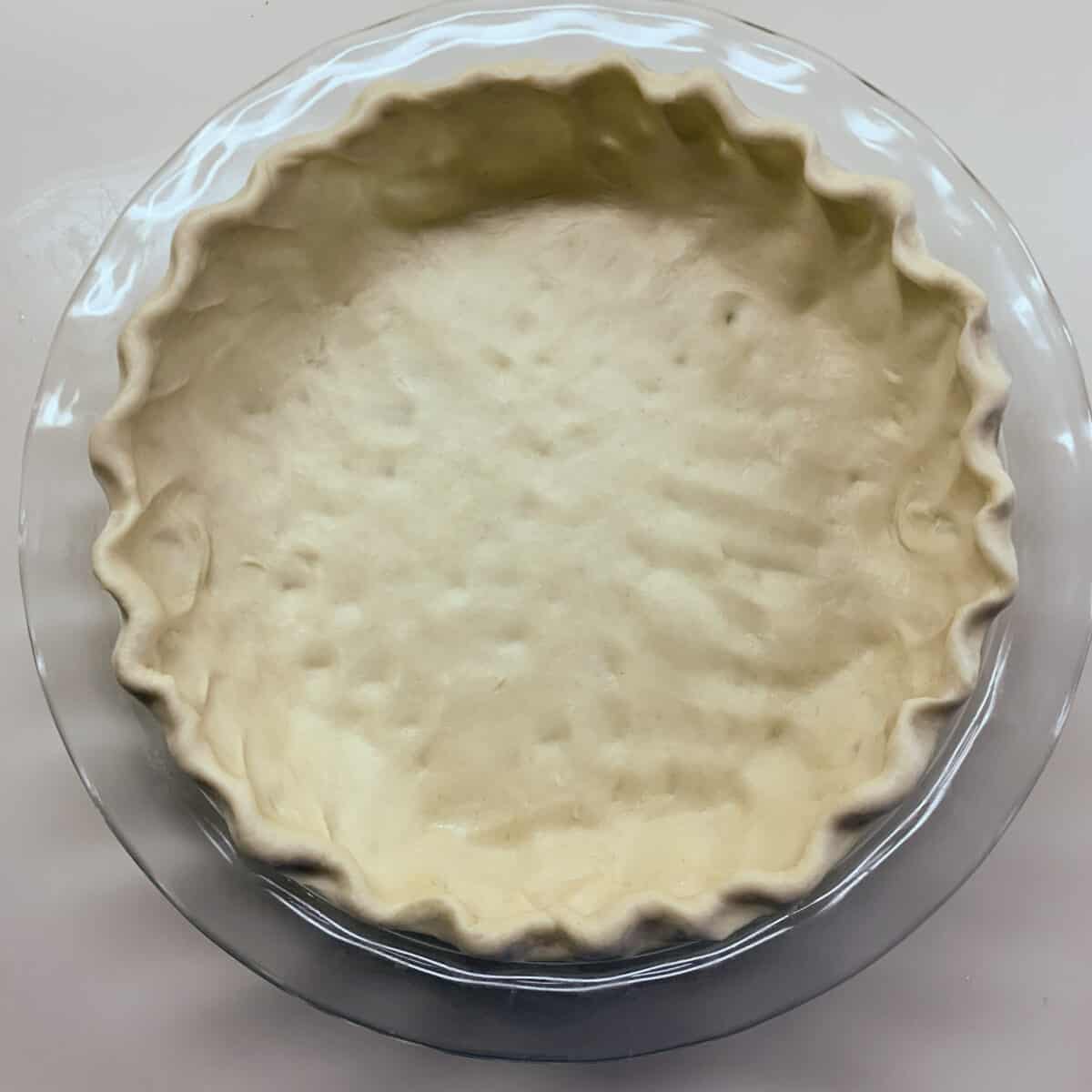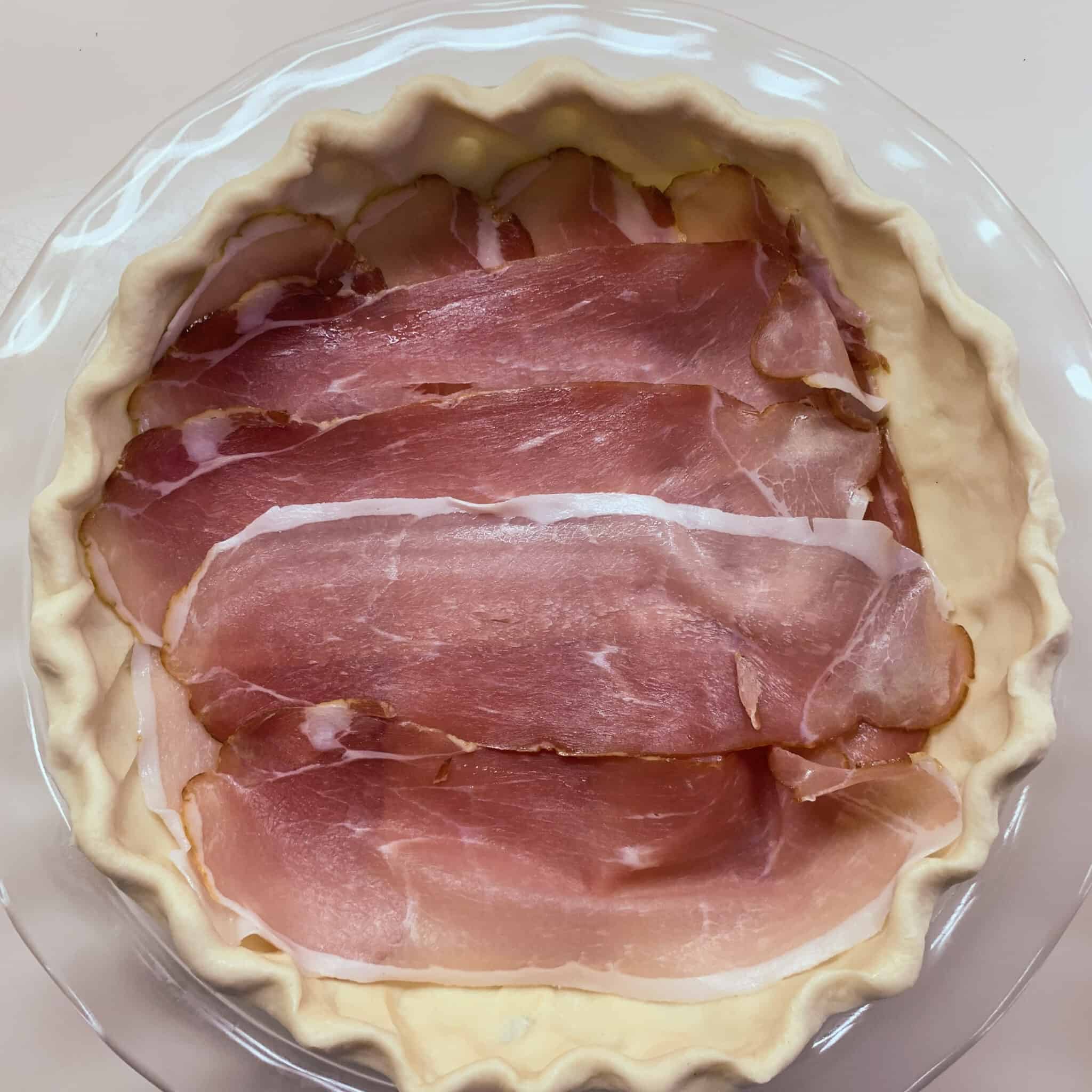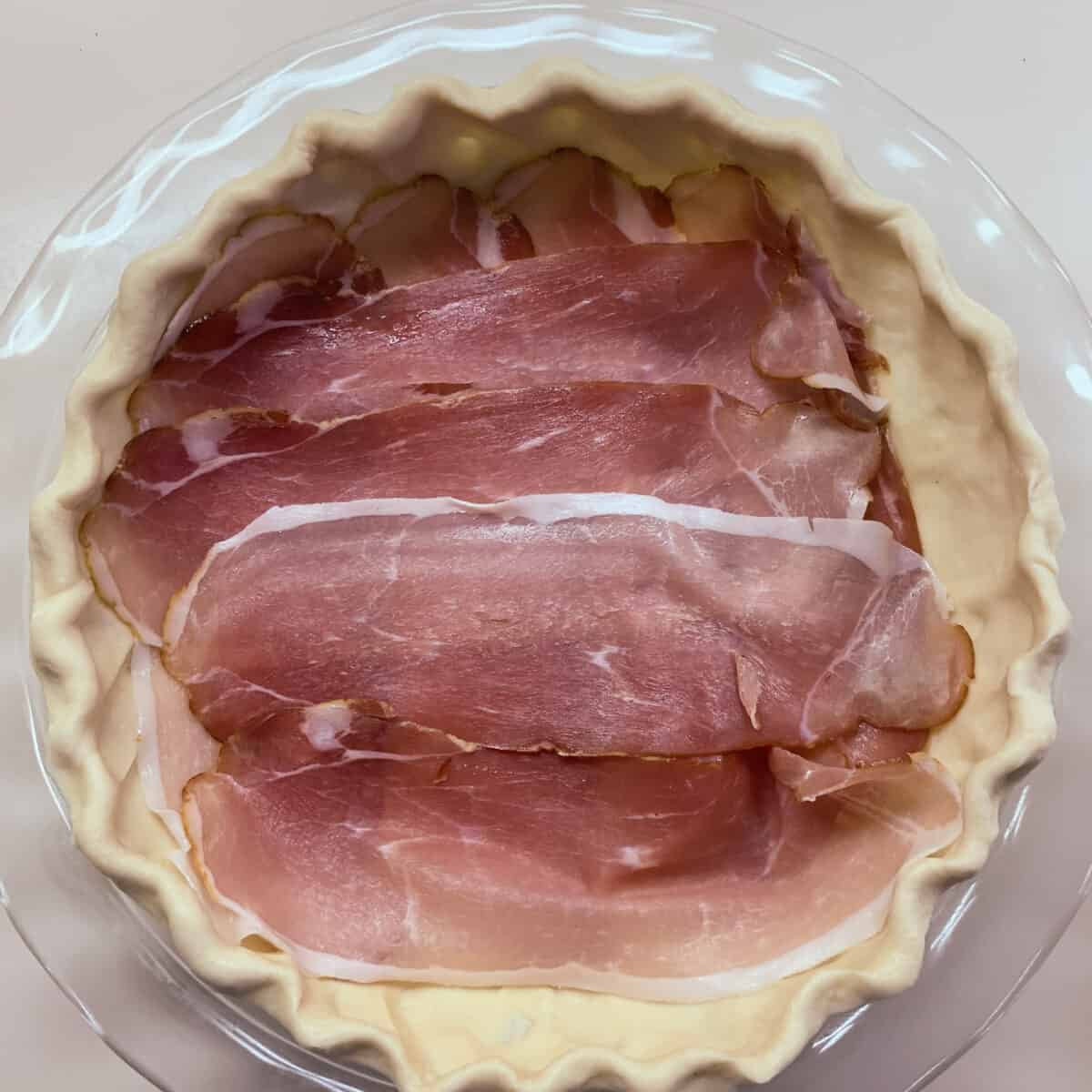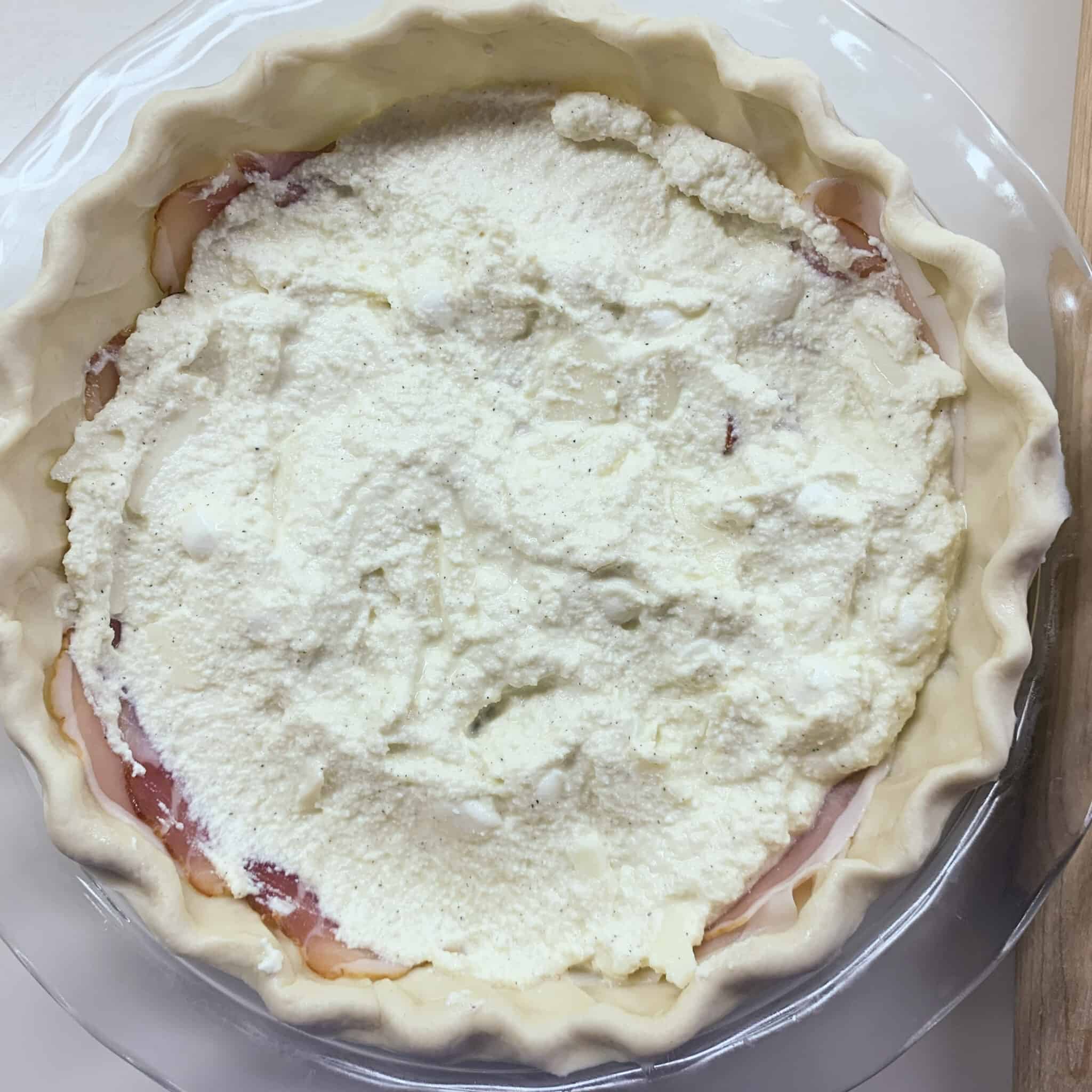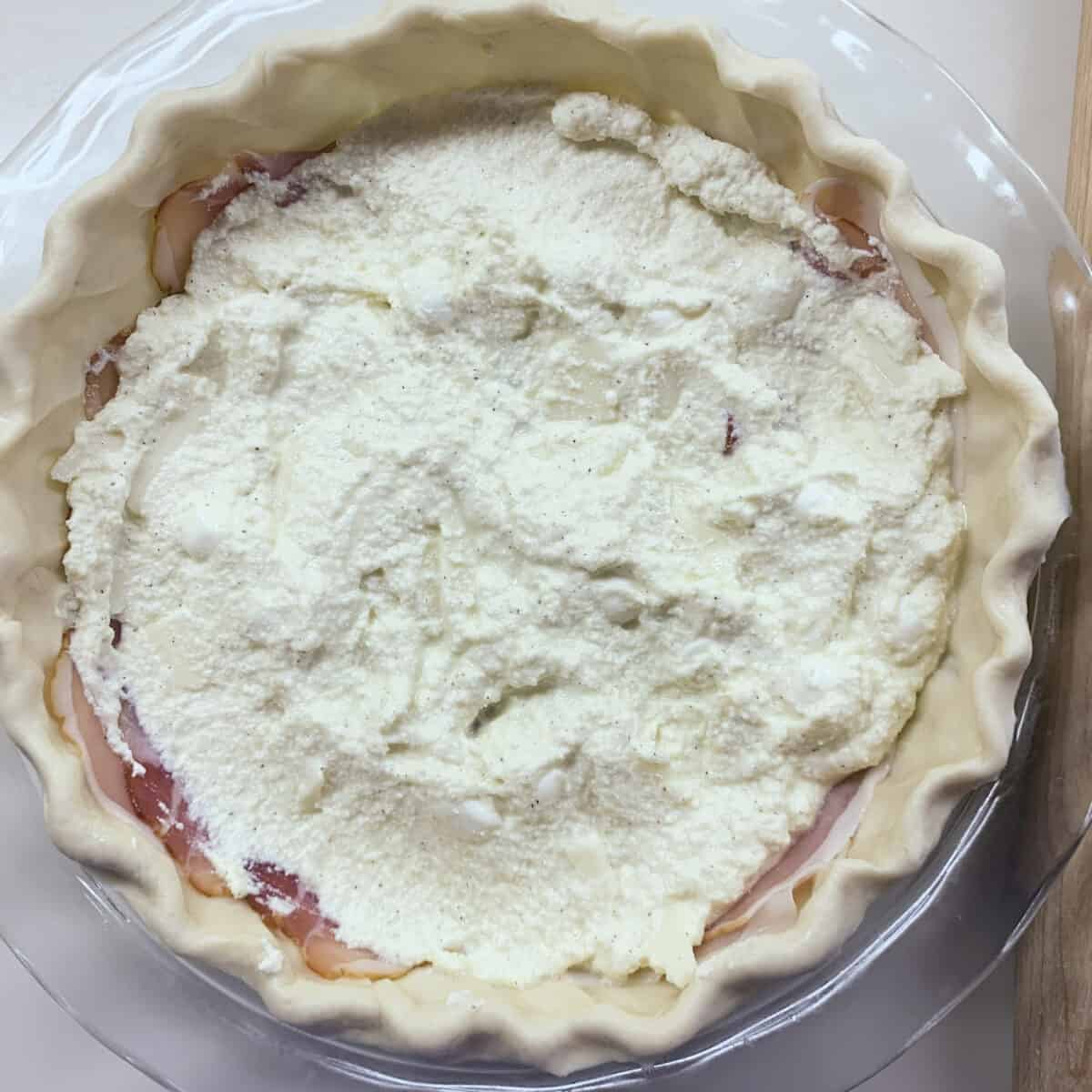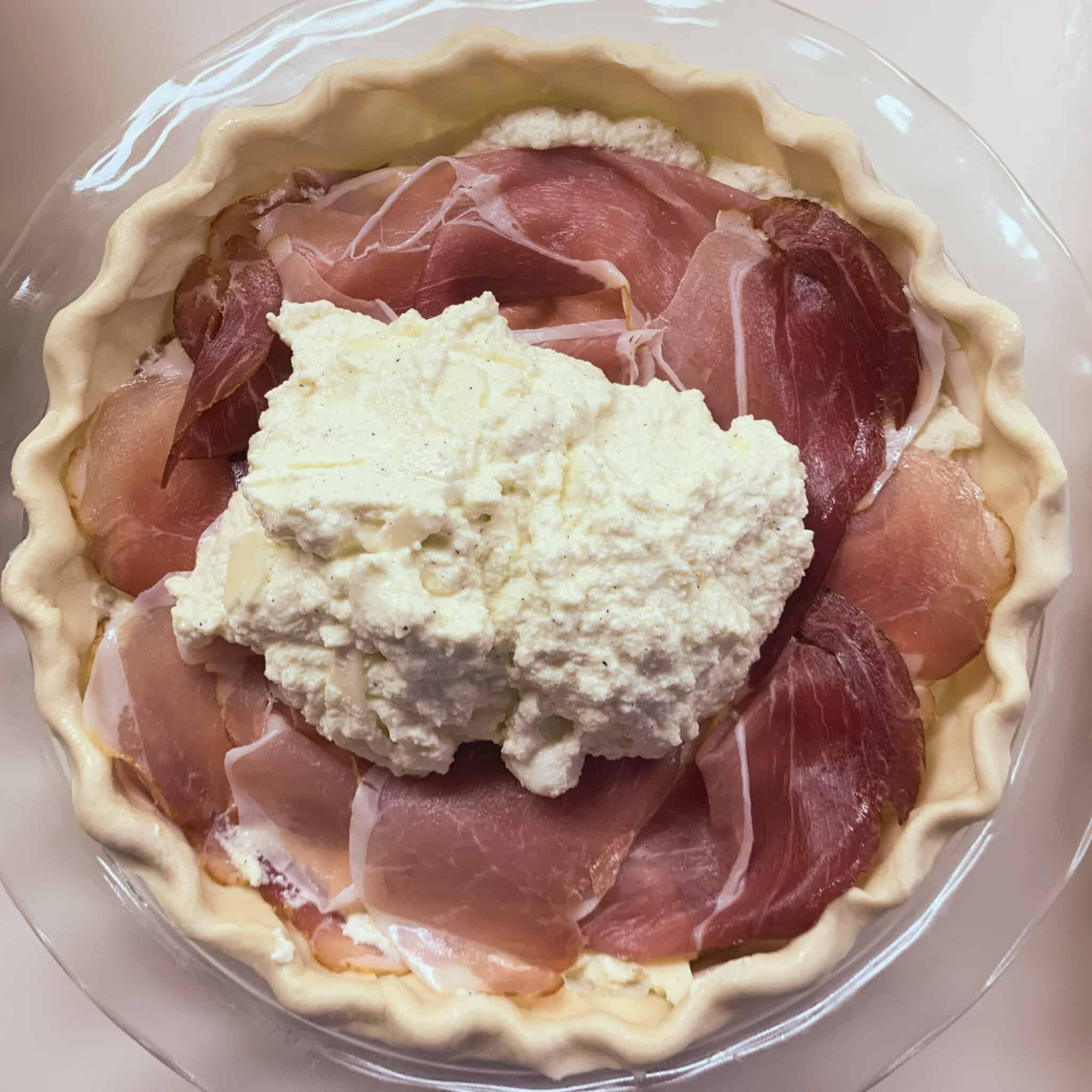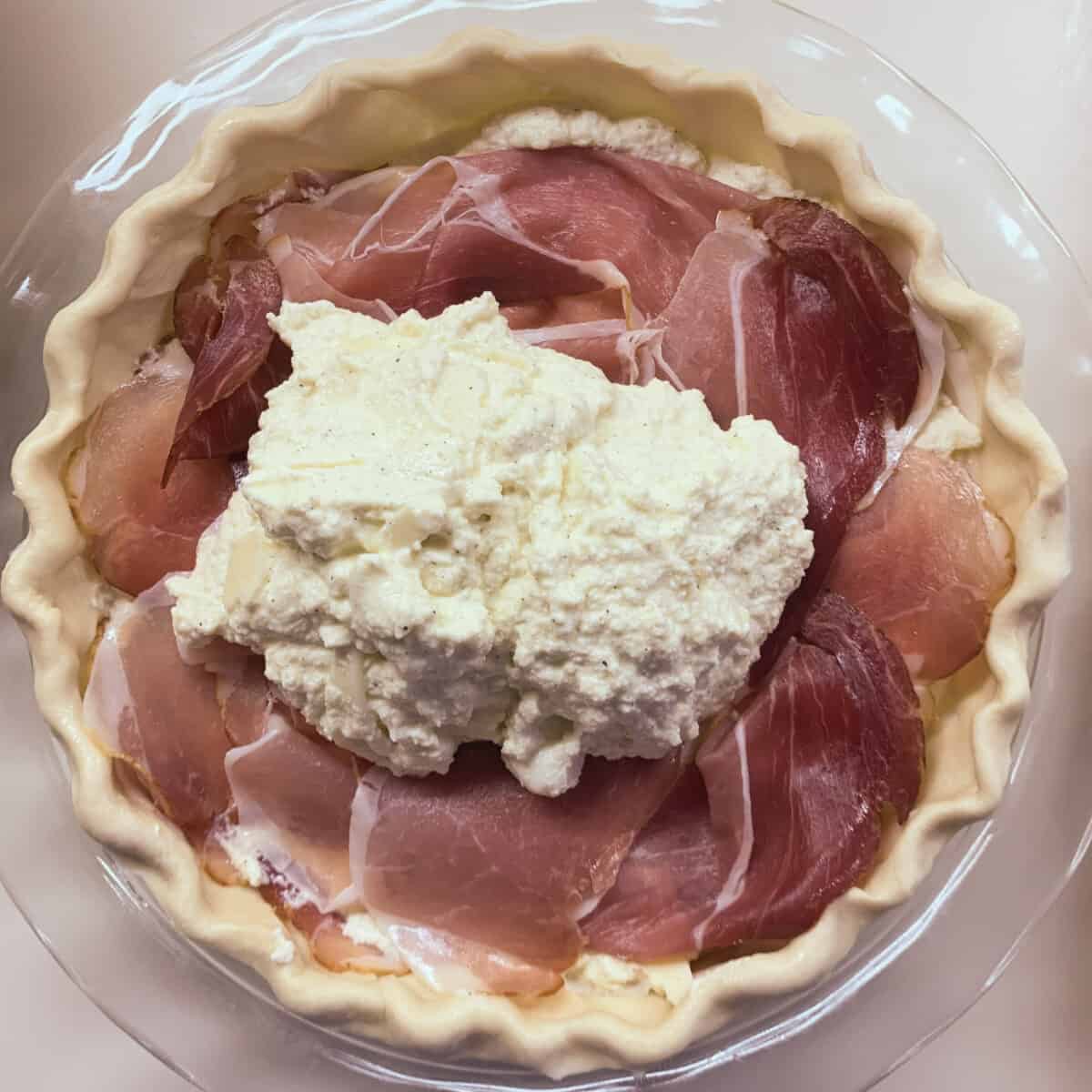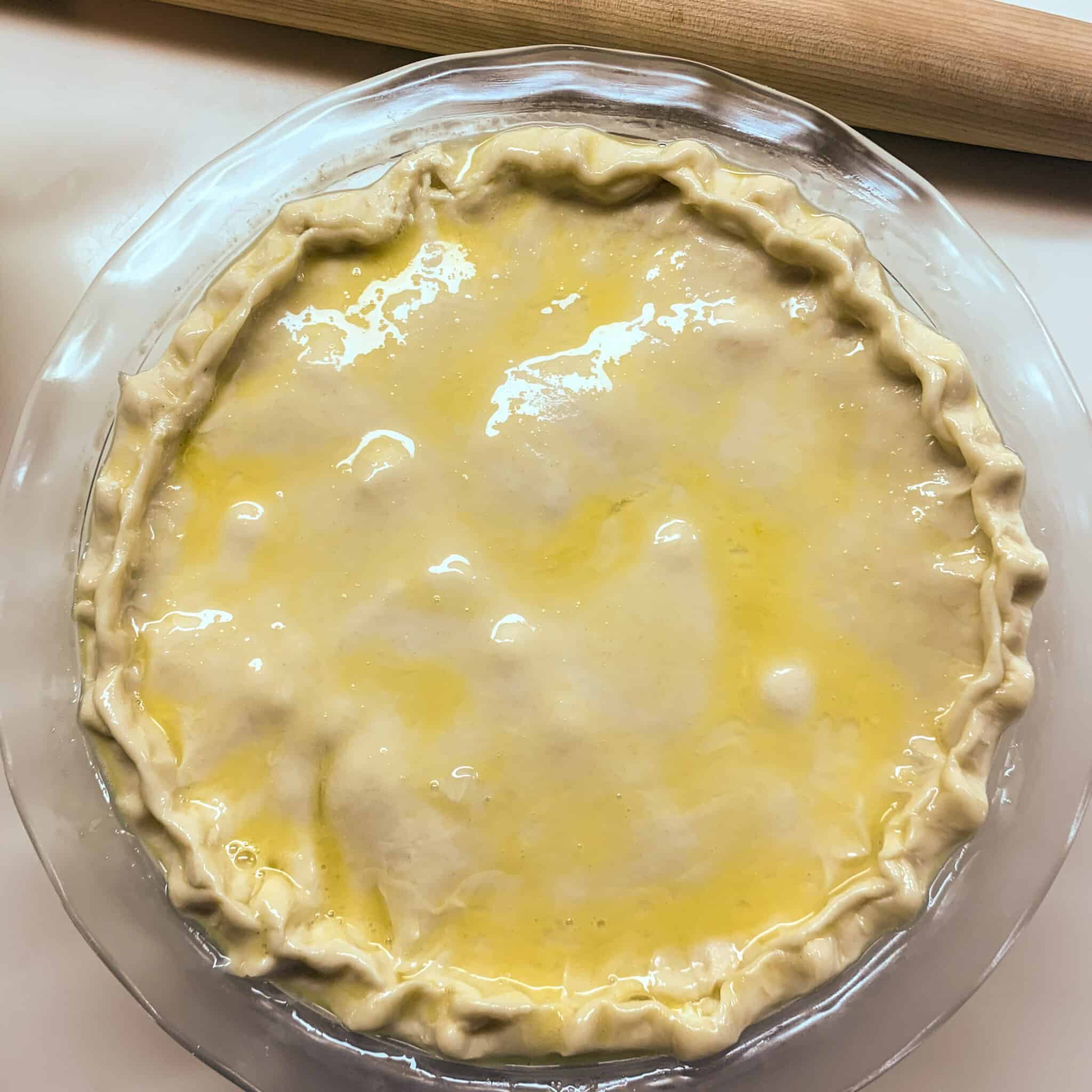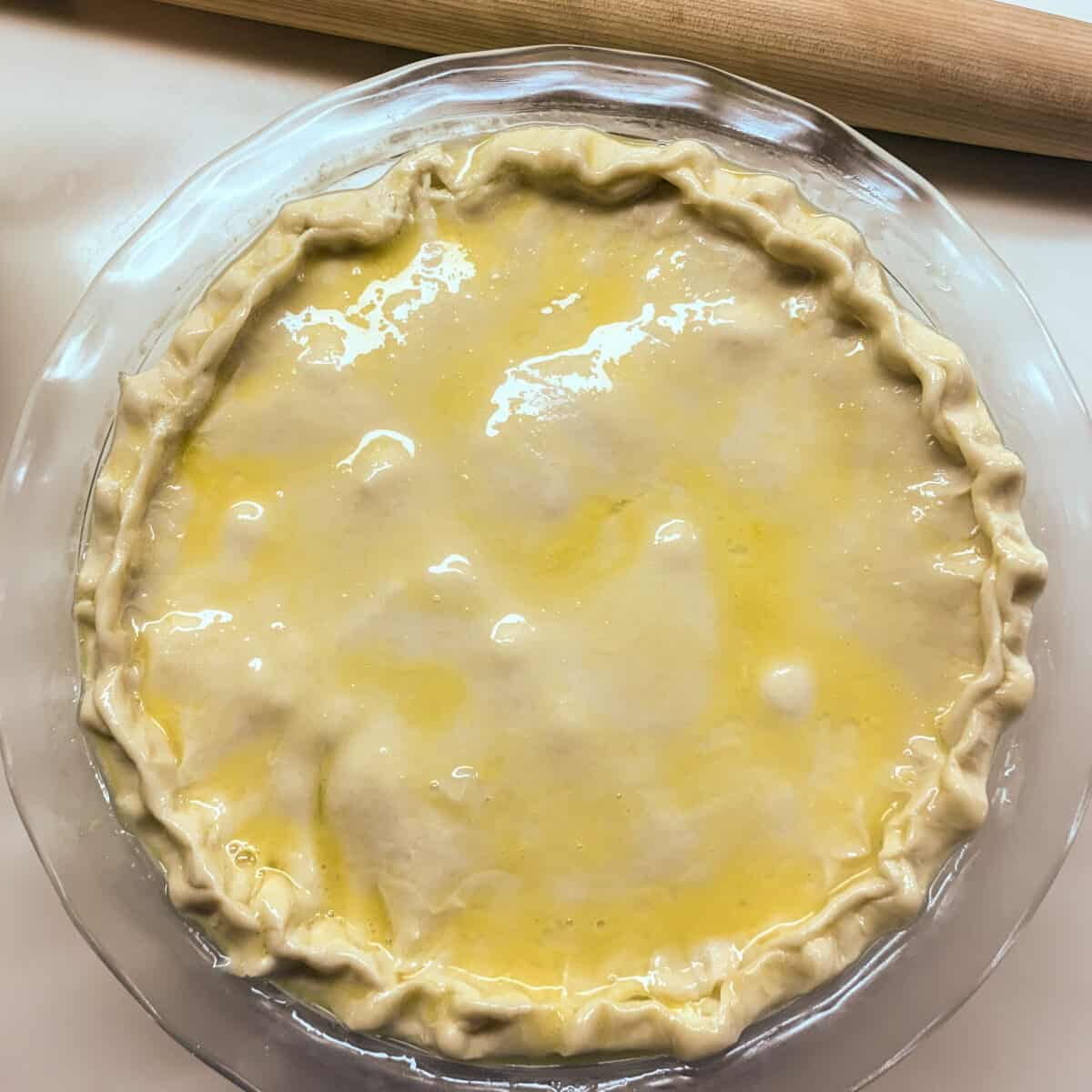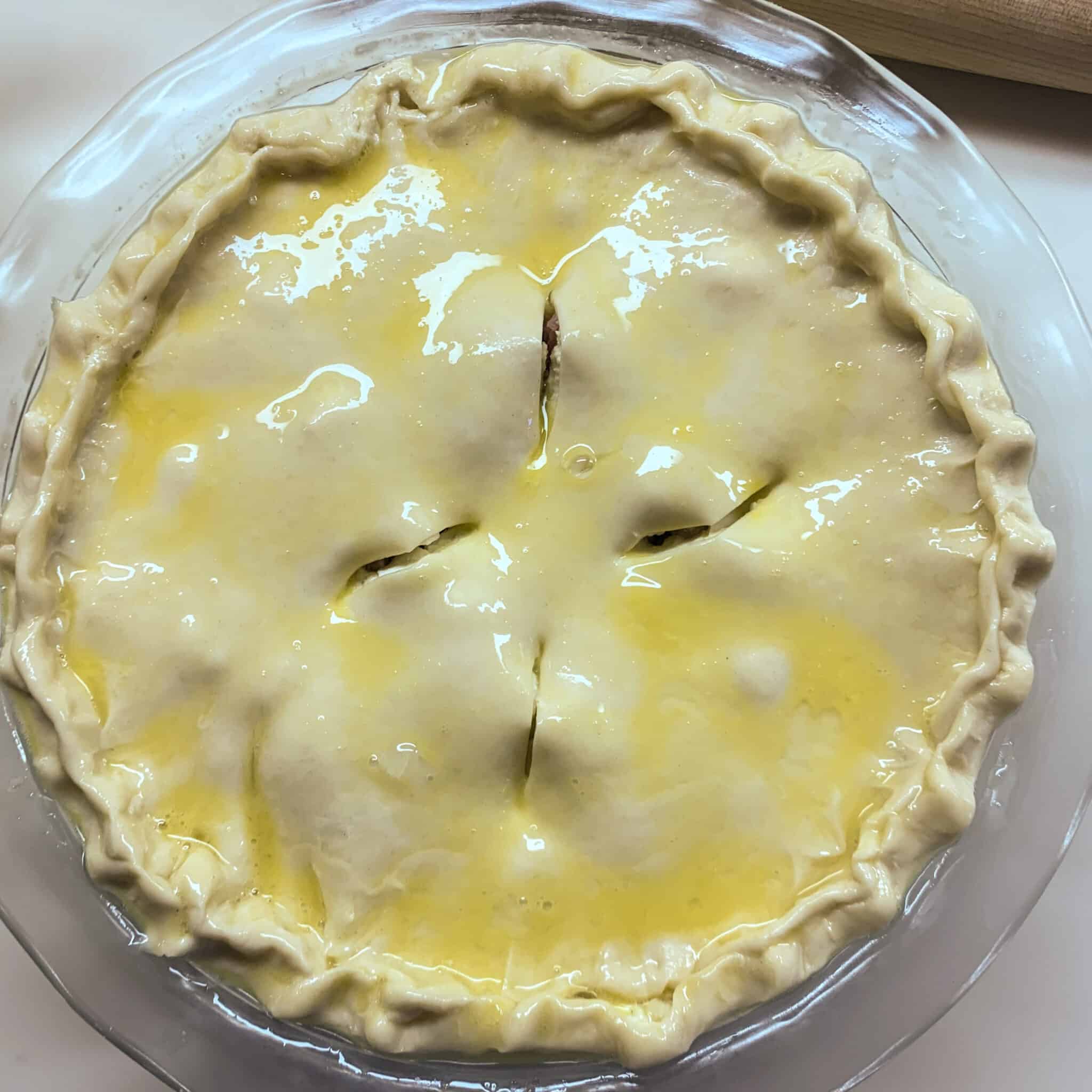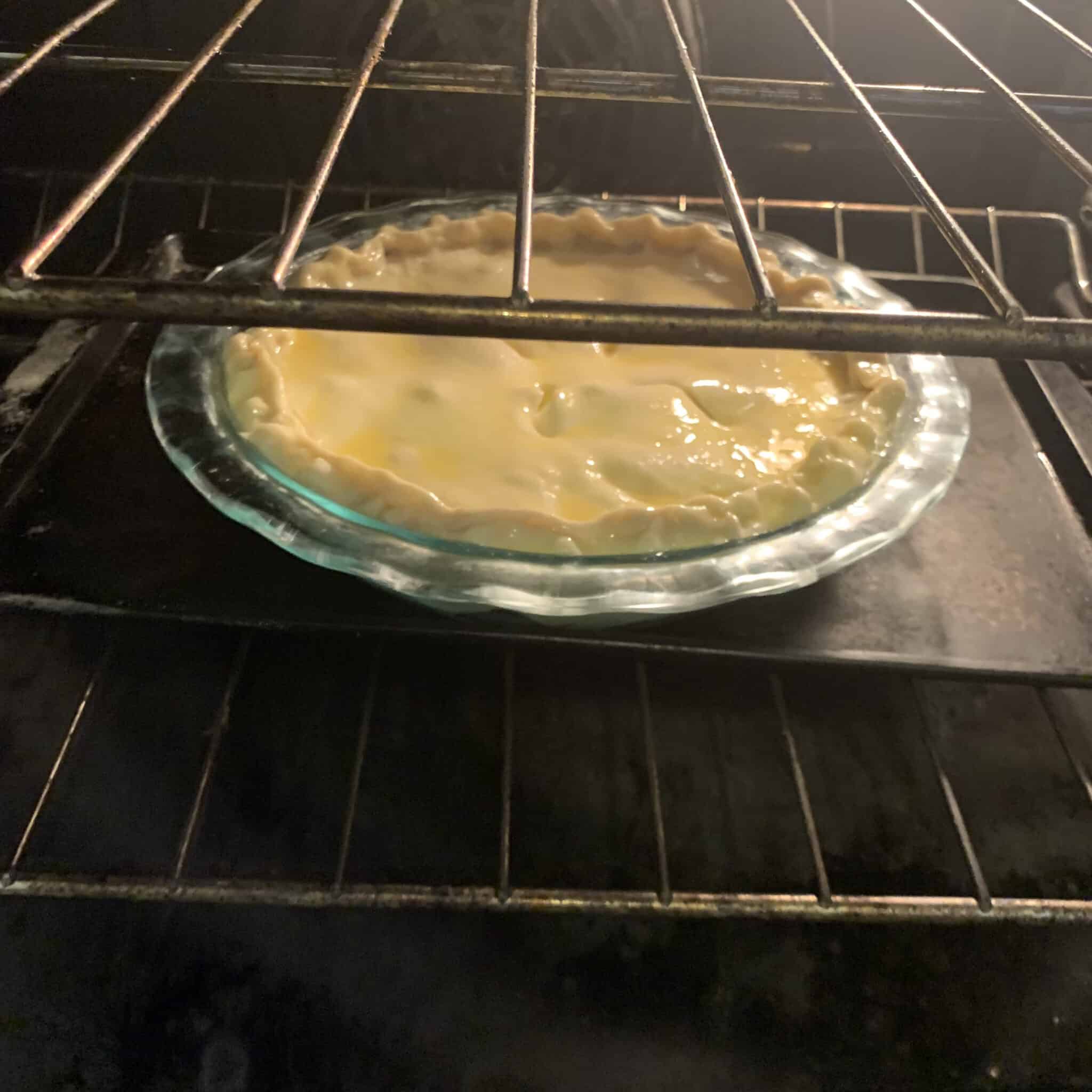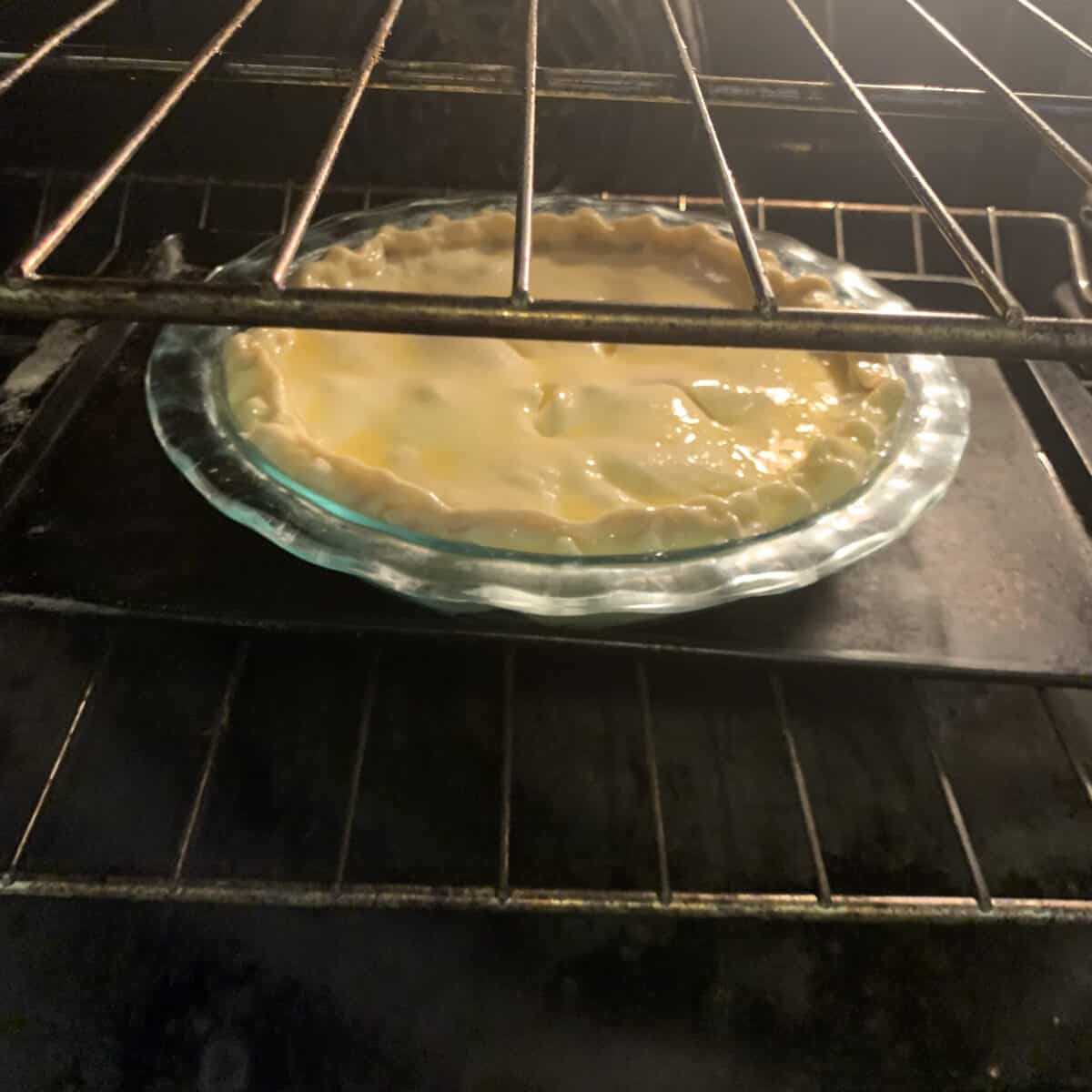 Tips and Substitutions
It may be easier to form the dough into a ball and then roll outwards from all sides to try and keep circular shape
Flip the dough over frequently as you roll!
After you have formed the bottom layer of pie crust, gently roll it around the rolling pin to transfer the dough into the pie pan
Try to keep the filling away from pie edges so that it is easier to seal
Other meats that are often used include salami, pepperoni, sweet or hot sausage, capicola, and/or imported or domestic ham.
I like to use sliced meats because the texture seems to lend itself better to this pie (chunks or diced meats can be a big contrast in texture compared to the cheese filling)
You can also include chopped or sliced hard boiled eggs in the layers.
Bake in bottom third of the oven to get a crisp crust on bottom.
May double recipe and make in 9 x 13 pan (or use two deep dish pie pans, 9 inch)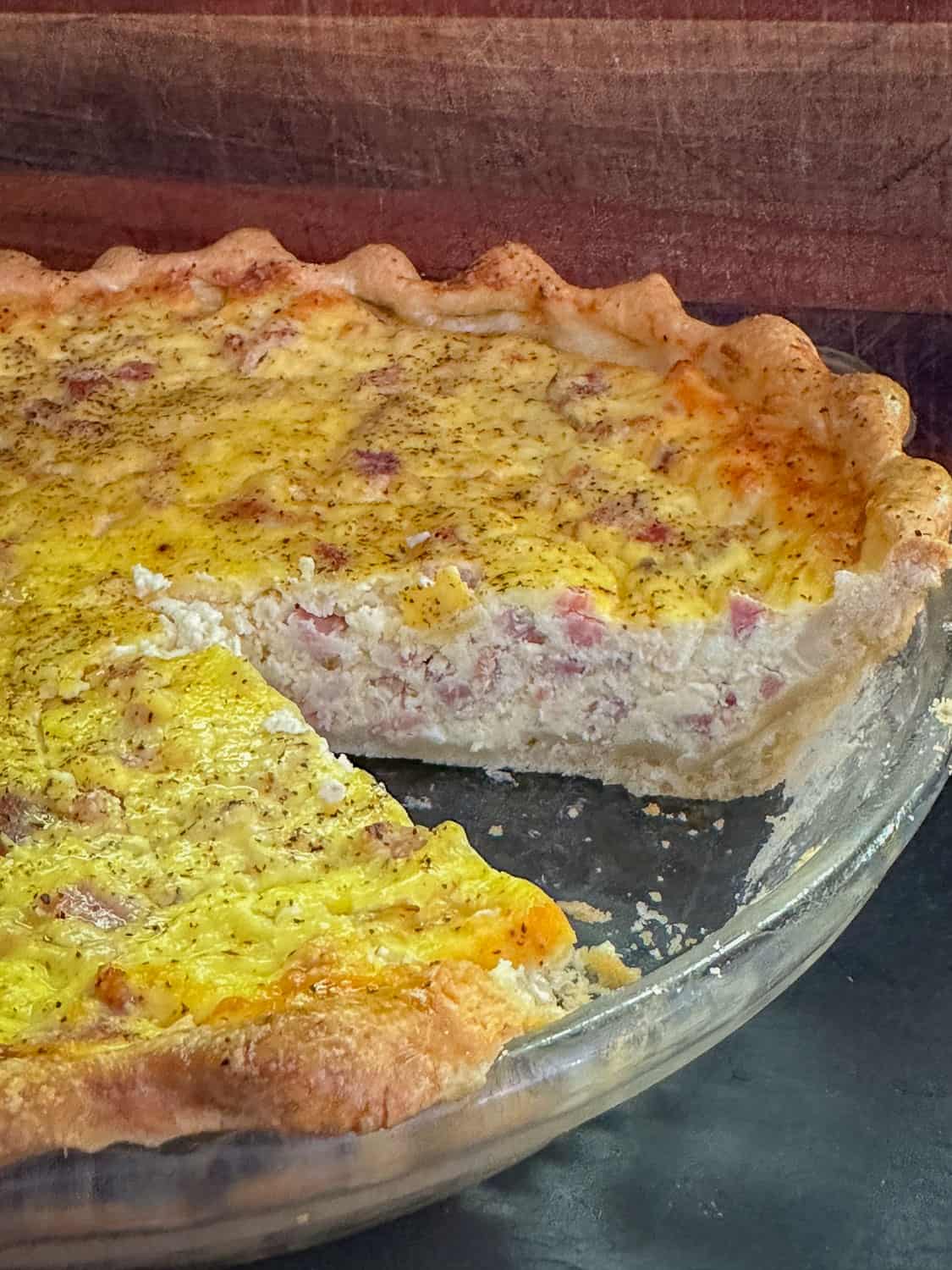 Storage and Make Ahead
Keep pie refrigerated and consume within 3 to 5 days after making.
May freeze for 2 to 3 months (Source: FDA, see quiche)
Consider slicing pie before freezing; wrap individual slices in plastic wrap and place in large freezer bag.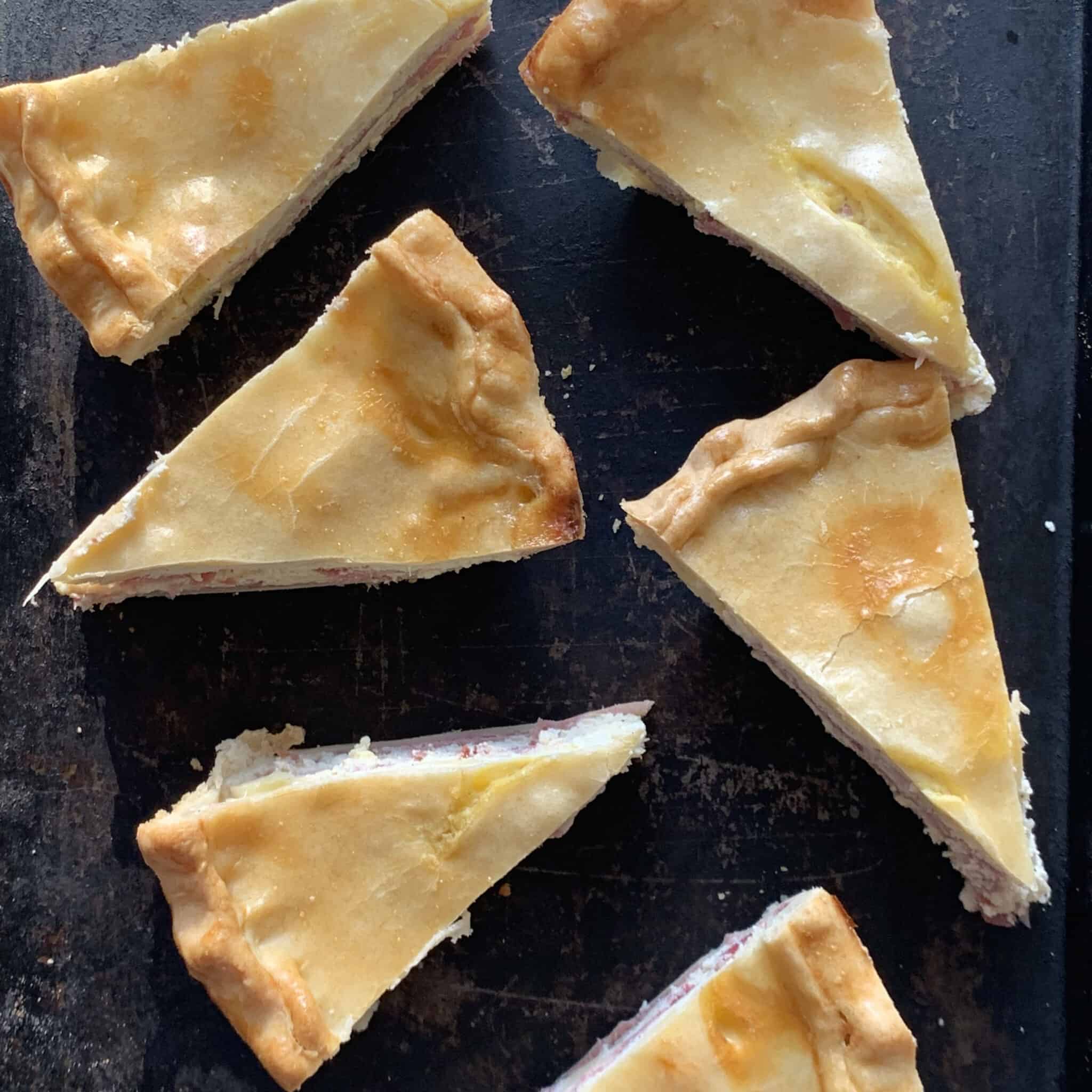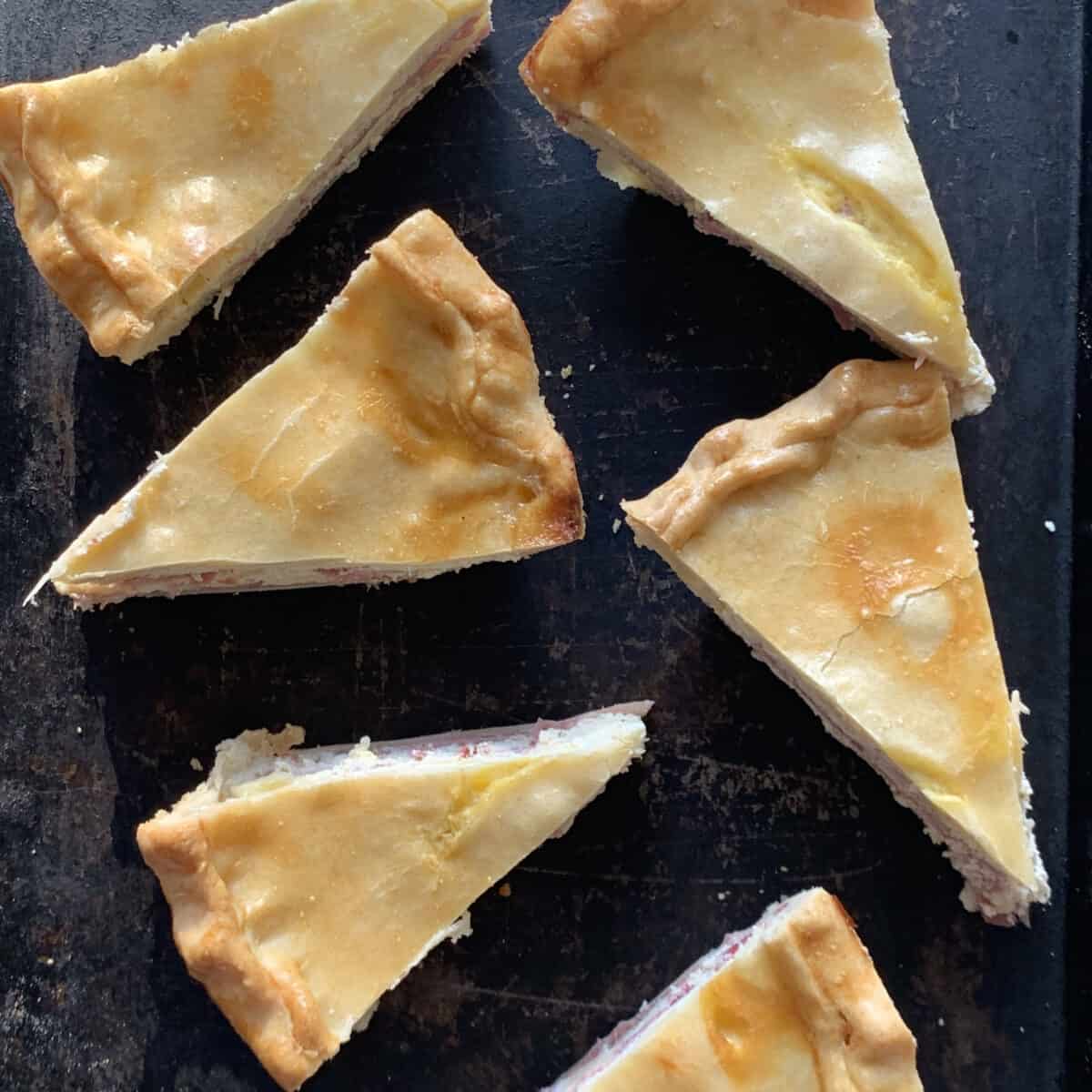 Like this recipe? If you'd like to see more recipes, SUBSCRIBE today to get free recipes from Feeling Foodish directly to your email.
📖 Recipe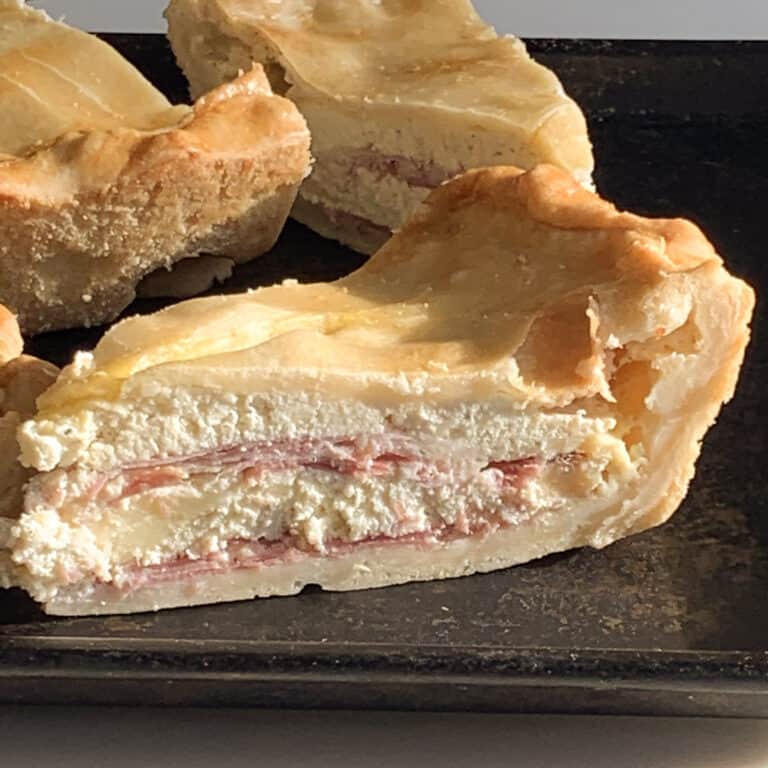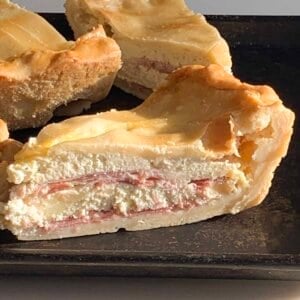 Italian Easter Pie (pizza rustica)
Italian Easter pie or pizza rustica (made from layered Italian ham, cheeses and eggs) is served on Easter Sunday across many Italian American households. This pie is also known as pizza ripiena, or pizzagaina.
Equipment
Rolling Pin

Standing mixer

optional but helpful

deep dish pie dish

9 inch
Ingredients
For the crust:
2

cups

(

250

g

)

All purpose flour

up to 2.5 cups

½

cup

(

70

g

)

water

¼

cup

(

56

g

)

olive oil

½

teaspoon

(

3

g

)

salt

¼

teaspoon

(

3

g

)

active or instant yeast

2

tablespoons

(

30

g

)

milk

can substitute with half and half, or cream (or more water in a pinch)
For the pie:
1

cup

(

168

g

)

Easter cheese or mozzarella

, cubed/sliced/shredded

8

ounces

(

226.8

g

)

Prosciutto

½

cup

(

56.5

g

)

parmesan cheese

grated

2

cups

(

246

g

)

Ricotta

3

(

264

g

)

Eggs

½

teaspoon

(

2

g

)

ground black pepper
For the egg wash:
1

egg beaten with pinch of salt
Instructions
To make the dough:
Combine all ingredients except for flour in large mixing bowl.

Add 2 cups of the flour and mix until well combined, about 2 to 3 minutes

Add more flour if needed, until a soft dough forms (dough should not be too sticky)

Knead for a total of 3 to 4 minutes and then let rest in covered and oiled bowl while you are preparing the filling (ideally 1 hour but I've done less and it still works)
To make the filling:
Beat the eggs until fluffy, about 3 to 4 minutes

Add the grated cheese and ricotta (if using) and mix to combine, about 1 minute

Add the black pepper and the shredded meat and mix to combine.
To assemble and bake the pie:
Preheat oven to 350 degrees

Grease an 8 inch pie pan.

Using ⅔ of the dough, roll out a large circle and insert in into the bottom of the cake pan.

Layer and small amount of the egg-meat mixture onto the bottom of the pie and then cover with sliced eggs and Easter cheese/mozzarella.

Continue layering egg-meat mixture and sliced eggs/Easter cheese, ending with the egg-meat mixture (NOT like shown in the photo:)

Using the remaining dough, roll out another circle and top the pie.

Press the edges of the dough together to seal and roll as shown the in photo above.

Cut slits into the top, brush with egg wash and bake for 80 to 90 minutes or until golden brown.
Notes
Can double recipe and make in 9 x 13 casserole dish/pan
Nutrition
Calories:
493
kcal
Carbohydrates:
27
g
Protein:
21
g
Fat:
33
g
Saturated Fat:
13
g
Polyunsaturated Fat:
3
g
Monounsaturated Fat:
14
g
Trans Fat:
1
g
Cholesterol:
127
mg
Sodium:
599
mg
Potassium:
204
mg
Fiber:
1
g
Sugar:
1
g
Vitamin A:
524
IU
Vitamin C:
1
mg
Calcium:
293
mg
Iron:
2
mg
Interested in More Recipes?
SUBSCRIBE to get recipes delivered to your email 🙂
Originally published in March 2013; recipe, photos, and instructions have all been updated in March 2021.