This Old-Fashioned Sloppy Joe recipe channels the comforting nostalgia of homemade classics. The meat mixture, boasting the richness of ground turkey or beef, finely chopped onions, bell peppers, celery, and garlic, forms the heart of this dish and is bathed in a traditional sauce enhanced with Worcestershire sauce, brown sugar, vinegar, and tomato paste. Spice it up with a hint of Tabasco or Sriracha, and achieve the perfect consistency to relish a taste of the past in every bite!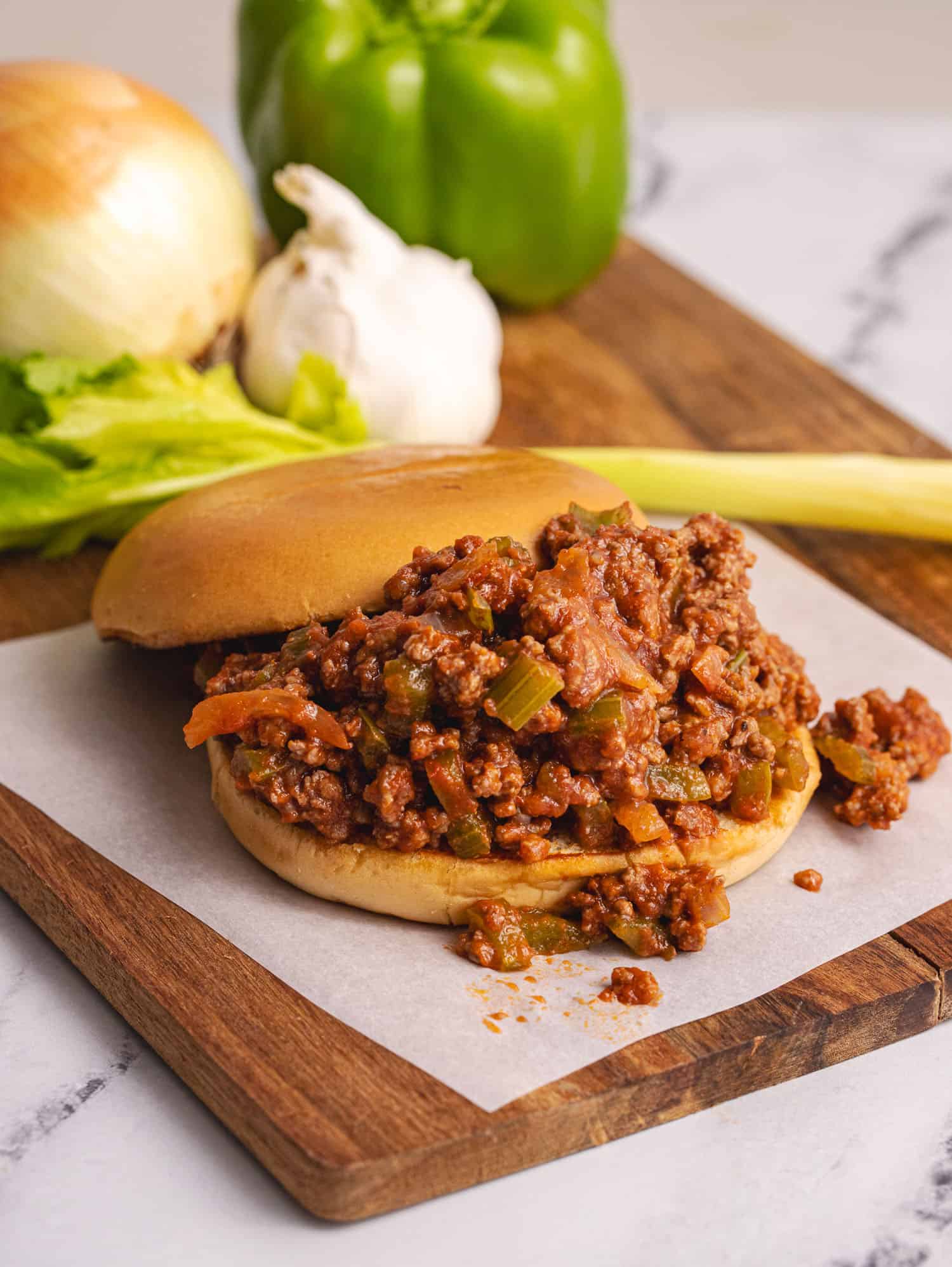 Why Make?
Quick and Easy: Sloppy Joes are known for their simplicity and speed of preparation. The straightforward combination of ground meat, vegetables, and sauce means you can have a satisfying meal ready in a short amount of time, making it perfect for busy weeknight dinners.
Nostalgic Comfort: The flavors of Sloppy Joes often evoke a sense of nostalgia, reminding many people of childhood meals or family gatherings. This nostalgic connection adds an emotional element to the experience of enjoying the dish.
Versatile and Customizable: Sloppy Joes provide a versatile base that can be customized to suit individual preferences. Whether you prefer extra spiciness, a touch of sweetness, or unique ingredient additions, you have the creative freedom to tailor the recipe to your taste.
Sharing: Sloppy Joes are great for sharing and bringing people together. Whether it's a family dinner, a potluck gathering, or a picnic, Sloppy Joes are a crowd-pleaser that can feed a group with ease, fostering a sense of community and connection.
Ingredients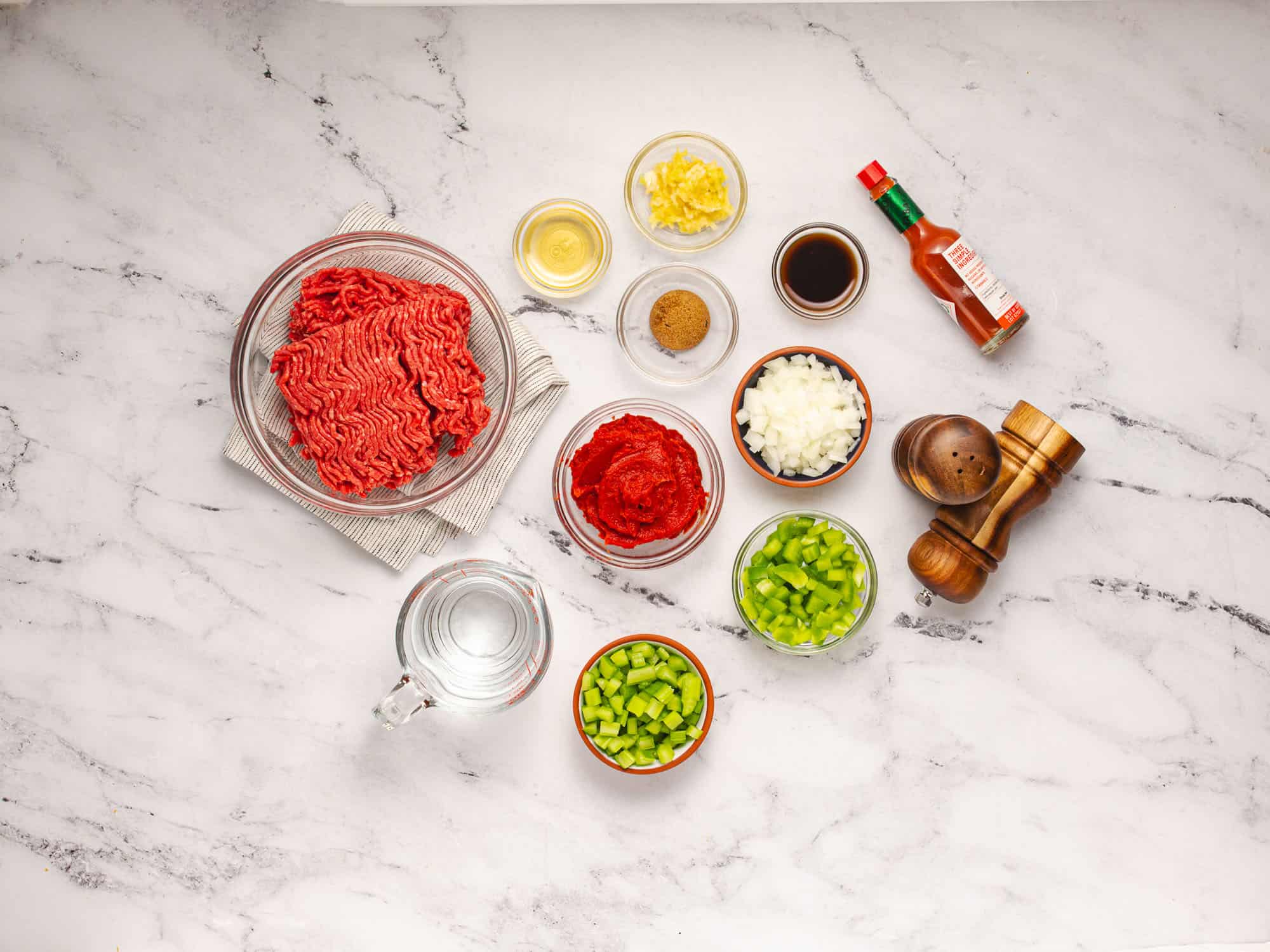 For the Meat Mixture
Ground turkey or beef: The main protein source and foundation of the dish.
Large onion finely chopped: Adds flavor and texture to the meat mixture.
Green or red bell peppers finely chopped: Provides a sweet and slightly crunchy element to the mixture.
Celery finely chopped: Adds a subtle herbal note and additional crunch.
Large garlic cloves smashed and minced: Enhances overall flavor with its aromatic quality.
For the Sauce
Worcestershire sauce: Imparts depth of flavor and a savory umami quality.
Brown sugar: Balances flavors with a touch of sweetness.
White or apple cider vinegar: Adds tanginess and brightness.
Tomato paste: Forms the base of the sauce and contributes rich tomato flavor.
Water: Adjusts the sauce's thickness to desired consistency.
Salt: Enhances overall seasoning.
Tabasco sauce or more (optional); may also use Sriracha: Adds optional heat and a hint of spiciness.
Black pepper: Provides a mild peppery kick and balances flavors.
How to Make
To make the sauce, combine Worcestershire sauce, brown sugar, vinegar, tomato paste, water, salt, optional Tabasco or Sriracha, and black pepper in a small pot. Let this simmer gently over low heat as you prepare the meat.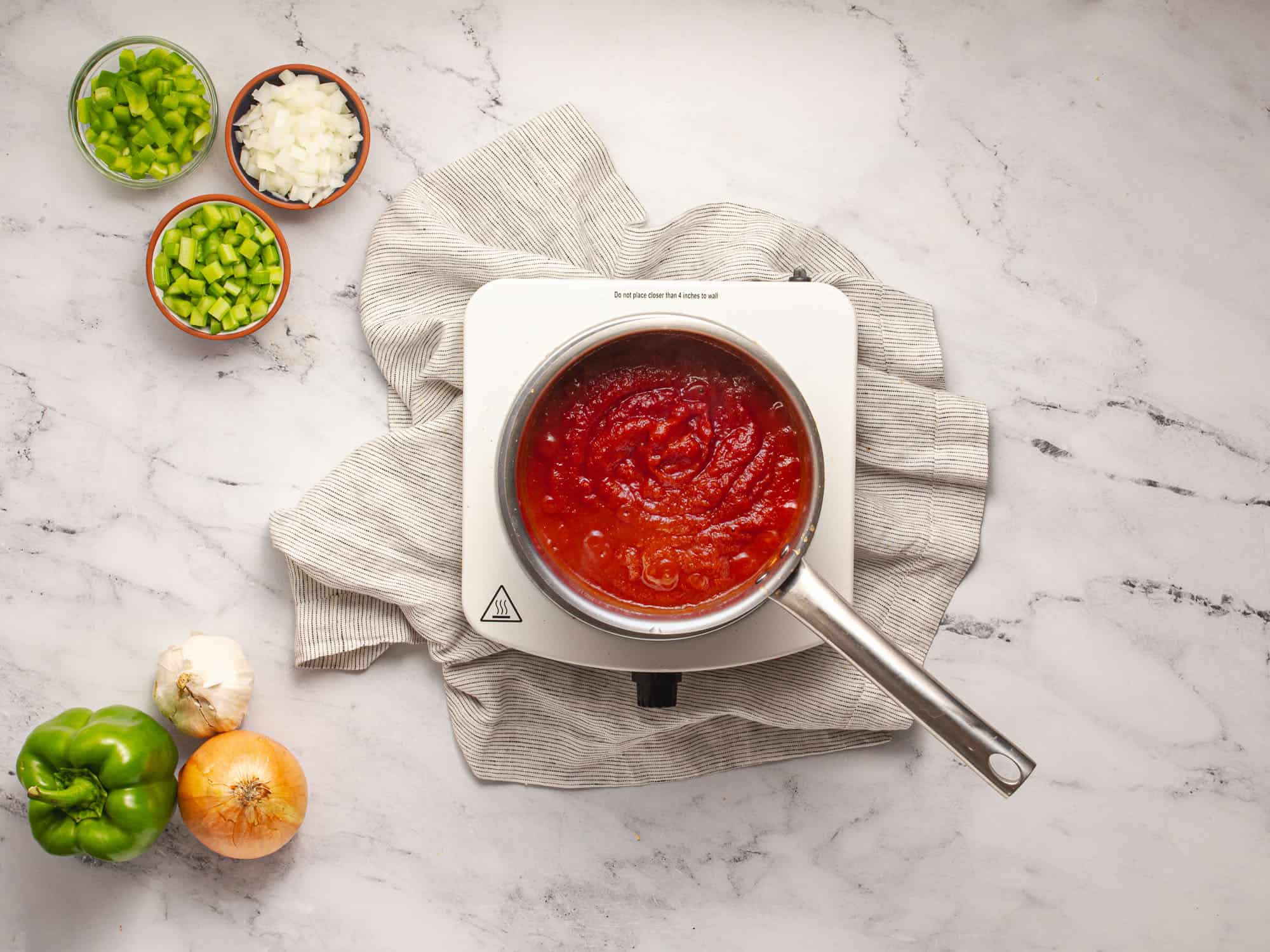 In a generously coated large skillet or pot, cook the ground turkey or beef over medium heat until it's beautifully browned. Keep the meat slightly chunky by gently breaking it apart with a spoon while it cooks. If there is any excess fat, you have the choice to either pour it off or use a colander based on dietary preferences.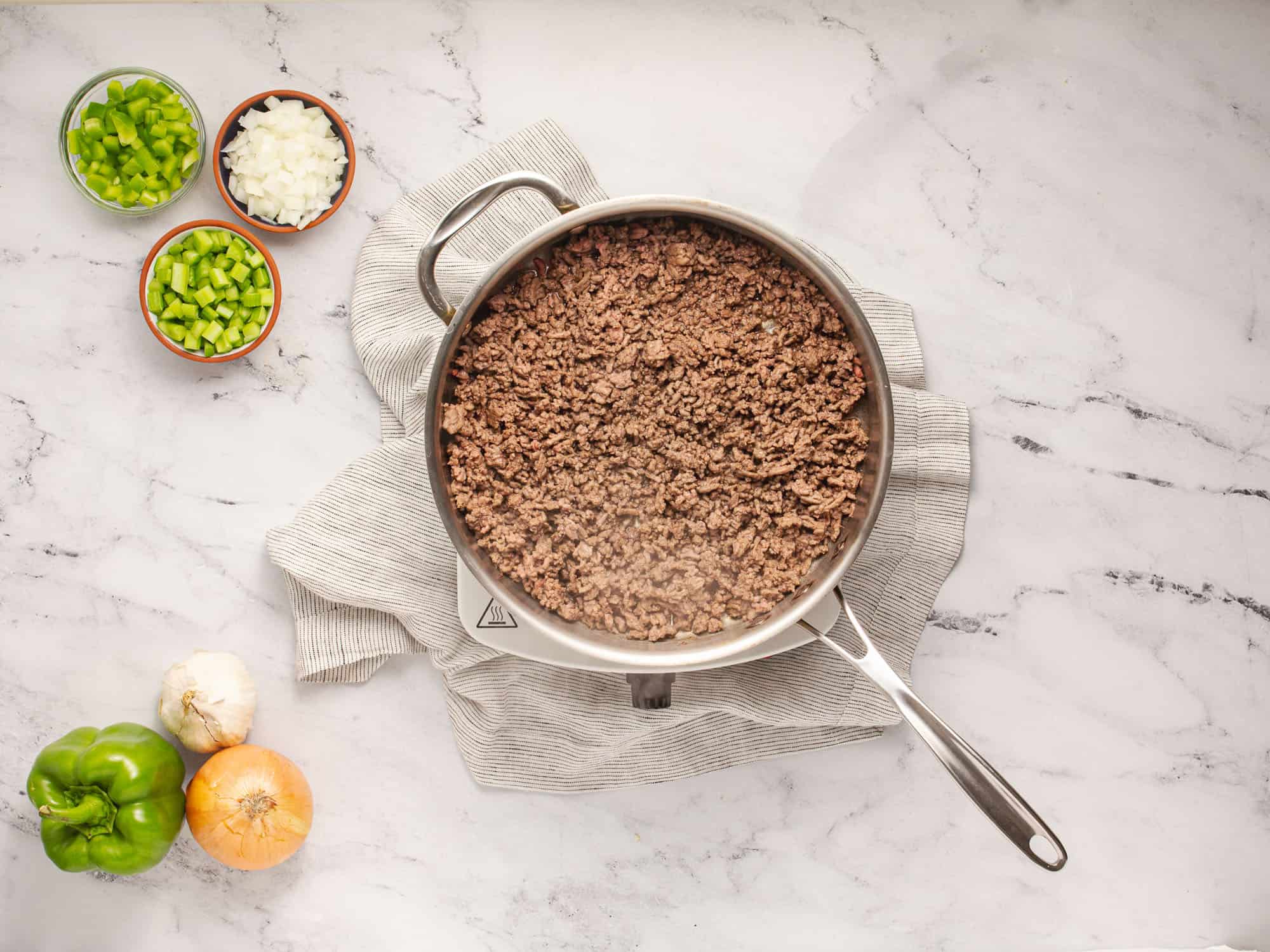 Next, in the same pot or skillet emptied of meat, add finely chopped onion, celery, peppers, and minced garlic. Sauté these aromatic vegetables for approximately 5 minutes, until they transform into a translucent and fragrant melody.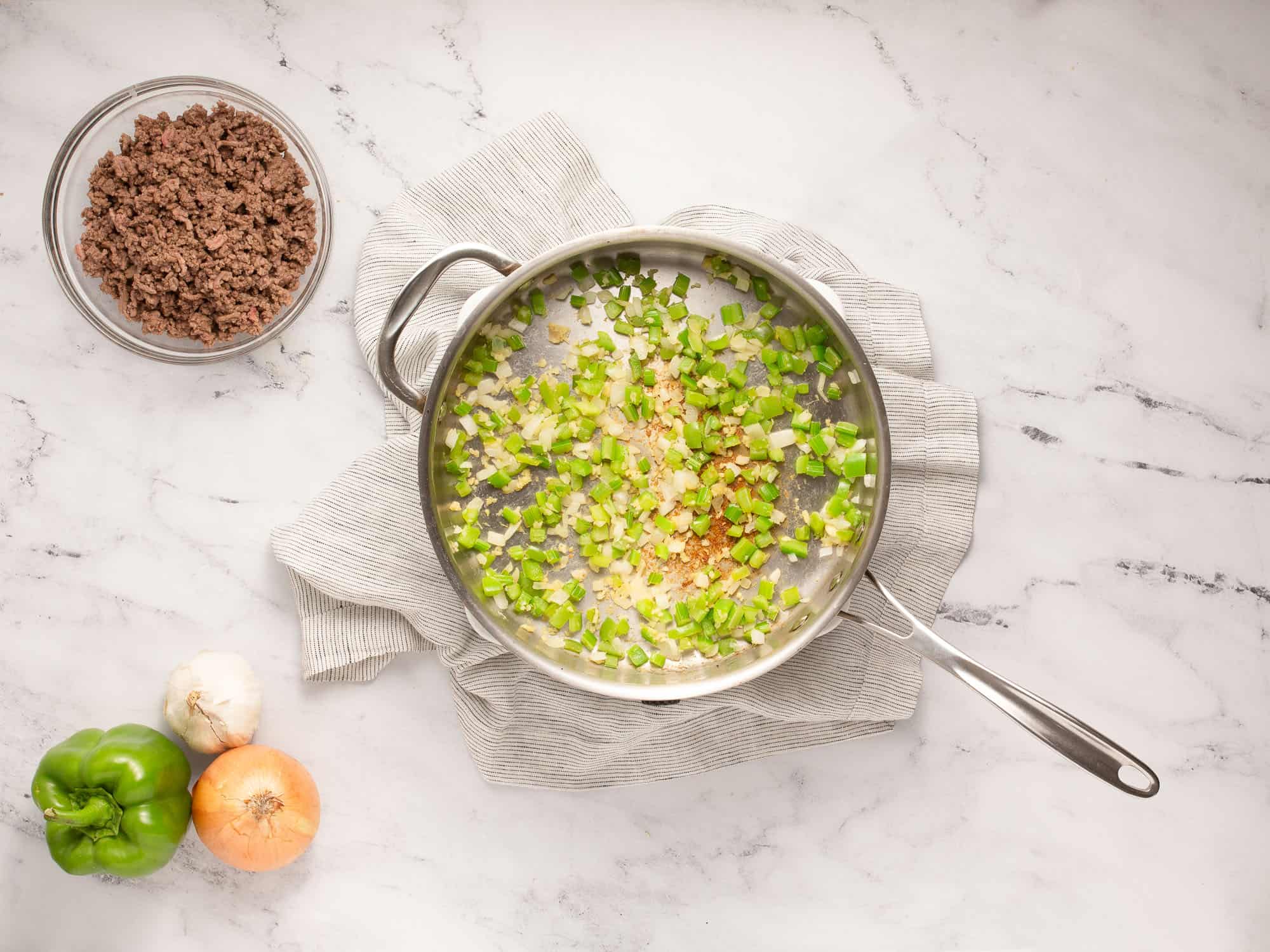 Add back the browned meat with the sautéed vegetable mix, then pour in the simmered sauce mixture. Allow this mixture to cook together for another 3 or 4 minutes. If you find the mixture to be a touch dry, add a few more tablespoons of water to loosen the sauce.
Taste and adjust seasonings as desired. Serve atop freshly baked snowflake rolls or your preferred bakery rolls.
Variations
Cheesy Sloppy Joes: Add a layer of indulgence by melting your favorite cheese over the Sloppy Joe mixture before serving. Cheddar, mozzarella, or pepper jack work well.
Spicy Kick: For those who enjoy heat, incorporate diced jalapeños, crushed red pepper flakes, or extra hot sauce to the sauce mixture.
Vegetarian Twist: Replace the meat with plant-based alternatives like lentils, mushrooms, or textured vegetable protein (TVP) or a mixture of these things for a satisfying vegetarian version.
Sweet and Tangy: Enhance the sauce's sweetness by mixing in a bit of honey, maple syrup, or molasses, balancing it with the tanginess of extra vinegar.
Global Flavors: Experiment with different spice blends to give your Sloppy Joes an international flair. For instance, add cumin, coriander, and chili powder for a Tex-Mex twist, or curry powder and garam masala for an Indian-inspired variation.
Pickled Twist: Top your Sloppy Joes with sliced pickles, pickled onions, or even pickled jalapeños for a zesty kick.
Substitutions
Meat Mixture: Instead of ground turkey or beef, you can use ground chicken, pork, or a plant-based meat substitute like lentils, tofu crumbles, tempeh, or seitan for a vegetarian/vegan version.
Vegetables: Use different vegetables based on your preferences and what's available. Carrots, zucchini, or mushrooms can be great additions or substitutions for the onion, bell peppers, and celery.
Sauce: If you don't have Worcestershire sauce, you can use soy sauce or tamari for a similar umami flavor. Replace brown sugar with honey, maple syrup, agave nectar, or coconut sugar for sweetness.
Choose your preferred type of vinegar, such as balsamic vinegar or red wine vinegar, if you don't have white or apple cider vinegar. For tomato paste, you can use tomato sauce or crushed tomatoes, but you might need to adjust the cooking time to achieve the desired consistency.
Heat and Flavor: Instead of Tabasco sauce or Sriracha, experiment with other hot sauces or chili pastes to achieve your desired level of spiciness. Feel free to incorporate various spices and herbs to add depth to the flavor. Paprika, cumin, oregano, thyme, or smoked paprika can be excellent choices.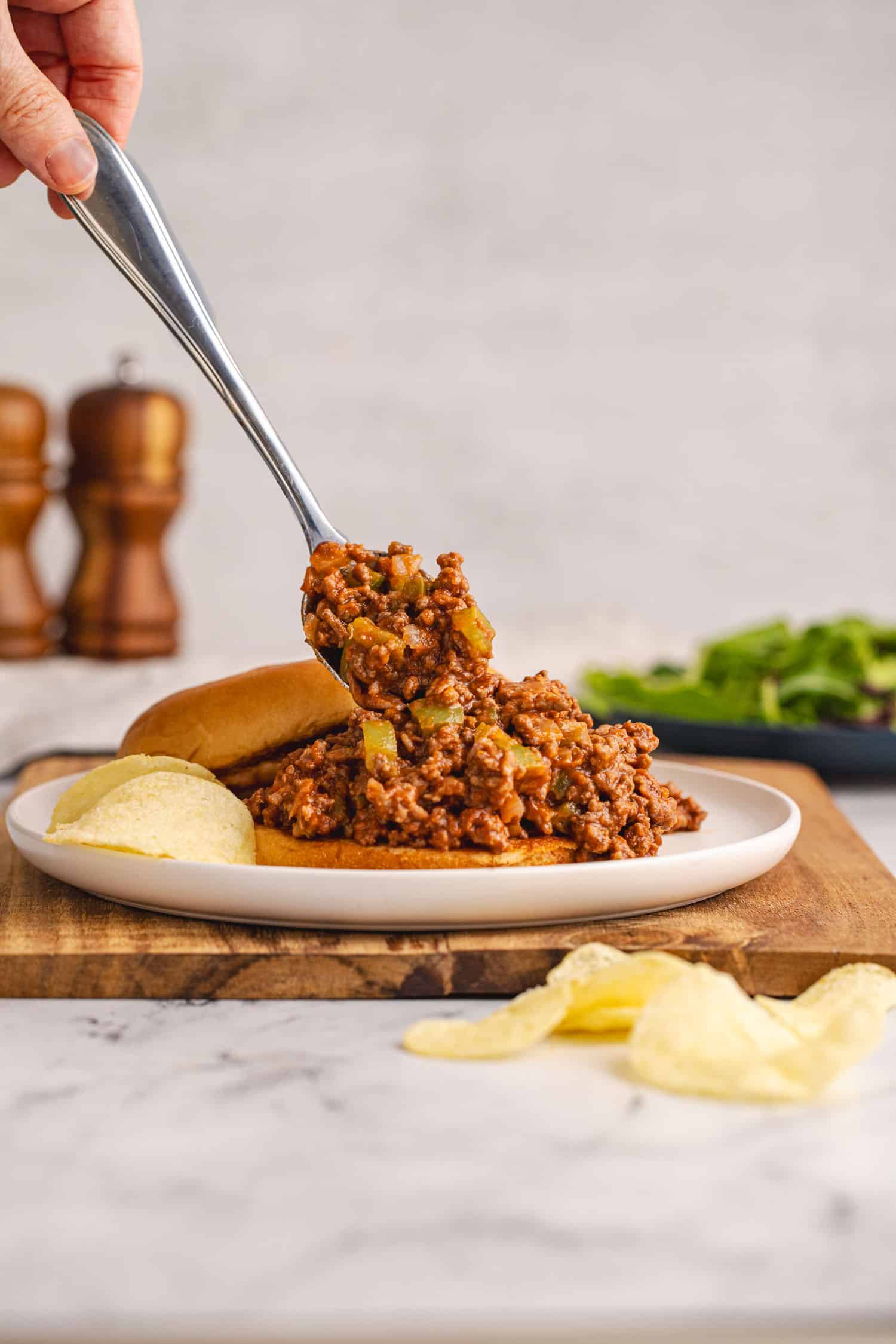 Side Dish Ideas
Looking for ideas on what to serve with sloppy joes? Here are some easy ideas.
French Fries: Classic and satisfying, crispy French fries complement the saucy Sloppy Joes perfectly.
Sweet Potato Fries: For a slightly healthier alternative, enjoy the sweet and savory combination of sweet potato fries.
Coleslaw: Creamy coleslaw adds a refreshing crunch that balances the richness of Sloppy Joes.
Potato Salad: Creamy or tangy potato salad is a great way to contrast the flavors and textures of the main dish.
Corn on the Cob: Grilled or boiled corn on the cob brings a touch of sweetness to the meal.
Baked Beans: The sweet and smoky flavors of baked beans provide a hearty and flavorful side.
Macaroni and Cheese: The creamy, cheesy goodness of mac and cheese pairs wonderfully with Sloppy Joes.
Roasted Vegetables: Roast vegetables like carrots, broccoli, or Brussels sprouts for a nutritious and tasty side.
Side Salad: A fresh garden salad with a variety of greens, veggies, and your favorite dressing can balance out the meal.
Onion Rings: Crispy onion rings provide a satisfying crunch that pairs well with the texture of Sloppy Joes.
Fruit Salad: A refreshing fruit salad with a mix of seasonal fruits adds a touch of lightness to the meal.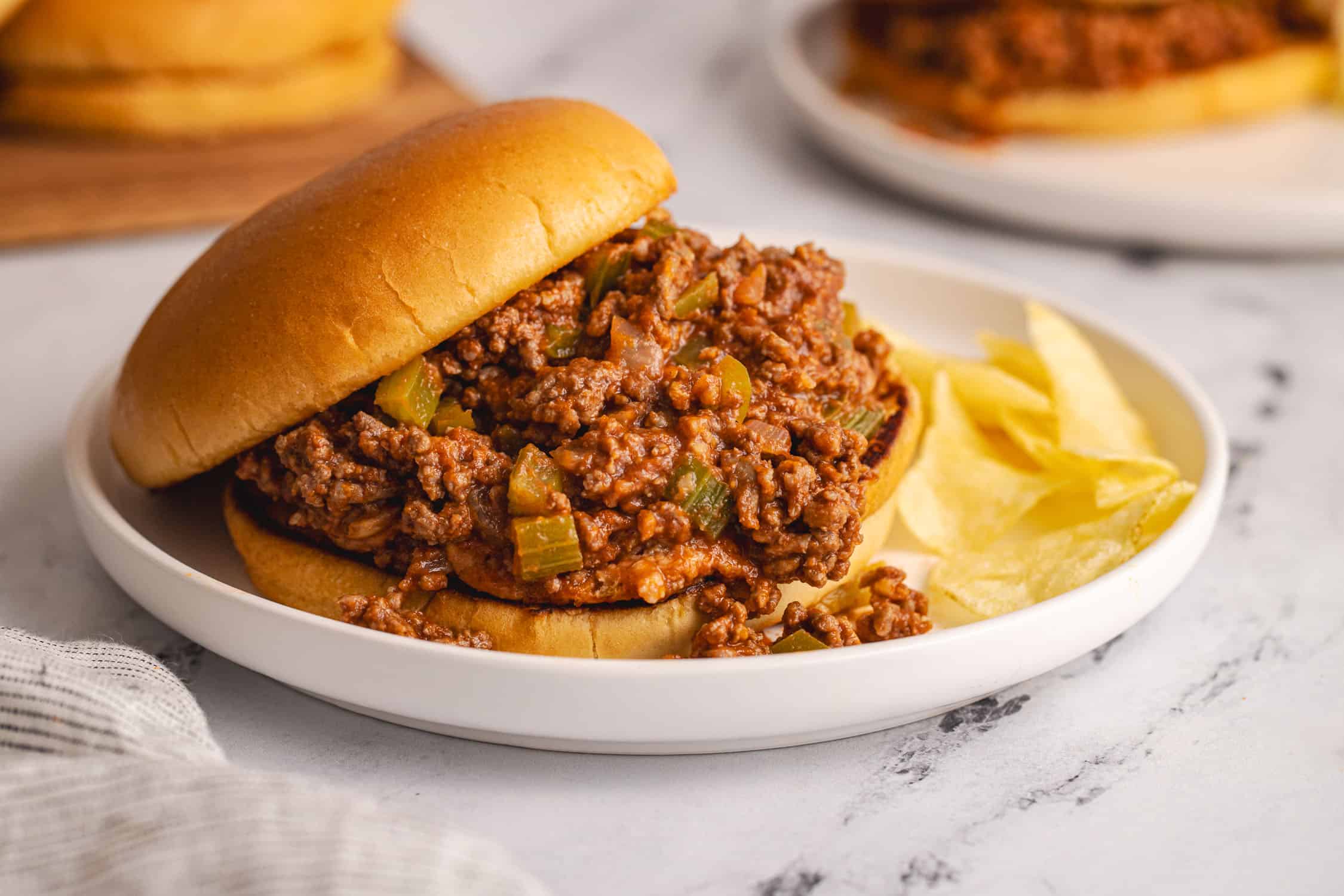 Storage
To store your leftover Sloppy Joe filling/meat, ensure it is fully cooled and then place the mixture in an airtight container and refrigerate it for up to 3-4 days.
This allows the flavors to meld further and offers convenient leftover options.
📖 Recipe
Old-Fashioned Best Ever Sloppy Joes
Get ready to sink your teeth into these mouthwatering Sloppy Joes! Packed with flavorful ground turkey or beef, tangy tomato paste, and a touch of heat, this easy-to-make recipe is a crowd-pleasing favorite that will leave you wanting seconds (and maybe even thirds!).
Ingredients
For the Meat Mixture
1

pound

ground turkey or beef

½

large onion

finely chopped

½

cup

green or red bell peppers

finely chopped

½

cup

celery

finely chopped

3

large

garlic cloves

smashed and minced
For the Sauce
1

tablespoon

Worcestershire sauce

1

tablespoon

brown sugar

1

tablespoon

white or apple cider vinegar

1

can

tomato paste

(6 ounce can)

2

tablespoon

water

or more depending on consistency at final step

½

teaspoon

salt

or to taste

¼

teaspoon

Tabasco sauce

or more (optional); may also use Sriracha

¼

teaspoon

Black pepper
Instructions
To Make the Sauce
Add all sauce ingredients (Worcestershire, brown sugar, vinegar, tomato paste, water, salt, tabasco [if using[, and black pepper) to a small pot and simmer over low heat while you prepare the meat.
To Make the Meat
In a large skillet or pot that has been coated with cooking spray or a tablespoon or so of oil, cook the ground turkey or beef over medium heat until browned. Break it up a bit (but not too much, leave some small chunks) with a spoon or spatula while cooking. Drain any excess fat if necessary and remove the meat from the pan. You can either pour off the excess fat or drain in a colander depending on dietary preferences.

To the now empty pot/skillet, add the chopped onion, celery, peppers, and minced garlic and cook for about 5 minutes, or until the vegetables becomes translucent and fragrant.

Add the meat back to pan with the sautéed vegetables and then add the sauce mixture that has been simmering and cook everything for another 3 or 4 minutes until heated through. If the mixture seems too dry, add a few more tablespoons of water to loosen up the sauce.

Check seasonings, and add more salt/pepper or hot sauce if desired.

Spoon onto freshly baked snowflake rolls or other bakery rolls of your choice.
Notes
Nutrition facts estimate based on use of 93% lean turkey and do not include bun. 
Nutrition
Calories:
236
kcal
Carbohydrates:
15
g
Protein:
24
g
Fat:
10
g
Saturated Fat:
3
g
Polyunsaturated Fat:
3
g
Monounsaturated Fat:
3
g
Trans Fat:
0.1
g
Cholesterol:
84
mg
Sodium:
779
mg
Potassium:
817
mg
Fiber:
3
g
Sugar:
10
g
Vitamin A:
1376
IU
Vitamin C:
36
mg
Calcium:
61
mg
Iron:
3
mg
Interested in More Recipes?
SUBSCRIBE to get recipes delivered to your email 🙂