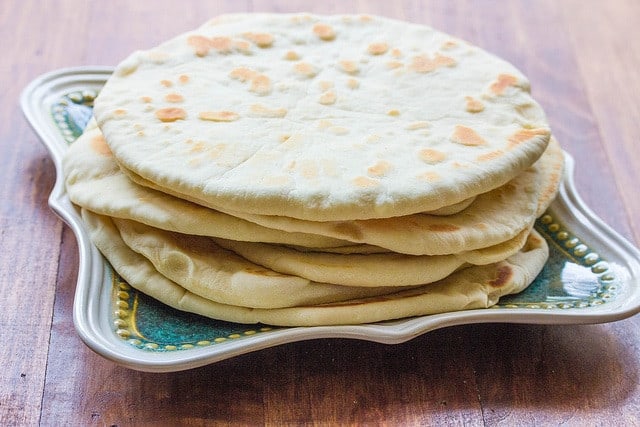 When I lived in Michigan a few short years ago, I became more acquainted with Greek food, which is quite popular there. I lived about 45 minutes outside of Detroit, a city with a "Greektown". Until then, I had never thought about Greek food too much, although I always did enjoy it. On the east coast, I was used to things like Little Italy (in NYC and a sort of by-gone in Philly) and lots of cities have a Chinatown, but I'd never heard of a Greek town (at least here in Philly).
Turns out that Greek and Middle Eastern food is quite abundant in Michigan. There is a popular chain restaurant called Olga's, and they make such. good. pita bread. I found a recipe for it, and it is very good, but it tastes a bit too much like crepes to me. Don't get me wrong, I like crepes but I wanted my pita to taste more like pita and less like crepes. After tweaking the recipe a bit, I think I found a winner.
I make these very often. Sure it's easier to buy pitas at the store, but they are neverrrr as good. In fact, I often find that store bought pita bread is quite dry. And, I'd rather have the flat kind instead of the pita pockets, which seem to be much more popular in the grocery stores.
📖 Recipe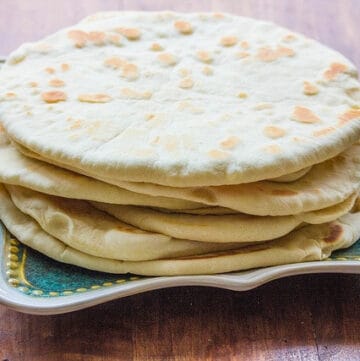 Pocketless Pita
Makes 8 small pitas; an easy recipe for homemade pita/Greek flatbread that can be made in less than 2 hours
Ingredients
¾

cup

milk

½

cup

lukewarm water

2

tablespoons

butter

, melted

2

tablespoons

honey

2

teaspoons

instant yeast

1

teaspoon

salt

3.5

to 4 cups flour
Instructions
Combine milk, water, butter, and honey in mixing bowl of a standing mixer with dough hook

Add yeast and mix for a few second to combine

Add salt followed by enough flour to form a soft dough

Knead dough for 3 to 4 minutes

Place dough in oiled bowl, cover and let rest for 1 hour

After 1 hour, form dough into 8 smaller balls and heat up a non-stick pancake griddle

On a floured flat surface, roll out each dough ball into a flat circle about 6 to 7 each in diameter sprinkling with more flour if needed to prevent sticking.

Grill each pita for a few minutes until they begin bubbling and are very lightly golden brown, then flip and cook the reverse side

Store in plastic bag and freeze unused pitas.

Makes 8 small pitas
Nutrition
Calories:
66
kcal
Carbohydrates:
7
g
Protein:
2
g
Fat:
4
g
Saturated Fat:
2
g
Polyunsaturated Fat:
1
g
Monounsaturated Fat:
1
g
Trans Fat:
1
g
Cholesterol:
10
mg
Sodium:
328
mg
Potassium:
63
mg
Fiber:
1
g
Sugar:
5
g
Vitamin A:
125
IU
Vitamin C:
1
mg
Calcium:
29
mg
Iron:
1
mg
Interested in More Recipes?
SUBSCRIBE to get recipes delivered to your email 🙂