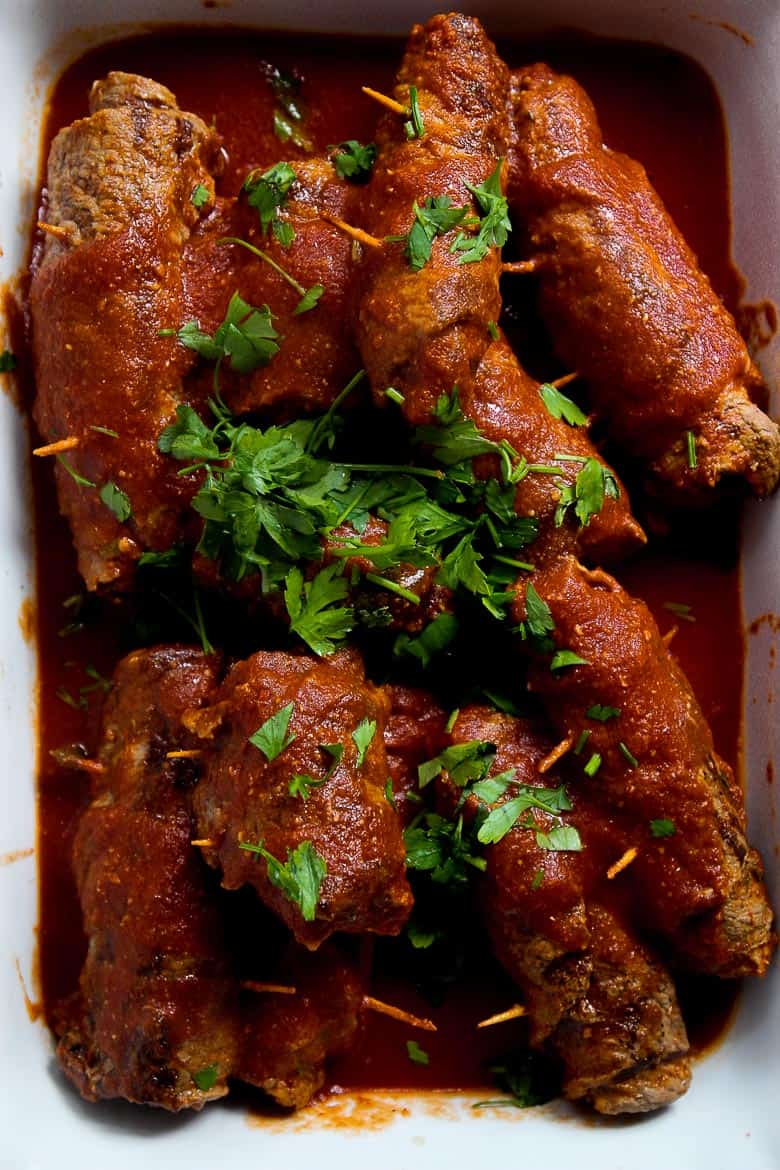 This recipe for Italian beef braciole is made from thin slices of beef and a few other simple ingredients like garlic, parsley, and grated cheese. The secret is a long and slow cooking time and you will get the most tender and tasty braciole ever! This is a must try recipe!
What is Italian beef braciole?
Braciole is a meat roll stuffed with various ingredients. At a minimum, you should use parsley, garlic, and grated cheese (with salt and pepper of course). Several other ingredients could include breadcrumbs, pine nuts, and other meats (see variations below).
In Southern Italy, people rarely had access to tender meat, so they either ground it for things like sausage and meatballs or they made things like braciole, which is slow cooked to tenderize an otherwise tough piece of meat. It is a childhood favorite of mine! Very easy to make too especially if you can get the meat already sliced (commonly found in the Philadelphia area).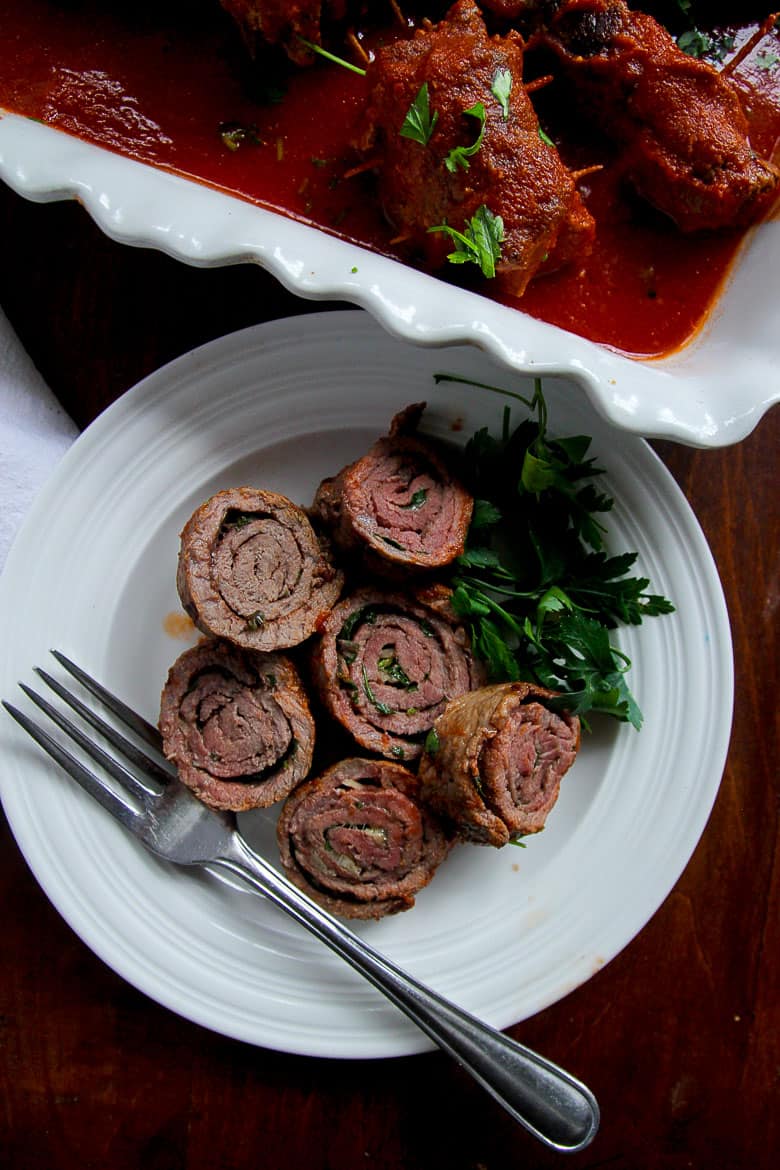 How long do I cook beef braciole?
Make sure to cook braciole long enough to tenderize it. It needs a long and slow cook. On the stovetop, you should cook it on very low for 1.5 to 2 hours. Using a crockpot, cook on high for 4 to 5 hours or on low for about 8 to 9 hours. It is not unusual for Italians to make a large pot of pasta sauce and add braciole, Italian meatballs, and Italian sausage.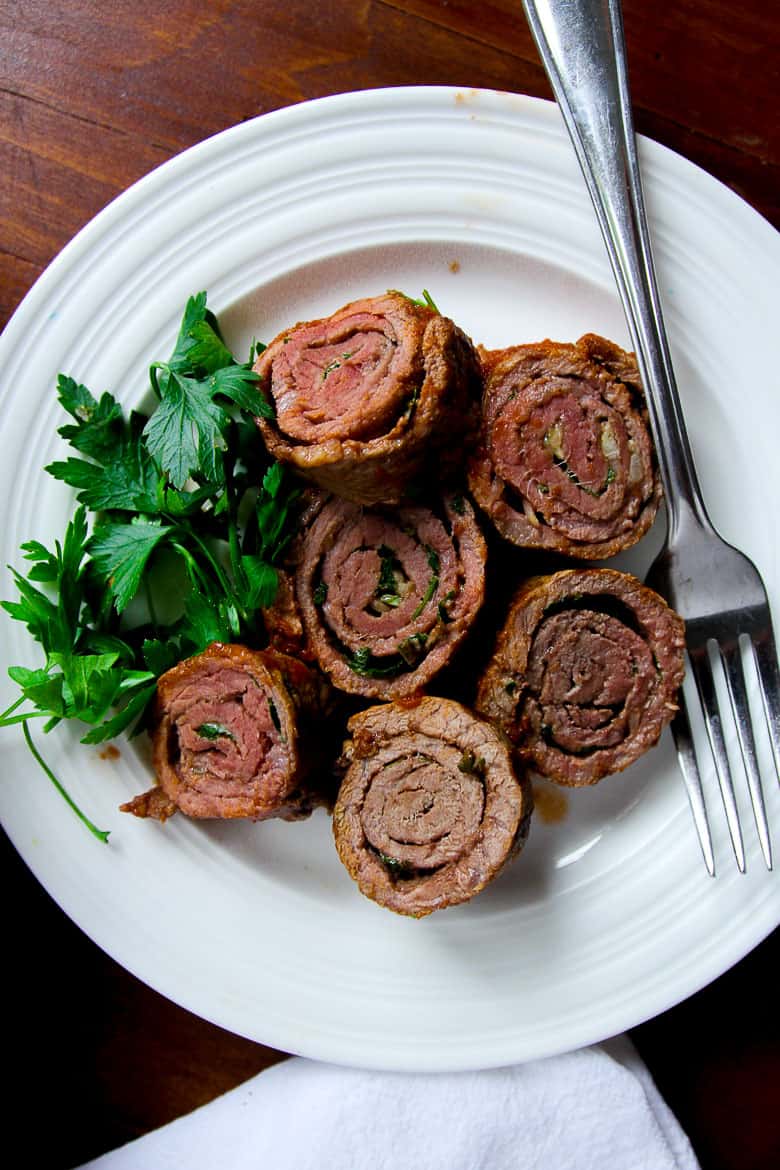 What kind of meat should I use to make braciole?
Because braciole is cooked long and slow, you are able to turn a tough piece of meat into a tender delight! I use top round, which comes already sliced at my local grocery store. You can also purchase London Broil and ask your butcher to slice it thin for you (or you can do this at home and pound it thinner after slicing).
How to: An overview of the step by step process to make braciole:
This is a really easy recipe to make!
The hardest part is waiting for it to cook
To save time, purchase pre-sliced meat.
If you can't find pre-sliced meat, start by slicing your meat very thinly (¼ inch thick or less); slices can be about 10 t0 12 inches in length.
Prepare your other ingredients: finely minced garlic, finely chopped fresh parsley, and grated cheese.
You'll also need olive oil, salt and pepper.
On a clean work surface, lay out your meat slice and drizzle with olive oil, salt, and pepper
Add grated cheese, parsley, and garlic on top
Roll up each piece tightly and secure each roll so they do not open (use a toothpick or some butcher's string to fasten/secure)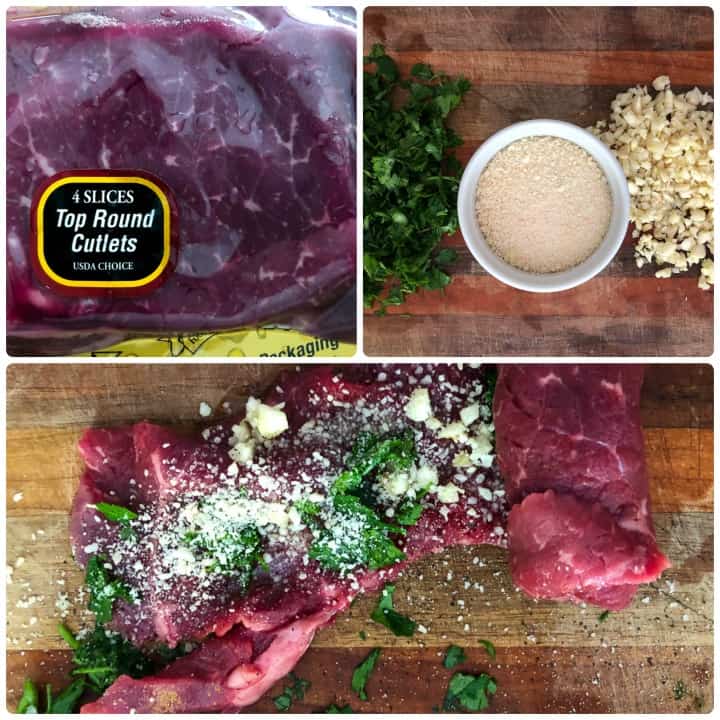 As you finish rolling each piece of braciole, place them all together into a clean baking dish or other dish large enough to hold all the pieces.
To begin cooking, we start by browning each piece in a large frying or grill pan, over medium high heat (I cooked for one minute, each side)
After you brown all pieces, you must continue to cook the braciole in pasta sauce (or gravy or spaghetti sauce, whatever you call that delicious red stuff made from tomatoes)
Cook for at least 1.5 to 2 hours on very low on a stovetop (4 to 5 hours on high in crockpot or 8 to 9 hours on low in crockpot)
Note photo shown below in collage (bottom right, sliced meat) is after cooking for 1.5 hours in pasta sauce over low heat (tender and delish!)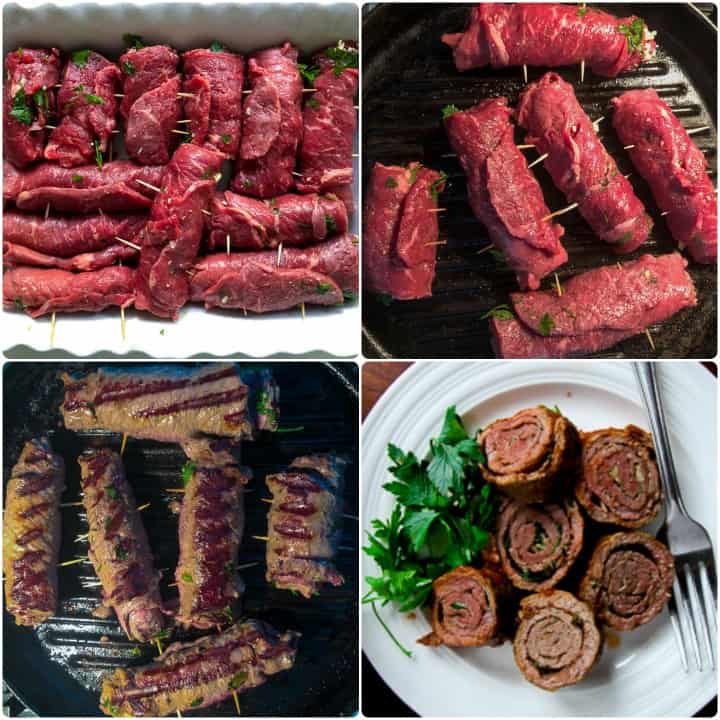 Variations in braciole filling
I like my braciole pretty simple, filling wise. A listing of common filling ingredients include:
salt, pepper
fresh parsley
grated cheese (eg, parmesan)
sliced Italian meats like prosciutto
sliced cheeses (mozzarella and/or provolone)
sausage crumbles
breadcrumbs
pinenuts
raisins
Next time, I am going to add mozzarella and prosciutto to mine!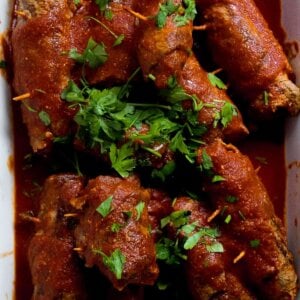 Italian beef braciole
This recipe for Italian beef braciole is made from thin slices of beef and a few other simple ingredients like garlic, parsley, and grated cheese. The secret is long and slow cooking to get the most tender and tasty braciole ever! 
Print
Pin
Rate
Ingredients
4

pounds

(

1.81

kg

)

top round steak (London broil or beef cutlets)

sliced thin (about 16 pieces)

10 to 12

cloves

(

16

cloves

)

garlic

minced

¼

cup

(

25

g

)

grated cheese (parmesan)

up to ½ cup

1

bunch

(

1

bunch

)

fresh parsley

finely chopped

2

teaspoons

(

1

tbsp

)

salt

(this is an estimate for all pieces, I simply lightly sprinkle each piece)

1

teaspoon

(

2

teaspoons

)

pepper

(this is an estimate for all pieces, I simply lightly sprinkle each piece)

¼

cup

(

54

g

)

olive oil

for frying and to drizzle

2

quarts

(

1.89

l

)

pasta sauce

16

(

16

)

toothpicks

for closing up/securing the rolls of meat
Instructions
Place a slice of beef (should already have been sliced thin or pounded thin) on a clean work surface

Top with a drizzle of olive oil, and season with salt and pepper

Then top with minced garlic, parsley, and grated cheese

Roll the meat up into a tight roll and then secure tightly with a toothpick or butcher's twine

Repeat this process until all the meat slices have been seasoned and rolled up.

Set a grilling or frying pan on the stove and heat over medium-high heat

Add a few tablespoons of olive oil to the pan and then add the meat rolls (do not overcrowd the pan – you may need to do this in two batches)

Brown for about 1 or 2 minutes each side (depending on the power of your stove) and then set aside in a dish

In another pot (big enough to fit all of the braciole plus pasta sauce), add pasta sauce with the browned pieces of braciole and place over medium heat.

After the braciole and sauce have heated up (2 or 3 minutes), reduce flame to very very low, and continue to cook (barely simmering) for about 1.5 to 2 hours)

You may use a crockpot instead (4 to 5 hours on high or 8 to 9 hours on low)
Notes
Make sure to roll the beef fairly tightly and secure well with toothpicks or butcher's twine
Make sure you cook these long enough – the meat must be cooked long and slow to develop flavor and turn tender
Nutrition
Serving:
1
piece
|
Calories:
216
kcal
|
Carbohydrates:
7
g
|
Protein:
29
g
|
Fat:
8
g
|
Saturated Fat:
2
g
|
Cholesterol:
71
mg
|
Sodium:
1009
mg
|
Potassium:
842
mg
|
Fiber:
2
g
|
Sugar:
5
g
|
Vitamin A:
825
IU
|
Vitamin C:
13.6
mg
|
Calcium:
66
mg
|
Iron:
3.7
mg