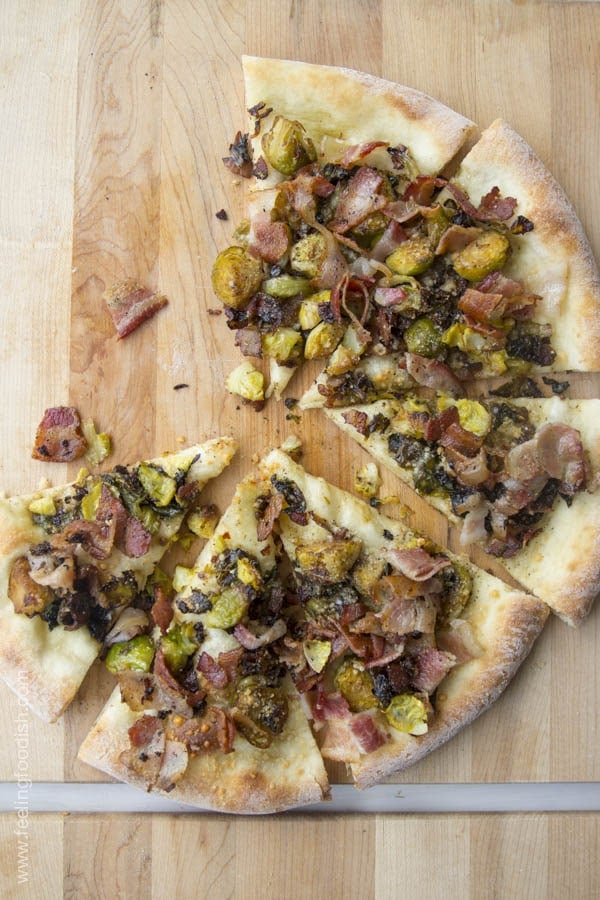 This is a marriage of two loves: white pizza and brussel sprouts.
I must admit, I'm fairly new at eating these beauties. I can distinctly remember a time when a cousin of mine was over (he's a fellow foodie), and we were talking vegetables. He brought up brussel sprouts with much excitement and I pretty much curled up my lip. He was very surprised, and now I know why.
I like to blame this on my Italian America upbringing...I think. Really, I'm not sure. Do they eat a lot of brussel sprouts in Italy?
I think what converted me is the cooking method: these have to be a bit charred in order to bring out the flavor. At least that's the way I like them. I also love them with a little bacon, but they are just as delicious without bacon if you're not a meat eater (although if you're not a meat eater, you probably haven't read this far.....)
I'm still making pizza weekly. This week it was this brussel sprout pizza, along with my husband's favorite buffalo chicken pizza, and plain ole regular for the kiddos. Serve a big salad beforehand and call it a meal!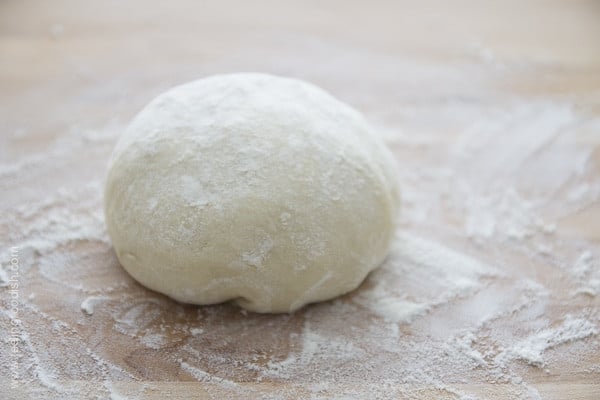 My dough was still a bit cold when I took it out of the fridge. It's a little harder to stretch when that happens, but the  oven spring is great when you use cold dough!
One thing that I learned this week is that I prefer balling my dough and then placing it in a plastic container instead of a ziploc baggie since it was a little difficult to take out of the bag, and I had to re-ball it (you can see that in the photo above...bottom of dough ball). It worked out okay though.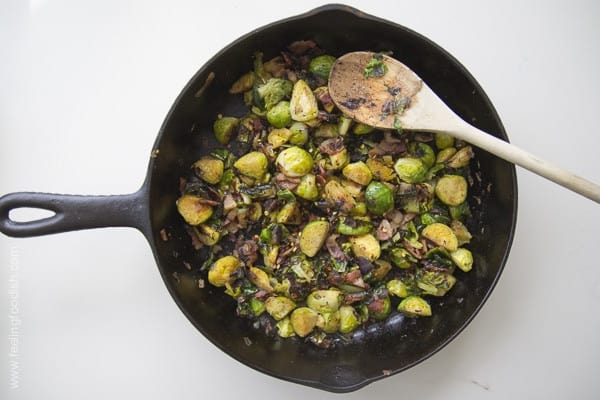 While I usually roast the brussel sprouts, I opted to cook them in the cast iron pan. I used to hate cooking in my cast iron pan, probably because I need to season it better, but I'll revisit that when I can use the outdoor grill again in the spring.
This pizza was cooked on a baking steel. I used my IR gun to test the temperature of my baking steel and it doesn't seem to get as hot as my baking stone did. I'm not sure if this is because this baking stone is not as thick as my stone was or if because of the materials used...the bottom of the pizza cooked fairly well though. So, it's all good!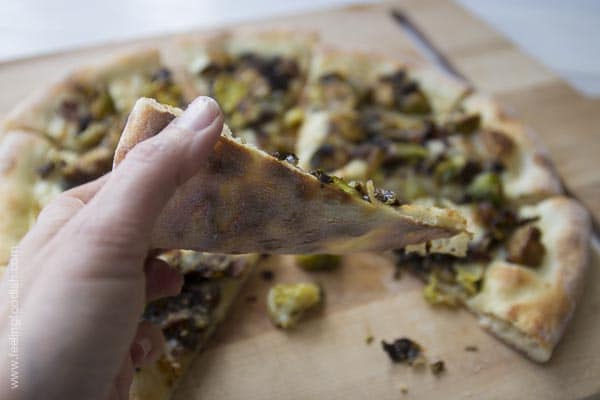 📖 Recipe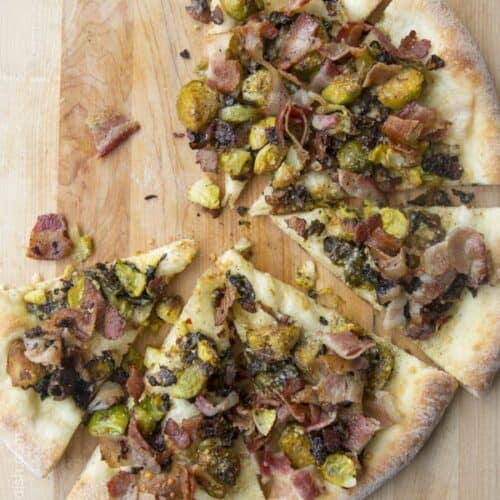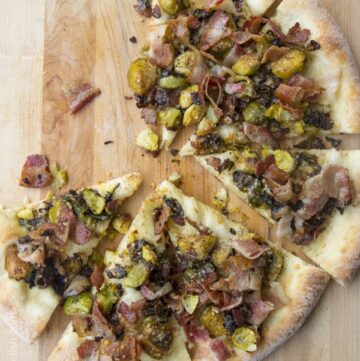 Brussel Sprout Lovers Pizza
This comforting and delicious homemade pizza is a unique and flavorful twist on a classic favorite. The pizza crust is topped with shaved Brussels sprouts, crispy bacon, red onion, and Parmesan cheese, lightly seasoned with a touch of spice to create a perfect balance of flavors. Whether you make it for a cozy night in or a family gathering, this pizza is sure to be a crowd-pleaser.
Ingredients
11.5

ounces

pizza dough

3

slices

hardwood-smoked bacon

cooked and chopped (or more if you'd like)

4

cups

brussel sprouts

¼

cup

red onion

finely diced

2

cloves

garlic

minced

2

tablespoon

olive oil

plus more for drizzling

3

tbsp

parmesan cheese

½

teaspoon

red pepper flakes

fresh ground black pepper
Instructions
Place pizza stone or pizza steel in oven (I place mine within 6 to 8 inches of top of oven) and preheat at 550 degrees

Remove dough from refrigerator and set on well floured surface; sprinkle flour on top and set aside while you prepare topping and heat oven

Wash and trim brussel sprouts, cut into halves or quarters (depending on size) and set aside.

In a cast iron pan (or nonstick pan), heat 2 tablespoons olive oil over medium-high heat, and add garlic and onions.

Stirring constantly to prevent garlic from browning, continue to cook only until fragrant - 30 seconds to a minute.

Add brussel sprouts and reduce heat to medium and continue cooking for about 10 to 15 minutes or until tender. Stir occasionally and scrape the bottom of the pan to prevent sticking.

Remove from heat and season with fresh ground pepper, and red pepper flakes.

Add ½ of the bacon and gently combine/stir.

Prepare your pizza peel by flouring it well (rub with flour) or cut a piece of parchment paper

Open the dough ball and stretch to 12 inches or 14 inches for very thin pizza

Set pizza shell on pizza peel or parchment paper, and then drizzle with a bit of olive oil.

Scatter brussel sprout on top and add the remaining bacon.

Sprinkle parmesan on top of pizza

Transfer pizza to pizza stone and reduce heat to 500 and bake for 5 to 7 minutes or until browned.

Remove from oven with pizza peel, slice and serve.
Nutrition
Calories:
521
kcal
Carbohydrates:
65
g
Protein:
17
g
Fat:
23
g
Saturated Fat:
6
g
Polyunsaturated Fat:
3
g
Monounsaturated Fat:
11
g
Trans Fat:
0.03
g
Cholesterol:
18
mg
Sodium:
1047
mg
Potassium:
539
mg
Fiber:
6
g
Sugar:
10
g
Vitamin A:
1031
IU
Vitamin C:
101
mg
Calcium:
117
mg
Iron:
5
mg
Interested in More Recipes?
SUBSCRIBE to get recipes delivered to your email 🙂