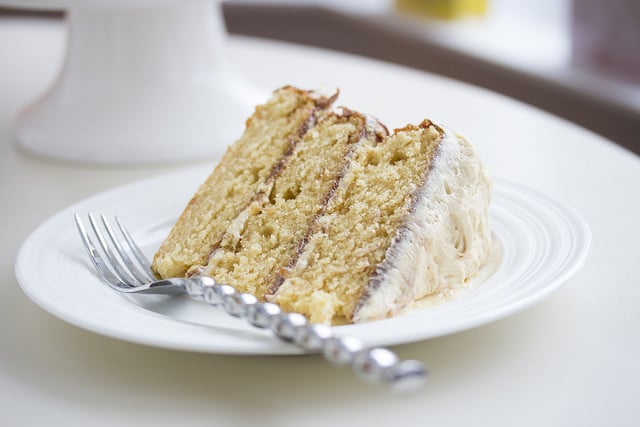 Goober cake? What the heck is that? Peanut butter cake! This one is with chocolate frosting.
Well, that's what I said while flipping through this beautiful cookbook that I picked up at Cracker Barrel - the perfect store to buy this "vintage" cake book. I must have skimmed through this book about 50 times so far trying to decide what to make first because everything looks so darn good!!
And yes, I know it's still January, but it was "somebody's" birthday this month and so we were celebrating by eating way too much cake...in the snowstorm.
But back to the book, something about these vintage cake recipes makes me feel like I'm back in time, a time that was less hectic and when you were more connected to the world around you. A time where I imagine relaxing on my imaginary little covered front porch on my imaginary porch swing with a big ole glass of iced tea in hand (and a good book of course). Doesn't that sounds like a great way to spend the day?
Well, back to reality and sub-zero weather!
But no worries, because this goober cake will warm your kitchen as you bake its peanut butter and chocolately decadence. Apparently, goober is the southern term for peanut and so, the cake is called goober cake and hails from the south.
One small glitch with this cake is I didn't wait long enough for the frosting or ganache to firm up, and so my cake looked like a science fair volcano project! Hence, the single photo of the cake slice, but let me tell you - despite the aesthetics, this cake was good! Next time, I promise to be more patient (eh, not my strong suit, I'll admit)
I'm looking forward to baking more from this book.
Recipe from: Vintage Cakes, by Julie Richardson also available here
📖 Recipe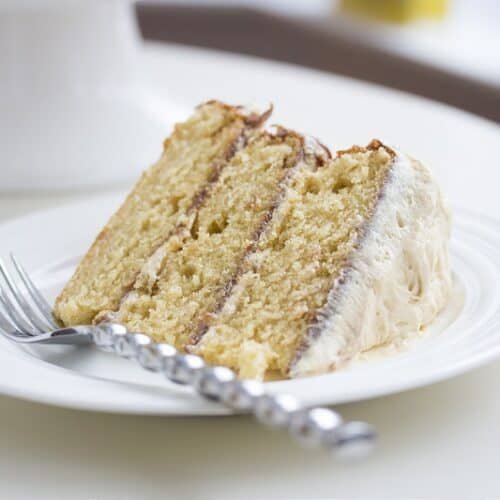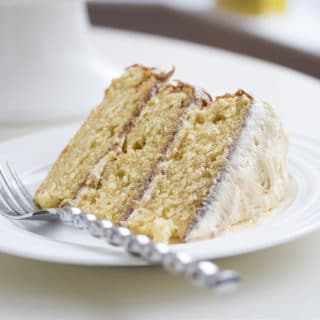 Goober Cake (Peanut Butter Cake)
Peanut butter cake layered with chocolate ganache and peanut butter buttercream frosting
Ingredients
3

cups

cake flour

(12 ounces) (I used all purpose)

1

tablespoon

baking powder

1

teaspoon

table salt

1 ¾

cup

brown sugar

(12.75 ounces)

½

cup

butter

(5 ounces)

½

cup

canola oil

1

tablespoon

vanilla extract

½

cup

crunchy natural peanut butter

4

eggs

1 ¼

cup

milk

(room temperature)
For the ganache
1

cup

semi-sweet chocolate

1

cup

heavy cream
For the frosting
½

cup

chunky natural peanut butter

6

tablespoons

unsalted butter

(3 ounces), room temperature and cut into small pieces

1

teaspoon

vanilla extract

½

heavy cream

2.5

cups

powdered sugar

(10 ounces)
Instructions
For the cake:
Preheat oven to 350 degrees and prepare 3 eight-inch round or square cake pans by greasing and flouring the pans and then set aside

Combine and sift the flour, baking powder, and salt in a small bowl and set aside

Add the brown sugar and butter to the bowl of a standing mixer and mix on medium speed until pasty

Drizzle in the oil and mix on medium speed for 5 minutes; scrape down the bowl intermittently to ensure everything is mixed well.

Add the peanut butter and stir to combine on low speed

Add eggs one at a time, and mix until incorporated

Add the flour mixture in 3 parts to the mixer alternating with the milk in 2 parts, beginnining and ending with the flour; do not overmix. Mix only until flour has been incorporated

Divide batter evenly among the 3 pans and bake for 28 to 33 minutes

When finished, remove cakes and cool in the pans for 30 minutes and then invert on wire rack to finish cooling right side up
For the ganache
Pour chocolate into a heatproof bowl

Heat the heavy cream in saucepan over medium heat until simmering; promptly remove, pour over semi sweet chips, and cover with dish or lid to trap the heat for approximately 5 minutes

Remove cover and stir well beginning in the center of the mixture

Allow the mixture to cool for 3 to 4 hours to thicken (unless you would like to use it as a glaze in which case it will be ready in about an hour)
For the frosting
Combine the peanut butter and butter in the bowl of a standing mixer and mix on medium speed for about 2 to 3 minutes

Slowly add remaining ingredients and continue mixing until fluffy, about 3 to 4 more minutes.

Frosting will keep at room temperature for 3 days or refrigerator for 7
To assemble the cake
Ensure that ganache and frosting have thickened to the appropriate spreading consistency (use the refrigerator to speed up the process)

If the frosting has been refrigerated for more than 1 hour or so, you may have to rewhip the frosting, and if the ganache has become to stiff, simply place it somewhere warm to soften.

Assemble the cake by covering each layer with a thin layer of ganache followed by one third of the frosting, then top with next layer

The sides of the cake can remain unfrosted
Nutrition
Calories:
697
kcal
Carbohydrates:
81
g
Protein:
11
g
Fat:
38
g
Saturated Fat:
15
g
Polyunsaturated Fat:
6
g
Monounsaturated Fat:
15
g
Trans Fat:
1
g
Cholesterol:
87
mg
Sodium:
270
mg
Potassium:
402
mg
Fiber:
3
g
Sugar:
56
g
Vitamin A:
524
IU
Vitamin C:
0.2
mg
Calcium:
137
mg
Iron:
2
mg
Interested in More Recipes?
SUBSCRIBE to get recipes delivered to your email 🙂