This is a very easy recipe for authentic Italian homemade pasta (spaghetti) sauce. The sauce is slow cooked (stovetop or in slow cooker/crockpot) over a period of several hours. It can be made with or without meat (I prefer the latter). Ingredients include tomatoes, onion, garlic, salt, pepper, olive oil, fresh basil, and a pinch of hot pepper flakes.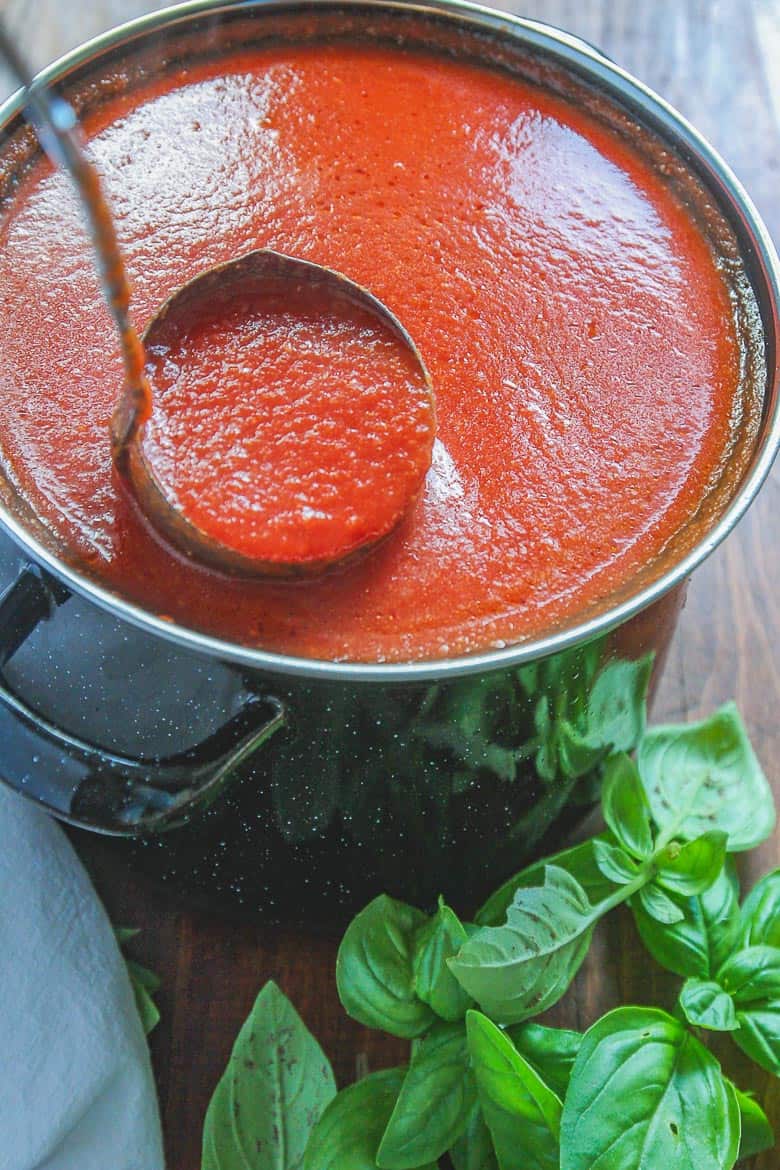 How to make spaghetti sauce
I absolutely love to make this super easy homemade spaghetti sauce in large batches because I like to freeze some so I have sauce at hand at all times. Not only is this so easy to make, it's just so much better than any store bought sauce. It's much cheaper too. Win, win!
At the time of this writing, I buy 2 very large cans (6 pounds plus!) of peeled tomatoes for about $4 each. Considering the small cost of other ingredients, this translates to a cost of about **$2** for every quart of delicious homemade spaghetti sauce.
And, no preservatives or gross ingredients!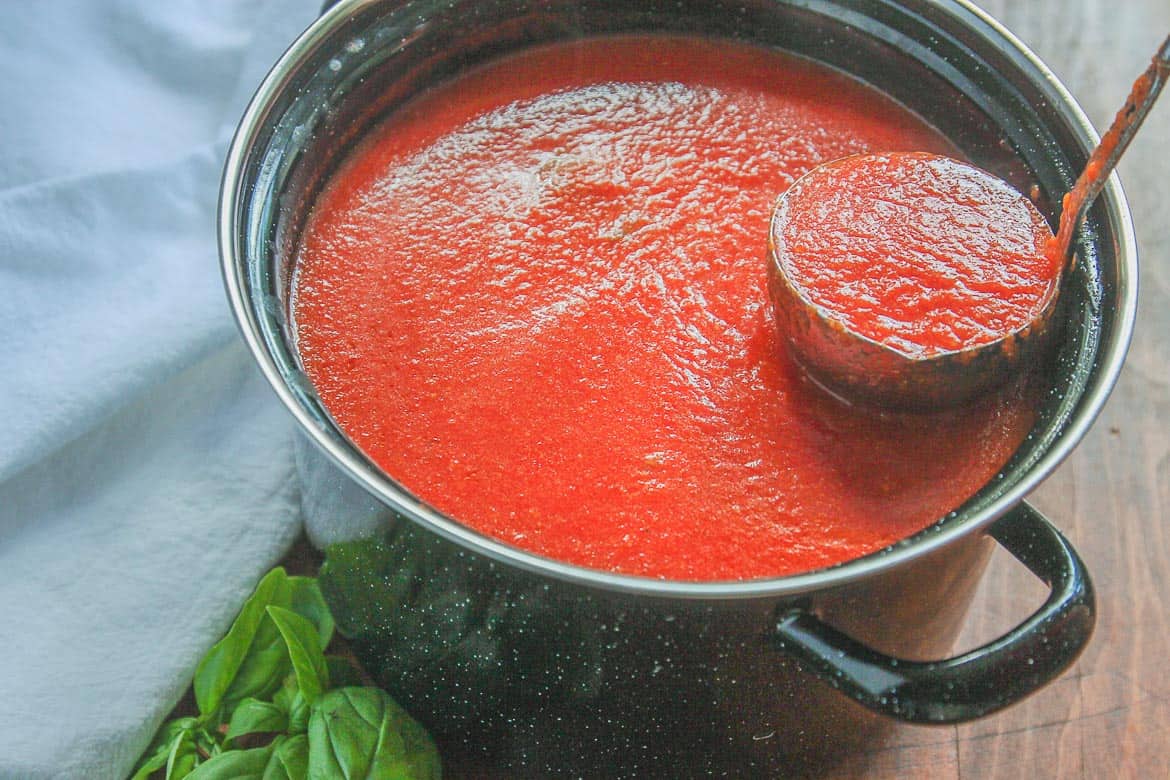 Easy step by step for making spaghetti sauce at home:
Set cans of tomatoes on counter and use can opener to open. Then using blender (or food mill, which is much more work but useful to ensure seeds are removed), puree the tomatoes along with the juices/puree in small batches. My Vitamix blasts away the seeds so I no longer use a food mill.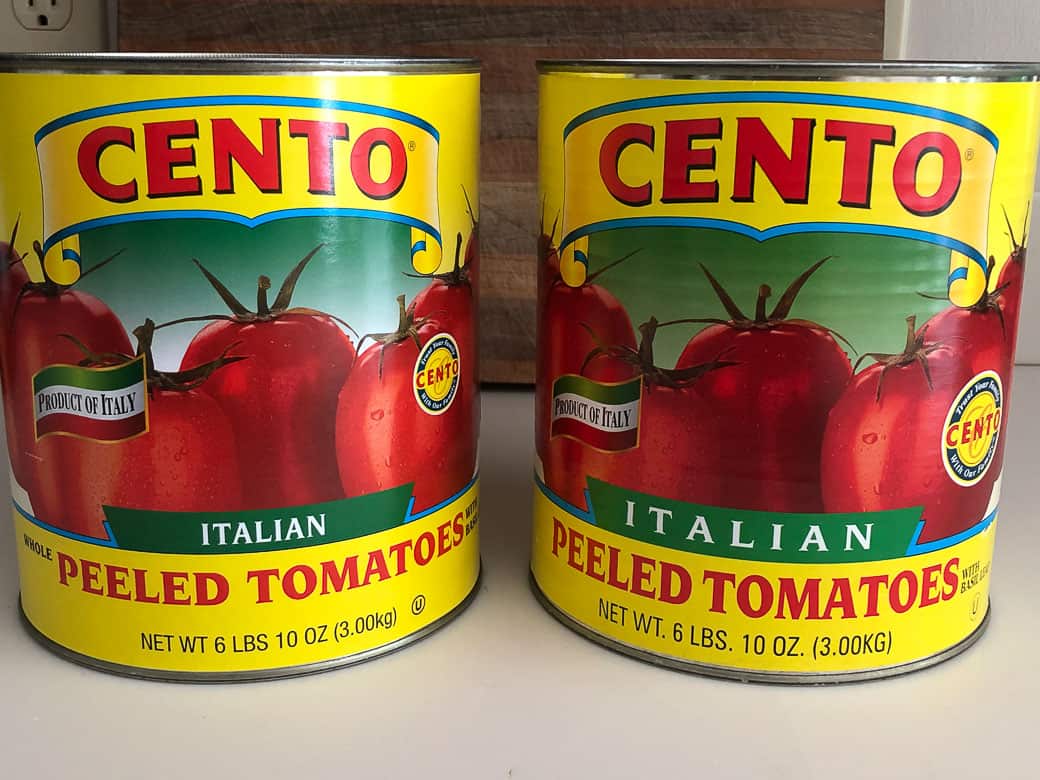 Set onion and garlic on clean work surface and get ready to peel and chop into large pieces to make pureeing easier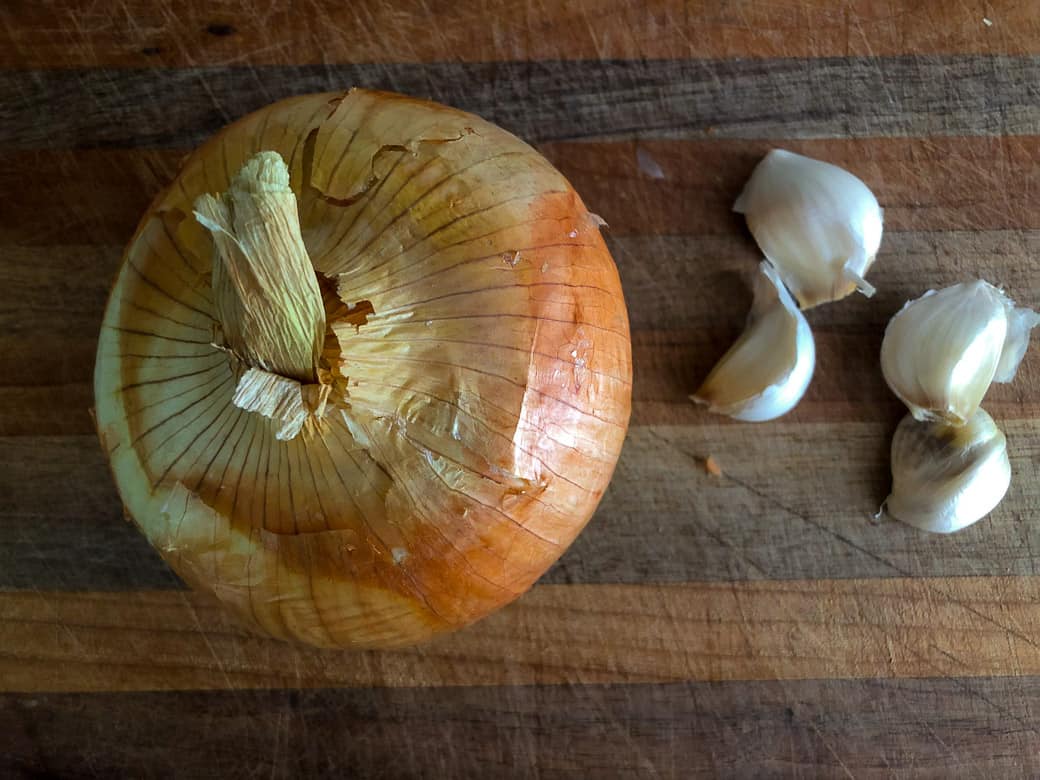 Chop onion and peel garlic
Place the chopped onion and garlic in blender and add oil (not shown) and puree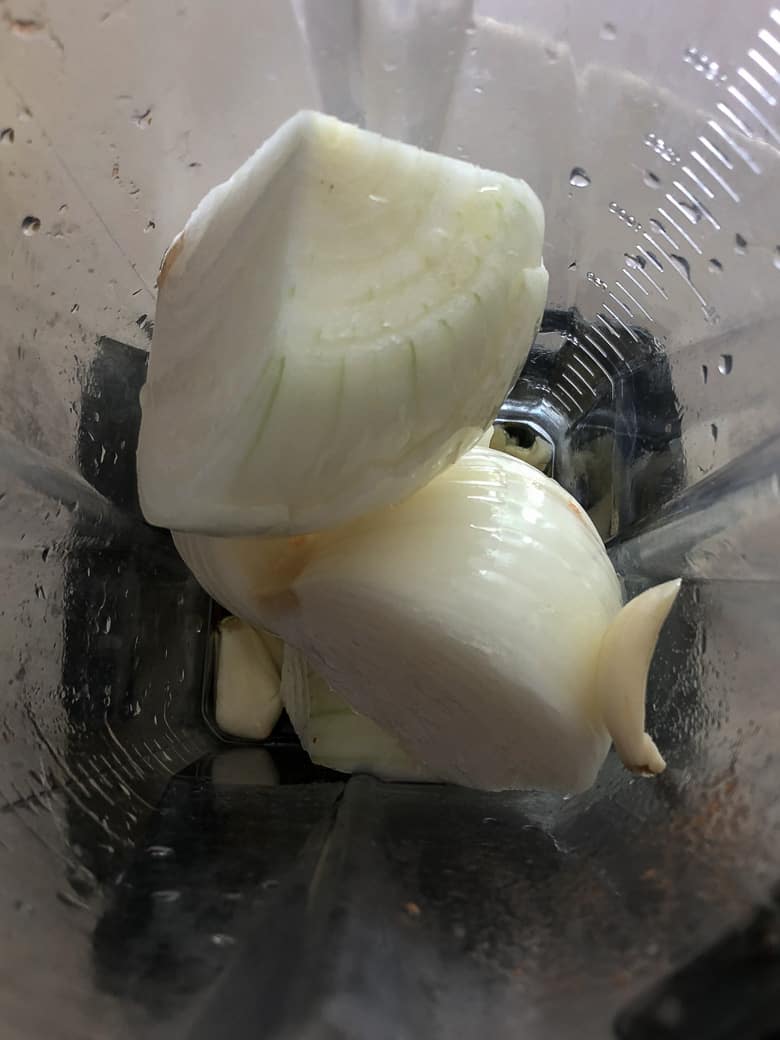 Here you can see all the ingredients in my crockpot:
Pureed tomatoes
Pureed onion, garlic (with olive oil)
Red pepper flakes
Salt
A bit of sugar
Lots and lots of fresh basil!!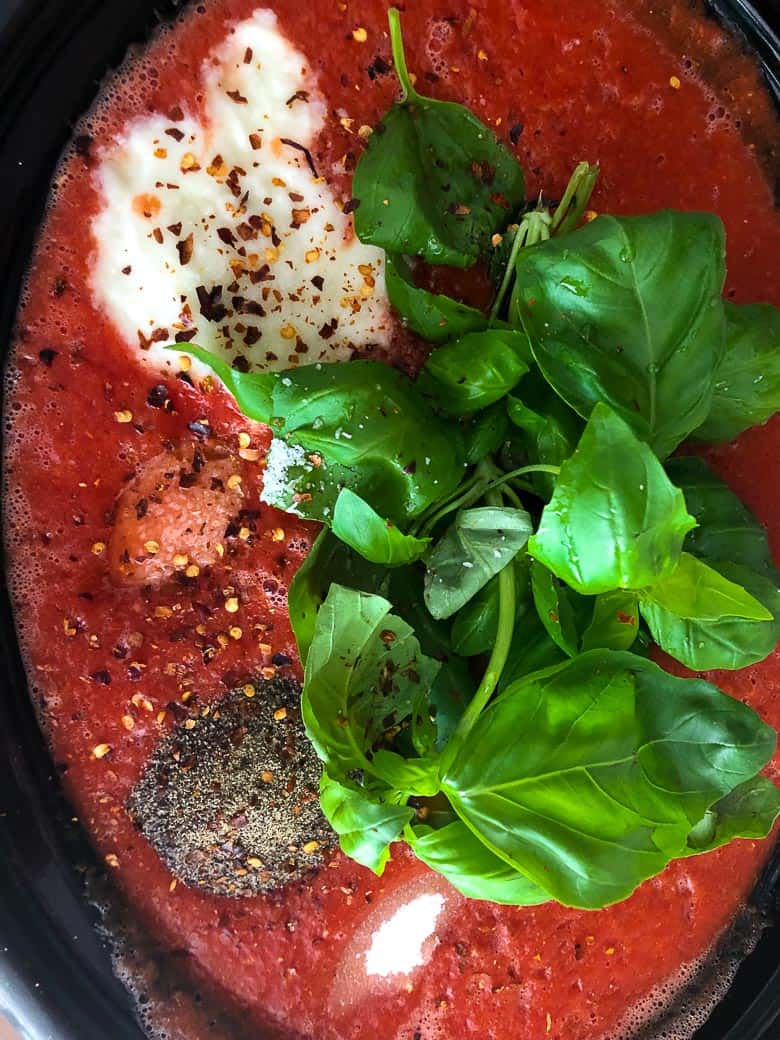 Almost done!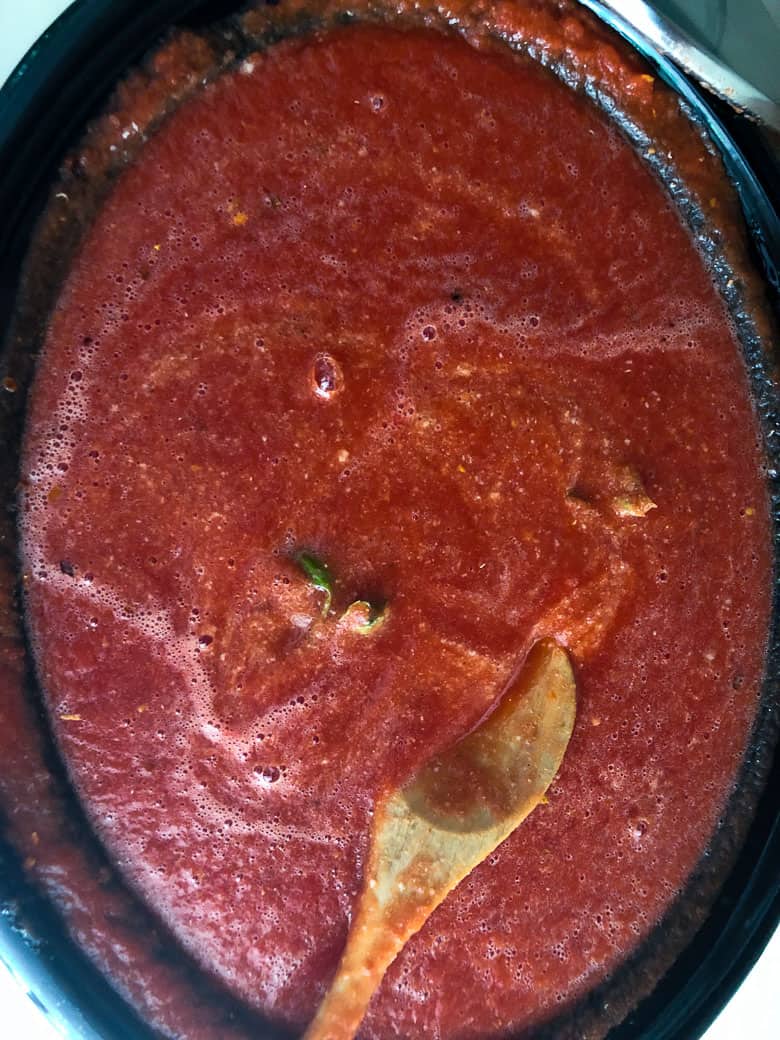 Tips for making delicious spaghetti sauce
I like my sauce very tomatoey so I don't add meats but many people do!
The most popular meats to add in the Italian American community would be meatballs, fresh Italian sausage (sweet or hot), and braciole.
Experiment with different brands of tomatoes. We really like the Cento brand (this is not a sponsored post) but there are other great brands as well
Use fresh basil! I know it can be difficult to find in some areas; if you can grow it in the summer and freeze it, that works very well to preserve the taste. Unfortunately, drying basil changes the flavor. (It is said that adding it at the end is superior since cooking destroys the flavor; I have always added it at the early stage of cooking and it's delicious).
Use good olive oil and add more at the end to enhance the flavor even more.
Cool thoroughly before freezing.
Storing homemade spaghetti sauce
We always keep extra homemade sauce in the freezer. I use quart sized (and sometimes pint sized) containers to freeze sauce. I will typically use one quart of sauce per pound of pasta. It's a great way to ensure you always have a home cooked meal at your fingertips!
📖 Recipe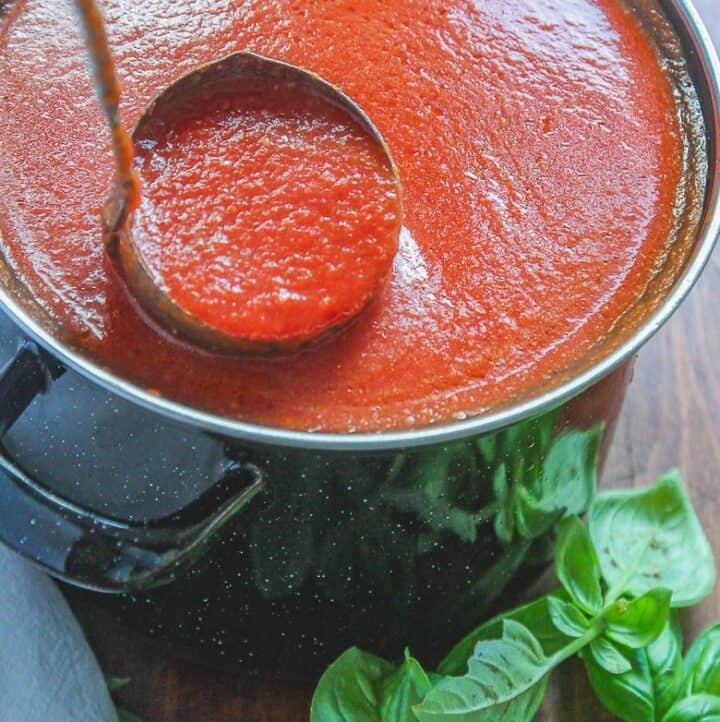 Easy homemade spaghetti sauce (pasta sauce)
A very easy and authentic Italian recipe for slow cooked spaghetti sauce. Easy to customize and contains very few ingredients. Makes about 5 quarts (4 to 6 servings each quart). Make now and freeze extra for later!
Ingredients
6

kg

whole peeled tomatoes (packed in tomato puree) (see notes)

I used 2 large cans (6 pounds, 10 ounces each can)

¼

cup

olive oil

1

large

onion

12

cloves

fresh garlic

2

tablespoon

salt

2

teaspoons

black pepper

½

teaspoon

red pepper flakes

or to taste

2

teaspoons

sugar

1

large bunch

fresh basil

may use frozen cubes (don't use dried basil)
Instructions
In a large blender, puree the tomatoes in batches and pour into a very large bowl (I needed to do this about 4 times before all my tomatoes were pureed)

In the now empty blender, add olive oil, garlic, and onion and puree

In a large pot (with thick bottom) or in a large crockpot/slow cooker, add the pureed tomatoes

Then, add the pureed olive oil, onion and garlic mixture

Add in the salt, peppers (black and red flakes) and the sugar

Lastly, add the fresh basil

In crockpot, cook on low for about 7 to 8 hours (IMPORTANT, leave the lid to the crockpot ajar to allow steam to escape and sauce to thicken!)

Alternatively, cook on stove top. Bring to a soft boil and then immediately lower flame to lowest setting possible and continue to heat over very very low flame for 7 to 8 hours. Leave lid to pot slightly ajar to allow steam to escape and sauce to thicken.

This recipe makes a LOT of sauce; you may scale it down according to taste by using this recipe as a guideline.

To freeze, cool thoroughly, pour the sauce into freezer safe containers or bags, and freeze.
Notes
please note that Italians typically don't measure anything when they make their pasta sauce! The only thing that can really mess this up is if you putt too much salt, hot pepper, or maybe garlic if you don't like garlic. Use this recipe as a guideline and cook from your heart. In my opinion, the most important parts are including these ingredients, choosing quality tomato products, and slow and long cooking for deep flavor. 
Nutrition
Calories:
55
kcal
Carbohydrates:
9
g
Protein:
2
g
Fat:
2
g
Saturated Fat:
1
g
Sodium:
752
mg
Potassium:
390
mg
Fiber:
2
g
Sugar:
5
g
Vitamin A:
260
IU
Vitamin C:
19.4
mg
Calcium:
66
mg
Iron:
2
mg
Interested in More Recipes?
SUBSCRIBE to get recipes delivered to your email 🙂