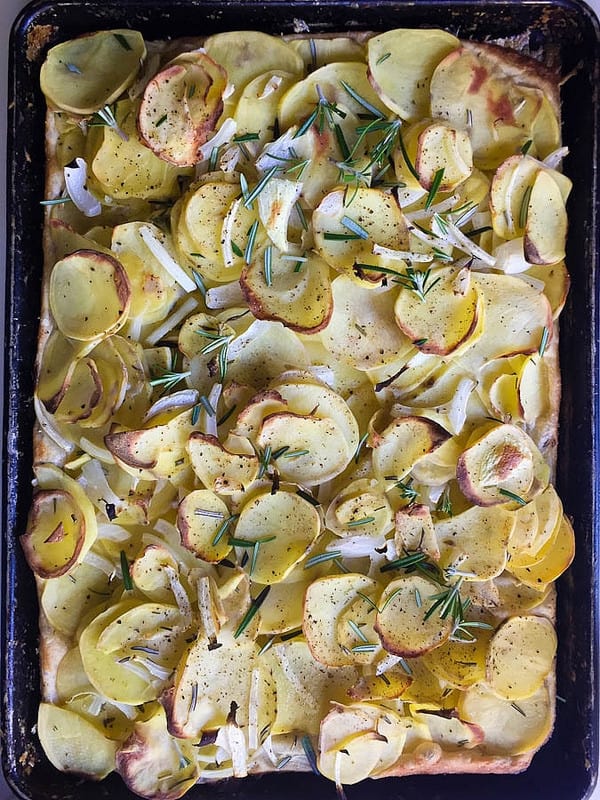 The Backstory
Here's another recipe that I've been wanting to make for a verrrry long time! Yes, a potato and onion pizza based on the famous Sullivan Street Bakery! I really should make an official list, because there are SO many more. I've seen this potato and onion pizza around the blogosphere and it caught my attention. But, this sat on the back burner for a while for many reasons. Having said that, I'm really glad that I tried it!
Potato and onion pizza: An Extremely Wet and Challenging Dough
First, I want to say that this dough is super challenging to work with, for even the most advanced bread baker! Although, I loved the challenge. The dough starts out as a batter (!!), and you will scratch your head thinking how in the world will this make a pizza base? After mixing for several minutes, it will transform. This, my friends, is a great lesson in gluten development. If you'd just like to use an easy-to-make pizza dough, try the NY dough.
Now, this is still a VERY wet dough but this is the goal and what happens after it has been sufficiently mixed: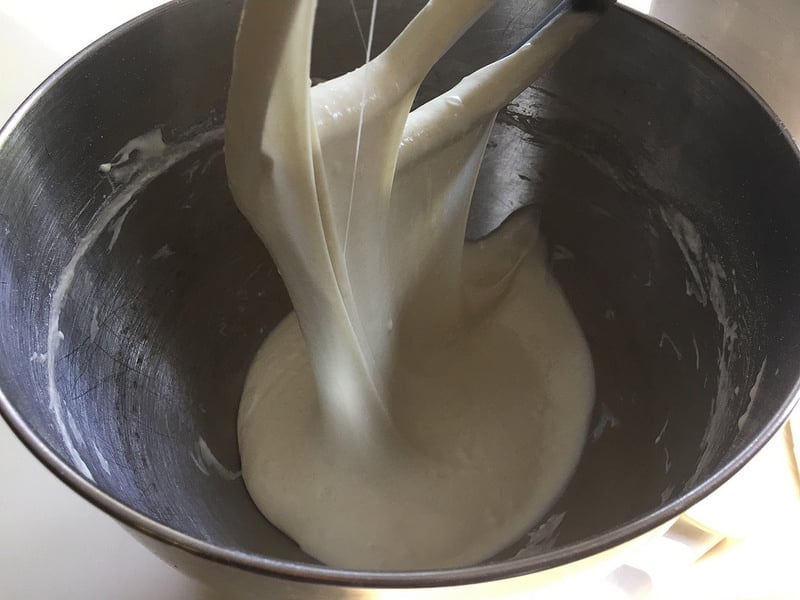 The dough then sits for proofing until it rises sufficiency.
After proofing, you will plop the dough onto a large pan (½ sheet pan) that is oiled (slightly). Warning: If the pan is TOO oily, you will have a very hard time stretching the pizza because it will basically just slide around. Don't say I didn't tell you:)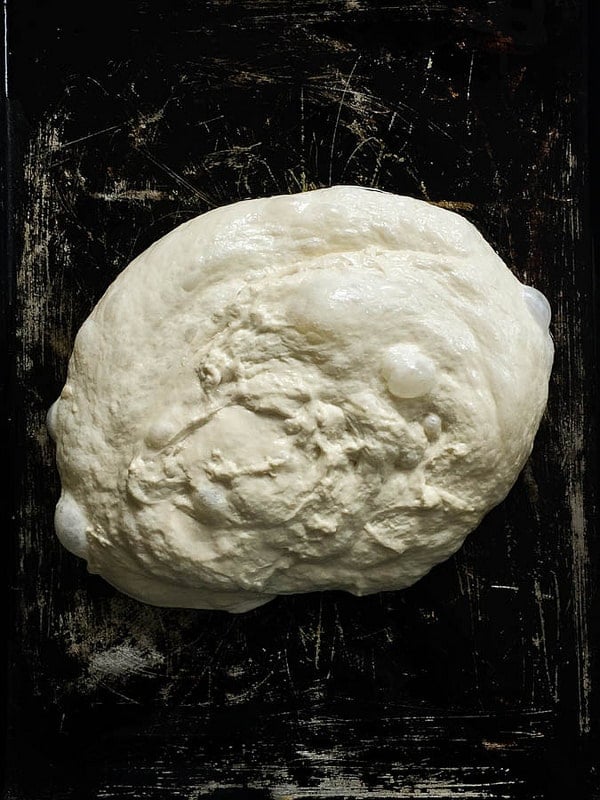 After stretching, you will let the dough rise again. While this is happening, prepare your potatoes.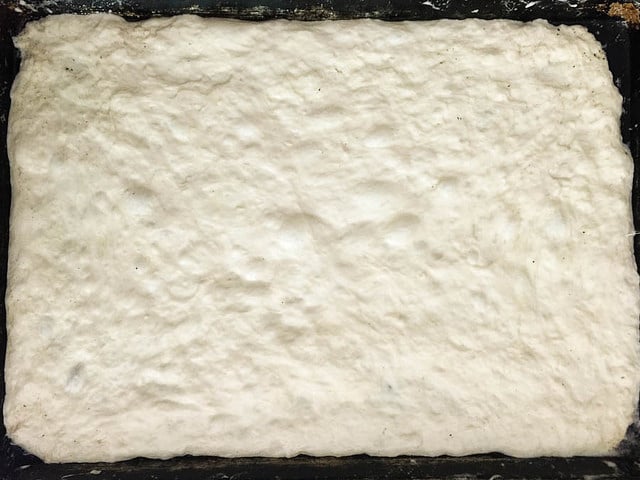 Prepping the Toppings
Now, the recipe that I used for this potato and onion pizza called for "about 4 pounds" of potatoes. I'm not sure how accurate that is compared to what Sullivan Street really uses in their bakery, but I found that amount of potatoes to be a little too much and so I would recommend using more like 3 pounds as Chad Robertson recommends in his recipe for potato pizza. Just tailor this according to how potato-y you want your pizza to be.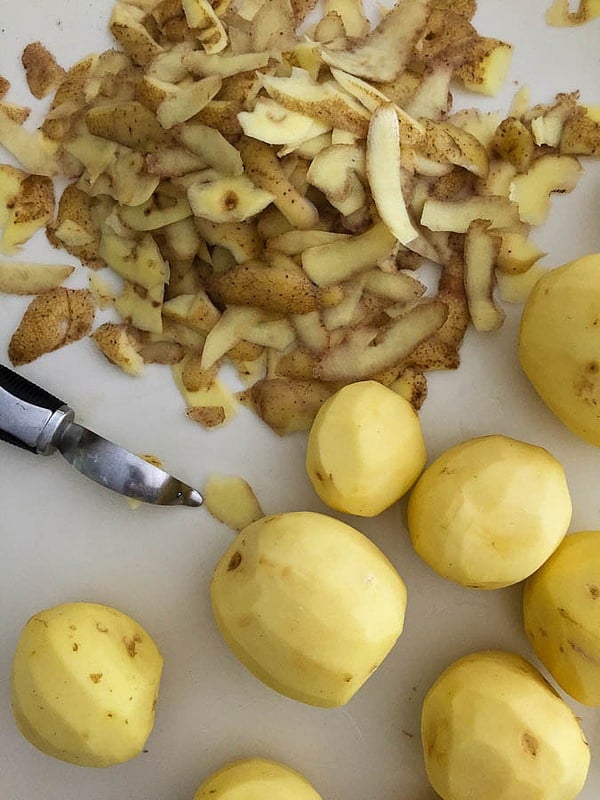 The potatoes are sliced very and tossed with onion and rosemary.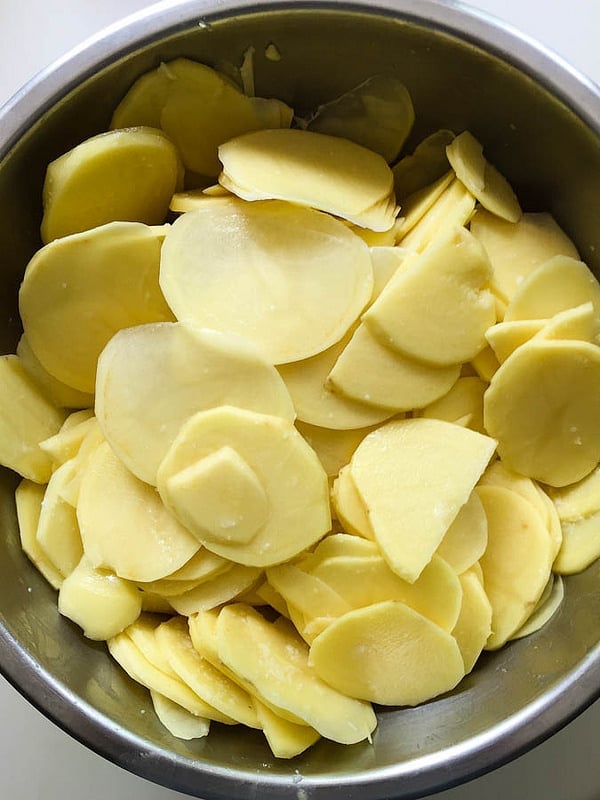 If you're not a lover of fresh rosemary, you could try using fresh thyme instead.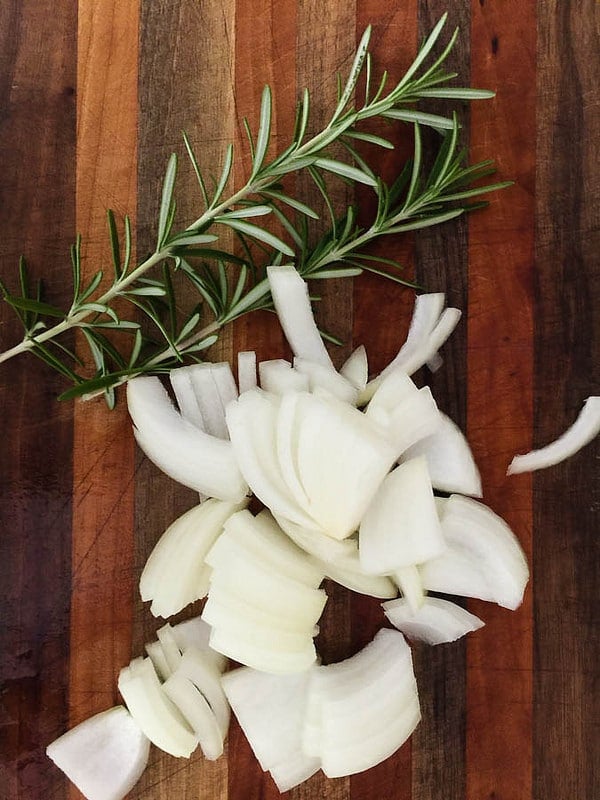 📖 Recipe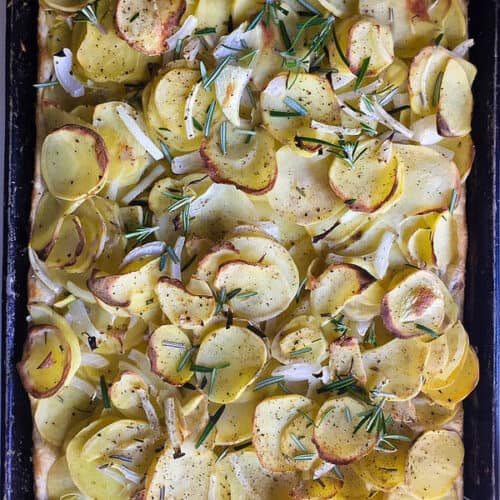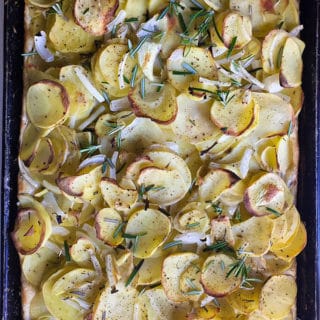 potato and onion pizza
A delicious homestyle pizza with sliced potatoes and onions and flavored with rosemary. Must try!
Ingredients
For the dough
1 ¾

cup

unbleached bread flour (260 grams)

(can also use King Arthur's all purpose flour, which has a high protein level)

1 ¼

cup

lukewarm water (285 grams)

½

teaspoon

sugar

¼

teaspoon

instant yeast

½

teaspoon

salt

extra virgin olive oil
For the topping
5 to 7

large

Yukon gold or other golden potatoes

(use more if you'd like lots of potatoes, less if not)

1

large

sweet or yellow onion, sliced

coarse salt

extra virgin olive oil

2

tablespoons

fresh rosemary, chopped
Instructions
For the dough
Combine flour and yeast into a mixing bowl of a standing mixer. Using the paddle attachment, mix on low while slowly adding the water. Beat for 3 minutes, until combined and then increase speed and beat until a very wet dough forms, about 20 minutes (see photo) Add sugar and salt and mix for another 3 minutes until dissolved.

Cover the dough and let rise for about 4 hours, until it is very light. Then, lightly coat a ½ sheet pan or two 9x12 pans with olive oil, and place dough on pan. Coat hands with olive oil and spread dough. Let dough rest for a few minutes every few minutes if it is difficult to spread. Cover the pan and let rise for about 1 hour until is it risen by half.
For the topping and baking
While the dough is rising, peel and slice the potatoes using a mandolin or the 2-millimeter blade of your food processor. Toss the potatoes with a sprinkling of salt and let them exude their liquid for about 15 minutes. Gently squeeze them dry and them toss with onion and rosemary

About 30 minutes before baking, preheat the oven to 425 degrees F, and arrange a rack on the top shelf for the half sheet pan or top and lower third shelves for 2 pans.

When the pizza is proofed, top with the potato mixture and brush with some olive oil. Sprinkle with more salt, and bake until pizza and potatoes are brown and crusty, about 40 minutes. Serve hot or cold
Nutrition
Calories:
257
kcal
Carbohydrates:
54
g
Protein:
10
g
Fat:
1
g
Saturated Fat:
1
g
Sodium:
174
mg
Potassium:
1108
mg
Fiber:
8
g
Sugar:
1
g
Vitamin A:
15
IU
Vitamin C:
30.5
mg
Calcium:
87
mg
Iron:
8.6
mg
Interested in More Recipes?
SUBSCRIBE to get recipes delivered to your email 🙂