This recipe is for an Italian vegetable stew called ciambotta (also referred to giambotta), which is popular in the Campania region of Italy. This ciambotta is slow cooked and is typically made from eggplant, zucchini, bell peppers, onions, tomatoes, potatoes, garlic, and lots of fresh basil. This typically serves as a side dish, but ciambotta can easily serve as a main meal.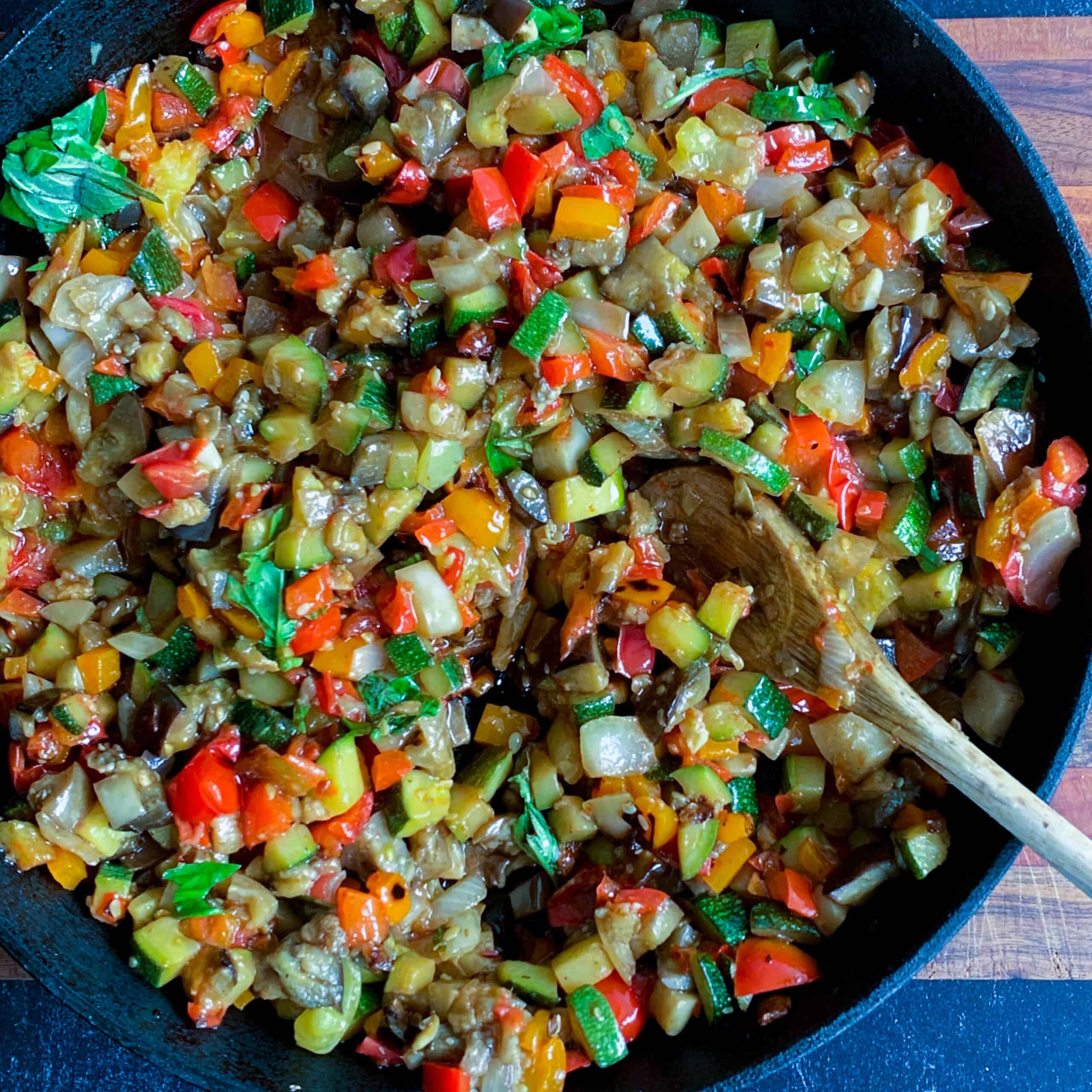 The Ingredients
Here is a snapshot of everything you will need (with the exception of the olive oil)! Doesn't that look yummy and super healthy? The beauty of this dish is that you can customize it to your liking and the ingredients to this dish vary by region in Italy. Although the most traditional ciambotta dish from Cilento (Campania) includes the ingredients shown here (less the parley), the recipe changes from one region to another. Feel free to add more or less tomatoes, zucchini, eggplant, etc etc.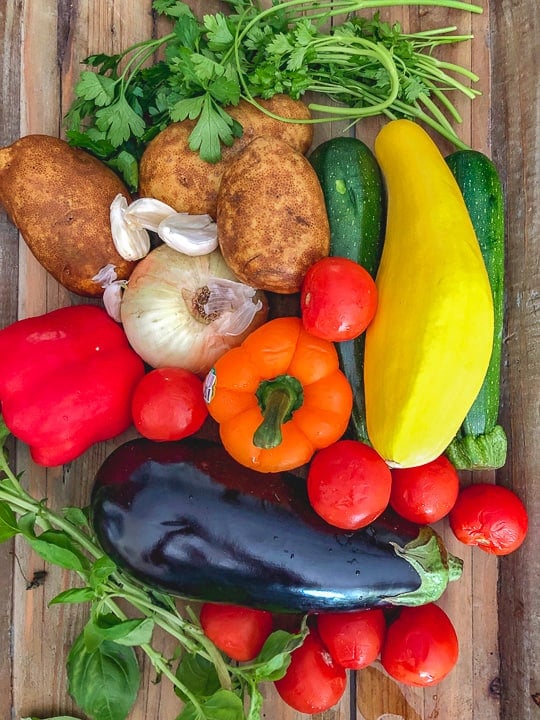 How to Make Ciambotta
Perhaps the hardest (if you can call it that!) part about making ciambotta is cutting all the vegetables. These vegetables were cut by my mother. When I remarked what a great job she did, she said that she had lots and lots of practice doing this in Italy, as this was a typical meal. Aside from cutting the vegetables, it's mostly a hands off process as you wait for the stew to cook down.
You start by cooking the vegetable that takes the longest time to cook, in this case, the peppers, down to the least amount of time.
Some people actually cook each vegetable separately, just so, and then add everything to a baking dish for final cooking in the oven.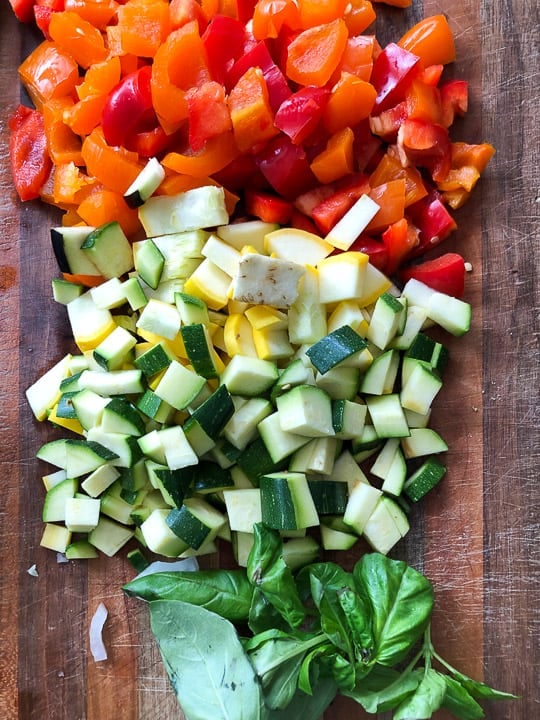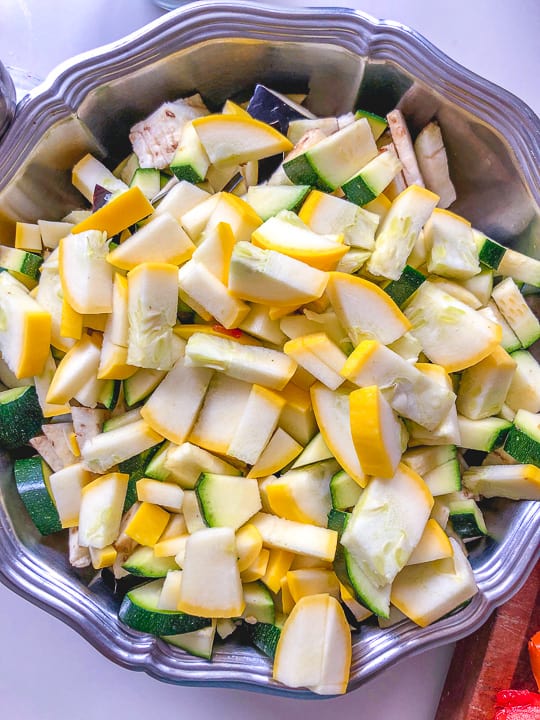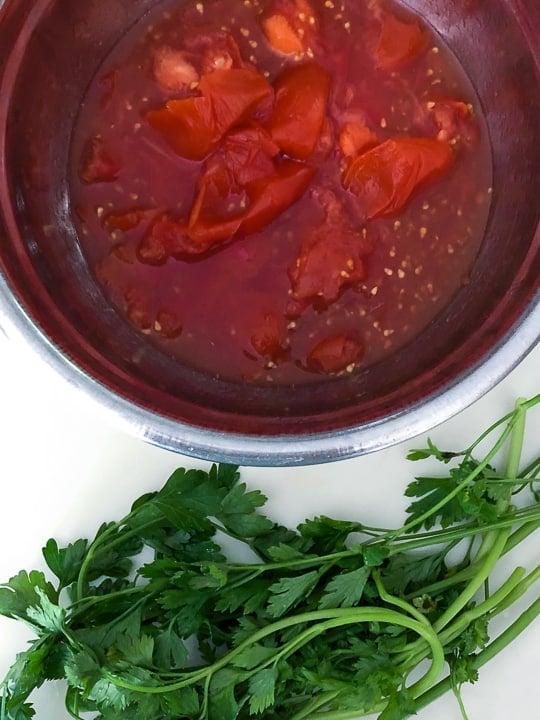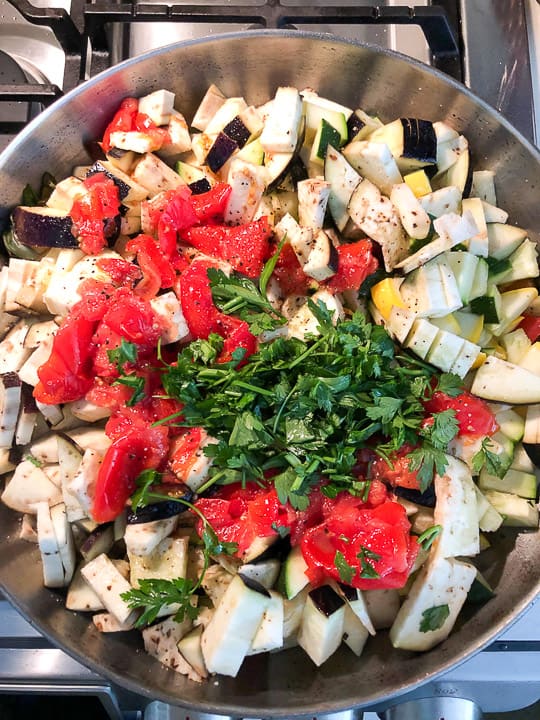 You'll know your ciabotta is finished when everything is very tender and the flavors have blended. At this point, take a taste and check if more seasoning are needed! One you see how good this is for you and how low calorie it is, you will eat without guilt!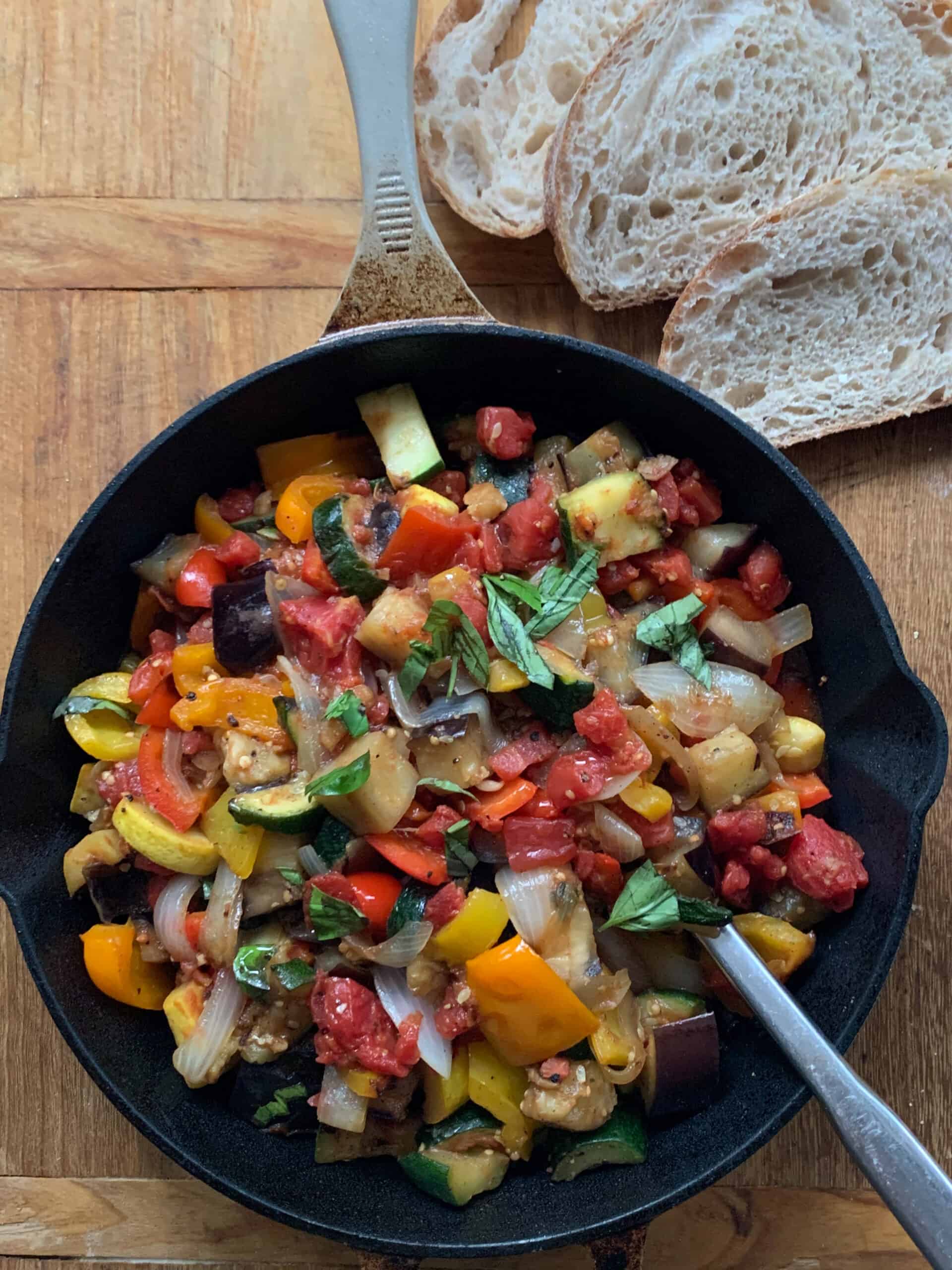 Tips and Suggestions
Use fresh vegetables
Chop your vegetables in similar sizes (Use larger chunks for a more rustic dish and smaller for a more gourmet look)
Slow cook everything until super tender
Season at the end of cooking with extra basil (on this particular day I added parsley too but basil is the clear winner here)
Use a good quality olive oil to start things off 
If you have extra time, you can cook each vegetable on its own and then toss together at the end.
For more information on ciambotta see the Wiki
📖 Recipe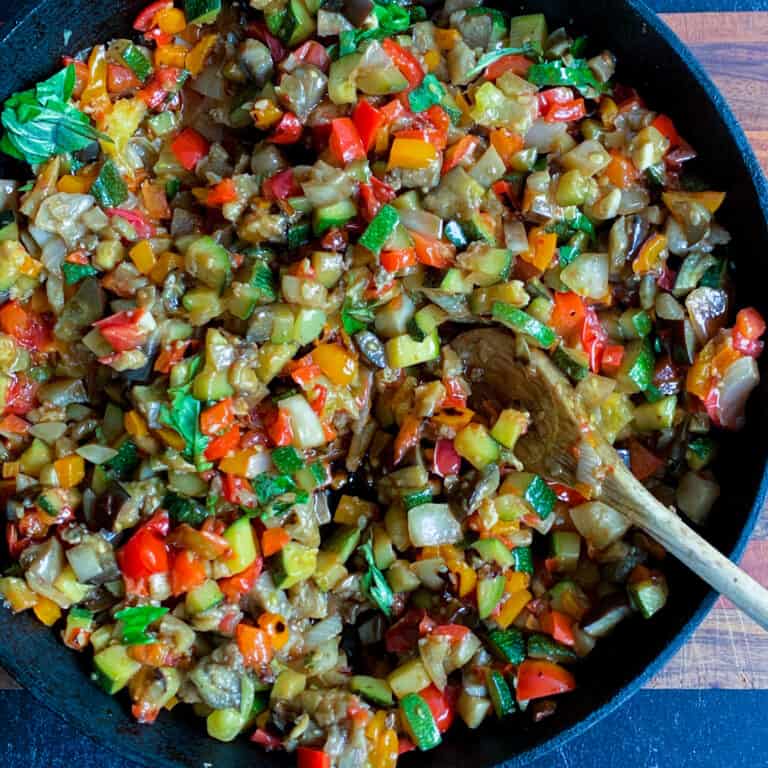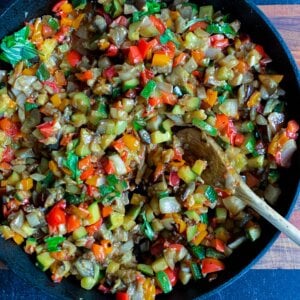 Ciambotta (giambotta)
This version of ciambotta (giambotta) is a cross between a ratatouille and a caponata - like an Italian vegetable stew. It is from the Cilento region of Italy. A great way to get lots of your vegetables in for the day! A garden fresh meal!
Ingredients
olive oil

to taste

1

medium

onion

diced

3

cloves

garlic

minced

2

medium

bell peppers

chopped

1

eggplant

chopped

3

small

zucchini

chopped

6

small

tomatoes

chopped

3

medium

potatoes

optional; cooked for about 10 minutes and chopped

1

bunch

basil

¼

teaspoon

red pepper flakes

optional but highly suggested!
Instructions
In a large deep frying pan or saute pan, coat the bottom with olive oil, and begin to cook onion, peppers, and garlic over medium high heat. Cook for about 4 or 5 minutes

Add zucchini, eggplant, and tomatoes, season liberally with salt and pepper, and continue to cook for another 10 minutes or so.

Add potatoes and basil, reduce heat to very low, and then cover pan and continue simmering for another 40 to 45 minutes (check periodically and if too much liquid accumulates from vegetables, place lid askew so the liquid cooks off a bit.

After 40 to 45 minutes, check seasoning and add additional salt and pepper if desired. Top with fresh basil and serve
Nutrition
Calories:
97
kcal
Carbohydrates:
21
g
Protein:
4
g
Fat:
1
g
Saturated Fat:
1
g
Sodium:
18
mg
Potassium:
826
mg
Fiber:
6
g
Sugar:
7
g
Vitamin A:
1655
IU
Vitamin C:
67.2
mg
Calcium:
52
mg
Iron:
3.3
mg
Interested in More Recipes?
SUBSCRIBE to get recipes delivered to your email 🙂