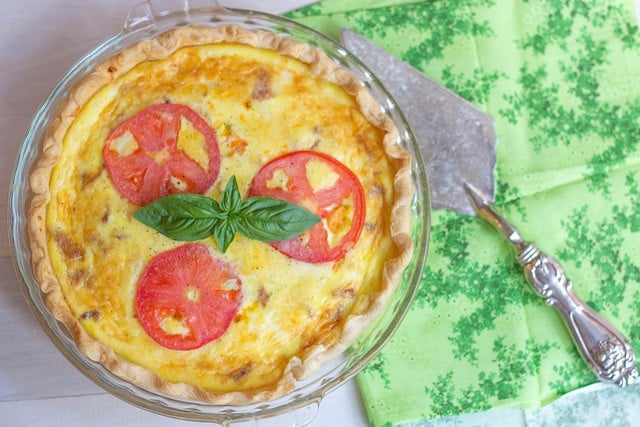 I've had quiche several times, and never really liked it until about 2 years ago, when I had quiche at a local country club. It was so light and custard-like, it was instant love.
Until then, most quiche I had was much cheesier, and much firmer in texture.  Replicating the dreamy quiche was going to be hard.
About a year later, a fellow classmate brought some homemade quiche to an end-of-year luncheon. We were all so hungry and everyone was drooling over her quiche, which looked so pretty with sliced tomato adorning the top. When we finally broke for lunch, her quiche proved to be the hit of the gathering.
We ALL asked her for the recipe and she just smiled and shrugged as if to say "recipe? – I just mix it all together". After some hesitation, she managed to list the ingredients: 6 eggs, a cup of milk and whatever cheese she had on hand (although she said that the Greyure cheese really makes the quiche good, as in quiche Lorraine). Her quiche didn't have any veggies or meat in it, just cheese. It was perfectly good just the way it was.
With that quiche in mind, I set out to try her method and came quite close to that insanely delicious country club quiche. Mmmmmm:)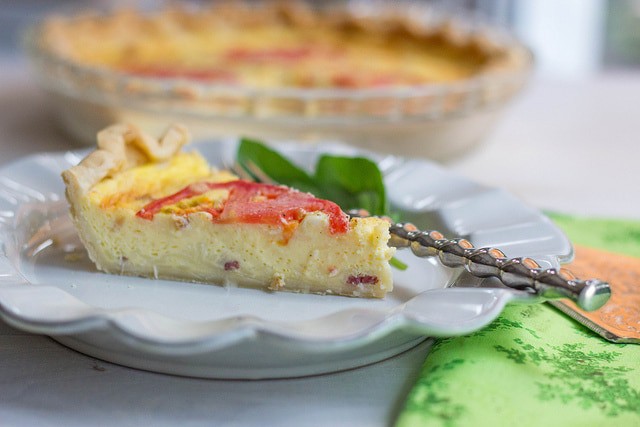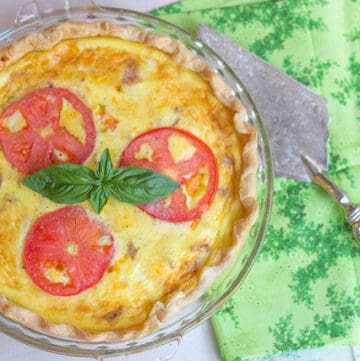 Ingredients
6

eggs

1

cup

milk or heavy cream

1.5

to 2 cups

(6 to 8 oz) shredded cheese (I used Gruyere and cheddar)

1

to 2 cups chopped cooked bacon

(or vegetable(s) of your choice, chopped) (I used about 1 cup)

Sliced tomato slices and fresh basil for garnish

(optional)

1

sheet refrigerated pie pastry
Instructions
Preheat oven to 350 degrees

Line a 9-inch pie dish with pie pastry and crimp edges for form a decorative edge

Whisk eggs and milk (or cream) together until combined and then add cheese and bacon

Pour mixture into pie dish and slide it into the oven.

Check the quiche at 30 minutes, and add tomato slices on top if desired

At the 30 minute mark, cover with foil if necessary (do not allow the top to get overly brown)

Bake for a total of 40 to 45 minutes until center has firmed up.

Garnish with fresh basil if desired