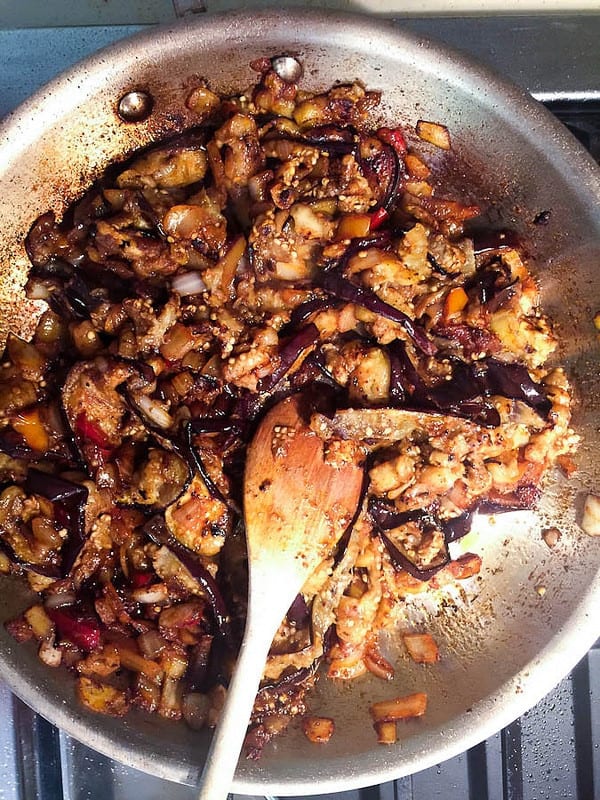 Israeli eggplant, I love you
In addition to eggplant, I am absolutely obsessed with hummus. So much so that I'm always looking to see if there is a recipe out there that trumps my favorite humus recipe. So far, there is not such a recipe, I'm very happy to say!  But while searching for such a recipe, I came across some other recipes that looked incredible. This Israeli eggplant was one of them!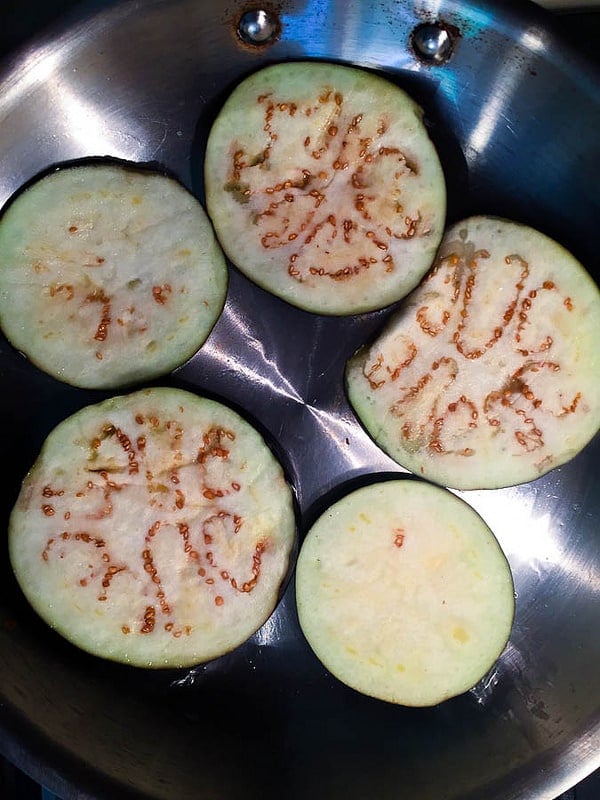 It's an easy enough recipe to make, although it can be a bit time consuming, so save this one for those days when you're not pressed for time (I know, I know, can be rare!). Open a bottle of wine, and just enjoy cooking.
Charring the eggplant
After thickly slicing the eggplant into rounds, you will salt it and let it sit over a paper towel lined cooking sheet or a wire rack for about 30 minutes. Then start frying. Now according to the recipe, you must really blacken the eggplant to the point where it is charred/burned. As you can see, I didn't quite reach that point but I'll be more adventurous next time.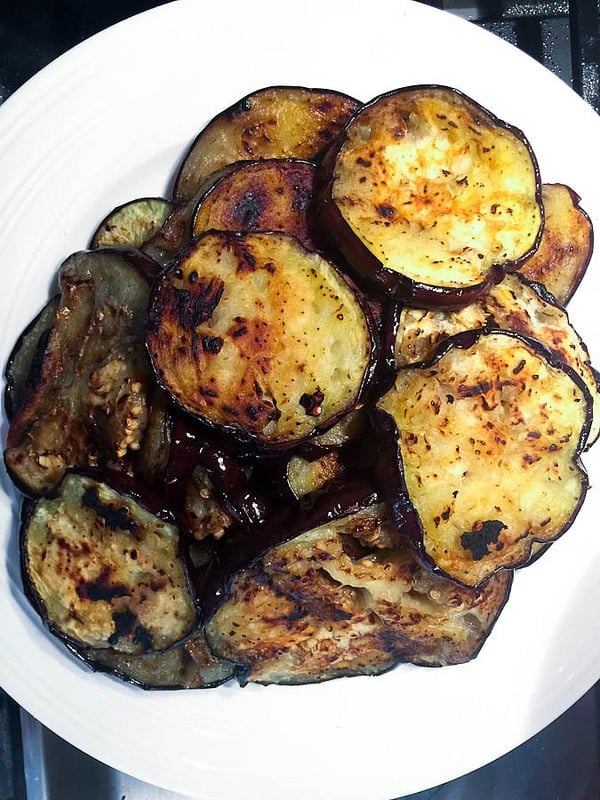 In the book with the original recipe, the cooked eggplant slices are blaaaaack. The eggplant was sliced a little thicker than I sliced mine so most of the eggplant (ie, the interior) is not charred. Since I sliced mine thinner, charring to the point of blackening would have left me with too much burnt eggplant. So, if you are gonna go for the black, make sure your eggplant slices are ½ inch or so.
Part 2 of twice cooked eggplant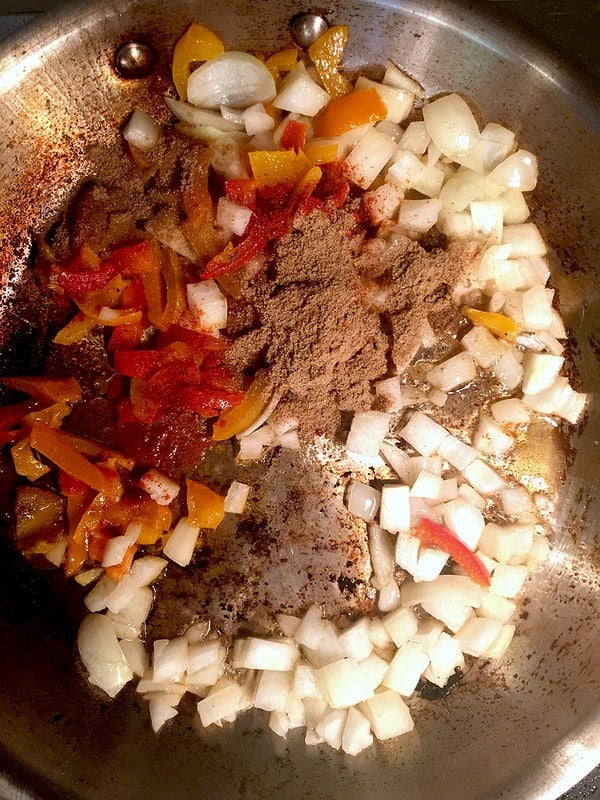 After cooking the eggplant and removing it from the pan, you will cook the remaining vegetables (onions, red peppers, garlic). Cook these to the point of soft and tender goodness, then you will add back the eggplant and cook it again. It will look as shown in the first picture
Finishing the eggplant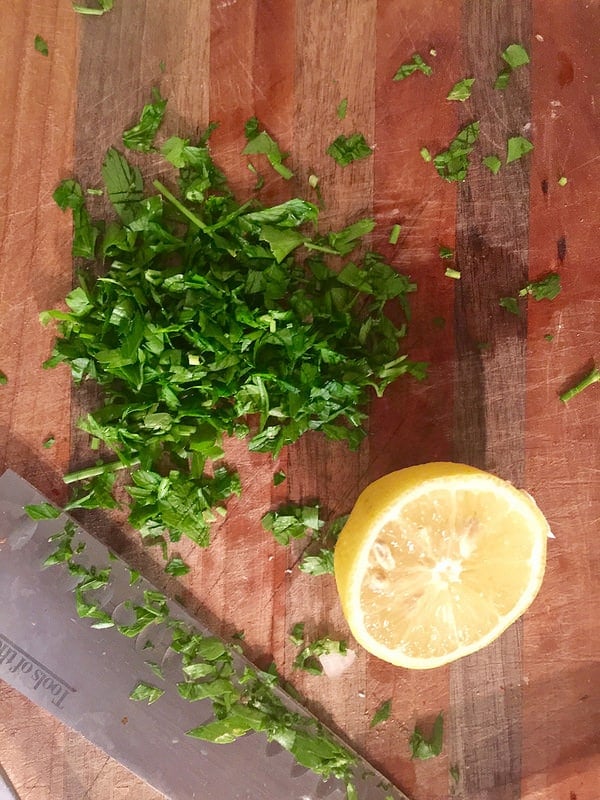 To finish, squeeze some fresh lemon juice and top with chopped parsley.
I served mine with pocketless pita (ohhhh yum!!)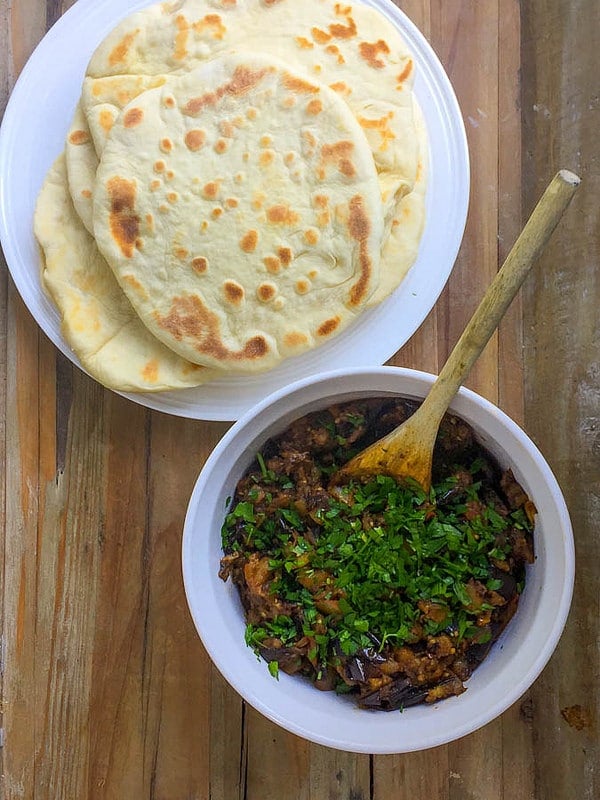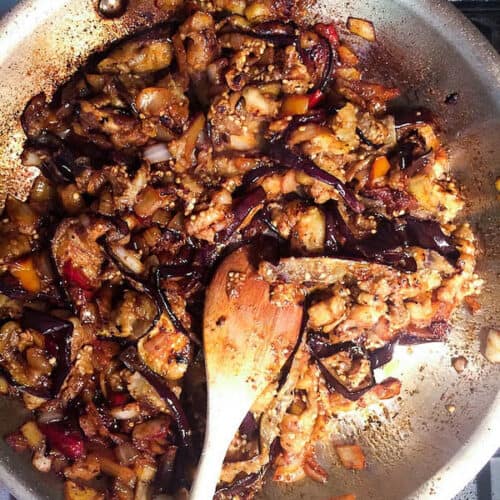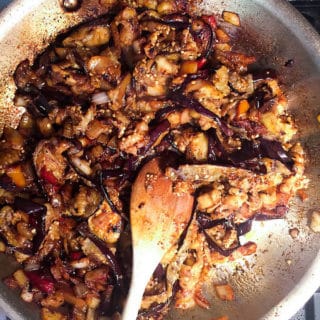 Israeli eggplant
A twice cooked, Israelis-style eggplant perfect for eating with flatbread or pita.
Ingredients
2

eggplant (medium), washed and cut into ½ round slices

2

tbsp

kosher salt

1

cup

onion, chopped

1

cup

red bell pepper, chopped

1

tbsp

ground coriander

1

tsp

paprika

¼

cup

sherry vinegar

½

cup

fresh parsley, chopped

1

tbsp

lemon juice, fresh
Instructions
Sprinkle eggplant slices with salt, and arrange on top of paper towels or on top of wire rack. Let sit for 30 mins

In a large fry pan, add 6 tablespoons of olive oil (add more if needed to thinly coat bottom of pan) and heat until the oil is shimmering but not smoking. Over medium heat, fry eggplant slices until they are nearly charred (about 10 minutes per side)

Remove the eggplant and place on plate. Set aside. Add 2 tablespoons of olive oil to the now empty pan and then added the red pepper, onion, and spices. Cook until the vegetables are tender, about 12 minutes

Add the eggplant and vinegar and cook until the vinegar has cooked off. Mash the eggplant while cooking with a wooden spoon. This step takes about 8 minutes.

Remove from heat and add parsley and lemon juice. Serve warm or cold.
Notes
I like to serve this with flatbread
Nutrition
Calories:
95
kcal
Carbohydrates:
21
g
Protein:
3
g
Fat:
1
g
Saturated Fat:
1
g
Sodium:
3502
mg
Potassium:
732
mg
Fiber:
9
g
Sugar:
12
g
Vitamin A:
1890
IU
Vitamin C:
69
mg
Calcium:
55
mg
Iron:
2
mg
Interested in More Recipes?
SUBSCRIBE to get recipes delivered to your email 🙂