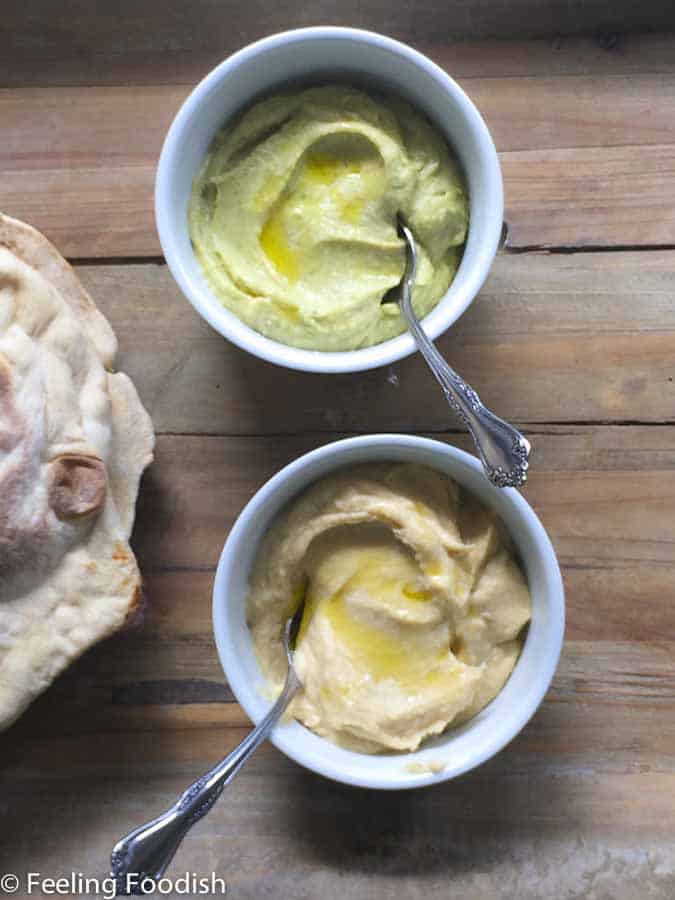 Prior attempts at hummus
I've blogged about hummus before. But, since then, I've tried a few different tricks to get my hummus super smooth and velvety/creamy. Initially, my attempts at hummus focused on adding flavor like roasted peppers or in this more recent version, pesto. Since then, I've been more focused on improving the texture, which I think can make a good hummus an outstanding hummus.
Over at Smitten Kitchen, Deb wrote about peeling chickpeas (or popping them out of their skin) to add creamy goodness to her ethereally smooth hummus (don't you love her recipe titles!). And yes, I have tried that! If you are making a small batch and using canned chickpeas, it isn't that difficult. And it works! Provided that you have the patience, which I'll admit, I'm sometimes lacking.
Origins of this recipe
But the current recipe comes from a book that a fellow bread-loving blogger, Karen (from Karen's Kitchen Stories) recommended a while back. I had (and still have) visions of baking my way through a bread book and Karen recommended the book, Hot Bread Kitchen.
That book is named after the bakery in East Harlem that employs low-income minority women and uses recipes that have been passed down by generations of women. The bakery teaches life changing skills to these women and invests in educating and training workers.
I've made a few breads from the book and then noticed that they had an interesting recipe for hummus.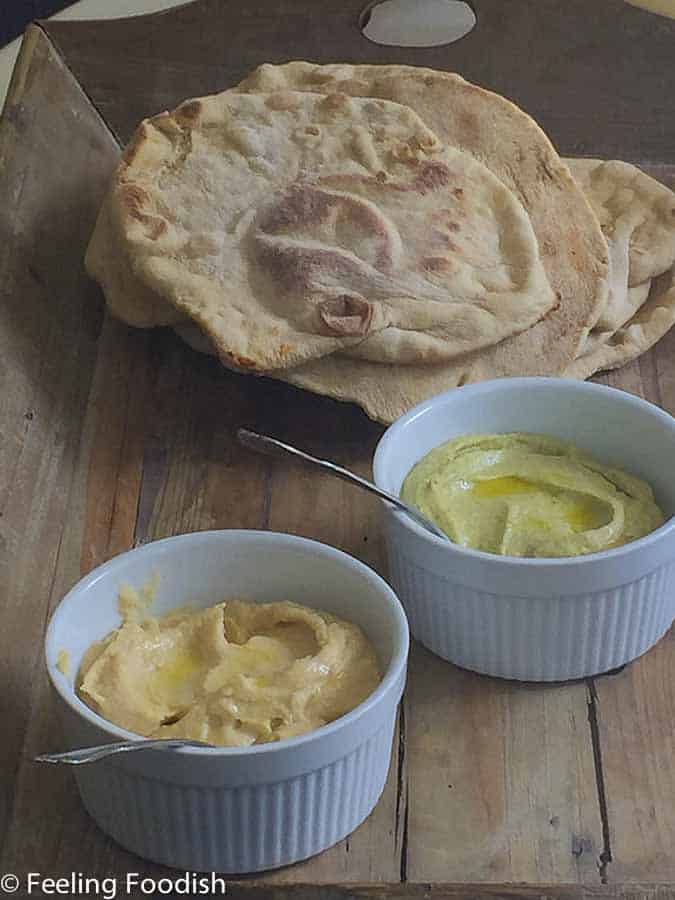 Secrets of a good hummus
At this point in my cooking life, I've come to realize that many successful recipes are about technique as much as anything else such as fresh ingredients. And for hummus, technique seems to be key!
As the book goes on to explain, an important part of making hummus (and this is using dried chickpeas) is that you must cook the beans with a bit of baking soda after soaking the beans. You will also skim away as much skin as you can, but you don't have to go crazy.
The final step is using ice cold water to thin out the consistency and add creaminess.
I ended up making a whole bag of chickpeas and then spitting the batch into two: one plain and one pesto-flavored (using pre-made pesto)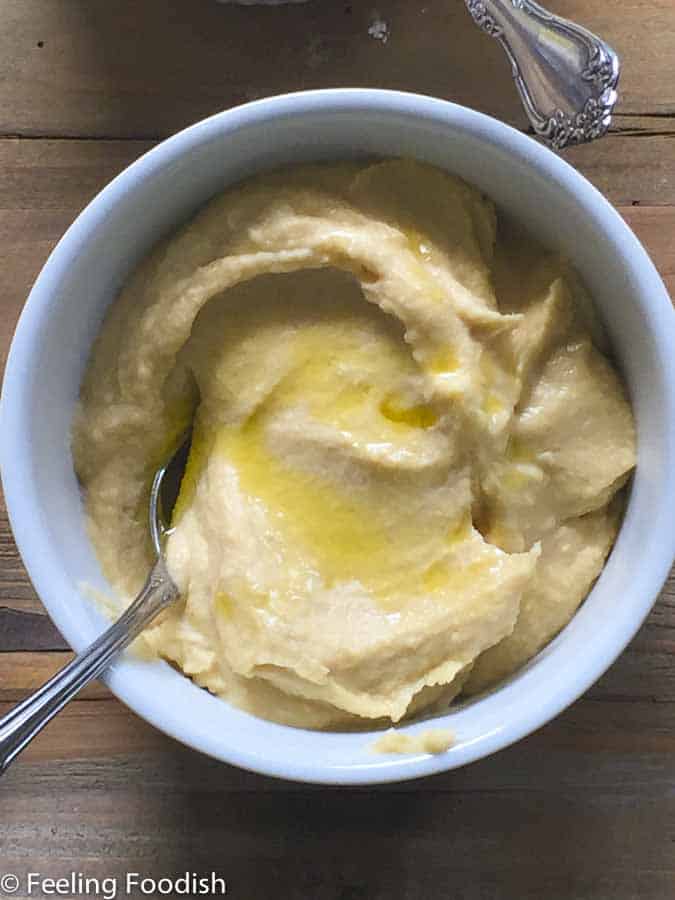 I love this hummus and have used it as an easy lunch when rolled into a pita, or as a dip for a fast snack with cucumber slices or even chips.
📖 Recipe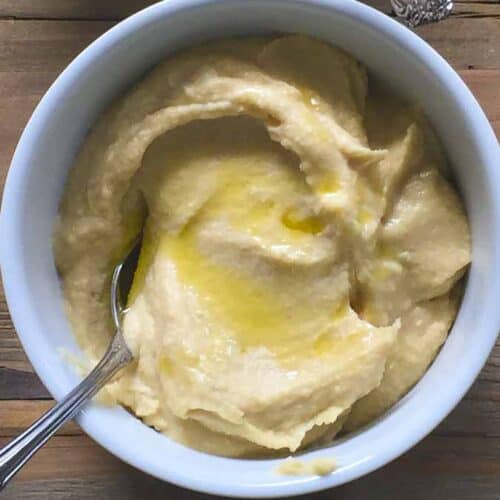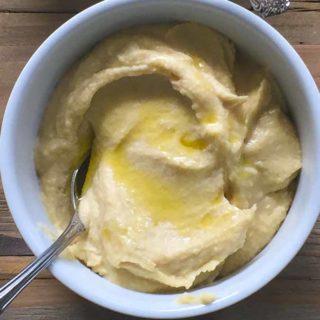 My Favorite Hummus
My favorite hummus recipe using dried chickpeas with easy tips for making the absolute creamiest and velvety smooth hummus!!
Ingredients
1

cup

(

200

g

)

dried chickpeas

(230 grams)

¼

teaspoon

(

0.25

teaspoon

)

baking soda

¼

cup

(

60

g

)

tahini

(55 grams)

¼

cup

(

61

g

)

fresh squeezed lemon juice

1

(

1

)

large garlic clove

, minced

1 ½

teaspoon

(

1.5

teaspoon

)

kosher salt

¼

cup

(

62.5

g

)

ice cold water

(55 grams)

extra-virgin olive oil for drizzling on top
Instructions
Place chickpeas in a large pot and cover with cold water (by at least 4 inches/10 cm) and let sit at least 6 hours or overnight

Drain and rinse the chickpeas, add back to the pot, and then sprinkle with the baking soda

Place the pot with the chickpeas over high heat and stir until the skins start to break and the chickpeas dry out (about 4 to 5 mins)

Add enough cold water to cover the chickpeas by 4 inches and then bring to a boil

Reduce heat and simmer for about 45 minutes or until the chickpeas are tender

As they cook, skim and discard skins that float to the top

Drain the chickpeas and rinse with cold water. Pick out and discard any loose skins, but don't go crazy here.

Add the chickpeas to a food processor and pulse until a thick paste forms. Add tahini, lemon juice, garlic, and salt and then process for about 2 minutes

Then while the machine is on, add the water slowly and process until the hummus is completely smooth, about 2 minutes.

Taste the hummus and adjust seasoning to taste.

Serve drizzled with olive oil.
Nutrition
Calories:
137
kcal
Carbohydrates:
17
g
Protein:
6
g
Fat:
5
g
Sodium:
479
mg
Potassium:
261
mg
Fiber:
4
g
Sugar:
2
g
Vitamin A:
15
IU
Vitamin C:
4.4
mg
Calcium:
37
mg
Iron:
1.9
mg
Interested in More Recipes?
SUBSCRIBE to get recipes delivered to your email 🙂