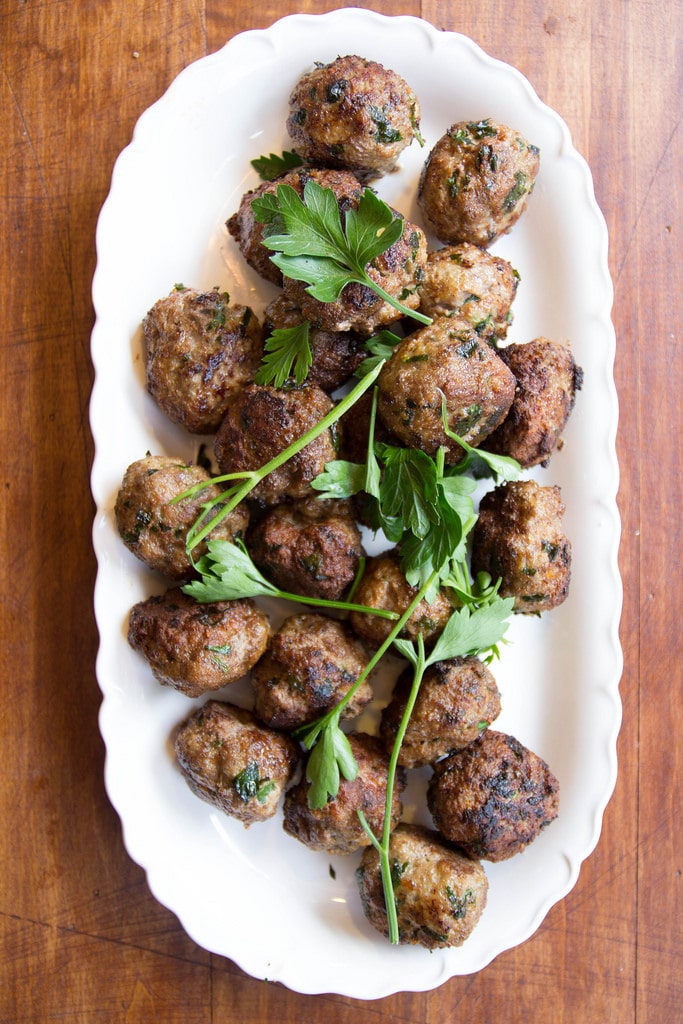 Oh, it's been a while, hasn't it? I'm still cooking but not as much! Vacations, pool – summery things mean less cooking for me. But there has to be time for Italian meatballs!
I'm not complaining, but I miss my blog. Plus, after the Bread's Bakery babka…well, I'm on a no sugar diet for the next few weeks (years..ha!). Wish me luck!!
And so…Italian meatballs. Funny thing about meatballs is that is one food that I will never eat at a restaurant. Why? Because every. single. time. without fail, they are horrible.
I think my number one complaint is that there is just toooo much breading in most meatballs.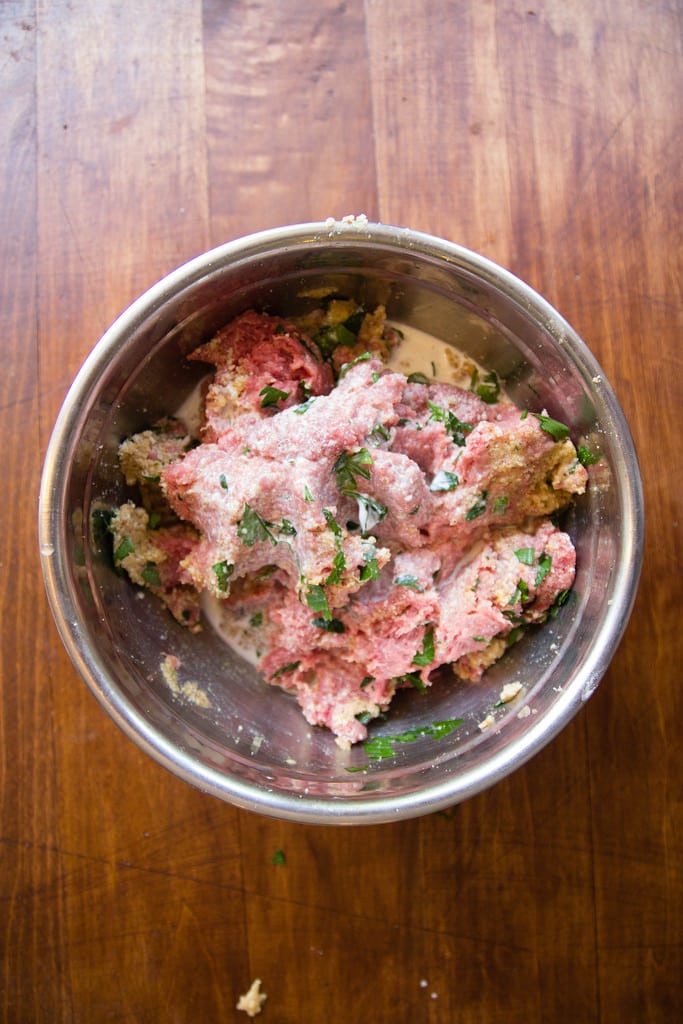 Now, you know I'm not one to complain about bread. I love bread! I love making bread, I love eating bread. But just not IN my meatballs.
You know, I was wondering what the world wide web had to say about making tender meatballs and I was kind of surprised to read a top chef say that the secret to tender meatballs is to add 50% bread.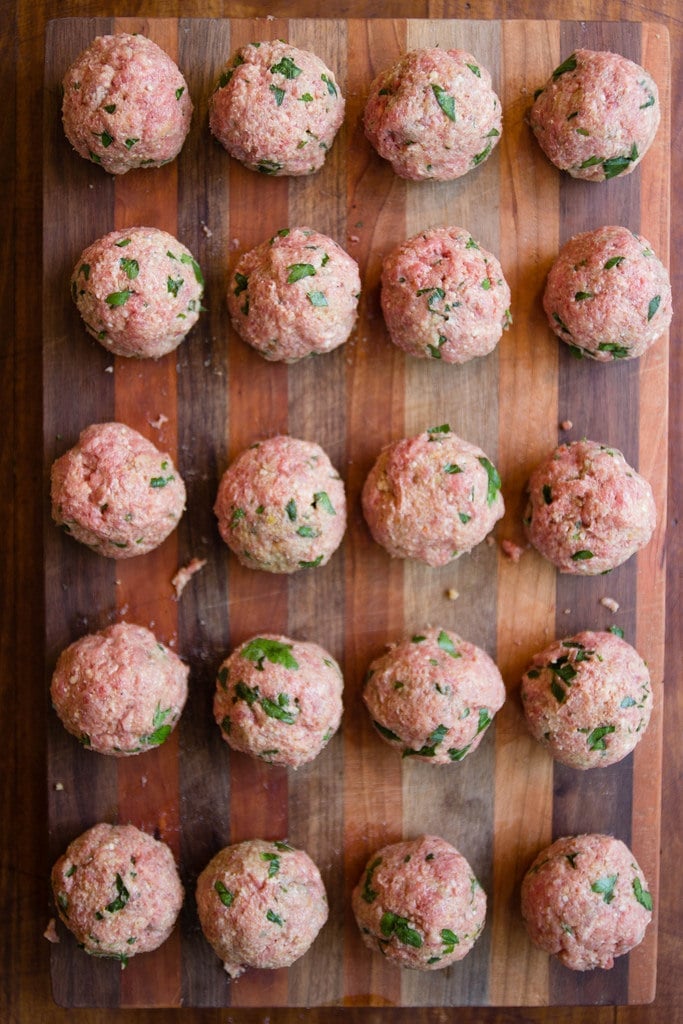 Want to know my way to get tender meatballs? Slooooow cook em. Yup. Mix up your ingredients lightly (don't compress the meat too much), let it marinate overnight for best flavor. Then brown them and finally plop them in a crock pot with spaghetti sauce and slow cook them for a few hours on low.
They will melt in your mouth. Mmmmmm…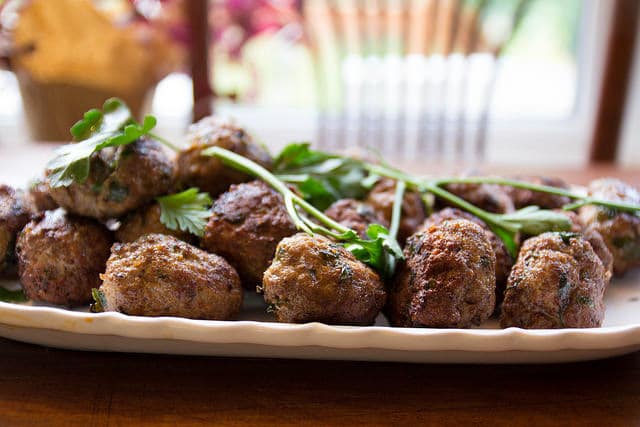 These of course haven't been cooked in spaghetti sauce yet as my husband loves them at this stage, and so we have them both ways (finish in an oven to cook through if you aren't using sauce).
My other meatball secrets are to add a touch of olive oil, heavy cream, and to process (in blender) several of the ingredients before mixing.
These are great with pasta or as part of a hoagie or sub sandwich. One of my favorite ways to serve them would be on a long Italian roll with spaghetti sauce and melted provolone. Ok, I'm hungry now!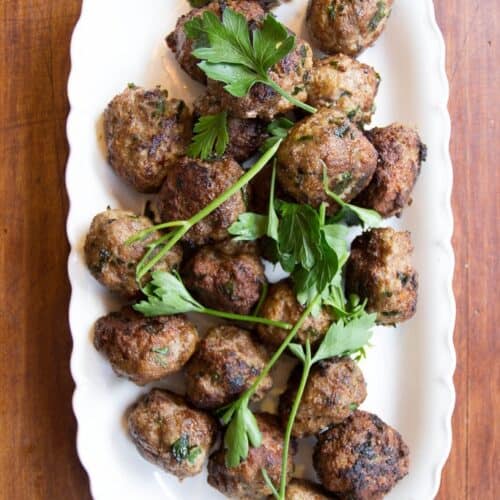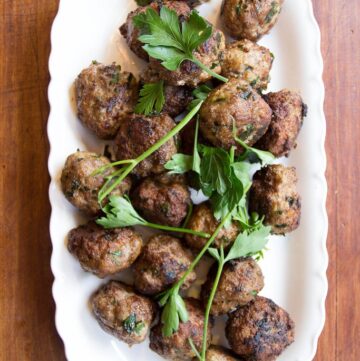 Italian meatballs
My mom's recipe for classic Italian meatballs. Makes about 16 to 18 meatballs
Ingredients
2

pounds

ground meat

(can use combination of beef, veal, and pork or all beef) (fresh is best, try not to use frozen)

3

to 4 cloves of garlic

½

small

onion

1

handful

fresh basil

1

handful

fresh parsley

2

eggs

1

tablespoon

olive oil

¼

cup

heavy cream

½

cup

breadcrumbs

(or 2 slices white bread, crumbled)

½

cup

Parmesan cheese

, grated

1

teaspoon

salt

½

teaspoon

pepper

oil for frying

marinara sauce for cooking and/or serving
Instructions
Place ground meat in a large bowl and set aside

In a food processor or blender, add garlic, onion, basil, parsley and egg and process until smooth (note the photo shows large pieces of herbs, which I forget to process!)

Add this mixture to the meat followed by oil, cream, bread crumbs, cheese, salt and pepper

Lightly combine (try not to compress mixture too much when mixing)

Let sit in the refrigerator, covered, for at least 1 hour or overnight if possible to enable flavors to marry

Form into 16 to 18 balls (golf ball size) and set aside.

Heat about 1 inch of oil in non-stick skillet over medium high heat and then lightly brown the meatballs in batches (they can also be baked at 350 degrees for about 20 minutes depending on size)

Place browned meatballs in a pot of spaghetti sauce and cook over very low heat (or in crockpot on low) for 3 to 4 hours.
Nutrition
Calories:
400
kcal
Carbohydrates:
6
g
Protein:
24
g
Fat:
30
g
Saturated Fat:
12
g
Cholesterol:
136
mg
Sodium:
535
mg
Potassium:
357
mg
Fiber:
1
g
Sugar:
1
g
Vitamin A:
275
IU
Vitamin C:
1.3
mg
Calcium:
120
mg
Iron:
2.8
mg
Interested in More Recipes?
SUBSCRIBE to get recipes delivered to your email 🙂