If you personally know a few Italian Americans, you'll know that everyone of them makes "the best" Italian meatballs. It's "a thing" among the culture - food is so important and so are family recipes!
Here, I'll share what you need to know about the most common tips and tricks to make the best, most tender, and flavorful authentic Italian meatballs. I promise.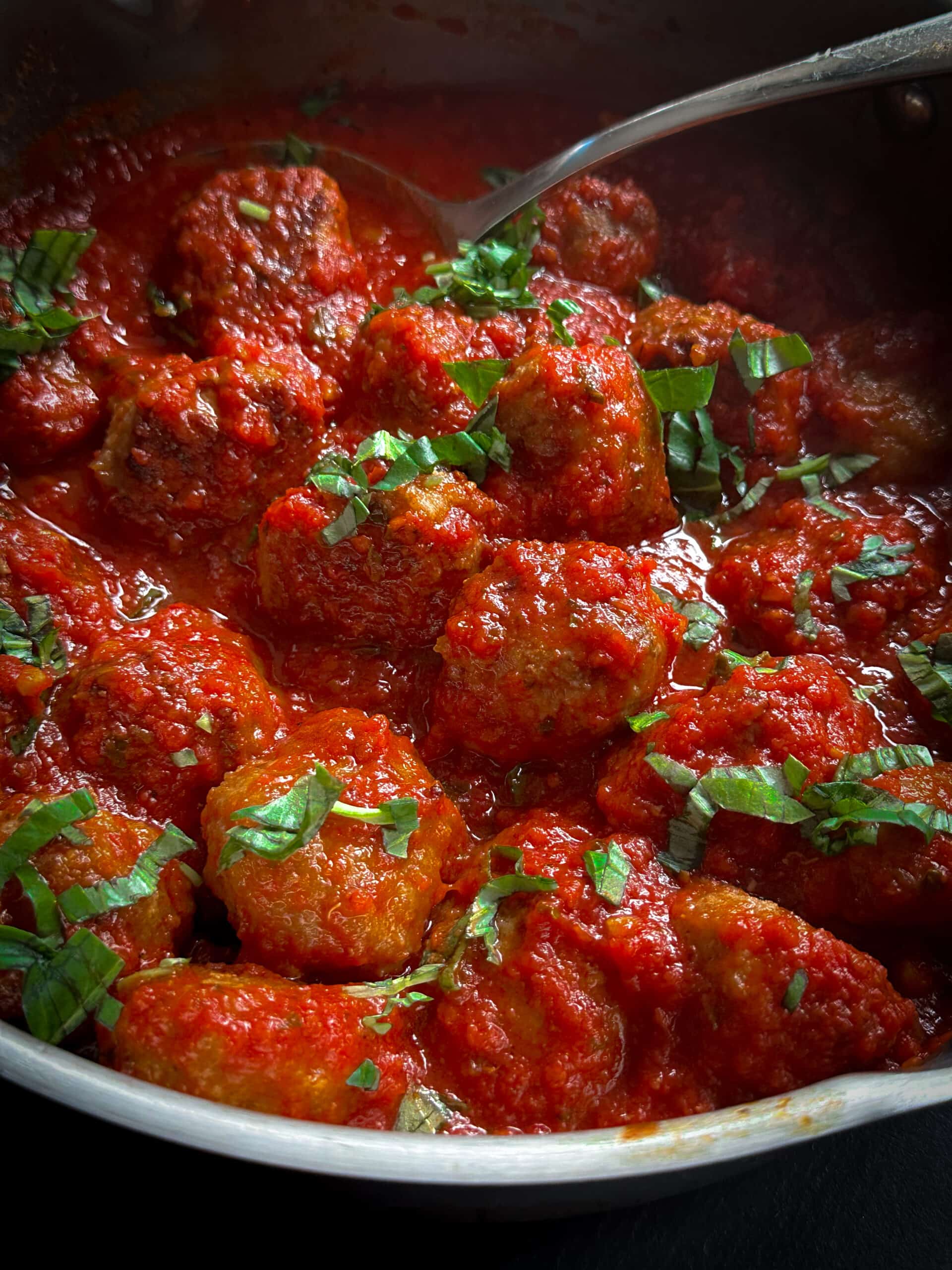 Jump to:
The Backstory
Funny thing about meatballs is that they are one of the foods that I will mostly never eat at a restaurant. Why? Because most times, they are not good.
I think my number one complaint is that there is just either way too much breading in most meatballs or they are no where near tender enough.
Another curious thing is that every family will have their unique little spin on Italian meatballs - they commonly have the same ingredients but they somehow taste a bit different in every home. Seems impossible but it's quite true.
A funny story: Years and year ago, I worked with a group of older ladies and we held a pot luck luncheon. A dear woman named Florence brought in her "famous" meatballs and I'm not going to lie: I was kinda blown away.
According to her, the secret was using a pack of onion soup mix, and also moistened white sandwich bread (which I've come to learn was a "panade"). Please don't leave....hahaha. I'm not going to make you use soup mix, and if you come from an Italian family, you'll know that onion soup mix is NOT commonly used (and might get you kicked out of family dinner), but let me tell you her meatballs where so flavorful and tender.
The moral of the story is not using soup mix but IT IS to use softened or moistened bread as well as onion, something my mom never did growing up - but it's a game changer in my opinion. There are more...
Basic Ingredients
Ground meat - Always opt for fresh, never frozen and using a combination of beef, veal, and pork is traditional. Some cooks like to use all beef and some leave out the veal. I've even used turkey which changes the flavor a little but still good!
Bread- I like to use soft white sandwich bread (the kind you'd use for peanut butter and jelly); I've used bread crumbs in the past but they're not ideal for making a panade.
Milk or water - just enough to make a thick paste when mixed with the bread.
Grated cheese - I like to use parmesan to add flavor and saltiness.
Egg - 1 egg per pound of meat; this get incorporated into the panade.
Garlic - 1 clove per pound, but recently I like using powdered instead for ease of use and a more mellow flavor as fresh garlic can be quite pungent.
Onion - half to one small onion per pound; like garlic, I use dried onion flakes that are reconstituted for both convenience and flavor variation.
Parsley - I like fresh herbs best but dried works in a pinch.
Basil - optional; fresh or frozen, but never dried basil. Skip it if you can't get fresh or frozen. I like to use basil in my sauce.
Salt - ½ teaspoon per pound of meat; remember that grated cheese also lends a salty flavor. Test a small fried or otherwise cooked meatball before cooking the whole batch to test for salt.
Pepper - black pepper, ¼ teaspoon for pound of meat, sometimes I like to add a few shakes of crushed red pepper too.
Olive oil - just a tablespoon for added flavor; optional really; you'll also need extra oil for frying if you don't want to oven fry.
Tomato sauce - for cooking and also serving.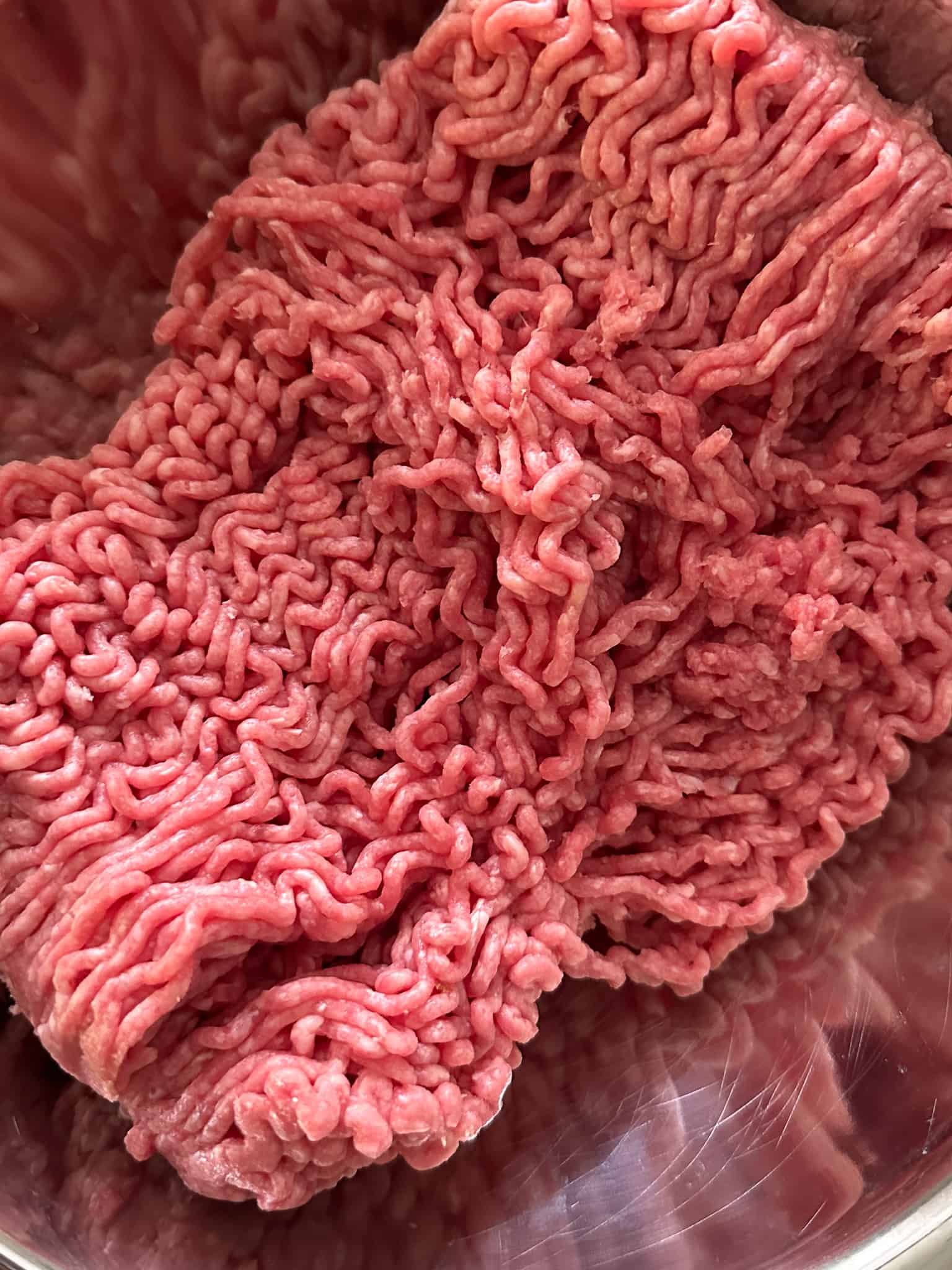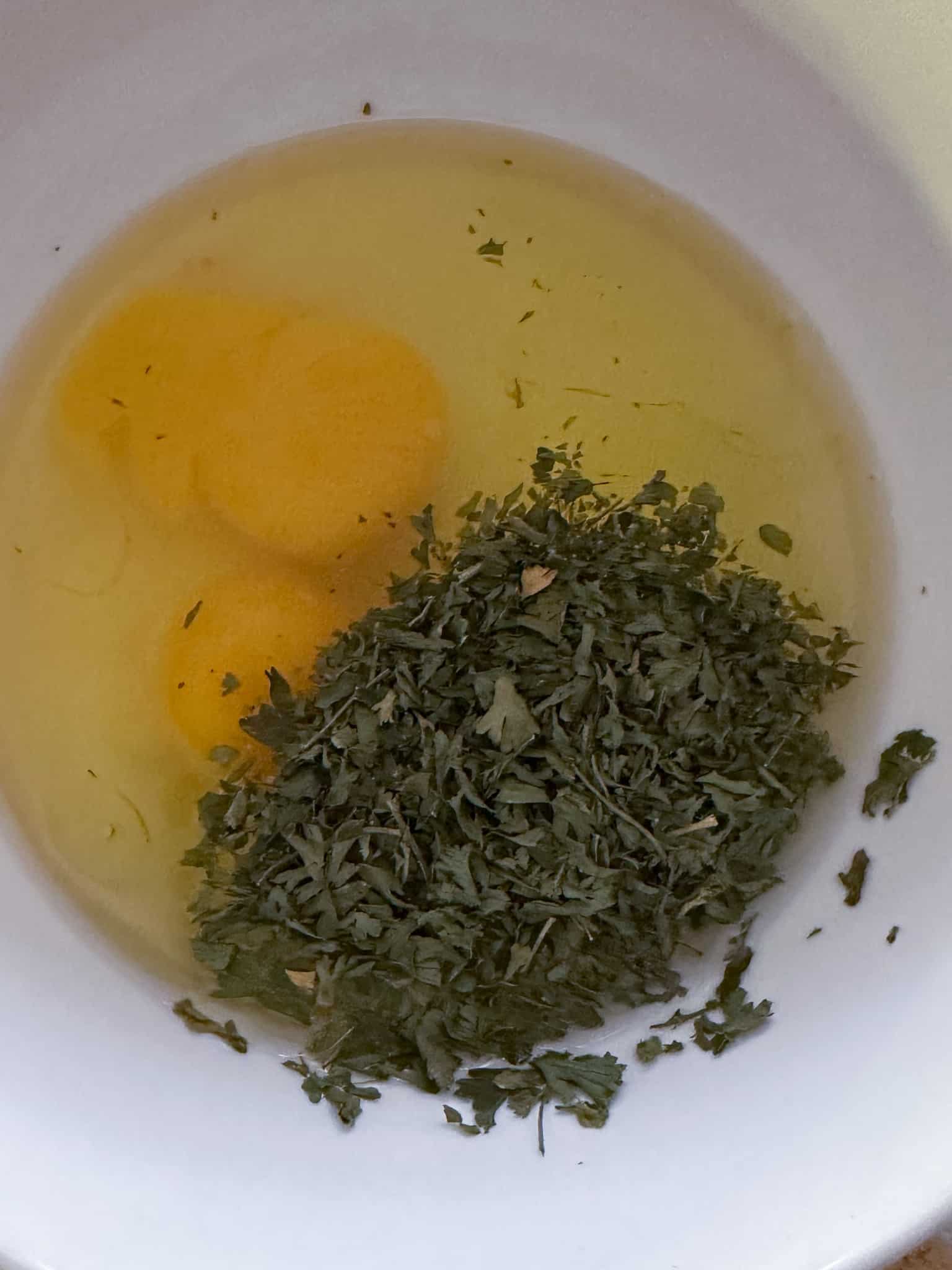 Most Common Cooking Methods
The traditional method for cooking Italian meatballs is to fry them in oil and then finish cooking them in tomato sauce. There are several other options including baking in the oven (I am broiling in top third of oven for 7 to 10 minutes; time depends on size of meatballs) and finishing them in pasta sauce (simmering sauce for about 10 minutes), or poaching them in pasta sauce (I personally have never tried this but people swear by it; it involves simply dropping uncooked meatballs in sauce in cooking until finished).
I feel like it's much easier and less messy to broil them in the oven and finish them in pasta sauce. I will probably never go back to frying again but you do you as they say.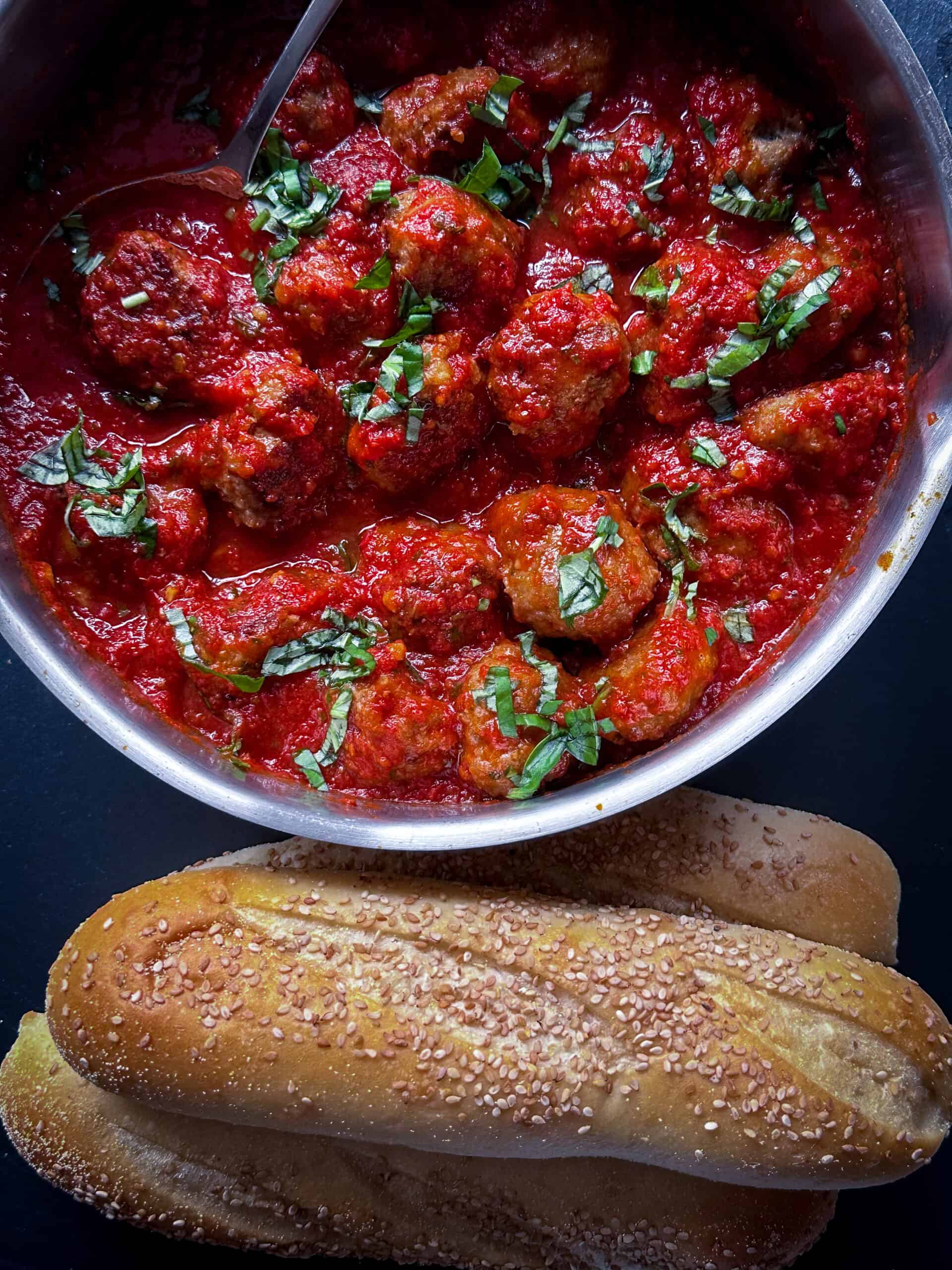 General Methods for Making Tender Meatballs
Want to know a secret? My father used to jokingly say that my mom's meatballs could break a window. Oh boy! I always thought my mom was a better baker than cook and to be honest, in the old days in Italy, meats, cheeses and the like were more luxuries than every day meals so she was always much better at things like making greens or baking bread.
Eventually she discovered that slow cooking the meatballs gave them the soft and tender texture much like we do with braciole, a tough cut of meat that is tenderized over time with slow cooking.
But you know what? Using a panade is a MUCH better idea and the texture in my humble opinion is SOOO much better!
For completeness, let's review the techniques that many Italian Americans use to make their meatballs tender and tasty:
First, and this is the method that I use, incorporate a panade with white bread or leftover bread. I like to use a ratio for increasing the tenderness of meatballs of 2 parts meat to 1 part bread/water(or milk).
Another method is not to use meat that is too lean - fat increases tenderness. I have used lean meats and the results are okay but using a fattier meat is pretty key; opt for 15 to 20% fat in your meat.
I don't use this one any longer, but a long, low and slow cook with give you very tender meatballs. Cooking in the crockpot for a few hours will work wonders. However, the texture of the meatballs does change and I don't use this method with the panade method as they would probably be TOO tender. That said, it might be a great option if you want to use lean meat .
Some people swear by using a bit of ricotta cheese and love the tenderness and taste - this makes sense as ricotta cheese is essentially adding fat to the meatballs (see first point above).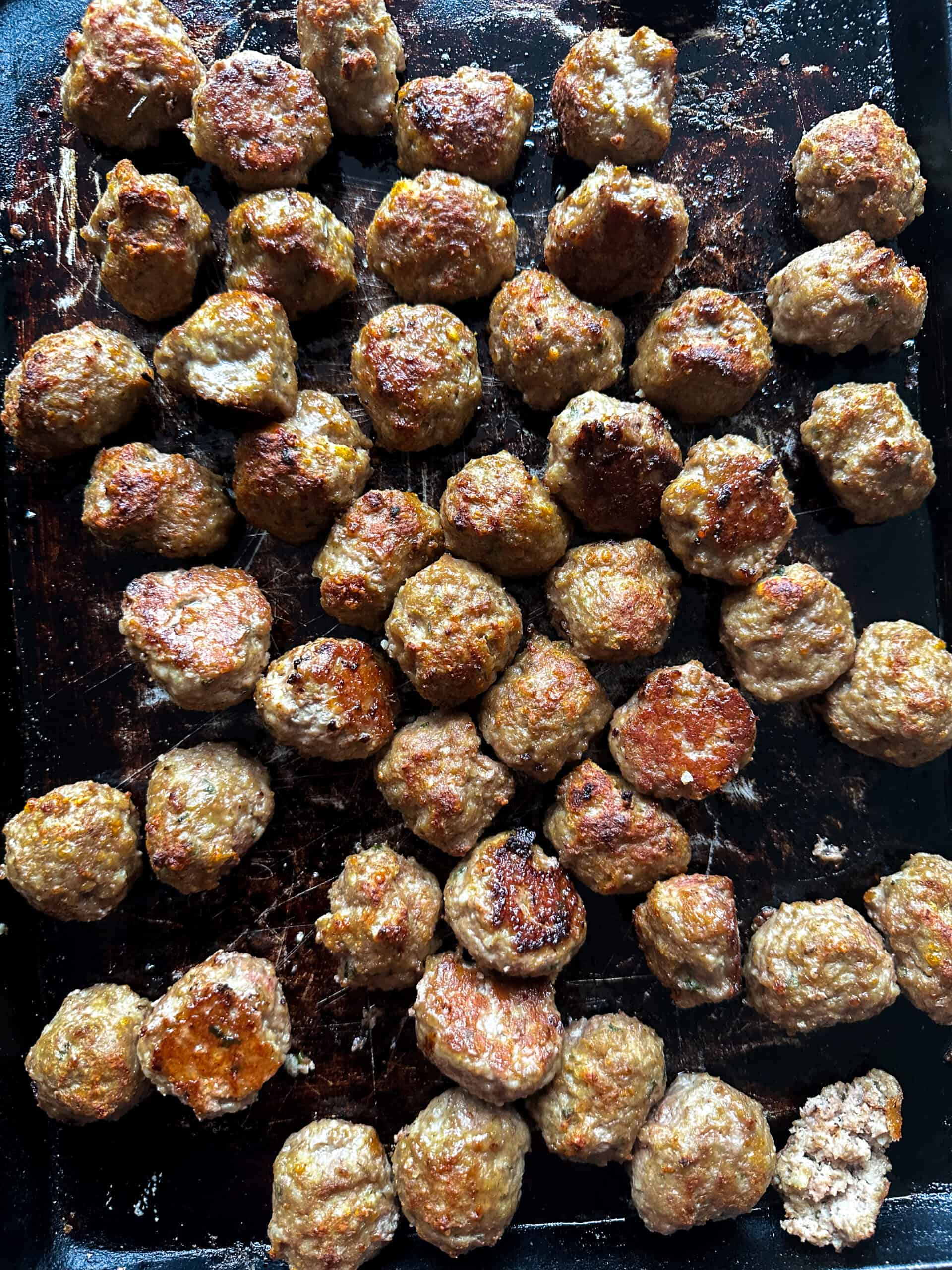 My Personal Top Tips
Use fresh NOT frozen meat. Freezing the meat tends to compact it and it doesn't taste the same. Think frozen hamburger vs fresh...same with meatballs!
Use the correct ratios of ingredients; for example, per pound of meat, I use 1 egg,
2 slices of white bread, ¼ cup of grated cheese as well as other herbs and aromatics.
Do NOT overwork the meat. Pressing and mixing the meat mixture too much will condense the meat and result in tough meatballs. Use a light tough when mixing!
Use a panade - this recipe uses a panade (in this recipe, a combination of moistened bread with other ingredients that has a pudding like texture). The panade will coat the ground meat and keep it moist and tender.
Flavor: If time allows, let the flavors marry by making the meat mixture ahead of time (either by a few hours or the night before) - be sure to cover and refrigerate the meat.
Fry a small meatball first and taste it to check for seasoning. Adjust if you want more salt, garlic, etc.
Always make extra! Meatballs make a perfect make ahead freezer meal for those nights when you don't feel like cooking. If you're already making meatballs, double or triple the recipe and freeze some for those nights that you want an easy meal.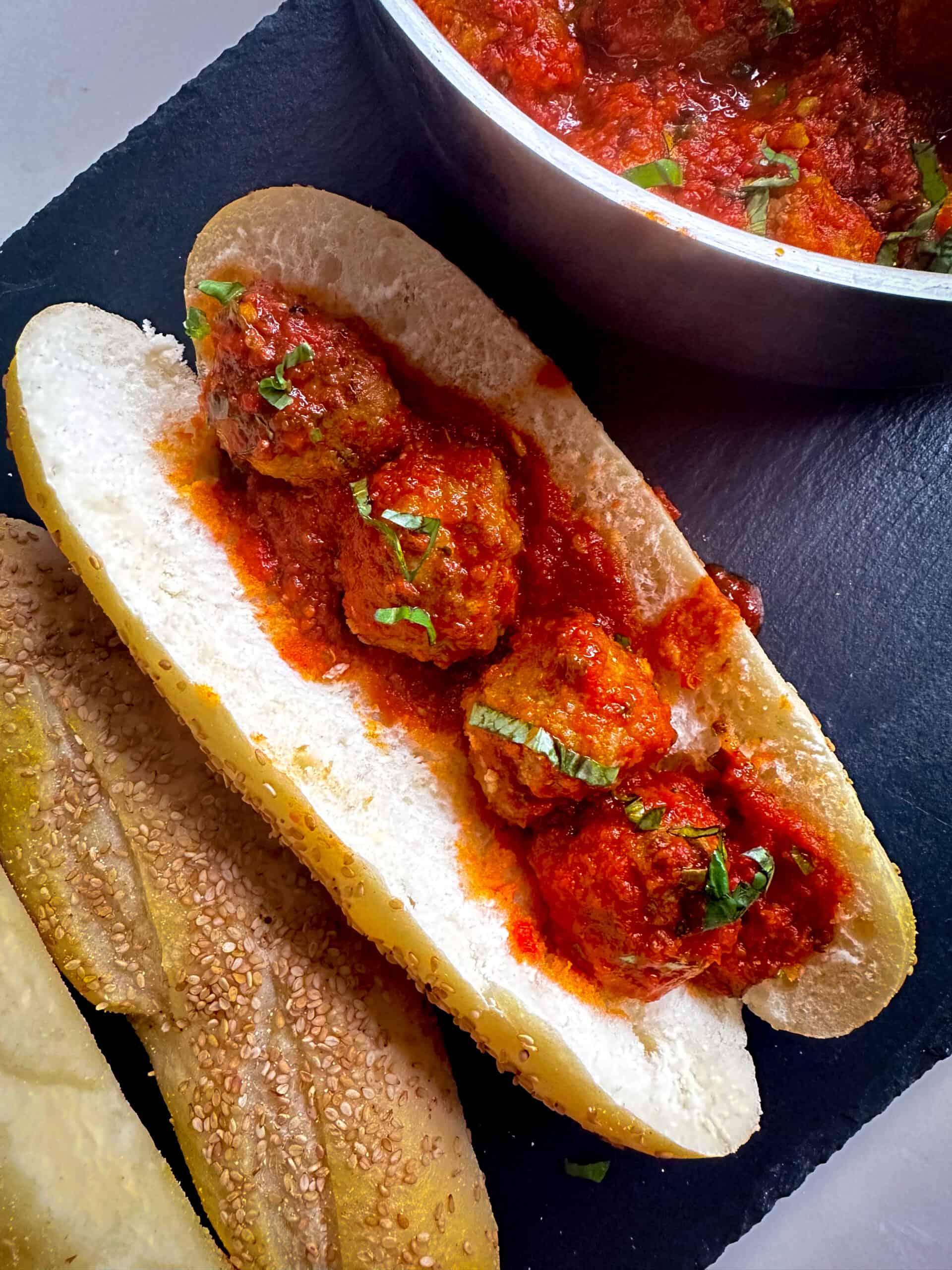 How to Enjoy Meatballs
As a side dish with pasta
In a sandwich roll as a grinder, sub, or hoagie
Make mini meatballs and serve in Italian wedding soup
Smash them before cooking and serve with burger buns.
In a casserole dish topped with melted mozzarella cheese as meatballs parmesan.
These are great with pasta or as part of a hoagie or sub sandwich. One of my favorite ways to serve them would be on a long Italian roll with spaghetti sauce and melted provolone.
Storage and Make Ahead
Leftover meatballs can be stored for 3 to 4 days in the refrigerator or up to 2 to 3 months in the freezer according to the FDA.
📖 Recipe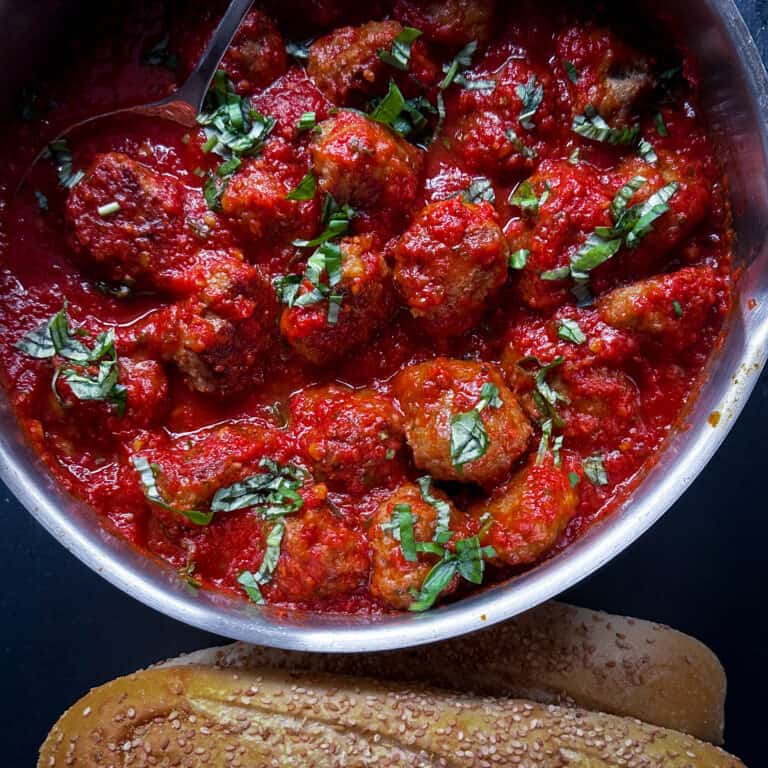 The Best Italian Meatball Recipe
Recipe and top tips to make the BEST Italian meatballs. Recipe can be doubled or tripled.
Ingredients
The Ground Meat
1

pound

ground meat

traditionally a combination of ground beef, veal, and pork; may use all beef or beef and pork (can substitute any ground meat you'd like) (fresh is best, try not to use frozen)
To Make the Panade
½

teaspoon

garlic powder

or 1 clove per pound of meat

2

tablespoon

dried onion flakes (rehydrated with boiling water and drained) (can use double if you love onion flavor - I do!)

can use ½ small onion, per pound of meat; (finely chopped and sautéed) (or double if you like onion flavor)

1

handful

fresh basil, finely chopped

can use frozen instead (dried doesn't taste at all like fresh)

1

handful

fresh parsley, finely chopped

can use dried instead (1 tablespoon per pound)

1

egg

1

tablespoon

olive oil

2

slices

white bread

¼

cup

Parmesan cheese

, grated

2

tablespoons

milk (or water in a pinch) (see NOTE)

NOTE: up to ½ cup depending on how dry and dense your bread is; you will need enough to make a thick paste or to soften all of the bread; older bread will need more liquid.

½

teaspoon

salt

¼

teaspoon

pepper
To Cook the Meatballs
oil for frying

optional (to use if frying)

marinara sauce for cooking and/or serving
Instructions
Place ground meat in a large bowl and set aside

Make the panade: Add the bread to a large bowl and add enough milk (or water) to make moisten all of the bread into a very thick paste mixture.

Add remaining ingredients for the panade and combine well.

Lightly combine the panade with the ground meat. (try not to compress mixture too much when mixing)

If time allows, let the mixture sit in an airtight container in the refrigerator for at least 1 hour or overnight if possible to enable flavors to marry

Just before cooking, form the meat mixture into golf ball sized meatballs and set onto a lined cookie sheet.
To Fry:
Heat about 1 inch of oil in non-stick skillet over medium high heat and then lightly brown the meatballs in batches (they can also be baked at 350 degrees for about 20 minutes depending on size)

Place browned meatballs in a pot of spaghetti sauce and cook over very low heat for about 30 to 45 minutes.
To Oven Fry:
Bake meatballs for about 15 minutes at 450 F.

Warm in simmering spaghetti sauce to heat through and continue cooking for about 30 minutes.
Notes
Store leftovers for 3 to 4 days in the refrigerator or 2 to 3 months in the freezer. 
Nutrition
Calories:
400
kcal
Carbohydrates:
6
g
Protein:
24
g
Fat:
30
g
Saturated Fat:
12
g
Cholesterol:
136
mg
Sodium:
535
mg
Potassium:
357
mg
Fiber:
1
g
Sugar:
1
g
Vitamin A:
275
IU
Vitamin C:
1.3
mg
Calcium:
120
mg
Iron:
2.8
mg
Interested in More Recipes?
SUBSCRIBE to get recipes delivered to your email 🙂